Frankfurt airport being one of the largest airports of Europe, most of the people travelling to Europe land up here. I was going to land in Frankfurt on a Saturday morning. My husband was coming to pick me up. It being a weekend, we planned to spend a day in Frankfurt before continuing our onward journey to Münster.
Public transport in Frankfurt is great. Subways and trams reach every corner of the city. The airport is huge. I arrived at terminal 2. From here we took an airport shuttle bus to terminal 1, where the airport subway station is located. We got a one day group pass at the station. The pass is really cheap and totally worth it. S8 and S9 lines connect the airport to the city. We took S8 to the city, checked into our hotel, freshened up and got back out to explore the city.
We were staying near subway station Ostbahnoff. From here we took U6 to Hauptwache. Hauptwache is the shopping hub of the city. Big shopping centres like Galleria Kaufhof and MyZeil are located here. This place has it all; from the spectacular architecture of MyZeil to the old world architecture of St. Catherine's church. We spent some time exploring the shopping street and then headed to the top floor of Galleria Kaufhof. The top floor of Galleria Kaufhop houses a café with an amazing view of the city. After enjoying the city vistas we headed back down.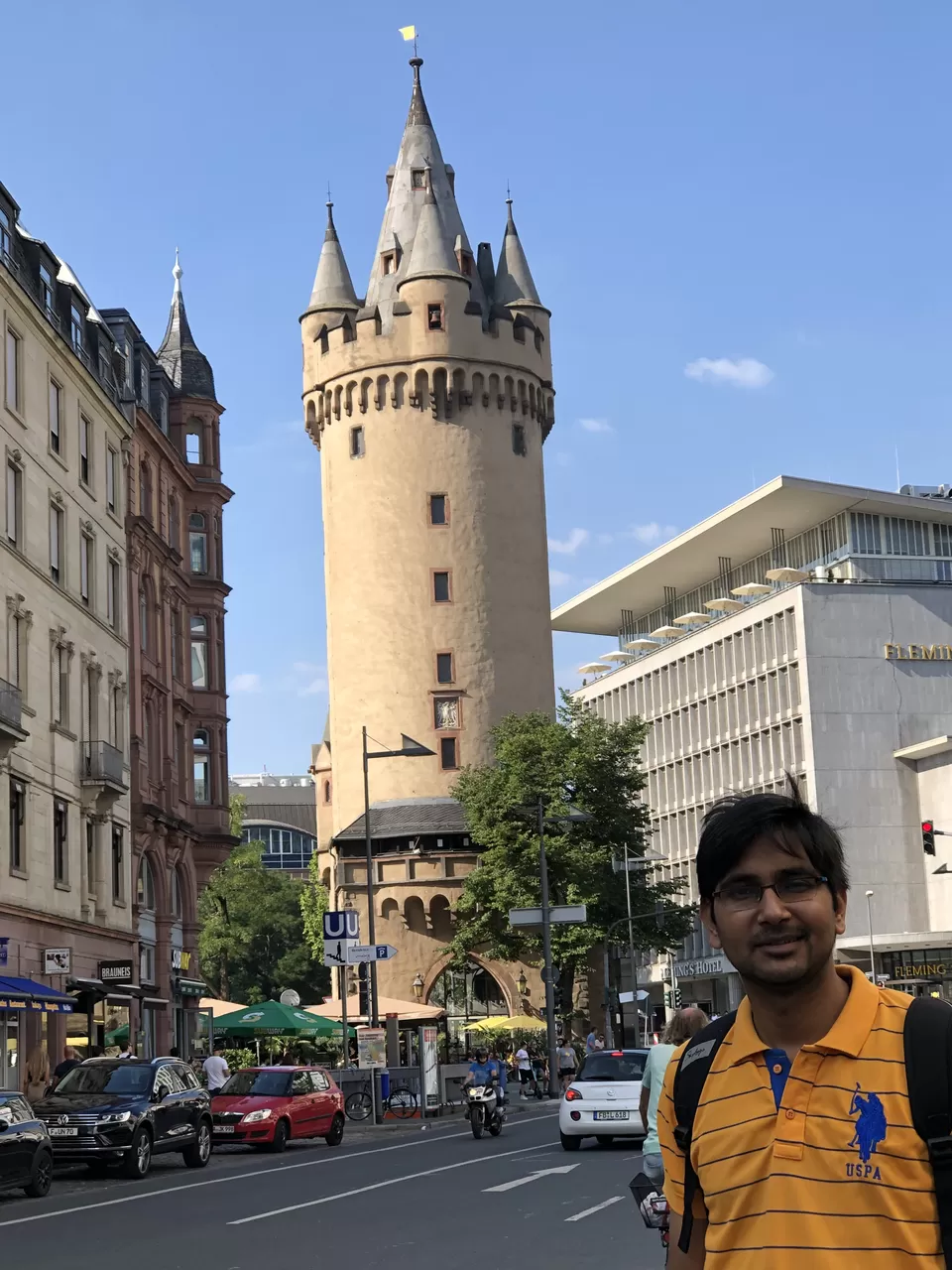 We walked to Old Town (Altstadt) of Frankfurt. This is just a street down from Galleria Kaufhof (less than 0.5 km). This is the only old part of the city that remained after excessive bombing during World War II. This is by far the cutest and prettiest part of Frankfurt. We spent quite a long time here. Had some refreshments at a street café and just roamed around soaking in all the cuteness of the Old Town.
From Old Town we headed to River Main, which is again just a short walk away from Old Town. The first thing we encountered was the Iron Bridge. We decided against crossing the bridge to the other side of the river and instead took a stroll alongside the river. After walking for a few hundred metres we found a bench to rest. As we were googling which subway to take to get back to our hotel, we realized that our hotel was hardly 1.5 km away. So we decided to walk to our hotel. Most of the route was along the river so this turned out to be a pretty pleasant walk.
We rested at our hotel for a couple of hours. In the evening we headed to city centre (Hauptbahnof) to have dinner with a friend. After seeing this area you realize why Frankfurt is called the economic capital of Germany. A vast railway station, wide busy roads, tall buildings, big showrooms and a lively atmosphere greet you. After enjoying a delicious dinner (all thanks to our friend who chose the restaurant), we took a train back to our hotel. We slept satisfied that we covered a lot of Frankfurt in a day, will explore more on our next stop here.