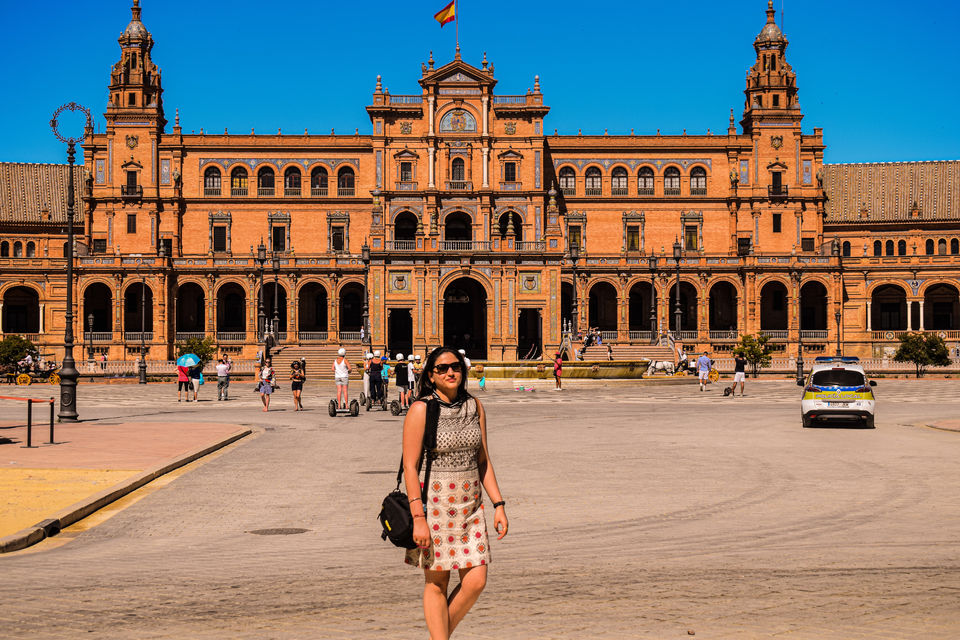 Sharing love of travelling with your life partner is a pure bliss. Being married to the love of my life for over two years, we are contemplating to starting the next chapter of our life. So, we planned to go on once-in-a-lifetime trip of our life. Inspired by ZNMD like many Bollywood fans, we always wanted to travel across Spain. The dream became realty in the end of May 2019.
The idea was to drive across Spain and experience the beauty of one of the most beautiful countries in Europe.
After a lot of research and planning, we were all set to leave for Madrid, the capital of Spain on May 29. We booked a connecting Emirates flight to Madrid via Dubai. We left New Delhi airport by 10.30pm and reached Dubai.
With a halt of over seven hours, we took a transit visa to see whatever we could in Dubai. Since, it was Ramzaan, not much could be explored. Though, I got the chance to meet my best friend. We left Dubai at around 7 in the morning and after 6 hours of journey reached our destination, Madrid.
Madrid Airport is outside the city, so one can go to the central part of the city by easily-available cab, metro or bus. It took us 30-40 minutes to reach our hotel.
Reaching the hotel, which was just minutes away from the central part of the city, we left our luggage and went out to eat.
(Pro Tip: If you are a vegetarian, make a list of vegan and vegetarian restaurants before going to Spain.)
We went to a vegan café nearby our hotel. The café served the most amazing and giant burgers I have ever seen. The cafes across Spain are street cafes and the vibe immediately gets onto you. While having our lunch, we were mobbed by a flight of pigeons.
After satisfying our hunger pangs, we went out to explore Madrid. The best option to explore cities in Spain is by foot. We went to Peurta de Sol. It was eve of UEFA Champions League, so the streets were full of football fans.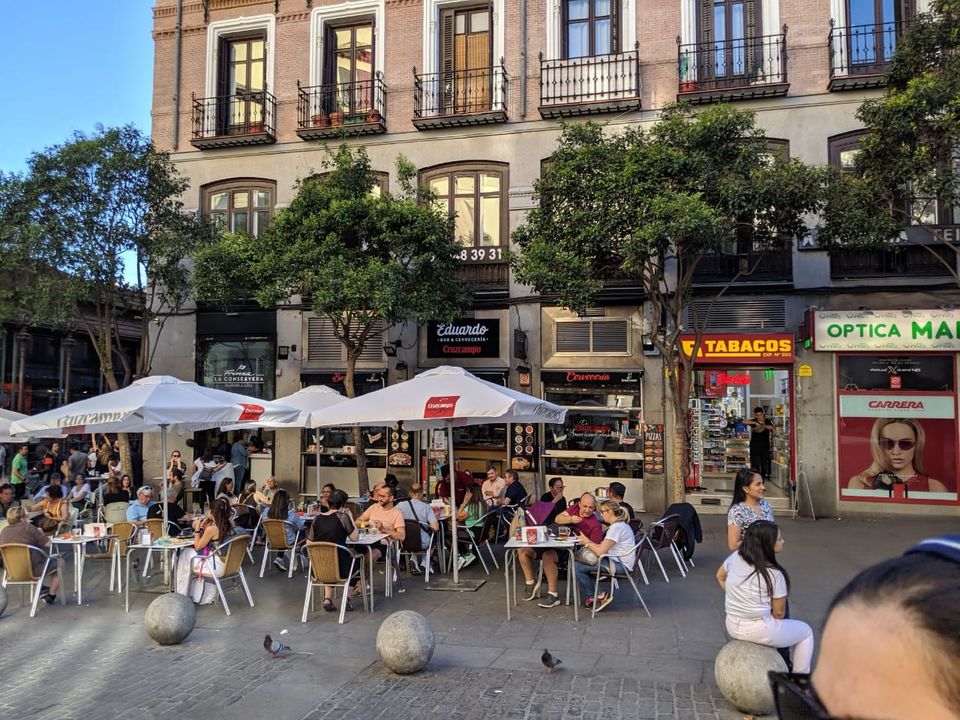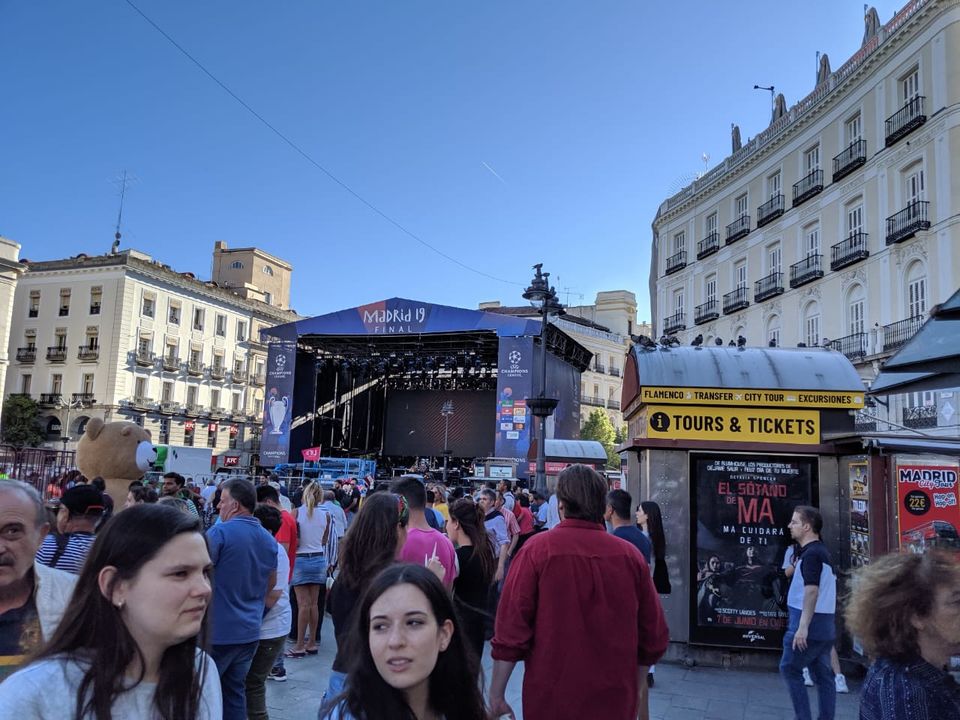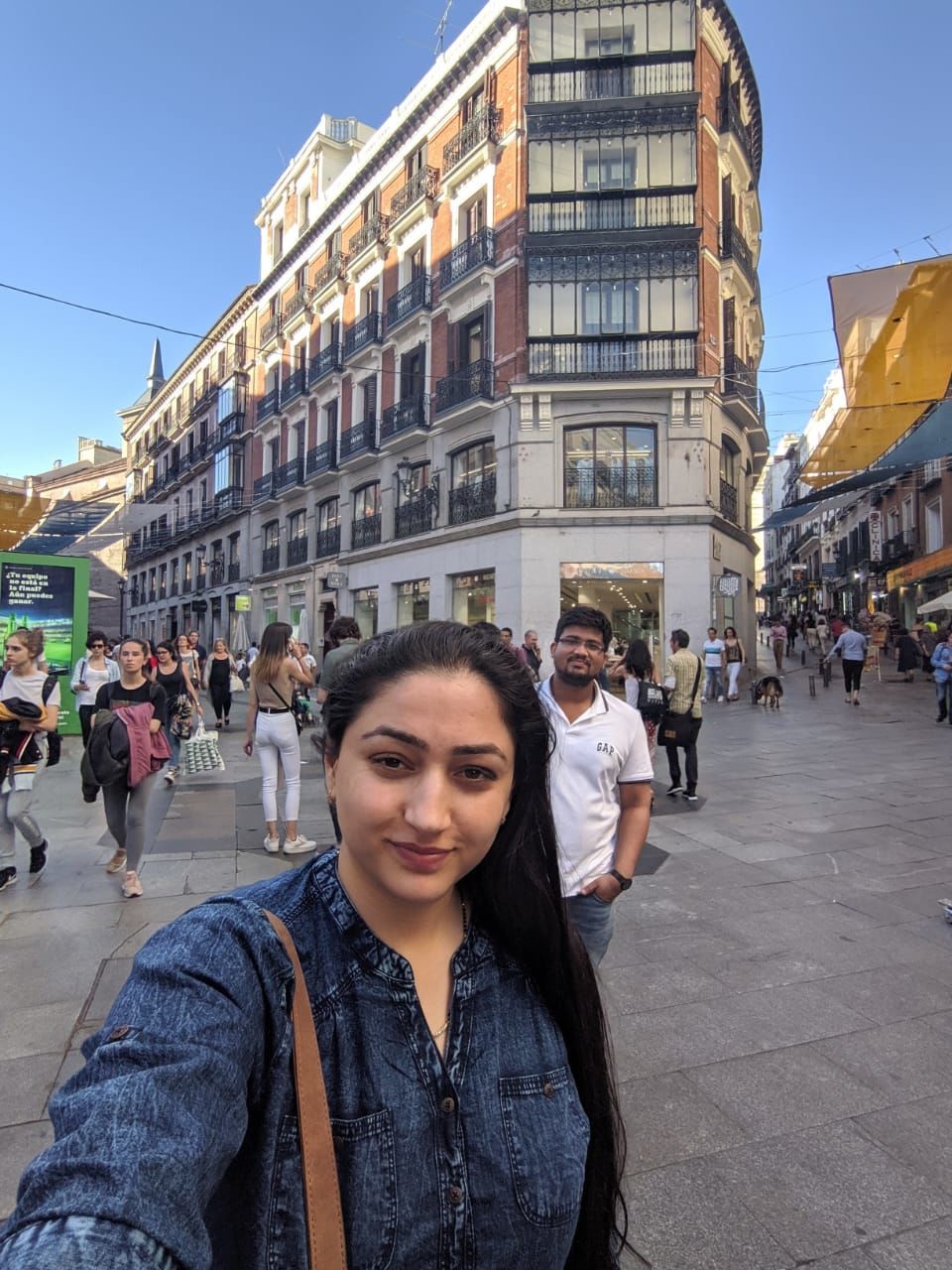 Peurta de Sol is a public square and centre of radial network of Spanish roads. Roaming around the square, you will be lost in the beautiful architecture of the city. After shopping and booking a bus tour for the next day, we went back to our hotel to take some rest.
At around 10pm, we went out for dinner and check out party scene in Madrid. The lanes in the city centre are full of discs and they offer a lot of discounts.
Day 2
Next day was all planned and we took a hop on-hop off tour of the old part of the city. The tour covers all the major attractions of the city and shoppers paradise Gran Via. The street has all the fashion brands and food joints. One of the major attraction to visit in Madrid is the Royal Palace of Madrid. (There is always a queue for the entry ticket, so buy the ticket online in advance.)
After one hour tour of the palace, we walked back to explore the city. We had churros and walked all the way to Azotea, a rooftop restro bar, to watch the sunset but couldn't make because of the long waiting list. So, we decide to have some drinks at their street café. After the dinner, we made a new friend who helped us back to reach back our hotel.
Day 3
All excited to hit the road, my husband went up to pick our rental car, Audi A3 convertible. Renting a car in Spain is very easy and you should it book it before leaving for Spain. It can cost you Rs 50,000-Rs 85,000, depending on the car you select.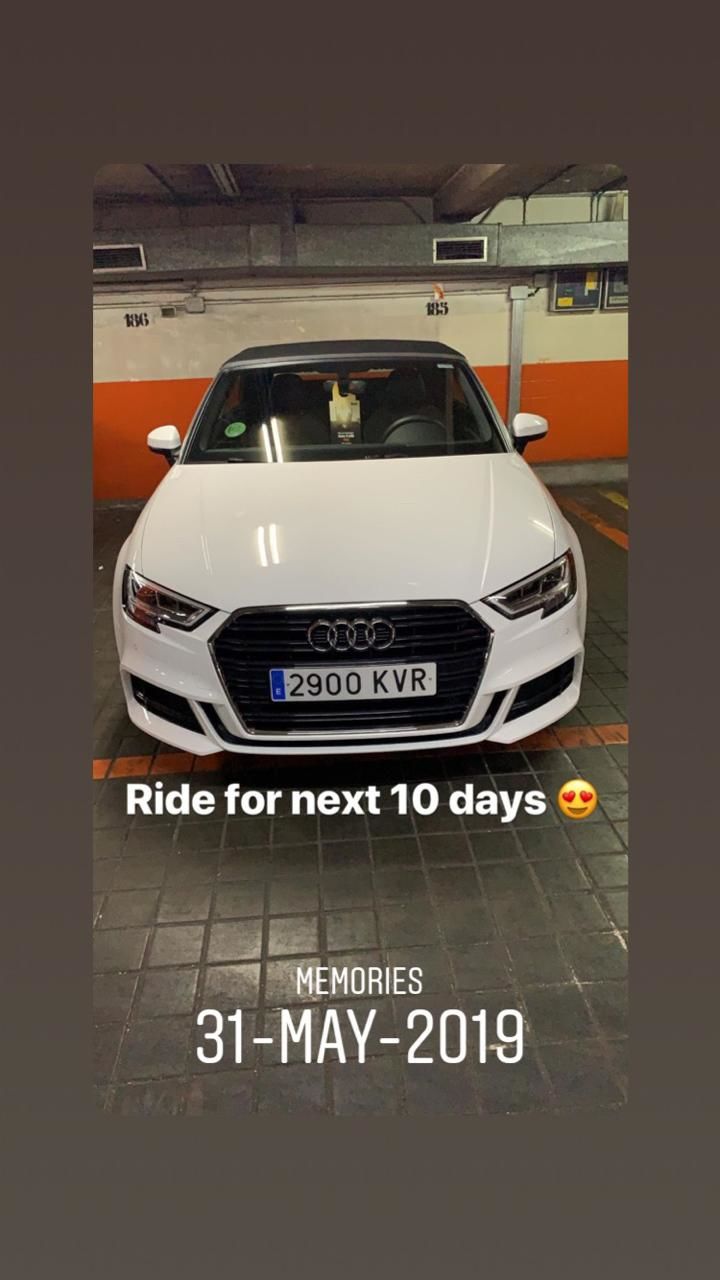 We left Madrid and started our journey towards Seville. The drive to Seville was five hours long. Reaching Seville at around 5pm, we went to our apartment in the old town. (Old town is not suitable for driving, so we had to park our car for the next few days.) The old part of Seville is culturally and architecturally very rich. Our hosts were so warm and loving, they helped us out plan our night.
Day 4
If you are a GOT fan, then The Alcázar of Seville or 'Kingdom of Dorne' is a must visit place for you in Seville. Opposite to it is the Cathedral of Seville. Both the monuments will amaze you and it takes around 2 hours each to take a tour of these places. In the evening, we went to see Metropol Parasol, a giant mushroom-shaped architecture marvel. This is the best place to see sunset and skyline of Seville. There are cozy cafes and bars around it. Craving for desi food, we headed to an Indian restaurant, Jaipur, and had our dinner and ended the day on a sweeter note with an amazing desert.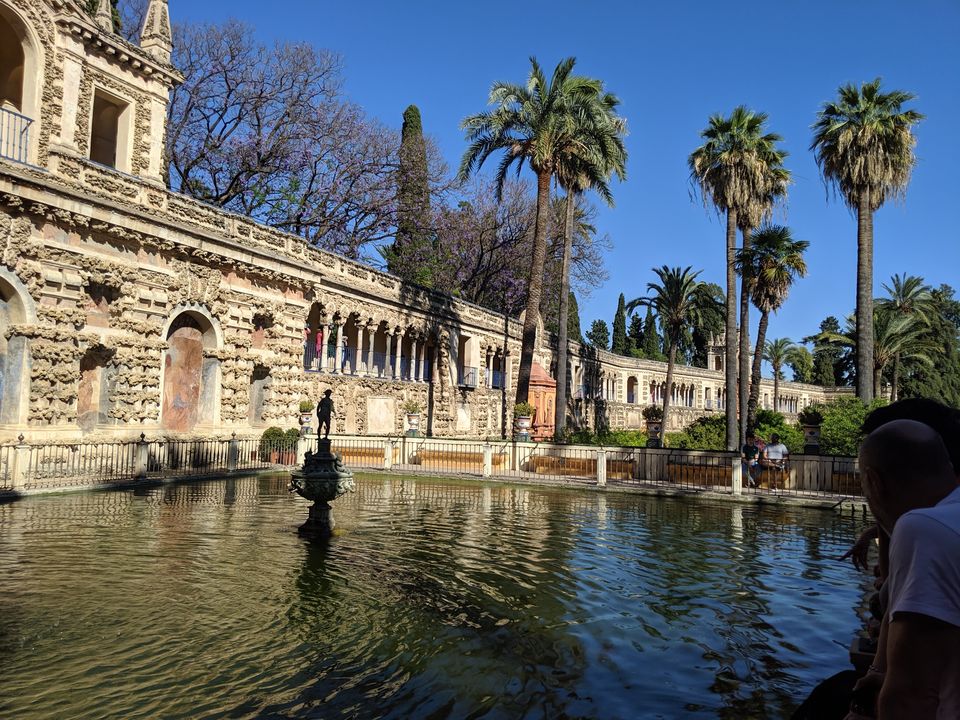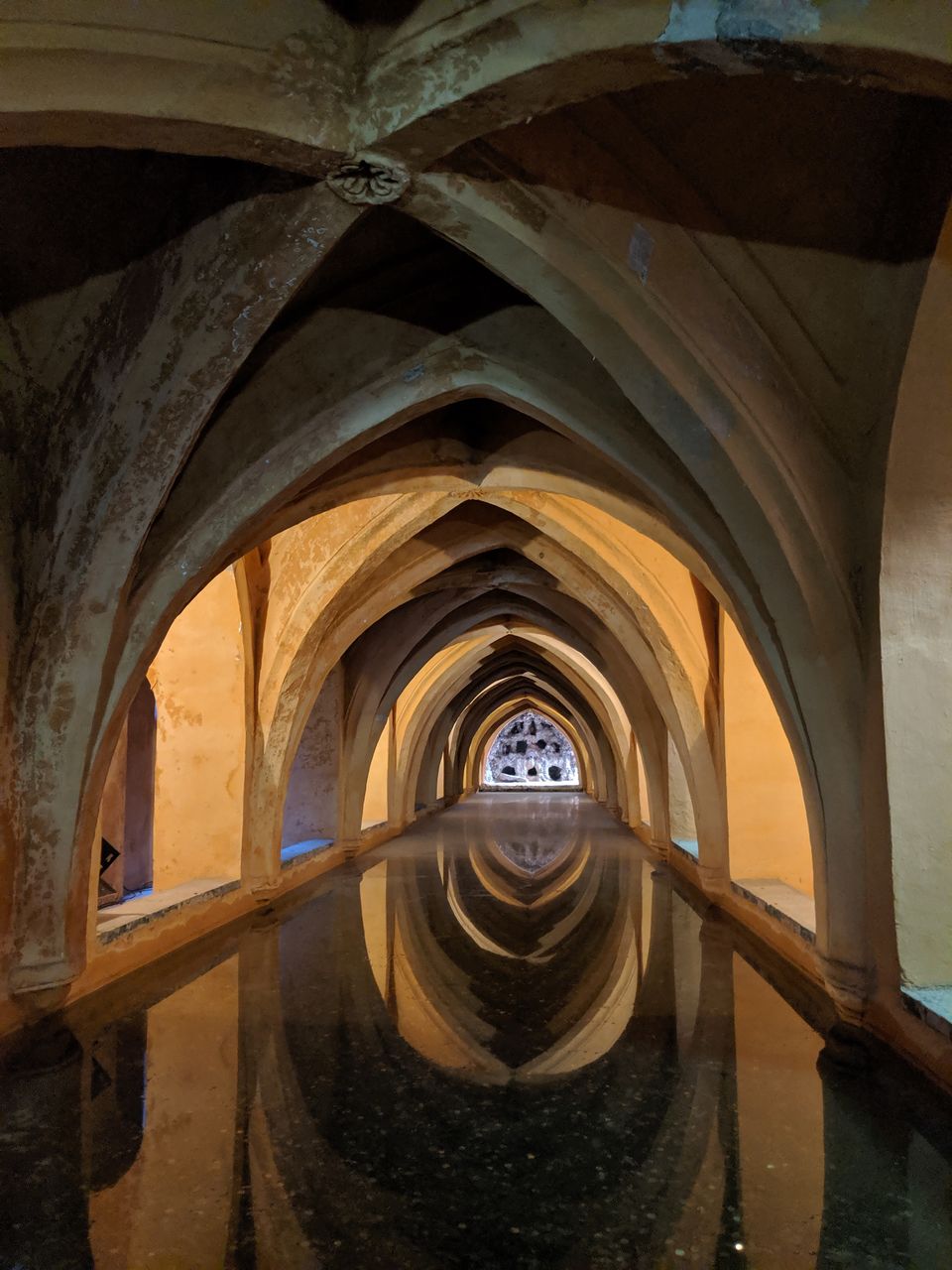 Day 5
Our main purpose to visit Seville was to tick off our wish to sky dive. So, if you have same plans, make bookings in advance as slots are always booked. Due to non-availability of slots, we stayed one extra day in Seville and got a chance to see the aquarium and Plaza de España. It is a landmark example of the Regionalism Architecture, mixing elements of the Baroque Revival, Renaissance Revival and Moorish Revival styles of Spanish architecture.
The late sunset across Europe gives you plenty of time to explore the city. Walking around the old town, we ended our day with a perfect glass of Tinto de Verano, a Spanish summer drink.
Day 6
A trip to Spain is not complete without a Flamenco show. We booked ourselves for an evening show. After relaxing and strolling in the afternoon, we went for the show at around 5.30pm. It was an hour-long show. The show was mesmerising and gets you glued. Seville has a beautiful riverside and take a walk on the riverside in the evening. You can also take a ferry ride. Since we had our jump the next day, we went back to our apartment early.
Day 7
Waking up around 7 in the morning, we made sure to eat less before the jump. It is important to eat light before the skydive. At 8am, we left for Skydive Spain, which is on the outskirts of Seville, for the jump.
Before the jump, the trainers guide you and an instruction video is screened for the people who are there for the jump. It is normal to feel excited and nervous before the jump. The trainers at Skydive try their best to keep you calm. Getting into safety gears, we were all set for a lifetime experience. Once you are in a plane, you feel everything at one time, nervous, excited, scared. The feeling was strange and reaching the 15,000 ft altitude, our trainer gave the signal for the jump. Standing at door of the plane and looking down, with no option than to jump, I took a leap of faith. It takes few seconds for me to realize that I did it. After 30 seconds of freefall, all the fear, nervousness, anxiety was gone.
After the jump, we started the drive towards Marbella. It was a three-hour drive.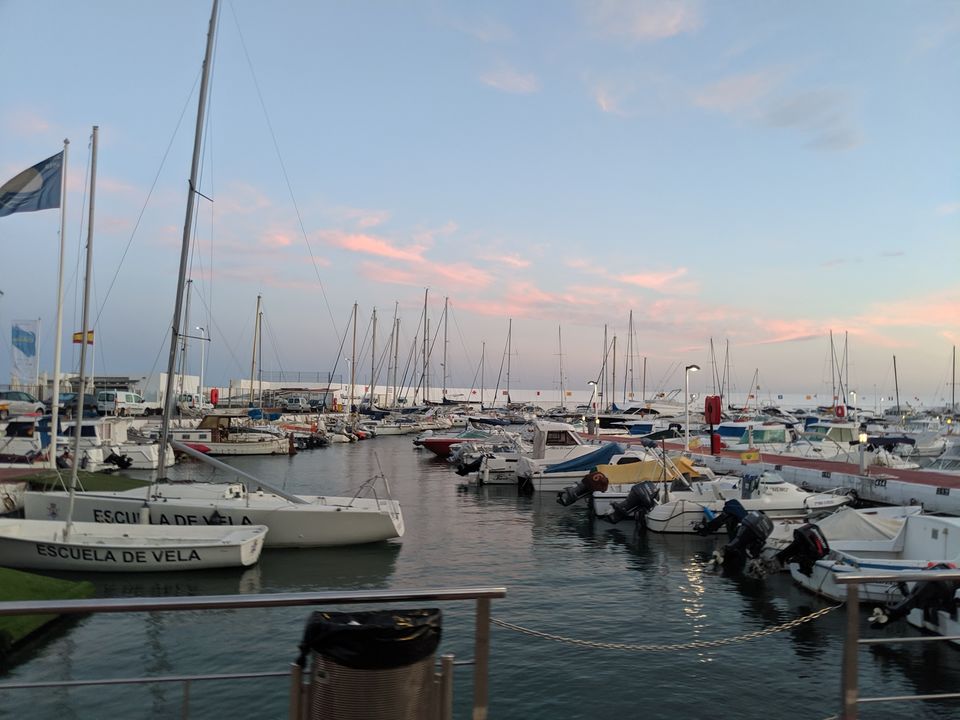 Marbella is the most beautiful beach town in Spain, but we had a rough experience upon reaching our hotel. Our booking was cancelled as we reached a day late and had to re-book it. After dealing with all the chaos, we headed straight to the centre of the town.
Walking along the beach, we watched the sunset and had amazing rajma chawal. It was a surprise for us to find our favourite dish in that part of Spain. We couldn't explore Marbella but if you ever go to Marbella, do not miss Puerto Buenos.
Day 8
Our next stop was Granada, which was only two hours from Marbella. We left around 11am and reached our destination at around 2pm. Granada is a small town on the foothills of Sierra Nevada Mountains. The city is famous for UNESCO World Heritage Site Alhambra, a palace and fortress complex built and rebuilt by Muslims and Christians rulers of the province.
After checking into our hotel, we headed out towards Mirador de San Nicolas, a famous viewpoint in the city. We took a bus to reach our destination as it is in the older part of the city. Mirador de San Nicolas gives you beautiful view of the Alhambra and the whole city. It is plaza with beautiful cafes and an old church. We spent the whole evening here in a cozy café watching sun setting over Alhambra.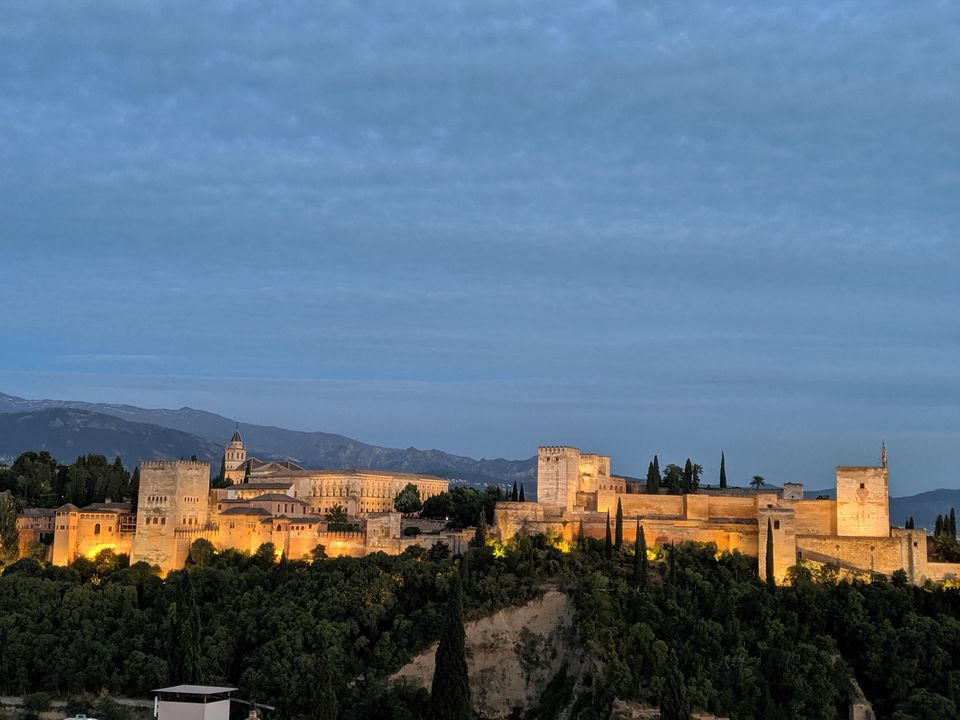 Day 9
We woke up at 8 in the morning and rushed for the guided tour of the Alhambra. If you wish to visit Alhambra, book in advance. We reached our destination and it took around 3 hours to see the whole city of Alhambra. The complex is mix of ruins of forts and beautiful gardens. After the tour, we headed back to our hotels and I decided to explore the rest of the city on my own. My husband was feeling lazy so he stayed back. I walked to the Cathedral and the church. With no battery left in my cellphone, I went to the hotel. The plan was to visit Sacromante caves but I couldn't go. In the evening, we went to see the UNESCO heritage site Albayzin. It is a narrow winding street of Medival Moorish past dating back to the Nasrid kingdom of Granada. The street has vibrant shops with handmade bags, slippers and other home accessories.
Day 10
We were all set to hit the road again. Leaving Granada at around 11 in the morning, we reached Valencia at around 6pm. We stayed in an apartment in old part of the city. Much like other cities of Spain, all the must visit places of Valencia are in the older part of the city. We stayed up till 4am and did pub hopping. The party scene in Valencia is much like Hauz Khaz in New Delhi.
Day 11
Waking up late, I went to see the Cathedral and the church. I witnessed baptising of two cute babies. A life long moment to cherish. At around 2pm, we went to see the City of Arts and Science. It is an entertainment-based cultural, sci-fi style architectural complex and visit to Valencia is incomplete without it. Valencia also has beautiful beaches.
Day 12
Day 12 was time to visit the breath-taking city of Costa Brava. We were again on the road and it took around seven hours to reach Costa Brava. Costa Brava is a small and quiet beach to city. We checked in our hotel, which was in a natural reserve and headed to L'Estartit. It is easternmost part of Spain and is nestled between Montgri Massif mountains and Mediterrenean. This place is full of Scuba diving parlours. Unfortunately, the weather didn't favor us and we couldn't go for Scuba.
Day 13
With nothing much to do, we drove across to France. The best decision ever. We drove for three hours and reached Argeles-sur-Mer. It is town on France's Mediterranean coast. We spend the day on the beach and around 4pm went back to Costa Brava.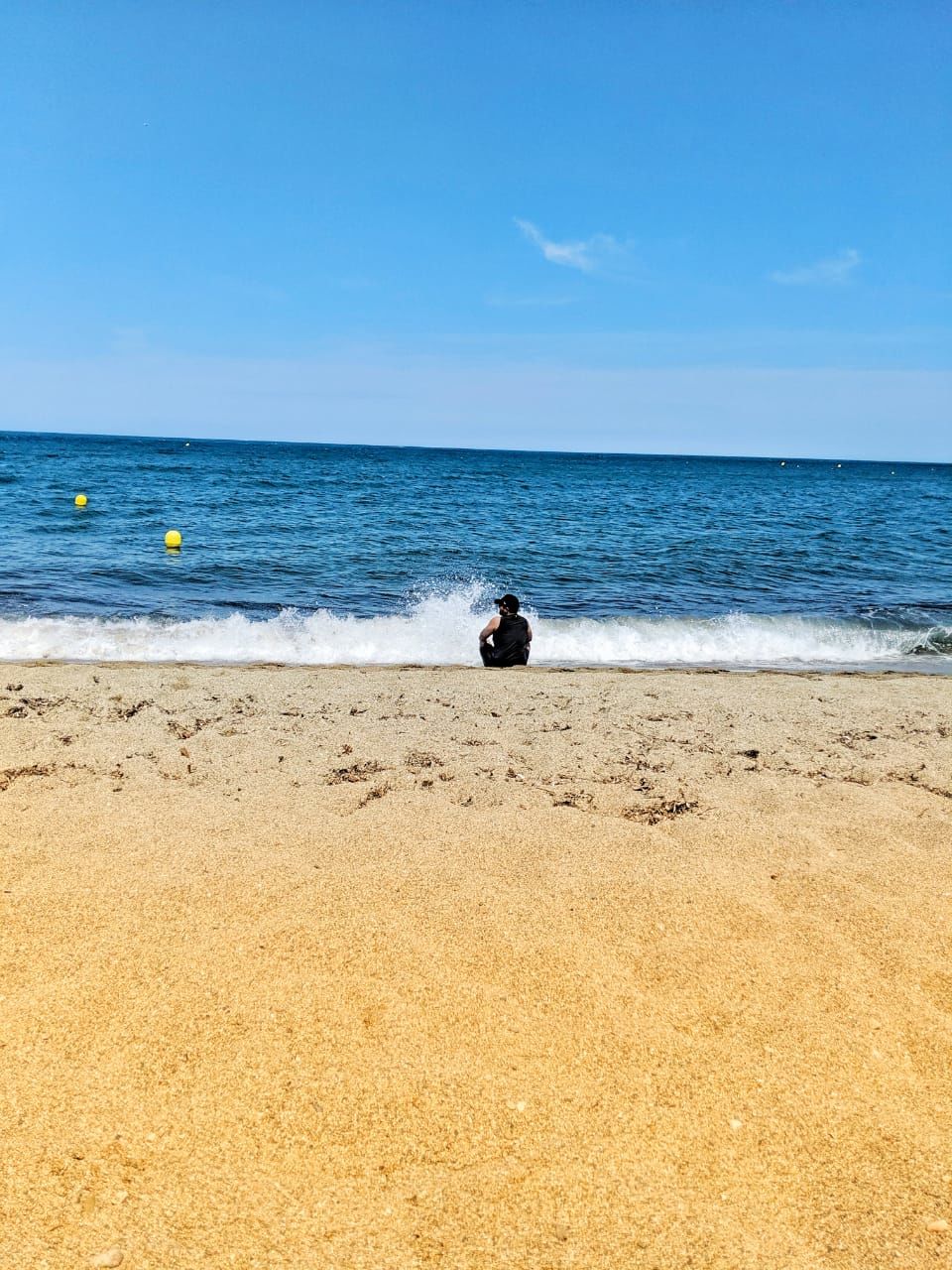 Day 14
With a heavy heart, we had say to goodbye to this beautiful city. After a two-hour drive, we reached Barcelona, our last destination. It rained the whole day but that didn't stop us from taking the tour of Camp Nou (FC Barcelona), the home ground of Lionel Messi. We left the rental car and headed to explore the city. Since it was raining, we used the time to shop.
Barcelona is a paradise for shopaholics. From H&M to Zara to LV, you will find all the stores on a single street. We literally shopped till we drop and headed back to our hotel.
Day 15
Our last day in Spain was jam packed. We went to see the Chocolate Museum, Sagarda Familia and Gothic Square. We took a rickshaw tour and saw Casa Batllo. There are numerous art of Gaudi that you can see but we couldn't due to time constraint. We went to shop again and at night, went to the beach. We visited the famous nightclubs of Barcelona. We came back at 4 in the morning.
Day 16
It was time to say goodbye to Spain. We took a taxi to Barcelona Airport. We reached Delhi on June 14 with beautiful memories of our trip.
Driving experience
Driving across Spain is easy but it is important to follow speed limit. We drove over 2600kms and the view all along is an experience that cannot be put in words. One can experience different landscapes, from lush green olive farms to mountains to sea side.
Always try to take toll free highways to save money.
Weather
The weather across the country was between 20-25 degrees. During some days, we were forced to wear jackets.
Watch this space to know more about different cities of Spain.