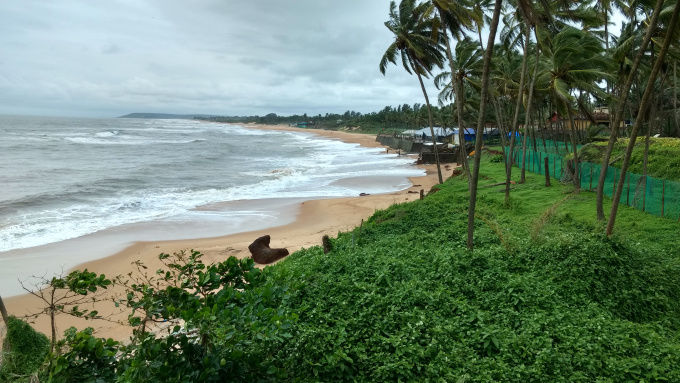 #CoffeeWithTripoto
Goa is a special place where you wish to be in all the seasons at all stages of your life. I have been there twice with friends during winters and I fell in love with the aura surrounding the place. I heard and read a lot about beauty of the place in monsoon but there were two kinds of reviews almost everywhere; one who suggested it as off season and another who loved it during monsoon.
Day 1
When we stepped down at Thivim railway station it was raining heavily. One thing we knew about visiting Goa during monsoon is don't wait for rain to stop. Be ready to move and come prepare as it will rain all the time. We took out our rain coats, covered our bags and moved out to prepaid booth. During my previous trips I mostly stayed at hostels or any other cheap places while this time we opted for leisure resorts. Prices of resorts are at ground level during this season and you can unimaginable bargains at high end resorts. If you ever went to Goa during peak season you must be having an image of beaches filled with shacks, people sunbathing and surfing in water. You will not find any of those activities in rains. It will be secluded, serene and beautiful exclusively made for relaxing and exploring your inner self in peace and tranquility.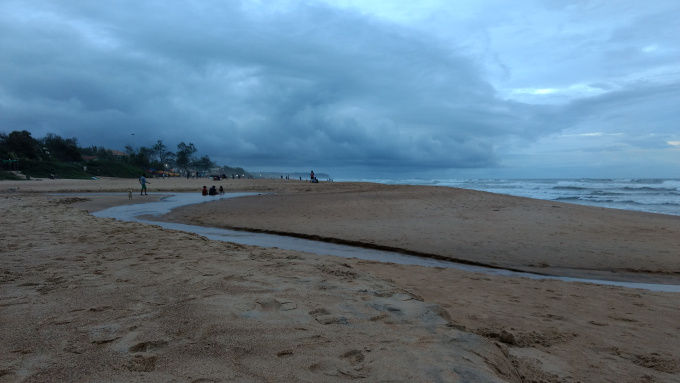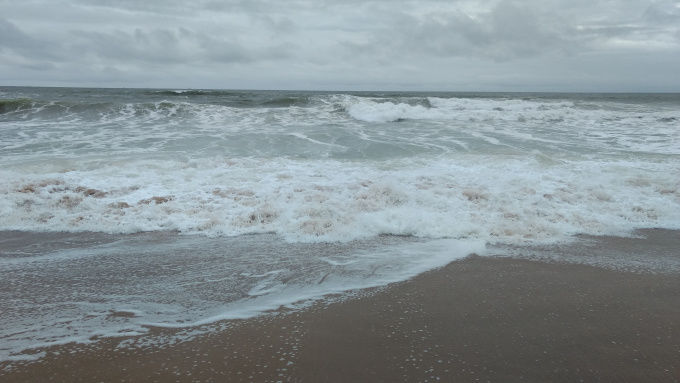 At Candolim, few people were roaming. Some drenching feet in turbulent waves and others sitting on sands, staring at anchored ships(there were few). After soaking our legs in salty water for few minutes, We moved out towards Anjuna. Curlie's has always been a wonderful spot to sit, bite, drink and stare at horizon. It was little crowded but we got front seats easily and we never wanted to get up from there. Wonderful music, delicious food, drizzling showers and captivating landscape glued us to the place. Pomfret made in goan spices was icing on the cake.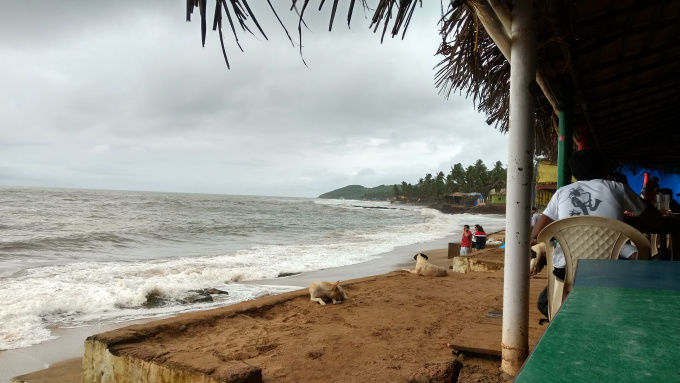 Today was only about getting the feel of Goa. It was different and not disappointing definitely. An evening walk near the resort on Calangute beach was the perfect end of the day. Few shacks were open with lesser customers but same excitement. The tranquility of seashore with grey clouds all over the sky was soothing to the eyes and mind.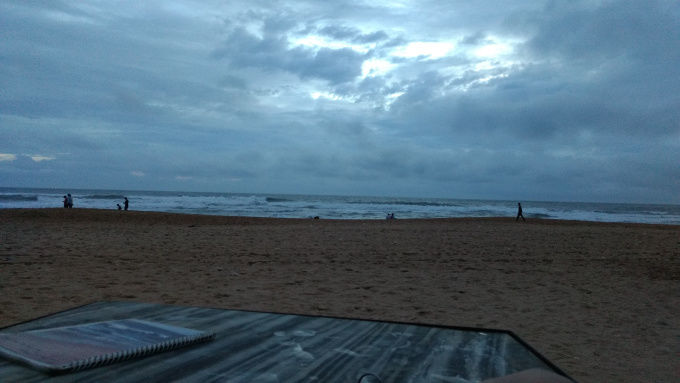 Day 2
When we started next morning it was raining cats and dogs from the sky. We started our Dio put on rain coats and moved towards north again. I never went to Vagator before but geology of the surroundings suggested that rocky shores around Vagator must look most beautiful during rains. As tides were high most of the time. Wild waves were hitting the rocks hard and scattering all over the stones where we were sitting.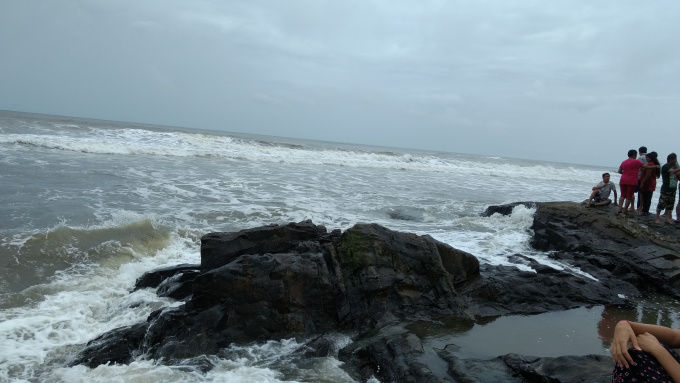 Also there were cliffs with a bird eye view of long spread Vagator Beach. Rains dripping down to the sea and sands, made it look like a different world. You will see greenery everywhere during this season. A decent area to stay during rains as most of the resorts were open in the region and rains beautified the surrounding multiple fold during monsoon. We were not able to take photographs at many places due to Rain but the feel was ingenuous and saved in our brain for a very long time.
Morjim, Mandrem, Ashwem and Arambol are the beaches we liked most during our on season trip but as of now it was not up to the mark. Water was not clean, Beach was slant so we couldn't even soak our feet. Not a single shack was open(except at Arambol) but one can go for a drive to see the flora all around.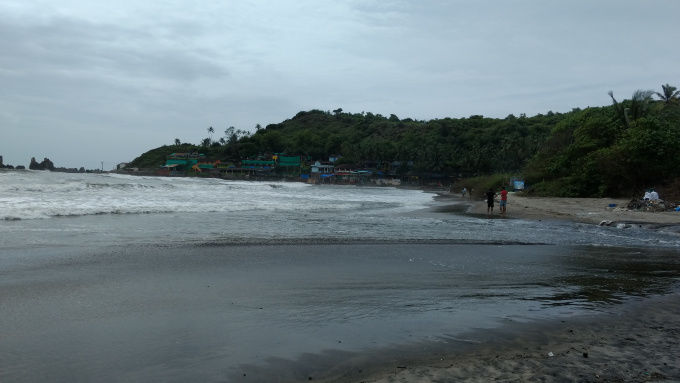 We went there all the way and came back getting down at all the beaches for few minutes. Night was a memorable one at Kapriz, a wonderful dinning place near the river with soulful live music setting splendid mood to the air.(Got it from WUG app)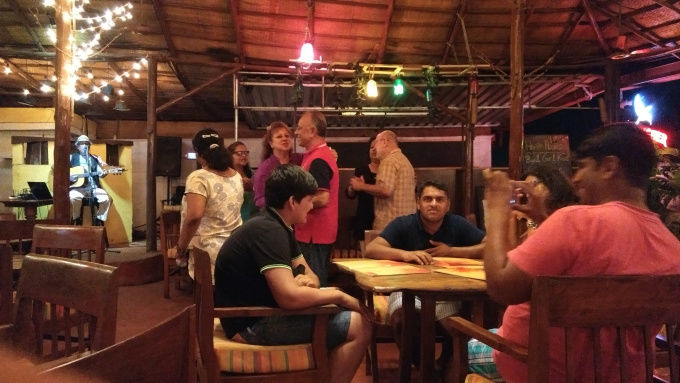 Day 3
Fort Aguada and Sinquerim Beach is divine during the season. Aguada was quite crowded so we went to a walking trail behind the light house.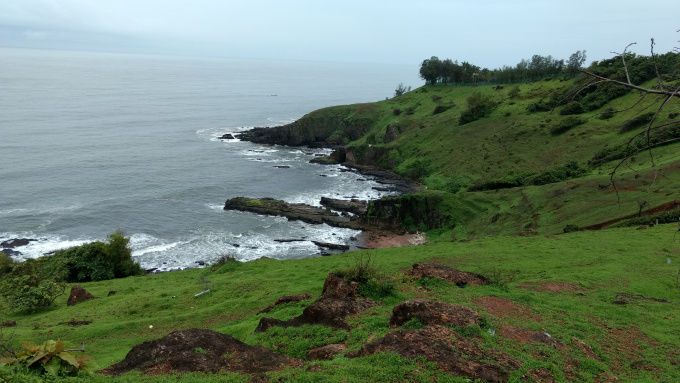 We found a flat stone where we sat for hours, felt sea breeze on our skin and keep looking at the naive and beautiful nature, talking about the artistry of mother nature. Good thing about Goa is you don't need to wake up with a plan in your mind. It is spontaneous most of the times. There are so many places to go that each time you will find something new and something will still be left for the next time.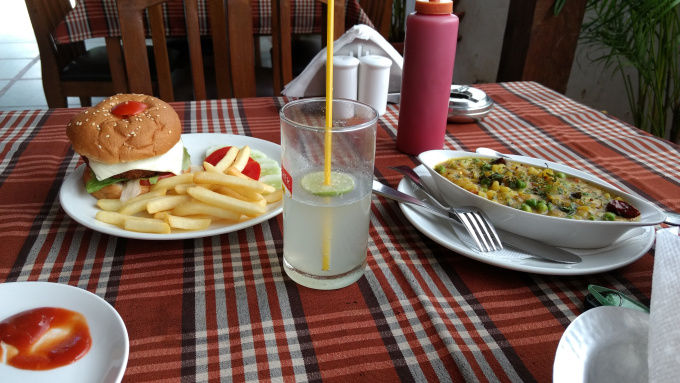 At Sinquerim we sat for hours again and then never felt like returning back. It was hypnotic. Center round structure of portuguese fort is a good platform to catch the beauty of the place. Water was splashing over the walls periodically after hitting hard on the walls.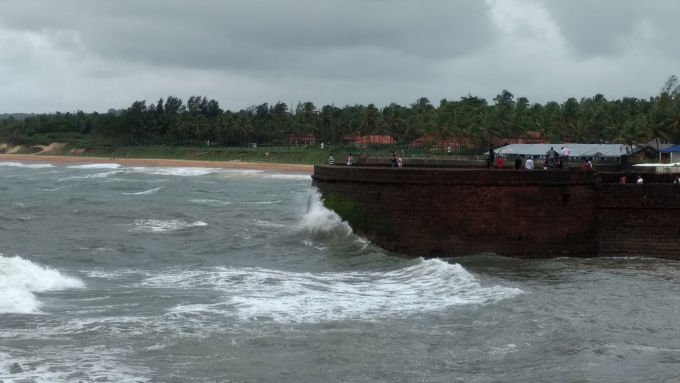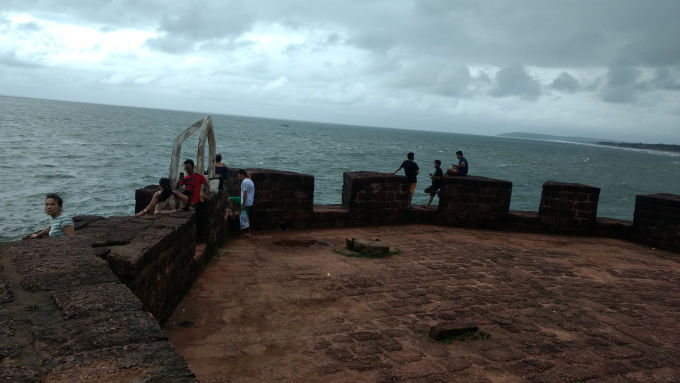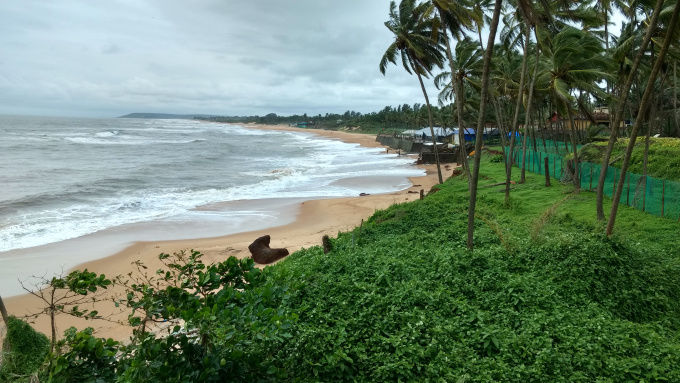 Day 4
In Panaji our stay was at Afonso Guest House near Church of our lady of the immaculate conception, which itself is a heritage building. Quaint neighborhood near church was quite impressive and worth exploring. Basilica of Bom Jesus  and Churches were huge and informative but soon after spending one or two hours we realized it was not our cup of tea. After roaming for a while we turned towards scenic hilly roads to CM House, High Court and finally ended at a small gem across the river, Reis Magos Fort.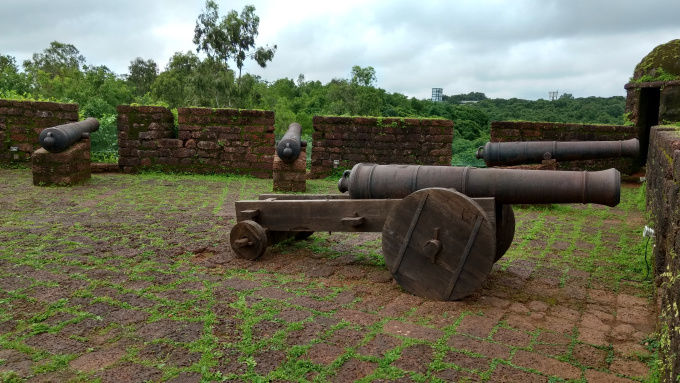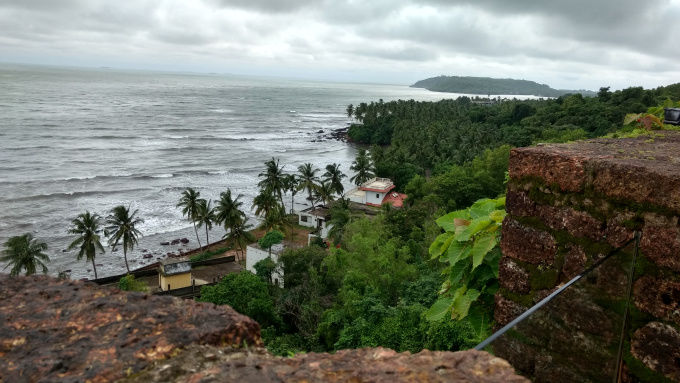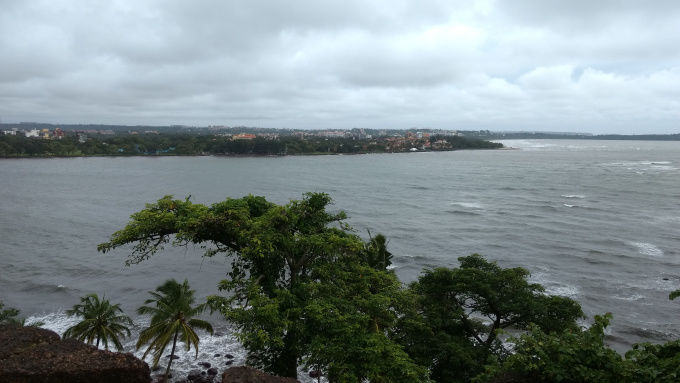 Brilliantly renovated place with a wonderful view of Panaji city at one end and Arabian sea at other. You will also get a lot of information about Operation Vijay and history of Goa with preserved news clips and pictures of old time. While returning to Panaji we got a chance to visit a very secluded coco beach which was fishing center at present. It could be a wonderful hide out during peak season.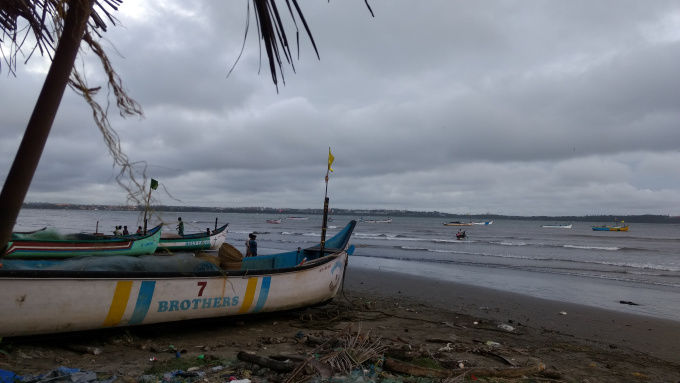 Our day trip concluded with a hot Tea, Samosa and Batata Vada at Cafe Bappa in Betim. In evening, We had a walk around Fontainhas, quaint neighborhood. Bright colored Portuguese buildings, lean alleyways, small bridges, glowing churches and floating casinos give a feel of European architecture. We kept roaming for a while followed by a decent dining at Vivo Panjim, charming small dining corner known for authentic goan dishes.
Day 5
Rain makes Goa a completely different place, You need to be clear what you have in your mind. You will not get crowded beaches, water sports, shining sun, party nights and modest waving sea but serene seashores, tiny droplets pouring from sky all the time with frequent torrential rain, greenery almost everywhere, wet tempting sea breeze, isolated wild beaches and amazingly beautiful cliffs and ancient wet structures will bring out the explorer hidden inside you.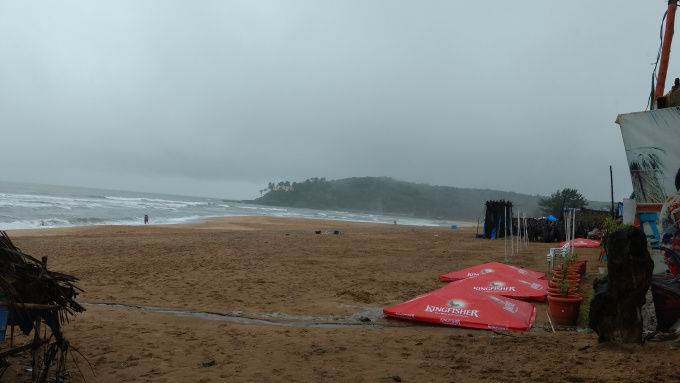 On our last day we went back to Bardez for shopping and visited Baga to spend some time. I was amazed to see the beauty of the Beach.I never knew that Baga could be so hushed that I will admire it. I never liked it before during daytime. It was raining but I couldn't resist taking above photograph.
I never knew beaches can be this beautiful and tranquil. Imagine yourself standing on wet sands while dying waves touching your feet and cold raindrops falling on your skin from the top, gauze spread all around you and salty winds soothing your hair. It reminds you of your existence in this beautiful world. Away from worldly desires and challenges, you become a child, an explorer, a traveler and an admirer. When I was standing there, watching the blur horizon above the sea, listening to the dripping raindrops, breathing the moist air, I was not thinking of anything, I was truly existing in that moment. We were in a different world for few days and it was mesmerizing.
After buying some souvenirs we started for Vasco Da Gama railway station. When I was moving towards Vasco, looking at abandoned rusted ships on water, near the road, I was missing Goa already.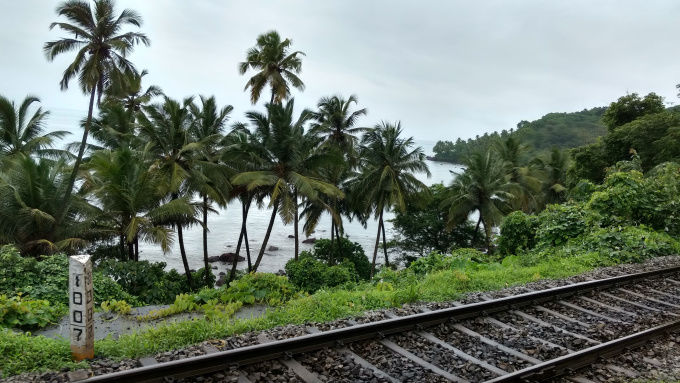 We boarded our train but excitement was not ended yet. Goa express passes through some breathtaking landscapes which were unfolded multiple times by mist and flora of the hills during this season. Train was moving on serpentine track in between the clouds from tunnel to tunnel. Dudhsagar fall was at its best on the right side of the track and deep green valleys of Nilgiri Hills were on the left side of the track. Finally after spellbinding journey of 2 hours we came down at Londa Junction, had steamy bhaji vada with tea and boarded again for a long journey ahead.