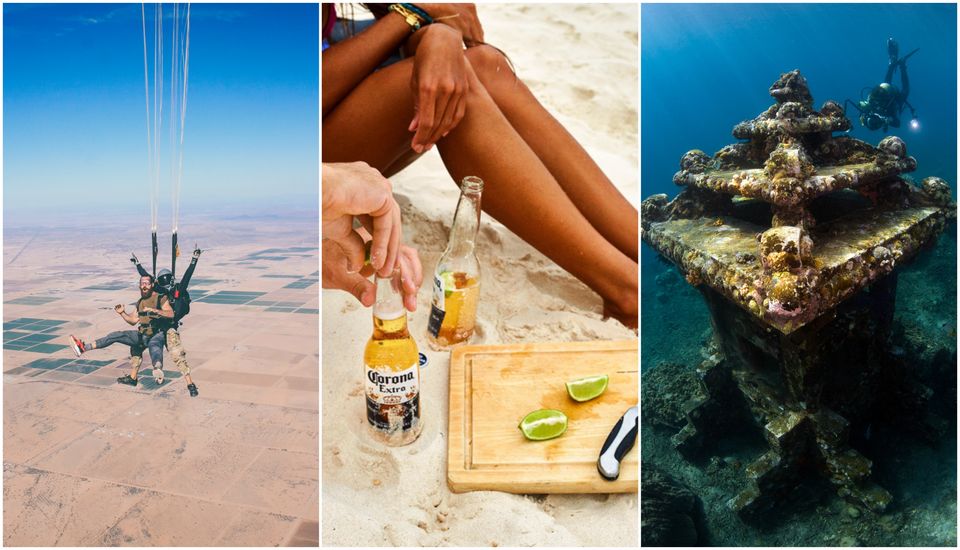 Is it the thrill of jumping off a cliff? Is it exploring the depths of the oceans or the world in general? Is it just spending time with your family or friends? It could also be as simple as taking a walk on the beach or reading a book by the pool with a cold Corona. How do you define ideal living?
Everyone's pickle is tickled by one or the other excitement in life because it is human to yearn. If there's no looking forward to the good times, we wouldn't have evolved into present day homo sapiens around 6 million years ago. The reason for all this rhetoric is an exciting contest organised by my favourite beer brand Corona in which people from all walks of life are invited to post pictures or videos on Facebook/Twitter/Instagram where they tell the world what ideal living means to them.
Why should you post? Well, three winners will get to win an all-expenses-paid getaway to Casa Corona in Goa where they can fulfil all their life's dreams! :P
Corona's #ThisIsLiving Contest
Go check out Corona India's Facebook and Twitter page to check out what the world has been posting, but you have complete freedom to post whatever you want if that defines your way of living!

What You Need To Do:
1. Post a picture/video on Facebook/Twitter/Instagram
2. Use the hashtag #ThisIsLiving
3. Tag @CoronaIndia (on Facebook and Twitter) or @Corona (on Instagram) in caption and on picture
4. Tag @tripotocommunity in caption and on picture
All three prizes are sponsored by Corona India.
Contest Guidelines:
1. The contest is promoted by Crown Beers India Pvt Ltd, 5th Floor, Tower C, DLF Cyber Greens, DLF Cyber City, Gurgaon, Haryana, India 122002.("Contest organizer").
2. Contest Start Date: 16 April 2018
3. Participants must follow and tweet to @CoronaIndia to be eligible for this contest on Twitter.
4. Participants must share the contest video and post on their profiles tagging the Corona India Facebook page to be eligible for this contest on Facebook.
5. By submitting entries, contestants are agreeing to these terms & conditions.
6. This Contest is in no way sponsored, endorsed or administered by, or associated with Twitter and/or Facebook. Eligibility: Indian citizens who are 25 years of age or above as on the date of commencement of the Contests.
7. The Contest is not open to (i) persons who have an agreement or contract with any third parties that prohibits them from participating in the Contest; (ii) the employees (permanent or contract) and directors, including each of their immediate family members of (a) Contest organizer, their parent, subsidiary and affiliated companies (collectively, "Crown Beers Entities"); and (iii) advertising and promotion agencies, suppliers of prizes, and persons or entities connected with the promotion of the Contest.
8. Contest organizer reserves the right to verify the eligibility of contestants.
9. Where entries are submitted on behalf of a contestant by another person, contestant shall be deemed to be aware of the terms & conditions. Organizer shall not be responsible for any damage/injury/loss caused to contestant.
10. If a winner is disqualified for any reason, the prize shall be awarded to the next qualifying contestant.
11. All prizes are non-transferable, non-refundable and non-exchangeable for other products or cash, shall be accepted as they are and are subject to any terms and conditions as may be imposed by the Organizer and/or manufacturer. All unclaimed prizes shall be forfeited at the discretion of the Organizer.
12. In case of products from other manufacturers, events or concerts, Organizer, its officers, agents, distributors have not made and are not responsible in any manner for any warranties, representations, or guarantees, express or implied, in fact or law, relating to the prize(s), regarding the use, value or enjoyment of the prize(s), including, without limitation, its quality, mechanical condition, merchantability, or fitness for a particular purpose, with the exception of any standard manufacturer's warranty that may apply to the prize or any components thereto. The prize(s) may be subject to restrictions and/or licenses and may require additional hardware, software, service, or maintenance to use. The winner shall bear all responsibility for use of the prize(s) in compliance with any conditions imposed by manufacturer(s), and any additional costs associated with its use, service, or maintenance.
13. To be an eligible participant of the contest, the contestant must reply to all our questions put up on Twitter with #ThisIsLiving
14. In order to claim their prize, the winners need to revert with the required details within the stipulated time conveyed to them.
15. There will be 3 winners.
16. The gratification for the winners will be: A Fully sponsored vacation in Casa Corona in Goa.
General:
1. Contest organizer's decision on all matters relating to the Contest, including selection of final winners shall be final, conclusive and binding on all Contestants and no correspondence shall be entertained in this regard.
2. Contest organizer reserves the right to alter the terms & conditions, terminate, or suspend the Contest at any time, with or without notice, for any reason whatsoever, without liability and contestants shall be governed by the terms & conditions as varied by Organizer
3. The Contest organizer shall not be responsible for any delay, failure in transmission of information due to network, technical, electronic failures, and negligence of contestant to read announcements/ messages or any other conditions beyond the control of the Contest organizer. Only eligible entries received by Contest organizer during the contest period will be included in the winner selection. Any automated receipt confirmation does not constitute proof of actual receipt.
4. These terms and conditions are governed in accordance with the laws of India. Any dispute shall be subject to the jurisdiction of courts in India. These terms and conditions are subject to edits as per Crown Beer's discretion
5. Crown Beers does not solicit the promotion and sale of liquor.
Start sharing your content on your social media handles right away, because the early bird catches the worm!

In case you have any queries, do mail us at info@tripoto.com and we'll respond to you. Hic!
In association with Corona India.