If you are one of those who like to be surrounded by Hi-tech world and elevated High-rise Hotel towers/ buildings, you are not on the right page.
I am talking about a place which has it's own charm of an ancient & heritage touch, topped up with all modernized amenities – "Heritage Village Resort & Spa"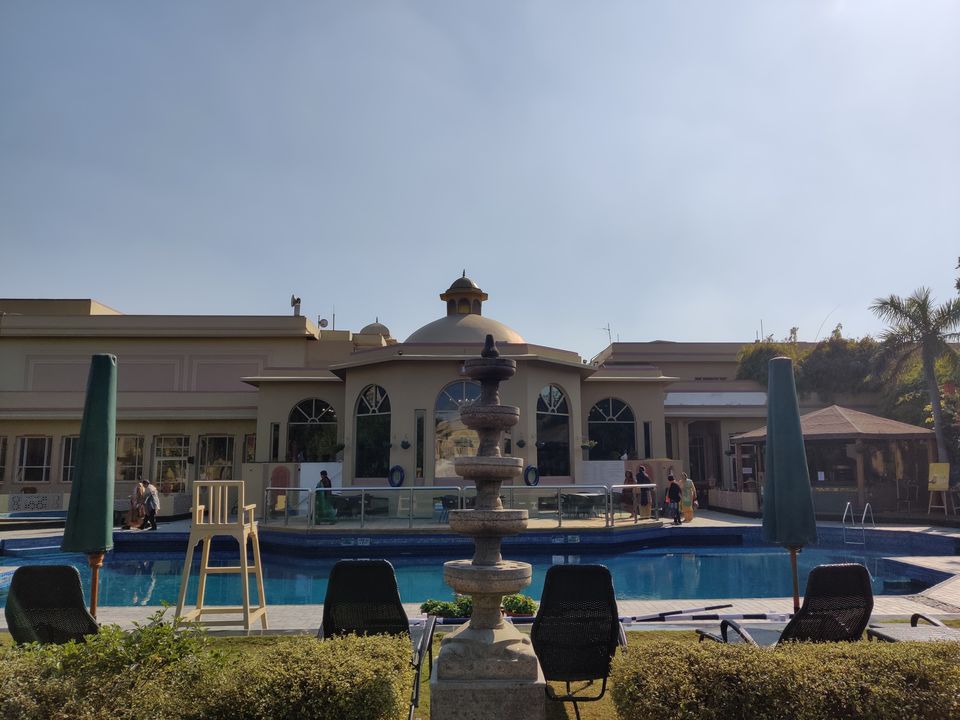 A place located just a stone's throw away from Delhi is full of positive energy and vibes the moment you enter this place.
A huge parking space will give you satisfaction to park your car overnight without any worry.
You will be welcomed with Rajasthani folk music played by people decked up in their local dresses.
Once you are at the lobby, you will be in a different world all together with modernized feel and courteous staff waiting to welcome you and bring the best in you out.
All the more once you walk towards the rooms, you will experience a blend of ancient and modern culture with an open air swimming pool with the sit out area and a Live Food Counter overlooking the Haveli & a huge green lawn surrounded by multiple clusters loaded with small little cozy rooms to welcome you for the day/ evening/ night.
Rooms are well equipped with couches and beds with modernized and clean bathroom fittings.
As we checked-in and relaxed for a while, we were out for an evening walk to take a show-down to the property and we came across amazing places like – "Pappu Chai Point" – an open air chai shop on the bed of green grasslands, (2) A Rajasthani Theme based Village – "Baranhandi Vilage".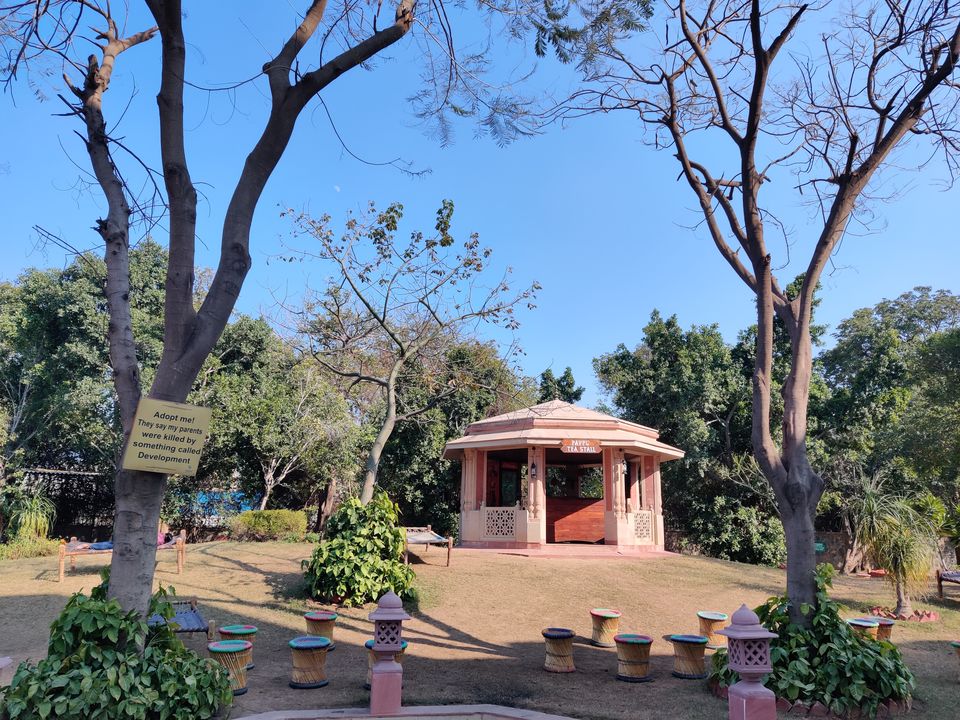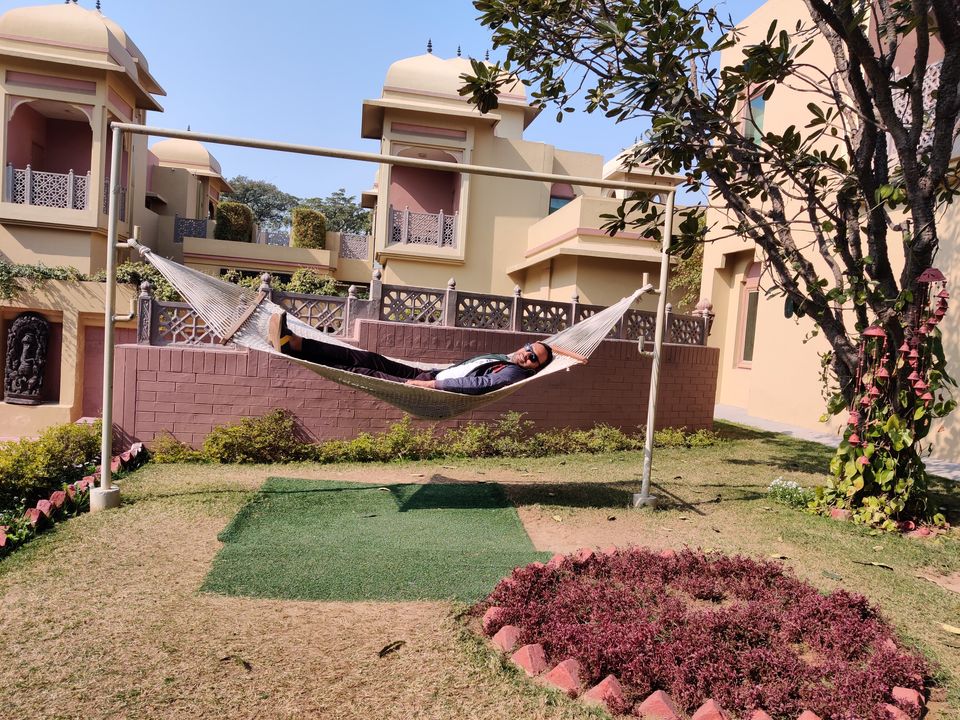 While we were coming back from a walk, were taken further for a walk by one of the Front Office representatives & to our surprise we were offered a Haveli Suite which was all decked up by balloons and rose petals to continue our stay beyond that point. (Since, we were here to celebrate a special occasion and these guys wanted to make that special for us). Cherry on the cake was the cake itself which was already placed with candles – so sweet of these guys – Thank you Team, really appreciate.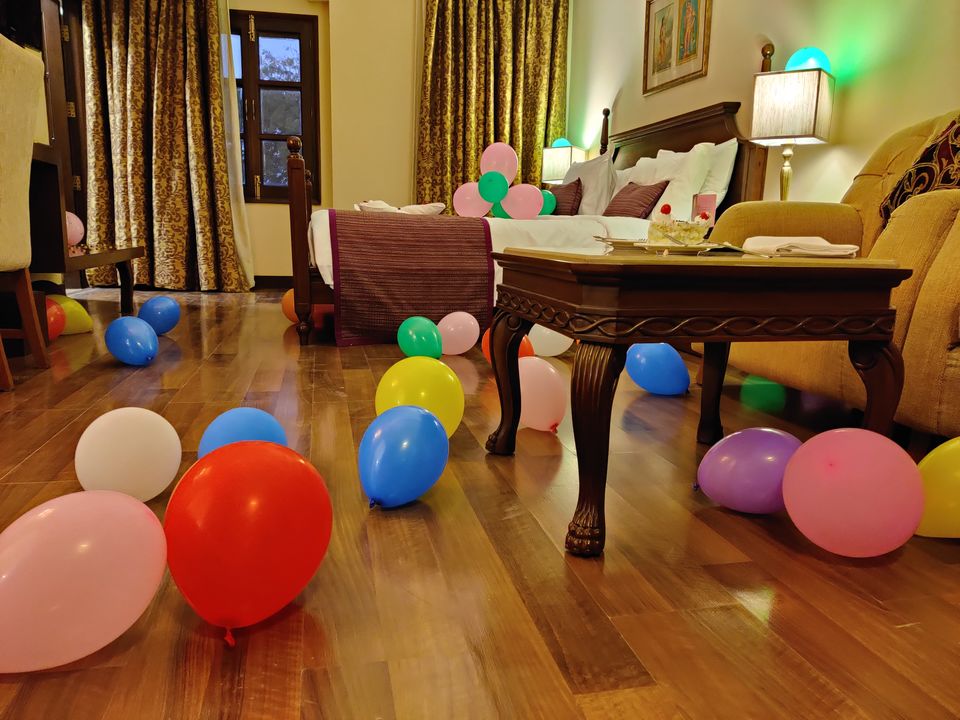 It was such an awesome evening at a suite with a huge drawing & dining area, all charged up rooms with balloons all over and a fantasy-tic bathroom with inviting bath-tub. A perfect couple place.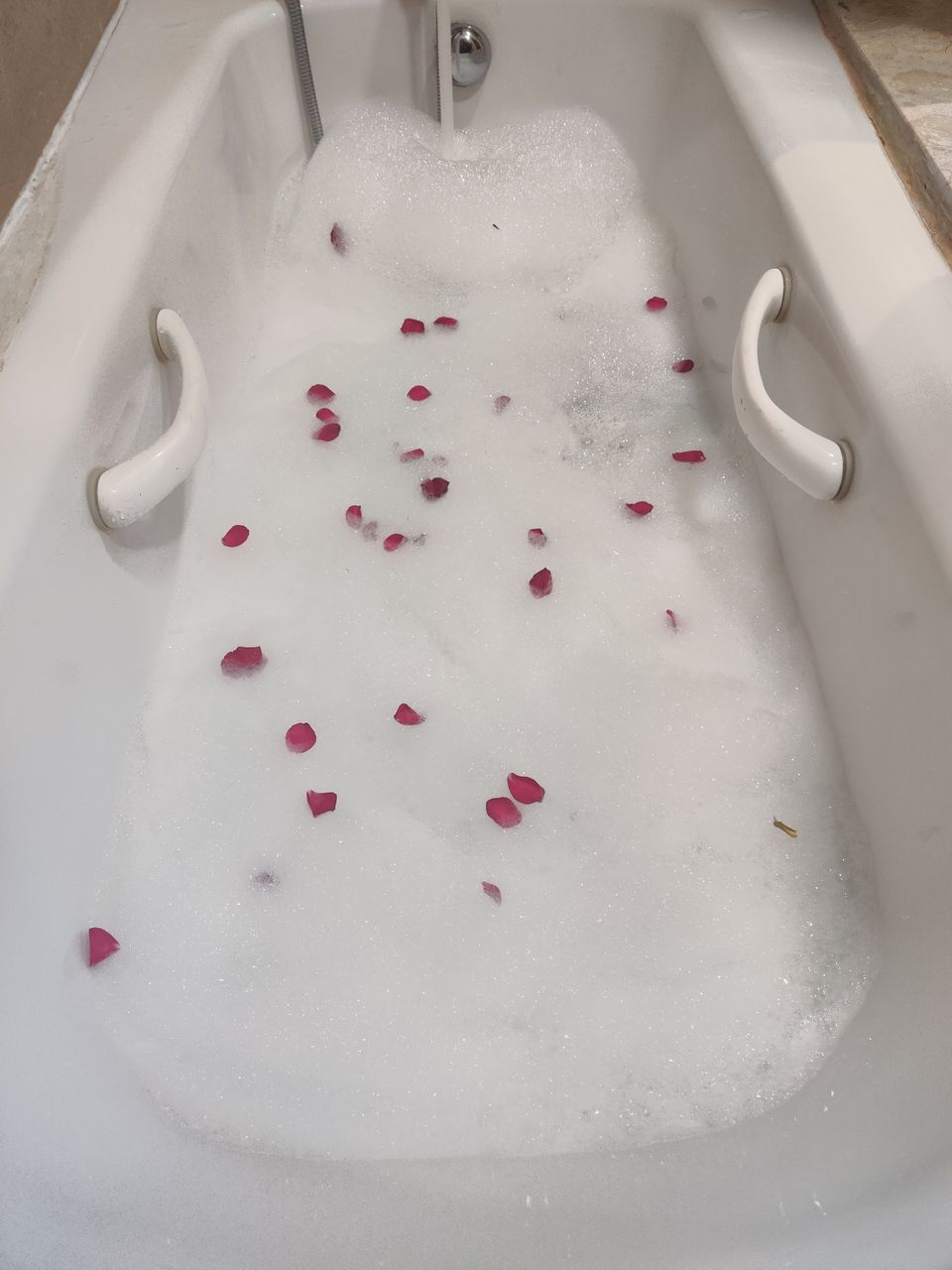 What else could you ask from this place with red wine – some fish…. right?
Believe you me, they prepare absolutely mouth-watering tandoori fish to swim down your tummy lane.
For dinner, we ordered Pakistani Matka Gosht and it was like a home made non-spicy mutton, exactly the way we wanted it to be. Again to our surprise, the dinner came with a complementary desert (pastry & a banana tart).
A comfortable overnight sleep took us to the next morning and we woke up in the lap of nature with beautiful birds and parrots chirping right outside the window pain and taking high flights to welcome another beautiful bright morning.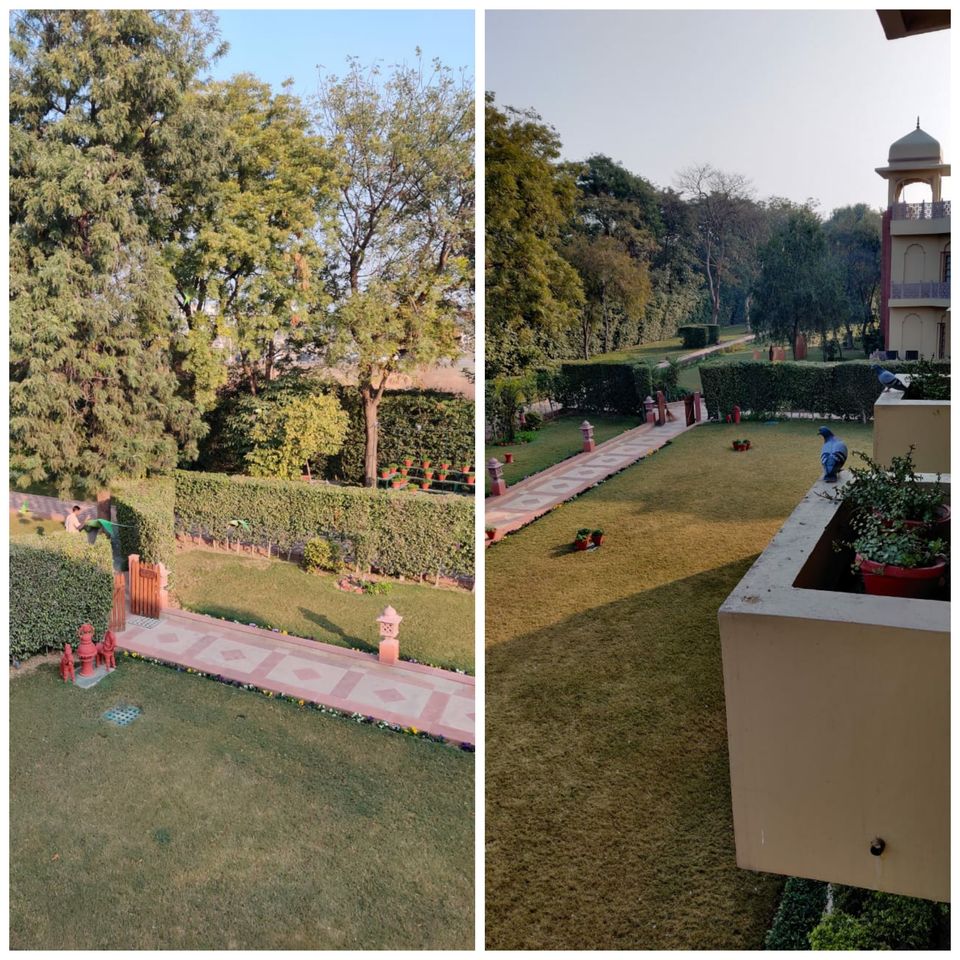 It was time for breakfast and we were all hungry to hit the buffet spread which had a variety of Northern and Southern accomplishments.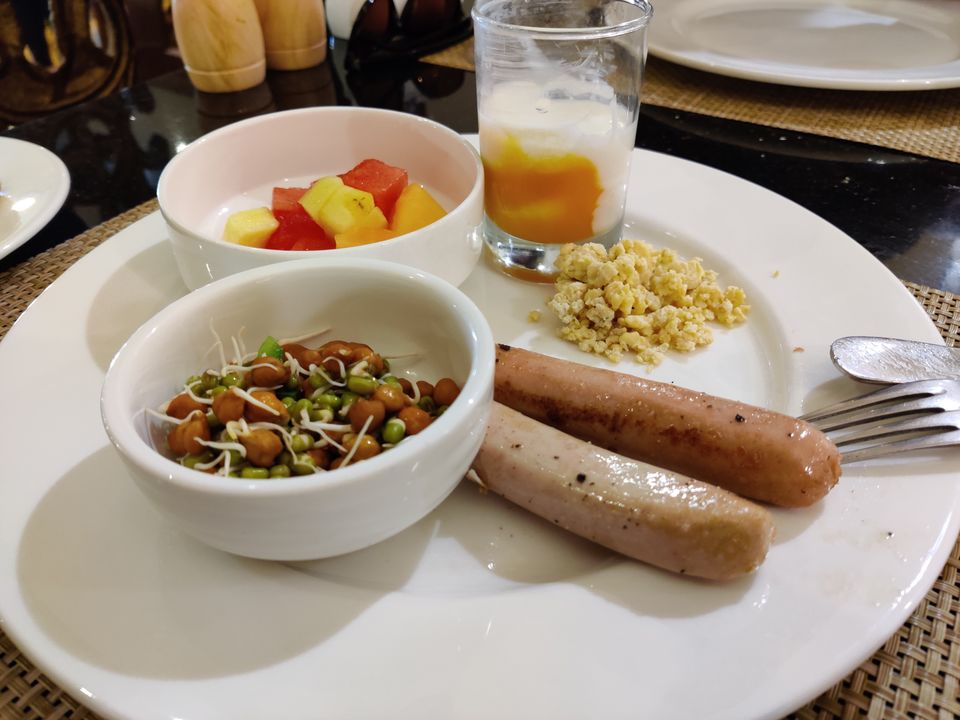 A tea at the pool side with bright sun made us all refreshed to go back to the bath tub and get ready to hit our work life which is again just a 10mins drive away in Gurgaon.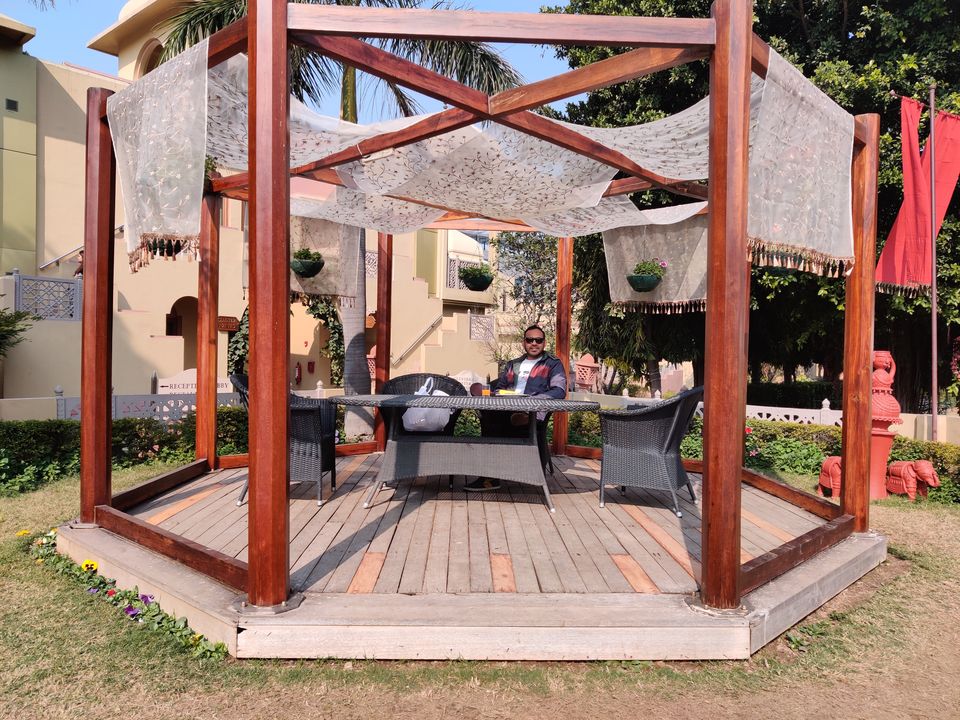 If you are looking for a night out from a busy schedule to be surrounded by nature and to be pampered well, this is the place in the isolated world waiting for you with the warm welcome.
#Heritage #Nature #Ancient #Modern #Pamper #Special #Delhi #Weekender #OneNightStand #whentgtravels #whentgcelebrates