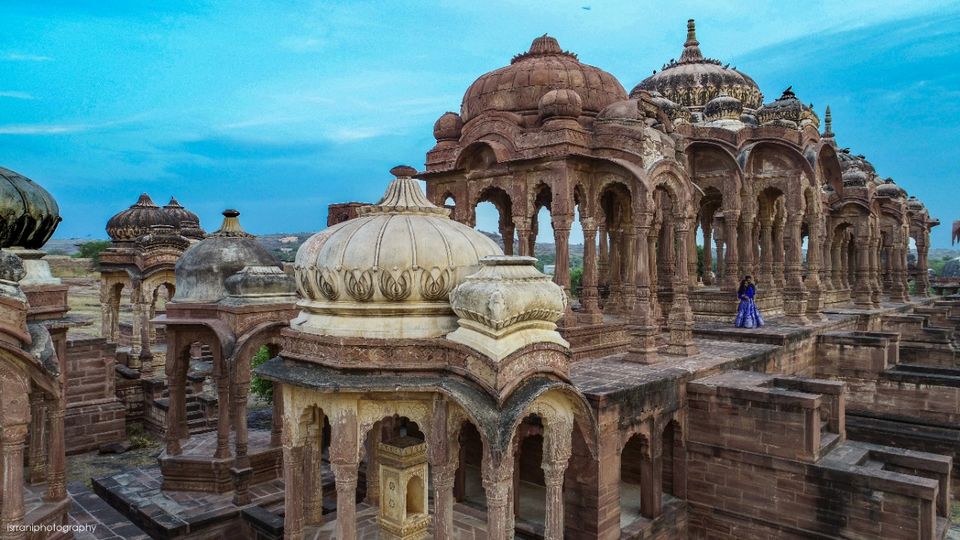 Rajasthan is like a royal paradise, the "Land of the Kings" as widely known. The state is located on the northwest part of India and stands a representation of the Indus valley civilization, temples, ruins of forts in every city and a library of folklore. Filled with rich culture, heritage, ancient classic Indian architecture, Rajasthan is a state of vibrant folklore, dance, music and colors.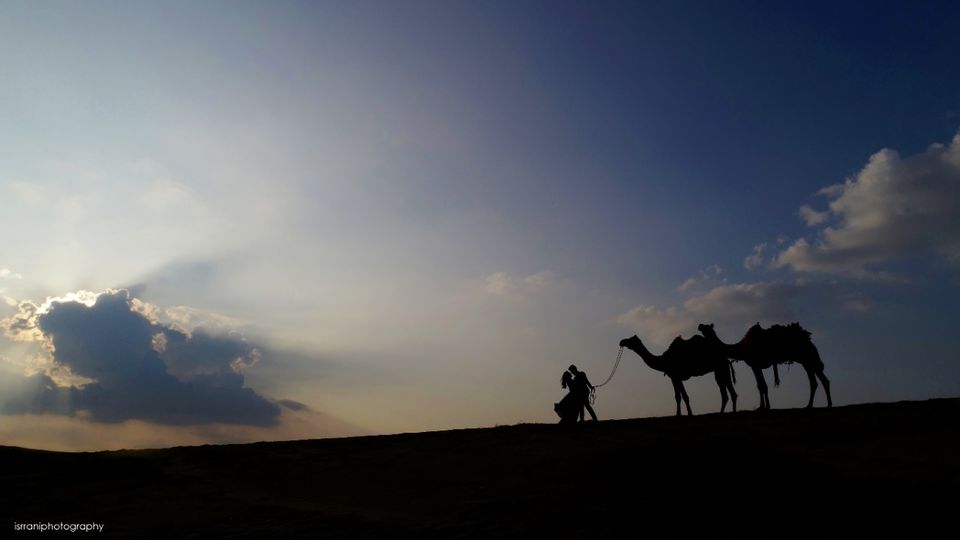 If you're tired of the conventional travel destinations, maybe it's time to experience this royal gem in India. Here are top 10 ultra-luxury properties that you should put on your bucket-list spread across Rajasthan.
Top 10 ultra-luxurious properties in Rajasthan where you must stay, at least for once in a lifetime:
1. Fairmont
Welcome abode into a world of royalty and generous hospitality. This I can say from personal experience, Fairmont Jaipur is one of India's best ultra-luxurious property with outstanding hospitality. As you enter Fairmont, you are showered with rose petals and classic Nagada dhol beats (just like when kings and queens were welcomed).
As you walk in, there are several instrumental artists playing melodious Rajasthani folk songs. The main lobby, the opulent rooms, the pool side and the ballroom are all a beautiful rendition of Rajputana architecture and intricate Mughal detailing. The jharoka's, chatris, miniature painting, hallways lit by wall-hung mashaals and a 300-year old door opening to a beautiful outdoor garden make up for a probable modern-day palace.
They have 2 room categories, the Suite and the classic king rooms, both giant sized, comfortably jeweled with couple friendly bath tubs.
Best known for: Hospitality, 2 restaurants, a library bar, a royal smoking and sheesha lounge, musical hi-tea and ultra-spacious rooms.
Where: Fairmont Jaipur, 2, Riico, Kukas, Rajasthan 303101
Price per night: Rs. 30,000 onwards
2. The Oberoi Udaivilas, Udaipur
This is the mothership of all Oberoi hotels. It is glamorous, ethereal and right on the lake Pichola giving eye-candy views to all their guests. Made of marble and sandstone, Oberoi Udaivilas reflects on the country's magnificence, architecture and heritage.
There are rooms with semi-orivate pools, suites located way back on the lake for utmost privacy, and pretty jharokhas (window seats) paved in each room. Each category of rooms speaks of utmost luxury and comfort. The breakfast is royally exaggerated. Everything from world cuisine to traditional Rajasthani food, to statewide specialties, Udaivilas has it all spread for you on a gorgeous platter.
Best known for: Brilliant spa, top-notch country-club like bar, ultimate luxury and heart warming hospitality.
Where: Badi-Gorela-Mulla Talai Rd, Haridas Ji Ki Magri, Pichola, Udaipur, Rajasthan 313001
Price per night: Rs. 30,000 onwards
3. Rambagh Palace
This is one of India's most exquisite palace hotels. With its unbeatable combination of flawless hospitality, history, cultural significance, heritage and fine dining, Rambagh is for the ones who live life king-size.
This was a former hunting lodge and royal residence (was home to the Maharaja of Jaipur) located right in the city center. You will be welcomed with garlands and rose petal showers, and invited to a candle lighting ceremony every evening with cocktails before dinner.
The hotel has over 78 rooms and 33 suites, each built keeping space and luxury in mind. The walls are jeweled with traditional artworks and paintings. When it comes to food, Rajasthan never fails to amaze you. The widespread breakfast options will fill you up for the day. Do not miss the Kachori-kadi and Poori-bhaji.
Where: Bhawani Singh Rd, Rambagh, Jaipur, Rajasthan 302005
Price per night: Starts from Rs. 60,000 for full-season and Rs. 40,000 onwards for off-season
4. The Leela Palace, Jaipur
Set amidst the gorgeous stretch of the Aravalli mountains, the hotel is a beautiful blend of modern contemporary décor and tastefully embellished suites and villas. The walls are decked up with traditional Shekhawati paintings and local craft and art. The chef specializes in traditional Rajasthani food, Awadhi, Italian and continental cuisines.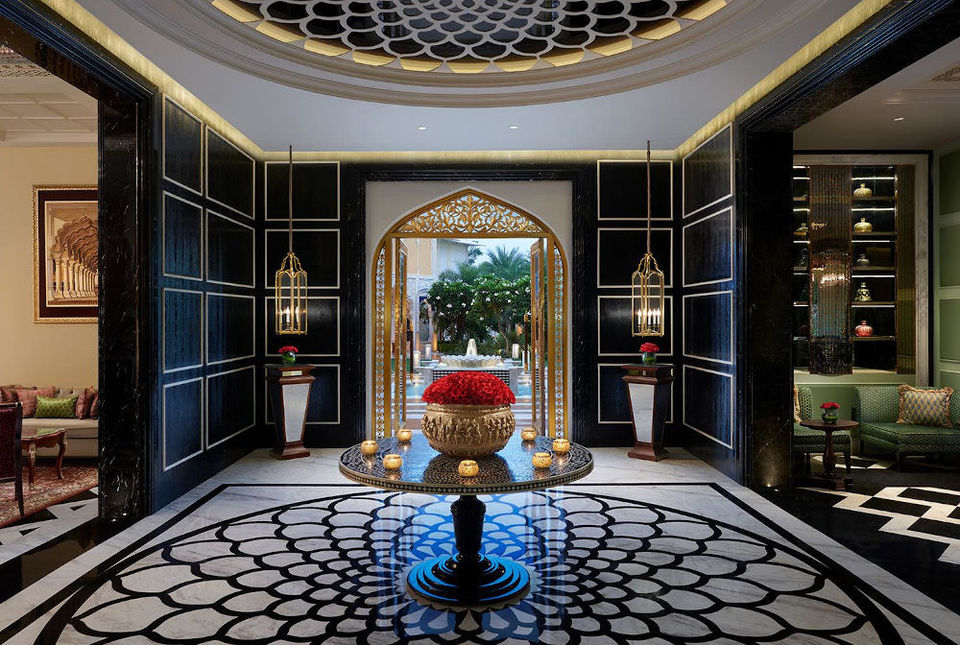 As you walk through the gorgeous property, you'll find Instagram worthy walls, colorful floorings, vibrant carpets and more. This place is paradise for Insta-worthy pictures. Mohan Lal, is Indians only candle lit restaurant that hides in this gem. The restaurant walls took 3 years to be completed when local craftsmen put together 3,50,000 fragments of Thikri mirror.
Best known for: Instagram worthy interiors, fine-dine and gorgeous bar lounge.
Where: Jaipur-Delhi Highway, NH 11, Kukas, Rajasthan 302028
Price per night: Rs. 20,000 onwards
5. Taj Lake Palace, Udaipur
Taj Lake Palace, Udaipur is one of the world most romantic hotels. So if you're planning for the perfect date or a glamorous proposal, look no further. The palace floats in Lake Pichola like a gorgeous white ship jeweled with classic intricacies of the Rajasthani and Awadhi culture.
The hotel was built in 1743 by the royal dynasty of Mewar and later got converted into a hotel in the late 1960s. The hotel was also used in a bon movie - Octopussy. Thusi goes without saying, that once you're here, you will be treated with complete royalty. The heritage suite rooms are an epitome of luxury. The hotels offers sunset drinks by the rooftop bar and have 4 restaurants where one can dine in.
Best known for: 360 degree views of the city if Udaipur and the Aravallis.
Where: Pichola, Udaipur, Rajasthan 313001
Price per night: Rs. 30,000 onwards for off season, and Rs. 50,000 upwards during full-season.
6. Raas Devigarh, Jodhpur
The clean and contemporary design, the warming tones and the minimalistic architecture is perfect for people who enjoy luxury layered with minimalism. It is set amidst a landscape used by Rajput rulers for wars and hunting. There are hidden courtyards and balconies in different corners of the hotel.
Over-luxurious royal service is their motto and every guest can feel the warmth. This is small hotel with over 39 suites, garden suits opening into verandahs and terrace suites with walk-in rain-showers.
Best known for: Over-solicitous royal service
Where: Tunwar ji ka Jhalra, Makrana Mohalla, Gulab Sagar Rd, Sagrar, Jodhpur, Rajasthan 342001
Price per night: Rs. 30,000 onwards
7. Umaid Bhavan Palace, Jodhpur
The old-world opulence, richness carved in the walls and stories that unfold over time is what Umaid Bhawan Palace hotel stands for. It is large, magnificent filled with dramatic interiors, just like how the royals lived back in the days.
India is a rich country, and Umaid Bhavan is a standing ovation to it. It took 13 years to build this palace and is currently party a home to the Maharaja of Jodhpur. A portion of the palace hotel is usually rented out for weddings.
The royal suite overlooks the Mehrangarh fort and it is best advised to stay here for at least 2nights to enjoy the evening rooftop cocktail session. At Umaid Bhavan Palace, you can sip on some fresh champagne for breakfast while watching the melodious peacocks in the gardens.
Best known for: Outstanding breakfast, hospitality and dramatic interiors.
Where: Circuit House Rd, Cantt Area, Jodhpur, Rajasthan 342006
Price per night: Rs. 50,000 onwards
8. Amanbagh, Ajabgarh
Amanbagh is located amidst the starkly gorgeous Aravali hills of Rajasthan. This property stands for a Mughal era-centric architecture and splendor. This stunning property pays homage to the golden past of India. It is constructed out of sandstone and pink marble and has over 22 haveli suits, 15 pool villas made keeping ancient architecture and modern requirements in mind.
Best known for: Yoga, ayurvedic spa, jacuzzi, pool, fitness center, meditation and other wellness activities.
Where: Ajabgarh, Rajasthan 301027
Price per night: Rs. 1,00,000 onwards
9. Sujan's Jawai Leapord Camp
The romance in the desert started over 46 years ago on the land of the royal tiger, Ranthambore, grew into love, hospitality and respect for mother nature, Rajasthan's history, culture and heritage. The Jawai experience helps you see the wilderness in an all new perspective - with luxury. Here, you can immerse yourself in local culture, local lifestyle and food.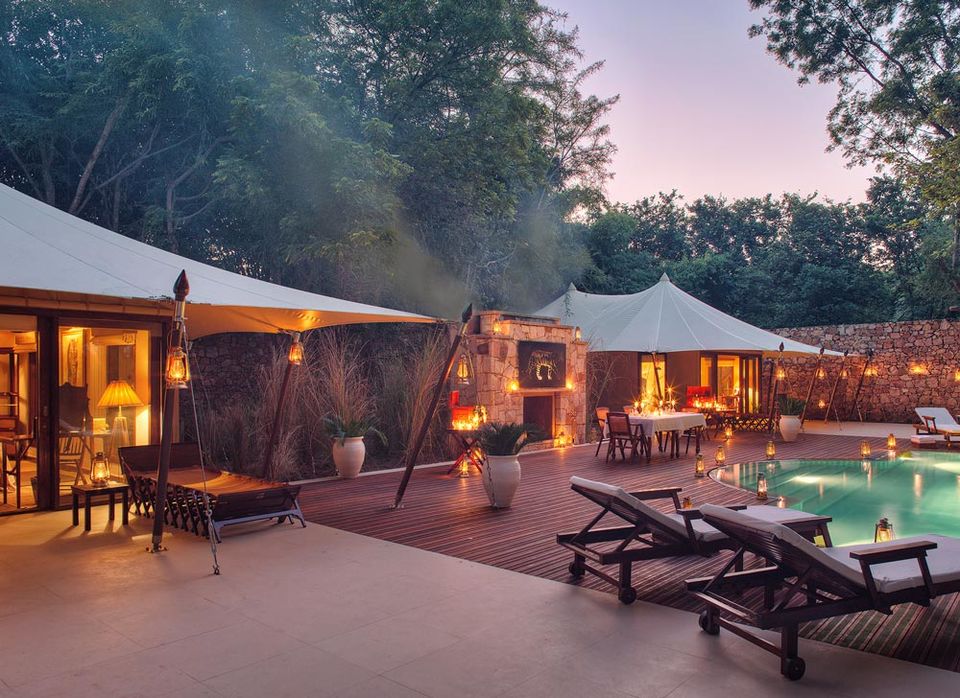 They have tented rock suites and the family felidae suite, the panthera suite and the Eden at Jawai, their most recent and exclusive inclusion. These camps celebrate the great outdoors with panache. This can be one of the best, most royal and unforgettable luxury experiences of your life.
Best known for: Breathtaking sunsets, one-of-a-kind luxury camping experience.
Where: JAWAI DAM DISTRICT, Pali Marwar, RAJASTHAN, Rajasthan 306126
Price per night: Rs. 95,000 onwards
10. Suryagarh, Jaisalmer
Speak of the lifestyle of the Raja's and Maharaja's of ancient India, and your mind instantly runs to how they lived their every day life. How life-sized would their rooms be and what would they have been made of?
Enter Suryagarh, where ancient Rajasthani traditions have been carefully preserved in the walls of this ultra-luxury property. They hotel will take you through nostalgic paths of hidden secrets of a land filled with myths and stories of legends. In particular, Suryagarh outshines every other property in their impeccable hospitality and welcoming nature.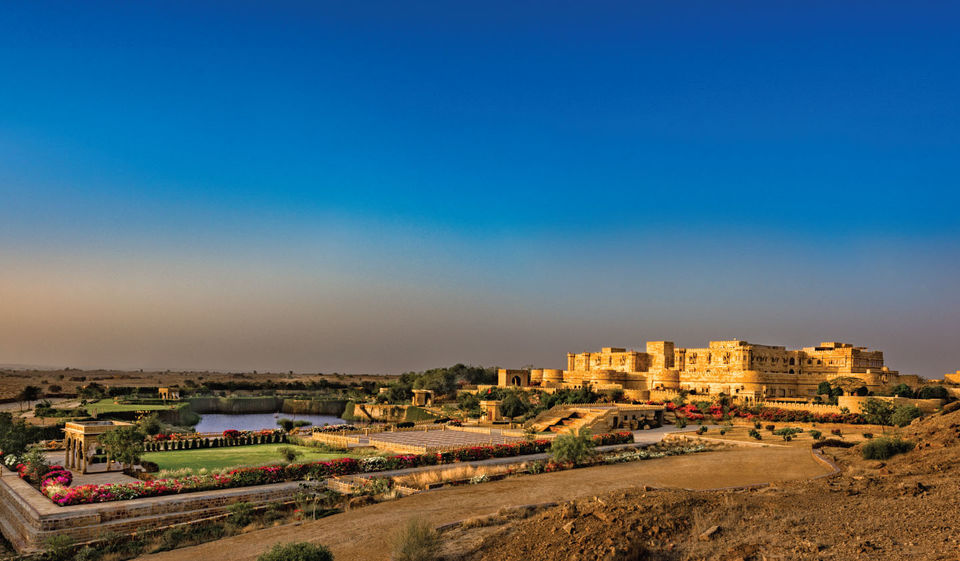 As you enter this palatial monument, you are welcomed with classic Rajasthani live music artists and an authentic Rajasthani rose sherbet. As you walk through the hotel, you will see the rich spread of room options ranging from fort style rooms, classic Suryagarh havelis to the royal Thar haveli overlooking the contours of Jaisalmer sand-dunes.
Best known for: Hospitality, traditional Rajasthani food, world class spa and massages, and cultural and musical evenings with Mehboob Khan.
Where: Kahala Phata, Sam Road, Jaisalmer – 345001
Price per night: Rs. 24,000 and above
Are you already lost in the desert love? Want to experience a part of the desert romance? Pick any one of these properties and make your booking now. You must absolutely experience at least one of these 10 luxury properties in Rajasthan.
Have you already been to any of these before? Share your experience on Tripoto. While you're planning a trip to Rajasthan, don't forget to check out the city palace of Udaipur and the Hawa mahal of Jaipur to immerse yourself to the depths of their culture
Did this blog help you learn something new about the richness of our beautiful country? Does it make you want to immerse in the culture and history of Rajasthan?
Be a part of the largest online community of travelers on Tripoto's Facebook page!
If you liked the article, share the love and follow me on Instagram - #Whereizmyboardingpass