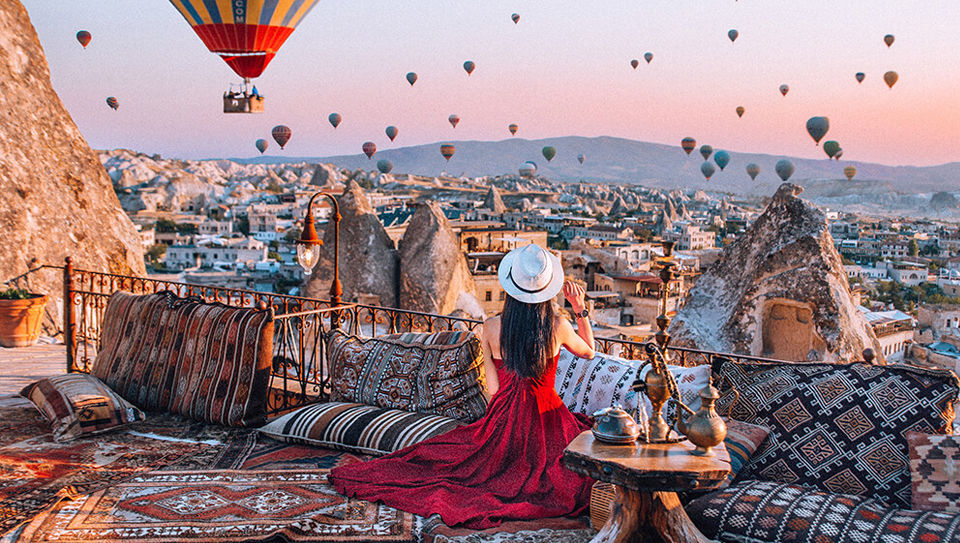 A geological marvel of honeycombed soft stone, Cappadocia is a place that appears to have been plucked straight from a fairytale. The ethereal landscape dotted with formations dubbed as 'fairy chimneys' by the locals is made even more magical every morning as colorful hot air balloons dance across the sky.
Sleeping In A Cave Hotel: A Once In A Lifetime Experience
Have you ever imagined sleeping in a cave? Cappadocia is one of the most romantic destinations in the world and there is nothing more unique than staying in a cave hotel here. This region is famous for its underground cave systems and unique homes built into the rock formations. There are some truly incredible hotels that have been built into these rock formations and caves.
Read on to find out about some of the best cave hotels in Cappadocia for a unique and memorable experience!
‣ Insta-worthy ‣ Delicious breakfast ‣ Terrace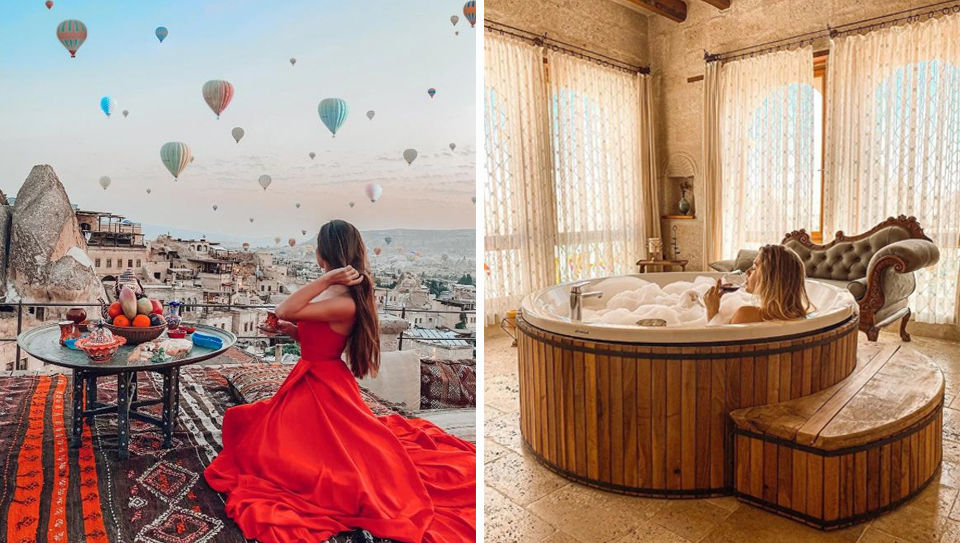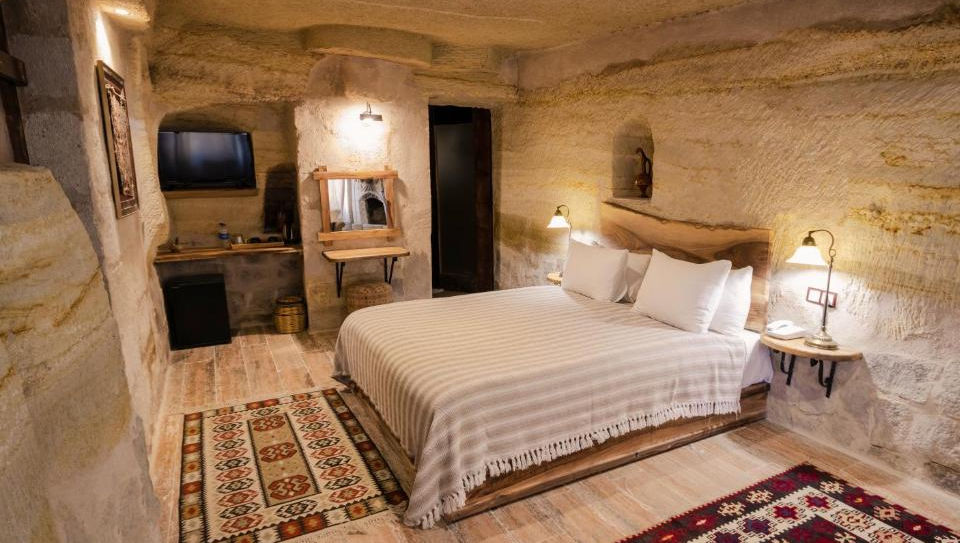 About: You must have come across Insta- couple photos on Instagram posing with tons of hot balloons and colorful skyscapes, delicious breakfast set up on the table, colorful cushions, and cute dogs as a backdrop- yes this is the place! Sultan Cave Suites is best known for its breakfast terrace and really popular with Instagram influencers and couples.
Amenities: It's not only about the best view, but this hotel also has suite rooms of different sizes with bath tubs; ranging from junior suite to sultan suite. The hotel staff can arrange local excursions such as hiking and hot air balloon flights which are must-do activities in Cappadocia.
Cost: 35,238 INR/night onwards for 2
‣ Best view ‣ Luxury ‣ Amazing location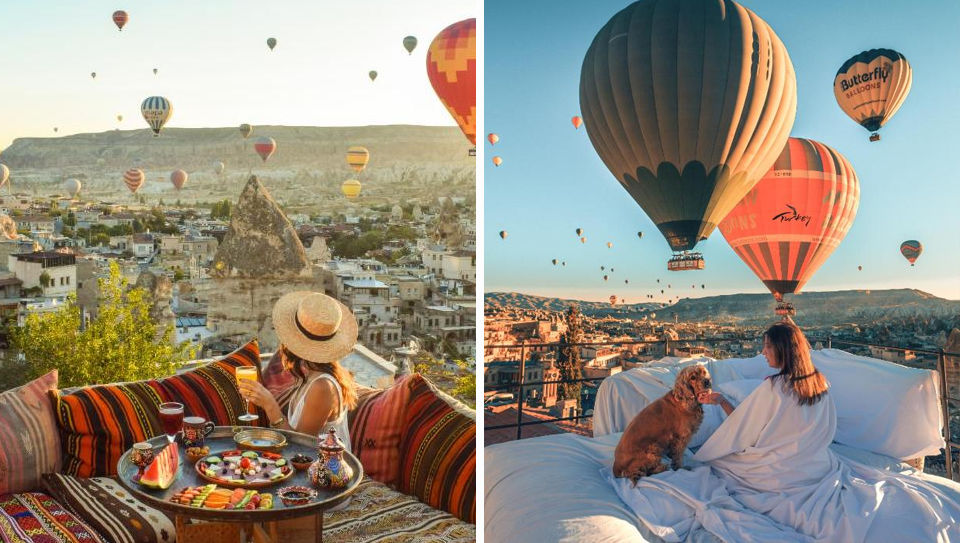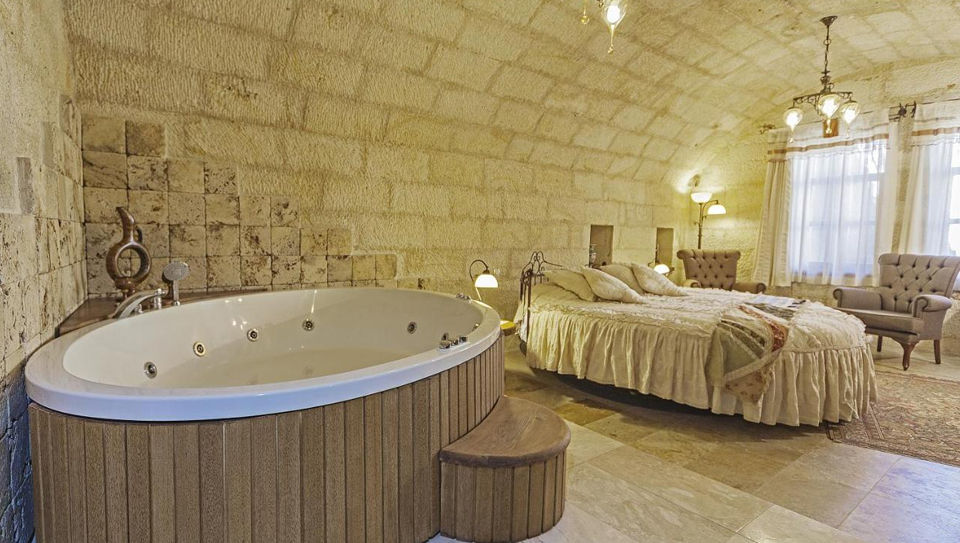 About: Mithra Cave Hotel is a luxury cave suite with terrific views of many hot air balloons gliding over Goreme town. Compared to other luxurious cave hotels, Mithra's price is quite competitive considering it's the most photographed cave hotel in town because of its insane view of hot air balloons in the morning.
Amenities: This property offers numerous terraces adorned with beautiful carpets and pillows- not to mention they also have a cute dog which you can take photos with, too! The rooms are cozy, breakfast is beautiful, and the hotel staff is very welcoming so it's not just a pretty setting. It is a fantastic place to stay for Instagrammers and luxury seekers.
Cost: 18,184 INR/night onwards for 2
‣ Outdoor pool ‣ Romantic ‣ Luxury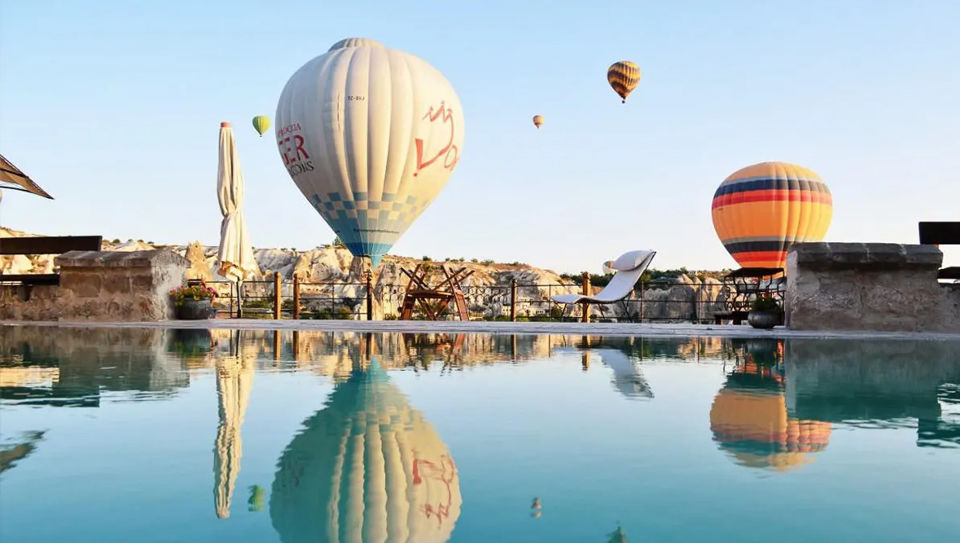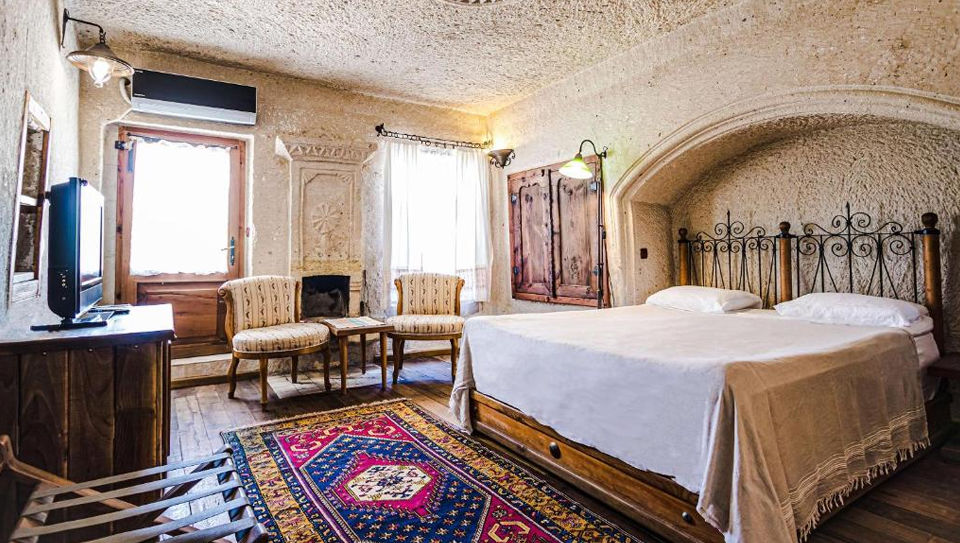 About: Another top-rated cave hotel in Cappadocia, the suites at Kelebek Special Cave Hotel are luxurious and romantic so no doubt you'll have the holiday of your dream here!
Amenities: Many of the suite rooms have fireplaces and private balconies which give unrestricted views of Goreme's amazing landscape. With sweeping panoramic views and comfortable seating, the indoor bar and outdoor pool are perfect places to relax after a long day. If you want to book a tour, definitely ask the staff as they are extremely helpful in organizing tours for their guests. If you want to pamper yourself, the hotel offers a traditional Turkish bath and a variety of different spa treatments.
Cost: 32,482 INR/night onwards for 2
‣ Great breakfast ‣ Great room ‣ Traditional Turkish buffet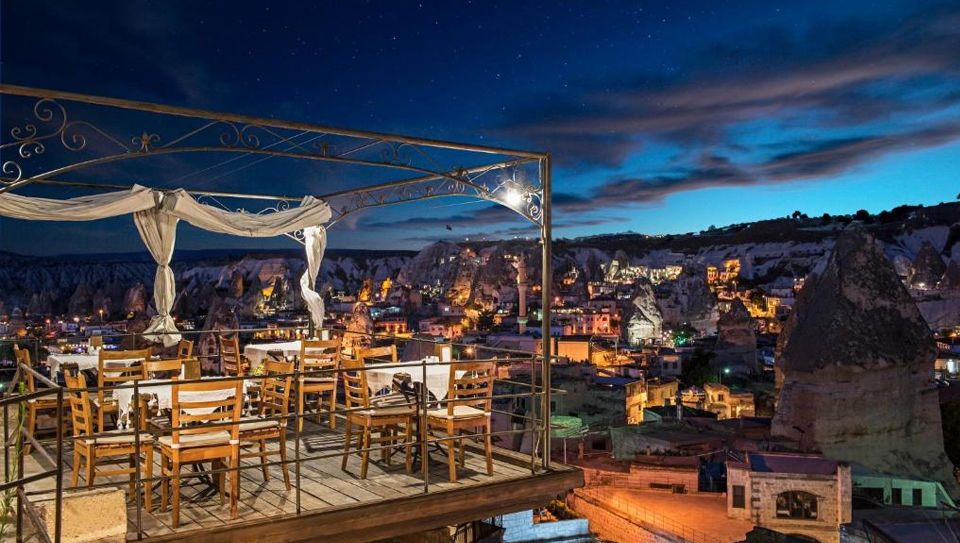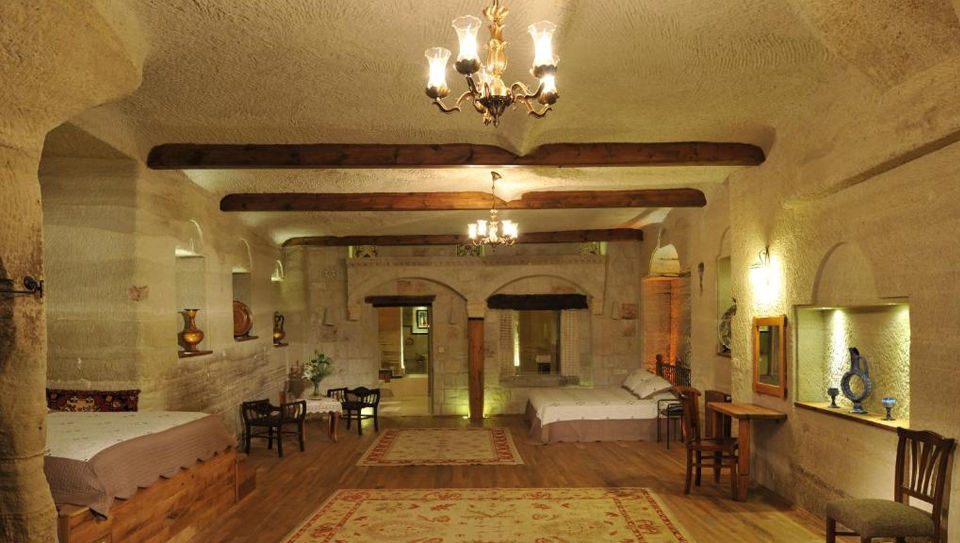 About: Aydinli Cave Hotel is one of the most popular accommodations in Cappadocia. It is a family business property on the hillside that is only a 5-minute walk from the town center. It offers a cozy terrace and the perfect ambiance for photo opportunities.
Amenities: This hotel has bigger rooms knowing that you are paying for a reasonable price; with incredible heating and cooling system so you will never feel neither cold or hot. The other highlight of the stay was the traditional Turkish buffet breakfast- it's delicious food, and stylish rooms- Aydinli does have everything you could possibly ask for.
Cost: 13,596 INR/night onwards for 2
‣ Private pool ‣ Perfect setting ‣ Elegant boutique hotel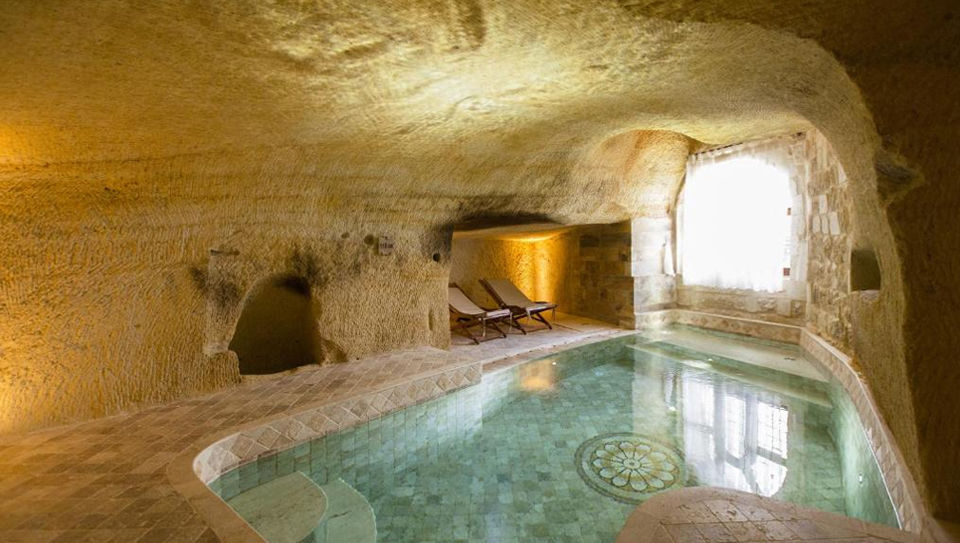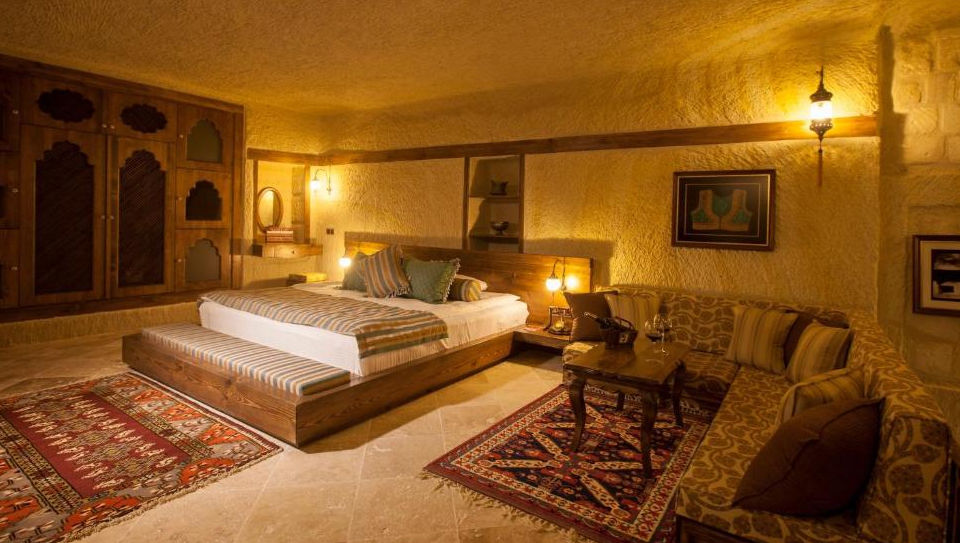 About: Kayakapi is a perfect setting for a luxury vacation. Set less than a mile from the town of Urgup, this elegant boutique hotel has been meticulously restored retaining its original homely charm whilst providing today's modern facilities.
Amenities: From the moment you first walk through their doors until the last day of your stay, their focus is on turning your idea of the perfect holiday into a reality. What is the best thing about this place is some rooms have their own indoor cave swimming pool! Yes, you read that right! A pool in the room. This is perfect for well-heeled travelers or honeymooners who are seeking privacy, luxury, and tranquility.
Cost: 23,926 INR/night onwards for 2
‣ Best breakfast ‣ Instagrammable ‣ Beautiful rooftop views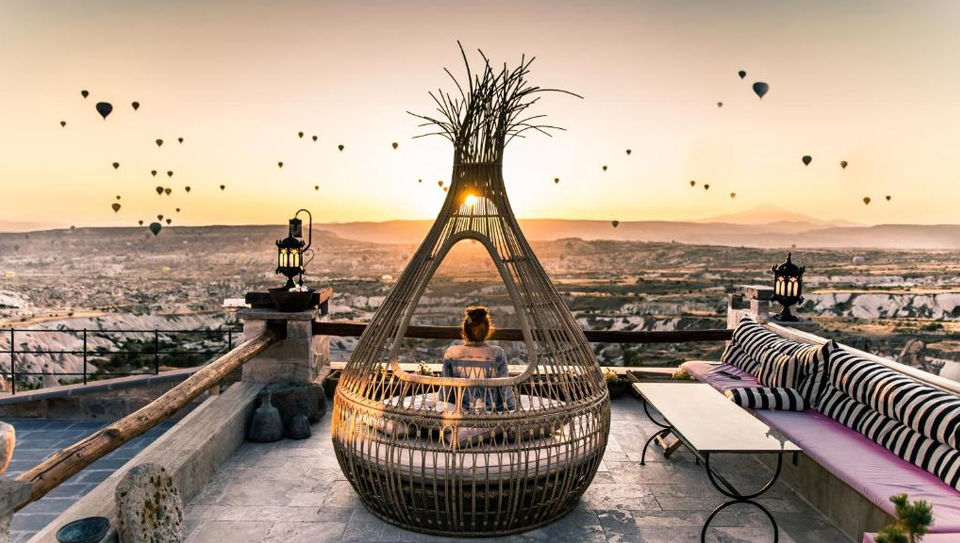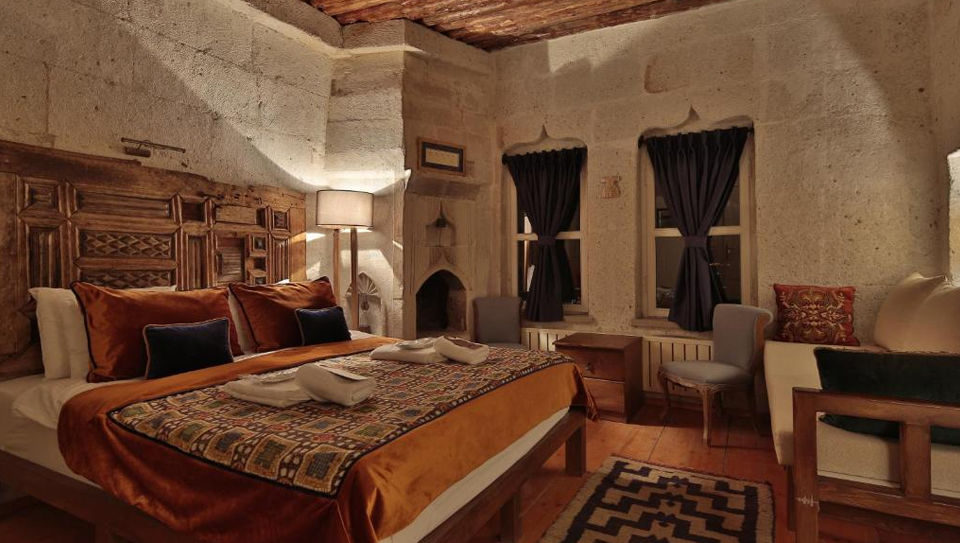 About: Rox Cappadocia is located in Uchisar, next to Uchisar Castle, and has beautiful rooftop views. The owner does a great job of decorating the rooftop and the pool area to make it Instagrammable. In fact, some celebrities stayed here, too! Since the hotel is a little farther away from Goreme where the balloons take off, the balloons are quite tiny but the view is still insane. It was absolutely amazing and magical.
Amenities: The breakfast is truly special and definitely the best breakfast in Turkey. There is no surprise that the overall rating of this hotel is excellent.
Cost: 23,766 INR/night onwards for 2
‣ Value for money ‣ Amazing view ‣ Outdoor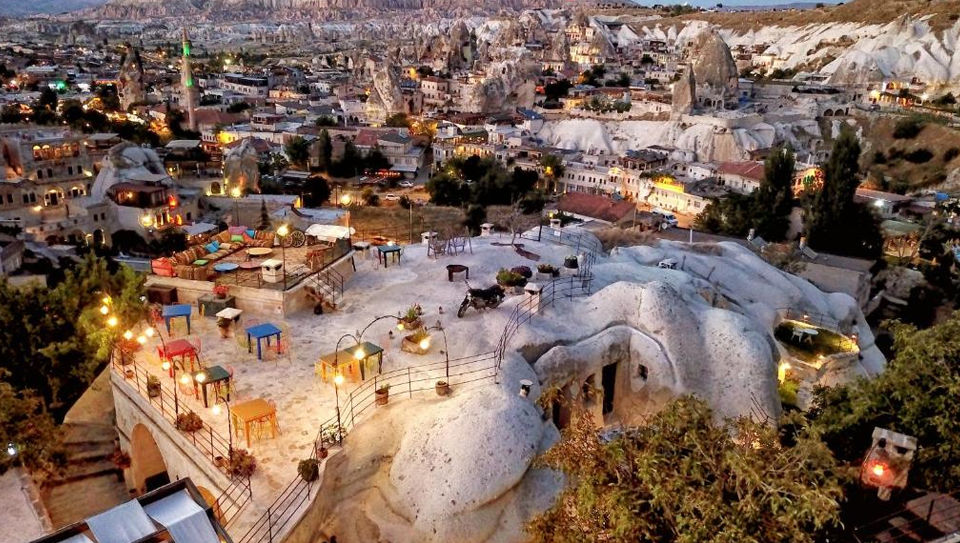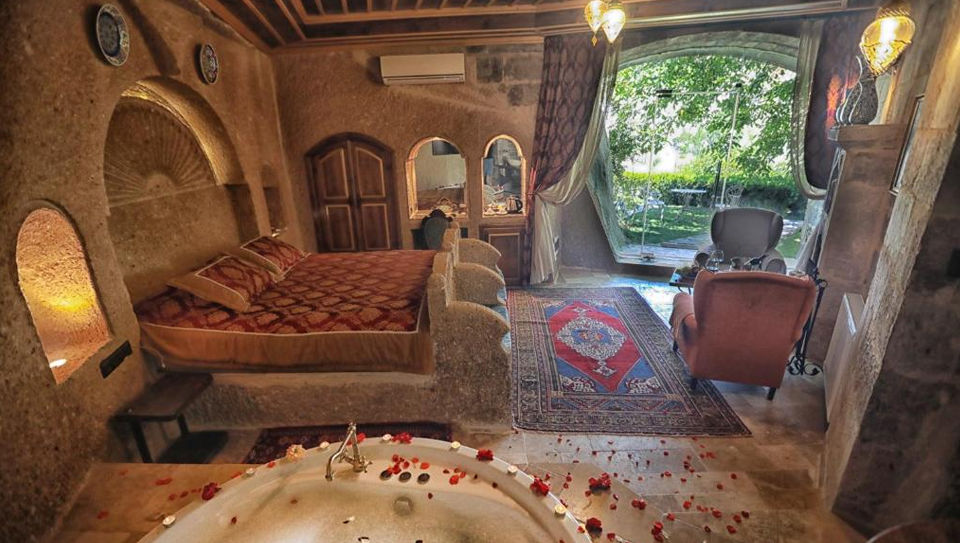 About: Traveller's Cave Hotel stood atop a hill with an amazing view of Goreme town resting peacefully below, you'll feel like you've been teleported to a different epoch when you step outside your room at Traveller's Cave Hotel.
Amenities: This Cappadocia cave hotel has everything you need in one delightful place, with professional and welcoming staff to cater to your every need. The rooms are cozy, spacious, and adorned beautifully. The complimentary outdoor hot tub- it is an extra bonus! It's quite a walk from the main town where you can shop and eat at local restaurants, so it's in a perfect location.
Cost: 13,052 INR/night onwards for 2
‣ Budget-friendly ‣ Pool ‣ Location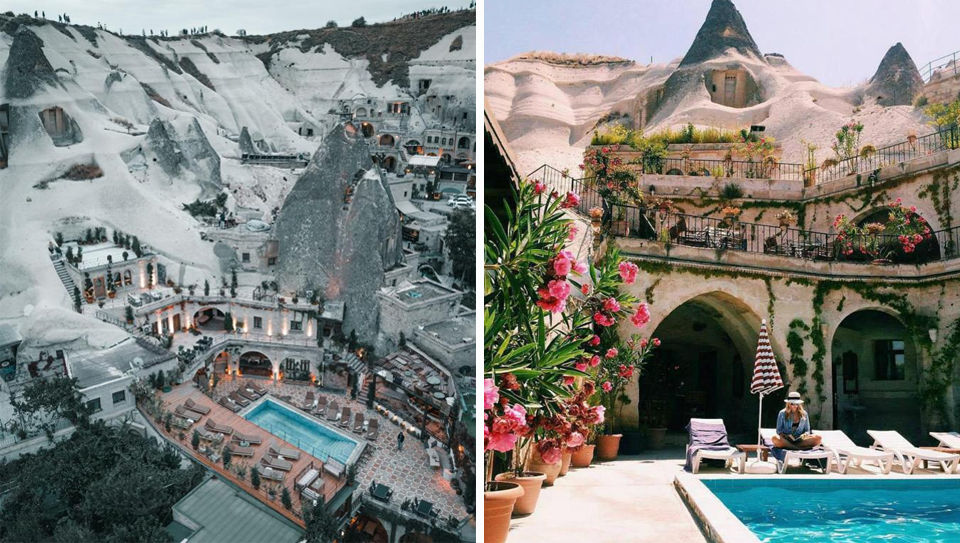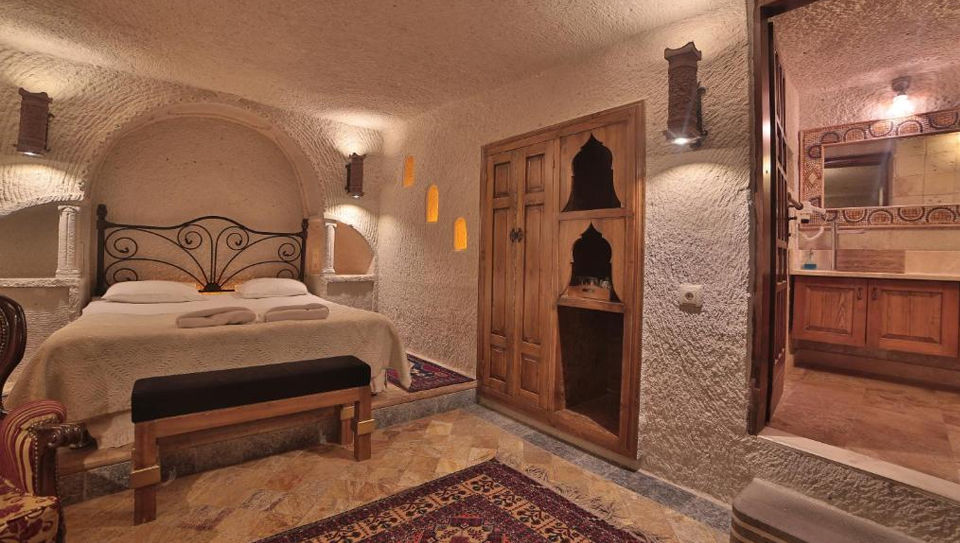 About: Looking for a hotel with a pool yet reasonable in Cappadocia is a bit tricky, but this is the place! Local Cave Hotel is one of the best-rated cave hotels in Goreme town. This hotel has a reputation for giving exceptional service; the attention to detail and overall quality is on point.
Amenities: Aside from its good price and big pool, the location of the place is appealing. With shops within close proximity and tour operators easily available, it's a convenient base for exploring Cappadocia.
Cost: 14,102 INR/night onwards for 2
‣ Excellent service ‣ Great view ‣ Top-rated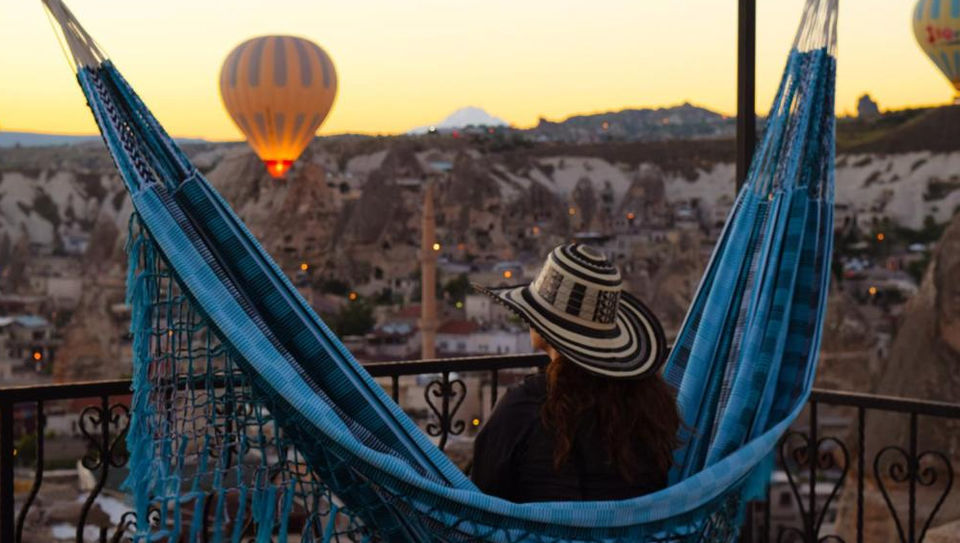 About: Situated on top of the hill overlooking Goreme village, Tulip Cave Suites is another top-rated accommodation in Cappadocia. Described as 'perfect, breathtaking, and convenient,' and featuring many of the same in-room amenities as other cave hotels in the area, Tulip Cave Suites stands out for its perfect panoramic views of the city and homely vibe.
Amenities: The terrace lives up to its reputation, the views really are as stunning as Instagram portrays. This hotel is definitely one of the best with a gorgeous view and impressive hospitality.
Cost: 14,014 INR/night onwards for 2
‣ Sunset view ‣ Amazing location ‣ Hospitality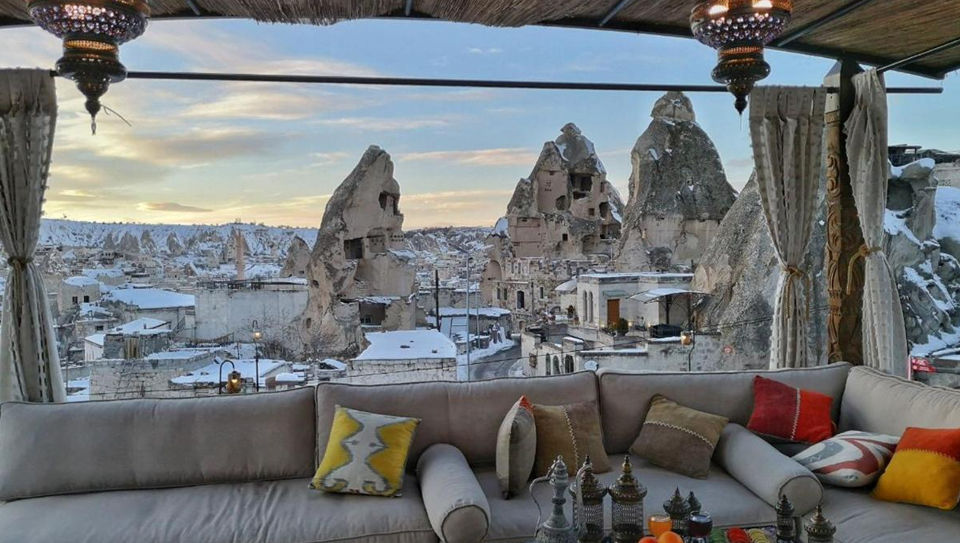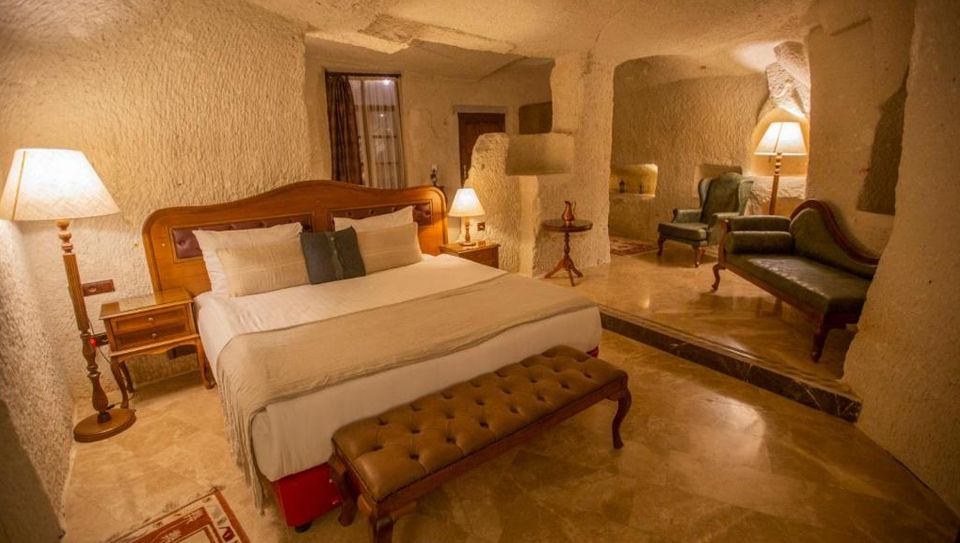 About: Set on the highest point of Goreme town, this boutique cave suite offers guests four terraces that have uninterrupted views of the valleys and sunsets which make for a great photo opportunity. It's not quite luxurious but if you are looking for a perfect location and viewpoints, then you are in the right place.
Amenities: Although there's no pool on the property, they have plenty of seating outside for the guests. You'd better wake up early if you want to witness many hot air balloons flying over Goreme with magical sunrise. The staff can tell you about local tours and sites, and can even book them for you.
Cost: 16,756 INR/night onwards for 2
‣ Unique ‣ Tranquil ‣ View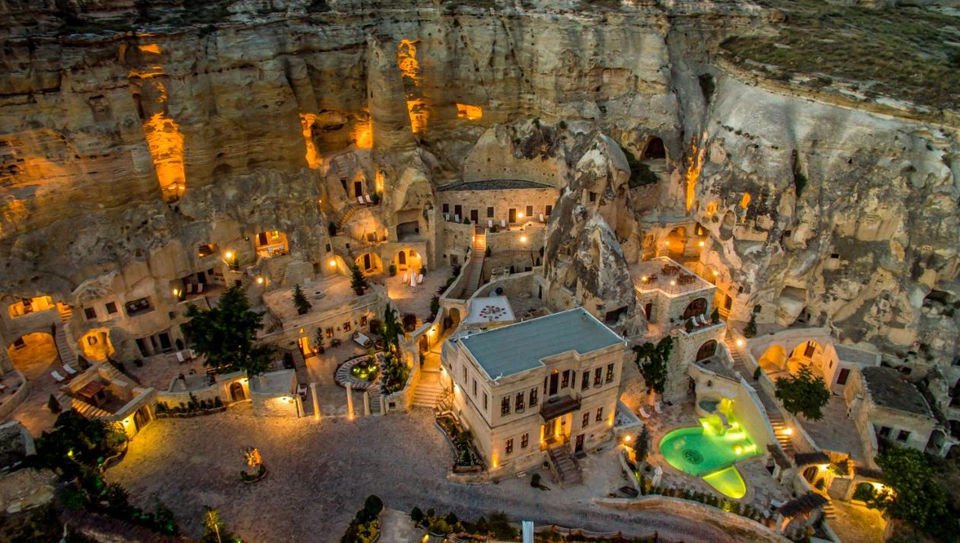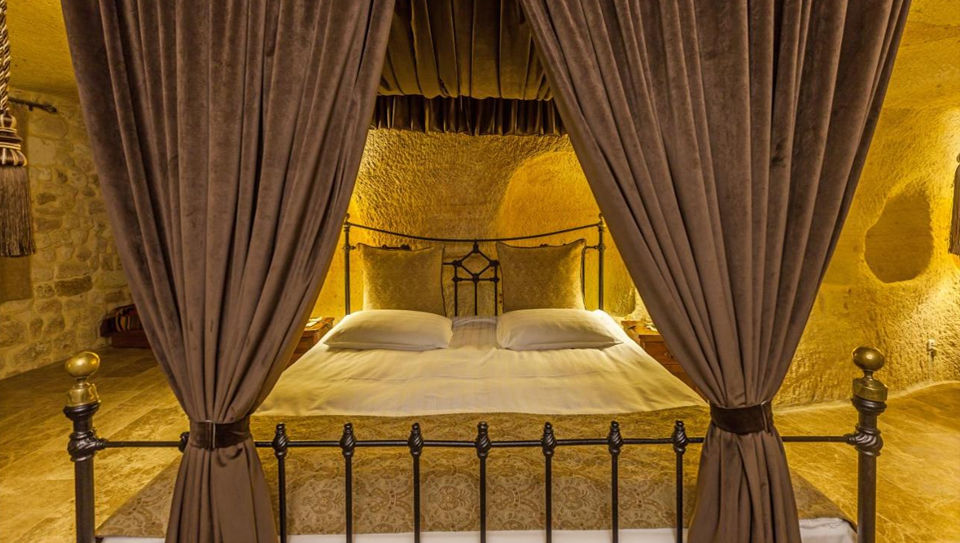 About: This high-end boutique hotel is built on the stone cliff offering a rad panoramic view. Although it is further away from the center of Goreme, it is still accessible. They offer daily tours of Cappadocia and hot air balloon rides. With its convenient location in the center of Ürgüp, Yunak Evleri is a perfect base for daily excursions within Cappadocia.
Amenities: The mansion has big rooms with bathrooms (some with jacuzzi) and you'll find a stunning swimming pool, too. Plenty of rooms compared to other accommodations in Cappadocia and each is linked by a labyrinth of passageways and curved stone stairways not to mention it has a private patio or balcony.
Cost: 26,682 INR/night onwards for 2
‣ Hospitality ‣ Perfect location ‣ Budget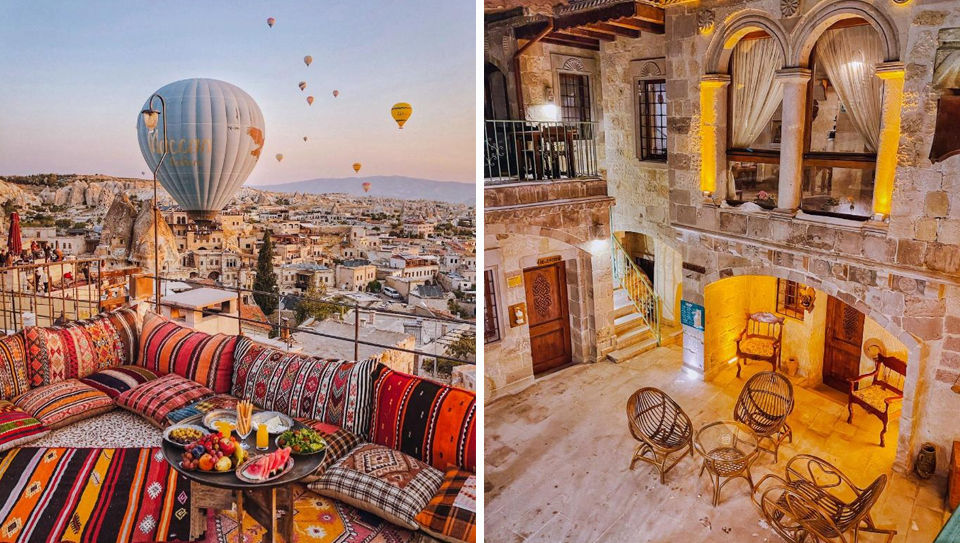 About: With its impressive five-star customer reviews on booking.com, Charming Cave Hotel is a clear favorite when it comes to hospitality and a perfect location.
Amenities: With impeccable service, exquisite furnishings, and a lavish hint of natural rustic ambiance, this property adds special meaning to your travel experience. This isn't the most luxurious cave hotel in Cappadocia but it is the most affordable.
Cost: 8,214 INR/night onwards for 2
Restored and built from caves, these hotels include that unique element that will make your stay in Turkey memorable! What would be your pick out of all these cave hotels? Let us know in the comments below.
And be sure to take a look at the list of things that you must add to your travel bucket list, if you are planning a trip to Turkey!
For more travel stories and information follow me on Instagram @tan_s07.
Ready to travel for free? Earn credits and redeem them on Tripoto's weekend getaways, hotel stays and vacation packages!