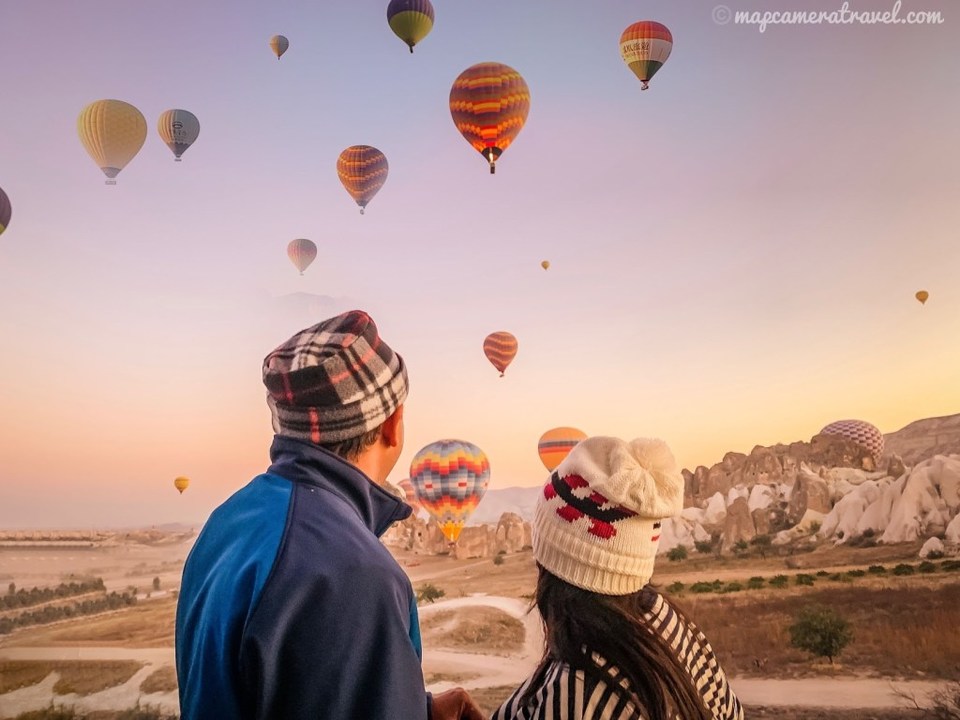 This blog was originally posted here.
Looking for Best Insta-worthy Cave hotels in Cappadocia? Then we have you covered . Travelling is majorly about picturesque locations, sunrises, sunset, beauty, authentic food, traditional outfits, and epic cultures. The travel bloggers, vlogger, travel junkies all around the globe are always looking for a fantastic destination which is hidden and waiting to be discovered.
One such destination is Cappadocia nestled in Turkey; Cappadocia is commonly referred to as the most magical place on earth. If you are planning to visit Cappadocia, then don't forget to keep a travel journal, or make a vlog or to use the power of words to make an everlasting impact.
Social media has always surrounded people with a variety of trends. So if you have a habit of catching up with trends, then this list is specially curated for you. Those days are gone when people look for business hotels, family hotels, etc. People nowadays aim for view. Appearance is the primary thing that makes you fall for the location, as this is the reason you are traveling. The purpose of traveling is to offer eye-pleasing, serene, and offbeat atmosphere to the traveler.
Instagram is a dope way to create a fantastic travel journal without any hassles. Therefore, clicking tons of pictures is a must. Do not forget to create an authentic visual map of your stay. Choose a cave hotel as it the specialty of Cappadocia.
Take the pleasure of being a modern-day caveman. Cappadocia is famous for its astonishing caves with serving as an exciting as well as a thrilling hotel. These stays are commonly known as the Cappadocia Cave Suites. If you have set on the journey to explore the mysterious land of Cappadocia, and then choose your stay wisely from the list of top 10 Instagrammable cave hotels in Cappadocia mentioned below.
1. Sultan Cave Suites
Sultan Cave Suites is ideally one of the best rooftop cave hotels in Cappadocia. Known for its exquisite views of sunset and sunrise, Sultan Caves Suite is an exciting Instagram friendly location. The roof is the best place to capture the free-flowing hot air balloons in the glorious sky.
Location of the hotel: Aydınlı Mah, Aydınlı Sk. No: 40, 50180 Göreme/Nevşehir Merkez/Nevşehir, Turkey
Pros: Spotlessly clean and comfortable
Cons: slow wifi and a different type of clientele
Ideal for: Couples
Price: 379 $
2. Milat Cave hotel
We stayed in this hotel during our Cappdocia trip. Located in the stunning village of Goreme, Milat Cave Hotel is an astonishing boutique hotel boasting its incredibly gorgeous backdrop of fairy chimneys. They have a beautiful cabana style photo op setting on their terrace ,where you can watch the stunning sunrise with hundred of balloon flying each day.
3. Mithra Cave Hotel
Mithra Cave Hotel is a centrally located hotel in Cappadocia, offering a unique and authentic flavor of Cappadocia. The hotel boasts in marvelous furnishings and exquisite views, which make it one of the most photographed cave hotels in Cappadocia.
PC: Booking.com
Known for its exciting location in the heart of the historical town of Goreme, Kelebek Special Cave hotel is a storehouse of history and culture of Turkey. This Cappadocia Cave Suite offers the traditional Turkish bath and exclusive views of Uchisar and Cavusin. The hotel features a fireplace, marble furnishings, private balconies, and serves authentic flavors of Cappadocia. Every corner of the Kelebek Special Cave hotel is worth capturing.
Terrace view - PC ( Tripadvisor)
5. Kayakapi Premium Caves
Kayakapi Premium Caves are one of the most famous cave hotels in the Urgup region of Cappadocia. The hotel is known for its unique preservation of historic caves found just a kilometer away from Urgup town center. This place is filled with modern and luxurious furnishing.
The hotel boasts its stunning restaurant and spas facilities, which offer the authentic flavor of Cappadocia. If you are in for luxurious comfort and luxury, then you will be delighted as you can't have enough of the place. Get ready to overload your Instagram with amazing pictures from the famous Kayakapi Premium Caves.
6. Terra Cave Hotel
Terra Cave Hotel is easy to locate cave hotel offering elegant furnishings which are worth a click. This hotel is located in Nevsehir, close to Uchisar Castle and Goreme National Park.
7. Artemis Cave Suites
Artemis Cave Suites is a famous Cappadocia Cave suites found in Goreme village of Cappadocia. The hotel boasts its gorgeous gardens, and terrace offering picturesque views of town life. The hotel has a unique furnishing which provides a comfortable stay. As you may have heard, beauty lies in simplicity. This place is a boutique hotel with a mix of push suites and hotel rooms, which is a beauty for creating Instagram perfect moments.
8. Cappadocia Inn Cave Hotel
Capture the panoramic views of the local landscape of Cappadocia from the gorgeous rooms of the Cappadocia Inn Cave Hotel. The stone cave rooms with air-conditioned facilities are beyond imagination. You can also sit, relax, and click some astonishing picture in the large garden found in this Cappadocia Cave Suite.
9. Cappadocia Palace Hotel
Sitting close to the Urgup and Nikolos Monastery, Cappadocia Palace Hotel is a newly renovated Greek guest house hailing from the 19th century. Rooms offer glorious views of historic Urgup and Göreme Tarihi Milli Park located nearby. The antique furnishings, magnificent decorations, and friendly atmosphere can be a great catch for Instagram lovers. This is one of the best budget cave hotels in Cappadocia.
10. Museum Hotel, Cappadocia
PC: Booking.com
Museum Hotel, Cappadocia is found 10 minutes away from Goreme in Uchisar. This stunning cave hotel is a part of hotel chains of the Relais 7 Chateau. You can choose the room offering the outside view and wash away all your stress in a bathtub overlooking the hot air balloons. The balloons might appear tiny due to its location, but it is worth a sight. You can click some amazing pictures close to the pool.
Conclusion:
The above guide contains a list of top 10 best Insta-friendly cave hotels in Cappadocia along with the list of best budget cave hotels in Cappadocia. Do refer to the list to find a suitable stay and make the most of your vacation to Cappadocia.
Take a tour via hot air balloons, visit museums, take a quick hiking trip to capture the glorious sunset and wake up to a marvelous sunrise in your cave hotel room. we guess we planned the whole trip for you in a few sentences. We are sure you will have surreal experiences of Staycation in these hotels.
Like it? Pin it here
We are Vic and Krupa, Indian travel bloggers from Mumbai, HR by profession with an insatiable case of wanderlust.We've spent the past few years crossing the globe with a map in one hand and a camera in the other. This is where we share our travel tales with the hopes of inspiring you to travel. View all posts by mapcameratravel1