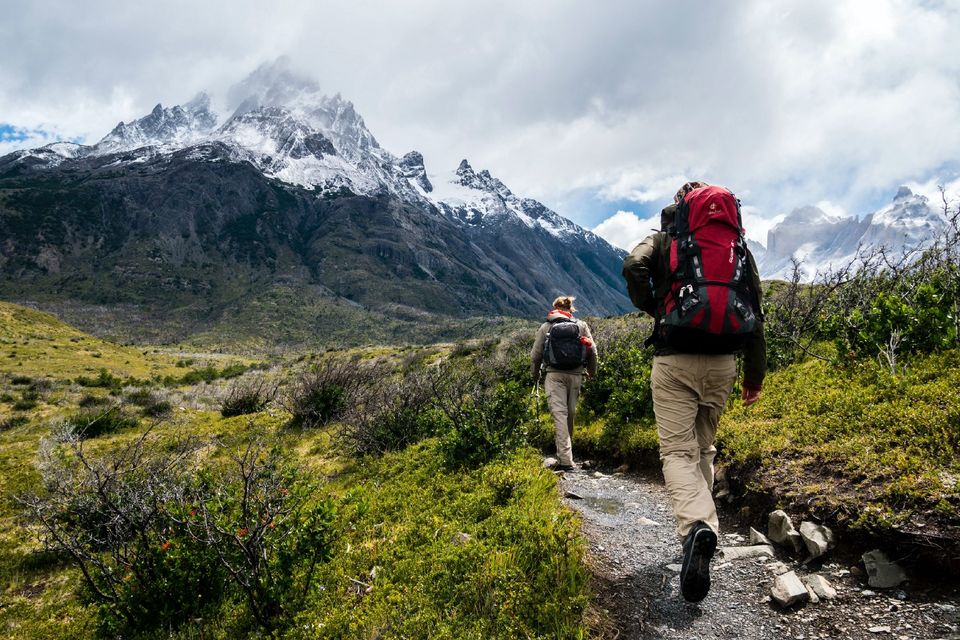 OFFBEAT PLACES FOR BACKPACKERS
Kotkhai is a small city, which rests at an altitude of 1800 m in the Shimla district of Himachal Pradesh. It means the palace of the king is located on a cliff; the literal meaning of kot is palace and khai is a cliff. The minimum and maximum temperatures recorded in the region during summers are 15° C and 28 °C, respectively. The winter season extends between the months of November and February. During this time, the temperature of the place ranges between 15° C and 4° C.
Key attractions: Kotkhai Village, Kotkhai Fort, Mahima Temple, Lanka Veer Temple, Neer Ghati, Kaila Forest.
How to Reach Kotkhai?
The journey is 60 km long. By bus it will take 2-3 hours, there are direct HRTC buses from Shimla to Kotkhai, Which just cost you INR 122. You can book them from the HRTC'S website in Advance. Via taxi, the fare is 2500 INR. By car, drive on Shimla-Rohru Highway.
By Air: If you are flying down to the Shimla Airport, which is 75 km away from Kotkhai, you can take a taxi to Kotkhai as prompted above. A taxi would cost approximately INR 3000 from the airport.
If you are coming by train, the approximate fare for a taxi is INR 2500.
Kotkhai is yet another hill station near Chandigarh that should be on your list. It is only 160km, and the 6-hr drive is full of natural wonders.
2. MALANA
Malana is among India's most beautiful villages. There are lots of stories about this beautiful place. Many of Malana's legends have been discussing its existence for ages. It is located in the Valley of Parvati and is home to a few families who have stayed here for a long time.The most exciting fact about this offbeat location is that the great Alexander's straight descendants are believed to be his individuals. In addition, this place has its own set of administrative laws and procedures that look carefully like the Greek management system, culture, social context and its notion of purity.
Key attractions: JamulaDevta Temple, Rasol Pass, Chalal Trekking Trail
How to Reach Malana?
Take a local bus to Kasol from Manali and get down at Jari (66 km) It will cost you INR 35. Via taxi, the fare for a small car is 800 INR and for SUV 1300-1500 INR (depending on how many people).
Next, you will get a bus from Jari to Malana. Otherwise shared jeeps are available at the minimum fare.
Both taxi and bus will drop you at Narang. Once you have reached Malana village board which is the last place any motorised vehicle will go, you need to trek 4-5 km to reach the beautiful Malana village.The trek is simple & mesmerizing.
Tucked amidst the Parvati Valley, this place exhibits spectacular images of nature's artistry. Whether you are seeking a peaceful walk along the Parvati river or wish to savour lip-smacking delights at colourful cafes, here you can find every little thing. Famed for its hippie culture, Tosh draws tourists from all over the map and is well-suited for solo as well as group excursions.
Located at an elevation of 2,400 m, this place is always a part of every traveller's bucket list from both near and far, making it a frequent tourist destination. Tosh is a very beautiful place and a very untouched village in Himalayas. It is also a base for the Kheerganga trek.
How to Reach Tosh?
After spending time in Malana you can go to Tosh. There is a bus available in the morning which usually departs at 8-8:30 am from Nagar and will drop you at Jari. From Jari, there are regular buses available for Barshaini and from Barshaini you have to book a Taxi the fare would be 400 INR for 6 people for Tosh.
Key attractions: Visit Manikaran Sahib, Israeli Food, Souvenirs Shops
Things to do in TOSH:
Walk by the Parvati River Take a Long Walk to Malana Trek to Kheerganga Take a Spring Water Bath Streets of Tosh are flooded with Israeli Food joints. The cost for two is about 300 INR for a basic meal. THINGS NOT TO DO IN TOSH OR KASOL
The basic rule in most villages in Parvati Valley is, do not touch any temple. Strict rituals have been followed here and you might be fined heavily if you are caught touching the temple.
2. Never eat the magic chocolate ball In Tosh, refrain from having any kind of drug, this will keep you fit and active throughout the trek.
3. Never carry a trolley for the hike
Tosh is a seven km hike from Barsheni. Never carry a trolley, as it will create problems while hiking to the village. A rucksack would be ideal to do this kind of hike.
5. Do not carry alcohol bought from other states
Carrying alcohol from other states can really land you in trouble. You will be fined by the Himachal Police.
6. Do not offer chocolates to local kids
Local kids are cute and you will love playing with them, a few of the travellers have given them chocolates in the past and landed in trouble.
7. Never dispose-off waste along the way
It's the mountains and there is no organisation or body to dispose-off the waste in the valley. Make sure you carry all the waste along with you or keep it in your bag.
8. Going off-trail
Sometimes what people end up doing is, they miss the trail to the village and completely go off route. Follow the trail and inquire with a local if you are lost on the way.
9. Hiking alone
If it is your first time in the valley, do not go hiking alone. The routes are pretty dodgy and even if you want to hike alone, consider joining a group so that they know you are safe and you will get there to your destination.
10.Do not venture outdoors at night
It usually gets dark in the valley post 6 pm. Do not even think of going outdoors at night. It's just not safe and you might get lost in the valley.
12. Never travel without a sanitation and a toiletry pouch
Settled in the lap of the Himalayas, Mashobra is a fascinating little hill retreat. It is among the most ideal places to visit near Shimla. Once you're here do visit 'Craignano', a beguiling manner worked in the Italian style of design. Set in a pleasant environment with alluring apple plantations, this place is no less than a perfect adventure. The lovely hill town is a spot that makes for an awe-inspiring fascination for history buffs, otherworldly explorers, and culture searchers as well. Apparently, Mashobra is spot wealthy in cultures and traditions. Those hoping to explore these most secret practices should head here in the period of May when this little town ejects into festivities with the dynamic celebration of 'Mahasu Jatara.'
How to Reach Mashobra?
Mashobra is 10 km from Shimla. Take Shimla to Mashobra cabs for a hassle-free trip and to have maximum enjoyment during the journey that will cost you around 800-1100 INR. Otherwise, Take a local bus to Mashorba from Shimla It will cost you INR 20.
BY AIR : The nearest airport is at Shimla at a distance of 40 km. Flights Delhi and Kullu operate to Shimla. Taxis are easily available from Shimla airport to reach Mashobra the fare for small cars is from INR 250-500 and For Suv's its INR 500-1000.
If you think serenity and solitude, you're thinking Kotgarh! With plenty of things to do around, this is where you go on a friends' road trip to Himachal Pradesh!
How to reach Kotgarh from Shimla?
By Bus: Take the Delhi to Shimla bus. You'll find private as well as HRTC buses. Local buses go from Shimla to Thanedhar. From there, Kotgarh is only 6km, which can be covered on foot or in a taxi.
If you're reaching Shimla by train, you can make the onward journey to Thanedhar by bus or taxi. The approximate fare for a taxi is INR 1800-2200.
By Car: This ride will take you nearly 2.5 hours. Take the route from Shimla to Kufri and carry on to Narkanda. Take the exit from Narkanda towards Thanedhar and Kotgarh is on the way.
Key attractions: Kotgarh Village, Tani Jubbar Lake, Stokes Farm, St Mary's Church
TREKS DO IN KOTGARH
HATU PEAK TREK MURAL DANDA TREK BASLEO PASS TREK
Barely two hours from Shimla, Chail is a peaceful and tranquil hill station encompassed with thick timberlands and grand environmental elements. There are many spots to visit in Chail for individuals who are hoping to get away from the psyche desensitizing unease of city life. It is particularly popular for lodging the world's most noteworthy cricket ground, and the legacy hotel the Chail Palace. On account of its quiet and peaceful climate, Chail was a previous summer retreat for the Maharaja of Patiala. When in Chail do visit the most popular religious and spiritual spots in Chail ''Kali Tibba''. It is a temple of Kali situated on the top of a hill, surrounded by trees, and a perfect secluded spot for those who seek peace and tranquility.
How to Reach Chail?
This hill station is 45 km from Shimla. You can head via Kufri bypass or via Kandaghat Chail road. Hiring a taxi will cost you 1500 INR. Buses are not that frequent, taking a local cab is always helpful.
Key attractions: Chail Palace, Cricket Ground, Chail Wildlife Sanctuary, Kali Temple, Sadhupul, Camping
Naldehra is one of those tourist places in Shimla that does not get the attention it should. Well, good for travellers like us, who love going offbeat!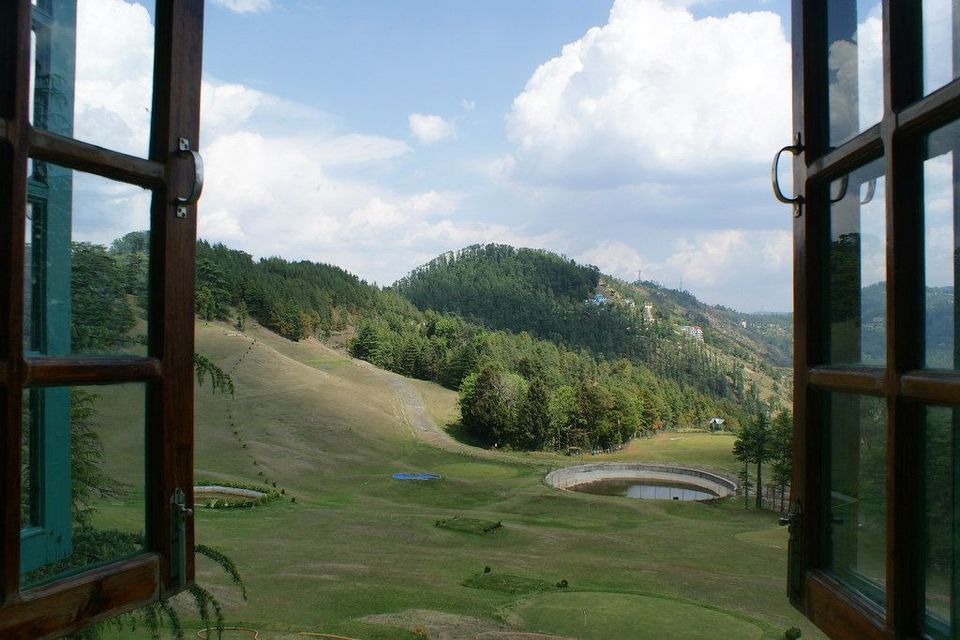 How to reach Naldehra from Shimla?
By car- This 23km ride will take you less than an hour. Follow Google Maps for navigation!
By taxi- A day tour to Naldehra & Tattapani from Shimla costs around 3000 INR.
By bus- The local HRTC buses between Shimla and Naldehra run 4 times a day. The journey takes 1hr and 55 rupees only!
Key attractions: Naldhera Golf Course, Chadwick Falls, Shaily Peak, Craiganano Natural Park
Cheog falls further ahead of Kufri. With apple orchards and lush green mountains, this village will become your favourite in no time! The Cheog weather is also pleasant throughout summers, with snowfall in winters. G et a real Village experience. 100% Himachal Pradesh style!
Distance from Shimla- 23km
How to reach Cheog from Shimla
By Car- From Shimla, head to Fagu. Once there, take the right turn and drive for 4 km. Voila, you will reach Cheog just like that.
By Bus: All the outstation buses come via Shimla and from there you can hire a cab/shared taxi to go to Cheog.
By Air: The nearest airport is the Shimla Airport, 43 km from Cheog. You can take a taxi for INR 1000-1500 from there.
By Train: The nearest railway station is Shimla, 25 km from Cheog. A taxi from the railway station to Cheog will cost around INR 800-1200.
Things to do in CHEOG:
One of the best places near Shimla to live in, go to Cheog if you're up for a lazy weekend holiday amidst the mountains with not much to do.
1. Hikes:
You can hike up to Tungesh and Dharech, two temples on two nearby peaks. The temples offer great views of the sun falling on the valley, which makes it worth a visit.
2. Horse riding:
Nestled amidst a jungle, you can go for horse-riding to nearby viewpoints with a villager. They'll also tell you about the past of the place and their lifestyle.
3. Picnics:
Cheog is full of apple orchards and grasslands, so it is easy to find a great picnic spot to laze your day away. Pair it up with card games and board games, and you're all set!
Theog is a tiny picturesque village at the T-point for the roads of two beautiful destinations- Kinnaur and the Rohru Valley. Only 30km from #Shimla, it is the perfect place for a weekend getaway from Delhi.
Distance from Shimla- 28km
How to reach Theog from Shimla
By car: Cross Shimla and Kufri. Drive on the Shimla-Rohru highway and take a diversion at Theog.
By bus: Reach Shimla and then take the bus to Theog for just 70 INR
By flight: The nearest airport is the Shimla Airport, at 53km from Theog.
Train: The nearest railway station is 32km away in Shimla. From there, reach Theog on the local bus or a taxi. A taxi will charge you around INR 2000.
Things to do in Theog:
1. Hike to Shail Tibba
Shali Tibba is the perfect place to visit in Shimla for a 360-degree view of the Shimla hills. The temple atop gives you an idea of the rural Himalayan architecture. To reach Shali Tibba, you can drive up to the Khatnol Village, from where the hilltop is a short hike.
2. Hike to Kanag
This hike rewards you with splendid views of a valley full of Cedars. On your way here, you'll not come across a lot of tourists, only locals who come here on weekends for family picnics. The hike is easy, and the rewards are amazing, so do visit if you love the quiet of the mountains, away from people.