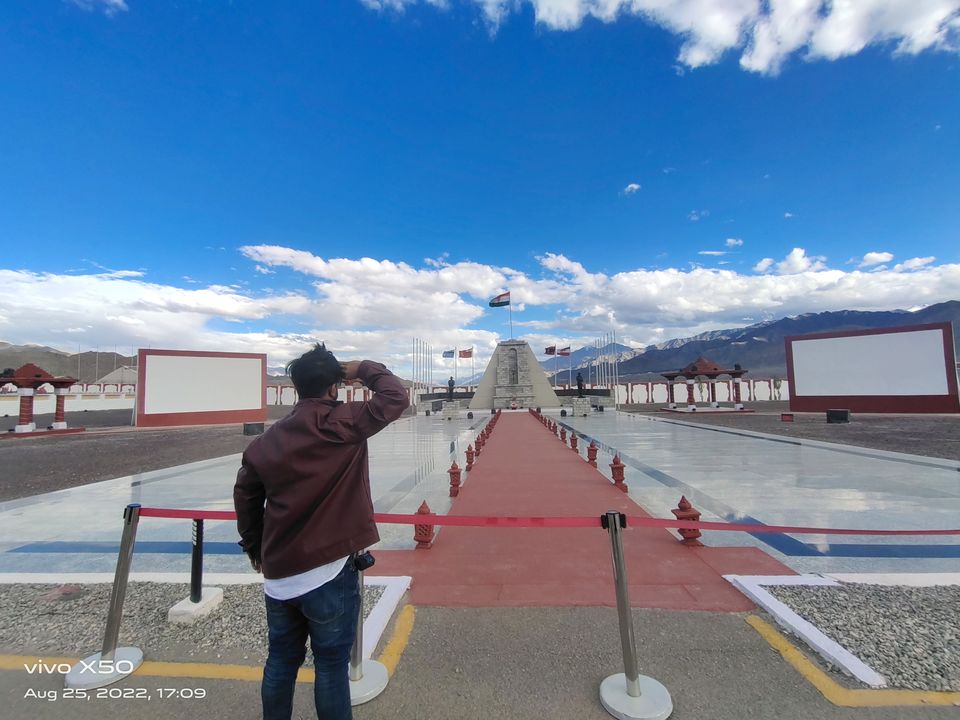 The day which I cannot forget. In the morning I started my journey from Srinagar. The whole city is looked after by the Indian army. You can find them under the apple tree or over the roof or beside the road everywhere. They all were well prepared and always in position.
Experiencing this army culture I was headed to the Leh. The gratitude for the Indian army slowly started rising into me.
Finally I reached my destination Hall of Fame at Leh-Kargil road. I bet you will feel an awesome vibe when you reach the gate. Infront of the museum you will find the weapons used by the Indian soldiers defending the motherland. After collecting the entry tickets I entered into it. The on-duty officers greeted us and started explaining the history of this war memorial house and leh ladakh, how they contributed to develop the city.
Inside the museum you will find two different categories. One category belongs to Operation Vijay gallery. This gallery is all about the Kargil war. You can find here the weapons such as arms, rocket launchers, mines etc. used during the Indo pak war. With this you can also see the salary book, identity card, ammunition of Pakistan soldiers captured by the Indian army. According to Indian official figures 527 were killed and 1363 were wounded. It will give you goosebumps when you will experience 'The Last Post'. It was the final letter written by captain Vijayant Thapar to his family before he was shot. I also went through the last letter from Captain Vikram Batra (Shershaah) to his wife. As an Indian you will feel proud and surely your eyes will be full of tears after it.
The other category belongs to the Indian army activities in the Siachen region. How they live there, how their training process goes there, how they protect our motherland at low temperature and high altitude.
Atlast I reached to the war memorial. You just stand there infront of the Indian flag among those bravehearts and feel the environment. In the evening there is a movie run by the hall of fame which will show you how Indian soldiers fought against the foreign aggression at all times and awarded Vir Chakra. You will get to know each of their stories.
After completion of the show I had a conversation with an on-duty jawan. I asked him you guys are protecting us 24x7 so that we can sleep well, what kind of support you need from us the common people? He told me one sentence "Whenever you see a soldier salute him and give respect, that's all we need from our sisters and brothers". These words totally changed my view. I salute him with the eyes full of tears.
Next day I left leh and headed to my home town but till today I can still hear those lines from captain Vikram Batra " Yeh Dil Mange More".
Proud to be an indian.