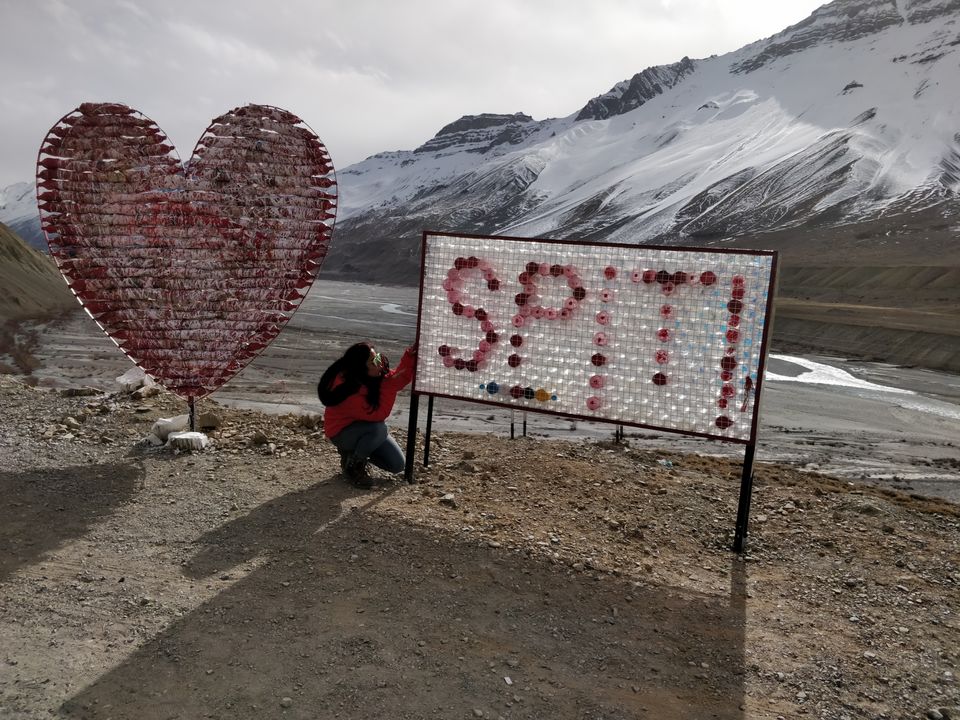 Ever since I came back in July 2018 from Spiti visit, I couldn't get it out of my mind. Spiti's beauty had imprinted itself on me. And I would count days when I would be back again to beloved "Spiti" but this time looking forward to visit the places that I missed out last time and ready to face sub zero temperatures.
Knowing that bike and scooty are not given on rental in winters I started posting on FB groups looking for co travellers in order to share the cab cost in Kaza to roam around. It was a great learning experience for me since this was not only my first group trip , but I also was leading the group. From Spiti trip curation , planning itinerary and finding members for the trip to the date of travel each day was a new learning experience. A test of patience , dealing with queries and questions, seeing people change their decision within seconds ,asking information just for information without any actual interest for joining the trip and last the mintue backouts.After all the hardwork we were in total 8 members. (6 till Reckong Peo with one exiting and 3 new members joining us midway in Reckong Peo).
Dec 22 2018 - Boarded the 11.15 am Hrtc Volvo Delhi - Chandigarh (Rs586) bus from Kashmere Gate along with 4 group members. I slept most of the leg of this part of journey as I work in night shifts.The actual time to reach Chandigarh is 4.15 pm but due to traffic jam we reached just on time to catch our next connecting bus having requested other 2 members joining us from Chandigarh to stop the bus for us .Chandigarh - Reckong Peo semi deluxe Hrtc 5.50 pm - 7 am(Rs 789).The bus reached Shimla around 10.30-11 pm and saw patches of snow in around Narkanda area while we crossed it at night.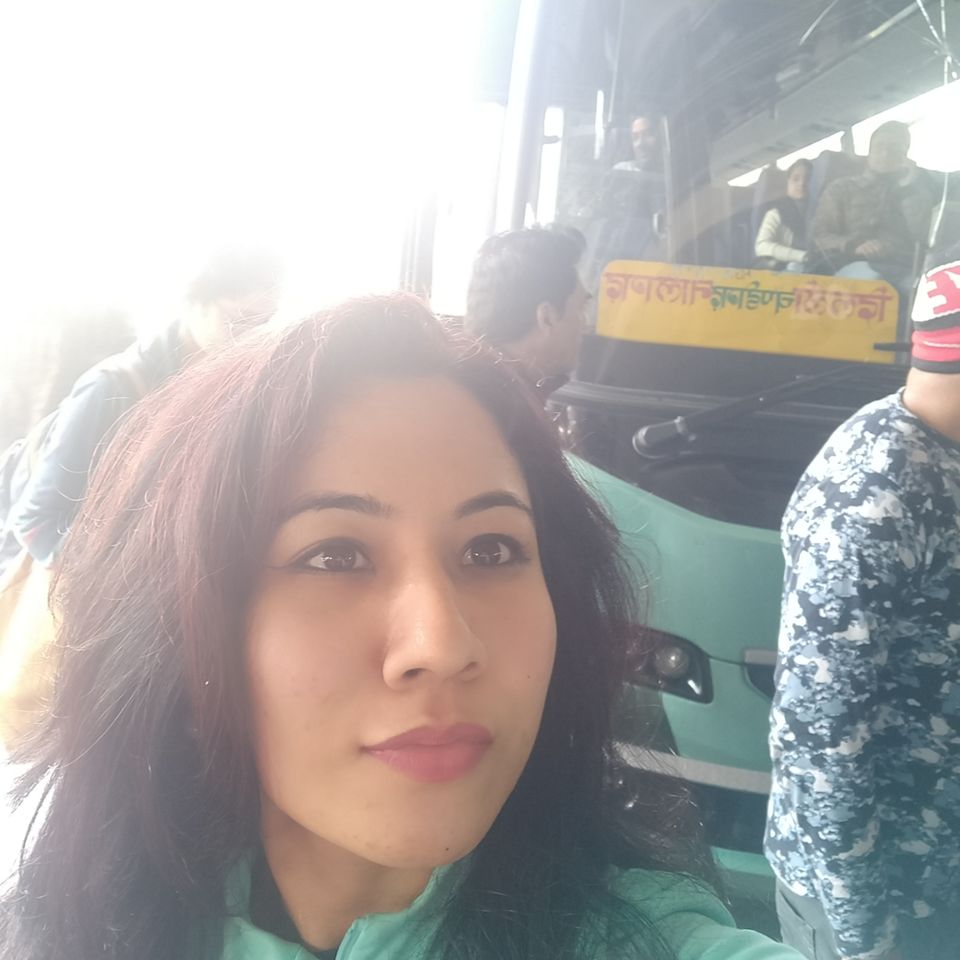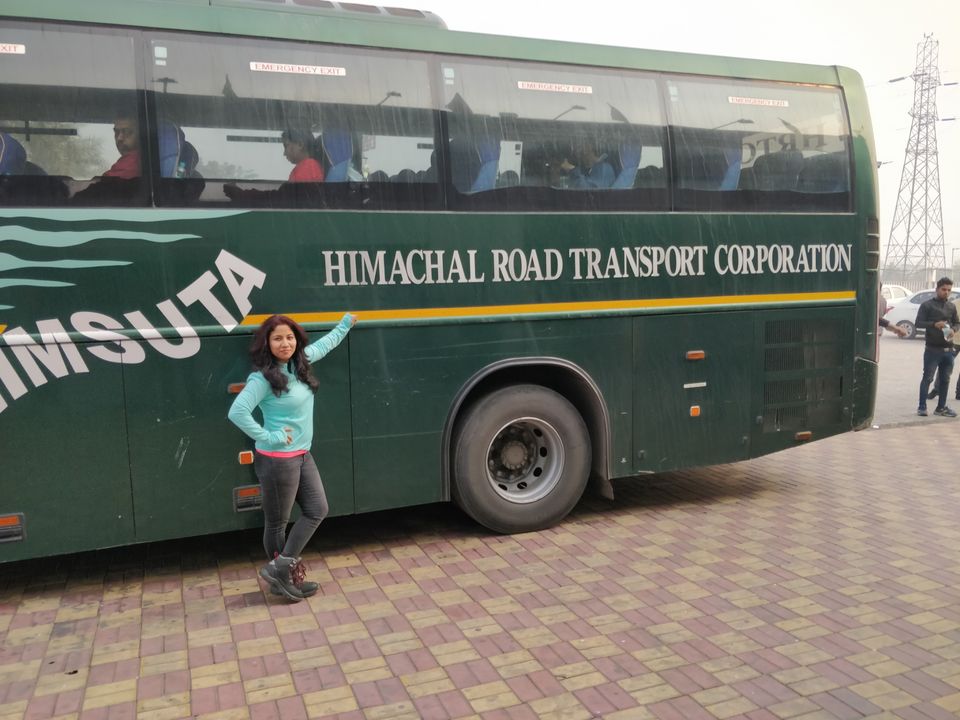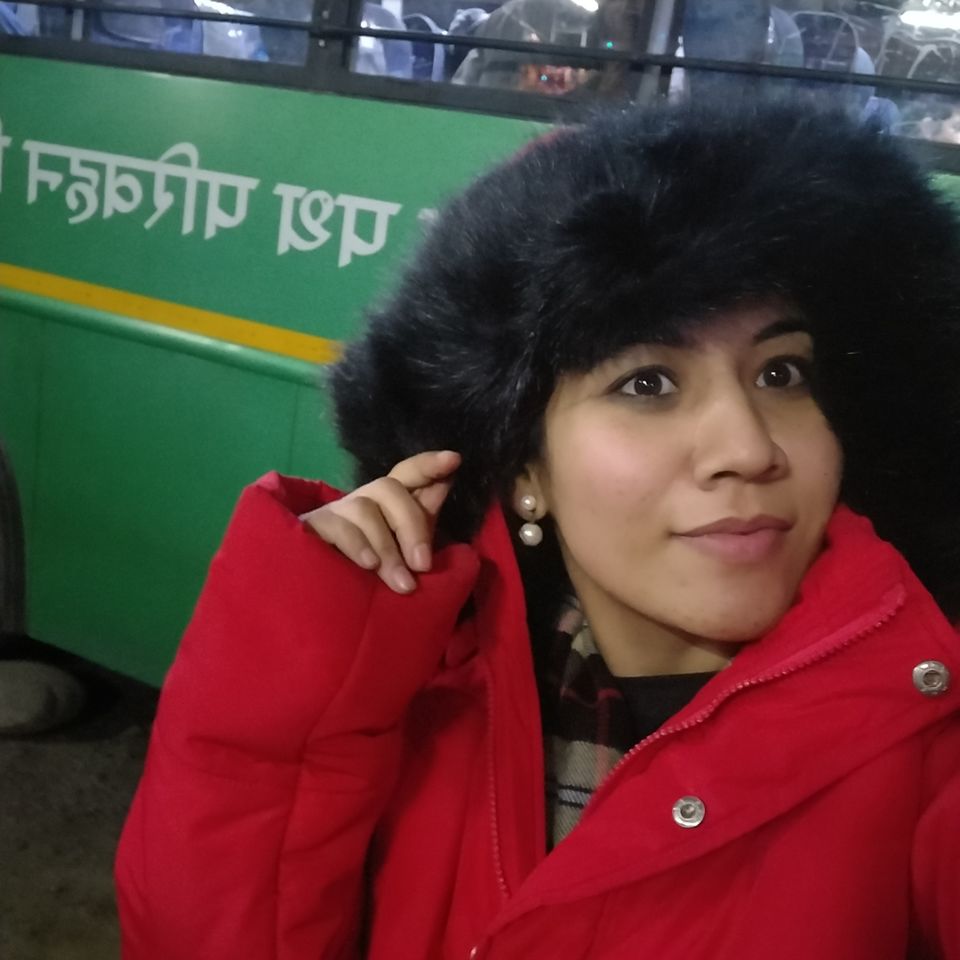 Dec 23 2018 - We reached Reckong Peo before time 6.30 am ( actual time 7 am).The feeling of being among the mountains then started to set in with the cold chilly morning and snow clad mountain view in the front. We being welcomed and loved by four legged cute eyed fur ball Sheru. In the meanwhile we decided to check out Reckong Peo Monestary while few memebers looked out after the bags. And after a gap of 2 hours we boarded the 9 am bus to Reckong Peo - Chitkul Hrtc bus (Rs 90). We reached Chitkul around 1 pm.( The buses don't operate till Chitkul if there is fresh snow fall).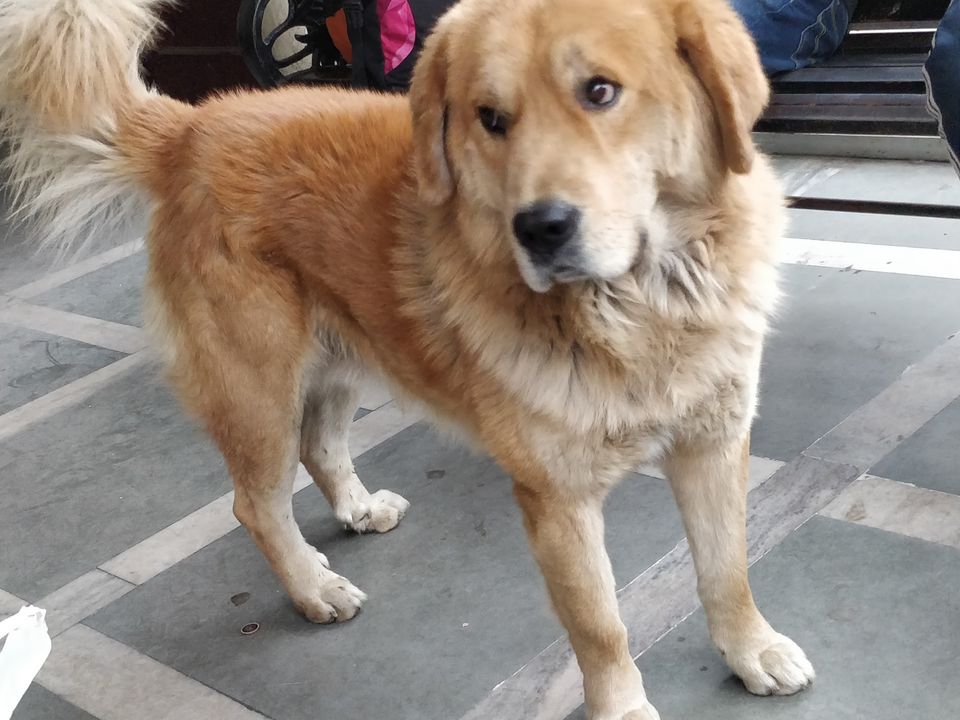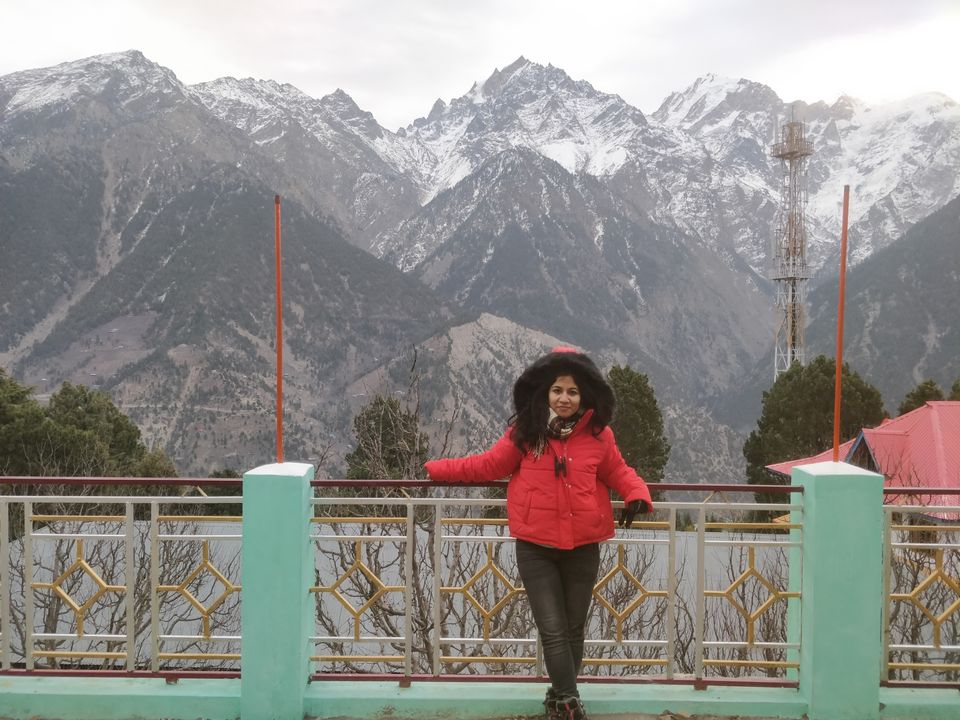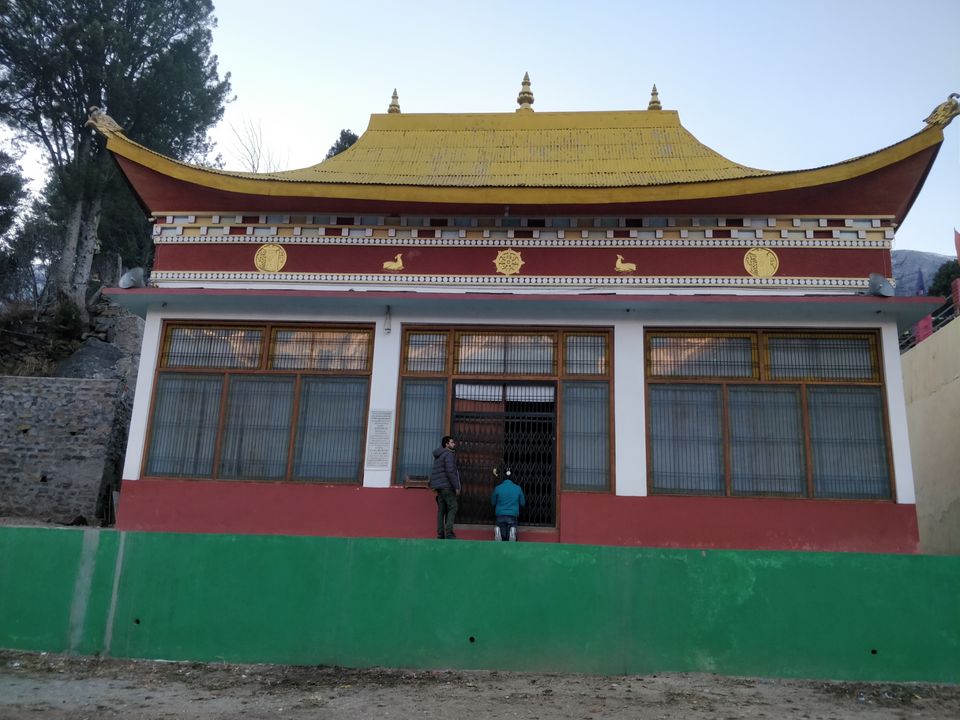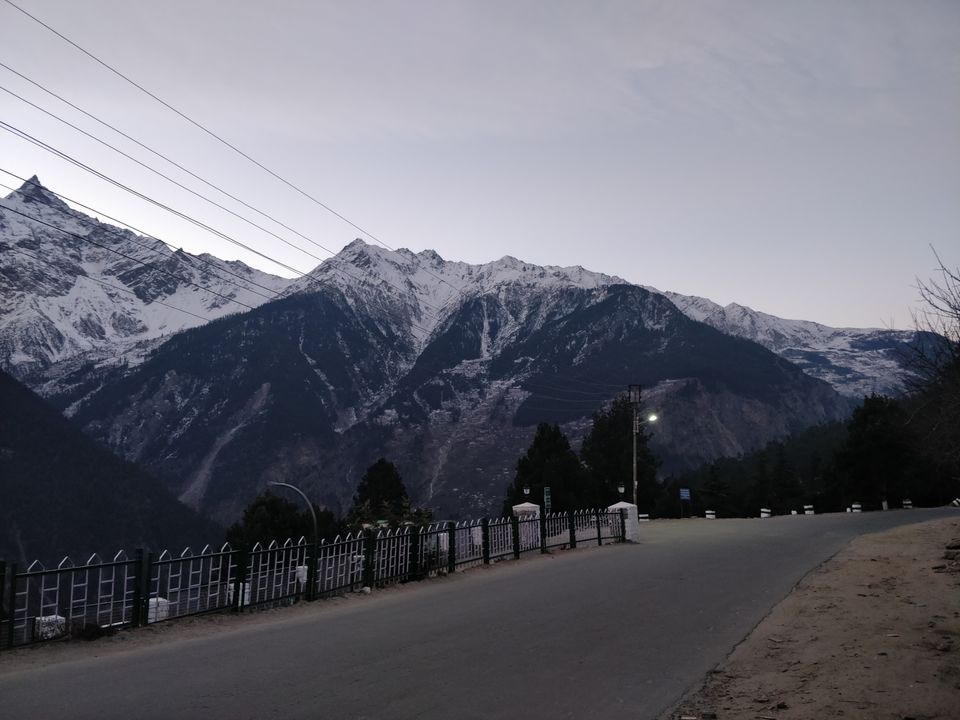 Dec 24 2018 - Chitkul : The last Indian village in Kinnaur can be reached by taking the cut from Karchham bridge and then crossing Sangla and Rakchham.The village is guarded and secured by the ITBP forces.Our stay was booked with Zostel - largest branded hostel chain in India with presence among 20+ locations. Start the morning with hike to the mountain top with the route going through the village and spend lovely winter afternoon along Baspa river bank.Gorging on the food with a view of mighty mountains in front gives a perfect holiday feel. The day was just to relax after long tiring bus journey. Just loved the quilt of Zostel which glowed in dark night when you touch it while sleeping and the moonlight falling on the mountain top making the view more scenic.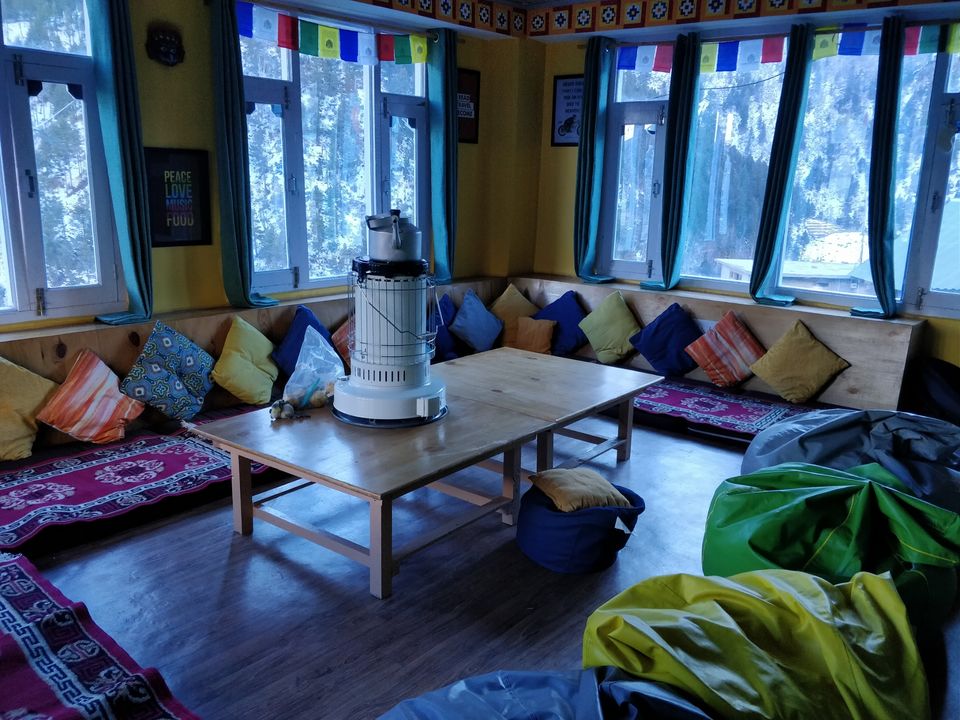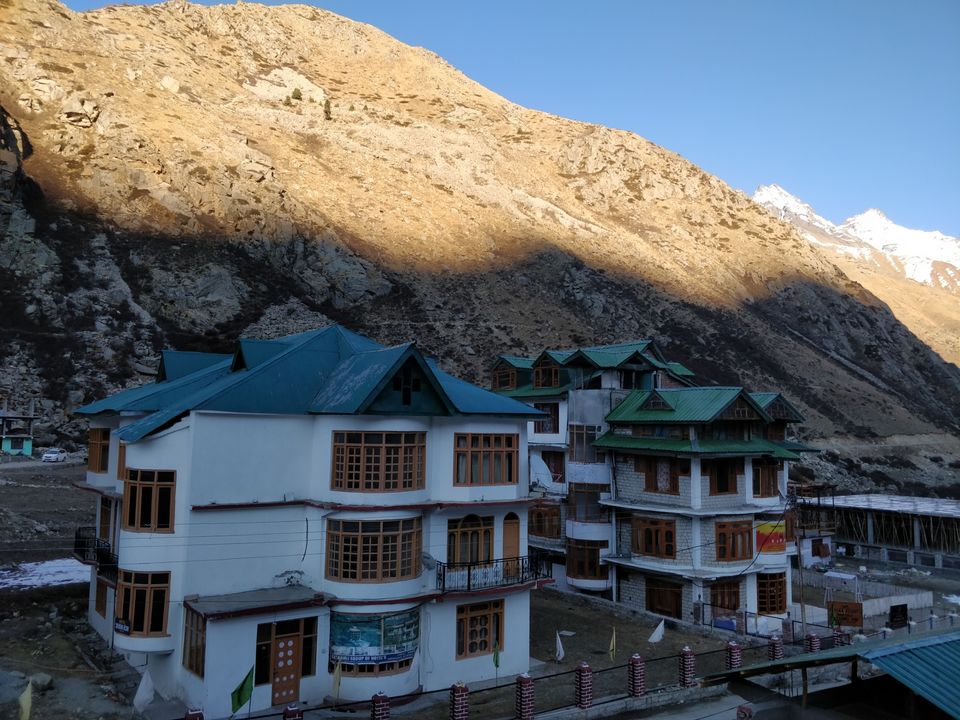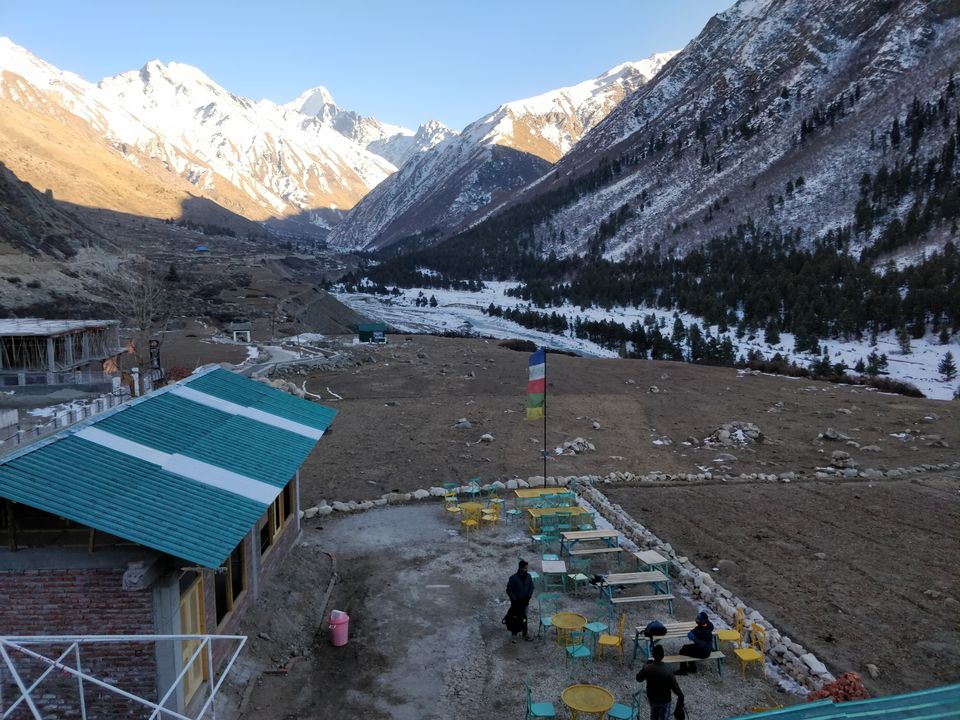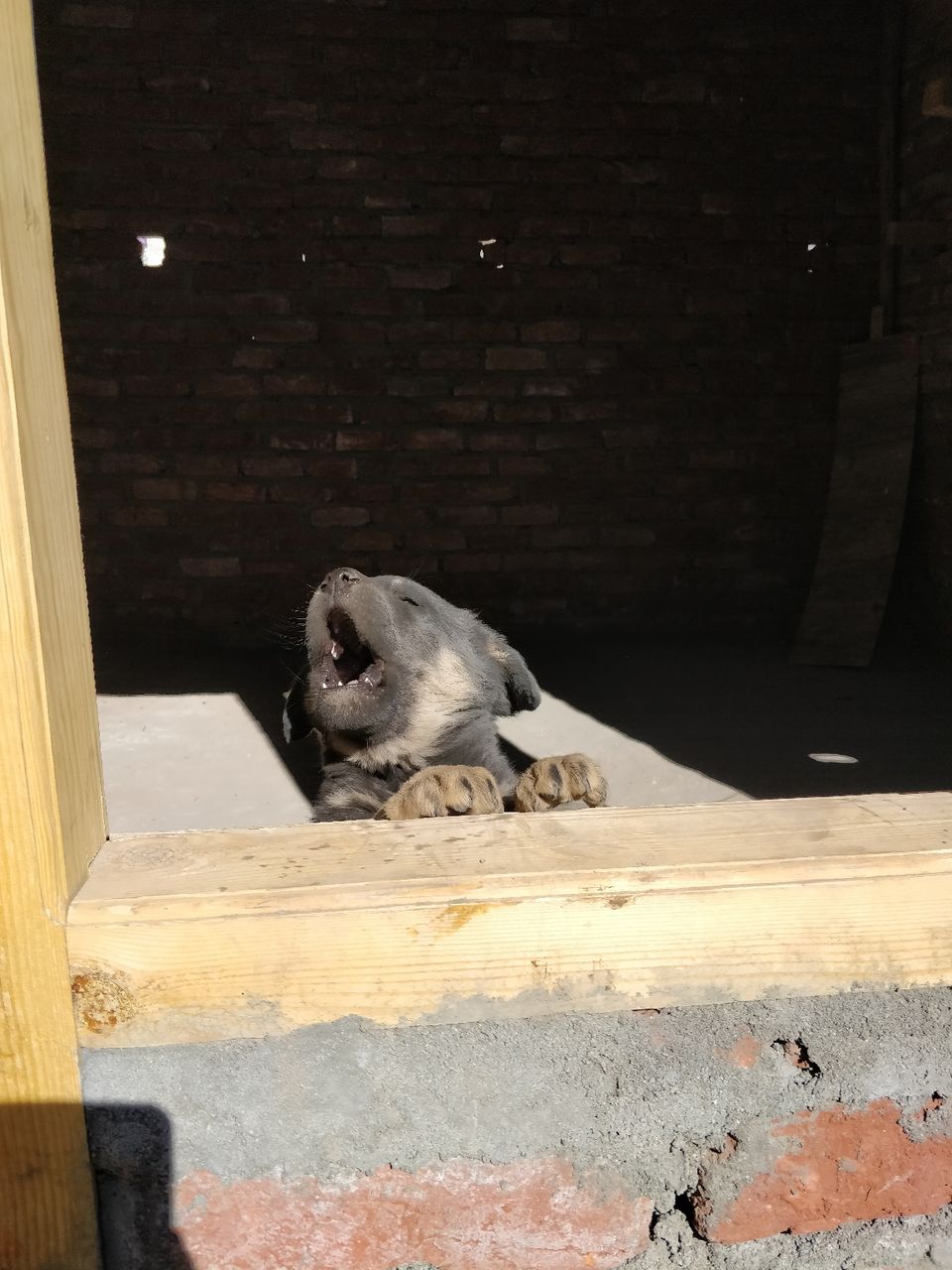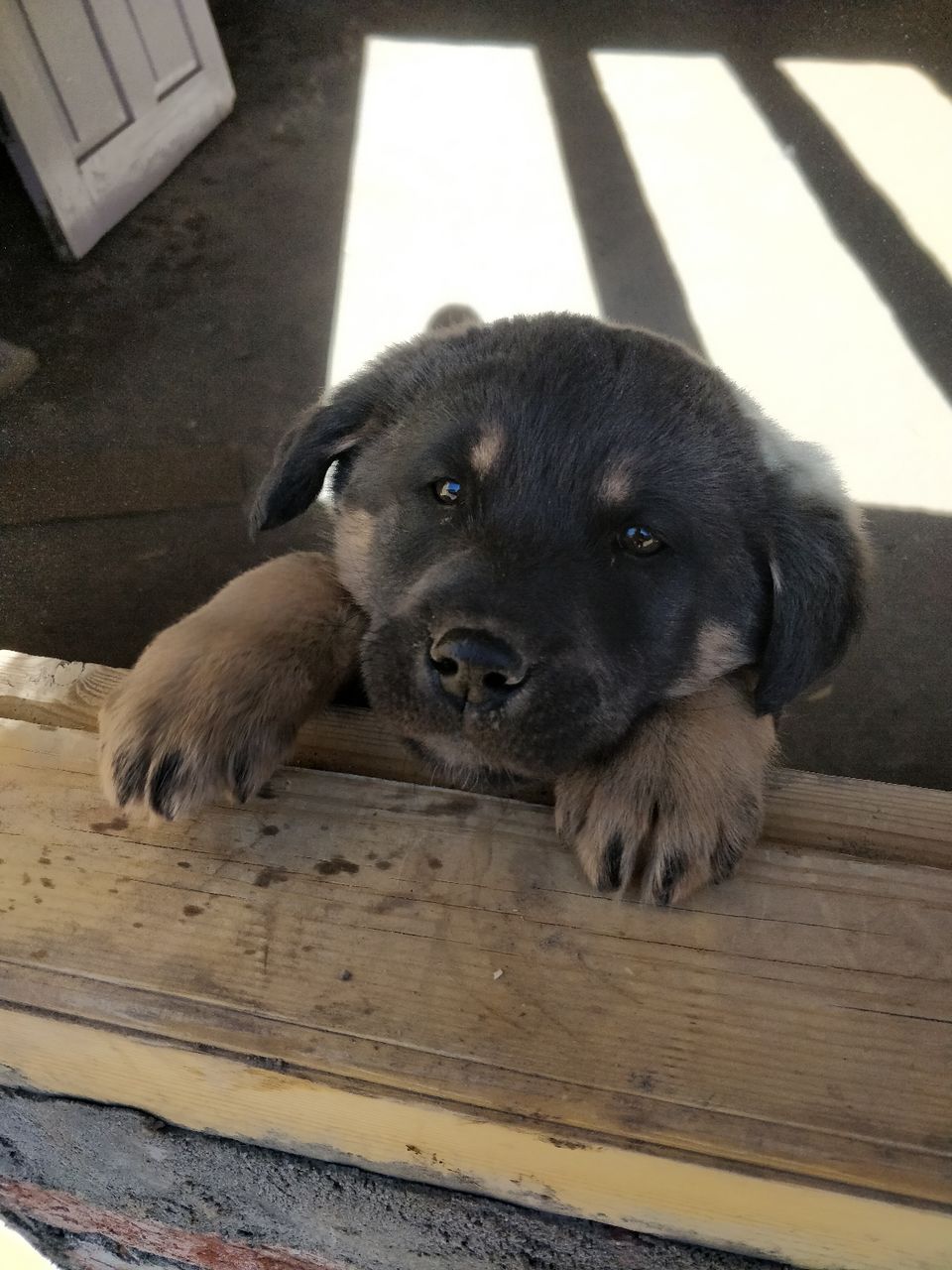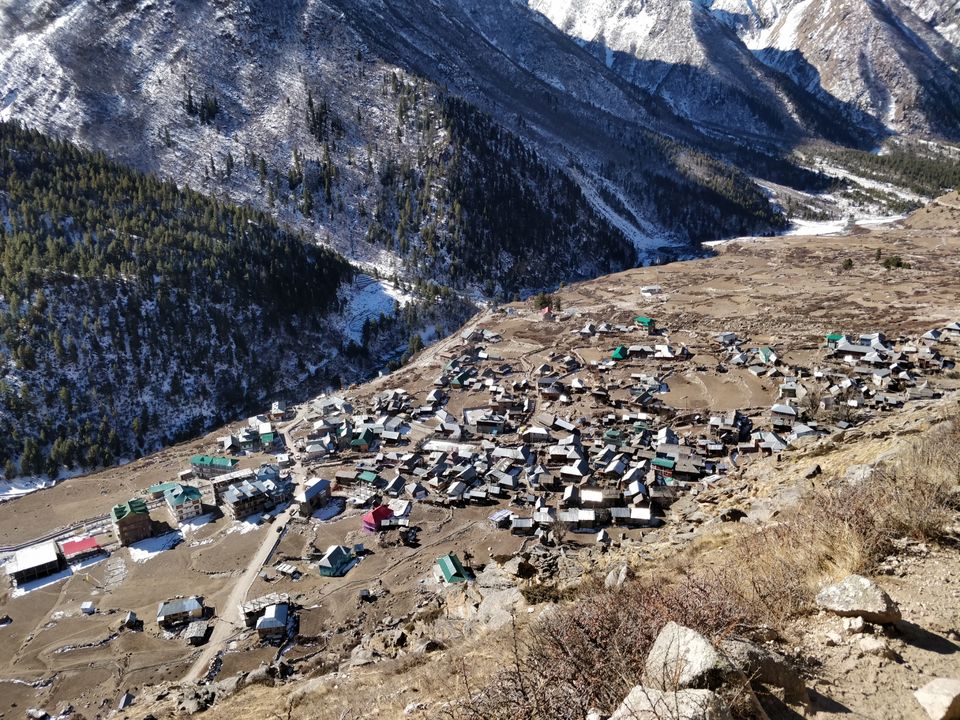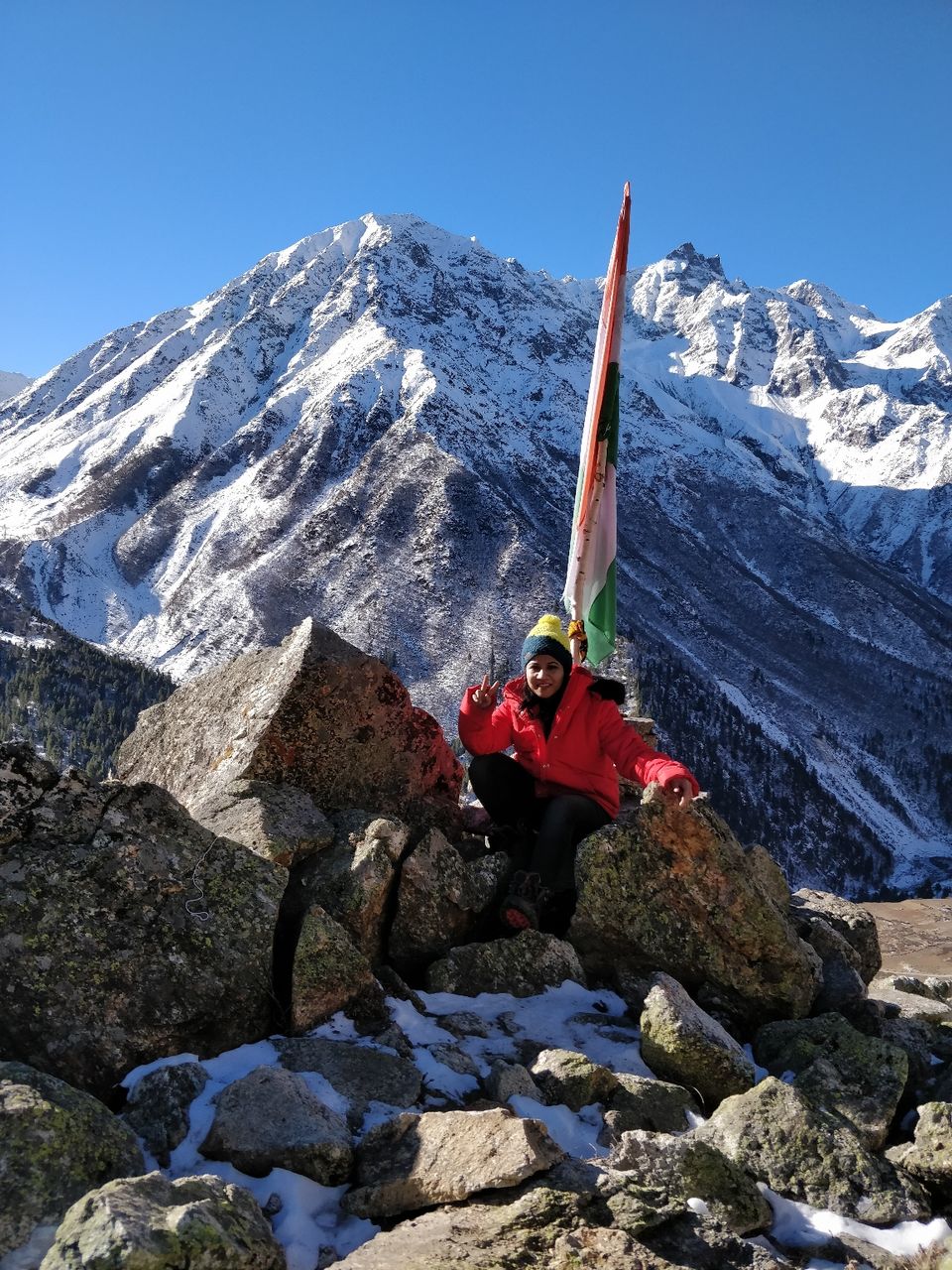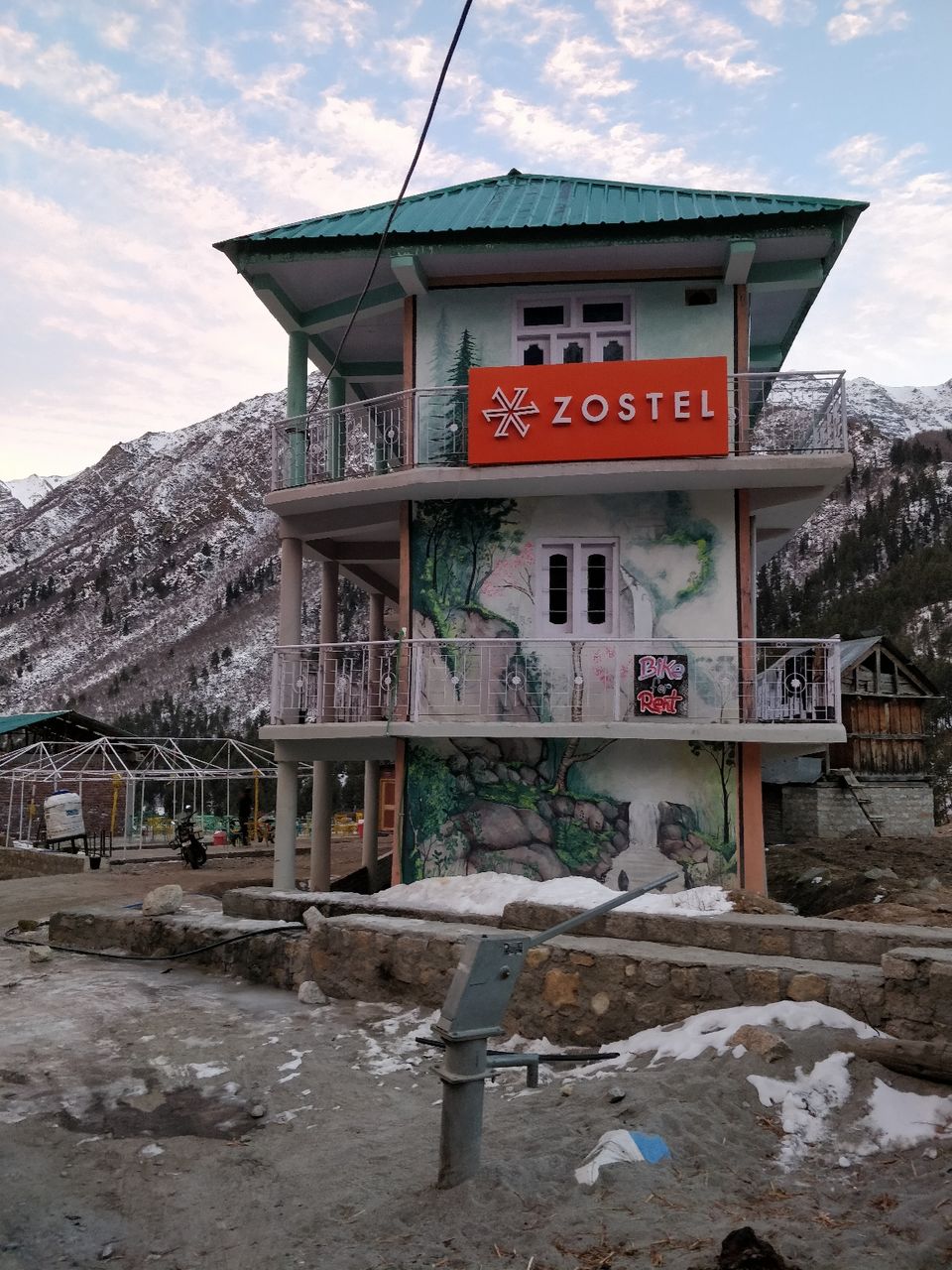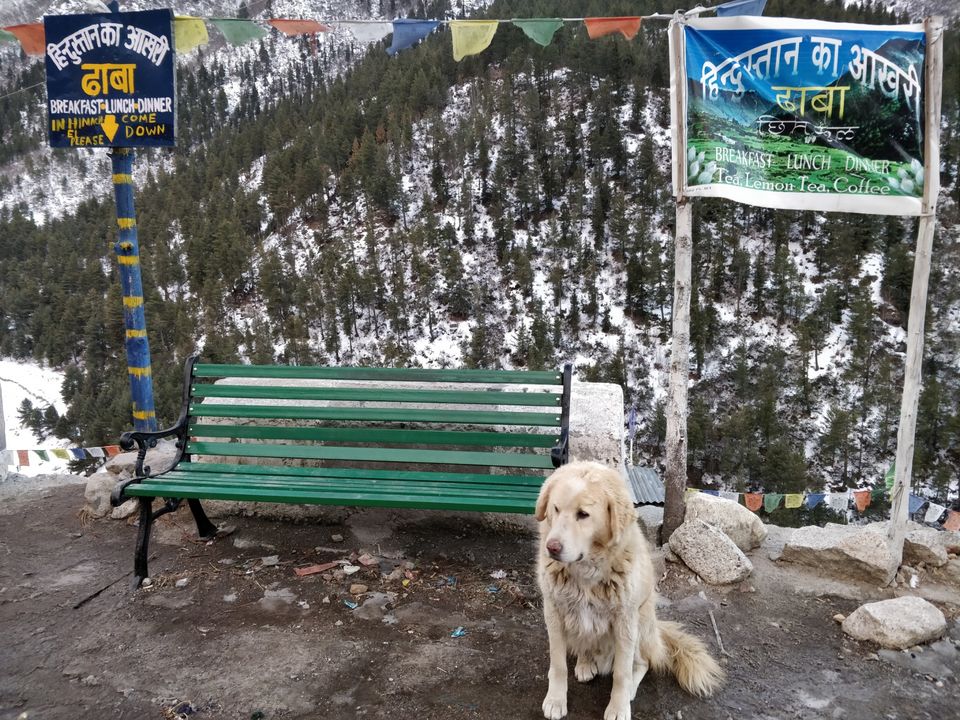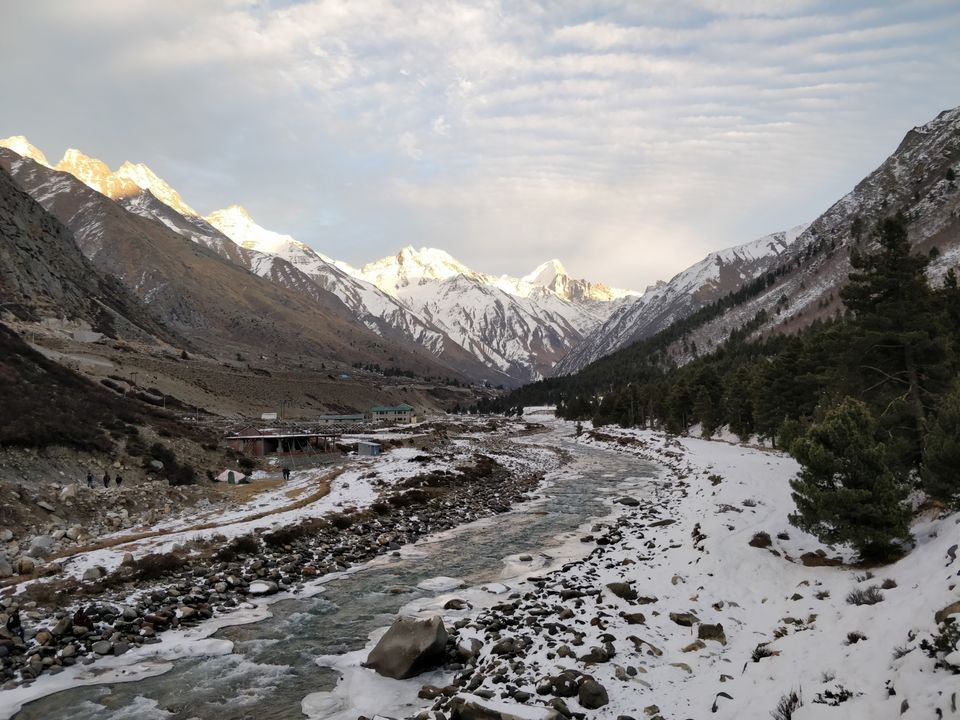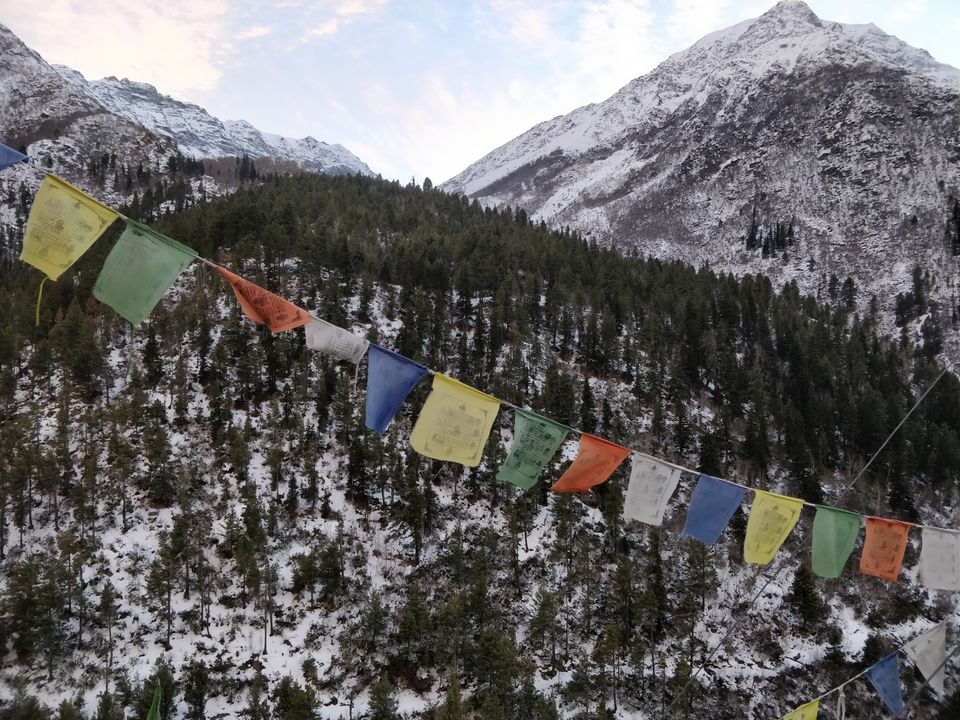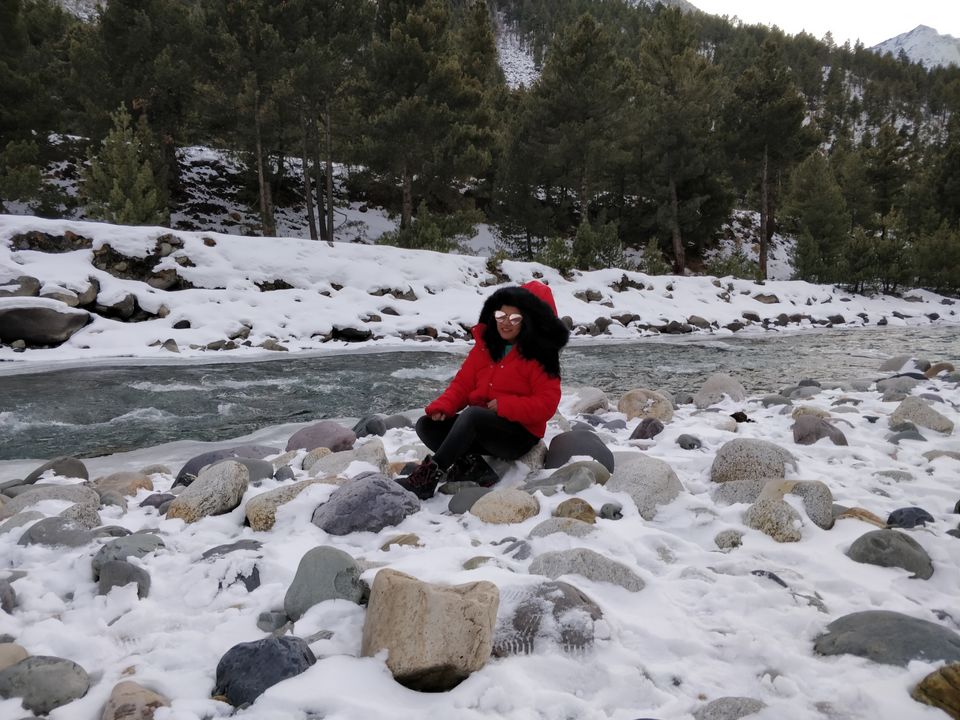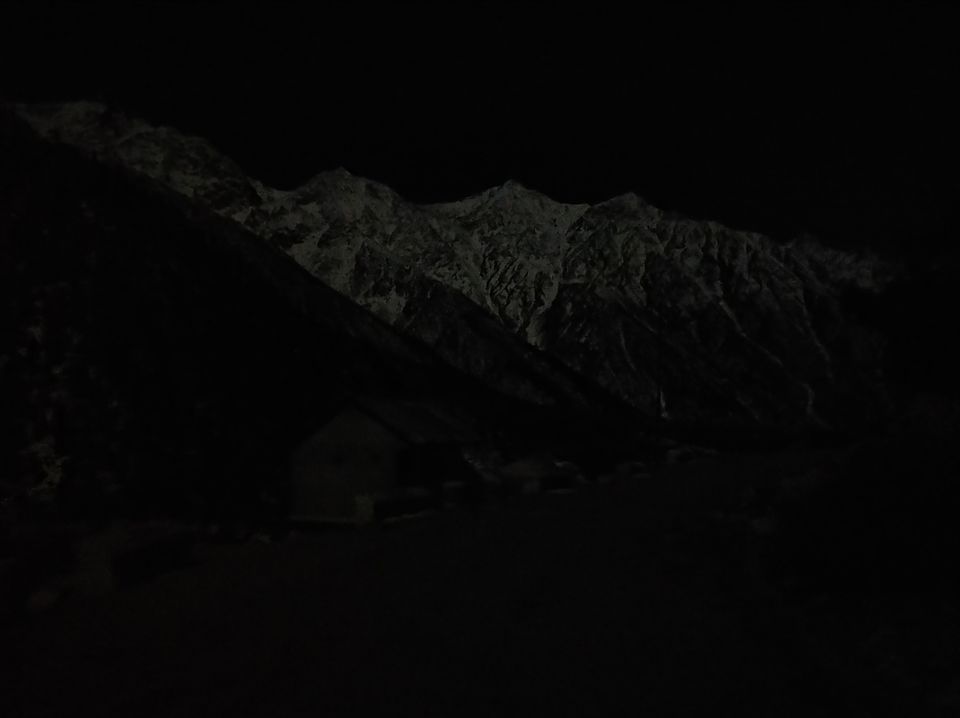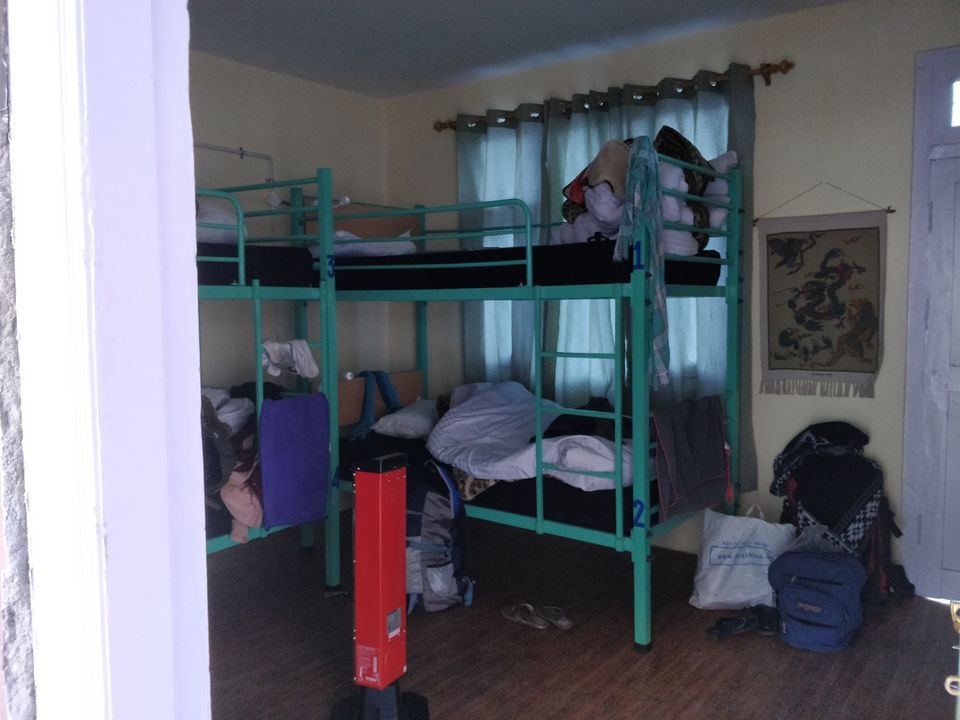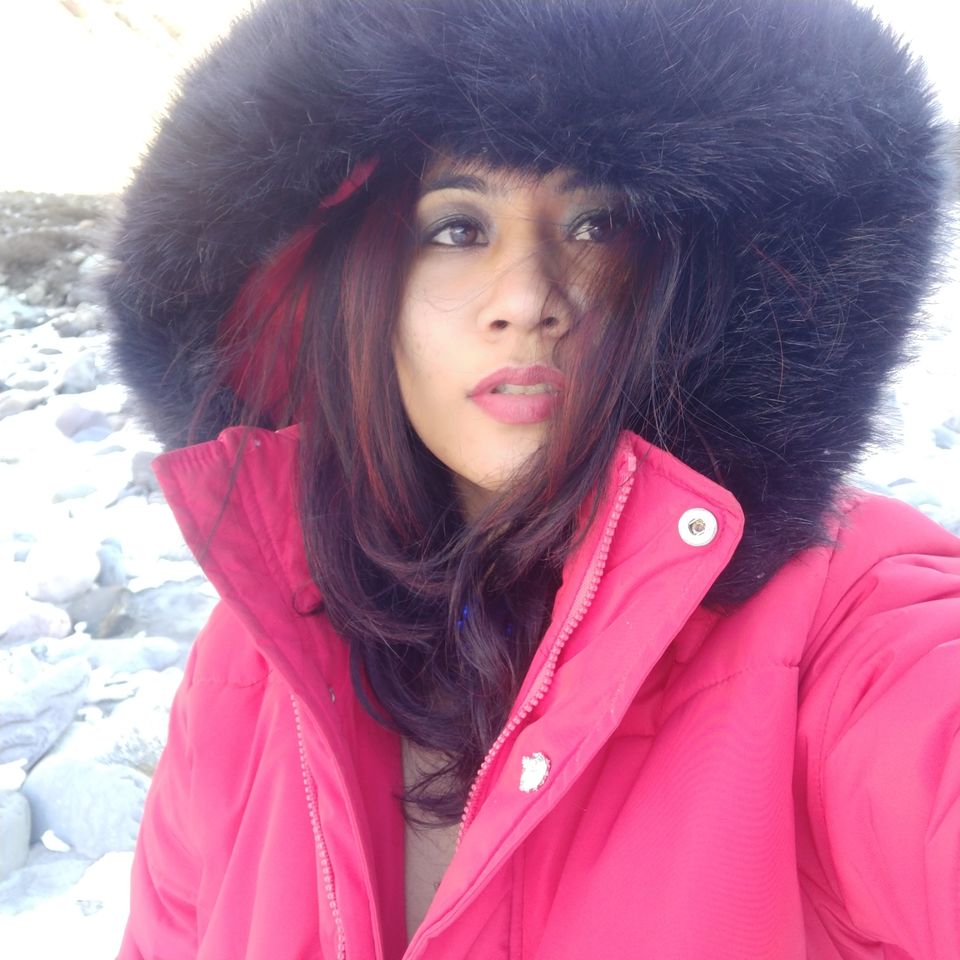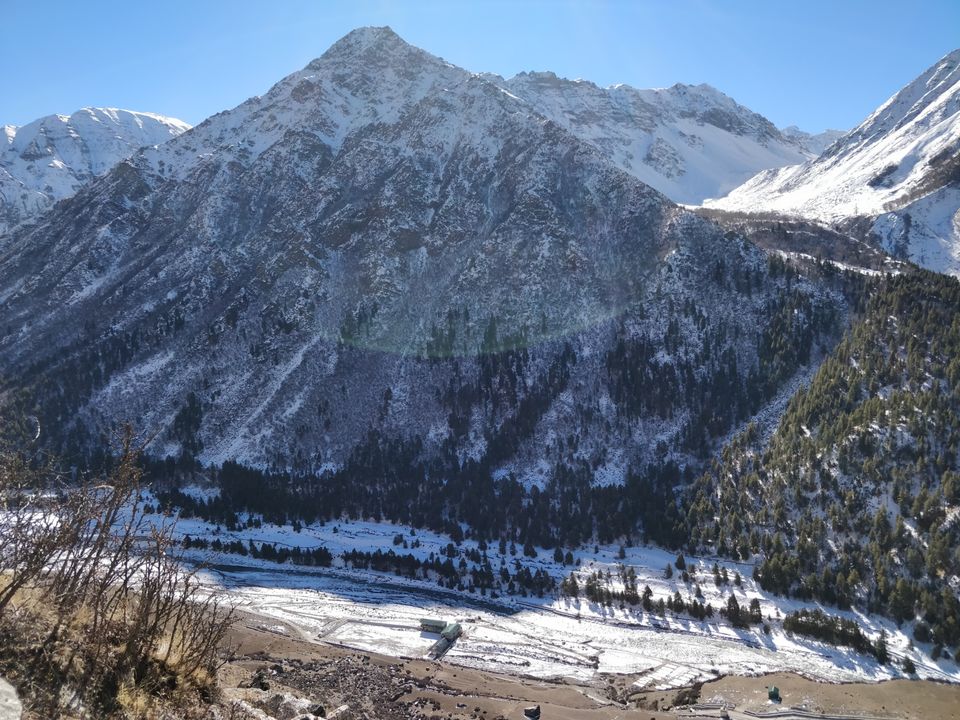 Dec 25 2018 - Boarded the 9.30 am bus from Chitkul (Rs 61) and got down at Karchham bridge , waited for another 15 mins and finally boarded another bus from Karcham to Reckong Peo (Rs 40) and reached Peo by 2 pm. After much negotiations and pleading with the representative got to stay and rest in PWD guesthouse which is at 5 mins walking distance from Reckong Peo bus stand. After satisfying our hunger pangs we headed towards Reckong Peo Monestary and payed our respect to Mata at Durga Mandir.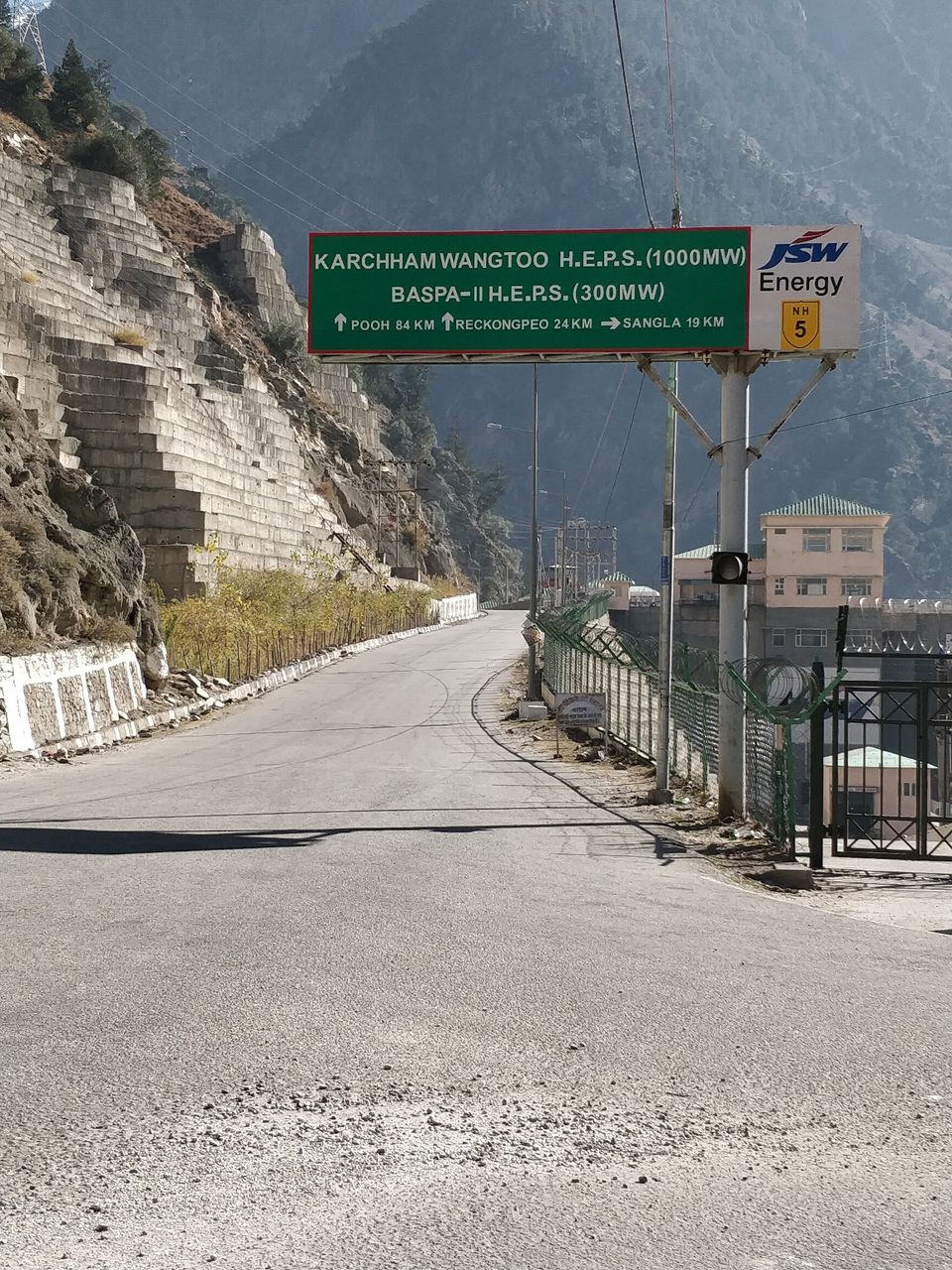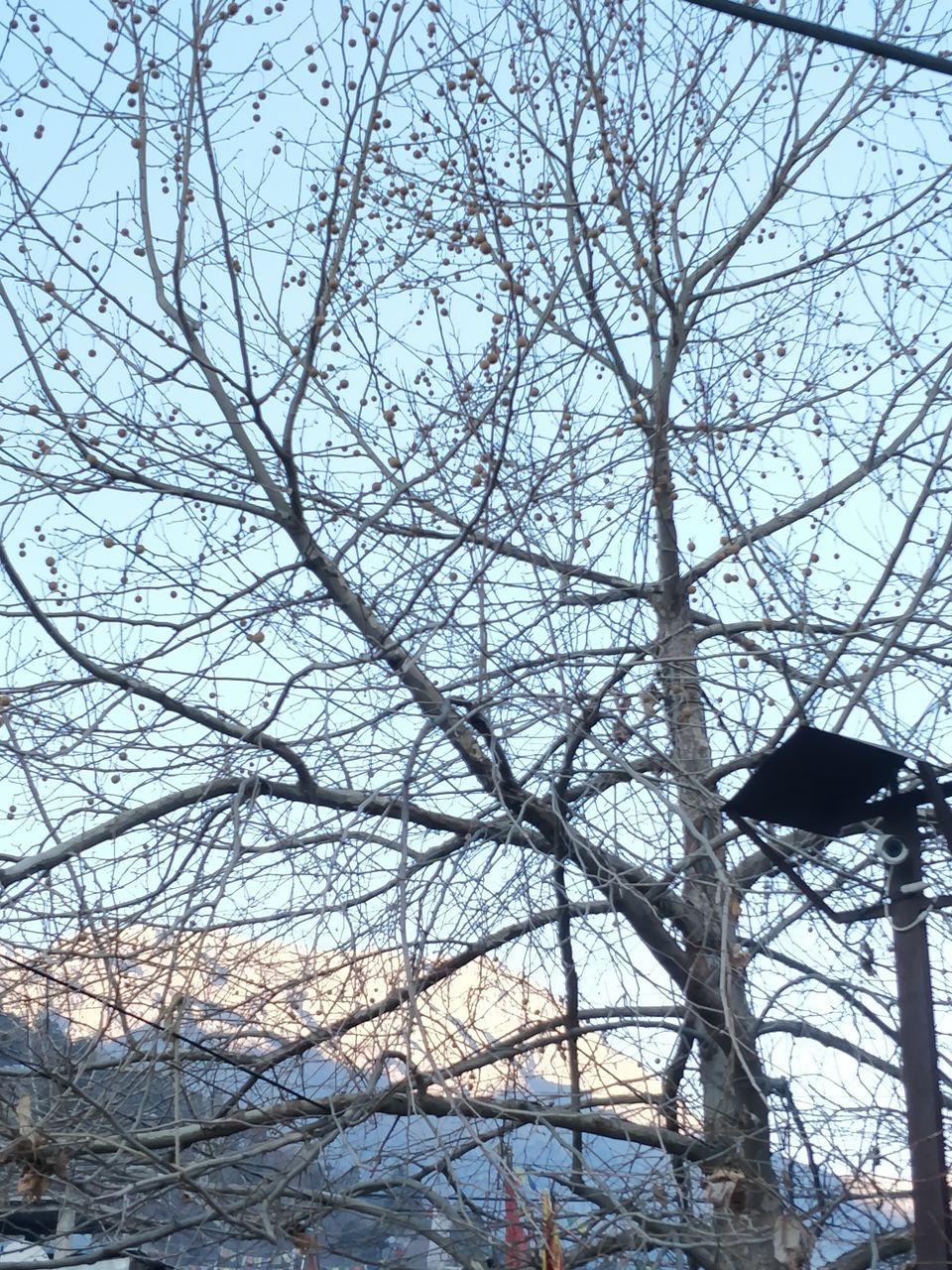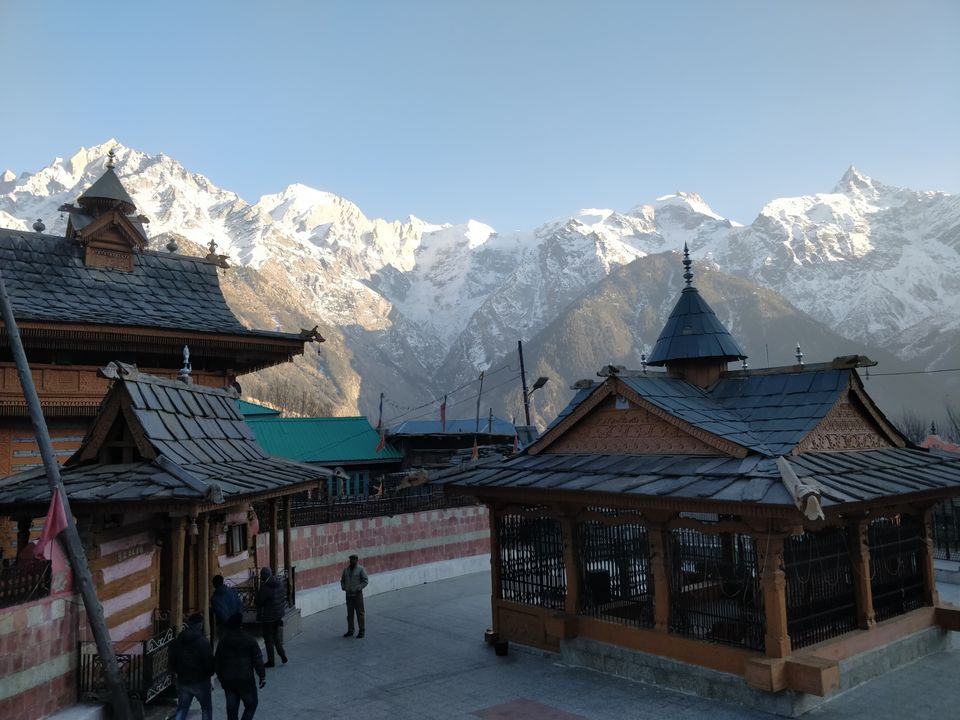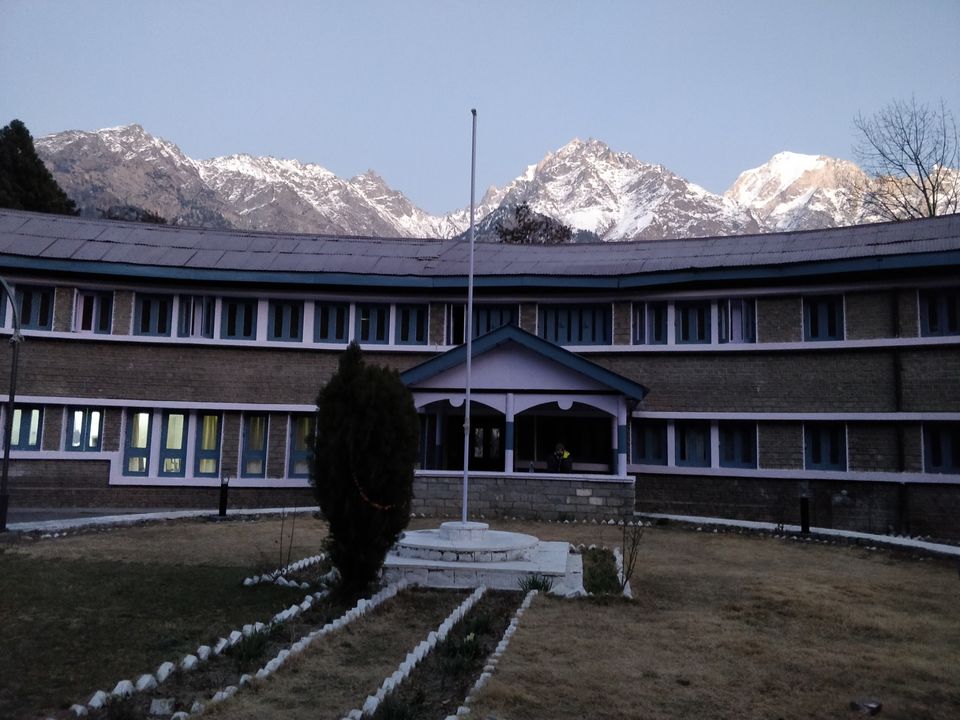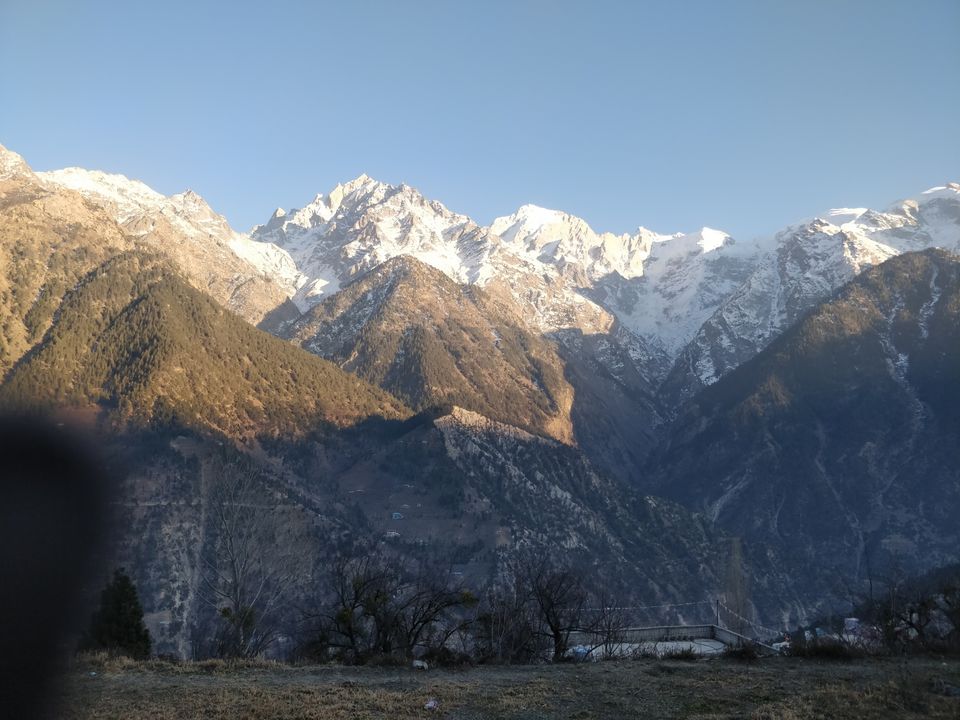 Dec 26 2018 - Woke up early morning to head straight to Reckong Peo bus stand in order to get the seats. Bus started at 8 am ( this is only winter timings Rs153 ) and bus takes the route which traverses through scenic mountains with River Satluj accompanying us. After crossing Spillo and Pooh we finally reached Nako at 12.20 pm. Bus takes a halt for about 15 mins and then heads for Kaza. Most of the home stays and hotels were closed and old snow laid on the roads and grounds. After spending few minutes looking around we zeroed on Namsa Kitta homestay and that was the best decision ever. They made us feel right at home. After keeping our luggages we went to see the Nako lake and Monestary.The view from Nako helipad will leave you spellbound. JULEY ! Nako kabhi na bhuley.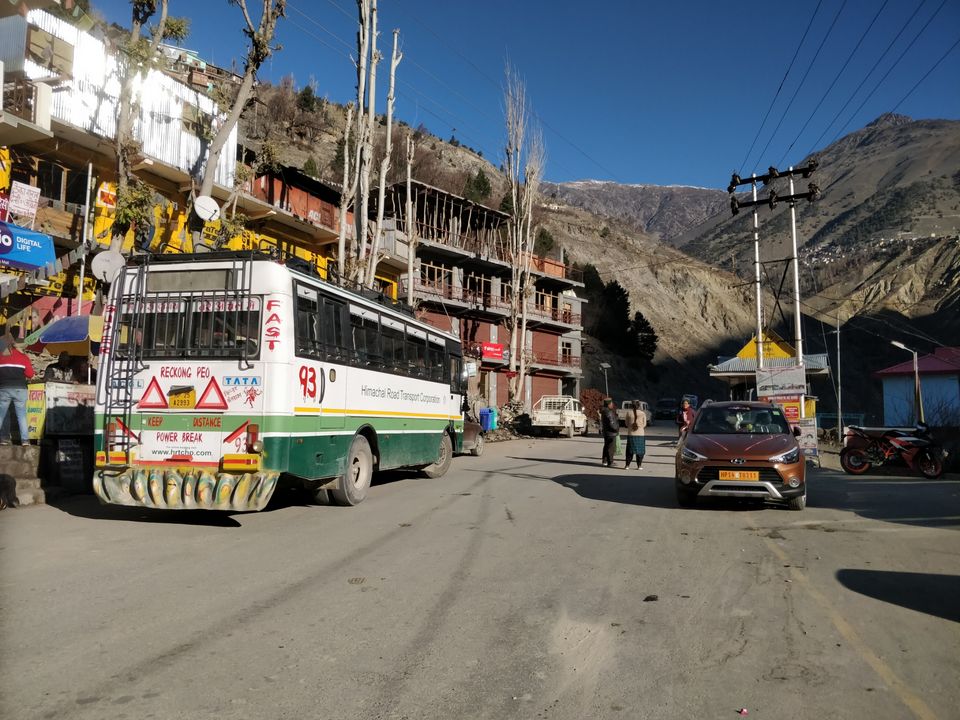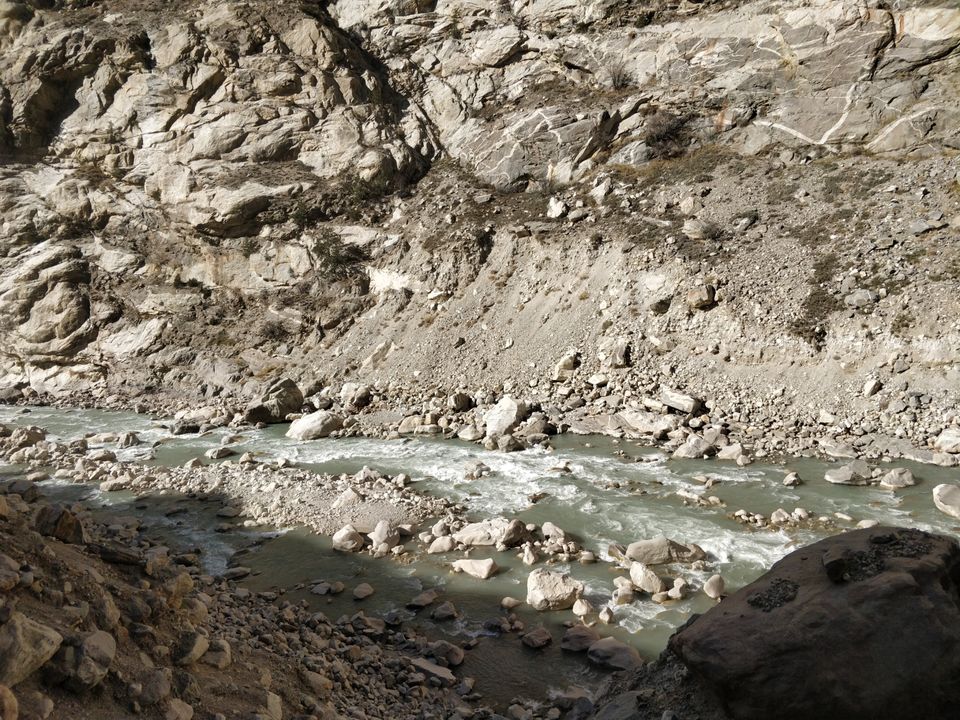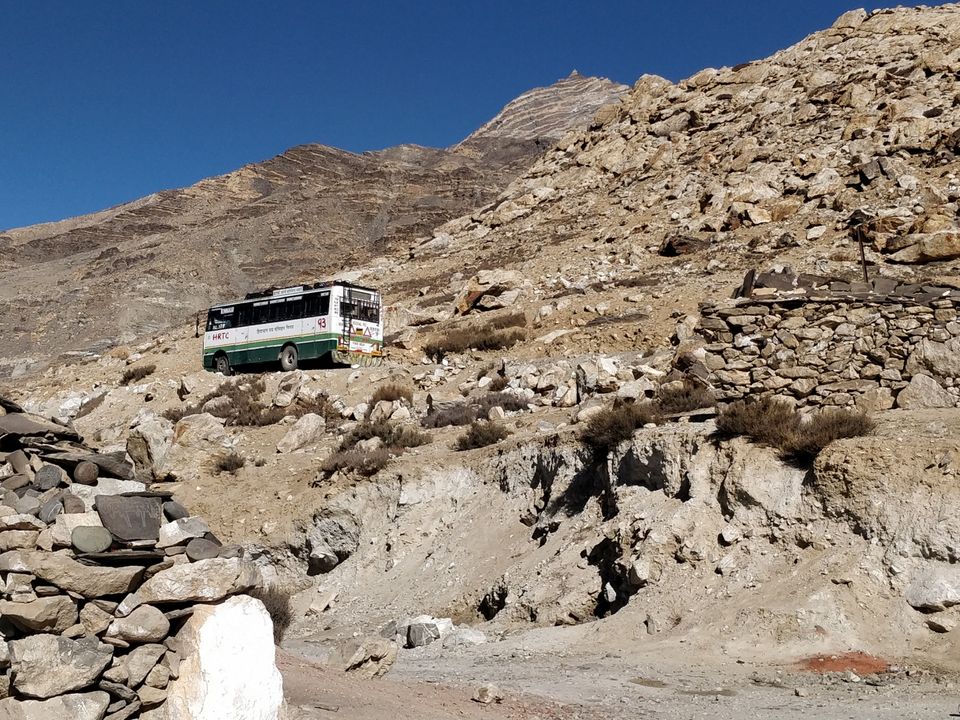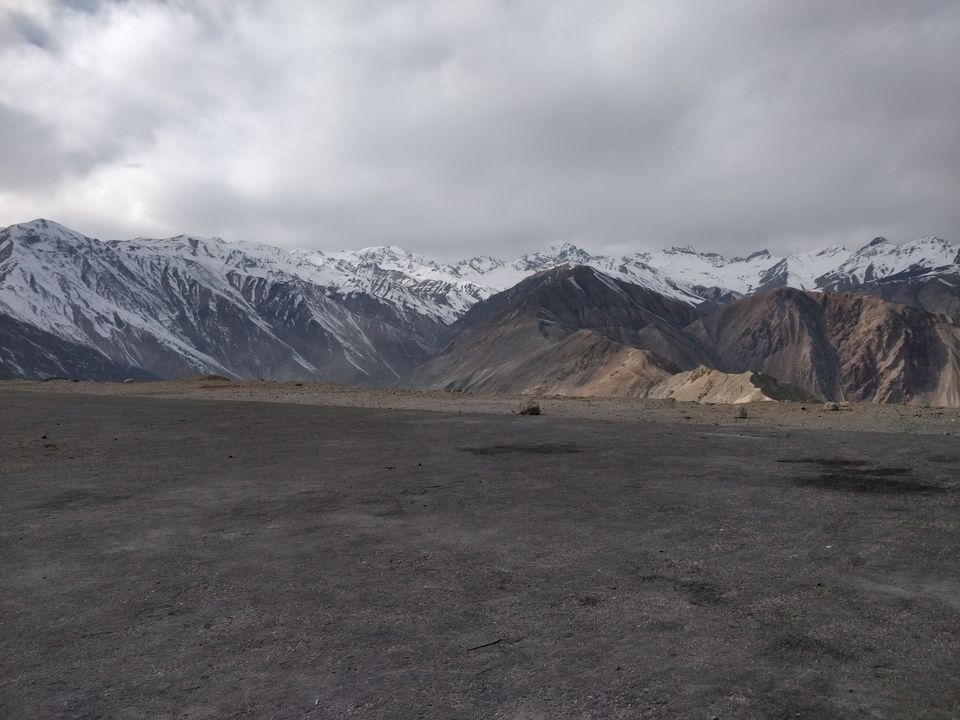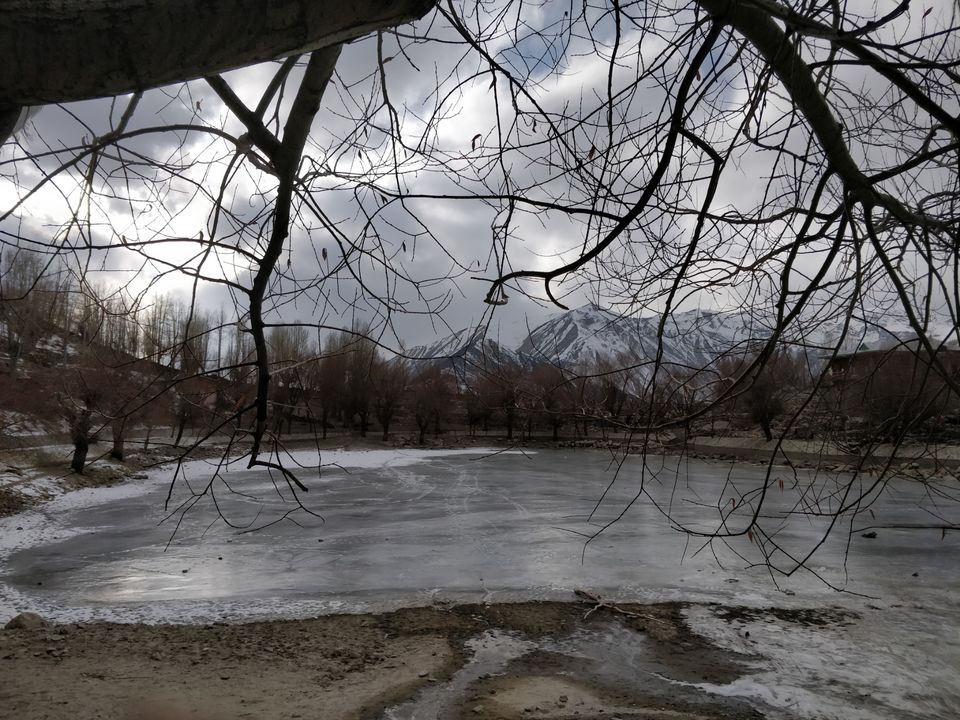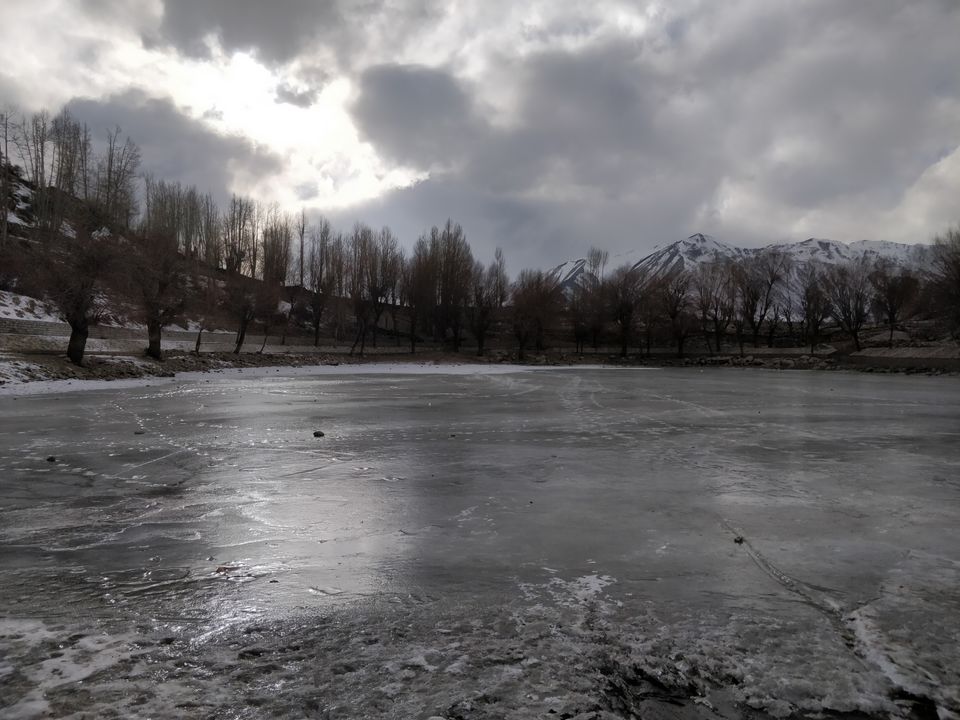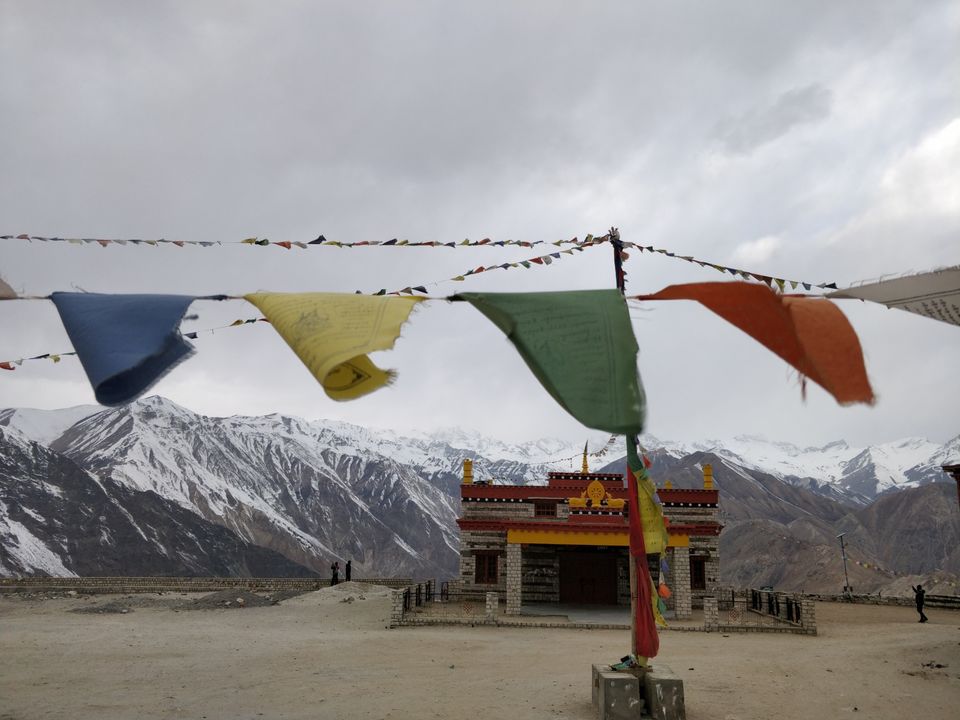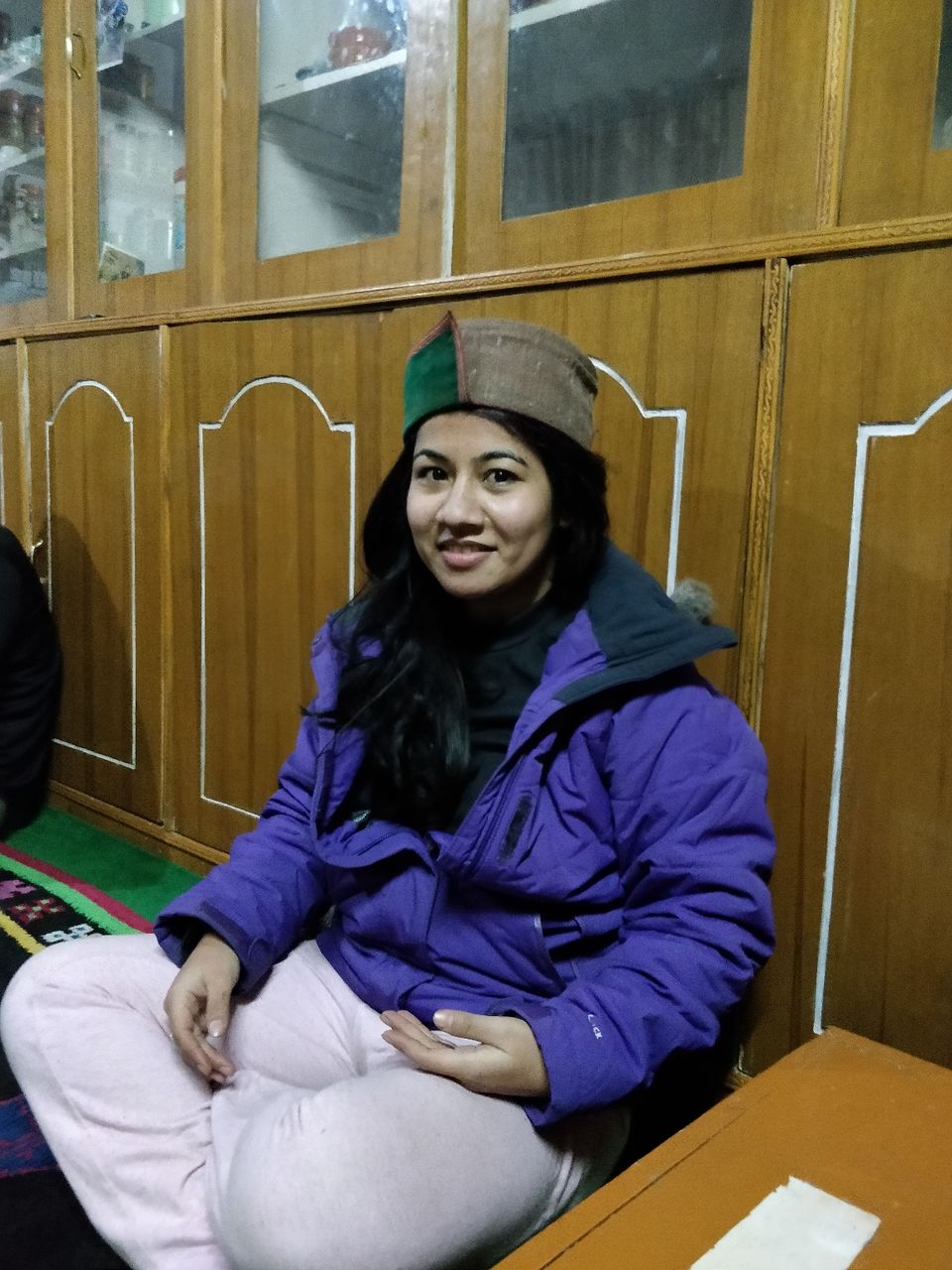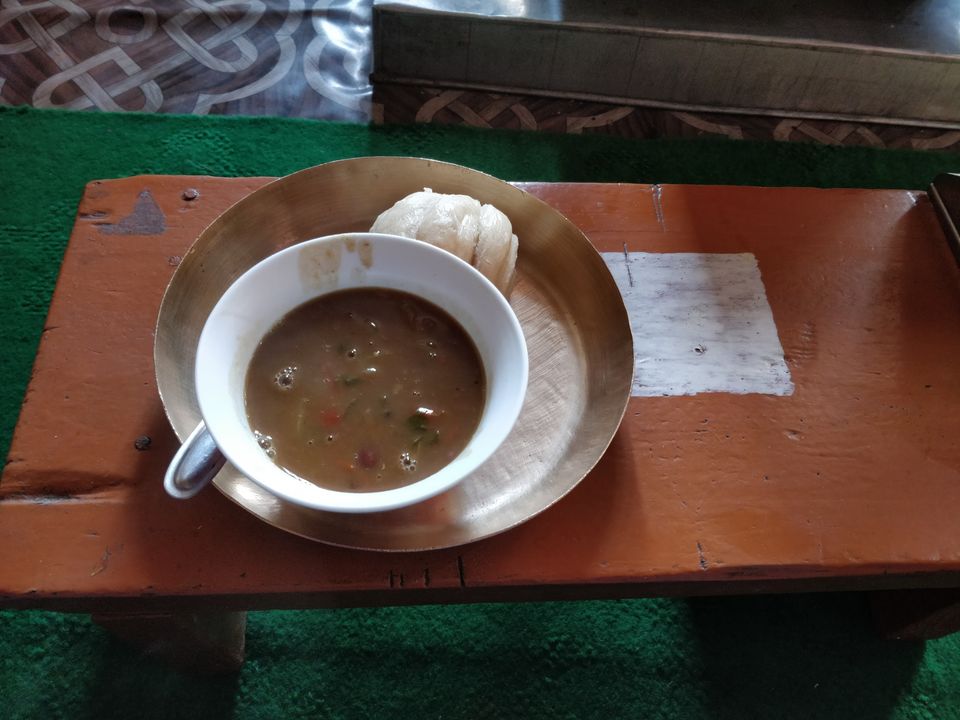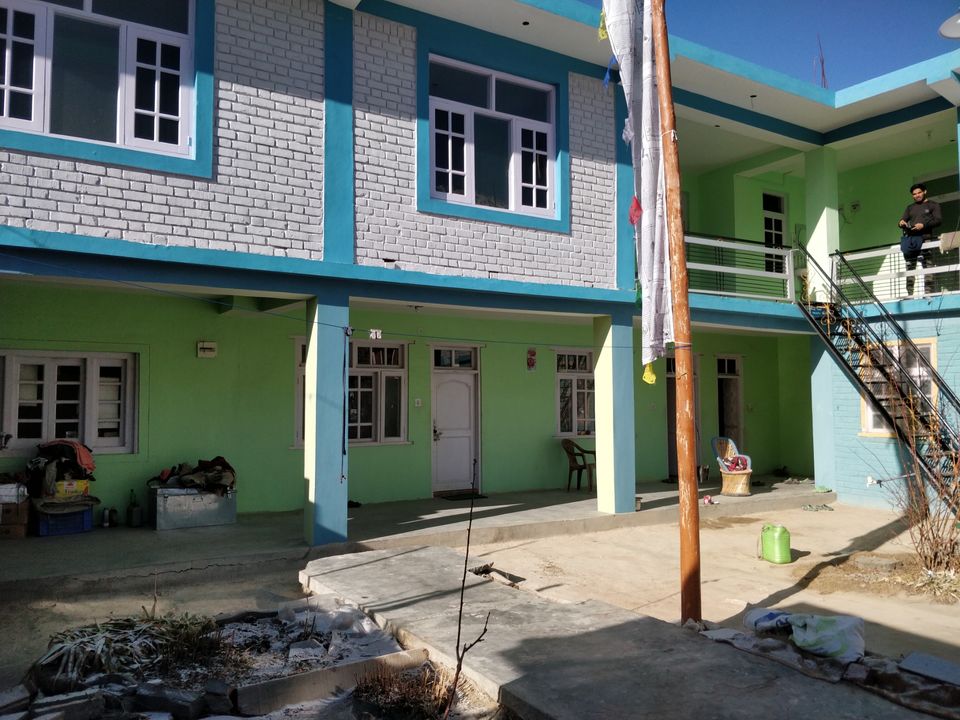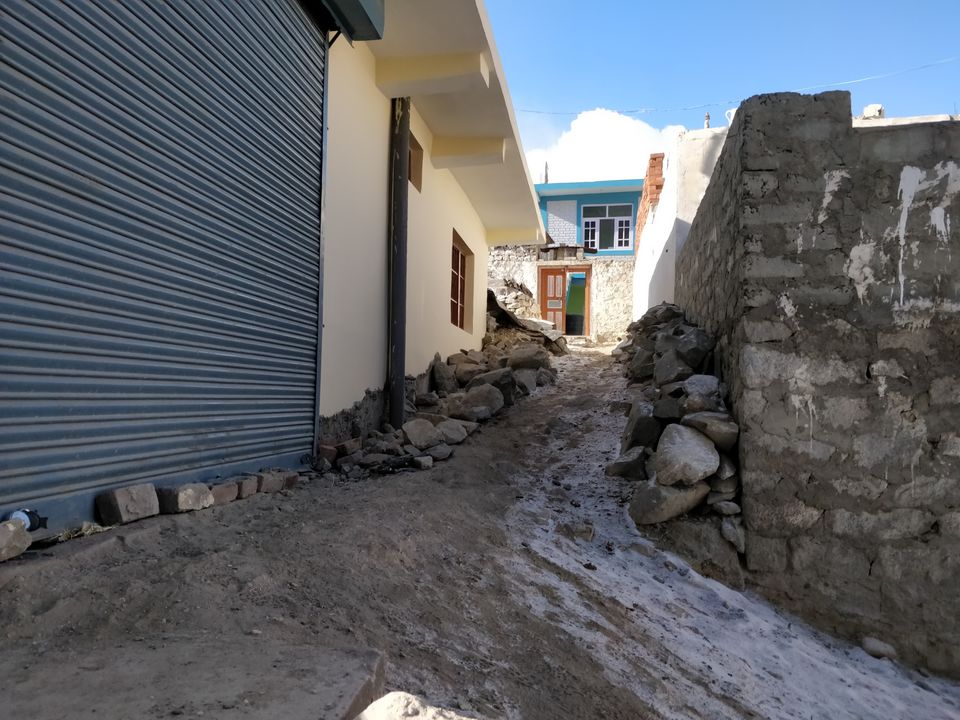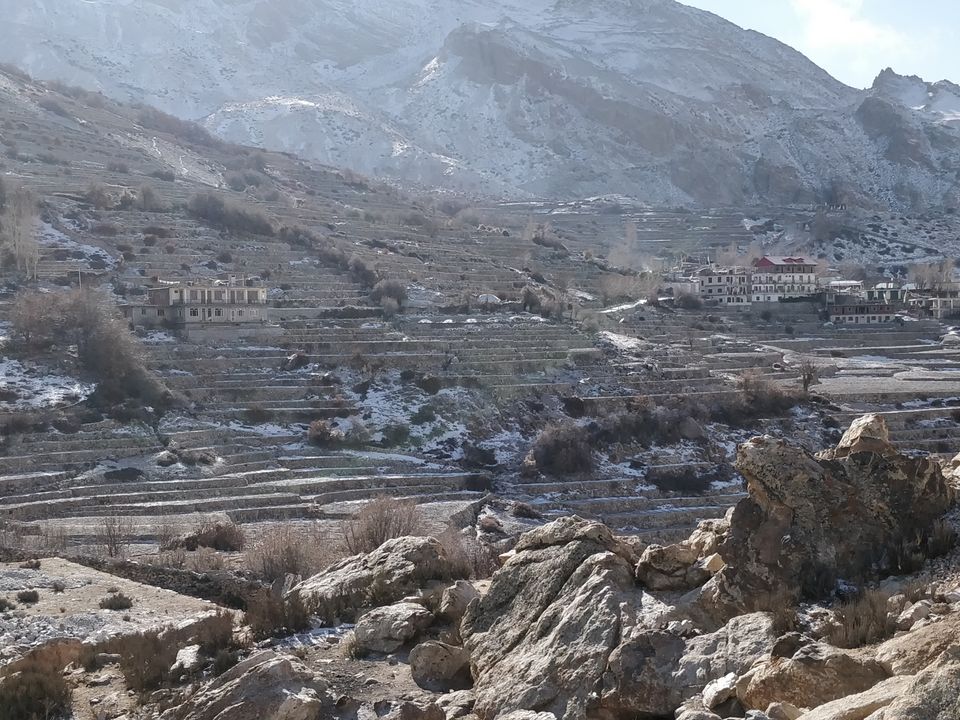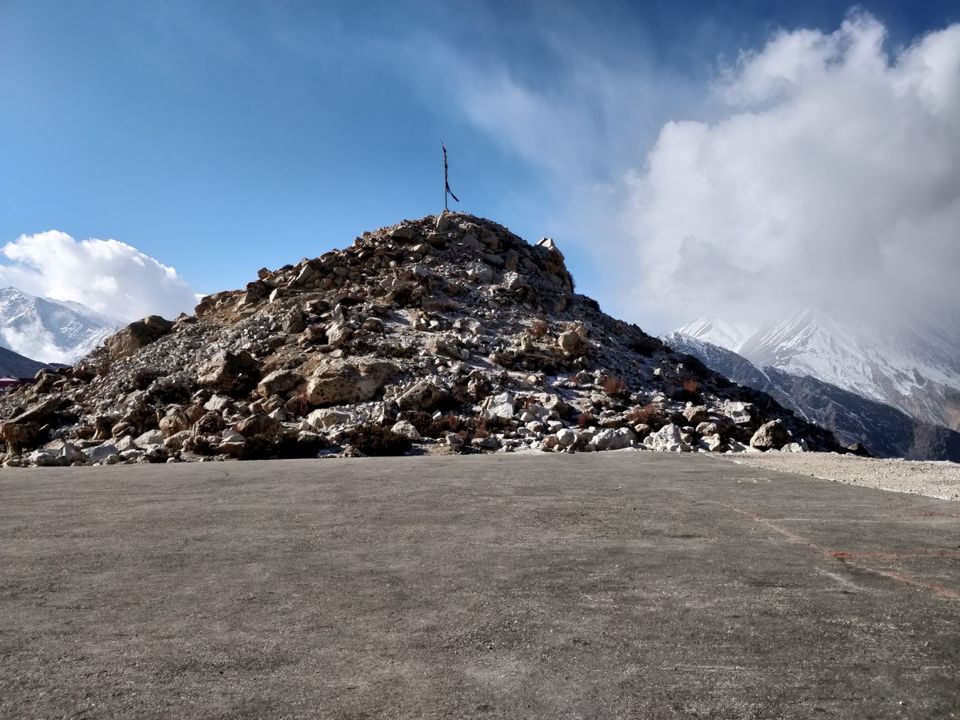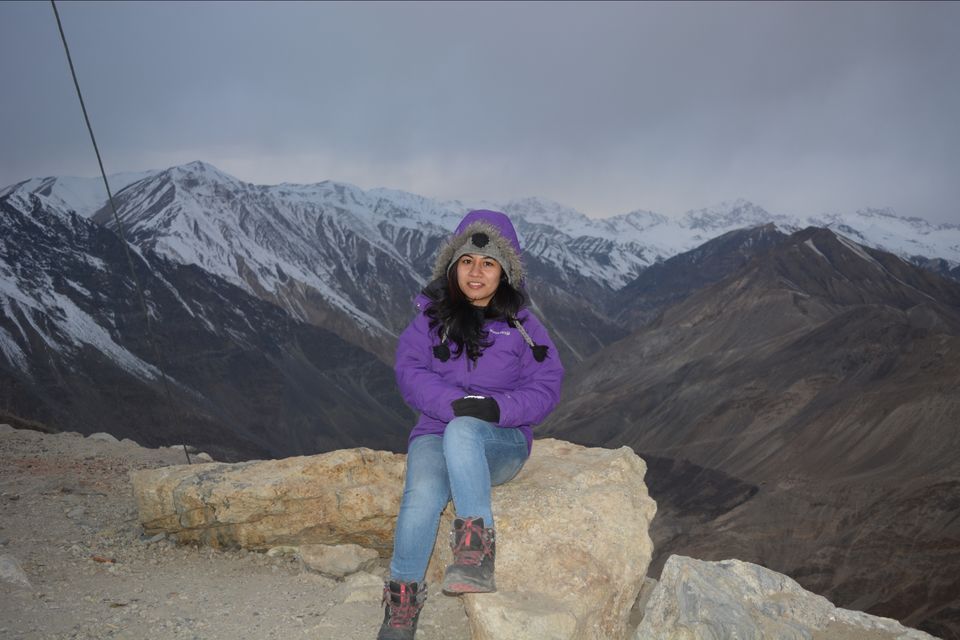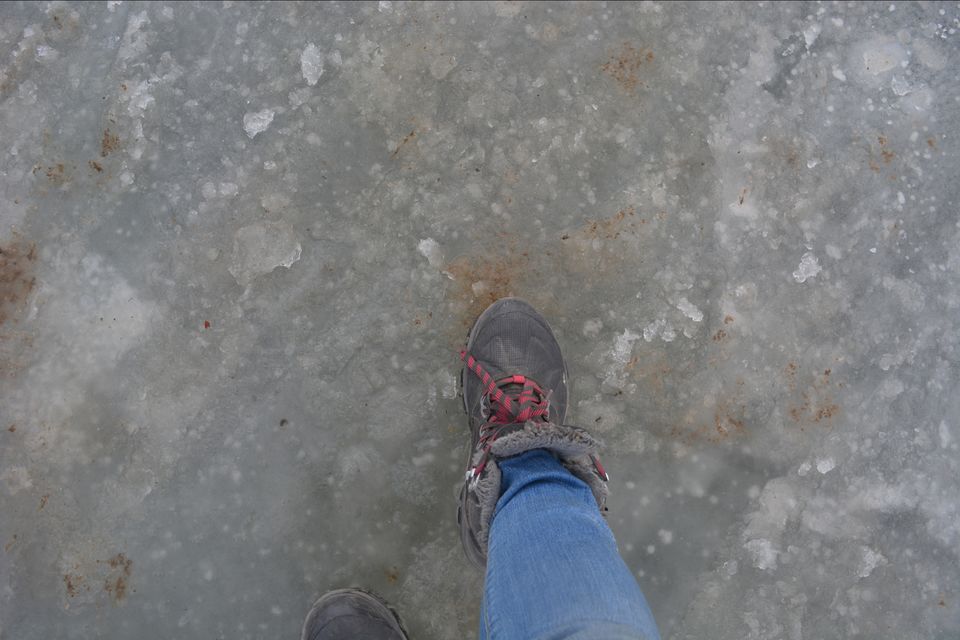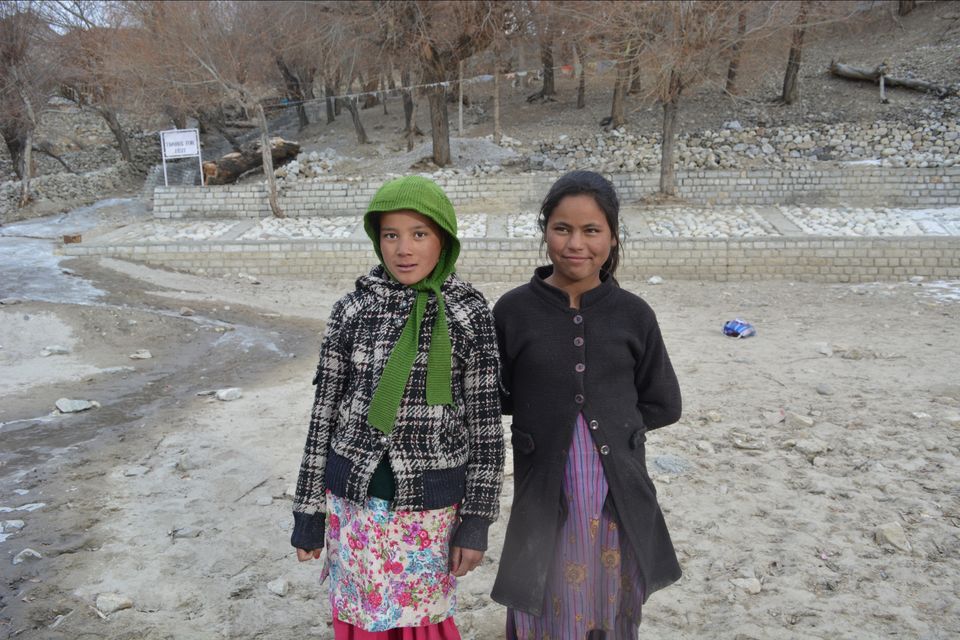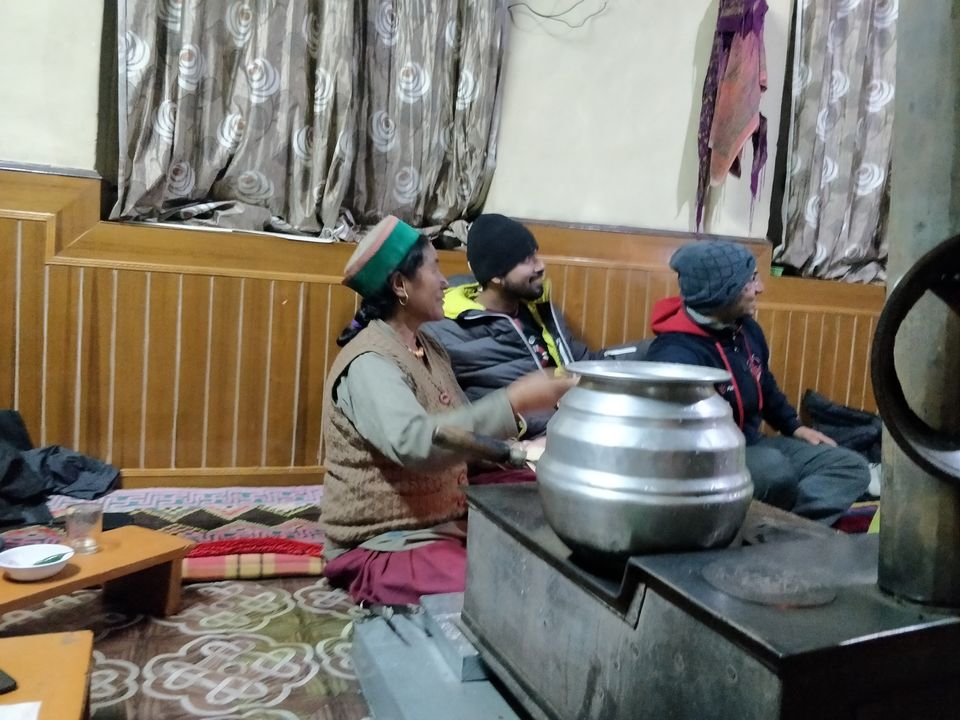 Dec 27 2018 - Only did we realize it had snowed the previous night when we visited the Nako Lake covered in fresh snow in morning . Our homestay owner offered us fresh apples, Kinnaur apples are known to be world class and all sent for export.After having local dish Timo in breakfast we headed for Nako Helipad to catch the bus. In the meanwhile Kaza - Reckong Peo bus came in and the conductor recognised us with whose bus we had travelled yesterday. We had our fun moments and then after having lunch started a period of long wait. One hour turned into 3 hours wait as the bus was running late due to tyre puncture and fresh snow fall with people walking on feet to cross the bridge.With sun going down chilly cold wind started to blow. Finally at 3.30 pm the bus came. But the entire boredom was gone when the bus driver drove the bus without putting any speed breaks. Our lives were literally in danger.This adventure was more than enough for the day. And we finally reached Tabo by 7 pm.( Actual time Reckong - Kaza bus is 12 pm with fare Rs 92)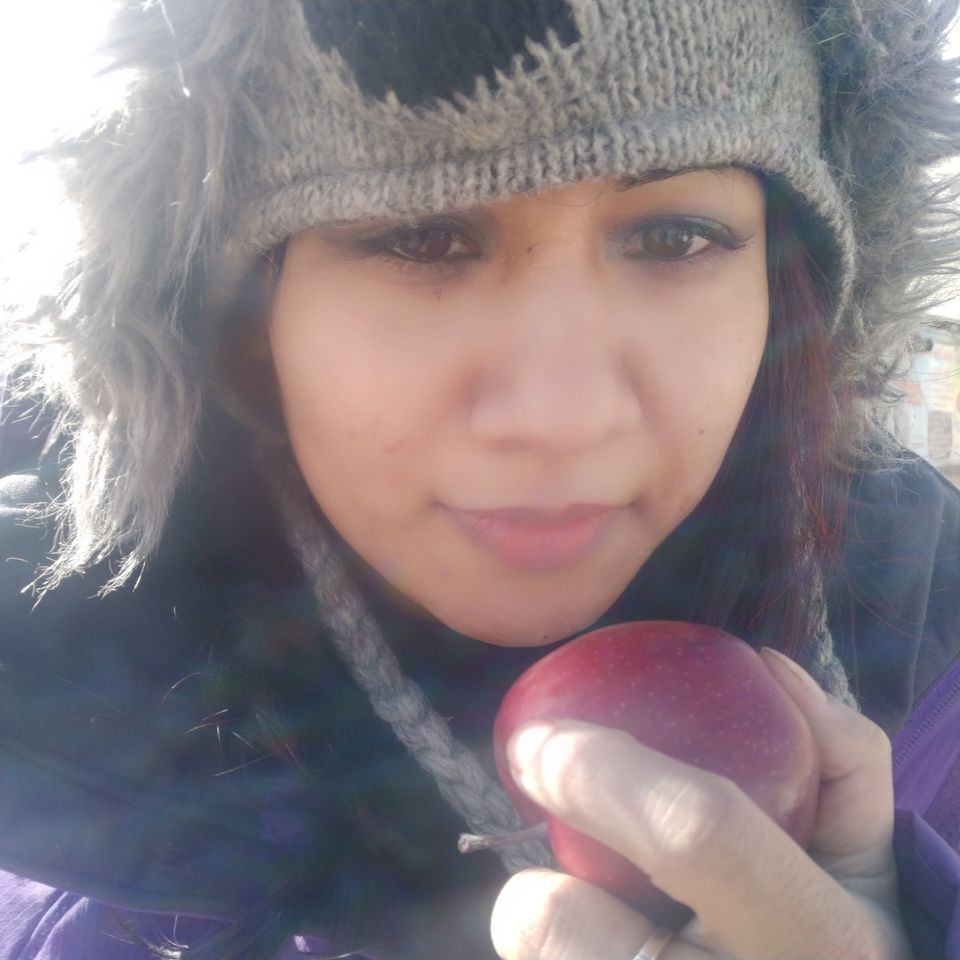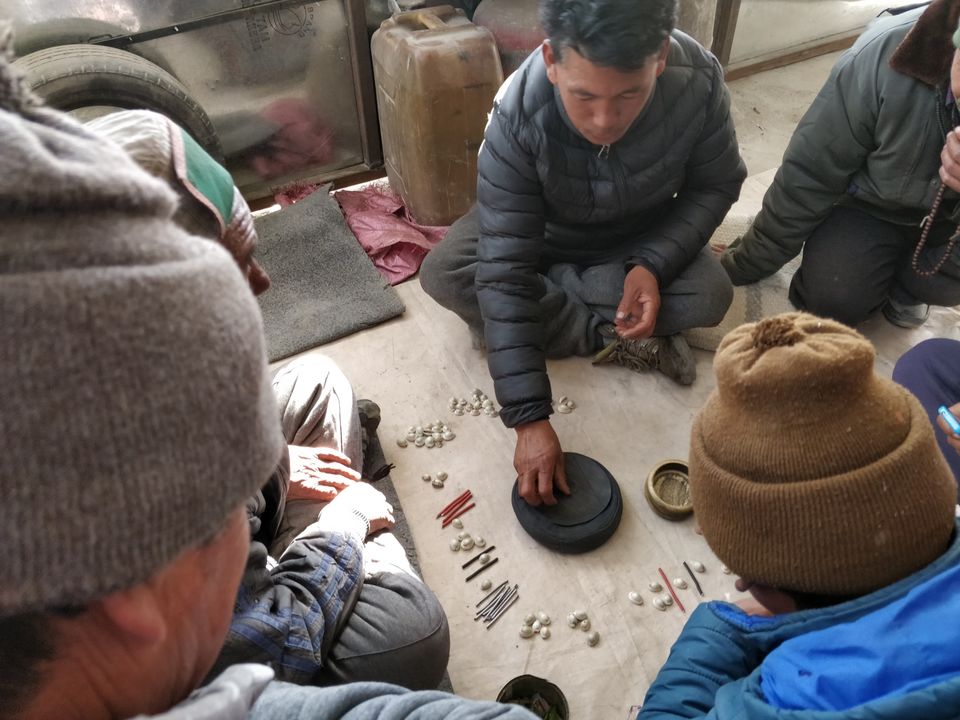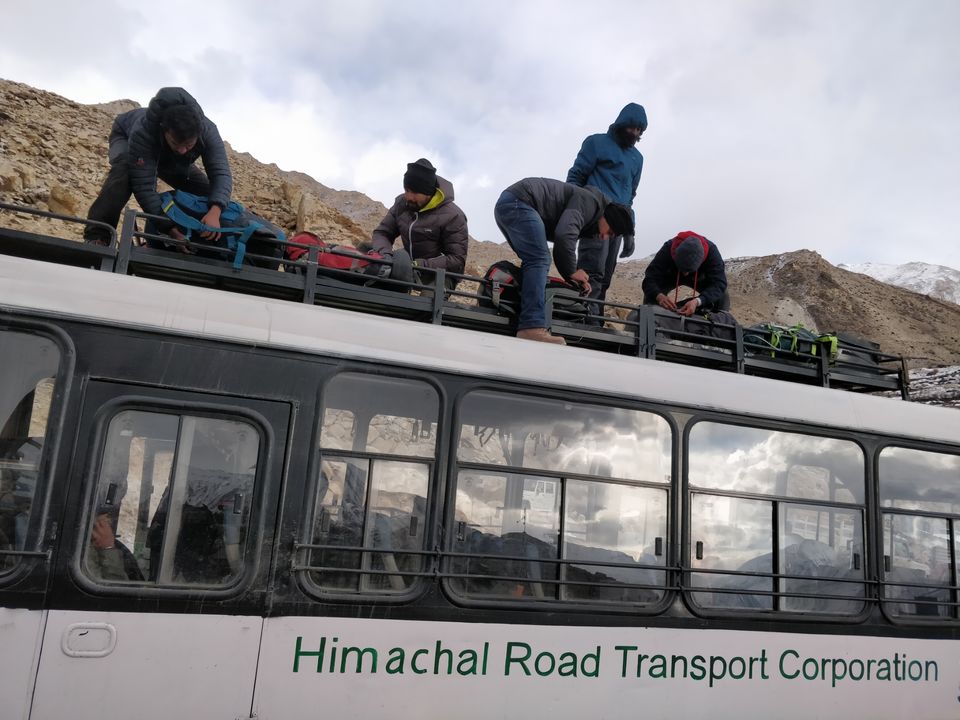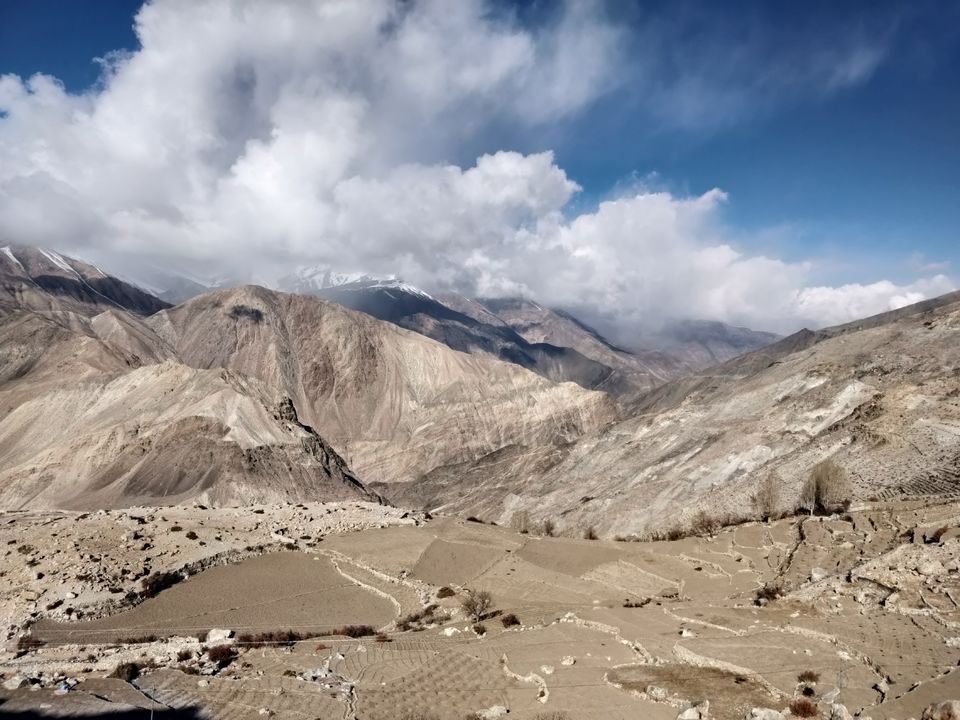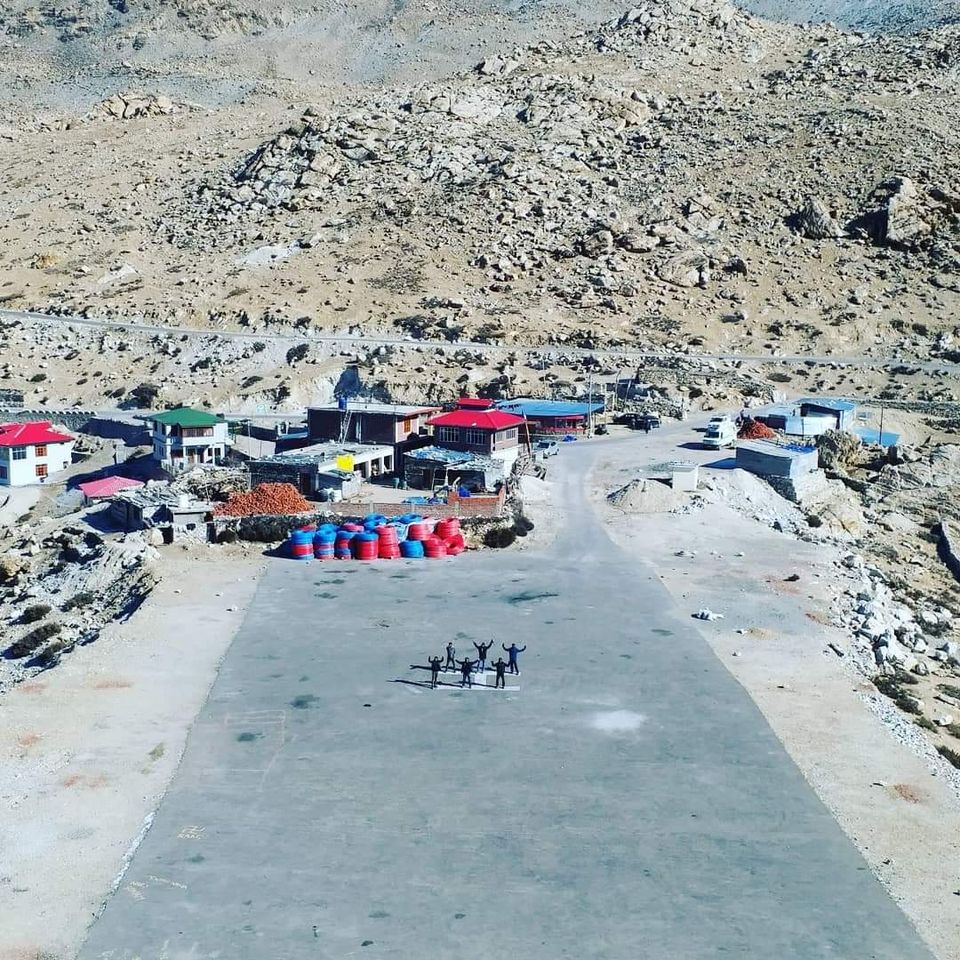 With the bus being late we were in delimma whether to skip Tabo or head directly to Kaza. But the final decision was to take a stop over in Tabo. The owner of White Lotus home stay is a man of principles.A beautiful home with clarity of instructions. Every detailed laid for the travellers. Welcoming us with tea he showed around our rooms and then after the dinner we headed straight to our beds.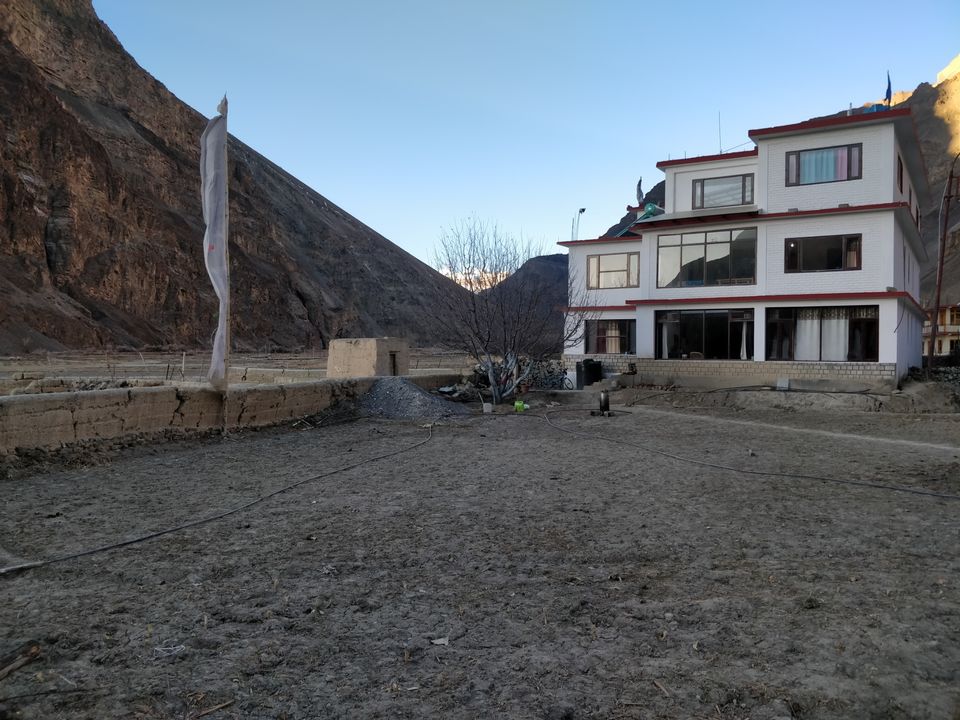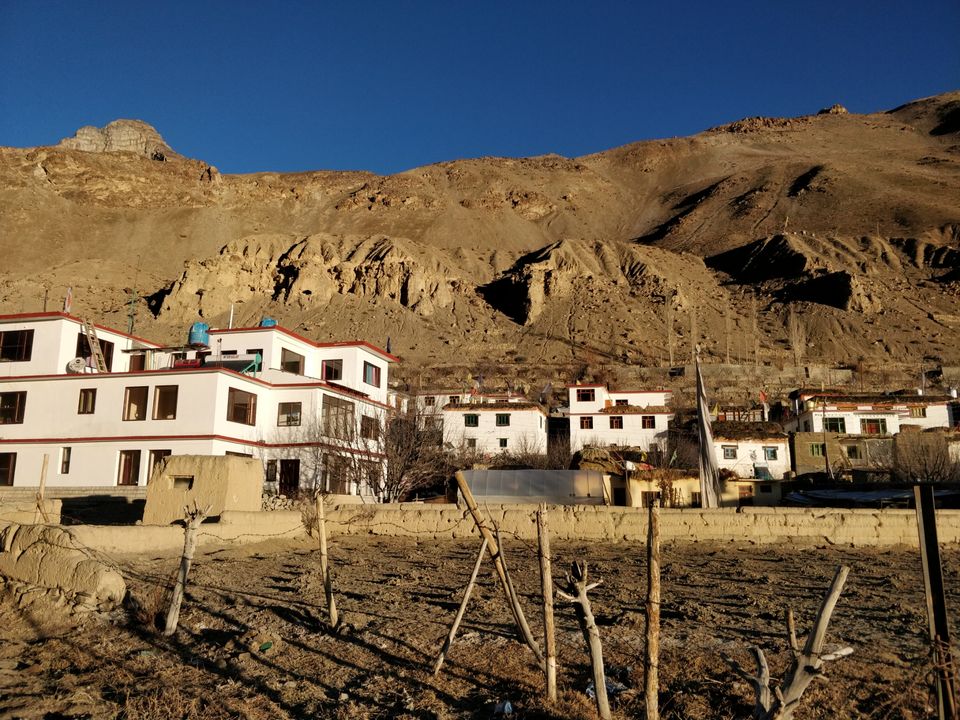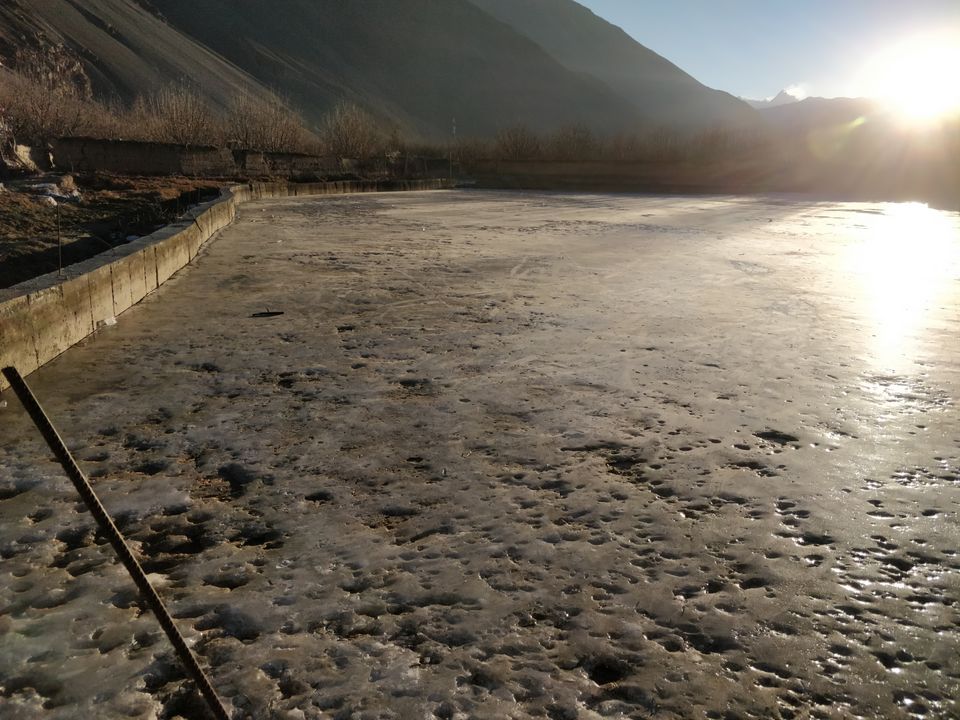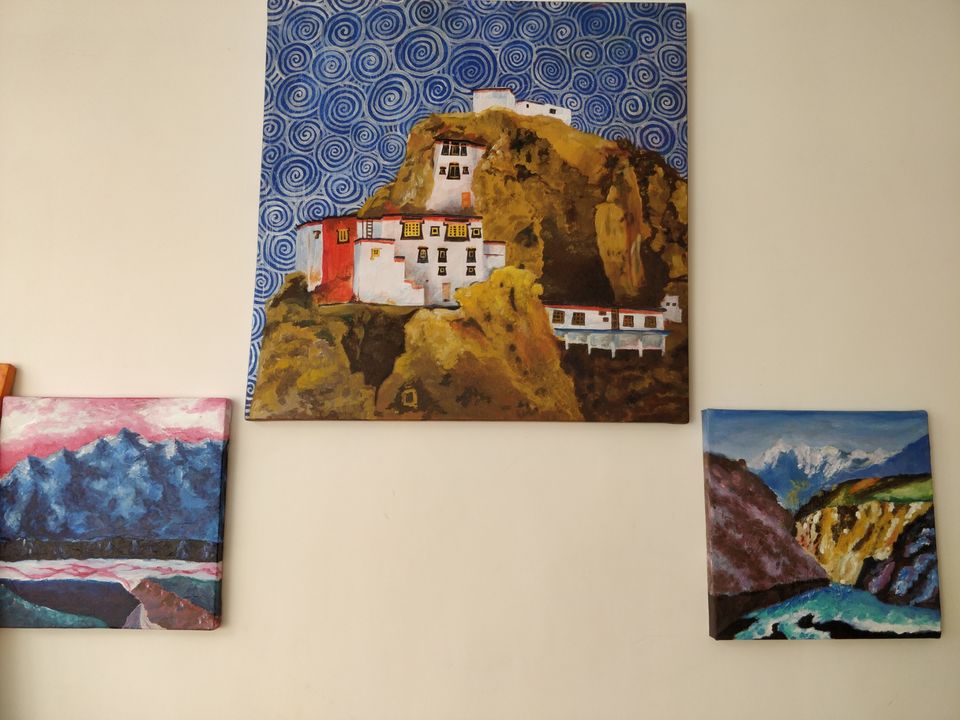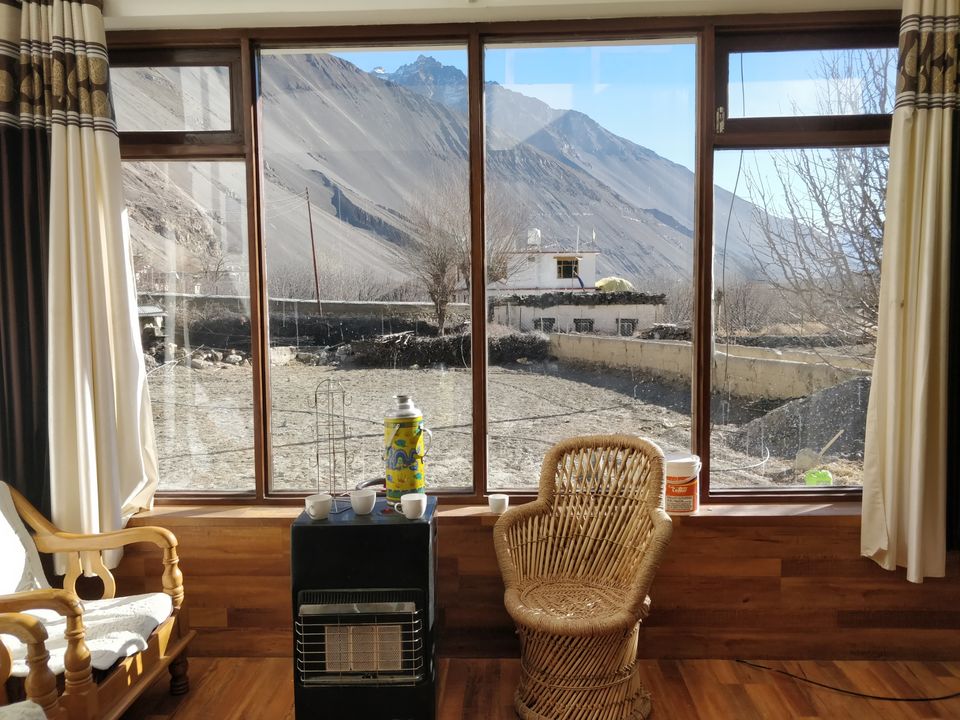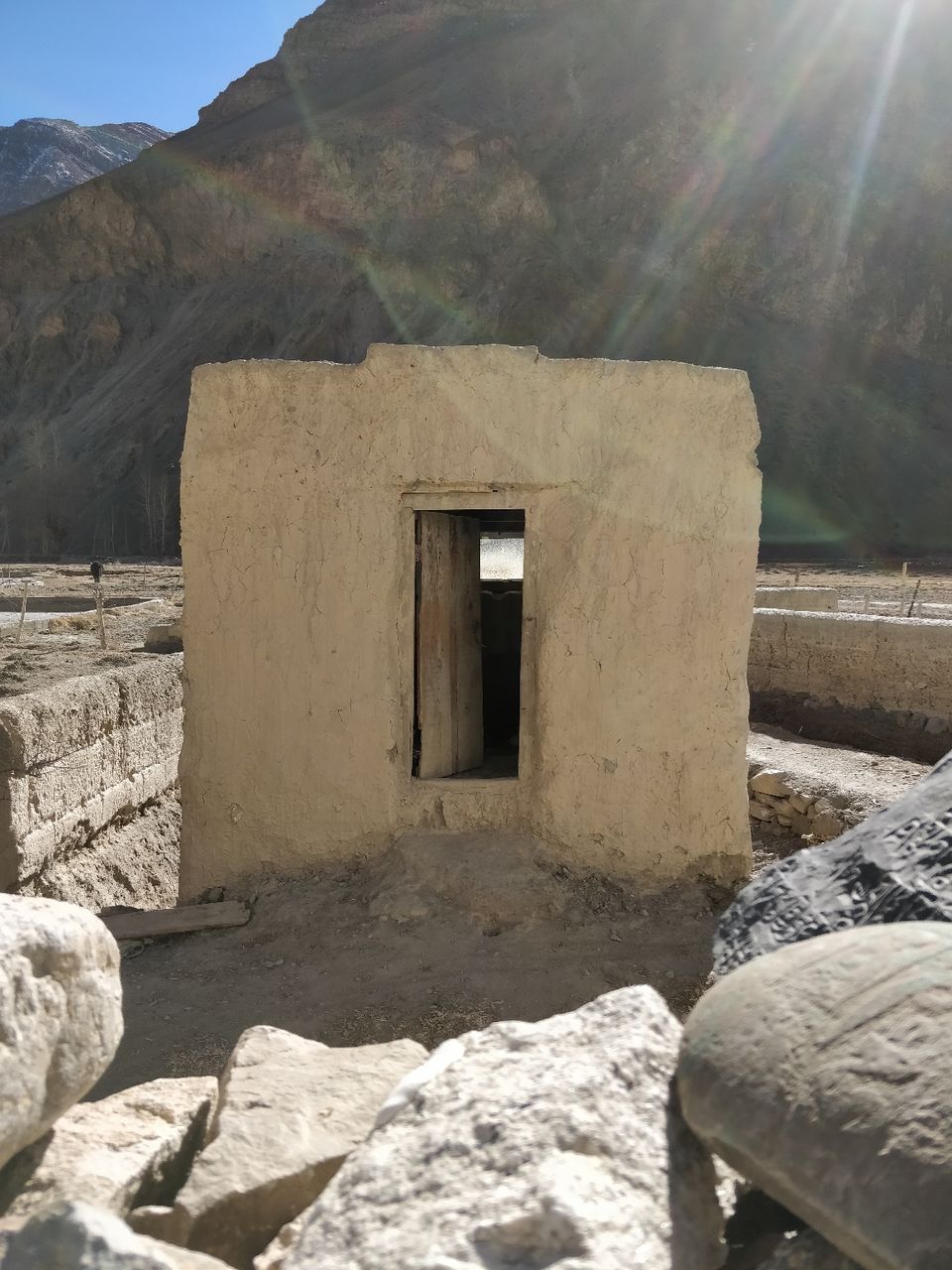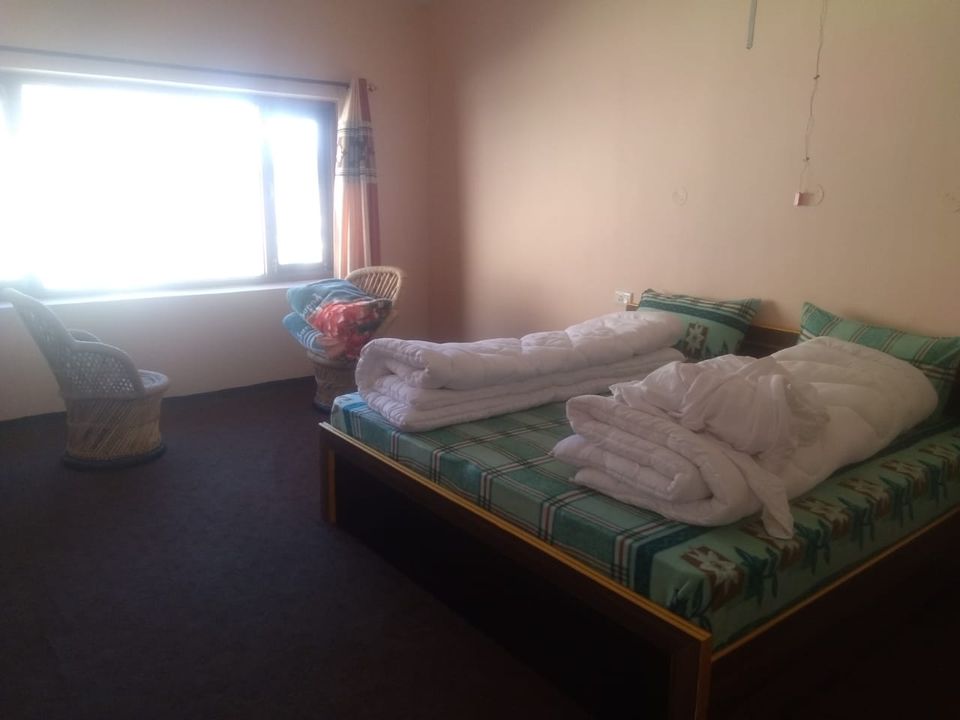 Dec 28 2018 - We went to see Tabo Monestary situated at a height of 3280 m altitude and founded in 996 AD Famous for its wall paintings , murals and statutes. It is the oldest continuously functioning monument in India. And wrapping our visit after , we headed for the next destination Kaza.The bus was on time around 1 pm and by 3.30 pm we reached Kaza.( Rs 66)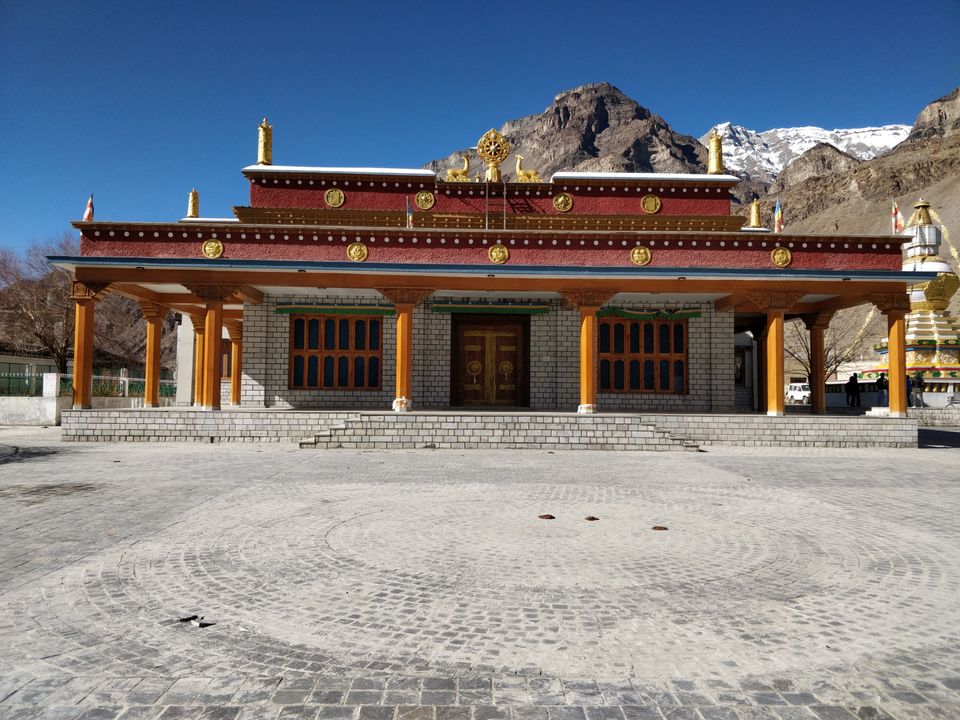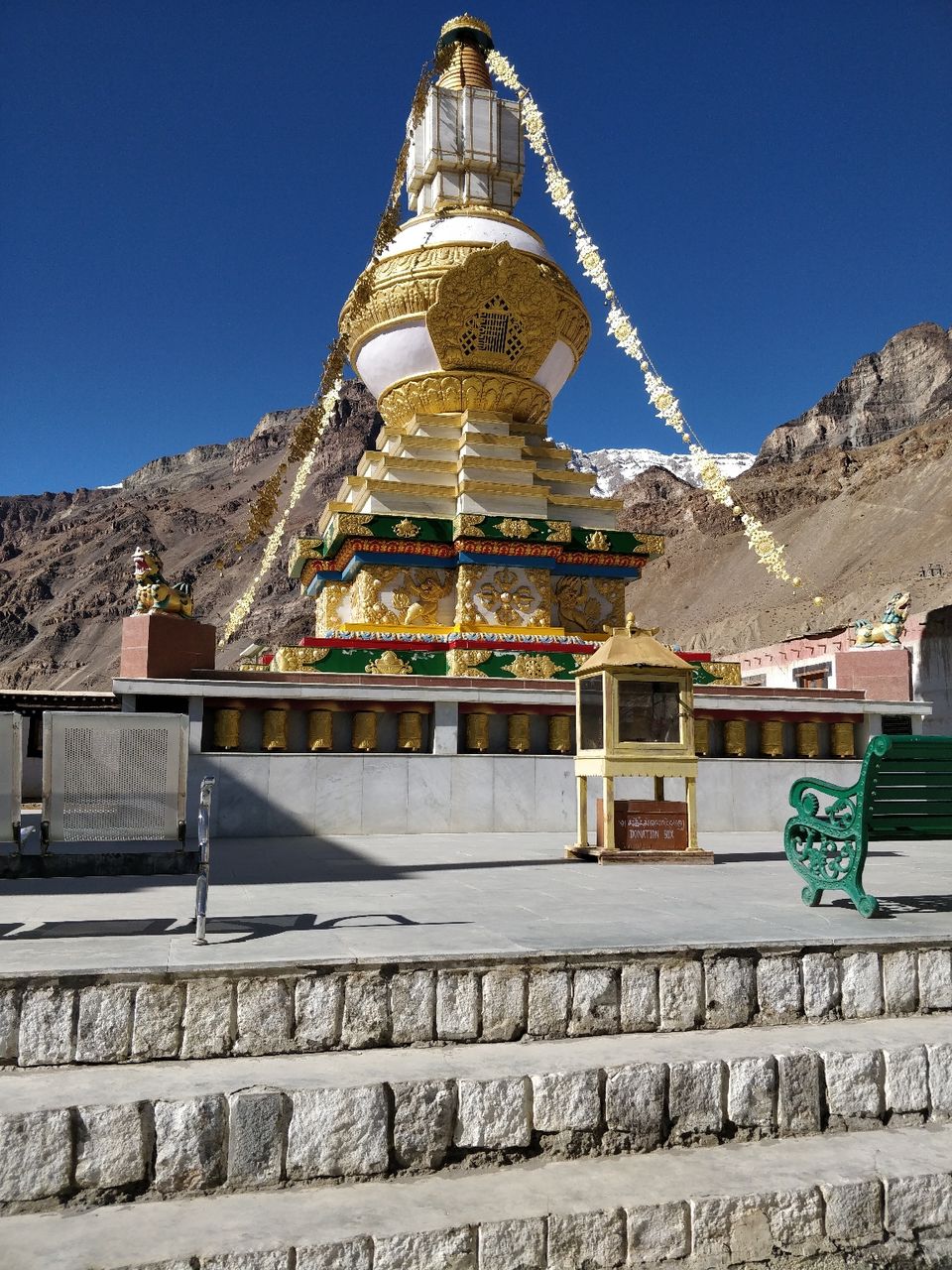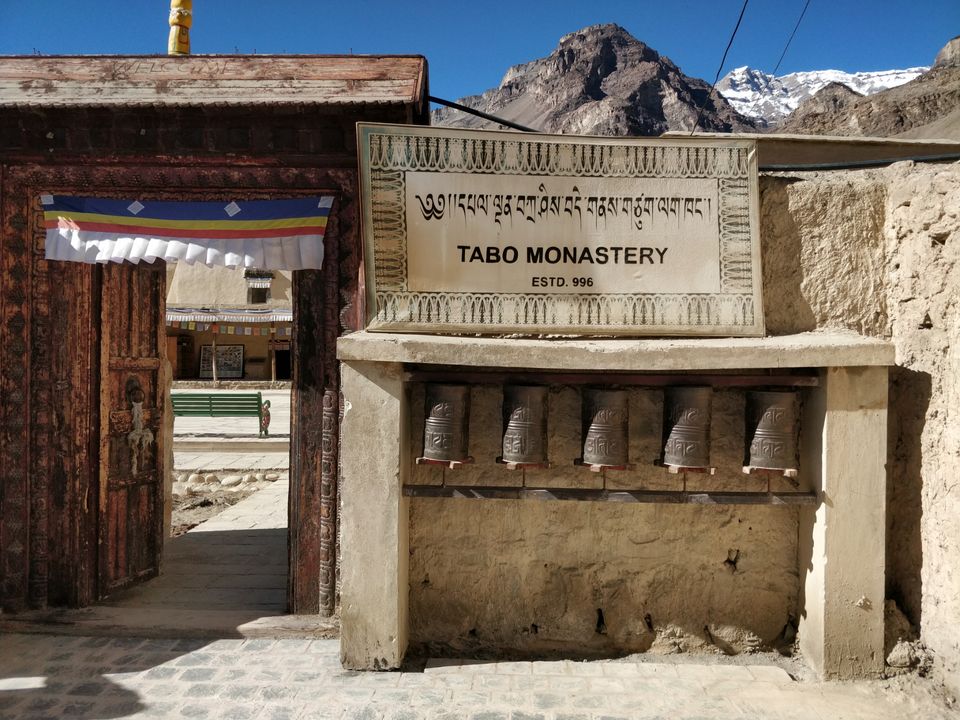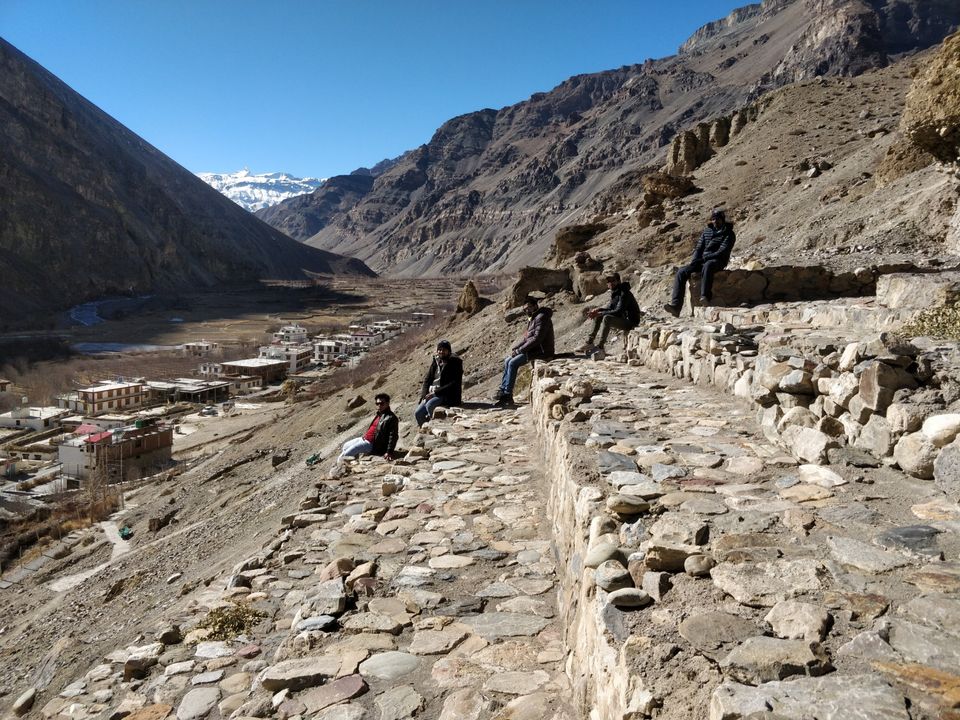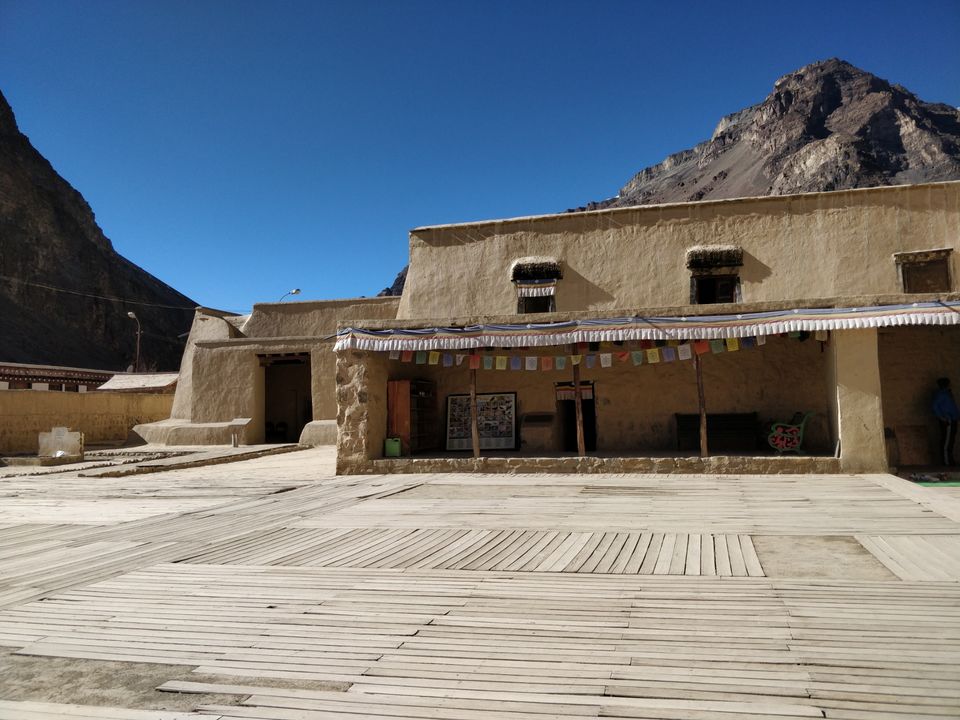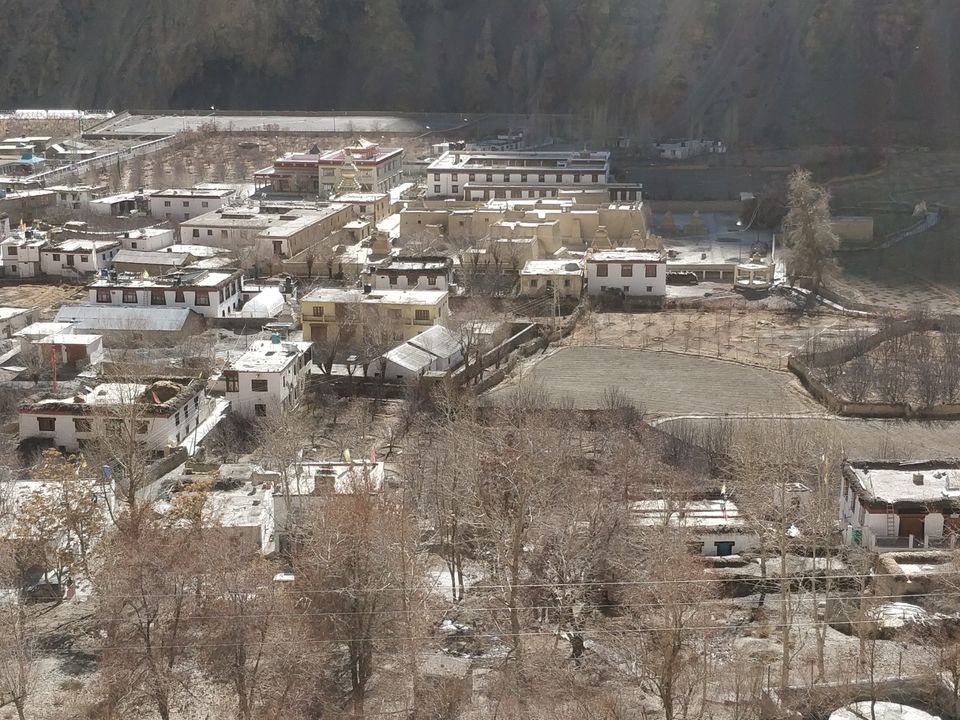 Dec 29 2018 - Kaza one of the most dreaded destination with temperatures dipping to - 20 to -30 at nights.With good aclimatization still the cold was way too much as compared to other towns. At nights even the layers of gloves and socks would feel less. But thanks to Solo Yolo Home Stay , Kaza they kept us safe and sound. We headed to Mud / Pin valley early morning and Choling Monestary.Bike and scooty are not given on rental in winters and we hired a sumo ( Rs 2800) to roam around.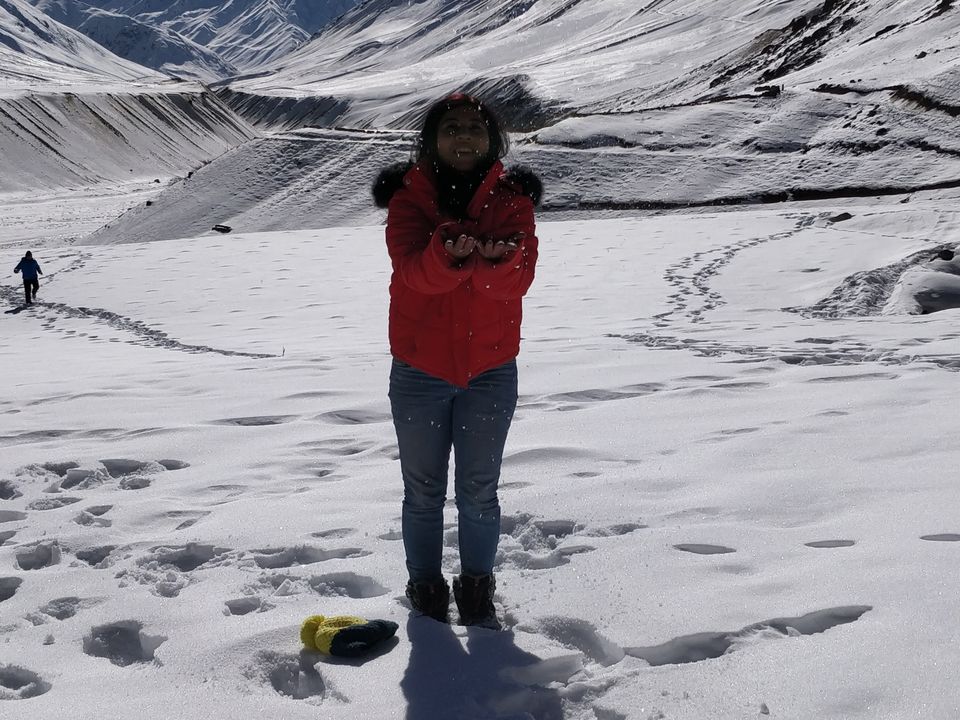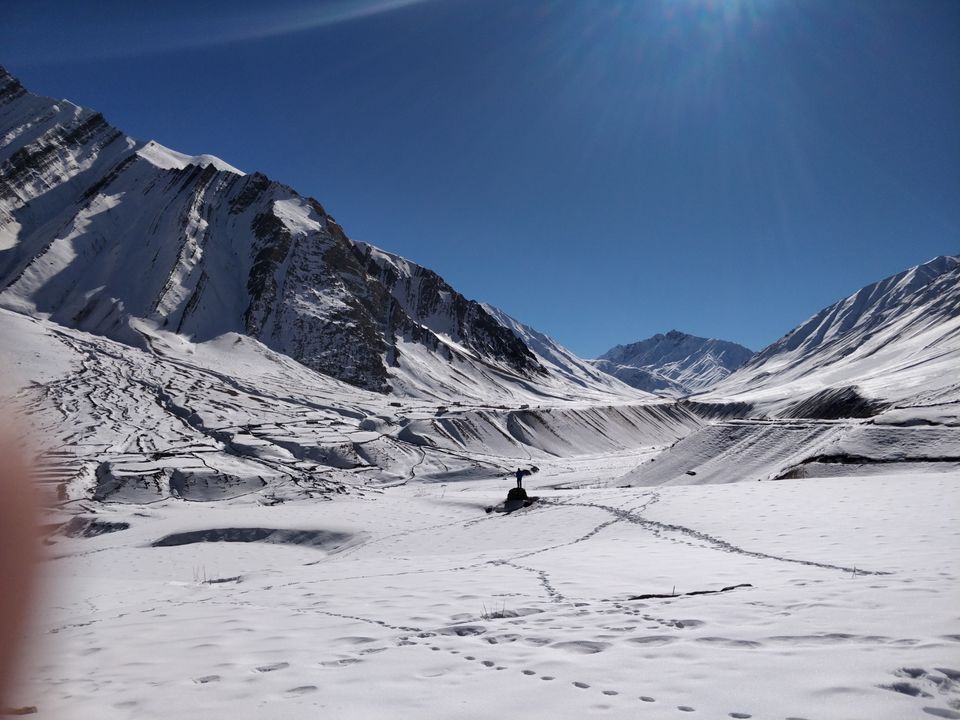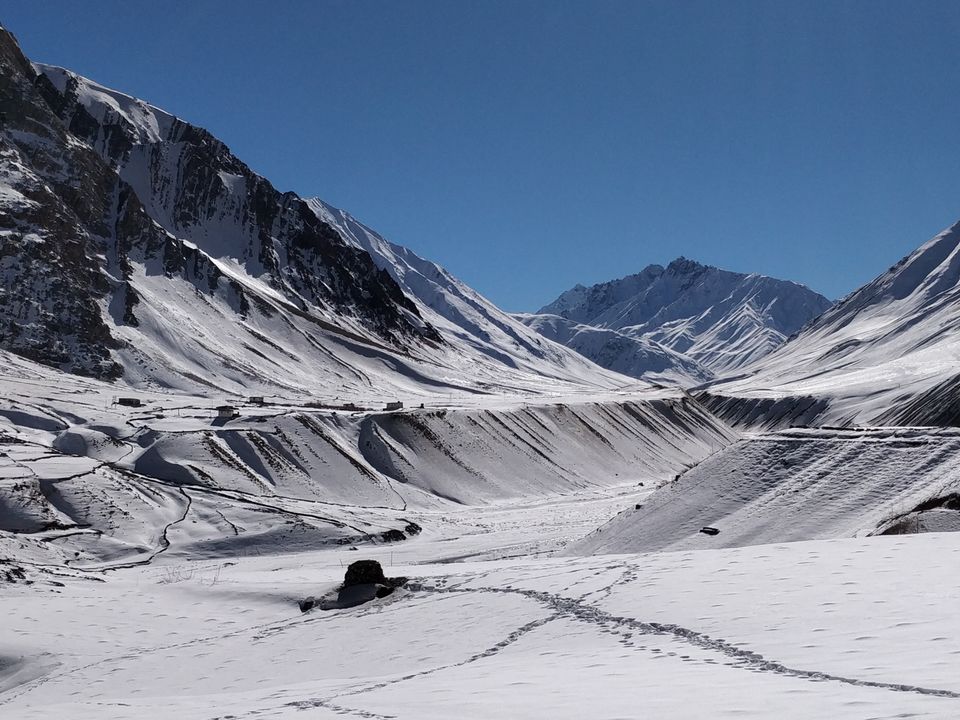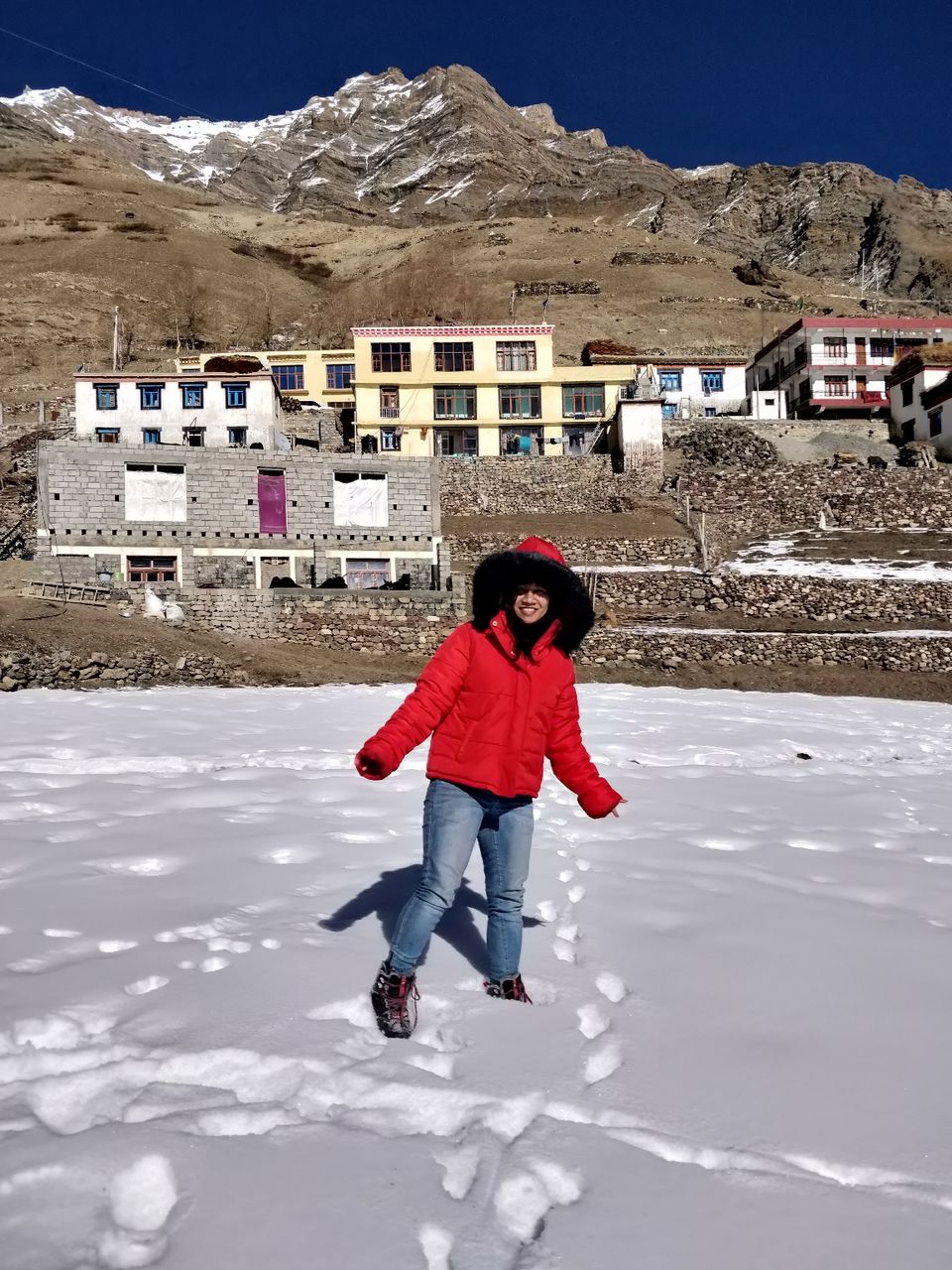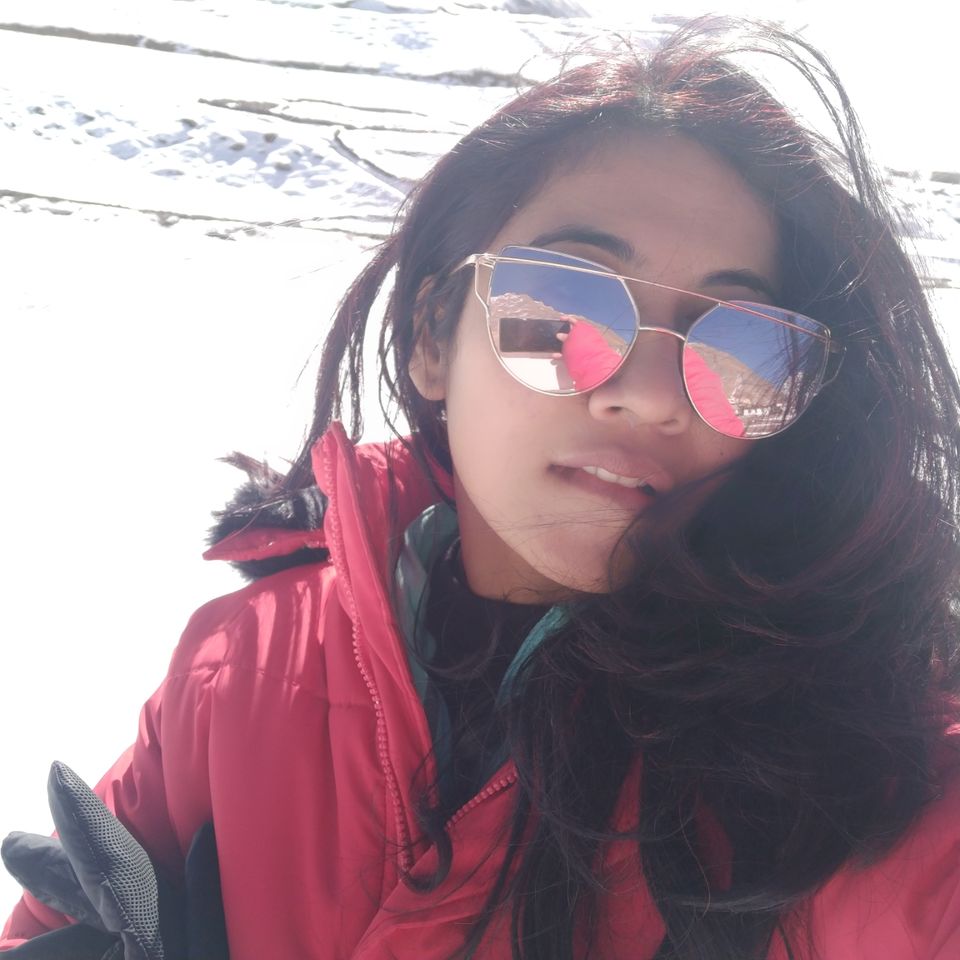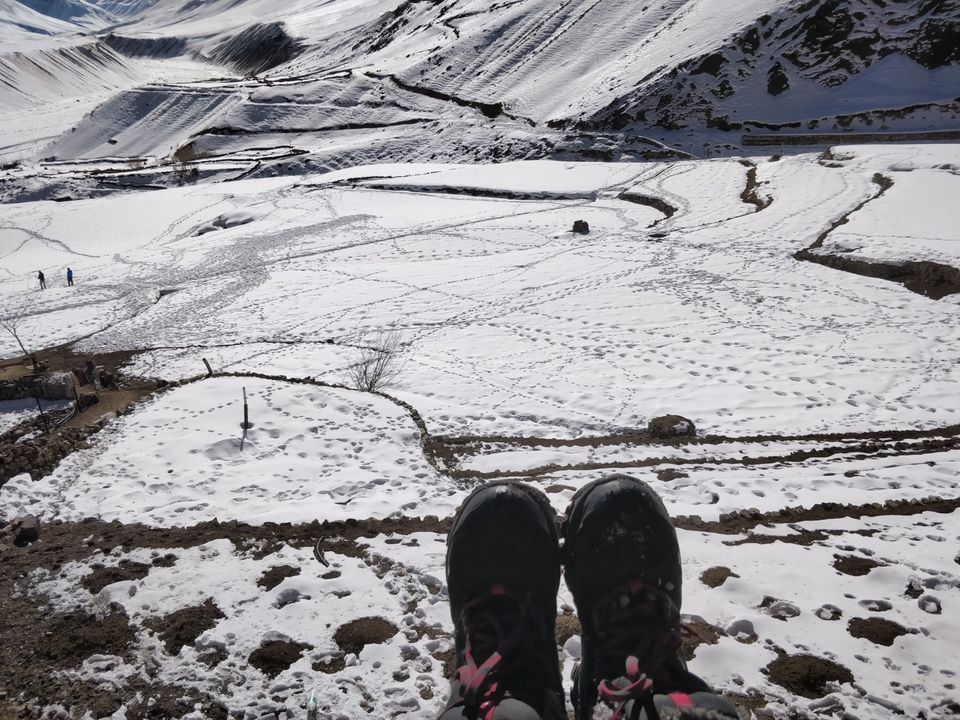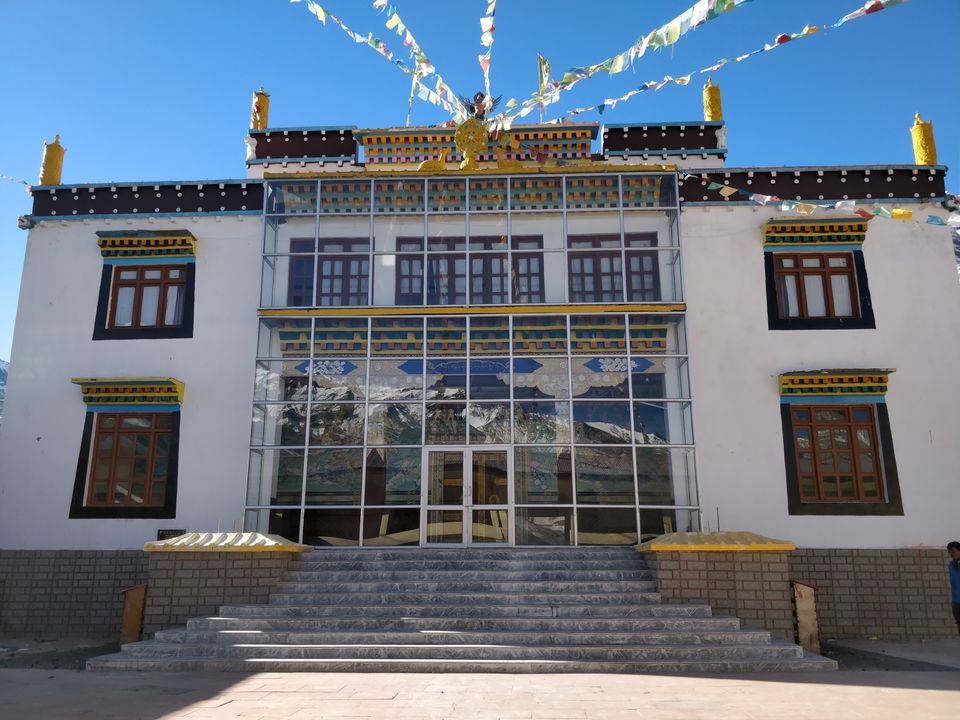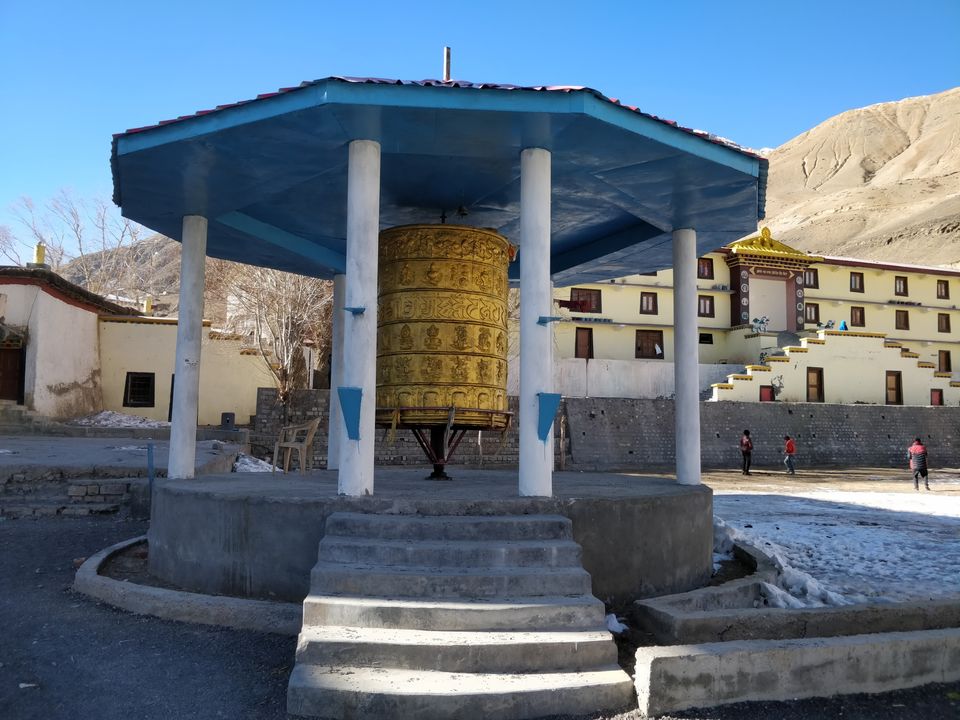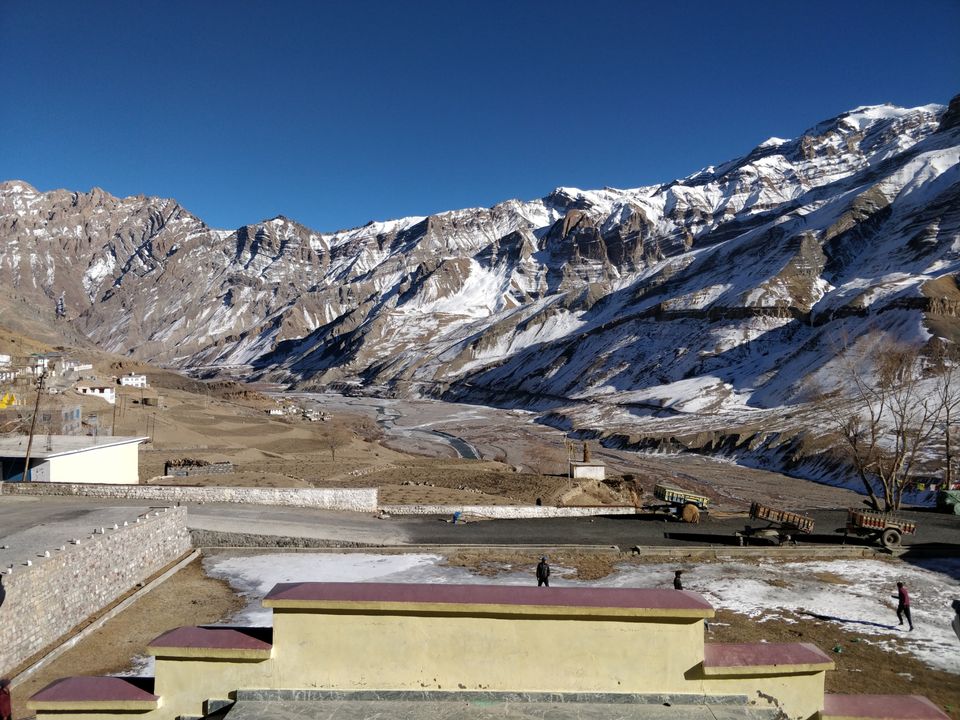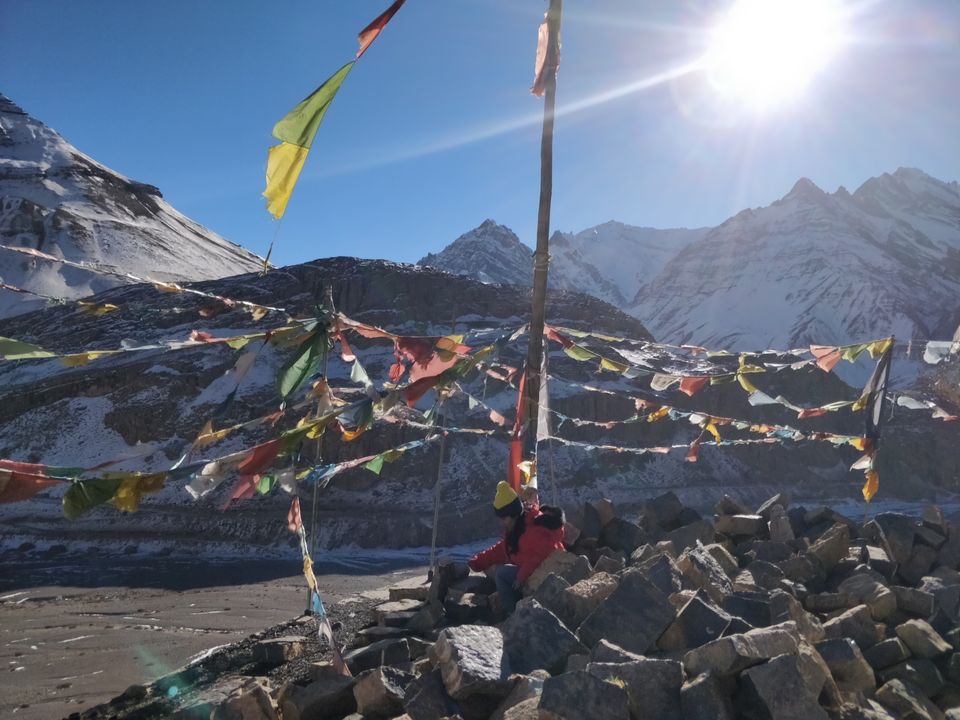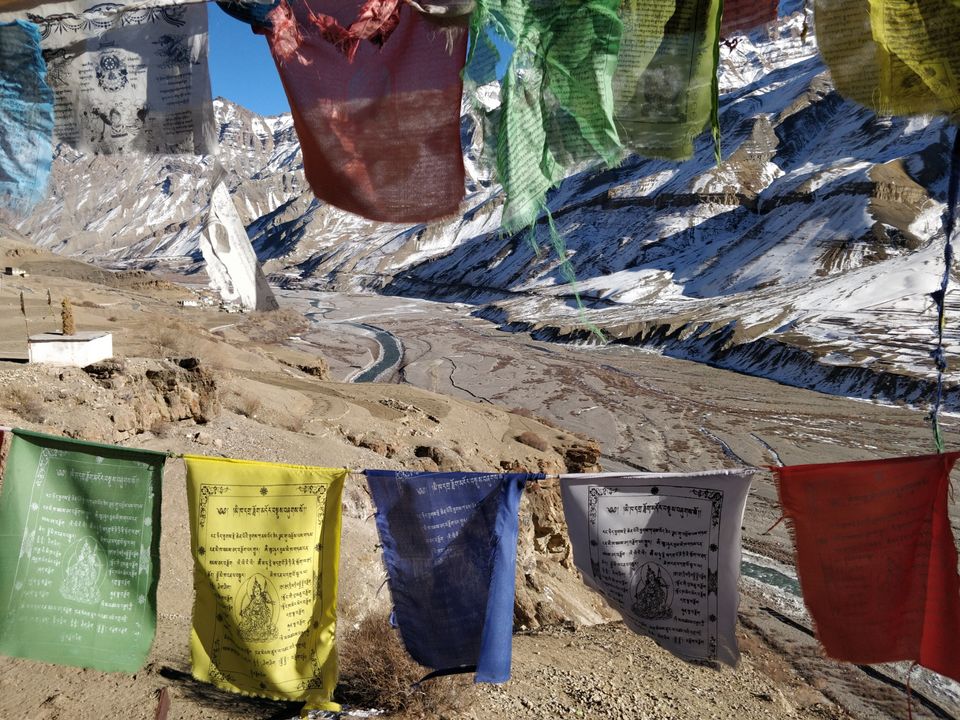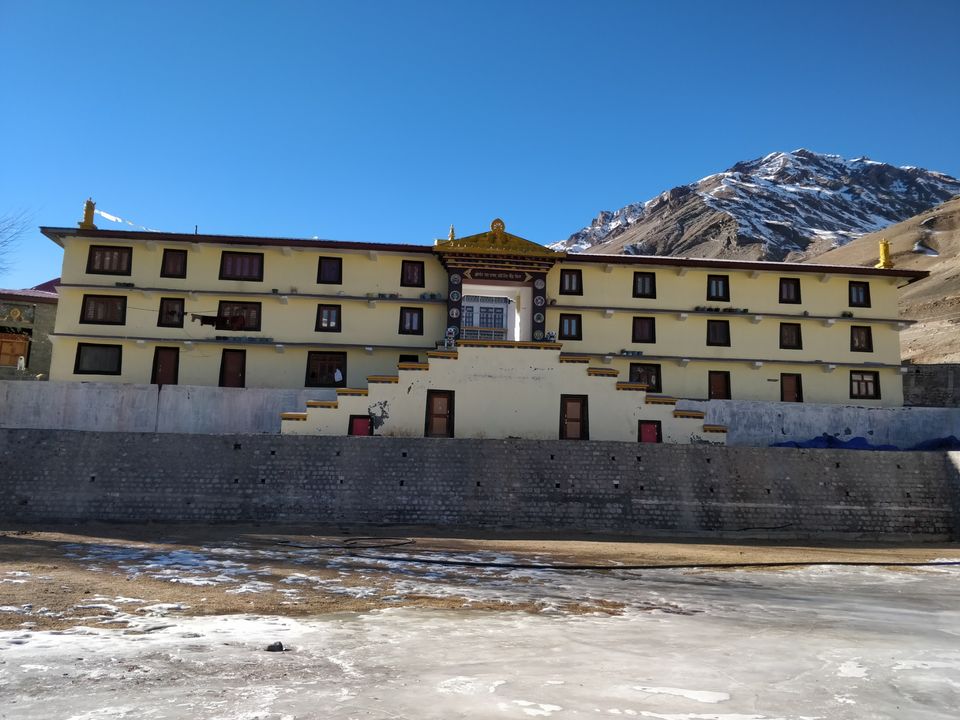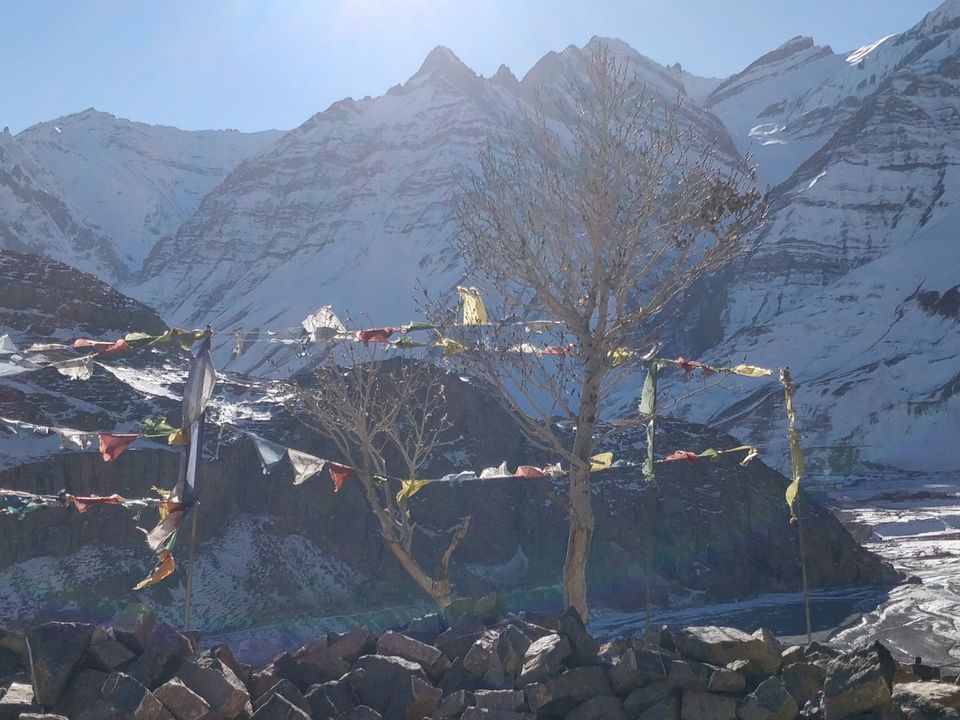 Dec 30 2018 - Whole day visit to Key , Kibber ,Chicham bridge , Langza and Komic. It was a busy day visiting the Key Gompa adhering to Gelukpa order,supported by villagers of Todh Valley is said to have been founded by Dromton. Having undergone attacks and successive trails of destruction it has resulted into hapazhard growth. The feeling of writing the letter and posting post card from world's highest post office Hikkim situated at a height of 4440m is out of this world. While Komic being the highest village in world connected by motorolable road situated at height of 4578 m, also had the world's highest restuarant but was closed for operations due to winter season. Chicham bridge is Asia's Highest Bridge at an altitude of 4145 m created with an expidenture of Rs 485.50 lacs in the year 2017.Kibber a quiant serene village ideal for snow leopard spotting while Langza is home to the statute of Lord Buddha. (The 11 seater tempo travellers costed Rs3500)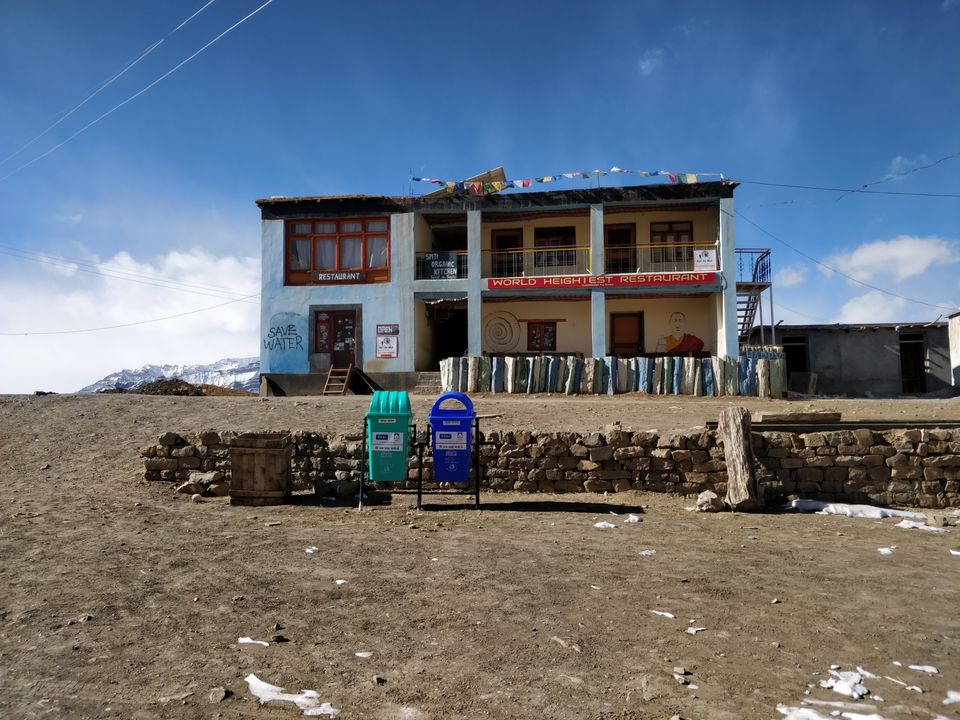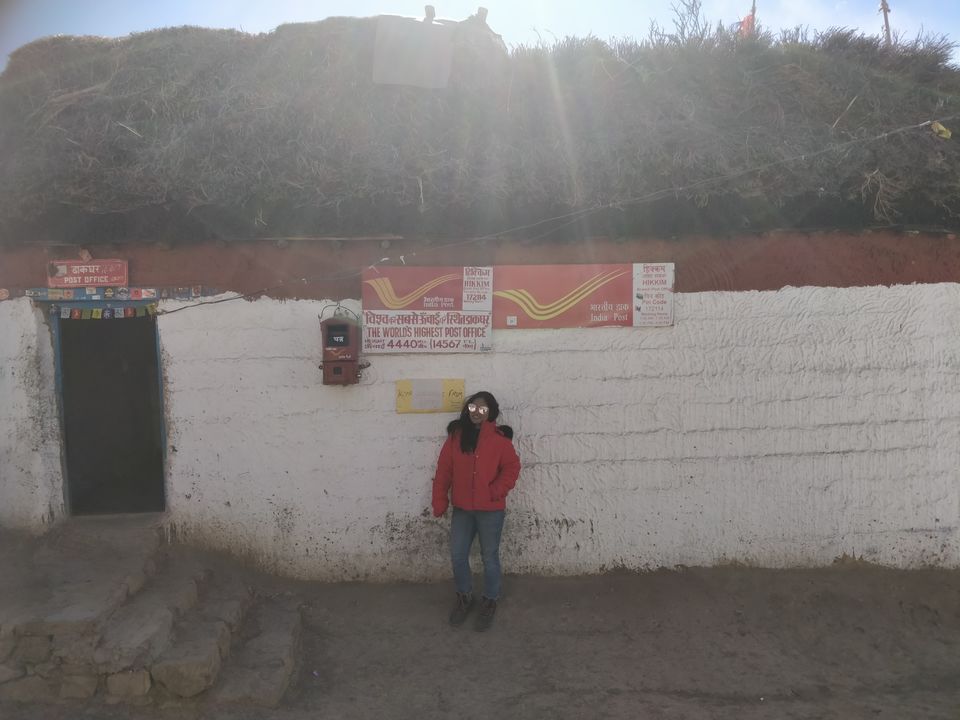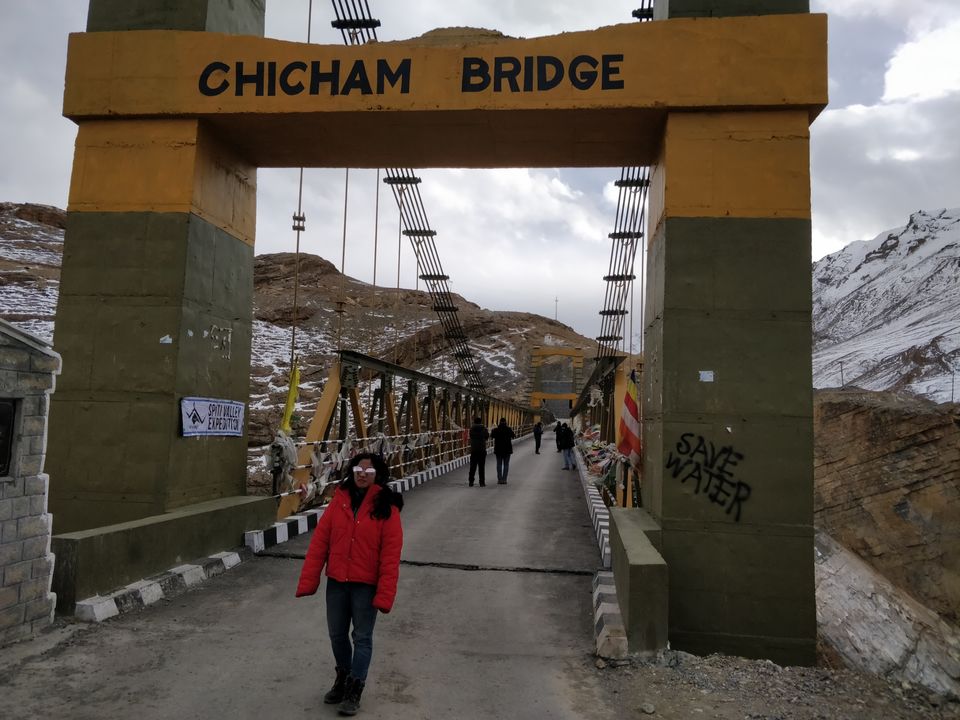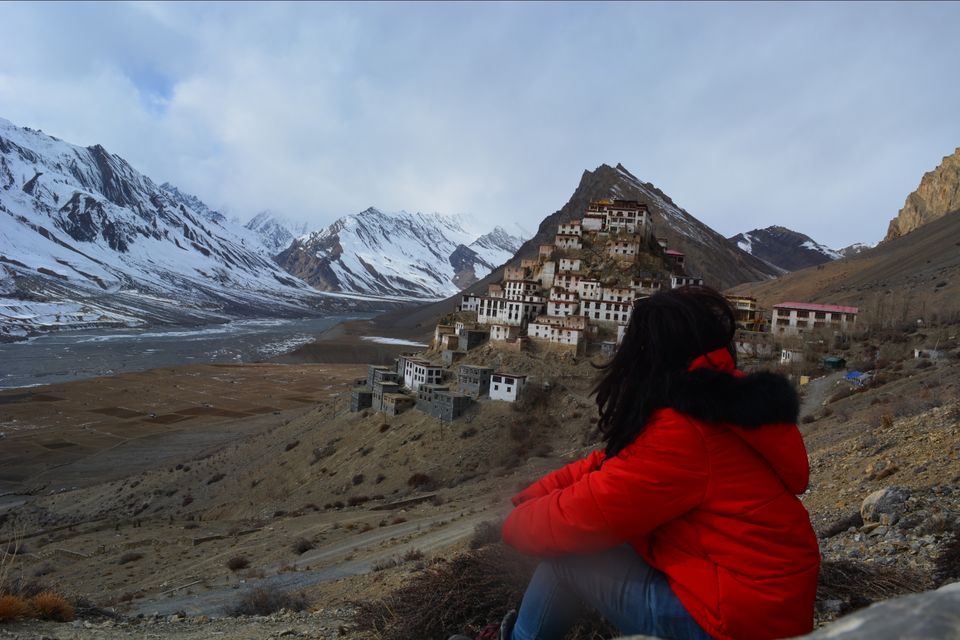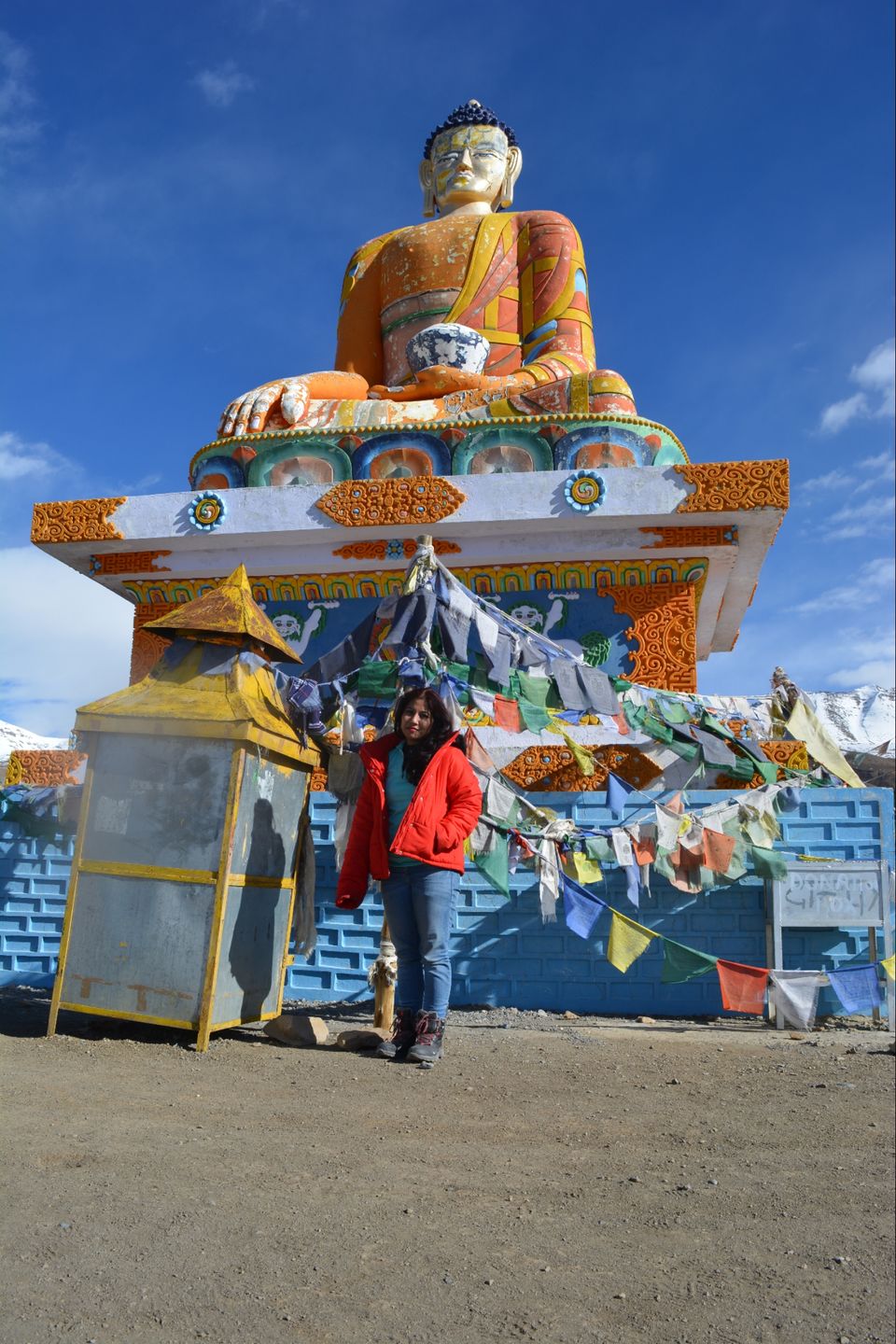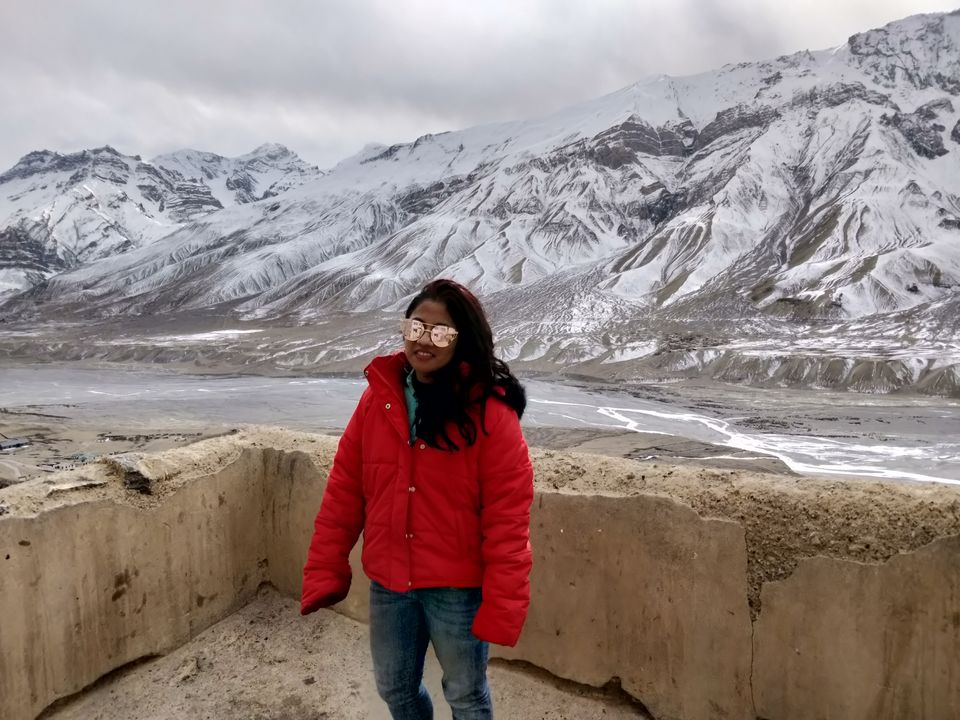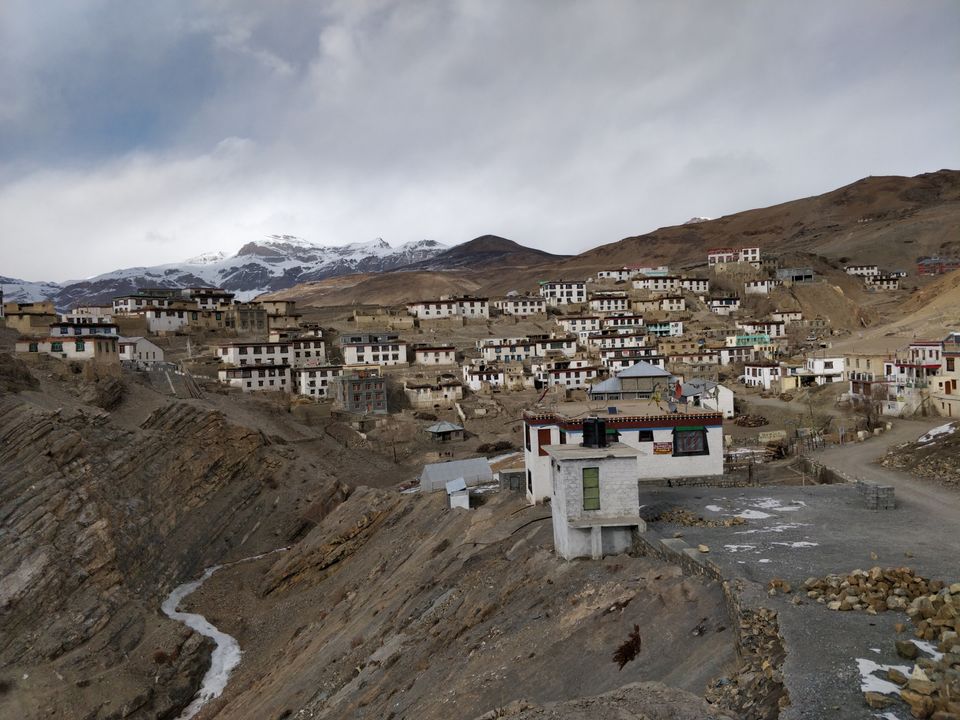 Dec 31 2018 - last day of the year dedicated just to unwind and relax, forget all the worries and looking forward to welcoming New Year .We got down to the task of decorating the home stay and while other fellow travellers prepared cake. With love and enthusiasm we welcomed New Year.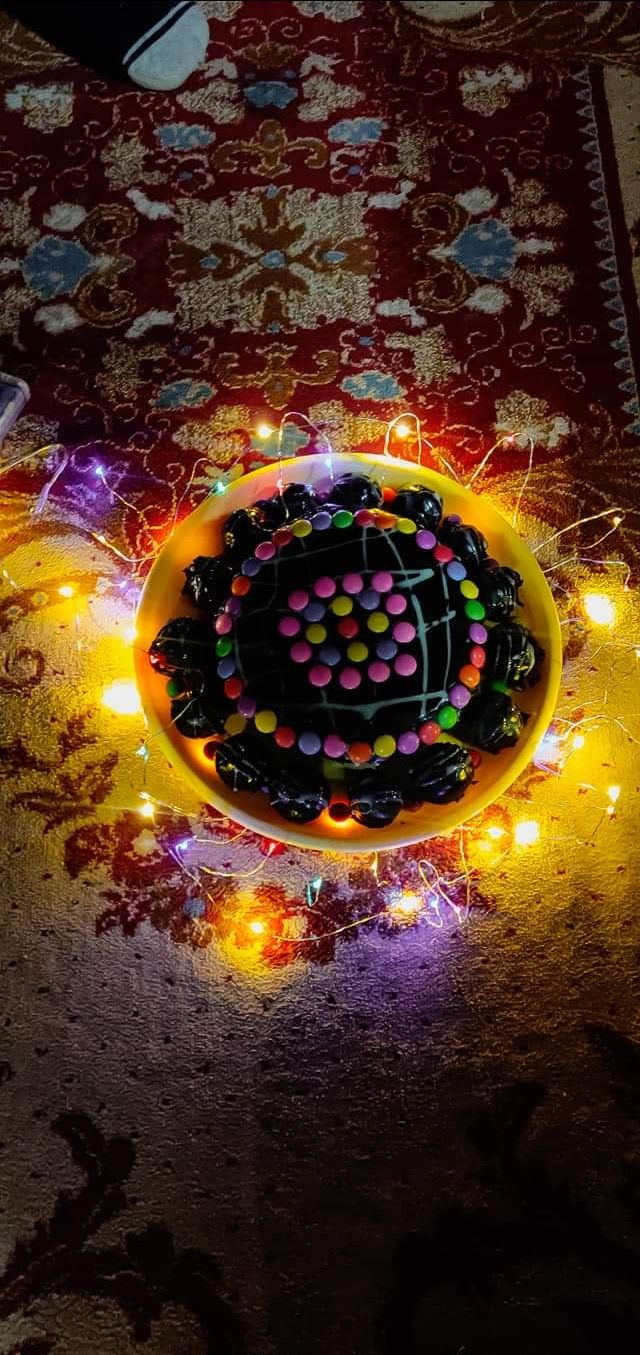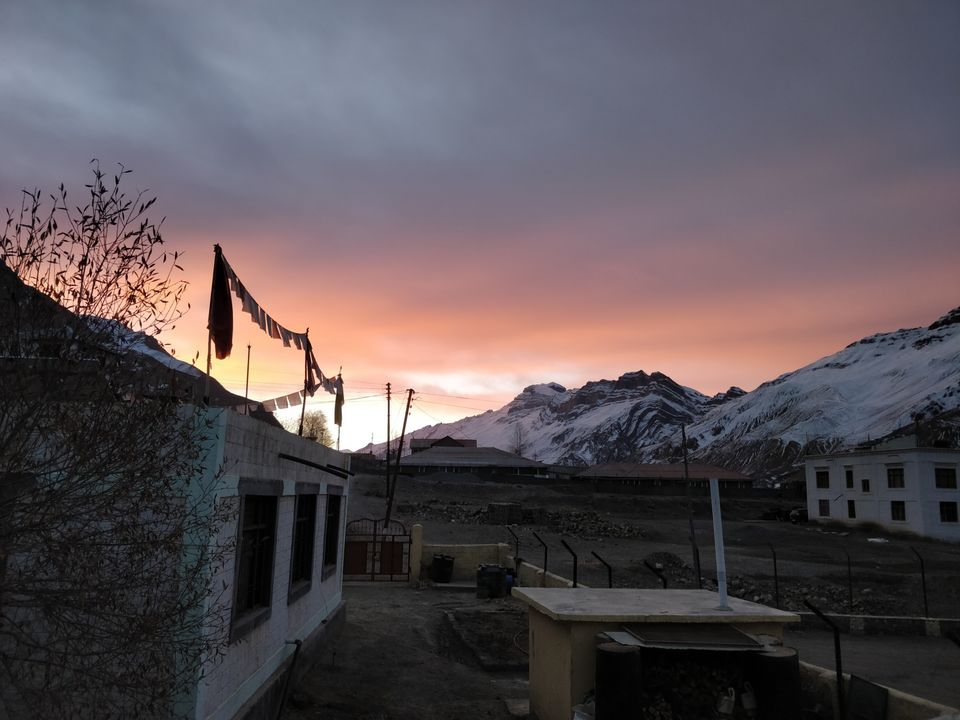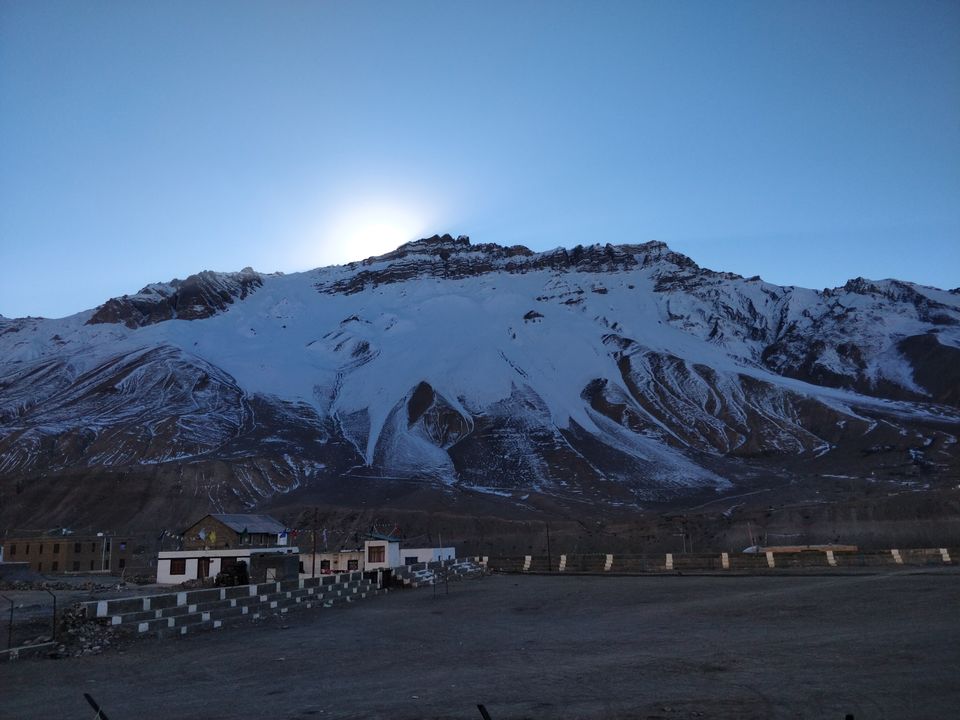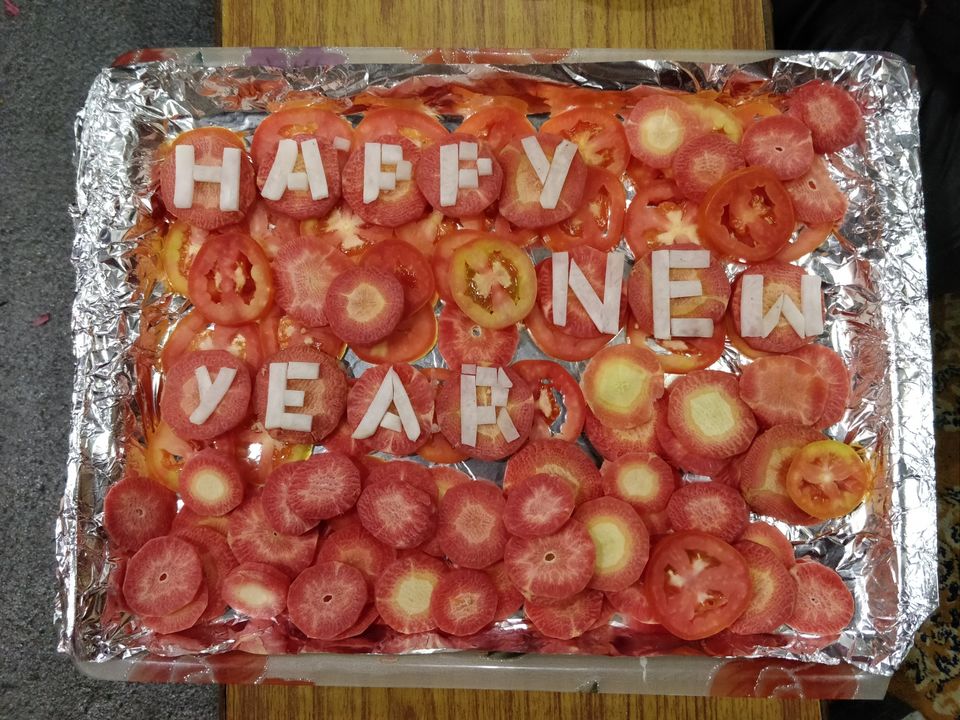 Jan 1 and 2 2019 - No matter how much we would want to stay back our obligations call us to the city life with the hope we will return to our true love the mountains some time sooner. With heavy heart left Kaza , the very beloved Spiti and completed the very tiring back to back journey of Kaza to Delhi in continuous flow. Not a cup of tea for every one but doable. ( Kaza - Shimla bus starts 8 am and reaches Reckong Peo around 5pm and again starts from Peo at 7 pm and reached Shimla early morning on 3.20 am with fare Rs 625).Luckily the Haryana roadways was set to leave for Delhi at 3.30am fare 450rs and reached the Capital by 1 pm.
With love beloved Spiti till I return next time.
Lucky to be graced twice in the same year.
Itinerary
22dec)Delhi Isbt - Chandigarh [11.15 am - 16.15 pm] and Chandigarh - Reckong Peo [ 5.50 pm - 7 am] ( bookings can be done at hrtchp.com)
23dec)Reckong Peo - Chiktul (9 am- 1 pm ) and stay at zostel - chitkul(Bus tickets available at bus stand and booking can be done at zostel.com)
24dec)Stay at chitkul and checkout sangla /rakchham
25dec) Check out today ,Chitkul- Reckong Peo (9.30 am-1.30 pm )and stay at Reckong Peo PWD guesthouse
26 dec)Reckong Peo - Kaza [8am- 5pm] and stay Nako (bus tickets availabe at bus stand and book stay with Namsa Kitta Home Stay at +91 94549114436 Rahul alternate stay option Reo Purgil at +91 82191 96281 Vijay Negi
27 Dec)From Nako catch Reckong - Kaza [12.30 pm] and reach Tabo by evening and stay at White Lotus home stay , Tabo at +91 8988196835 Chhering
28- 31dec)From Tabo catch Reckong - Kaza [2 pm] and reach Kaza by evening and stay at Solo Yolo Home Stay at +91 94112 39482 Saurabh and check out Dhankar , Mudh, Key, Kibber , Hikkim , Lanzga, Komic ,Chicham by cab
1Jan) Kaza - Shimla bus (8 am - 3.30 am)
2Jan)Shimla - Delhi( 3.30 am - 1 pm )
Note-Please carry proper winter clothes ,layers of gloves and socks .Go as a traveller and not tourist expectations, dry toilets , ready to face extreme cold and keep extra days as the plan may change due to snowfall and road blockages. And please exercise/ run one month prior so that you don't face problem in walking. Happy Travelling!
#anupamatherunnerandtraveller