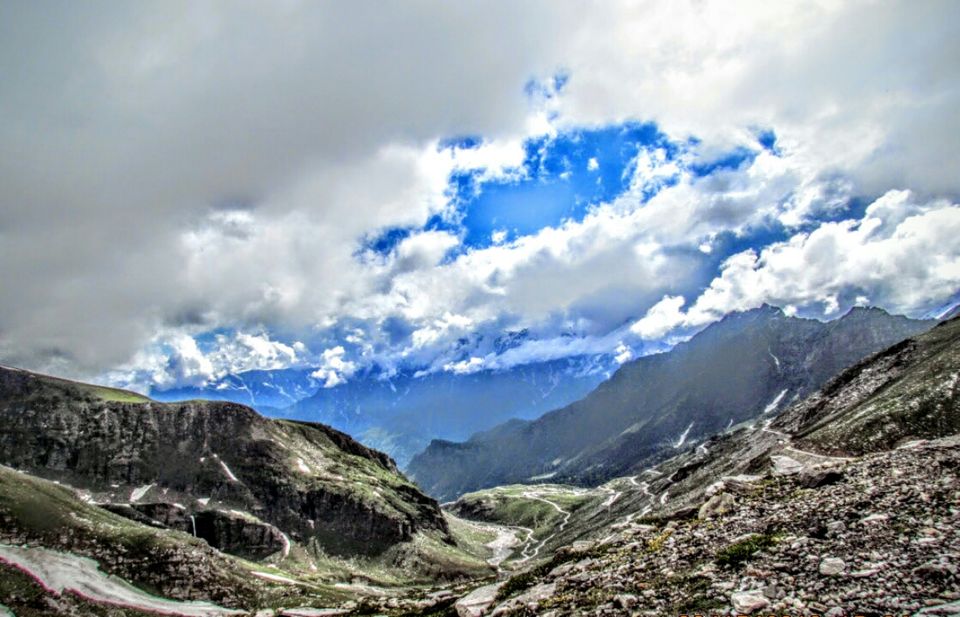 Now most of the people around me are getting married and I've been getting lot of queries and suggestions from friends and families asking to where to go for honeymoon with limited budget.Well when someone talks about travelling with a limited budget,Manali is the perfect destination which always comes in my mind.
Apart from romantic getaway and himachali culture Manali has lot more to offer like snow capped mountains and numerous adventure not to miss. Be it paragliding from Solang valley or getting your adrenaline high with white water rafting in beas river or walking with your soul mate in alpine meadow.
From beautiful river valleys to stunning snowy peaks, there are many places to visit in Manali which are ideal for couples and honeymooners. The hill town is home to a bundle of picturesque sights and attractions that act as a perfect backdrop to your romantic outing. Wake up to the chirping of birds at a tree hideaway, try out thrilling, adventure sports, at Solang, admire the beauty of snow-clad Rohtang, or just enjoy a quiet meal at a riverside cafe Manali has everything that guarantees you and your significant other a memorable time together
Places to visit and things to do around Manali:
Rohtang Pass : At an elevation of 3979 m. Rohtang Pass, is a high mountain pass on the eastern Pir Panjal Range of the Himalayas around 51 km from Manali. It connects the Kullu Valley with the Lahaul and Spiti Valleys of Himachal Pradesh. Special permits are required to visit Rohtang which you can also apply from http://admis.hp.nic.in/ngtkullu. No accommodation is available for stay in Rohtang so if you're planning to visit Rohtang make sure you start early morning from manali. Don't forget to carry warm clothes along as it is possible for temperature to go below zero at anytime, however you can also get snow gears and shoes on rent on the way to Rohtang from local vendors at nominal cost.
Solang Valley: It is a side valley at the top of the Kullu Valley , 14 km northwest of Manali on the way to Rohtang Pass, and is known for its summer and winter sport . The sports most commonly offered are parachuting, paragliding, skiing. Mostly famous for its winter sports activities i found this place little overcrowded but you have to go this place to see the snow and do some activities.Paragliding can cost ranging from Rs. 1,500 to Rs. 3000 per head. And skiing will cost around 600 per head
Bhrigu lake: At an elevation of 4300 m. This lake is situated approx 14. Km from gulaba . most of you might not heard about this place as you have to trek to visit this lake.
River rafting :You shouldn't miss the rafting on river beas and get the scenic view of kullu valley if you're an adventure lover . River- rafting in manali is offered by private operators and they will cost you fee from Rs. 500-650 or if you've good bargaining skills you can get them to Rs.450. Rafting is usually all around the year in Manali except in monsoon seasons and winters when water level gets low.
Prashar Lake: It lies in mandi district. Locals believes that Bheemsen one of the Pandava brothers formed the lake by pushing his elbow and forearm on the peak of the mountain and it is said that no one knows about the depth of the lake even with the divers not able to measure the depth of the lake.You have to reach mandi and have to trek from baggi for 3-4 hours to reach this mighty place. As trek is not difficult and you might not need a guide to reach this place as locals use this path to visit the temple nearby lake on daily basis and no special forest department permit is required to visit this place.
Where to Stay and how to reach:
There are different options to visit Manali for me its always a motorcycle but this blog is specially for honeymooners, they can visit Manali by hired cab or bus. I see lot of over night bus, running services from major cities of India to Manali with prices starting from Rs 900 per head (Delhi-Manali )in AC Volvo buses.
Make sure you get the hotel booked in advance if you're visiting for the first time because hotels are always packed in Manali in winters and summers.
Well deluxe rooms can easily be booked starting from Rs. 2500 for a couple inculding meal again it varies from hotel to hotel . Some hotels usually offer A.P (all mean plan) at the time of booking but don't consider this option unless you're planning to be in the hotel all day long.If you're going for rafting or paragliding (requires whole day) or a local market you don't want to pay for lunch and miss on it in the hotel. Better eat outside.Some hotels also provide pick and drop facility from bus stand to hotel but make sure you ask about it while booking the room .
So all the newly married couple out there plan a trip to this destination as you don't have to be rich to travel .
"Travel is the only thing you buy which makes you richer" - anonymous