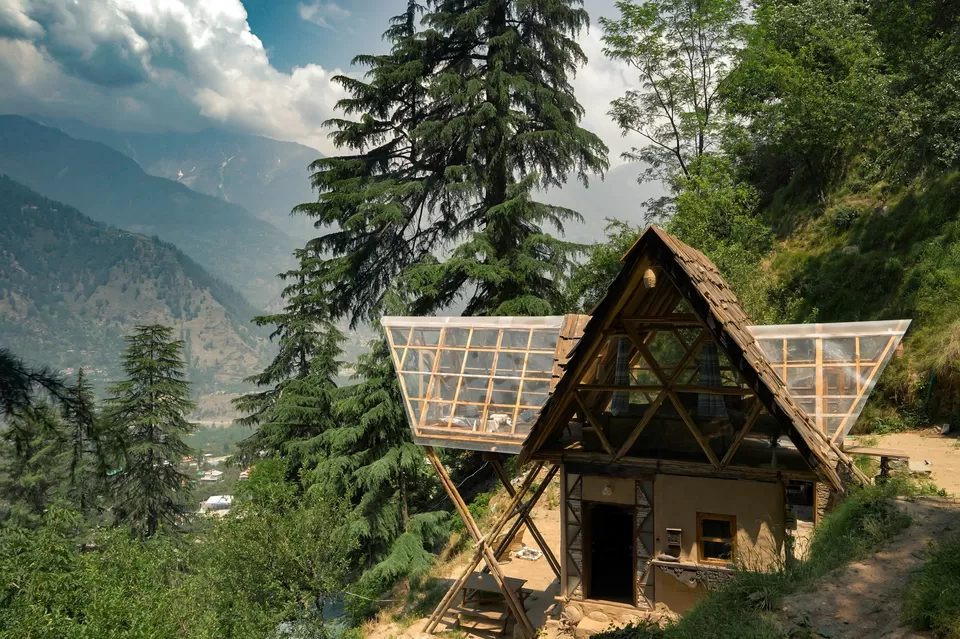 The charming River Beas, gorgeous valleys and the snow-capped Himalayan mountains soaring up to the sky make the Indian state of Himachal Pradesh a favorite destination for mountain enthusiasts and nature lovers alike.
To the north of Kullu, lies the town of Manali, which through the Rohtang Pass leads to the picturesque Lahaul and Spiti Valley.
A mere 250 km from state capital Shimla, Manali is one of the most popular honeymoon destinations of India, while Old Manali is a hippie's paradise. Again, for families staying in and around Delhi, there's no better reason than a snowfall to plan a weekend trip from Delhi to Manali.
The distance from New Delhi to Manali is around 550km and the journey is as beautiful as the destination.
How to travel from Delhi to Manali?
By Air – The nearest airport is at Bhuntar town, situated on NH21, around 50km from Manali town. However, flights from New Delhi to Bhuntar are infrequent and rare. Hence, tourists may undertake an hour's flight to Chandigarh from New Delhi and then reach Manali by road.
By Rail – A direct train journey from Delhi to Manali is not possible because Manali doesn't have a railway station of its own. The nearest Railway station is at Chandigarh, which is over 290 km from Manali. Tourists need to book cabs or travel in buses therefrom.
By Road – Manali can be reached from Delhi via national highway NH1 up to Chandigarh and then NH21 that passes through Bilaspur, Sunder Nagar and Mandi towns. The total road distance from Delhi to Manali requires around 12 hours' journey. Tourists may cover the journey in self drive car or hired vehicle. The cheapest mode of transport would be to go via the Himachal State Transport bus. Buses have a good frequency and an overnight journey is recommended. Most buses can be taken from ISBT Kashmiri Gate, in Delhi.
Things to do en route, if you're traveling by road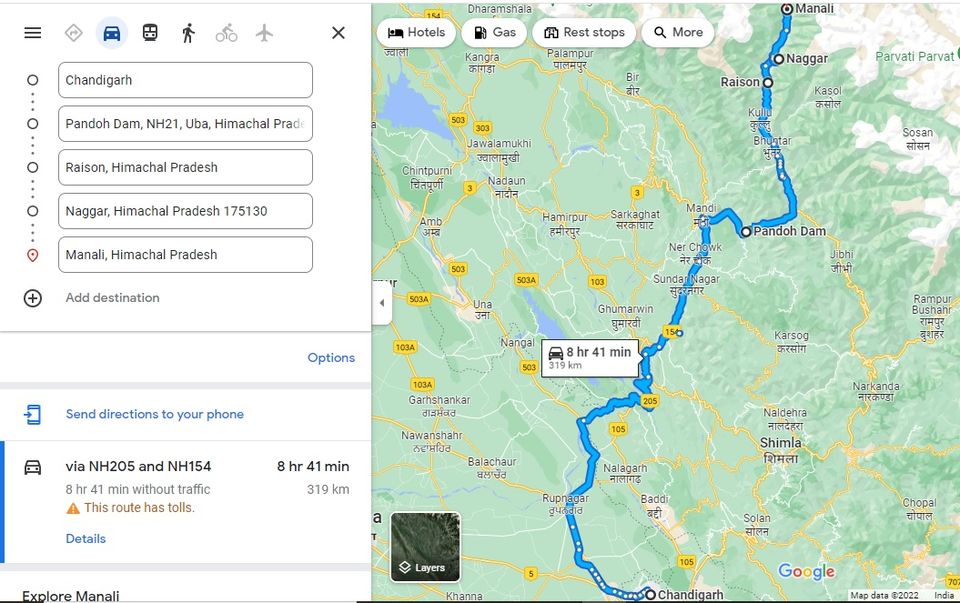 The route is dotted with tourist hotspots, where travelers may stop and admire nature's bounty. Past Chandigarh, the spots along the journey to Manali are as follows:
Pandoh Dam is a 76 mt tall embankment dam, built on the feisty Beas before it meets the fierce Sutlej River. Around 220 km from Chandigarh, this is the first major sightseeing spot on the route. The dam was completed in 1977 and its primary purpose is hydroelectric power generation. Tourists may enjoy river rafting in the lower bed region of the catchment area.
Raison is a small cluster of villages on the banks of Beas River around 62 km from Pandoh. It has vast camping grounds maintained by Himachal Pradesh Tourism. The place is ideal for a taste of adventure and a delicious cuisine of Trott fish. Numerous apple orchards and fruit gardens of plums and apricots add to the natural beauty of the place. Long tracks of rafting and the best air for Paragliding attract adventure enthusiasts to this spot.
Naggar is a small village, located around 15 km from Raison. This was the capital of Kullu for 1400 years. The Gauri Shankar Temple on the hilltop and a 16th century stone and wood castle are the main highlights of Naggar. Built in 1460, this castle is an amalgamation of Himalayan and European influence. It is now being run as a hotel by the Himachal Pradesh Tourism. Naggar also has three other old shrines and many old pagoda shali temple also there. Manali is only 23 km from Naggar.
Sightseeing in Manali
Covering all the above-mentioned spots during the onward journey might not be possible. Tourists may decide to check a few spots in their return journey. As far as Manali is concerned, it has many attractions that may be explored over a weekend's time.
Hadimba Devi Temple is an ancient temple which is perhaps the most celebrated place of Hindu worship in Manali. Dedicated to Hadimba Devi from the Mahabharata, this three-tiered square tower rises 24mt high. Amidst the beautiful forest of cedar this is a serene and spiritual retreat.
Vashisht Temple is a 4000-year-old temple dedicated to the Indian sage Vashisht, located around 5 km from Old Manali. This temple is known for its hot water springs which is considered sacred and believed to have skin healing properties. There are separate Turkish styled bathing enclosures for men and women. Jogini Falls is located around 4 kms from the Vashisht Temple. One can trek from Vashisht temple till the waterfall which will take around 1.5 hours one way. The entire trek is quite scenic with the best views of Manali town.
Bhrigu Lake is an attractive high-altitude lake, around 17 km from Manali, that attracts trekking enthusiasts. It involves a moderate trek to reach. On the first day of the captivating trek, backwoods trails from Gulaba to Rola Kholi outdoors grounds take tourists through old towns, welcoming apple plantations, clear rivulets and green meadows. On the following day, travelers are greeted by stunning views of the Kullu Valley. The 26km long trek leads the tourist through unparalleled breathtaking views of Seven Sister Peaks, Deo Tibba, Indrasan, Hanuman Tibba and the outstretched Pir Panjal ranges which soothe the senses with unbounded natural beauty.
Solang Valley is most popular for tourists wanting to enjoy snow in the Kullu valley. A mere 11 km from Manali, Solang Valley is located to the east of Rohtang Pass where tourists throng to experience paragliding and parachuting in summers. In winters, the beautiful Solang Valley offers skiing and snow-scooter adventures. Tourists may also explore ziplining rock-climbing zorbing in Solang. For tourists travelling to Rohtang Pass, Solang Valley resort is a beautiful spot for quick snack. Its outdoor seating and beautiful gardens filled with apple and pear trees and beautiful flower beds, complete with beautiful gazebos, are a thing of beauty.
Rohtang Pass is situated about 25 km from Solang Valley. This high-altitude pass offers spellbinding views of snowcapped mountains. The area within the Pir Panjal Range of the Himalayas, is usually covered in snow from the months to October to the onset of April. This is a prominent destination for all nature enthusiasts and thrill seekers. Tourists enjoy snow scooter riding or skiing here as well.
Atal Tunnel is World's longest Highway Tunnel that connects Manali to Leh. This tunnel, inaugurated in Oct, 2020, cuts down the distance between Manali and Leh by almost 46 km.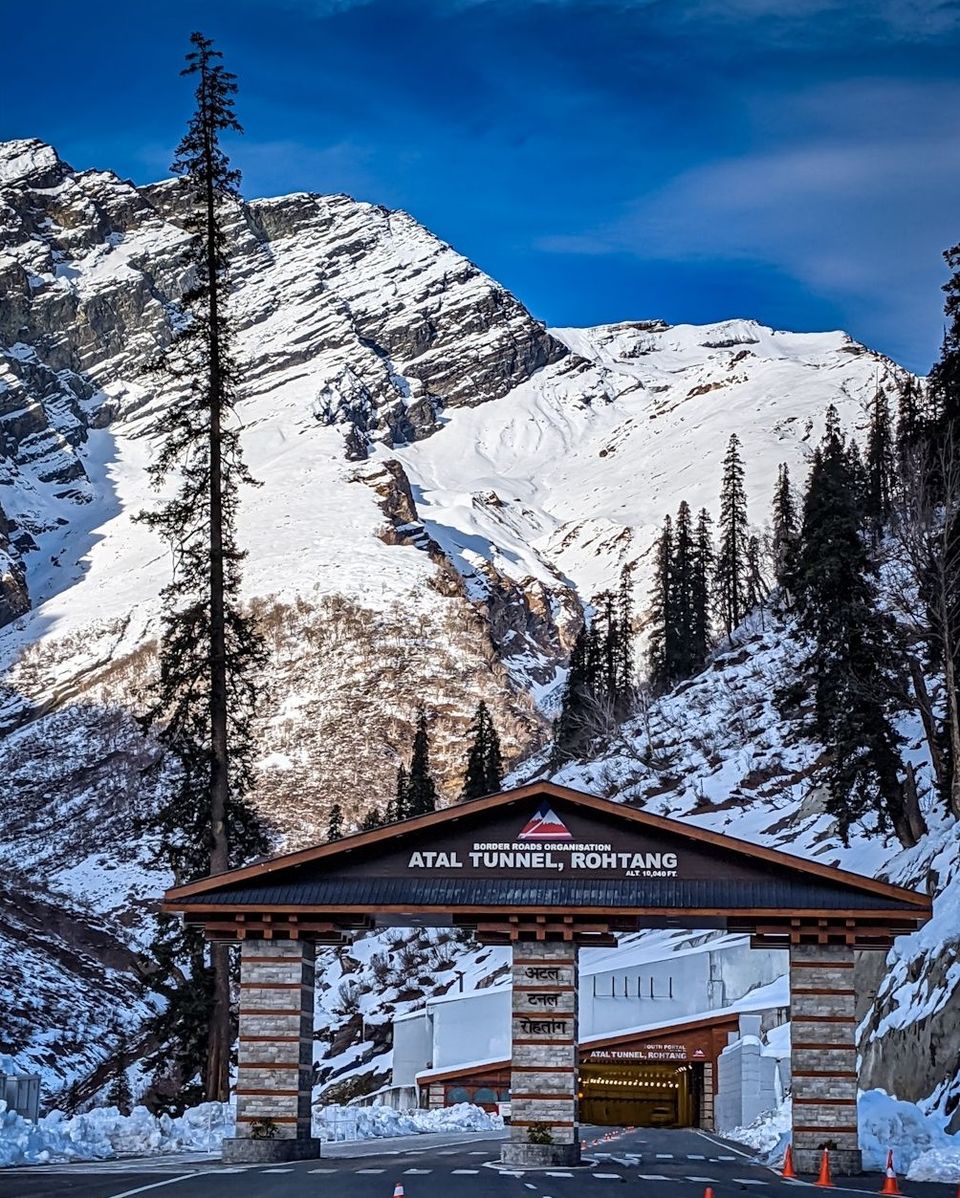 This 9.02 km long tunnel took 10 years to complete. To get to the Atal Tunnel, the best way is to hire a cab or bike from the town of Manali and drive to the location. A few reliable cab services are offered by Savaari.com. It is to be noted that the tunnel closes for onward journey towards Spiti at 3pm.
Things to do in Manali: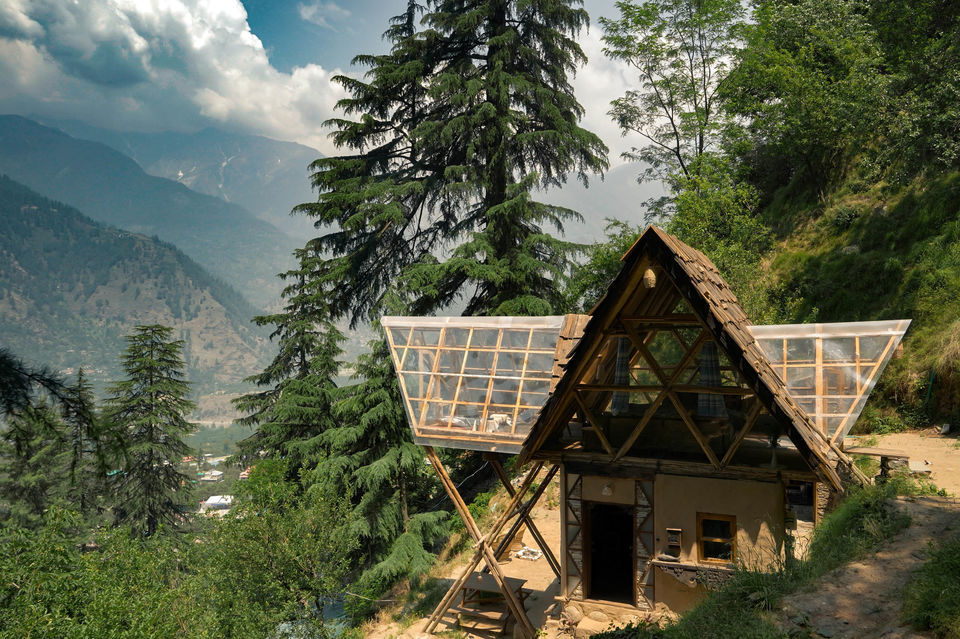 Tripoto's Mindful Retreat: Tourists may explore an Artist's Estate & Stay in a Kathkuni Home Hidden in Manali's Forests by booking reservation of Tripoto's Mindful retreat in Manali. The 3D / 2N package, priced at under Rs. 10000 per person is a perfect way for travelers of Delhi to spend a weekend in Manali. On this Mindful Retreat to Naggar, tourists are offered a relaxing stay in a Kathkuni home, authentic Himachali delicacies, tasting ceremony of herbal teas and wild honey and lot of adventures that make the trip memorable. The Mindful Retreat also allows exploring Naggar with the host, along with visit of gallery of Russian painter and activist Nicholas Roerich.
Paragliding: Manali is also an adventurer's paradise. Solang Valley and Fatru offer gliders scenic views and taste of unhinged adventure. The spectacular view from the sky is ravishing and it makes the experience worth every penny. The whole experience takes around 1 hour from beginning to its completion. The gliding time is around 15-20 minutes.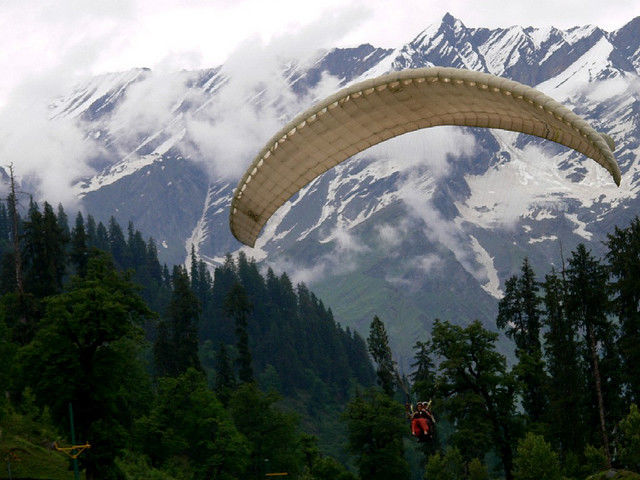 Trekking: Manali is probably the most popular hill station that attracts amateurs and pros alike for trekking. Hampta Pass, Bhrigu Lake, Beas Kund and Kheerganga are the famous treks that are available to be undertaken in Manali.
Skiing: There are many tourist places in Manali where one can learn snowboarding or skiing during winters. Hamta Valley, located at less than 15km from Mall read, for example, is considered to be one of the best places to learn snowboarding in the Himalayas.
If you're traveling to Manali, here's a list of 30 gorgeous resorts, cottages and hostels where you can stay during your trip.
Best time to travel from Delhi to Manali:
Manali is a place that has so much to offer in terms of its location, food, gorgeous sightseeing, and incredible activities. All the dominant seasons of Manali have their own charm but summer is probably the best time to visit Manali. Due to the high elevation, tourists are exposed to cool and relaxing weather. Weather is very pleasant during the months of October to April. Manali, during winter, is covered in thick rows of ice which is probably a beautiful sight to behold in itself.
During monsoon, hilly areas are prone to landslides, therefore imposing restrictions on local means of transportation. Hence July and August must be avoided for a convenient vacation in Manali.
Connect with me on Instagram to follow my adventures, and in case you think we've missed out something, please tell us about it in the comments below. Or write about it here on Tripoto.