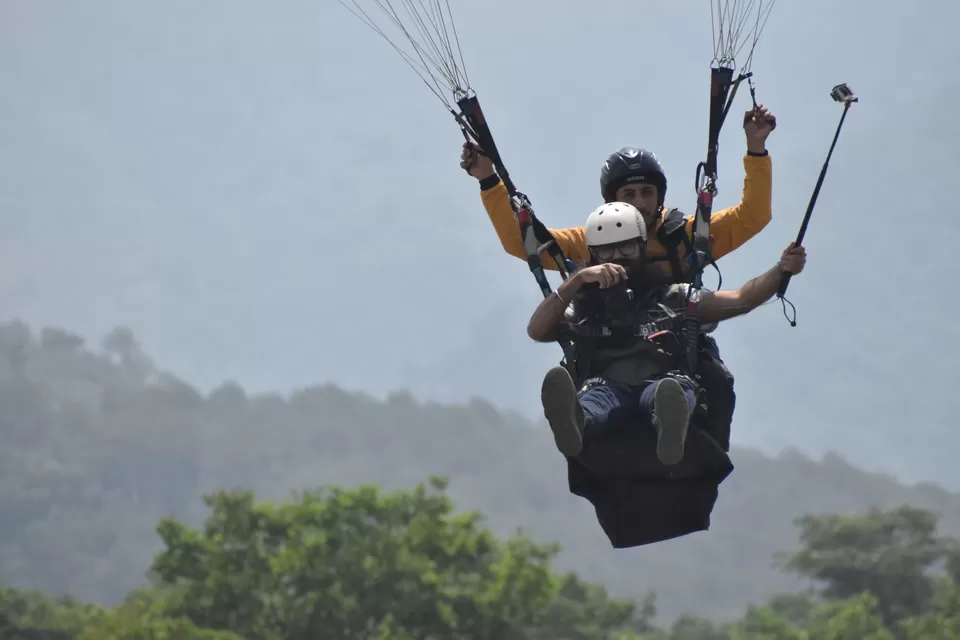 After my wonderful stay at Tripoto Mindful Retreat, Dharamshala(Detailed Trip posting soon). I had one more free day with me. So I decided to go to Bir, do paragliding and cafe hopping and take my bus back to Delhi from Bir
We took taxi from Dharamshala to Bir for Rs 1500. It took us around 3 hours to reach.
It was already dark when we reached and it was raining. We booked Moustache Bir which is not very far from the market. We went out on streets to find a local restaurant to have our tasty dinner. We met some long stay tourists there and we found out it is one of the best pocket friendly place to eat. It was all dark because of the rain power cut and late hours so I couldn't see the name of the place. It was on the first floor of market complex.
I woke up early and went to the hostel reception to book my slot for Paragliding. Rates our approximately same all across Bir, it's Rs 2500. Which includes transport from hostel to flying spot and GoPro video. At the landing spot there are photographers who capture your landing and charge fees of Rs 200 for the photos. They transfer photos to your phone. It is worth it because it's a beautiful moment captured.
After booking my slot I ordered breakfast though it is not recommended to eat anything before flying because of the curvy roads till Billing(flying Spot) and those scared of height may puke if stomach is full.
After my breakfast car arrived to pick me up and fast and fun ride up started, we reached top in 30 mins. I was introduced to my pilot and I informed him that I will be flying with my camera. I got worried about the camera safety and gave me few tips to take care of it.
Suddenly a good day to fly became a very windy day, we tried few times to take off but failed and that reminded me of the form I signed in the morning saying that "I know paragliding is a High Risk sport and I am liable for my own injury or death."
Few deep breaths and we were ready to take off again. As soon as we took off, it just took 15 seconds to adjust and then it was the comfortable place. You feel like a bird because birds are literally flying with you. I took control of my camera and GoPro together and created some good videos and photos. My pilot was carrying a speaker along so during the flight we were vibing on retro songs.
The part everyone is most scared about, Landing. To my luck I got the best pilot and the smoothest landing. It felt like it's my own wings and I know how to control them.
For this amazing experience of landing I would like to mention him: Ashu(8627884595).
Post landing, I went to hostel, did my checkout and left my luggage at the reception and went for Cafe hoping. All the cafes are near landing site so I should have checked out from hostel before flying. We drank coffee at famous June 16 Cafe which was very disappointing, the coffee, the cafe and the hospitality all were quite bad. Then we went to Himalayan Pizza which is just next to landing site which gives you amazing views. I order Pizza and juice as coffee mood was already spoiled. It was tasty and good experience. I still had 2-3 hours left with me before my Bus. So I went to landing site and enjoyed smiles on the faces of people landing. Also, I interacted with learning pilots practicing there.
Then in evening I boarded my bus back to Delhi.