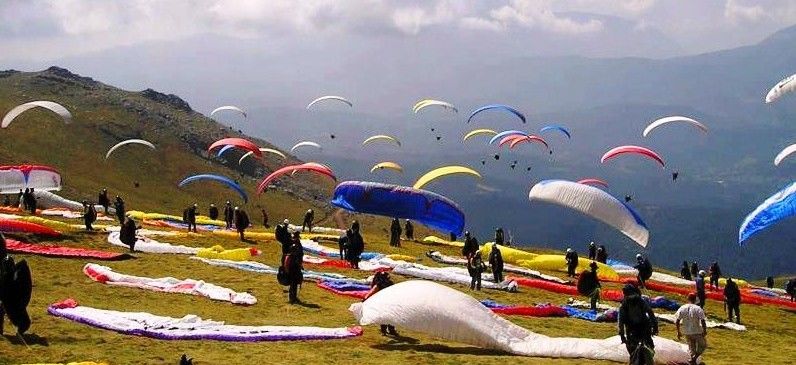 Click Here to visit my YouTube Channel:
Introduction:
If you ever feel the adrenaline rush and would want to do something adventurous like Paragliding in India, then believe me my friend, Bir-Billing in Himachal Pradesh is the place to go. We went to this place on an unplanned trip with no intentions of doing anything like Paragliding, however after hearing about it from the local residents, we decided to give it a shot while we were on our Road Trip & believe me, this decision of ours turned out to be the best thing that happened to us on our Trip.
Location Overview:
The Bir-Billing area is a popular site for Paraglider pilots, both Indians and visitors from all over the world. The flying season is from September to October, with some flying also done in November. It is also suggested to visit the place during October, when the Paragliding World Cup takes place. The paragliding launch site is in the meadow at Billing, at an elevation of 2400 meters, while the landing site and most tourist accommodations are in the village of Chowgan (also spelled Chaugan), on the southern edge of Bir.
How to Reach:
There aren't many direct buses available, however Baijnath a very popular pilgrim center about 30 minutes from Bir-Billing has few overnight direct buses from different cities. From Baijnath, you can take a bus to Bir & then a cab to Billing, or preferably you can directly hire a cab from Baijnath that directly goes to Bir-Billing.
One can also commute the journey to Bir Billing by train in the Kangra Valley Railway Toy Train. Nearest Toy Train Railway Station is Ahju, which is 17 KM from Billing & you can Hire a cab to Billing from there.
The Nearest airport is 80 KM at Gaggal.
You can go by your own car till Billing itself and roads are also quite smooth in Himachal Pradesh.
Our Drive from Delhi to Baijnath:
We left Delhi early in the morning at 2:00am as usual in our own car, as we don't have to face the city traffic at that time & we crossed Chandigarh till the sun came up. The preferable route to follow is, Delhi, Chandigarh, Una, Kangra, Baijnath, Bir-Billing. To be honest, drive from Delhi till Una is pretty boring, but just when you cross Una, the hilly area starts and you start enjoying the drive, but at the same time the driver also needs to focus on the roads & I don't need to tell you why.
We reached Baijnath next day in the evening, which was little late, as we have a habit of stopping by every place on the way, that appears to be interesting for a visit. I have my home at Baijnath, so we decided to spend our night there.
Our Drive from Baijnath to Bir-Billing:
The next day, we had to drive to Bir-Billing & we left at 11:00am after the delicious homemade breakfast. The distance from Baijnath to Bir-Billing is just 26 KM, but the road from Bir to Billing is pretty narrow & you really need to be a skilled driver to drive on that road. At Bir, we booked our Paragliders & it cost us 2,500 per person, which included video shooting as well. Just to mention, you don't really need to book your Paragliders online, as you can easily find one at Bir at reasonable cost.
The exact distance from Bir to Billing is merely 14 KM, but because of being such a road, it take approximately 45 minutes to 1 hour for reaching on the top. Car directly reaches the launch site & you don't really need to do any walking or trek as such.
When you reach on the top, all you see is Paragliders all around you. It's really mesmerizing to see the Sky filled with Paragliders, Paragliders ready for taking off & people getting ready with their gears with the help of organizers & pilots etc. Do I also need to mention the view that we had from the top. However it also gives you chills, when you see others taking off & the idea of jumping off the cliff for your take off really frightens you. So, I would also suggest you to avoid looking at the take offs, if you are already bit afraid of the same.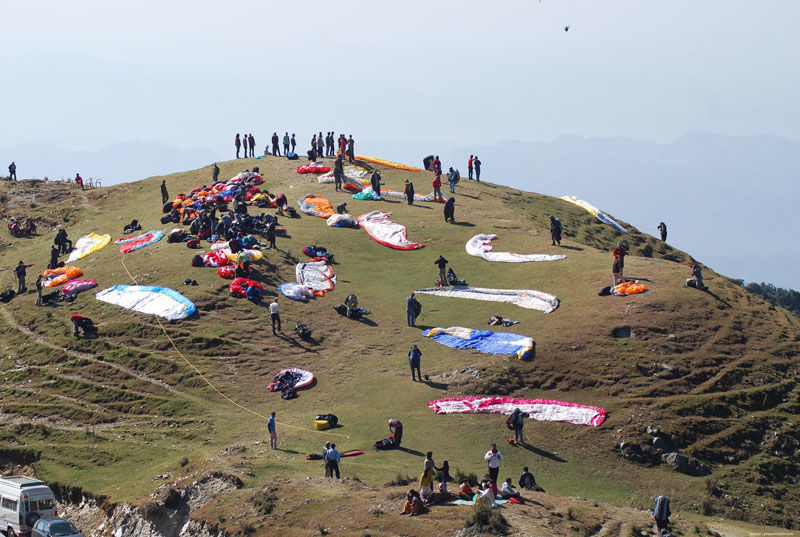 Finally Paragliding:
Our Paragliding organizers got us ready for the take off, but we all were little afraid as well. The moment when you get attached to a Paraglider & reach the launch site, the heartbeat becomes unstable and you feel the adrenaline rush in your body. My pilot told me that I would have to take 3 steps, jump off the cliff with him & our Paraglider would take off. I started the video camera & my pilot asked me to start walking. Two of the other organizers pulled me for helping in taking off and up we went with the Paraglider.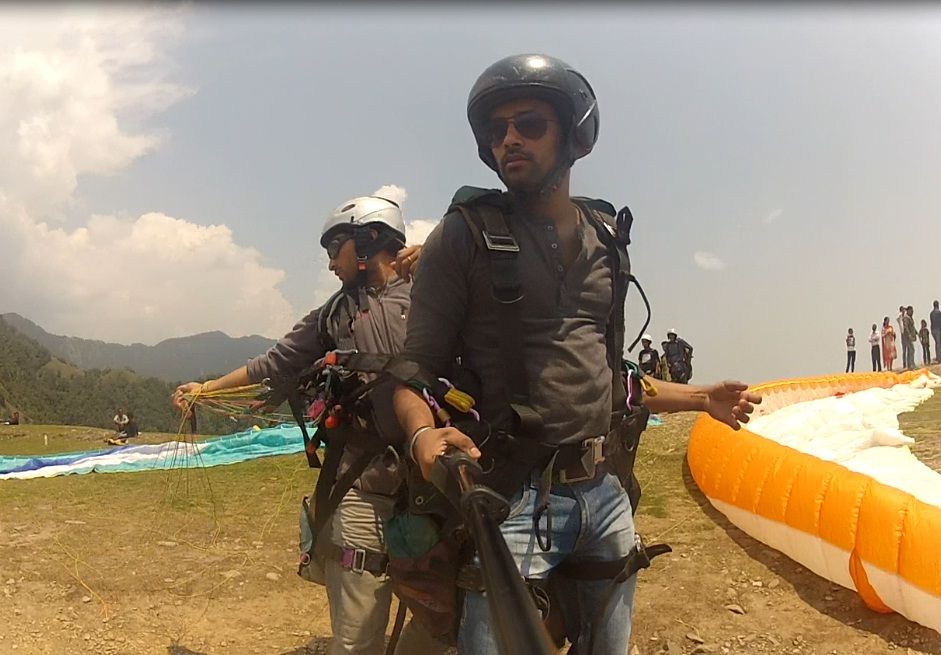 I really can't explain the feeling that I had after the take off. All the worries and fears just vanish when you take off and fly like a bird in the sky. Up goes the Paraglider and pilot took us at such a high altitude, that I could see the launch site underneath me, like a small piece of land. Seeing below from such height gives you chills & it's just once in a lifetime experience.
After few minutes of excitement & shouting, I was just silent, enjoying the peacefulness of nature & admiring how beautiful nature can be. After half an hour, which was more than enough for me, we landed on the landing site & here ends my Paragliding adventure. I was really pleased & content with my overall experience and my friends also landed after few minutes.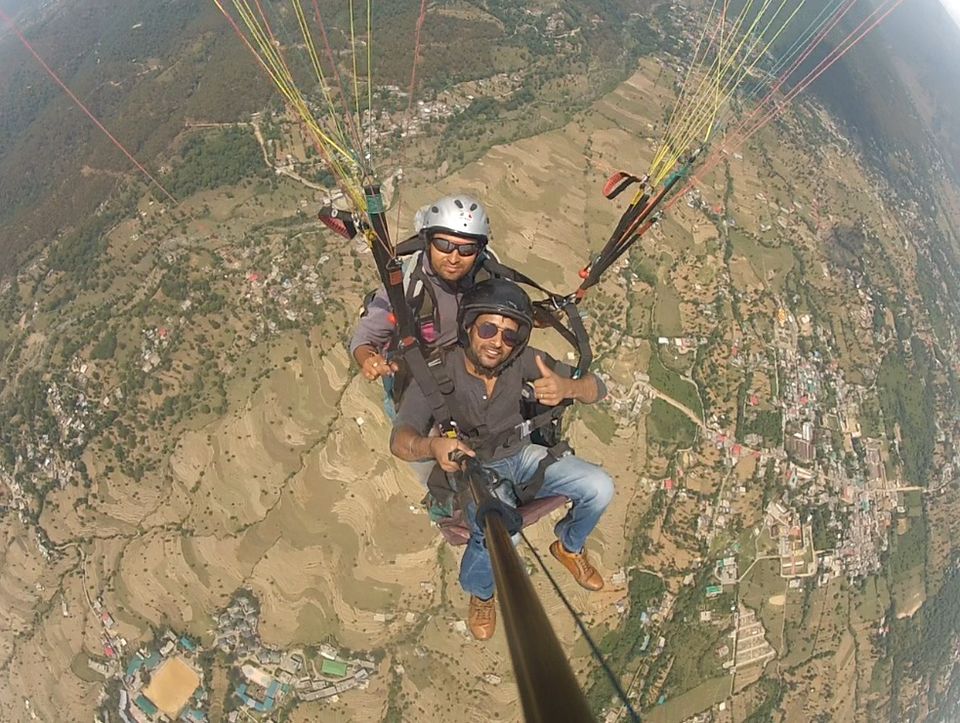 Conclusion:
Paragliding is a must do in Bir-Billing in India for adventure lovers, until you have any problems with heights or any medical condition. There is no explanation of the feeling of flying in the sky like a bird for half an hour. In my opinion, Bir-Billing Paragliding site has no match in India. Try yourself and let me know your thoughts.
Hope this articles helps you in planning your trip. I would really like to know your thoughts. Also please feel free to let me know if you have any questions for your Paragliding trip to Bir-Billing. I would be more than happy in helping you out.
And please don't forget to click here to FOLLOW me for more updates on my upcoming trips.
Until then, stay tuned.
Cheers!!
My Other Articles:
- Prashar Lake: A Hidden Paradise On Earth
- Triund: Amazing Trek, Hypnotic Panorama & A Pleasant Surprise