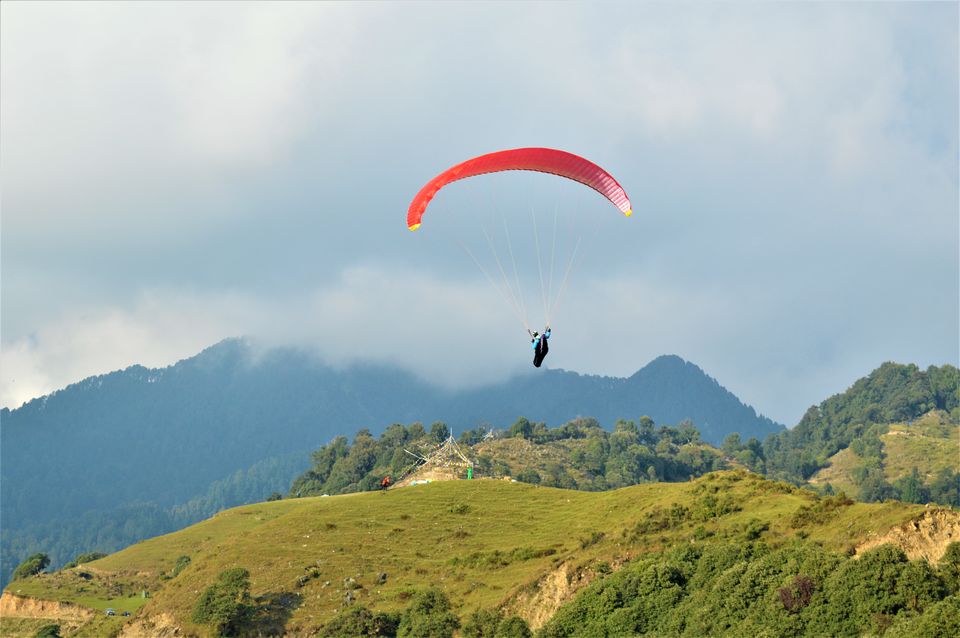 (The post was originally published here.)
If you haven't heard of Bir – Billing, then you're probably living under a rock.
Our trip to Bir is probably one of my favourite trips ever. When I first heard about Bir in 2015 and how it is considered to be one of the best paragliding sites in India, I had made up my mind – I wanted to go there. My sister and I decided to go to Bir with our college friend. In early September, we booked a tour package for three people.
DAY 0 – DEPARTURE
We boarded our bus for Bir from Majnu ka Tila. At around 10 pm we left Delhi and around 1 am the bus stopped at a dhaba for a late night dinner.
DAY 1 – TREKKING AND CAMPING
The bus broke down. At around 8 am we got on the next bus which took us to Bir. We were already running late now. What was supposed to be a 11 am arrival turned into a 1 pm arrival. We were received by the team at the Bir Road. We were then given two rooms in the guest house to freshen up. The staff at Paul Manor Hotel held on to our big backpacks and we each carried our small rucksacks which had water, food and our jackets.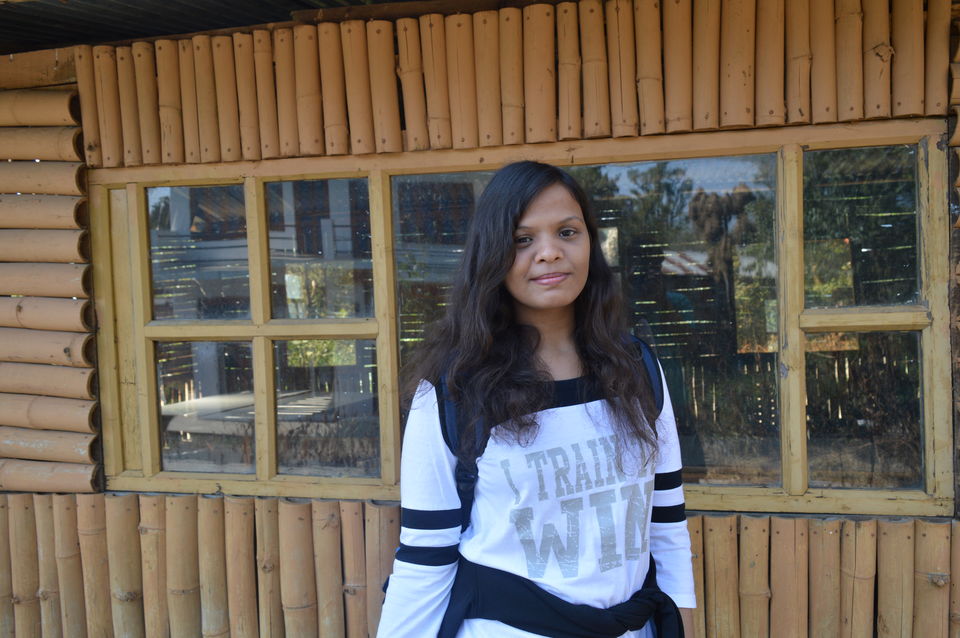 As we were already late because of the bus, we had to start our trek halfway. We covered a few kilometers by cab and then on foot. The popular way of reaching Billing is by cab. Trekking to Billing allowed us to avoid the tourist crowd on the way. The last time I had trekked was in 2012 so I had forgotten how tiresome it is. Within half an hour we were all huffing and puffing like anything. However, the mountains were simply majestic that we didn't care about any of that.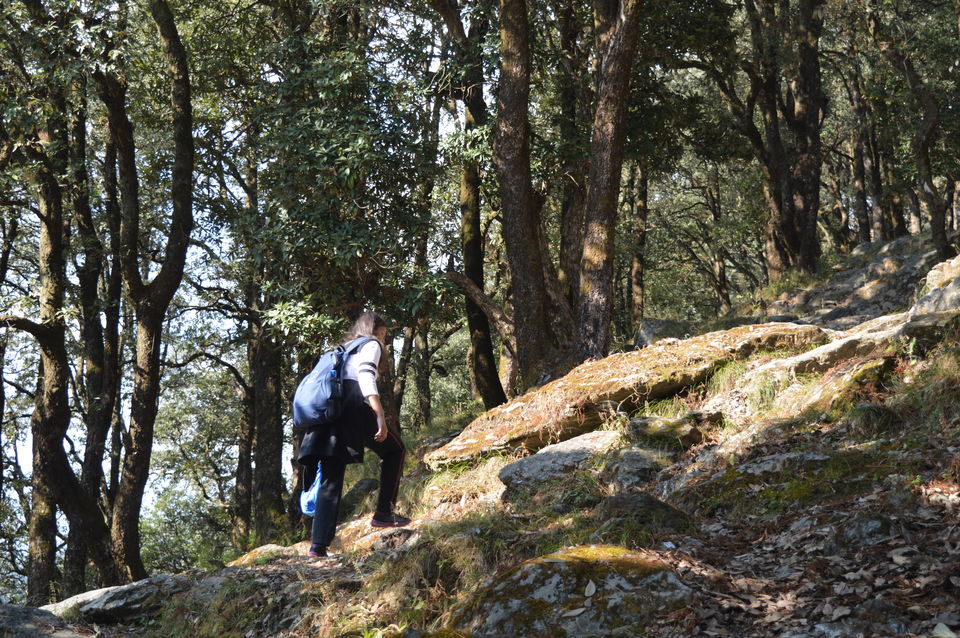 The sky was full of paragliders. Every now and then, we'd see a paraglider zoom right above our head. We couldn't wait to go paragliding in Bir! Everything was so enchanting, we couldn't decide where to look.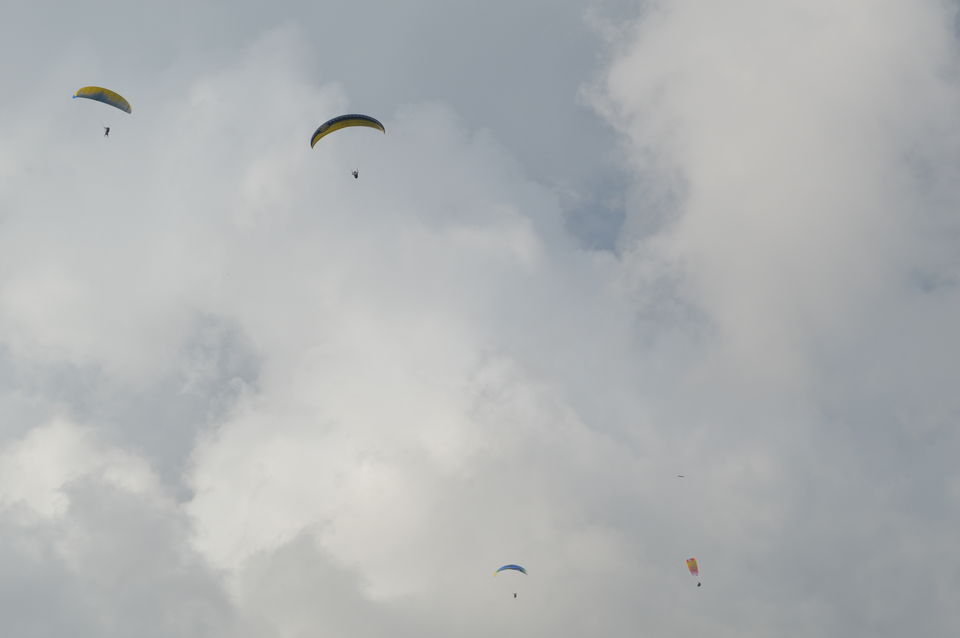 The last part of the trek was very steep and we barely managed to make it to the road without slipping down the hill. Fortunately, we all made it without any injuries and after round 3 hours we finally reached the campsite. On our way there, our guide was telling us some basic stuff for our paragliding experience for the next day and mentioned that we should wear shoes for paragliding. While that seemed quite obvious to us, it just so happened that the paraglider taking off behind us was wearing slippers, and yes, right after take-off, his slippers fell.
While relaxing, we met a really cute Himachali dog. We helped our guide pitch our dome tents and then just roamed around the campsite while waiting for the sun to set. It was now getting chilly so we wore our jackets. A few meters away we saw a small shop selling Maggi and while walking around the area, we could see many other campsites. Thankfully, ours was in a pretty secluded place so we didn't attract any crowd.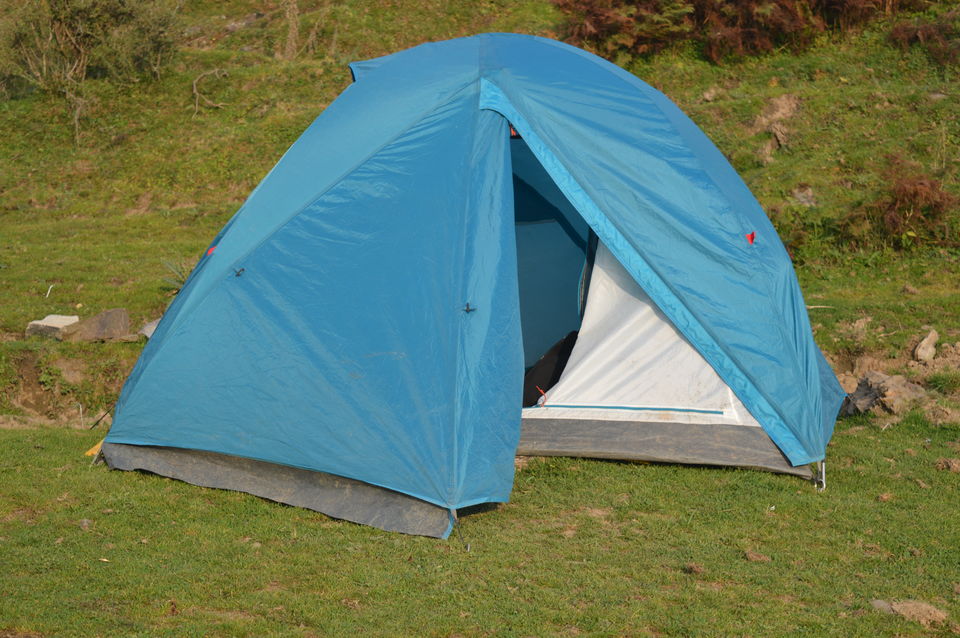 Finally it was time for the sun to set. The sky was so pretty with the different hues of red and orange.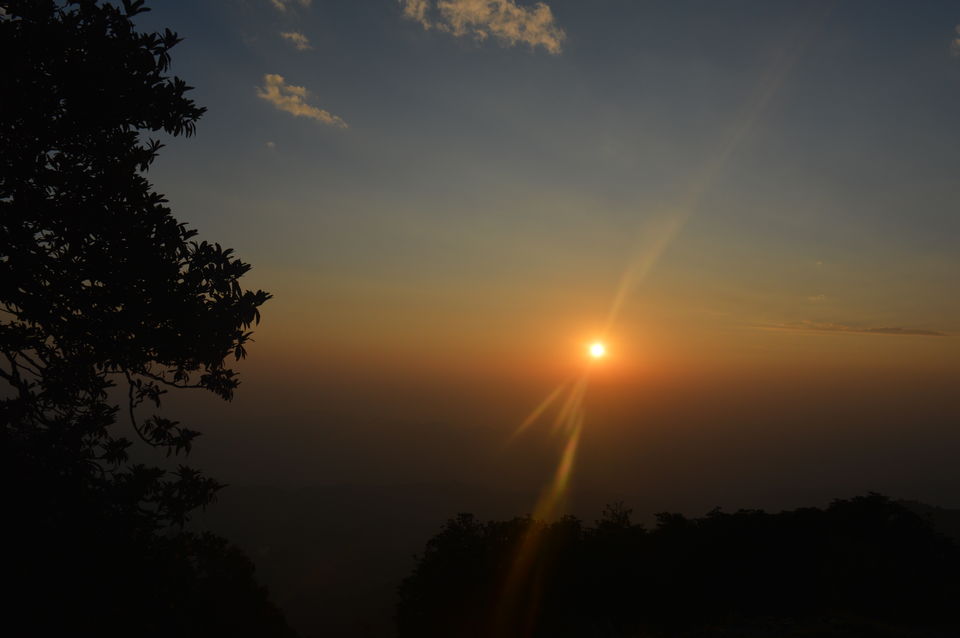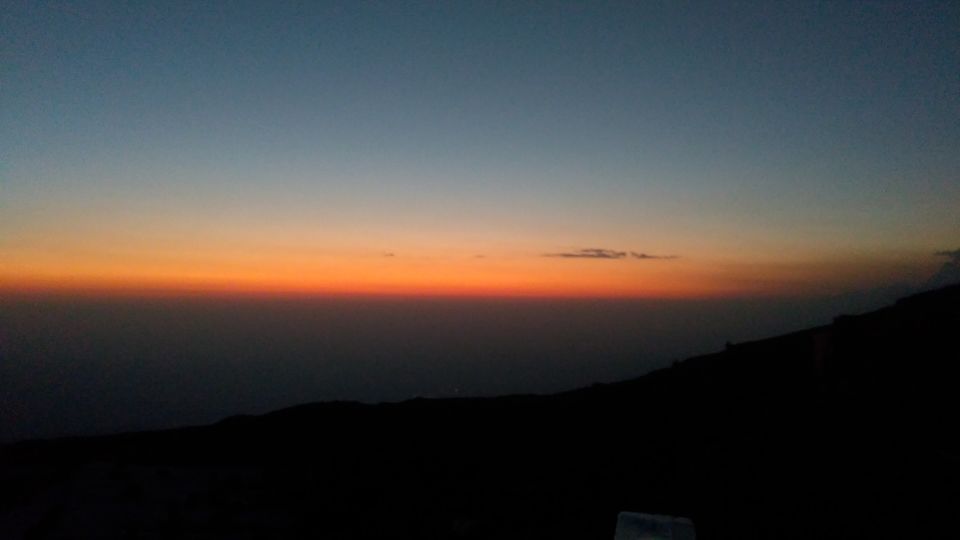 Our hosts had prepared a bonfire for us and we sat around the bonfire taking in the warmth and trading stories. Our guide told us about the village life. Later on we had dinner which was prepared by the locals. It was a simple dinner consisting of dal, roti, chawal and paneer and it was delicious.
One of the things I had heard about Bir was about the night sky. The clouds had cleared out paving the way for the stars to finally make an appearance. Looking at thousands of stars in the sky is indeed a very heart-warming experience.
Not wanting to miss out on such an experience, we decided to lay down on the ground and look at the stars. We soon got the sleeping bags and mattresses from the tent and made ourselves comfortable. We soon realized that it wasn't such a good decision as our sleeping bags kept on sliding down the hill! After going up and down the hill carrying the bags, settling in the bags and slipping down over and over again, we decided to just sit beside the bonfire and look at the night sky. If paragliding in Bir was my favourite part of the trip, then star gazing comes a close second.
Soon our guide decided to call it a night. I wanted to sleep, but my sister and our friend just kept the fire on till the wee hours of the day. I was getting sleepy but they wouldn't bulge even a little bit. After what felt like eternity, we finally went to sleep in the super chilly night.
DAY 2 – PARAGLIDING IN BIR
We woke up early to yet another exciting day. It was finally D – Day. The sun was out and a clear sky and strong winds greeted us. We took a few minutes to wake ourselves properly. And then, excitedly, we made our way to the take – off site. There were many people who were already there ready to take – off. Just by looking at these guys, I could feel myself get more and more excited by the second.
Before even having the chance to chicken out and get cold feet, I decided to be bold and opted to be the first one to fly among the three of us. While I was being strapped to the paraglider, I was given safety instructions. You can opt to have a go pro camera during the ride to record your flight which costs another Rs 500.
Once I was properly strapped to the paraglider, I was told how to take – off. It basically involves running till the edge of the cliff and jump at the end. I barely managed to make it to the edge and almost had a mini heart attack as we seemed to spiral down the valley. However, the pilot soon took control and we were off gliding over the lush green valleys.
You can see the whole of the Kangra Mountains and the Dhauladhar mountain valley in all its majestic glory and also experience an adrenalin rush and excitement at the same time. Paragliding in Bir has to be the most exhilarating 20 minutes of my life. I felt like a free bird flying in the sky. After the initial excitement during take – off, the rest of the flight is smooth. With the wind blowing strongly against us, and the bright sun in the backdrop with the breath taking views of the green valleys below us, with all the other paragliders flying near us, it surely was a picture perfect moment.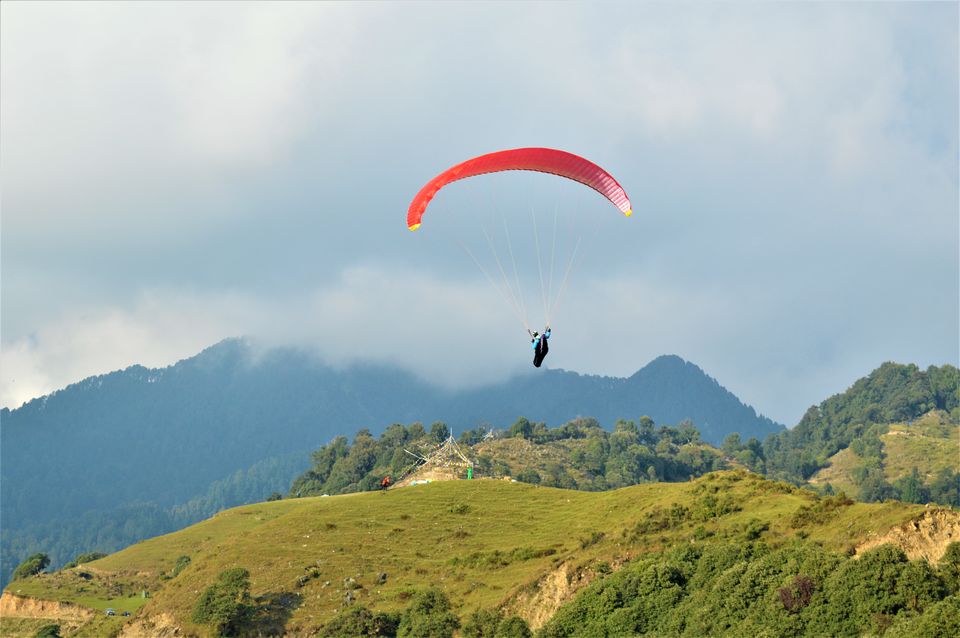 During the flight, my pilot and I got about talking about random stuff. Most pilots make your flight thrilling as well by engaging in paragliding acrobatics where the pilot turns the paraglider 360 degrees and it's truly an amazing experience. Throughout the flight, you'll experience such movements so make sure to hold on to the straps very tightly. You won't even realize when the landing site comes into view. In order to make a smooth landing, it's always advisable to keep your legs out straight.
During landing, there's a guy who'll be taking pictures of you. Since the video and pictures (again, at extra cost) are transferred to your phone through laptop, make sure you have enough memory in your phone. The three of us had landed within a span of ten minutes of each other and after transferring the videos and pictures we made our way back to the hotel which was a kilometre away from the landing site. And thus our paragliding in Bir dream finally came to a sweet end.
At the hotel, we freshened up and had a very heavy breakfast, after which we decided to just roam around wanting to soak into nature's beauty. Paragliding in Bir sure left us exhausted. But there are many things to do in Bir. We made our way to the Bir Road, where the market is located. It is supposedly the busiest place of the town which sprawls with a number of shops. After spending some time (and some shopping) in the market, we headed towards the Tshering Jong Monastery. The monastery is a 15 minute walk from the market, located before the Tibetan Colony. The monastery is beautifully decorated, and on the opposite side, you'll find a field with Prayer flags strewn all around.
Around lunch time, we decided to do what we do best – eat. A lot. And eat we did. And let me tell you, the cafes at Bir? The aesthetics are drop dead gorgeous. While the paragliding experience was exhilarating, eating in Bir was my next favourite thing to do. (Bir has given me unrealistic expectations for cafés everywhere we go now.) We came across so many pretty cafes along the way and we had a hard time choosing where to eat. Tons of cafes have cropped up in Bir given the huge crowd that comes here. What better way to chill after the adrenaline rush you felt after paragliding in Bir?
First, we decided to eat at this place called the Garden Café. This café is situated towards the end of the Tibetan town, away from the landing site and near Tsering Jong Monastery. The Garden Café also has rooms for people to stay. The café has gorgeous décor, and you have the option to dine outside, or inside. Tables are set outside in a beautiful garden, and there is also a garden set up on the first floor. Since it was hot, we decided to sit inside. We ordered a coffee and an affogato, with a fresh whole-wheat Tibetan Bread. Since everything was made fresh, service took a while. While the coffee and the affogato were good, the Tibetan Bread didn't really have any taste to it.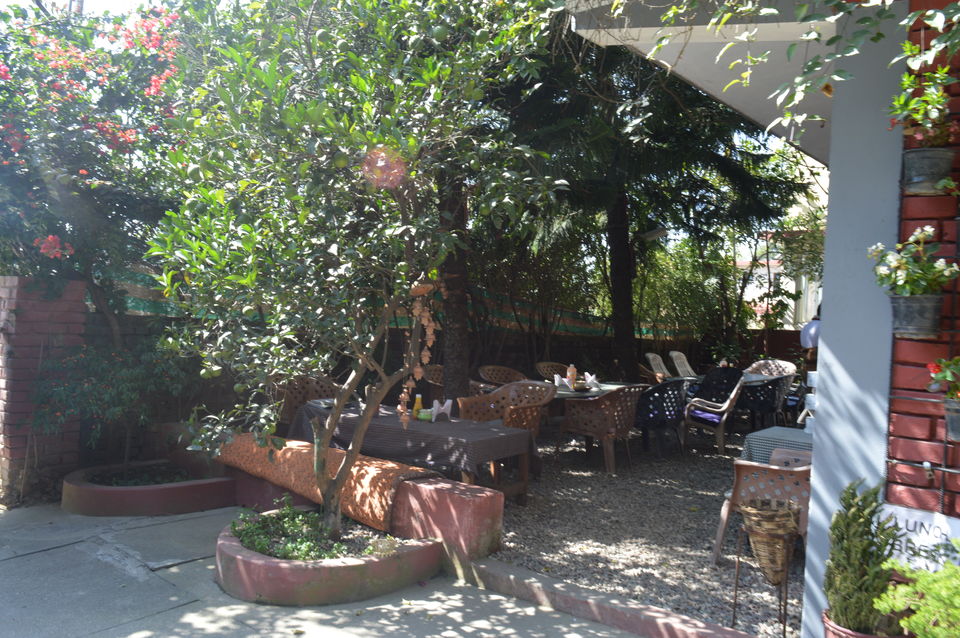 After eating, we wanted to try out some more cafés, but we decided to take a stroll first. We made it back to the landing site once again. We sat at a close distance just looking at the hundreds of paragliders colouring the sky. On the other site we saw a group of amateurs learning how to take – off (and wishing we were with them, of course). While spending some time here, we realized that the place was literally crowded with tourists. Because we had decided to camp out at the take – off site, we had managed to avoid the crowd.
After seeing many paragliders land, we decided to explore Bir some more. So we just walked with no destination in mind. The roads are covered with greenery either side. We ended up on a bridge, built over a stream (Gunehar Village). I watched as the water (not much) gushed over the rocks, and a guy playing the guitar sitting on a rock. We just kept on walking till we had no clue where we were anymore.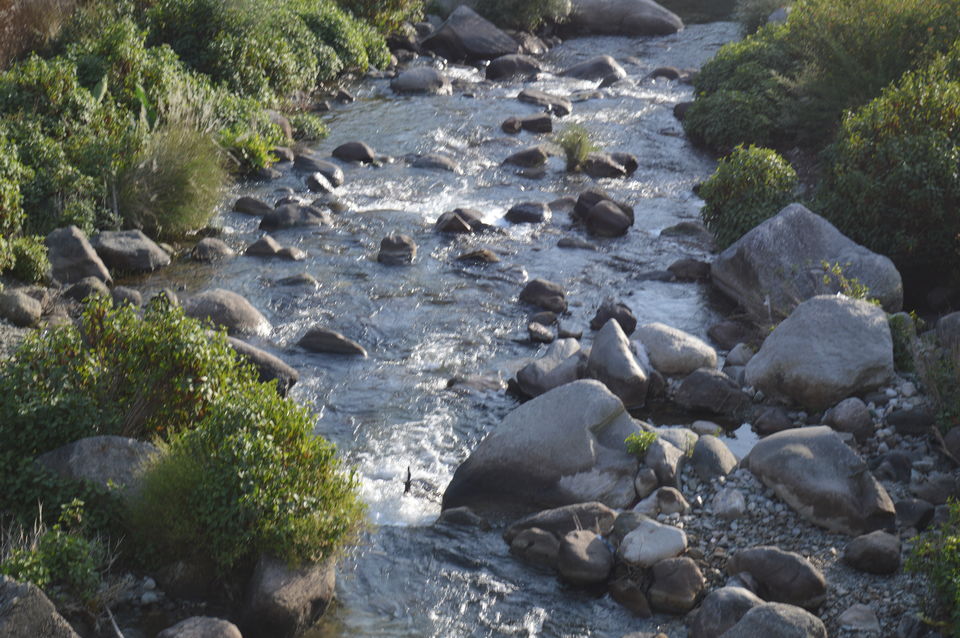 Then, we made our way back to the landing site, and ultimately ended up at Gliders Pizzeria. The ambiance of the place intrigued me, with a beautiful garden and a swing chair with the Valley as the backdrop.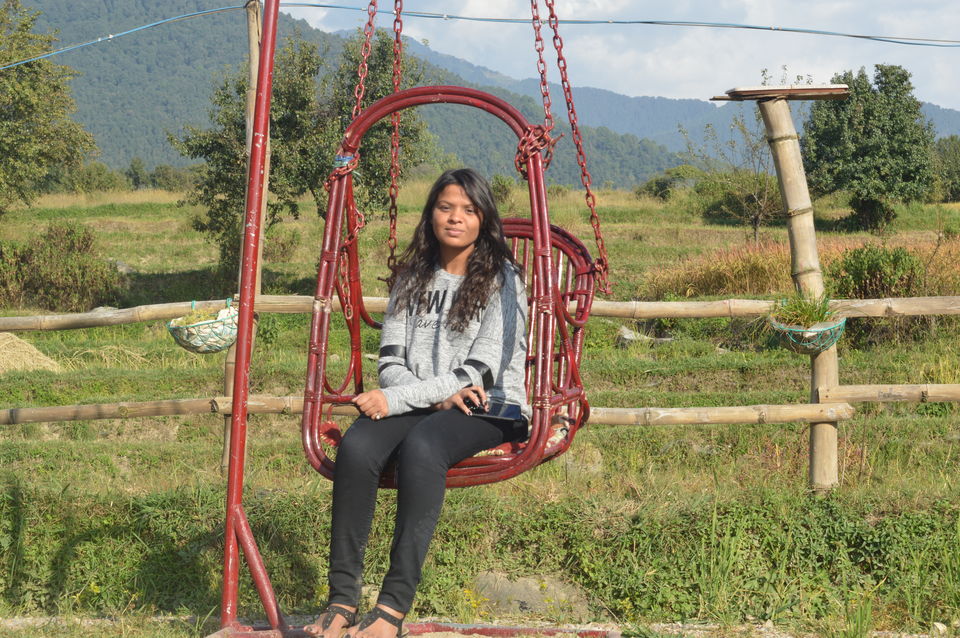 The café, again, has indoor and outdoor seating. We opted to eat inside, and it was very, very cosy. The café is a bit expensive, and you should steer clear of it if you are on a budget. This was probably one of the best cafes I've ever been to. I love to eat a good pizza and boy, the pizza here was heavenly. I fell in love with the pizza we were served here! Freshly baked and right out of the oven with just the right amount of cheese. It was delicious.
While I wanted to try out some more cafés and restaurants, like Nyingma Kitchen Restaurant, Avva's Café and 99 Not Out, we were totally stuffed and couldn't eat more. That is, for like an hour.
Later on, we decided to stop at yet another place to eat! This time we had momos and thukpa in the market area, something that is not to be missed while in Bir. Thinking that we did not have enough time to eat as it was already 5.30 pm and we had a bus to catch at 6.30 pm, we gobbled up the food as fast as we could and ran back to the hotel (notice how we have a thing with food and missing buses?). Once we reached the hotel, we sighed in relief as we got to know the bus was running late. With an hour to spare now, we finally settled our bill, and relaxed outside the hotel in the chilly evening till our bus arrived and we had to say sayonara to our favourite trip ever.
I really want to turn back time and re live this trip all over again. I want to go paragliding in Bir once again.