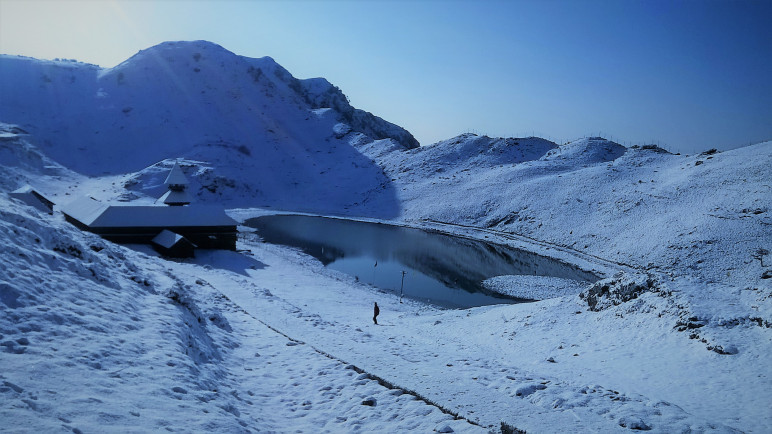 There is a hidden gem of a place called Prashar lake in Dhauladar ranges of the Himalayas, the lake is a detour of 45 Km from the main Delhi-Manali route. It is a less explored destination, even lesser in the winter as narrow road gets tough to go through with mud and snow. The last village on the way is named Baggi, I stopped here for tea after getting exhausted by riding so long. I saw some camping advertisement in the tea shop and asked the owner about lake and got to know that the weather is bad, even he had stopped camping activities for 2-3 days. For once all those voices echoed in my head who told me not to go like this, alone and on an old bike. A motorcycle passed towards uphill with two people. I kept thinking that how even I was not confident to reach here when started this trip, because of my old second-hand motorbike, because it was my first solo trip, and because I planned to ride to an almost unexplored place. Still I left the lanes of north on my black bike, after tying luggage on its back, meeting new people every day and night,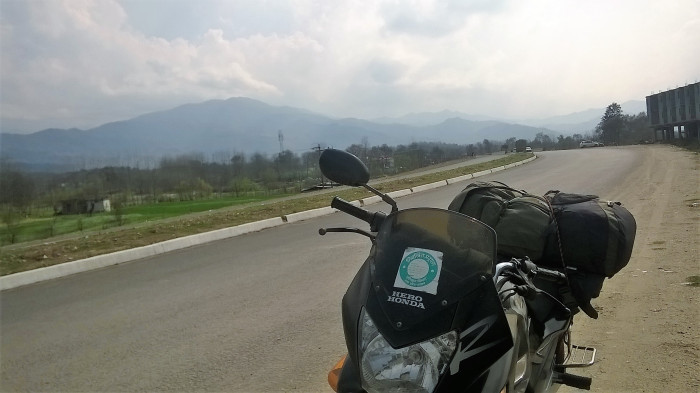 rested and got tired, was wandering now in the highest range of mountains. I started again and crossed a waterfall running by road, it started raining. I spotted that motorcycle with two guys in shade, ready for smoking joint. It was a good idea to ride along as our destination turned out same. I drive faster anywhere so left them behind until it was the toughest moment of my trip. I was stuck in mud and wheels were going deeper as I powered the engine, my shoes were 6 inches deep and nothing could move an inch. I left it in frustration and it gave me a time to look around, elsewhere from road, towards deep slopes covered by mist, some clouds beneath but some like a blot very close. The moment was mesmerizing but tough as there was no one around to help.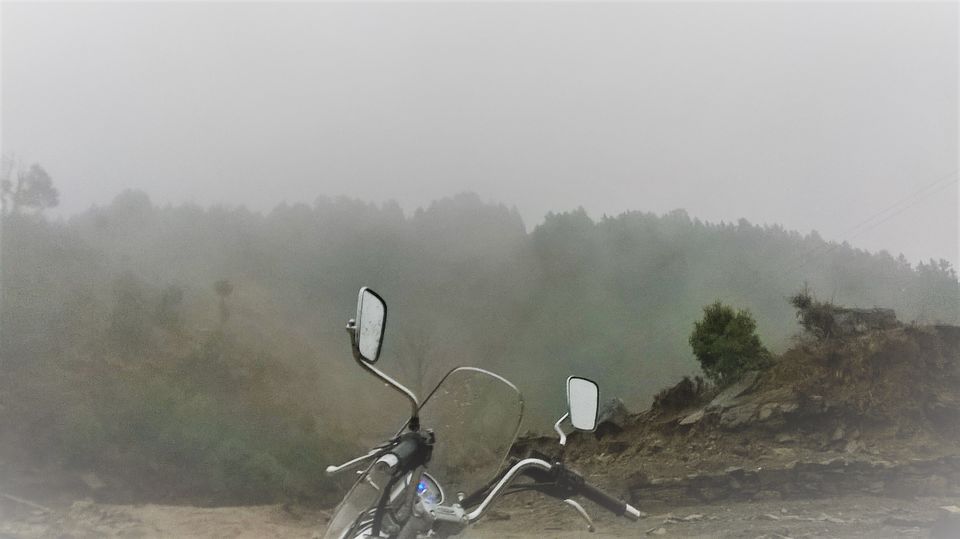 I was thinking how I easily got to Delhi and my friend there got astonished on my decision to ride through mountains, and when I asked a policeman for directions in Mandi city, why he refused by saying road and weather both were bad. I was happy to overcome all deviations. Those two guys hit same faith in mud, then all three could take bikes out one by one. What we found ahead was worth of all the craziness and hurdles we rode. It was my first live snowfall, whiteness spread on slopes but black rocks spotted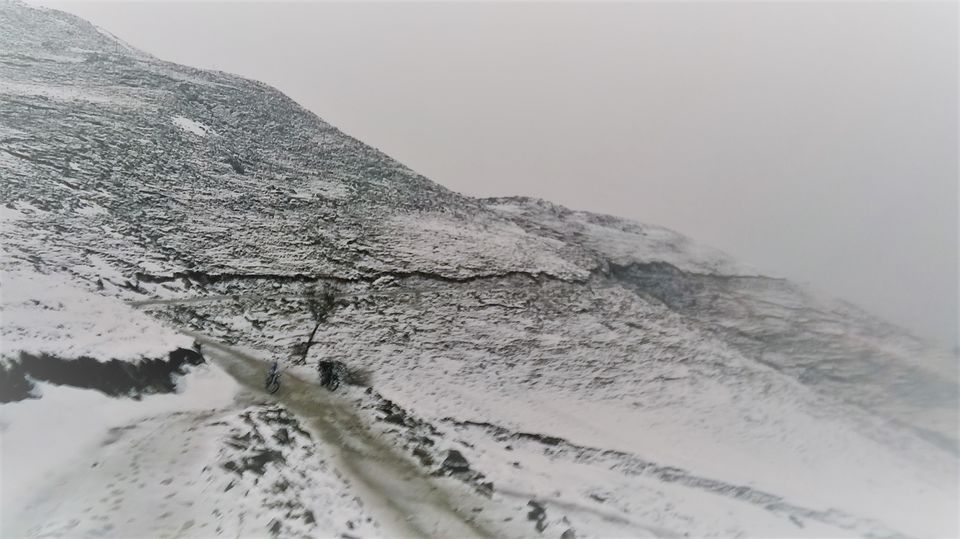 in between, and these cotton pearls falling to cover them. We wanted to visit lake first, then search of halt, but day was darkening, in snowfall lost way and missed the lake closely. All three of us agreed to search guesthouse first, while seeing some abandoned wooden huts and joking that could stay in one.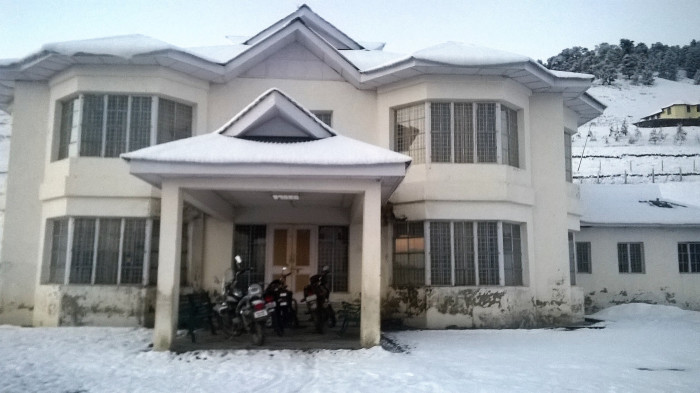 A watchman opened when we knocked that scenic building made on downhill, repeated the same 'bookings are closed' phrase which office told us downtown. After looking our bikes, he even advised us to go back as snowfall could last and us getting stuck for days. I hadn't come to return like this, convinced those two little confused mates and watch man too, for proving any space to just sleep with simple food. While changing our clothes, I saw a thick layer of snow on bikes and happiness in my heart. when watchman told us the right path to lake also that there is a temple and tea shop there, we couldn't stop us to go and see it and having tea. In our hearts, there was fear of getting trapped for days when we came back buying a whole carton of snacks and drinks after having tea and Maggi. We watched TV, sat by fire and warmed drenched socks, and enjoyed rice and daal in dinner. Soon we liked blankets and in undersized tent we were sleeping with our legs twisted and wrapped in 12 blankets.
I woke up early and witnessed the most spectacular sunrise of my life, with the white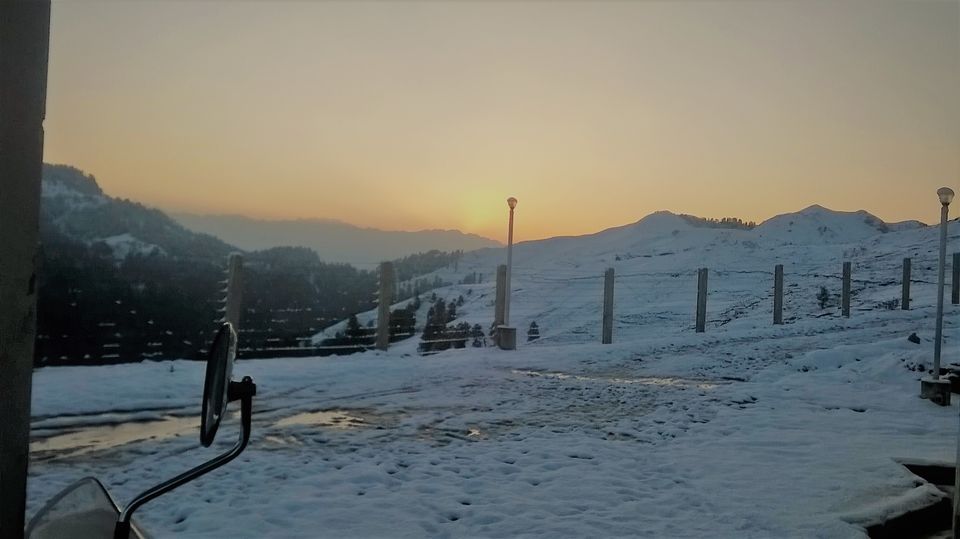 sheet on slopes without spots till I can see the hills. The roof was under inches of snow like shown in painting, has now started dripping by sunlight, I contributed my footprints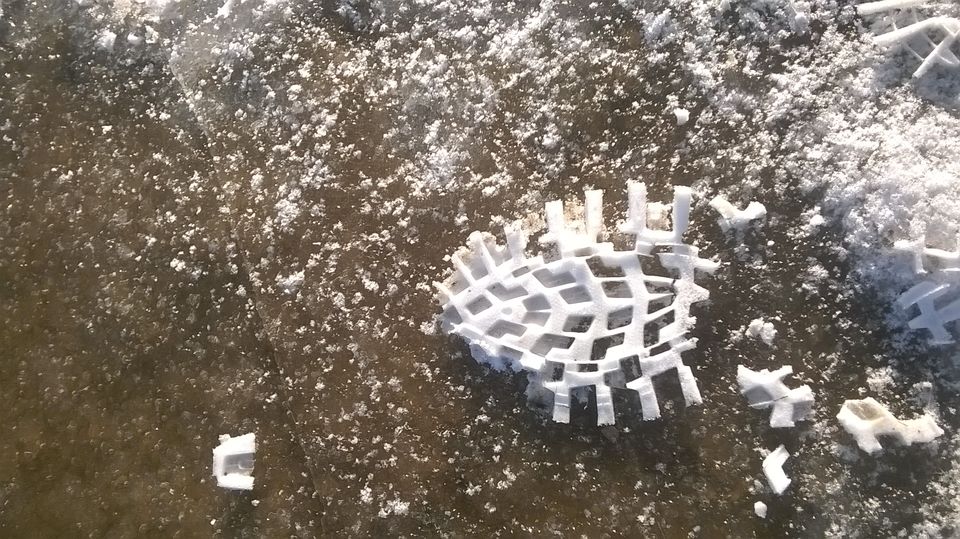 in that painting, broke the thin glass over water pits, and woke everyone up. Soon we were trying to consider every scene as approaching towards lake on a narrow footway. Then the lake was visible, like a big bowl of water surrounded by while walls, and a small island in it, which changes its position as people believe there. I stood near this nature wonder, saw it from a high mound. At last when we climbed to a high peak with shopkeeper, it was an unforgettable moment to see that water bowl among clouds and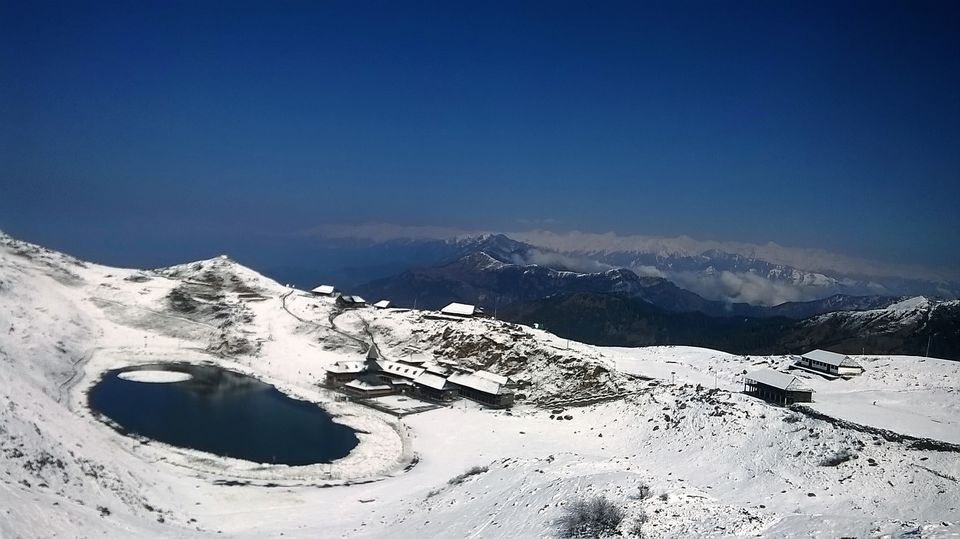 white hills of Himalaya spread over miles. While returning, I got to know that it was tougher driving it down, riding was fun on snow, and risky when recording video and driving. We fell in same mud, then got away, drove fast and washed bikes on waterfall. Then at another fall, took some rest and read lying on rock, took pictures of goats.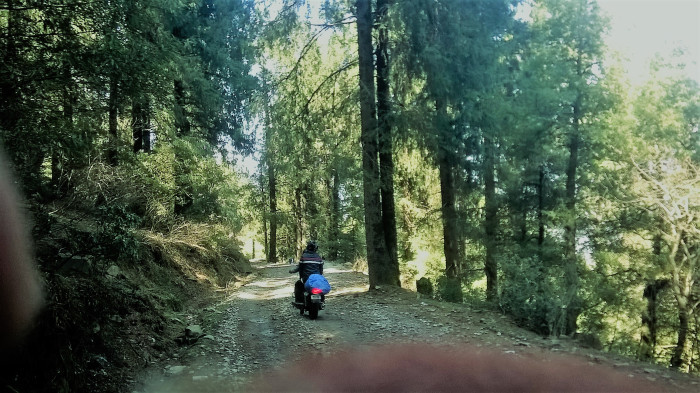 I said goodbye to both guys and speeded towards another valley Kasol, thinking how in life, we never attempt many new things out of fear, while truth is that an old motorcycle is enough to wander in the Himalayas.