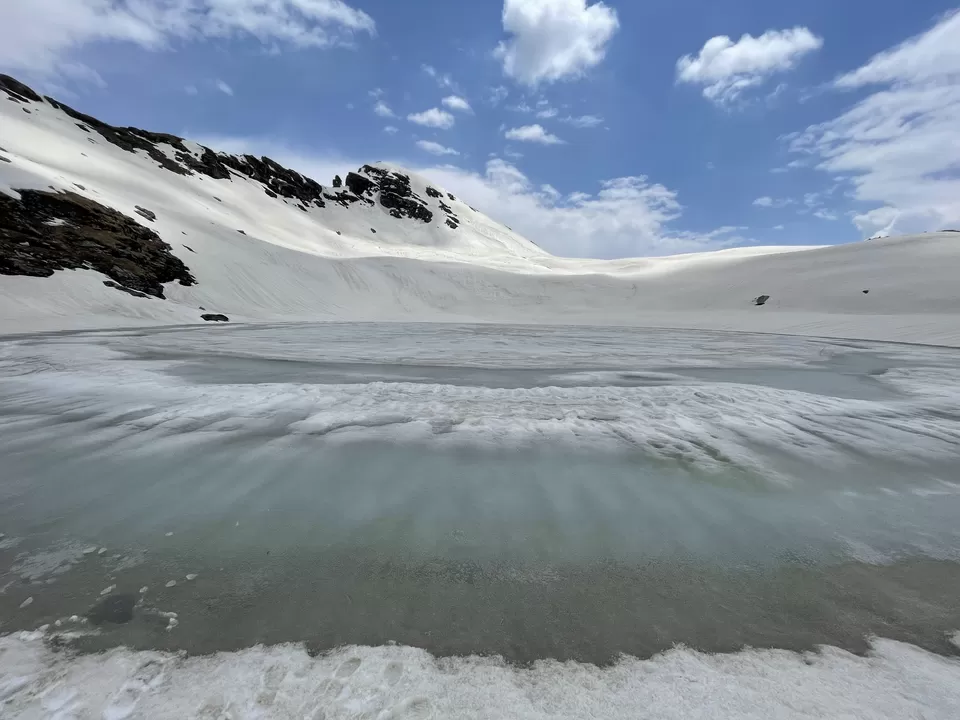 We have always been in love with the mountains, especially when they are the Himalayas. After having stayed in Himachal for more than 6 months, we were used to taking day hikes to various spots, enjoying the view, having a 5star and coming back before the sun set. These hikes did introduce us to the raw nature but of-course we knew the human civilisation was not far enough. And that irked us, we wanted more of raw wild nature; but we really didn't know we had what was needed to pull off a multiple day trek. So googled a few 3-4 day easy-moderate treks in and around Manali, and found a few of them, namely - Beas Kund, Hampta mid-point (this is not the full Hampta pass trek but just until halfway) and Bhrigu Lake. This being our first trek, both Pig and myself said NO; we can't do Bhrigu lake even though those pictures really made us wanting to do it. Since most of it appeared to be on the snow and we could have breathing issues due to the altitude and our bodies not being trained/fit enough. So we decided on the Hampta half-way; since it was spring time(around April end), we expected very little snow. We did the bookings and were ready to go shop for a backpack and other things from the checklist that the guide provided us with. We also went for a quick hike to Arjun Gufa near Manali 3 days before the trek just to make sure our legs and knees knew what to anticipate during the trek :) Trust me, it helped! It was the same day in the afternoon that I got a call from our trek operator saying "Hampta halfway is mostly a winter trek and we currently recommend the Beas Kund or Bhrigu Lake instead". That instant, I felt may be we were destined to go to Bhrigu Lake. So without even asking Pig, I gave my confirmation to the tour operator. Pig had been listening to my conversation on the call and both of us looked at each other and said "lagne wali hai"!
It was soon the day we had been looking forward to - our first day of our first serious trek! We reached the meeting point and waited for our group members and guides to arrive. Once everyone assembled, we got our packed lunches, filled our bottles, did the last minute washroom routine(last civilised one :P) and squished ourselves into the SUVs to head to our base camp in Gulaba. The drive to Gulaba was magical, especially after we crossed the NGT checkpost; there were maples, pines, snow clad mountains, clouds and the blue sky, all that we wanted.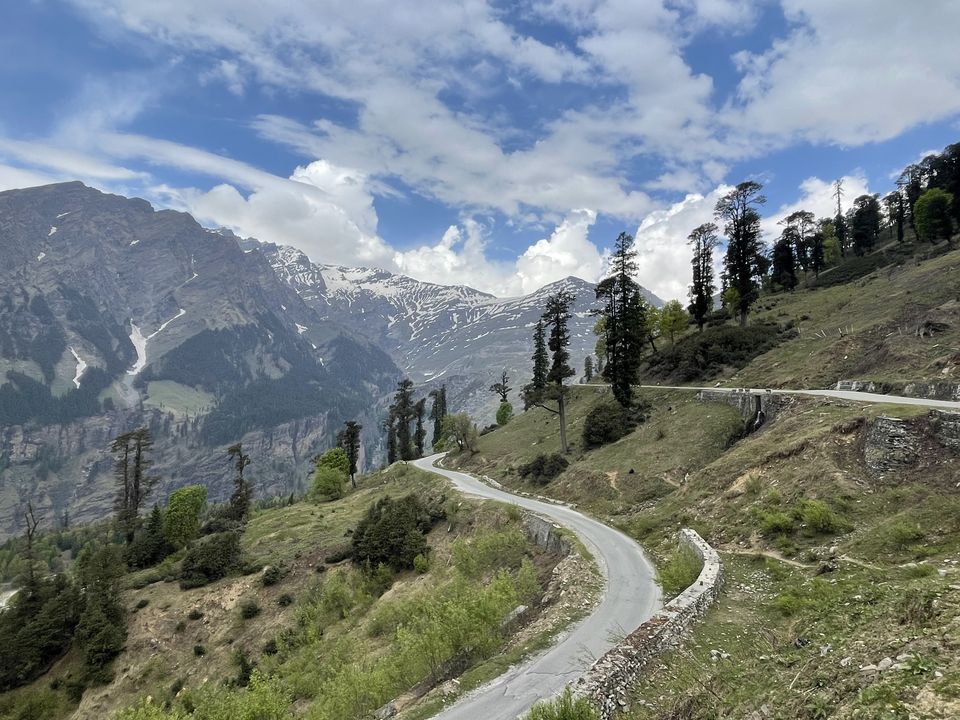 We then started our ascend with the stuffed backpack and felt those quick pants in the chest. A few minuted later we witnessed the reason why this trek is called as Himachal's prettiest grassland trek. There were vast wide green meadows touching the blue cloudy skies just like the windows wallpaper, and some very tiny vibrant coloured flowers.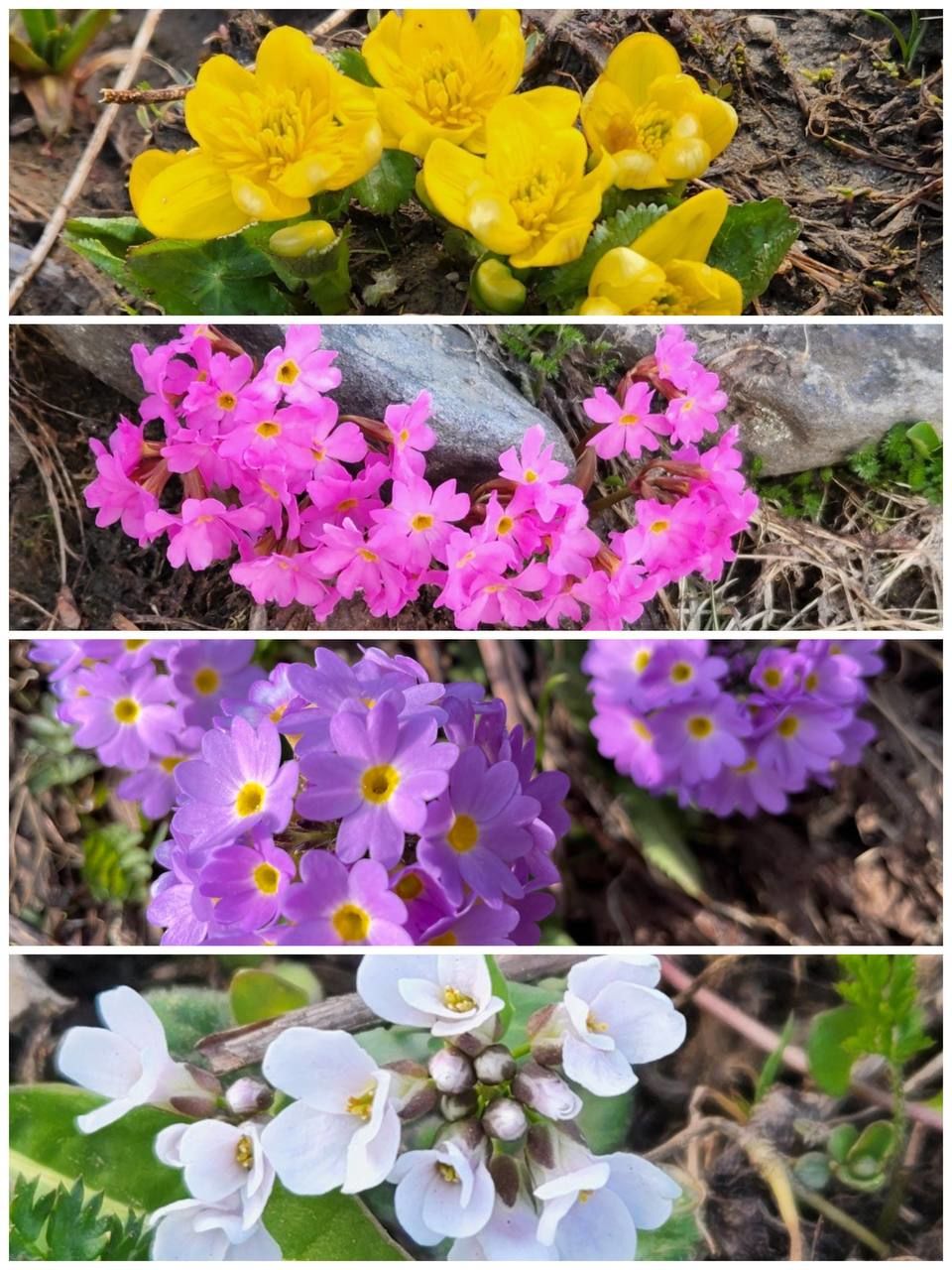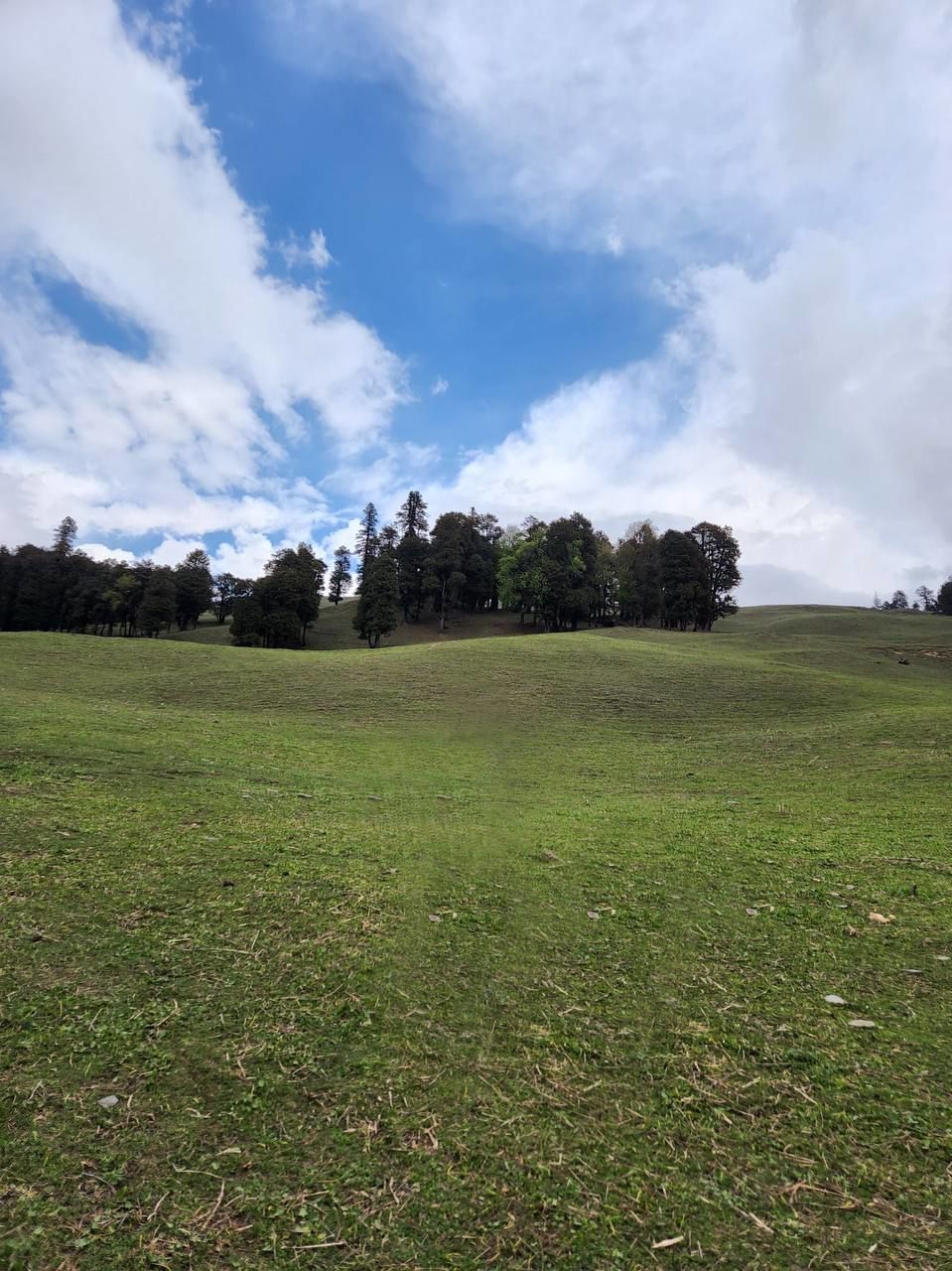 The ascend continued with some steep climbs, some easier stretches, some rests and finally the break for lunch. And omg, the sandwich and the frooti never felt tastier, may be because we hadn't been so hungry and tired ever before. As we continued to climb further, the temperatures began to drop, the wind felt colder and the breath faster. Soon the jackets and monkey caps were out and we walked, and climbed and kept looking far to spot our tents, but there was still time. As the altitude further increased, there were long stretches of snow and clear views of Hanuman Tibba, 7 sister peaks on the other side. Eventually the terrain became flatter with a few descends as well, and then we could finally spot the red tents far off. The final stretch had some interesting crossovers across streams running through thick snow covers and then we were finally there, Roli Kholi, our campsite!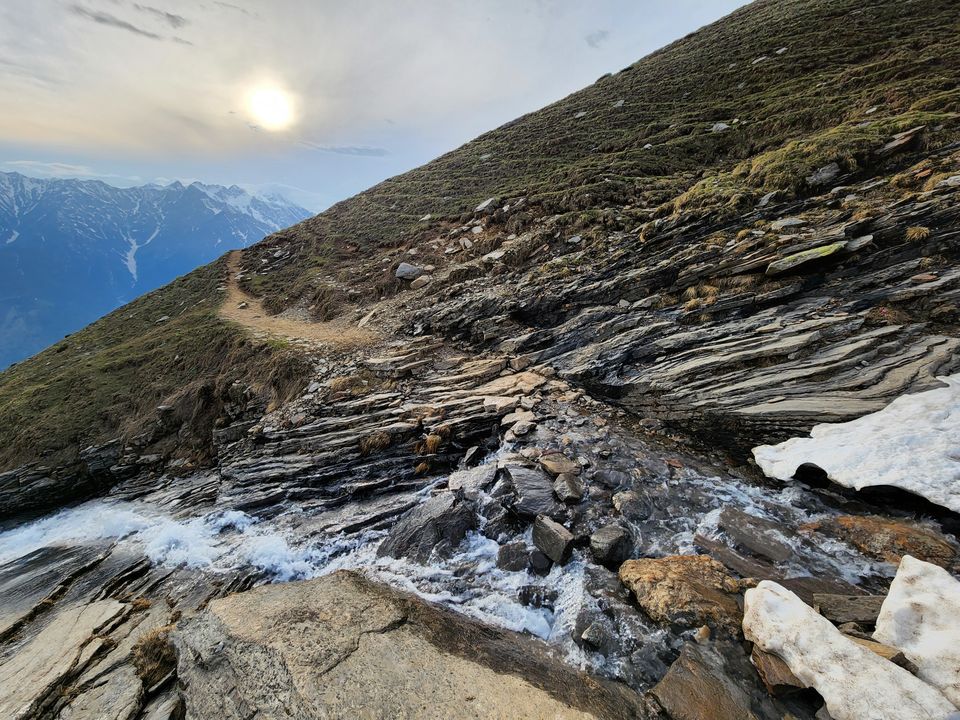 We were greeted with steaming hot bowls of maggi and masala chai. There was a crystal clear stream flowing next to the campsite. We used the stream for all our drinking, cleaning and brushing purposes; reasons why all ancient civilisations were built around rivers ;)
Soon it was dark and the sky was lit with stars. We quickly had our dinner, took the sleeping bags and headed to our tents. This was our first time using sleeping bags, they made us felt like wrapped inside warm cocoons. Though the feet would refuse to remain warmed up all night, we were still able to steal a few hours of sleep and were ready for our all-day snow trek next morning.
We started our mornings with poha and tea and packed our day bag for the trek to the lake. The entire route today was on snow, exciting and scary both at the same time. We started onward and upward taking care to avoid letting snow into our shoes. We had all sorts of assumptions like we would skid/slip, shoes would get wet, and what now but like most times these were just mind made apprehensions. It was actually pretty easy walking on the snow. I think it was even more easier since we had the trails marked on the snow by the previous batches. However, it was steeper and higher today; plus taking breaks was difficult since resting on the snow was not a very good option.
We trekked on vast blankets of snow, think and wide and long. Snow that would reflect the sunlight direct to your eyes, snow that would hurt your palm each time you used them to take some support to climb steeper slopes, now that would enter your shoes making your toes go numb, snow that we loved watching on the mountain peaks was now at our feet.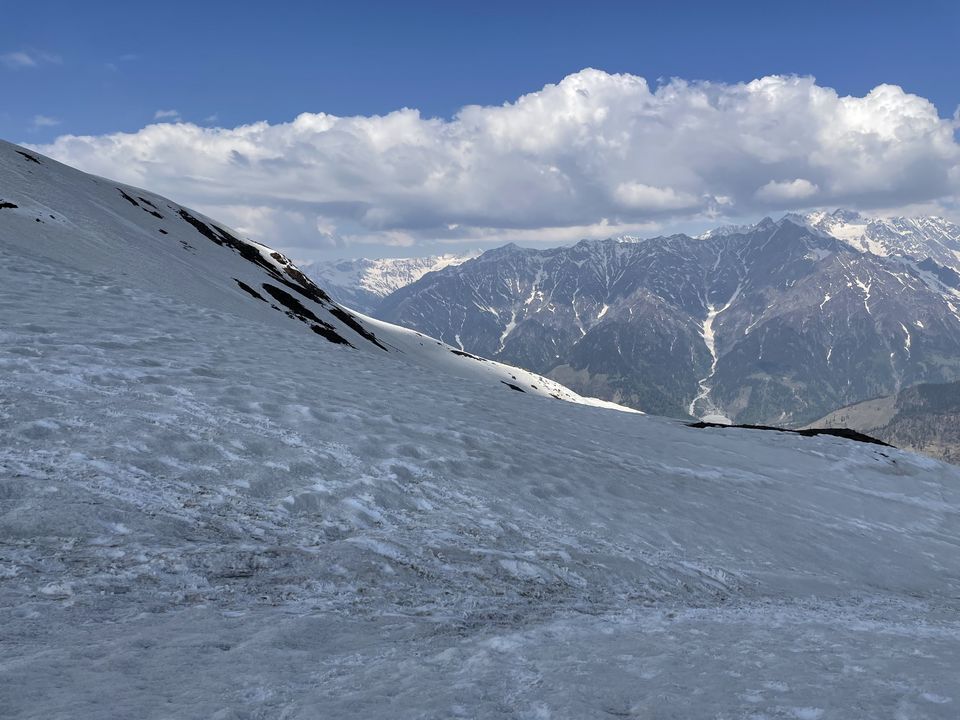 Weather was in our favour in general, it was very sunny at the beginning which helped us gain good speed initially but they say `pahadon mein mausam ka kuch keh nahi sakte`. It suddenly became cloudy and dark and then there was snowfall. For many of our group members, it was their first snowfall, which got them excited and motivated to trek ahead but the increasing cold started taking toll on everyone eventually. Thankfully, the sun showed up again in a few minutes, relieving us. As we trekked further, the air started to become thinner, wind started to hit us, legs began to give up and then there was just one question 'aur kitna baaki hai' (how much more?). The guide tried to keep us motivated saying just this slope and then there will be descend but we eventually figured he kept saying that for every slope we saw :/
But then there was this time where he said just this slope and you will see one side of the lake from the top, and we did! Oh, the energy shot up, and we were dragging ourselves as fast as we could to see the complete sight.
There it was, BHRIGU LAKE, at 14,100 ft, completely frozen.
Never seen something like that before. Never seen that blue-teal-green colour of the snow or the water.
We sat on the slopes looking at the lake and having our aloo-sabji-chapati roll. Once we had our stomach full, we descended towards the lake to touch the water and click some pictures. Some even filled their bottles with the lake water since it is considered holy. There was a small holy site at the adjacent slope where people offer prayers and offerings. The place felt very very calming.
We had to soon start our descend since the weather could get ugly any moment. While we took about 3 plus hours to get to the lake, we were promised by our guides that downhill would be way easier. The trick to slide our way through all the slopes! It didn't sound that easy considering we could hit some rocks or may be just slide all the way down to the valley. But when our time came, all we had to do was trust the guides, use our elbows to control the speed and slide all along. Yeah, it was that easy and super fun. After a point we just wanted to slide even if it were faster on foot. This for me was the highlight of the trek.
By the time we reached our campsites, our pants, gloves, socks and shoes were all drenched heavily. Just wanted to get warm as soon and as much as possible to avoid catching fever or cold. We looked around for some hot tea and snacks and maybe a bed and a pillow ;)
Today was just descend to Gulaba along the same route that we started on our first day. However, due to the snowfall yesterday, a lot of the trail was buried under snow. But with the experience we had trekking on snow, this was cakewalk. We had a few breaks here and there on the meadows, mostly because we expected some delays for our cars to arrive at the Gulaba checkpost. Within a couple of hours, we were back on the roads, sitting in our cars and looking up at the peaks thinking `we were there` !