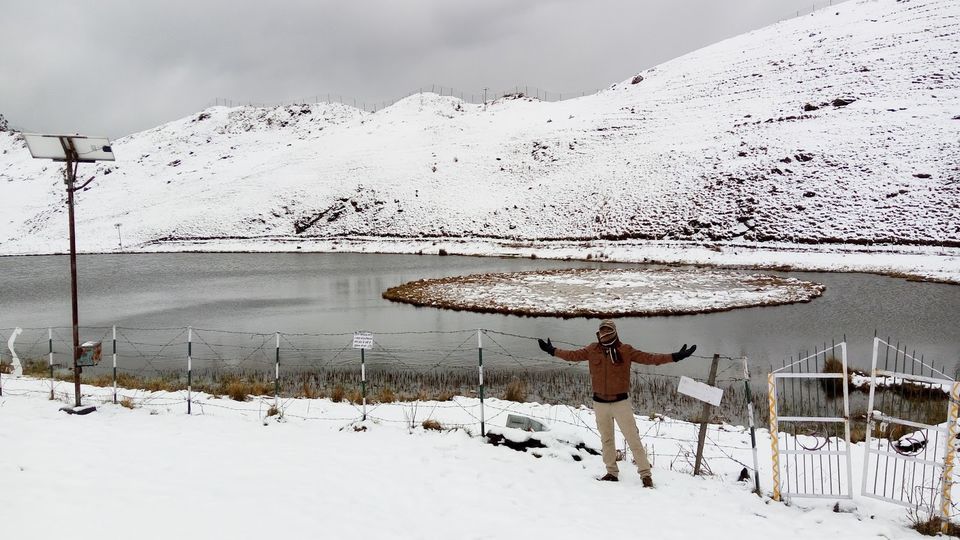 Click Here to visit my YouTube Channel:

Overview:
If a place untouched by a lot of tourists fascinates you & if you are an admirer of true natural beauty, then I would suggest you to visit Prashar Lake at least once. I had read a lot about this place, but was not really sure if I wanted to visit there or not. Finally we decided to visit the place in March 2016, which fortunately turned out to be one of our best & memorable trips so far, because of many reasons.
Location Overview:
Prashar Lake is situated 49 KM from Mandi, Himachal Pradesh, India, with a temple dedicated to the Sage Prashar. The lake is located at a height of 2730 meters above sea level & it is considered quite sacred to the Sage Prashar and he is regarded to have meditated there. The temple was built in the thirteenth century and legend says that, it was built by a baby from a single tree. Prashar Lake also has a floating island in it and it is said to be unclear how deep it is & divers were also not able to determine its depth.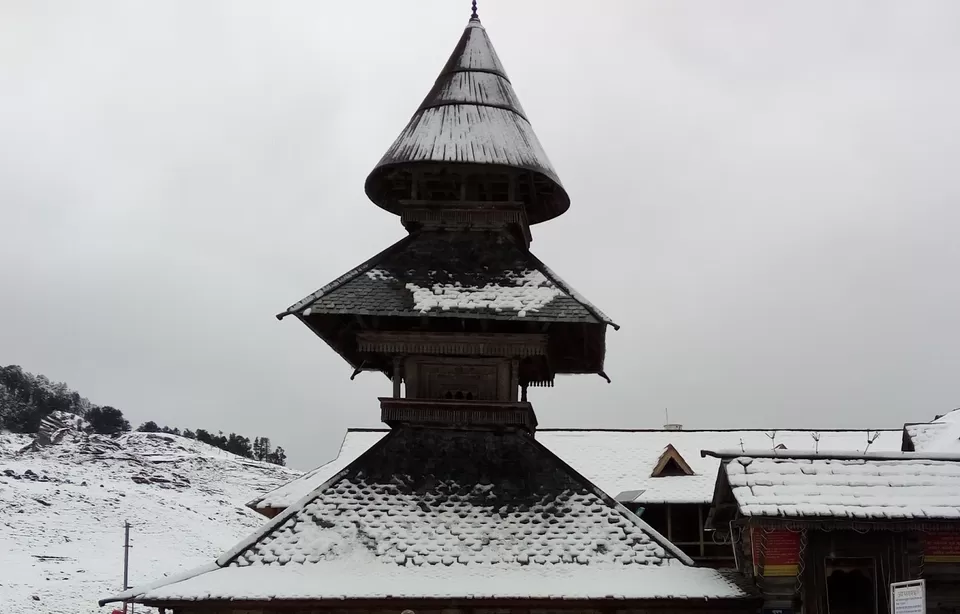 How to Reach:
The nearest city is Mandi, from where you can take a cab till Prashar Lake. Here is how you can reach Mandi through different mediums:
- Bhuntar Airport at Kullu is the nearest airport, 60 km away. Taxis are available from Kullu to reach Mandi.
- Joginder Nagar is the nearest railway station at a distance of 50 km. It is well connected to Chandigarh by rail. Most major parts of the country are connected to Chandigarh by rail. Taxis are easily available from Joginder Nagar to reach Mandi.
- Mandi has excellent road connectivity. There are regular buses to Mandi and private operators connect Mandi to most major towns in the state like Manali, Palampur and Dharamsala.
- You can also go by your private vehicle, but I would suggest you to avoid going till Prashar Lake from Mandi during winters when snowfall happens, as you may get stuck in snow during that time.
Our Drive to Prashar Lake:
We as usual, left Delhi at 4 O'clock in the morning to avoid city traffic started our drive from NH1 till Ambala. There are many Dhabas on the way, where you can stop by, to have some delicious food. After Ambala, our next milestone was Kiratpur Sahib, from where we took turn towards Bilaspur & Sundernagar, which finally leads to Mandi. We had some breakfast at Mandi and then started our drive towards Prashar Lake.
The place that we saw on the way from Mandi to Prashar Lake are really like heaven. The roads are narrow, but the surroundings & valleys are amazing, which force you to stop by and just admire the beauty of nature. We also stopped at few places, took pictures and then moved towards Prashar Lake.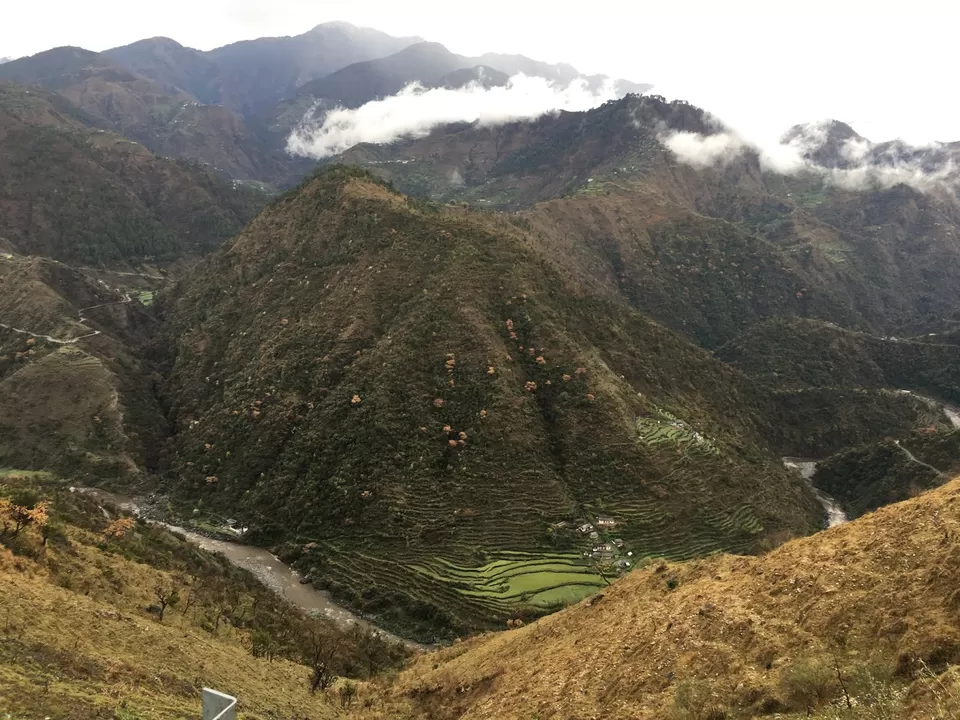 The drive till Bagi village is fairly easy, but the 10 KM road from Bagi to Prashar Lake is in quite bad shape. At few places, it is extremely narrow, covered with mud & stones, which gets really slippery during rainy season. You need to have some experience of driving in hilly roads, before driving here. It obviously took time for us to reach on the top, but just before 2-3 KM, another surprise was awaiting us. Snowfall had started in that area, just before 1-2 hours & till the time we reached on the top, the hills were starting to get covered in snow.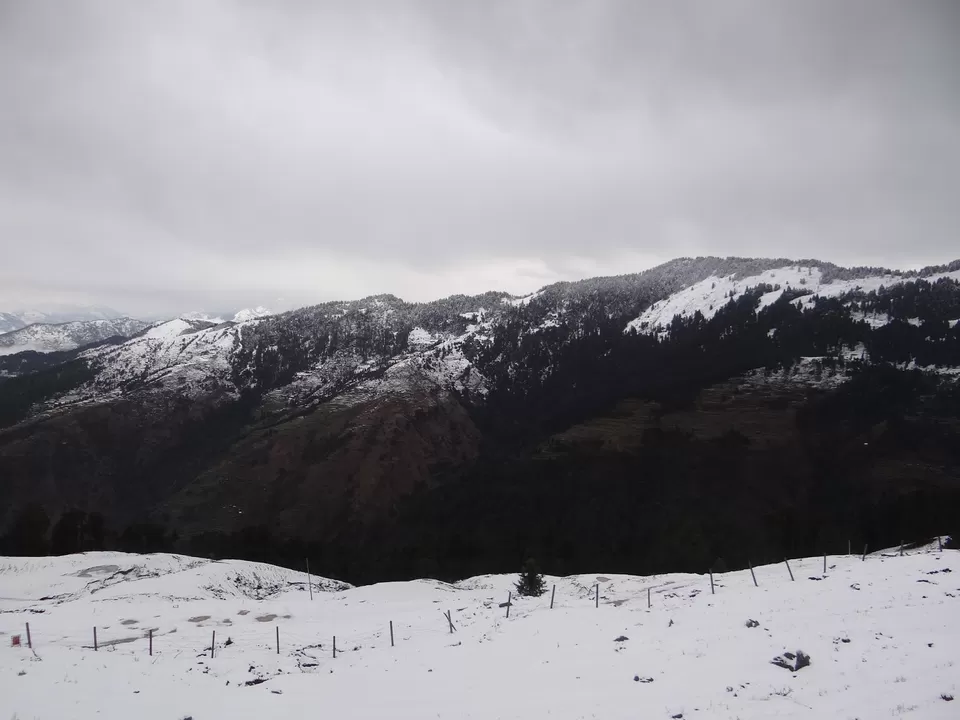 As you can imagine, the view was simply amazing. Our organizers also met us on the way & we started following their 4x4 Jeep, on the road. We were driving on that road and taking pictures/videos of the snowfall. We finally reached on the top and got some soup to warm ourselves up.
Heavy Snowfall & Cancelled Camping:
The snowfall started to increase when we reached there, therefore we had to abandon the plan of camping, which we came here for, as it's practically not possible to camp in that much snow. Our organizers arranged a room for us in the government guest house instead, which was approximately 500 meters away from Prashar Lake. You can book a room here by calling at the DFO Office Mandi or RFO Office Kataula & numbers would be easily available online. We also tried booking through calling on these numbers from Delhi, but they confirmed that the bookings would start on April 01st.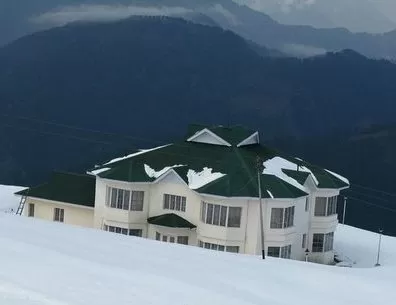 We didn't really expect this much of snowfall up there & therefore we were not dressed accordingly, but after reaching there, first thing that we did was, wearing as many clothes as possible. After getting ready, we started walking towards Prashar Lake & although it was just 500 meters away, it still felt like miles away due to snow and slippery pathway. Before we could reach the Lake, the sun went down and it was all dark. We had no other option but to go back to the guest house after taking very few pictures.
Bonfire & Overnight Snowfall:
The organizers had already started the bonfire, when we reached guest house & sitting by it was the best thing that we had in that weather, as the snowfall was just increasing by the time. We initially took a lot of pictures in the snowfall, as that was something we don't normally witness, being from Delhi. But later on we realized that this was not going to stop for a real long time.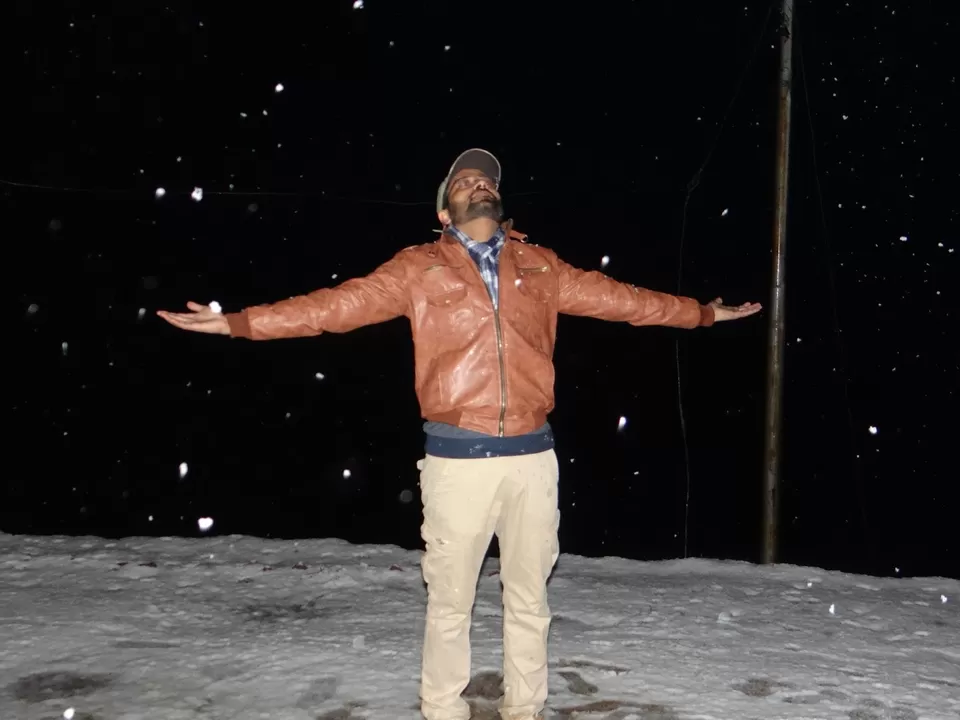 It is not easy to explain the feeling that we had at that time. We were just feeling lucky to witness such weather in the month of March, when we normally don't see snowfall. It was so beautiful, that after certain time, when we did not have anything to do or say & we were just sitting by the bonfire and staring at the snowfall. There was a jeep parked over there, which got covered completely in snow in front of us & that obviously gave us another idea for another round of photo-shoot by it, later in the night. We finally decided to take nap by 2 o'clock in the night, as we had a plan to visit the Lake in the morning.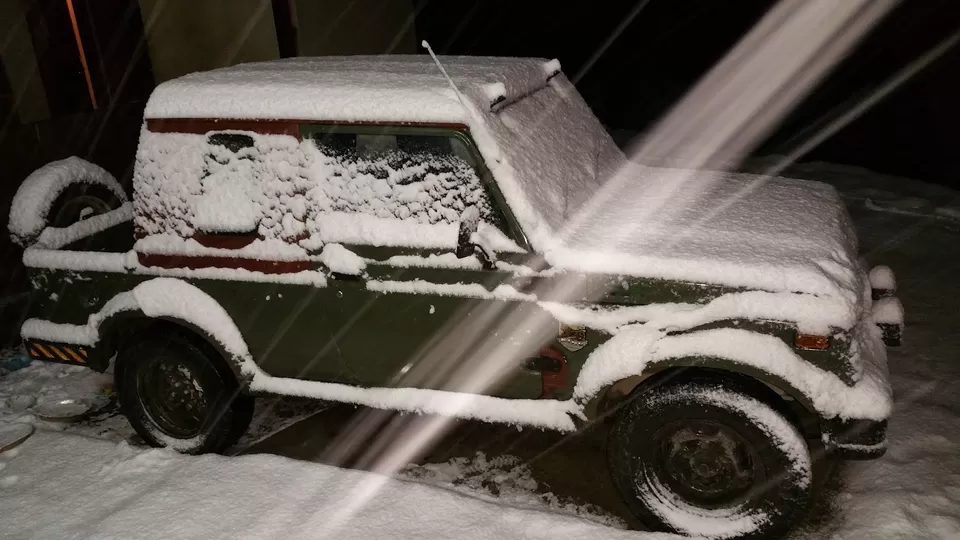 The Lake & Surroundings:
I wake up at 8 in the morning and one of my friends, KB was already up at that time. We immediately got ready, without even brushing our teeth and bathing. It was pretty simple, just get yourself covered in clothes and go out. We were 9 friends, but apart from two of us, nobody was feeling like visiting the lake, as it was freezing cold outside & let me mention, snowfall was still happening, so only KB & I decided to take a tour of the place. It was amazing to walk on the path covered in snow & chilled breeze was hitting our faces. It was so cold outside, that the battery of our DSLR got frozen and the camera stopped working, so we had the only option of taking the pictures with our phones. The path was not really defined, but we could see the Lake from far away, so we just walked down in snow wherever we found a space to walk. It took around half an hour for us to reach the lake from the guest house & let me tell you friends, however the weather is, never miss out the opportunity of visiting the Lake when you visit this beautiful place, like our other friends did due to the freezing conditions & they regretted on their decision later on, when they saw our pictures.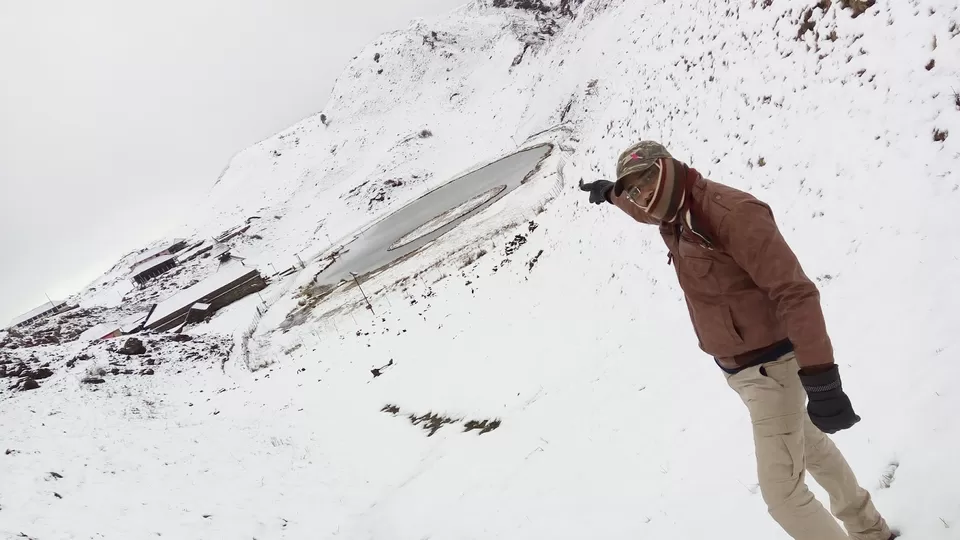 The landscape around the Lake is quite hypnotic & mesmerizing. The Lake is not really big in size, but the view of 360 degree surrounding & the environment make it more so. There is the famous floating island in the middle of the Lake, which keeps on changing it's place. We also saw the temple of Sage Prashar, which is built from wood in a traditional manner. We wanted to go into the temple, but we were not brave enough to take off our shoes and walk on that floor covered with Snow. But later on we found a way to go to one of the places, from where we could have the view of the temple from inside, so something is always better than nothing.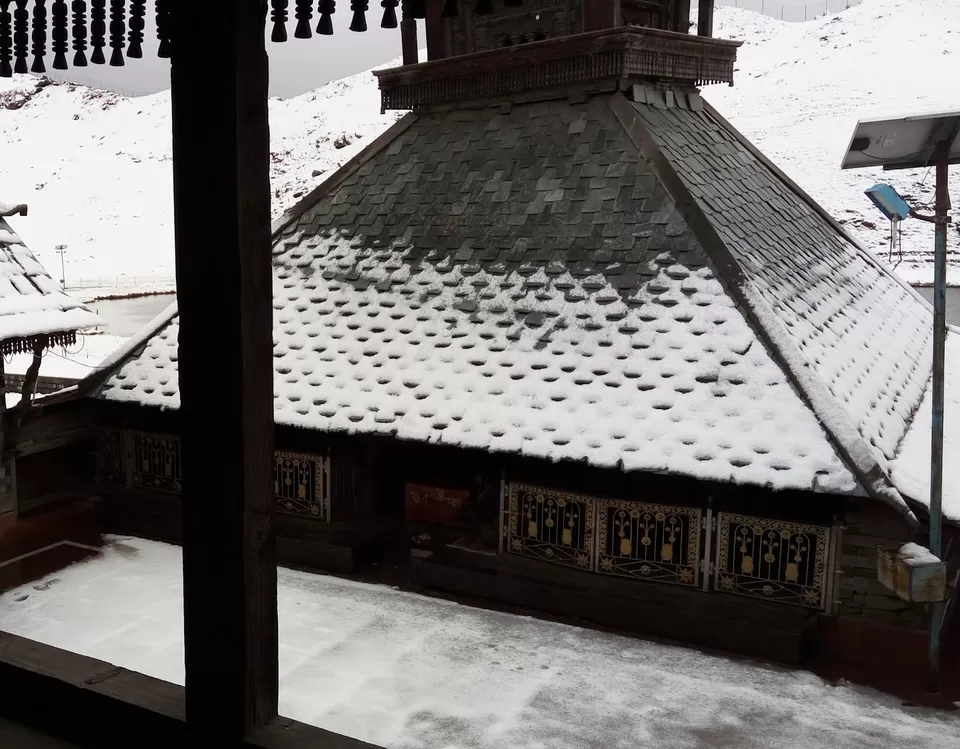 There are few Shrines at the same place, which are economical as well, but don't expect the luxury treatment here. You will get the bedding and blankets from the Shrine management i.e. local villagers, with the sleeping arrangements on the floor. The shrines are not built from concrete, but just raw mud bricks & wood, which would give you the feel of being a part of the village life. There is a small shop as well, where you can have tea, snacks etc. & the reasonable price is the best thing that you get here, as I have been to many similar places and generally they charge extra for the services on such isolated areas, e.g. price of one cup of tea is just Rs.10 here.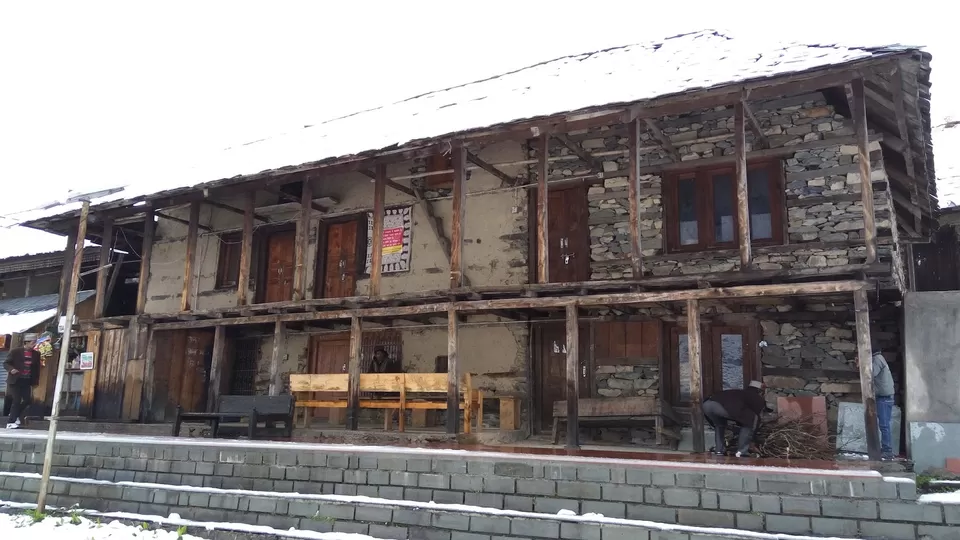 There is also a small hotel, few meters away from the Lake, where you can find eatables and food at reasonable prices. You would need to climb a bit for reaching here and it takes merely 10 minutes from the Lake.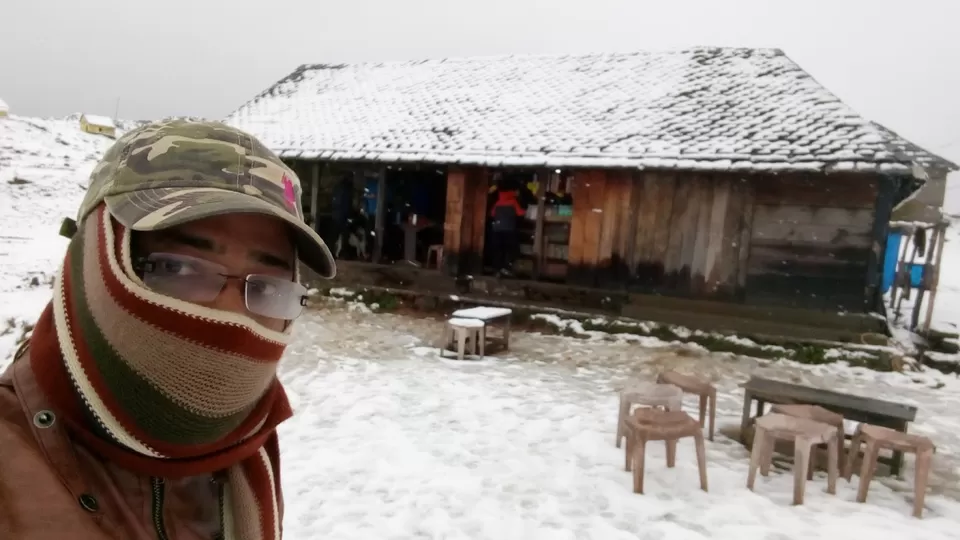 Finally it seemed like, we had explored the whole area, so we started walking back to the guest house.
The Adventurous Drive on Snow Covered Roads:
I think it was approximately 2 hours, since we were away & after reaching the guest house from the Lake, everyone was up & dressed already. They also wanted to visit the lake, but our organizers asked us to start driving as soon as possible, as the snowfall had stopped and they were afraid that we could get stuck if the snowfall started again, our poor friends therefore could not visit the Lake. So we quickly had our breakfast of tea & butter toast and got ready for the drive. The organizers had a 4x4 jeep & apparently they were well trained for driving on the situations like this, so they asked us to follow the marks of their jeep on the snow, but it is not as easy as it seems to be. The tyres were badly skidding on the road and using the breaks was the biggest mistakes a person could do on such roads while driving. There were few very sharp turns on the way, where the organizers had to help us for driving, as it was extremely dangerous at those specific areas. Anyways, it took a lot of time for completing that adventurous 2 KM drive, then the snow started to vanish from the roads & we started driving with better speed.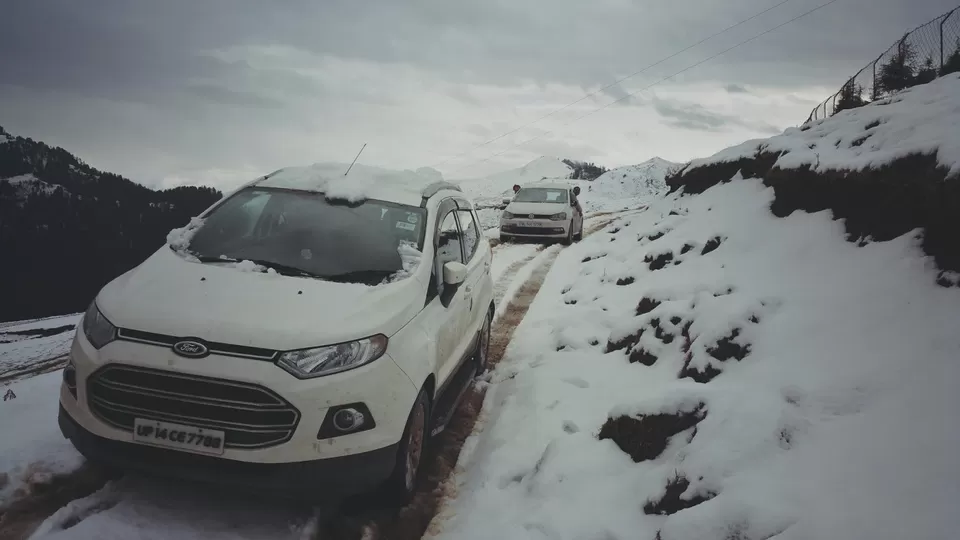 Conclusion:
By reading this article, you can have a fair idea, if you want to plan a trip to Prashar Lake. Time of visit just depends on what sort of surrounding you are interested in, i.e. snowy or greenery & both have their own pros. As we could not complete the camping part on the Lake shore, so would surely visit here again somewhere in August to complete rest of the trip & would also love to see, how this place looks like in the season of spring. Will share my experience with you after the visit as usual.
Hope this article helps you in planning your trip to Prashar Lake in the best possible way. Please let me know if you have any questions for planning your trip & I would be more than happy in helping you out.
And please don't forget to click here to FOLLOW me for more updates on my upcoming trips.
Until then, stay tuned.
Cheers!!
My Other Articles:
- Triund: Amazing Trek, Hypnotic Panorama & A Pleasant Surprise
- Bir-Billing: Ultimate Destination for Paragliding in India