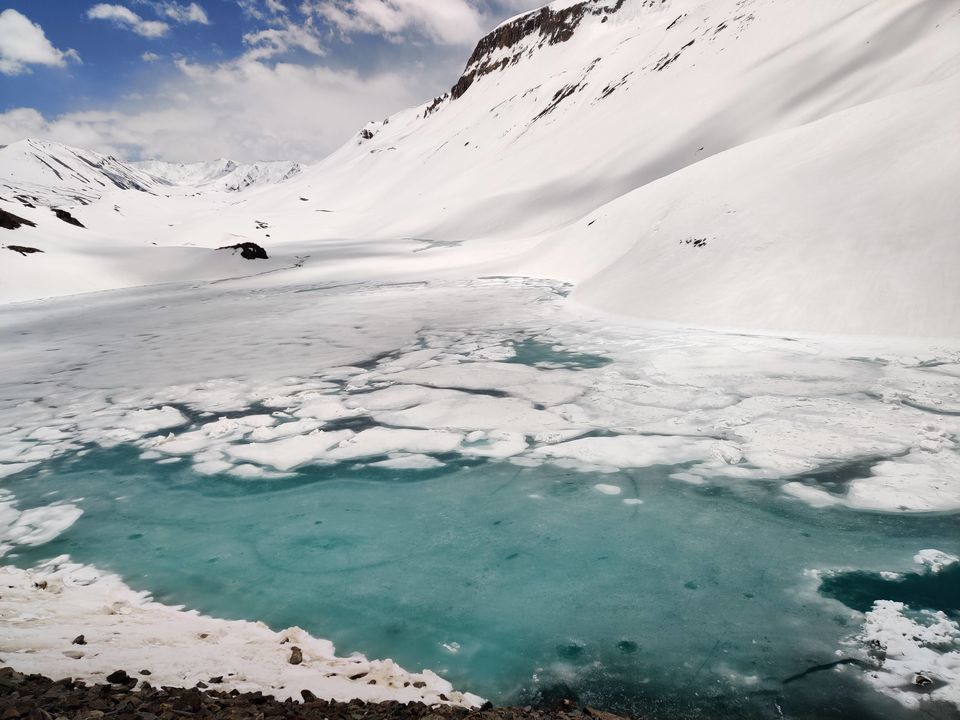 Ladakh, a place I wanted to go since very very long time and finally I made it this year along with my 10 friends and this trip turned out to be most memorable trip with most mystique views we all have seen till date. This whole region has beauty which the words can not even describe,no camera can ever capture, that can only be felt and seen- memories will remain with you forever. So, let's get started with my experiences of this wonderful trip of 11 days.
We booked our Ladakh trip through one agency. They made all the accommodation and travel arrangements. We all were coming from different places to Delhi, to start of our journey. We took our bus from R K Ashram, Delhi to Manali. We reached Manali on 15th June around 11 am. We rushed for the hotel, fresh n up quickly to explore the beautiful hilly city Manali.
Manali
Manali, itself is very beautiful. It seems to be in valley with lush green Devdar trees and surrounded with beautiful snow capped mountains. The moment you will be in Manali, you will start feeling that these mountains, trees and greenery wanna share their own story with you. One can feel so fresh there. The air, the beautiful weather and everything which you can feel is so mesmerizing, however I was not aware that this feeling is just been started the rest of the journey will unfold even more to me, every new thing will be more mesmerizing, an ineffable beauty. We went to Hidimba Devi Temple, Mall Road for local shopping and had tasty momos :P. We sat by just random local chai shop and had great warm chai and Maggie.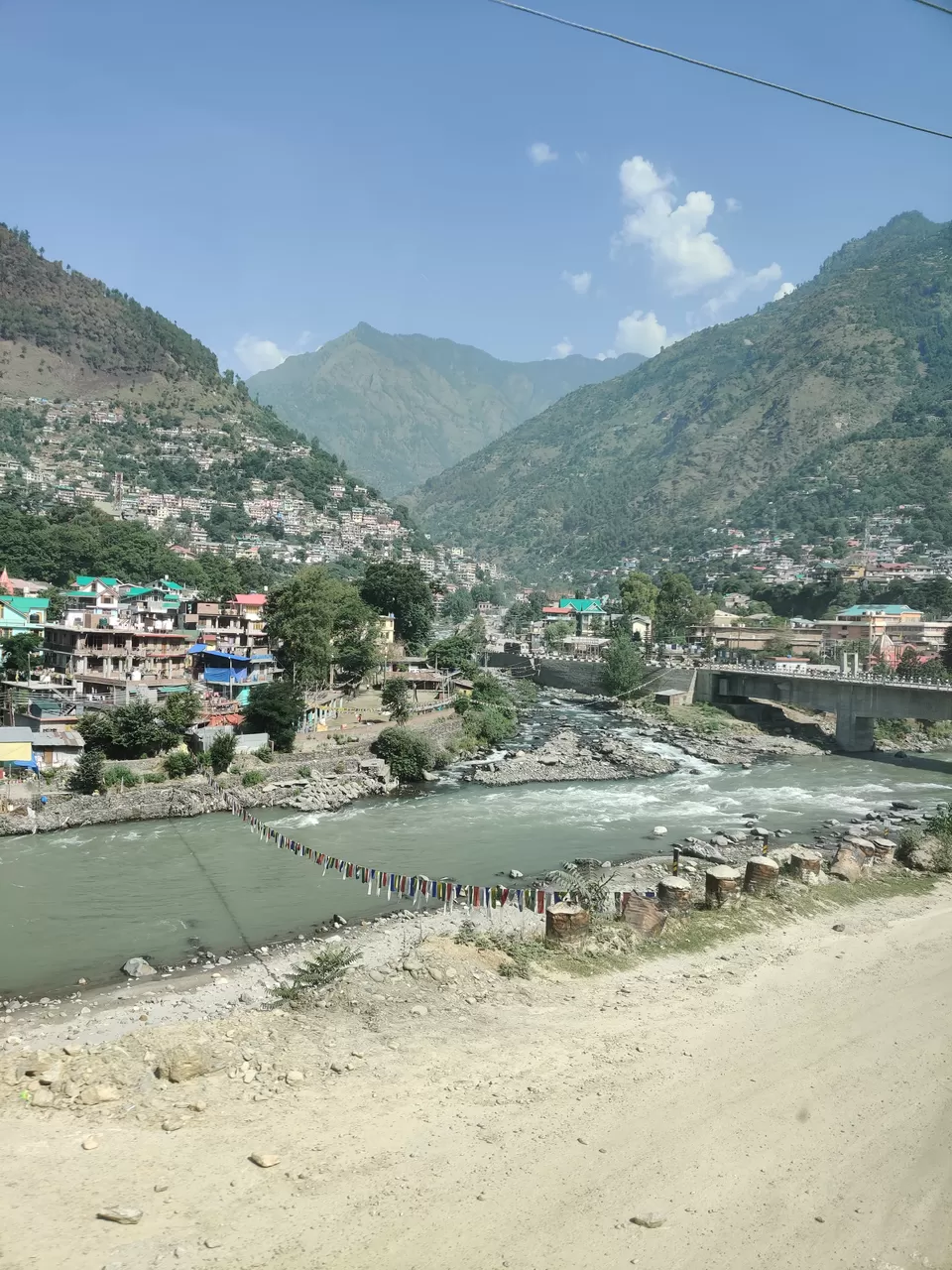 Manali To Jispa
Finally, 'the day ' has came and we were about to commence our dreamy bike ride to Ladakh. Our instructor gave us all the briefing , do's and don'ts for the rest of the journey.
So, for this day we had our stay arranged at Jispa which is around 140km from Manali. We started our journey, and as closer we were moving towards Jispa, the today's attraction of Rohtang pass was coming even closer. After a ride of around 1.2 hours we were at Rohtang Pass, we saw the snow rocks for the very first time in our life, the whole view was majestic and damn beautiful , however, we couldn't take any picture on the pass, as it was advised to not stay much there as well as we all were feeling too cold. (P.S. This year there was snowfall till the month of June). Then we moved ahead to Khoskar Post, where we saw the whole waterfall frozen, first time ever. We were amused to see everything , coz we were seeing this much snow for the very first time. At Khoskar, we had some snacks and refreshed ourselves for rest of the journey.
As we started further, more greenery was waiting . We were riding alongside of Chenab river. The whole way was very beautiful. We halted at Tandi, and filled the petrol in our vehicles, as it is the last petrol station till Leh. We reached Jispa around 6'clock .
Here in Jispa, our accommodation was in tents, and the location was really wonderful, as it was between many mountains rather snow-capped mountains along with river 'Bhag' flowing along the camp side. The host were really warming, they gave us tea and served really hot dinner and arranged a warming 'bonfire' for us which was the actual requirement, as the temperature in night fall for -2 degree. Friends, it was bone chilling cold, however, "Picture abhi baki hai"...as the further destinations were colder. For the month of June, it was after many years that snow fall was continued, and we were not that prepared mentally for that as it was not the usual/ forecasted weather.
Jispa to Pang
Here we are moving further on our journey, although we don't know that 'today' would be the most adventurous day of our trip and we would be reaching a place, a destination which we will be never ever be able to forget.
Guys, we started off our journey from Jispa at 7:30am, as our team marshal had suggested to start early to avoid the more water source which we might come across after more sunlight.The views were getting more and more mesmerizing, however after driving for merely 20kms we find a huge water-source locally called as 'Pagal Nala' , we were really cautious but still not able to save our gum-boots and water was inside. We moved forward, crossed the base camp of 'Zing-Zing Bar' and suddenly saw around 80 vehicles were there struck(because of some snow melts, huge stones were there on the road). Army and BRO came into action and after an hour they succeeded and the road was clear. However, we utilized our time fully and clicked many insta-worthy pictures there. :)
We moved forward for Baralacha La pass. We got struck at many places as the snow was too high(nearly the height of fully loaded truck), rather it was damn cold even in the bright sunlight our hands were almost numb. But, the views were full paisa vasool, clean and beautiful. However, when we reached at Baralacha La Point(precisely Suraj Tal), we got awestruck coz we were lucky enough to get this beautiful view.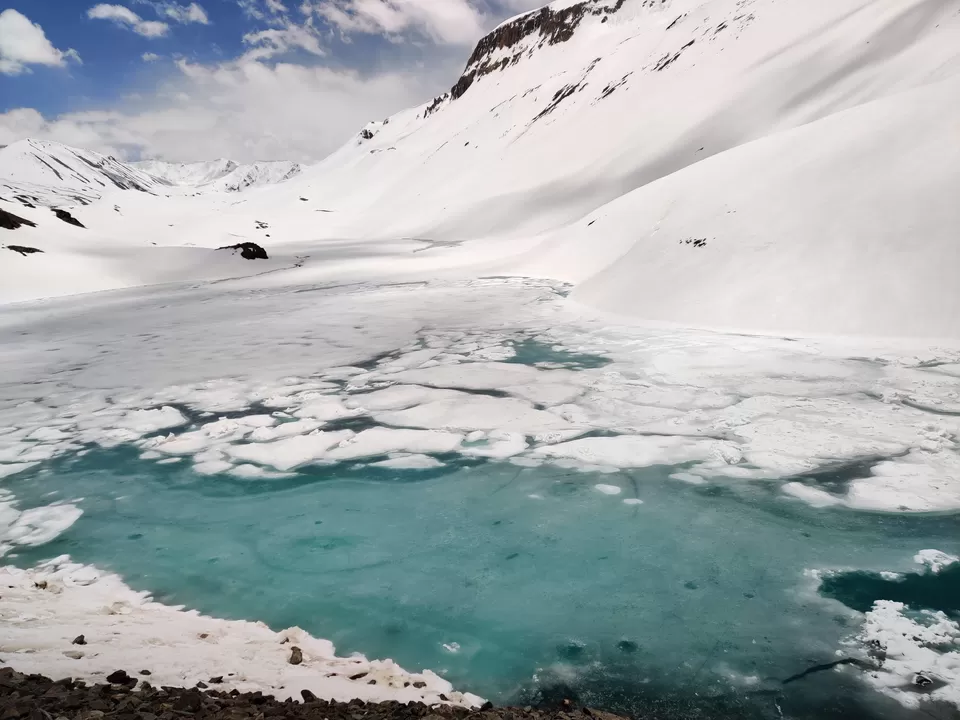 However, the moment we reached Baralacha La, slight landslide also started so we did not get enough time to be there and immediately we moved forward. Now we have started feeling bit change in the terrain as well as our body senses. On the way few of our friends suffered with AMS(Acute Mountain Sickness) as altitude was high and oxygen becoming deficit, so we approached towards one army base camp just before Sarchu. They were given first-aid over there. We reached Sarchu around 2:30pm. The winds were chilling even in the bright sunlight. We grabbed a quick snack/lunch over there and moved as our stay was arranged at Pang still more than 80kms from there.
Now the terrain, mountains and views were really different and roads were nicer till the end of Gata Loops(21 hairpins bends).While ascending Gata loops, we actually felt that we are going higher and higher may be towards paradise. We crossed Lachung la pass, Nakeela Pass and keep driving towards Pang. Suddenly we felt that roads are really in very very bad condition. The bikes were actually losing the balance, but we saw the most mesmerizing views of our life there, the mountains there were different,they were actually giving the feel of some sand or mud mountains. The whole surrounding was of some reddish brown in color, and we saw many(literally many) small waterfalls or something frozen, even some drops were actually frozen in air.One might get the feeling that those are some frozen waterfall fruits on that huge red colored mountain tree. But we could not take any picture, as we were too tired and mentally in rush to reach our today's accommodation as we felt we are stranded. After a drive of almost 3-4 hours we reached Pang around 7-7:30 pm.
Pang Continued..
Pang, world's second highest Army Transition camp, a small town of hardly 10 houses, basically all the houses are motel and provides a comfortable stay, the beds were really cozy and of their own style. The motel-owner and their staff were really sweet and provided us honey tea of some local delicacy, thupka and khichdi. They took ultimate care of us . The next morning, when we got up, almost everyone among us were suffering with acute headache, sign of AMS and then suddenly we saw huge snowfall, which could be a cherry on cake, however we could not enjoyed that as we had headaches and we were seeing that our trip to Hanle is in danger, and after the snowfall of around 2 hours we called off our trip to Hanle and continue to enjoy at Pang. Once you will be in Pang, you will feel like you are at Mars(as surroundings seems to be muddy-reddish brown in color), snow capped mountains at one side and no vegetation all around. One might get the feel of being stranded in nowhere, or may enjoy the views of clear sky in the night, however it will be chilling cold may be -5 or more and this place is highly oxygen deficit so better be hydrated.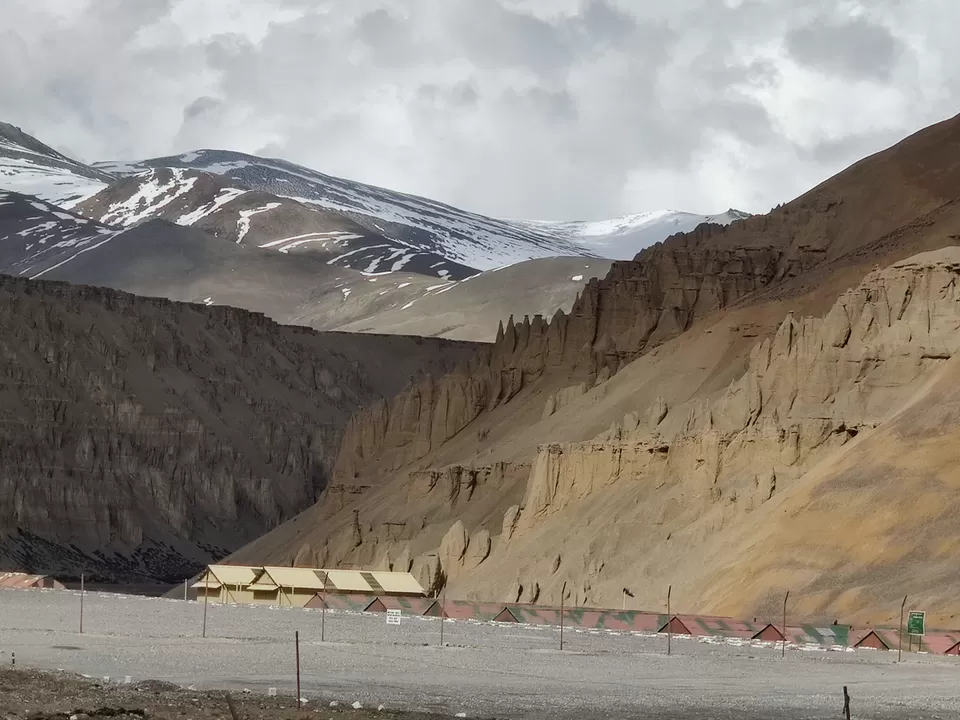 Pang to Pangong Lake
The next morning was bright and beautiful and we started for Pangong Lake directly, a ride of 330km. On the way we crossed More Plains, Tanglang La Pass. Seen the origin place of Indus river and had the awesome paranthas at a dhaba at Upshi. We again started riding and crossed Chang La Pass as well. Snow at Chang La Pass highest point was really high. Even we faced a small snow avalanche as well. We had a halt at Dubruk and had amazing maggie n tea again and started the dream ride towards majestic and mesmerizing Pangong Lake. Be cautious, as it will be fully off-road ride for few kms, however the moment you will get the first sight of Pangong Lake, you will get to know what actually love at first sight means. Our accommodation was right in front of lake so we just soaked ourselves in that view and had amazing tea, followed by warm dinner. However the place is damn windy, you need to take care a lot. We clicked amazing photographs there and had time of our life time there. In the early morning when we had the glimpse of that place we felt that we are in heaven. We wanted to spent more time there however now the time had arrived to bid bye to Pangong and to head towards, Nubra valley.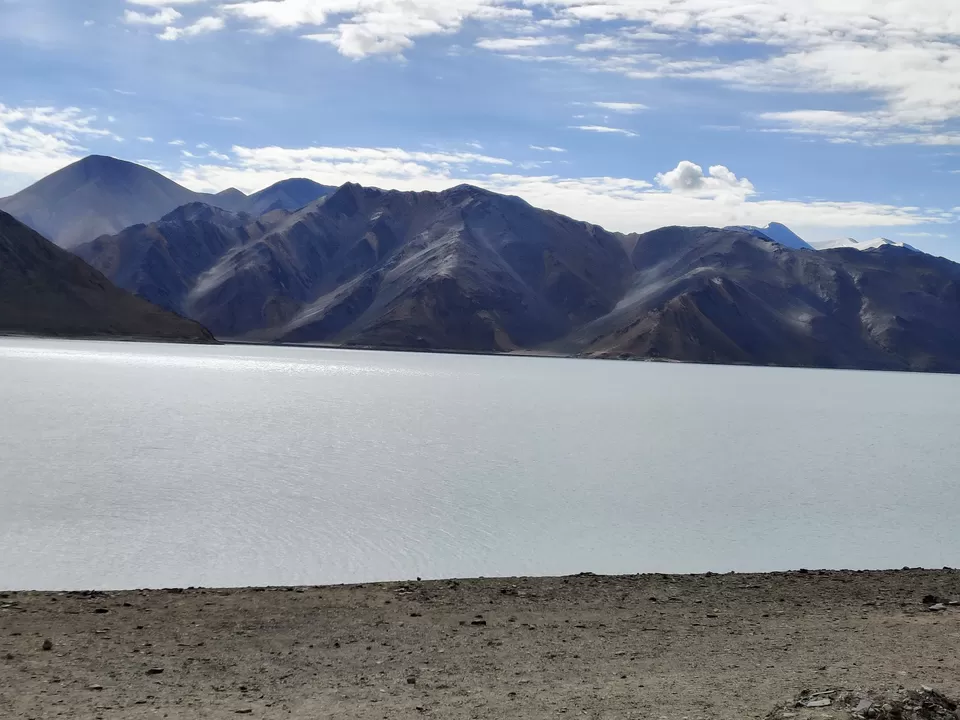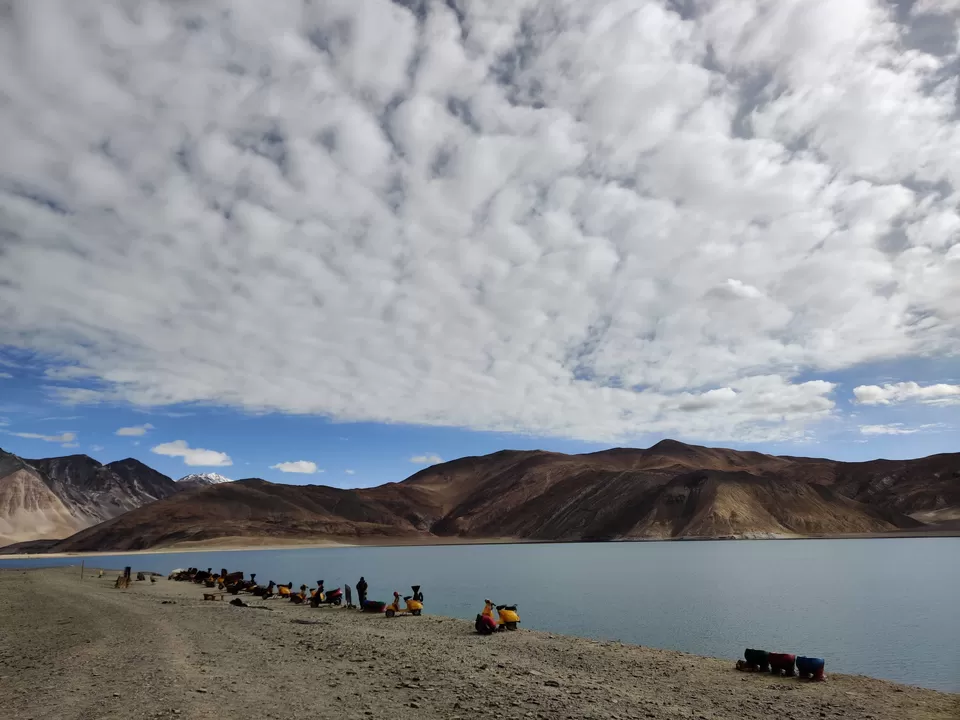 Pangong to Nubra Valley
We started around 8:30 am from Pangong Tso, crossing the same dhaba at Dubruk again we just braced oursleves to have view of the beauty from another angle, this time the terrain had been changed completely and the moment we are heading towards Nubra we can have a view of rough mountains with stones everywhere with dust all around. The villages were small, the roads were narrow until we did not reach near to Siachen Base Camp. From there onwards till the Thang Village the roads are nice. The Shyok river was flowing with us and were amused to know that this river is lifeline for people in this region as well as PoK region. We were lucky to see the proper sand dunes at 10000ft. The weather was warmest here since the time we had started our trip. The roads were straight and good for photography. After crossing the sand dunes and accumulating huge dust on our faces we reached Diskit Monastery, the view of Buddha statue will give immense peace and calmness. After spending around 2 hours there we headed to the desert area to have a closer look of sand at that altitude as well as the double humped camels. Today we reached our stay very early and had a walk around the place and got amused to see the mighty himalayan ranges all around. We played many games that night, as wind was little less and we were able to enjoy bonfire.
Next day we started around 8:30 again, as we had to drive 80 kms a side to reach Turtuk/Thang village- the last village of Northern most India. Now, heading towards that direction the sceneries were entirely different, very similar or may be exactly like which we have seen and imagined since our childhood for mighty mountains. On the way, there was no one, except Shyok river alongside. The roads are really clean and beautiful. On the way you may find many army camps. The last village Thang had its own uniqueness, the mountains there, were majestic, mighty and standing straight at almost inclination of 80 degree or something. The entry to Thang village is open just April 2018, prior to that no visitor was allowed to go there. We saw bunker there and the glimpse of Indian national flag there was impossible to describe, it literally gave goose-bumps. We had kawa, maggie, fried-rice and noodles there and trust me it was tastiest to have kawa there in that view. While returning we had our stay at Sumur Village, which was also very beautiful and that had some population as well. You will find some villagers as well. Our resort had a lot of beautiful flowers there which made us more to fall for the place.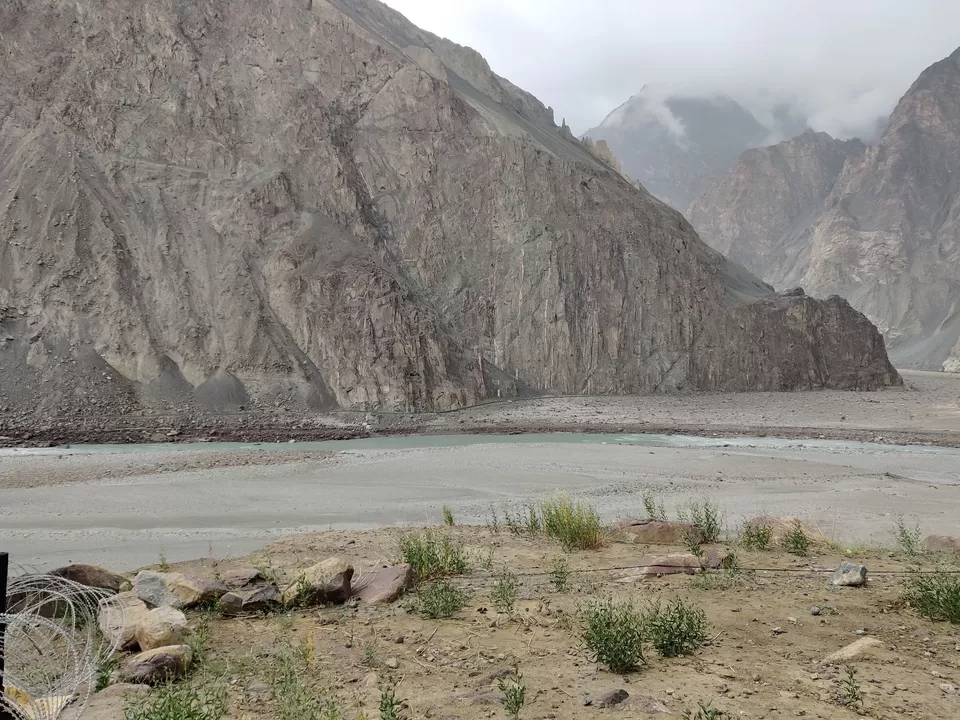 The next morning we got up and started our day trip to Leh. We just got out of our resort and drove for 2 kms and found few sand dunes did some photography. At this place if the surroundings are clean then you will be able to see the mountains of Karakoram ranges as well.
Sumur to Leh
So, after the photo session we started for Leh and today was the most awaited day, as we have to climb the mighty Khardung La Pass(world's highest motorable road). When we were climbing again the views, scenery and terrains had been completely changed, and it was majestic all again. The more we were going high more snow was visible and suddenly at the North Pullu checking area, we were asked to wait as at the highest point of pass it had snowed recently. So we were waiting there and suddenly we felt that it has been started snowing there as well. We were so happy and finally enjoyed our first snowfall(as in Pang were not able to enjoy P.S.Headache). After waiting there for 2+hours the roads were open and we started elevating however, on reaching the highest point we were not that excited as the place was heavily crowded and again the snow fall started so within 10 mins we left from there. The roads on either sides of pass are not good for 7 kms atleast. Well, we headed further for Leh and reached there by 3:00 PM. After checking in to the hotel, we had a look for the local market and then headed to Shanti Stupa for the sunset view. We had a magnificent view of the surroundings there, the whole Leh town was visible and that view is worth to remember for your whole life. Then we had a short visit to Leh Market, done some shopping and then got back to our hotel.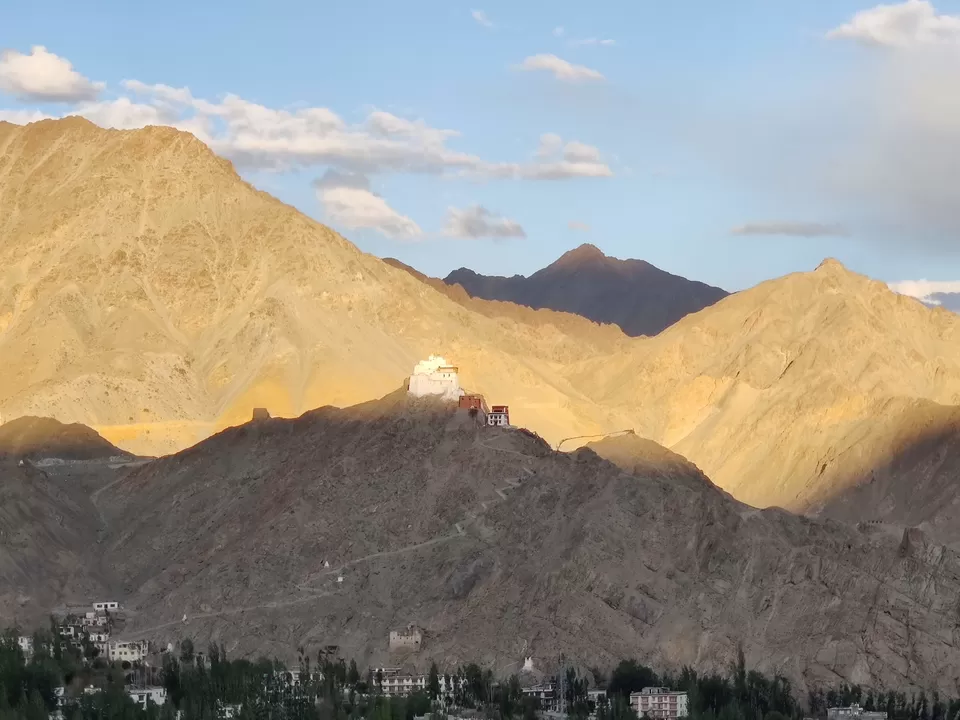 Leh to Kargil
Now, we are almost in the last leg of our journey. Today's destination was Kargil. We started around 10:00 am from Leh. Seen, confluence point(where Zanskar and Indus river meets), Magnetic Hill, visited Gurudwara Sri Pathar Sahib had lungar there. Further we saw the land of moonlight, Lamayuru Hills. Believe me guys the scenery on this route was fabulous, you will never ever forget. We crossed Fatula Pass and then saw Suru river which was with us till further journey. We reached our hotel in Kargil, which was in main market of Kargil town. This town was small yet everything was at accessible distance. Beautiful place with beautiful people.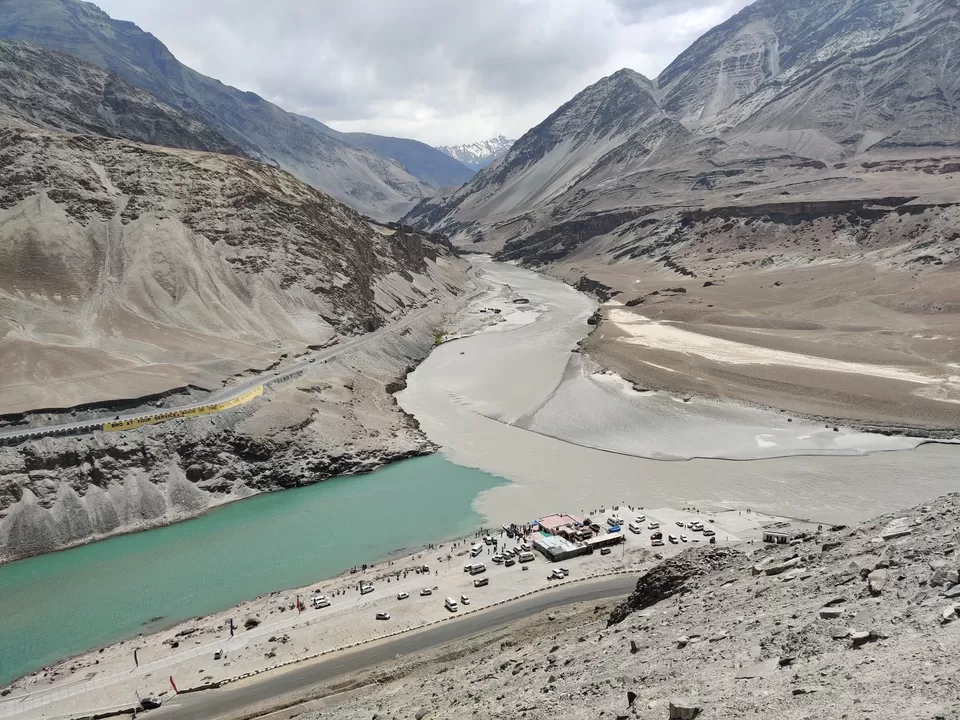 Kargil to Sonmarg
Now the day had arrived, as it was the last day for beautiful bike ride, which was going to be end at Sonmarg. We started at 8:30 in the morning and after a ride of around an hour or so, we reached at Kargil War Memorial, Drass, built in memory of our great soldiers who fought for the nation in 1999. When we visited there, there were some celebrations were going on, as we were celebrating the 20 years of victory of Kargil war. That place gave us goosebumps as well as reminded us the valor of our great soldiers.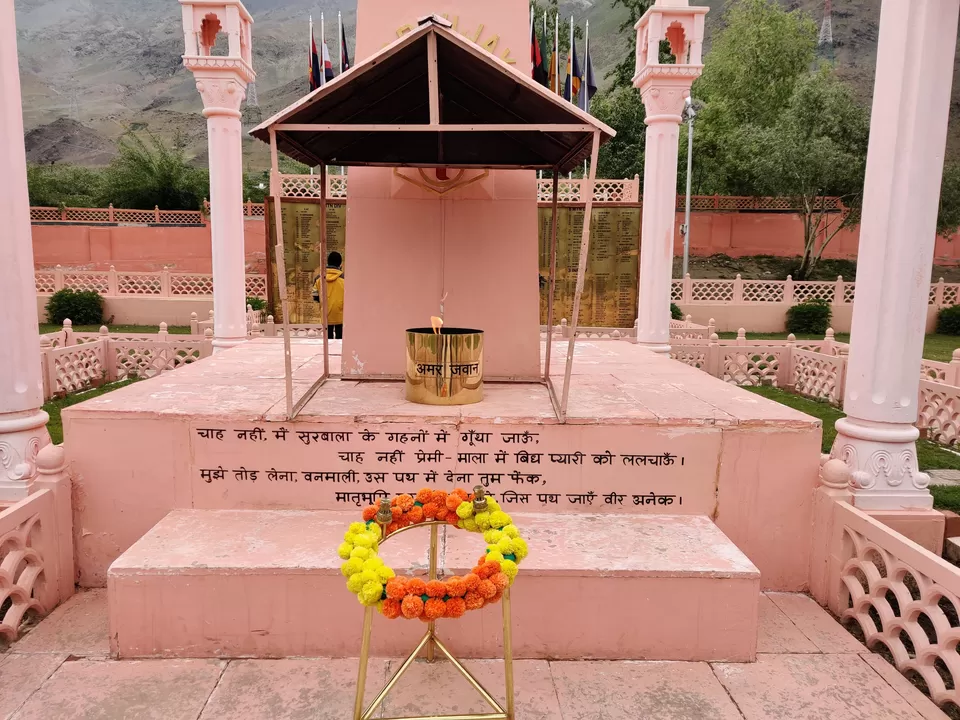 After, that we started the last leg of our journey and some final few kms ride to Sonmarg. The views on this way from Drass to Sonmarg were literally like that some scenery from all the movies has been played in the background. Damn clean and beautiful environment. The whole ride was so picturesque that one might have a break on every 10 meters. We crossed one of the most dangerous road of the world, Zojila Pass and then just before 20kms from Sonmarg town we got struck in huge traffic, around more than 400 vehicles would be there on the road. It was so exhaustive as well as we got very late to reach Sonamarg. we reached Sonamrg's hotel around 4:30 Pm. we just checked in our beautiful hotel rooms, quickly fresh'n'up and went straightway for horse ride to a huge glacier which is locally known for many shootings for famous bollywood movies.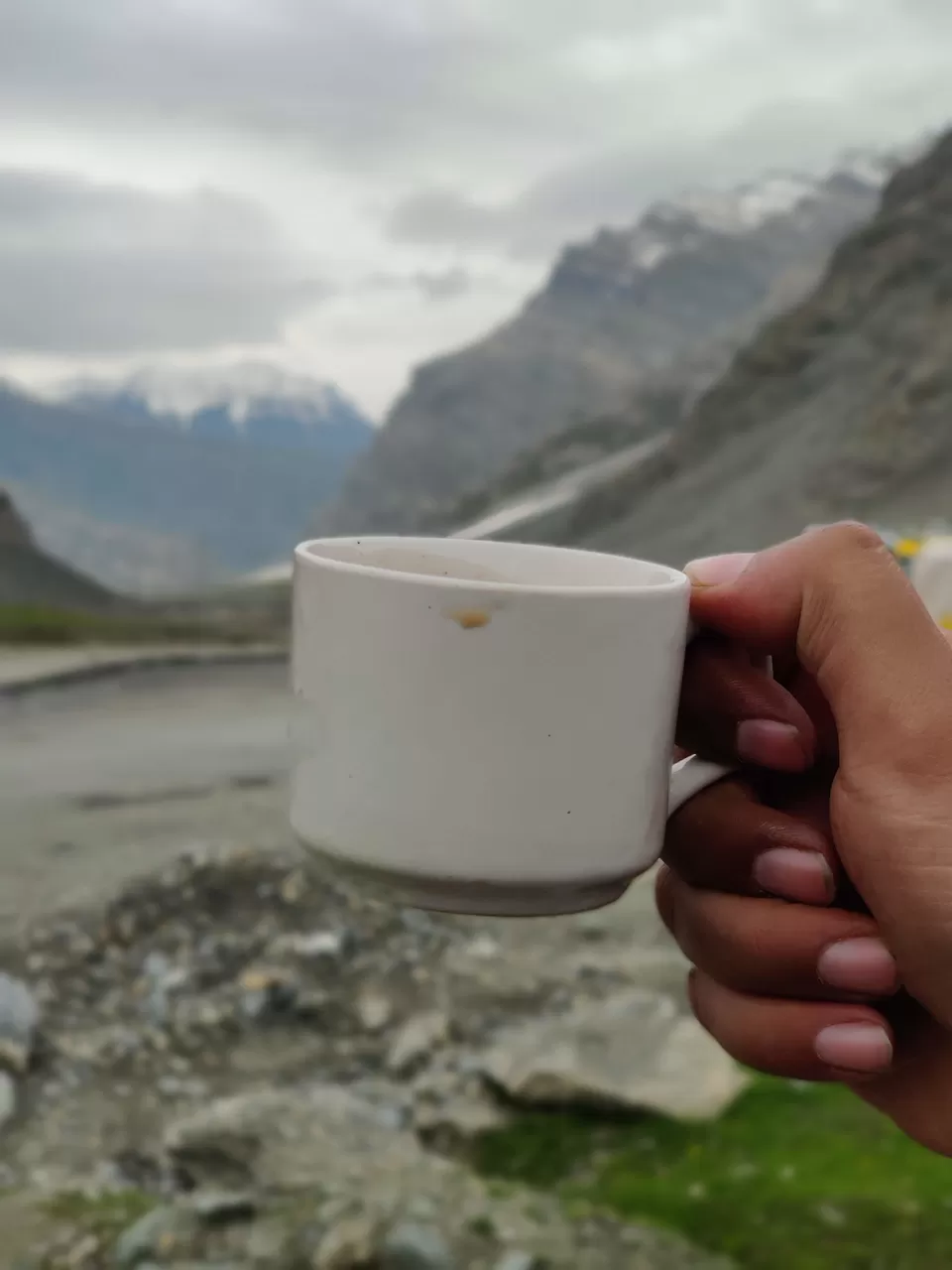 Guys, you will not believe how beautiful Sonmarg is, almost a untouched place. It would definitely bring down your Europe's expectation to ground reality that we have a such a beautiful destination in our own country.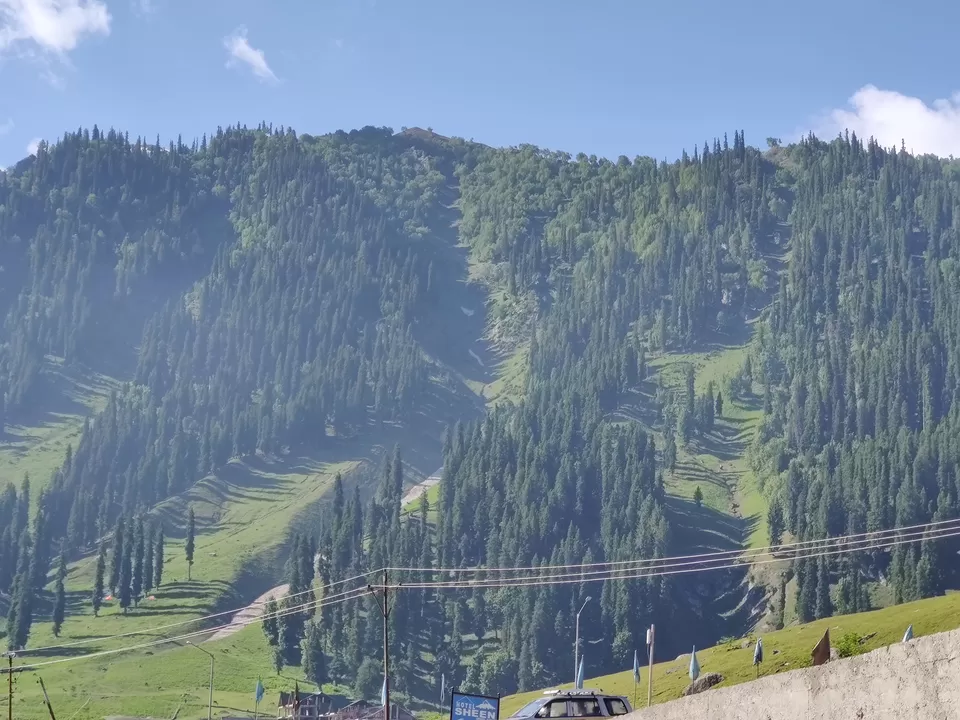 Sonamarg To Srinagar
Today was the actual last day and with very heavy hearts we bid our bye to Sonamrg and proceeded towards Srinagar as we had our flights for the respective locations from there, however the bonus is we had whole day in our hand to roam around in Srinagar. We reached Srinagar around 11 am, then visited Dal lake, had a beautiful ride on shikara and then visited Mughal Gardens, which was actually the last destination of our beautiful long journey.
So guys, here we have come to the end of our unforgettable journey. Some pro tips are:
1. Please carry the BSNL Postpaid sim, as network will not be there for other service providers after Manali.
2. Stay hydrated as much as possible and have light meals.
3. Go for a bike ride if and only if you are passionate about it, otherwise after few days it might become little boring as you will not be able to take much photographs of yourself(you know what I mean).
4.Avoid littering as much as you can, and usage of plastic too.
5. Be mentally as well as physically prepared for the trip in advance as this trip will remain with you forever.
6. Be prepared for some last minute plan changes because of weather or any unforeseen reason.
Till then, bye from me and keep planning for your next expedition. Keep travelling! Keep enjoying! All the best!