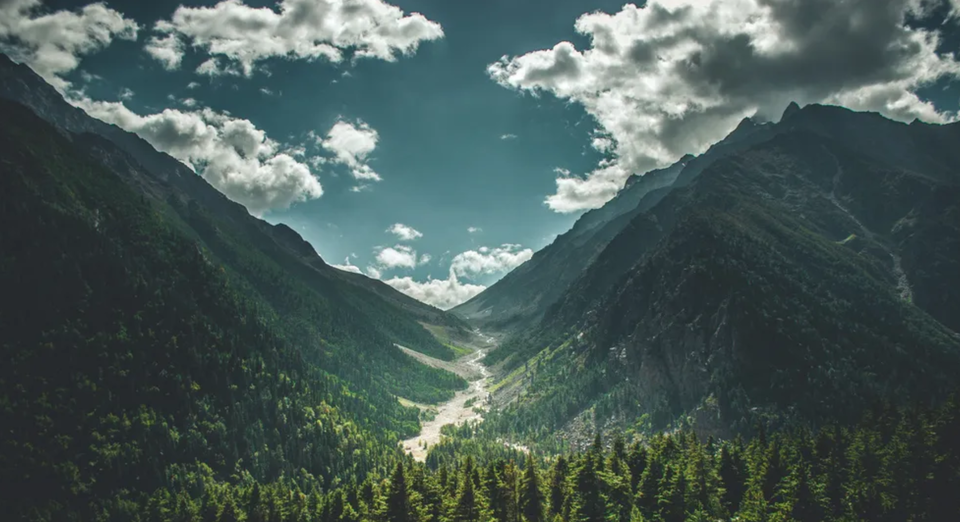 Baspa Valley is a river valley supposedly named for the Baspa River. It is located in the Himachal Pradesh district of Kinnaur, India. Sangla is a significant town in the Baspa Valley, and the valley is commonly referred to as the Sangla valley. Chitkul, Karchham, Batseri, and Kamru, the old capital of Rampur Bashahr, are neighbouring villages. The Baspa river is a tributary of the Sutlej river, and one can reach the Baspa Valley by deviating at Karcham, which is located in the Sutlej valley.
In contrast to the Spiti valley and the Hangrang region of Kinnaur, the Baspa valley is a verdant paradise in the midst of mostly arid mountains. Fruit-laden orchards, cedar-covered slopes, and flower-covered meadows characterise the Baspa or Sangla valleys. The Bhojpatra tree is abundant in the Chitkul area.
Baspa valley is a land of blue skies, the rushing Baspa river, towering peaks, deep valleys, apple orchards, and a fusion of cultures. It is a destination for those in search of genuine peace and soul-calming solitude far from the madding crowd.
Fort Kamru is an additional landmark in Baspa valley. As Gandhi once stated, "the soul of India resides in its villages," Chitkul, Raksham, Sangla, Kamru, and Chansu are the soul of Baspa valley.
Baspa valley is distinguished by its lush green valley, snow-capped mountains of the Kinnaur-Garhwal region, and melodiously flowing Baspa river. There are numerous trekking routes leading to or terminating in Baspa Valley.
The Baspa river drains the Baspa or Sangla Valley. The Sangla valley derives its name from the Sangla village. It is Kinnaur's most romantic and beautiful valley. This valley contains the historical village of Kamru (Mone). Multiple passes link the Baspa valley to Garhwal.
Along the southern ridge of the valley are the passes Burua pass or Buran Ghati (4,578 metres), Kimilay or Khamilogo Pass (5,151 metres), Borsu Pass (5,360 metres), and Lamkhaga Pass (5,360 metres) (5,284 mets.). The famous Har ki Dun valley is reached by the Shimla, Kimilay, and Borsa Passes. The Tidong valley is without exception the district's most rugged glen. It is commonly referred to as a "scene of savage grandeur."
Other noteworthy Kinnaur valleys include the Wangpo or Bhadha, the Gyanthing or Nesang, the Pejur or Leppa, the Kashang, the Mulgoon, and the Yula. The small wooded valley of Bhabha contains the district's largest settlement, namely "Bhabha."