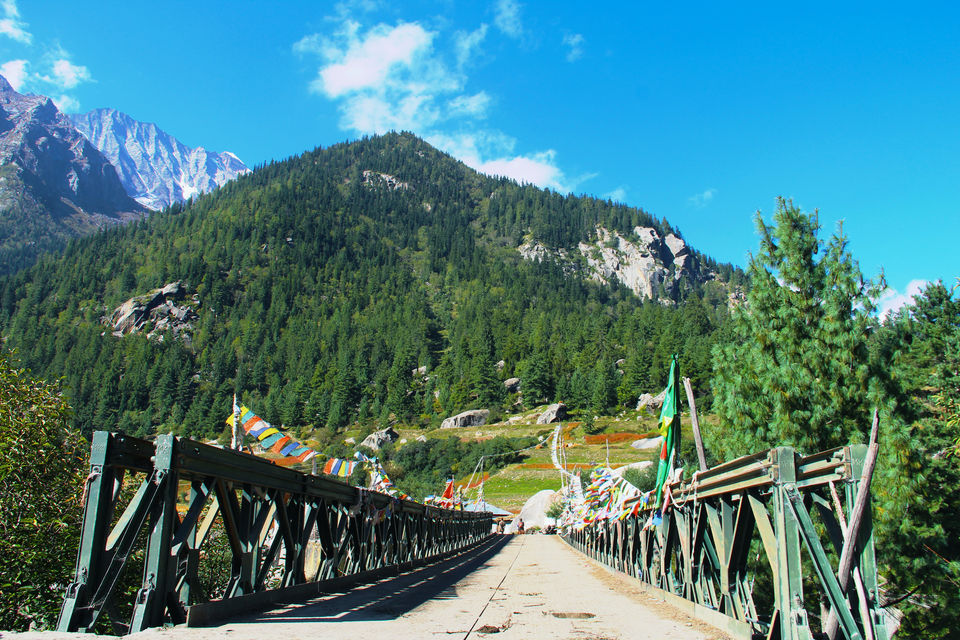 Day 1: Delhi-Chandigarh-Shimla-Narkanda
Distance: 404 Kms
Travel time:10 hrs
We started our journey from Delhi at 8:30 am and reached shimla around 5;15pm. The Route from Panchkula to shimla was nostalgic as it was bringing our childhood sweet memories of staying here over six years.
Shimla:Is the capital and largest city of the northern Indian state of Himachal Pradesh. The major attractions include the Viceroy Lodge, the Christ Church, the Jakhoo Temple, the Mall Road and the Ridge, which together form the city centre. The Kalka–Shimla Railway line built by the British, a UNESCO World Heritage Site, is also a major tourist attraction
After reaching shimla in evening we went for the market stroll. Visited the city centre ,had some snacks and took some photographs and headed to our hotel "Pahuna Upvan" located on outskirt of Shimla by 8:30 pm and reached by 9:30 pm.
Pahuna Upvan: A standard accommodation hotel. The finishing of room interior were amazingly done to give a luxurious feel. The room was on second floor and hence had an atic space for extra bed with amazing view outside. The staff of hotel were very warm and were serving us with hospitality beyond the fees charged. Yummy dinner was served. Not known to many but definitely a place to stay while you are in Shimla.
Crashed on the sight of bed and woke up early morning at 6:00am
Day 2: Shimla- Narkanda- Rampur- Sarahan- Sangla- Rakcham
Distance: 304 Kms
Travel Time: 14hrs
This day was one of the longest travel day as we were suppose to drive 14hrs with in between sight seeing time
Our first pit stop for the day was Narkanda
We were gorging on dinner as this was our most difficult run up until later of 14hrs, Few bad stretches of road and a long long journey. The food was yummy again and now we knew that days onwards will feed us well..
We were hearing sound of gushing flowing water just nearby and it felt as if it was flowing just below us.... We never knew what the morning was to offer !!!! But nature always give positive surprises!!!
Day 3: Rakcham-Chitkul-Rakcham-Sangla-Karcham-Reckong Peo-Kalpa
Distance: 76 Kms
Travel time: 8 hrs
The morning in Rakcham was a pleasant one. There i discovered one more tendency of mine: I can wake up at 5:am to explore the beauty of landscape & the same doesn't apply when i return the city of my livelihood
Rakcham: A village mostly not known and falls between Sangla (16kms) & Chitkul(10)kms. People travelling to this place generally stay in Sangla or Chitkul but not many stay in Rakcham. We also were not aware about this place much while planning . But idea of staying outskirts in such travels is much better than in commercial zones.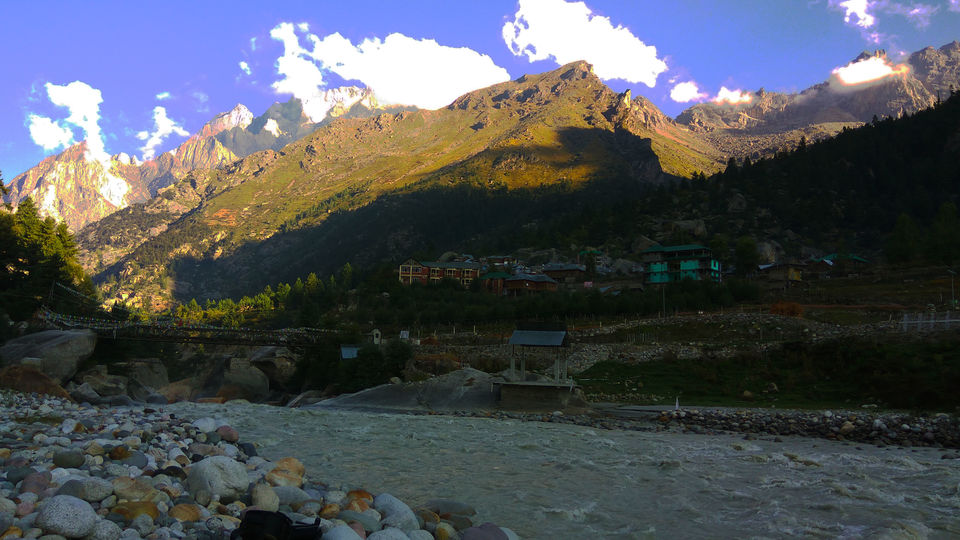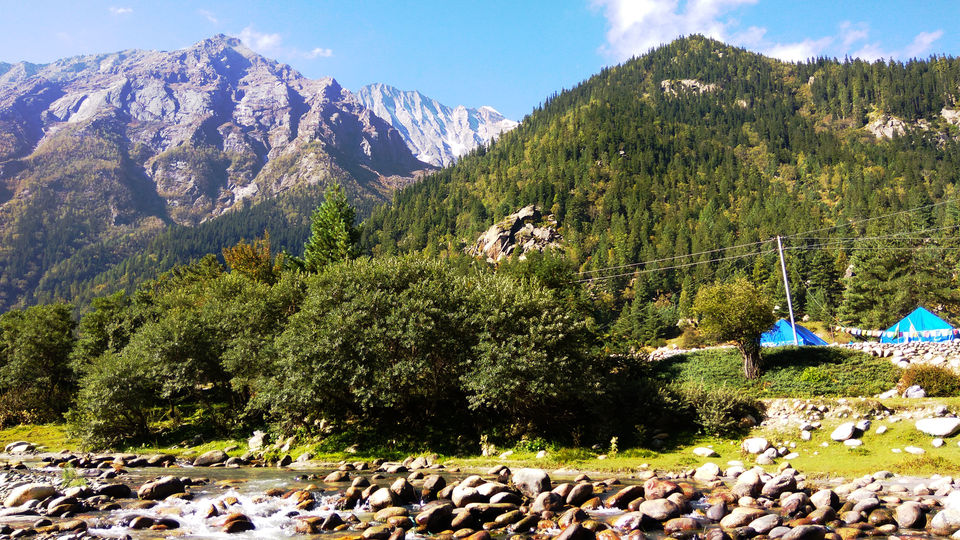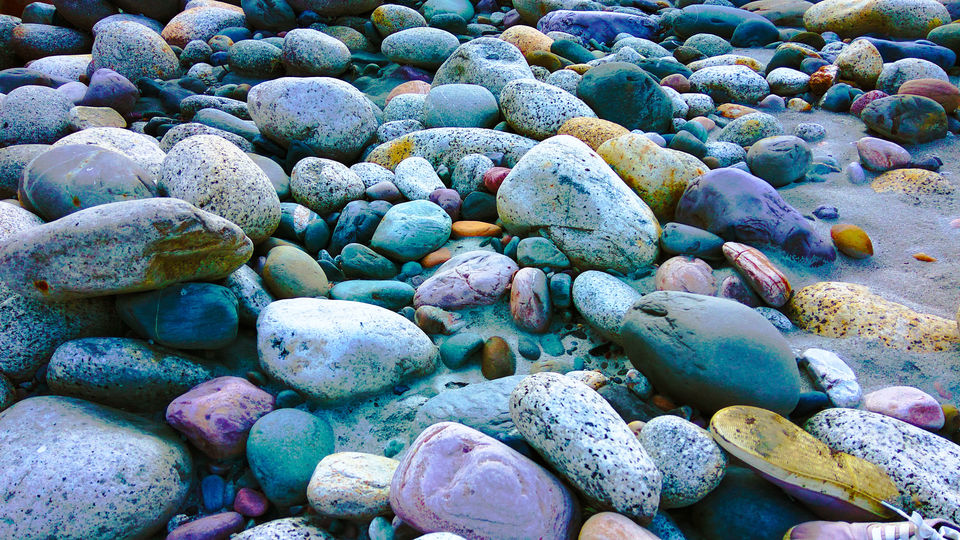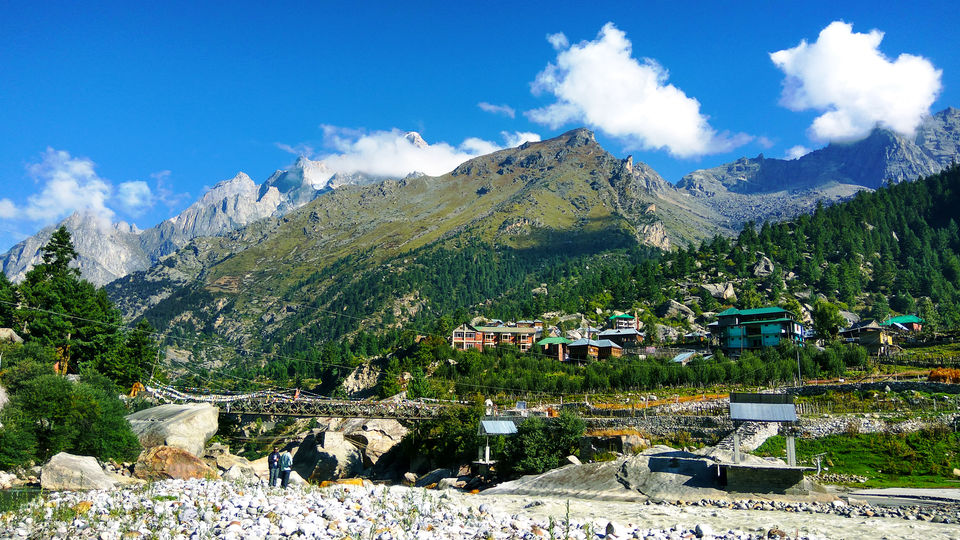 There is a temple situated named Taranda Temple. Every vehicle crossing this route offers prayer before proceeding ahead. People here believe that if they do not follow this ritual they will get stuck in the route. And who wants to get stuck in the most deadliest of path with no network and people around. So do the necessary and proceed.
We visited Bhima Kali Temple. This temple has ancient roots. According to a legend, the manifestation of the goddess is reported to the Daksha-Yajna incident when the ear of the Sati fell at this place and became a place of worship as a Pitha - Sthan. Presently in the form of a virgin the icon of this eternal goddess is consecrated at the top storey of the new building. Below that storey the goddess as Parvati, the daughter of Himalaya is enshrined as a divine consort of Lord Siva.The temple complex has another three temples dedicated to Lord Raghunathji, Narsinghji and Patal Bhairva Ji (Lankra Veer) - the guardian deity. The Architecture of this place is a mix of Hinduism & Buddhism with delicate wood works
We headed towards sangla crossing in between Wangto, Karcham ( The famous Karcham Wangtoo Hydroelectric Plant is a 1,200 megawatts run-of-the-river hydroelectric power station on the Sutlej River in Kinnaur district of Himachal Pradesh, India). River Sutlej was running parallel throughout with creating beautiful gorge and it is at Karcham that the Sutlej and the Baspa rivers meet. " The Blue Meets the Grey"
From Karcham Starts the road described as the Truckers most difficult road.Kinnaur road will astound you with its cliff-hanging drives and dark narrow holes. A tiny mistake, and you will splash into the Baspa river that will take no time to swallow you. The valley road remains closed during heavy snowfall. If you ever get a chance to pass through this way, please be extra careful around the dangerous Taranda dhank which is infamous for claiming lives.
Narkanda: It is at an altitude of 2708 meters on the Hindustan-Tibet Road (NH 22) in Himachal Pradesh, India. It is about 65 km from Shimla and surrounded by the Shivalik Range that span a large part of Himachal Pradesh. Hatu Peak which is at 11000 ft is 5 km from Narkanda. Kotgarh is 16 km from Narkanda and famous for apple orchards. Satyanand Stokes brought the apple to this place and helped strengthen the economy of this area. A place famous for its Winter sports & dense super green forest view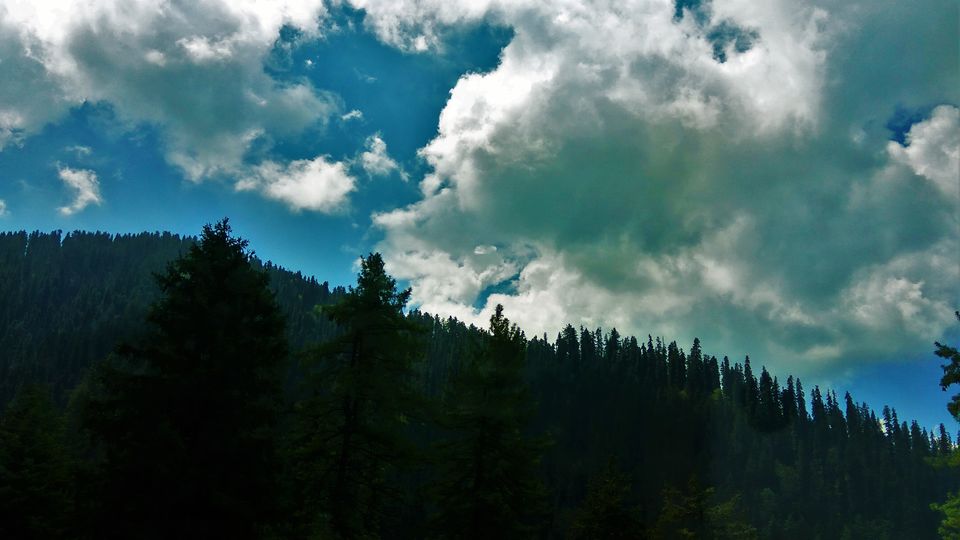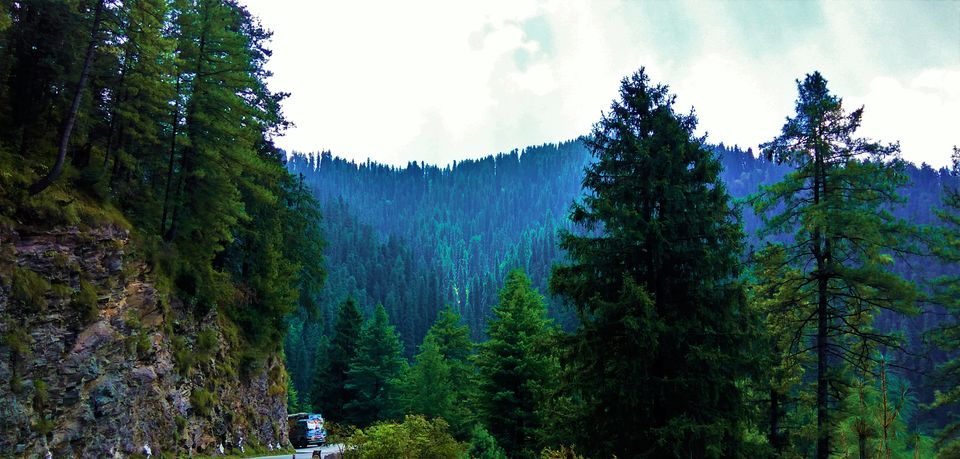 Our driver last visited this place three month ago and was hesitant to drive on this road at night time because of Road Conditions. But to our surprise BRO (Border Road Organisation) did all the job of completing almost entire stretch with bituminous road till Sangla valley. But it doesn't mean the road was not dangerous now. The narrow road hanging cliffs, falling stones has kept us awake till we reached Sangla.
From Sangla we reached Rakcham in 1hr 30 mins by 10:00pm. First step out and we felt our first chilled air flowing through.. The temperature was near 0 degree Celsius. We Hurriedly shifted our luggage to our respective rooms and asked for dinner to be served immediately.
The whether was so cold that we were getting chills & immediately pulled over our jackets, mufflers etc.
Reckong peo is the last commercial establishment of this Valley. You get good dryfruits in the market here. Try roaming around here before 7:00pm as the shop closes by this time.
We took one more hour to reach our hotel. The stay was standard again. But the view was great. In the front of balcony was the very clear view of Kinner Kailash and on all other sides were the apple orchards.
This was the last night we were to be in Kinnaur Valley . We loved everything about this places has to offer. The adventurous road , raksham , chitkul will remain in our memory forever. And we will soon plan Kinnaur vallley special travel in winter.
Read about further travel in my next blog
Chitkul: Chitkul, on the banks of Baspa River, is the first village of the Baspa Valley and the last village on the old Hindustan-Tibet trade route. It is also the last point in India one can travel to without a permit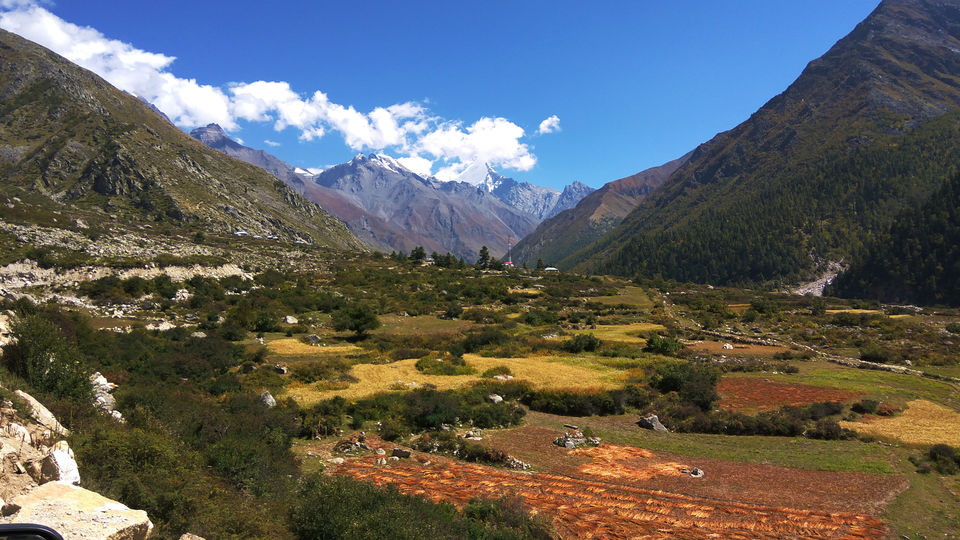 These places will bring sparkle in my eye forever . The beauty of the land is unparalleled. The People , their lifestyle ,the heritage, customs traditions is vast and strong.
I happen to travel this place by chance and not by choice but believe me when i say these places hold the beauty of Indian Geography beyond description.
People tend to travel more towards Leh, Ladakh these days due to obvious reason of being promoted through Movies , Photgraphers & Traveller across world. Even i wanted to visit Leh first and strike it off from my bucket list. But i believe i was not destined to visit Leh this year and fortunately led towards Kinnaur & Lahaul-Spiti Valley: "A paradise so beautiful that it will leave you spell bounded for a lifetime" when received a call from my sister to accompany her to this untravelled land.
I'll call this untravelled because it receives less footprint compared to the beauty , serenity, adventure and exclusiveness this land offers.
I was aware about the location but skeptical about it in comparison with Leh, Ladakh. I started searching about this place blog by blog & image by image. The more i searched the more i grew confident on my decision to travel & explore this place of dreams.
We were a group of six people ( 5 Related family member + 1 friend of same age group) deciding on the itinerary and dates for travel. The best time to travel to Spiti Valley is from July to first week of October. And i hit the jackpot with it when we planned from mid week to last week of September as two of us were celebrating our birthdays in that duration.
I never stay home on special occasions and i take this as a reason to travel more and further.
With our confirmation on location and dates we started building on itinerary.
There are two routes to this place
Route 1: Manali -Rohtangpass-Spitivalley-Kinnaur Valley
Route 2- Shimla -Kinnaur Valley-Spitivalley-Rohtangpass-Manali
We choose the second route as the route accommodates the AMS factor as the altitude increase gradually compared to first route from Manali where it increase steeply & people feel ill due to rapidly changing altitude and whether.
We found an local agency based in Shimla to arrange our stay and travel form Delhi to delhi. We booked our flight basis the closure of all the requirement from our respective places to Delhi.
After wait of One month finally the day arrived when we were to start our journey to this surreal place.
PART 1: KINNAUR VALLEY
We reached Rampur at around 1 :oopm with many photographic stops. Had lunch on road side dhaba on outskirts of Rampur.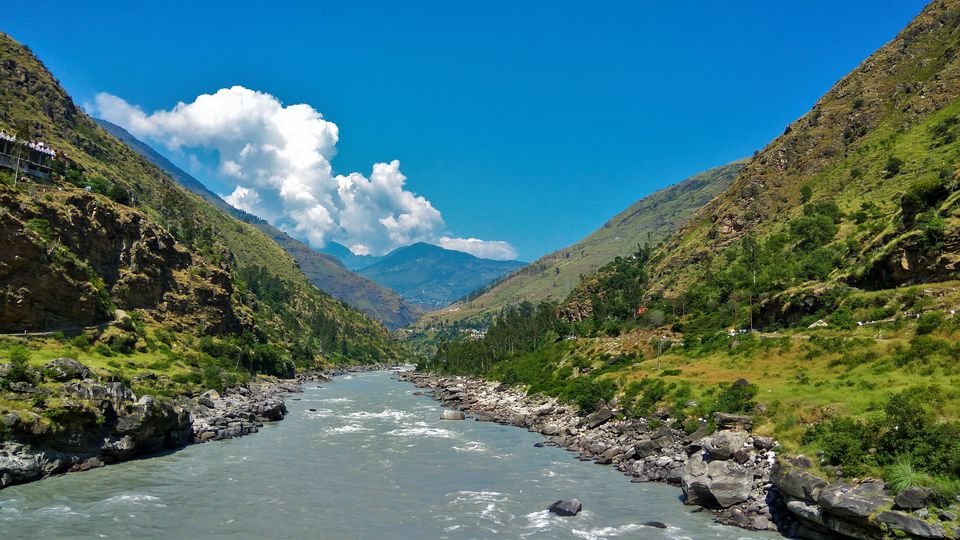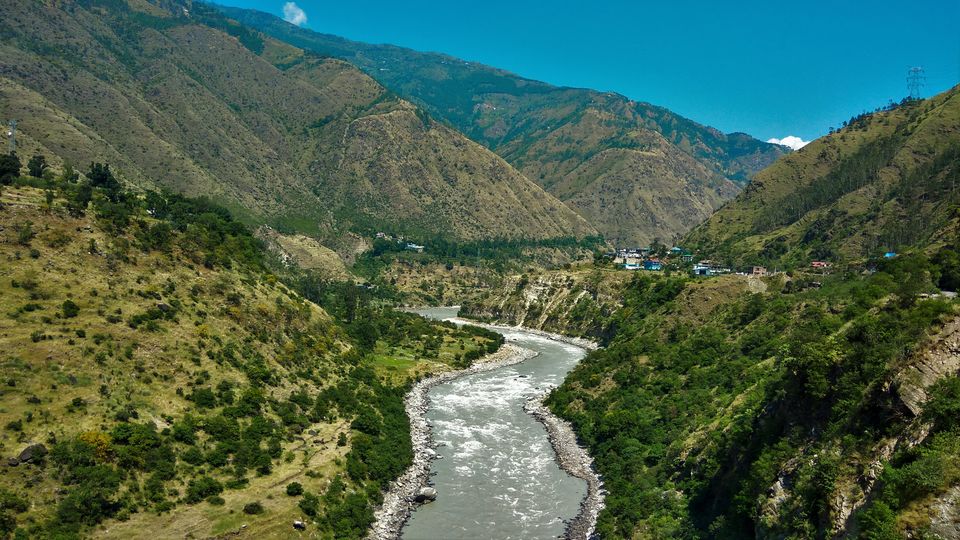 I had the warmest strange experience in this place. An old lady walked towards me and cupped my face smiled and blessed me for no other reason than to spread joy and happiness.
We started from Rampur a bit late and landed in Sarahan at 4:30pm.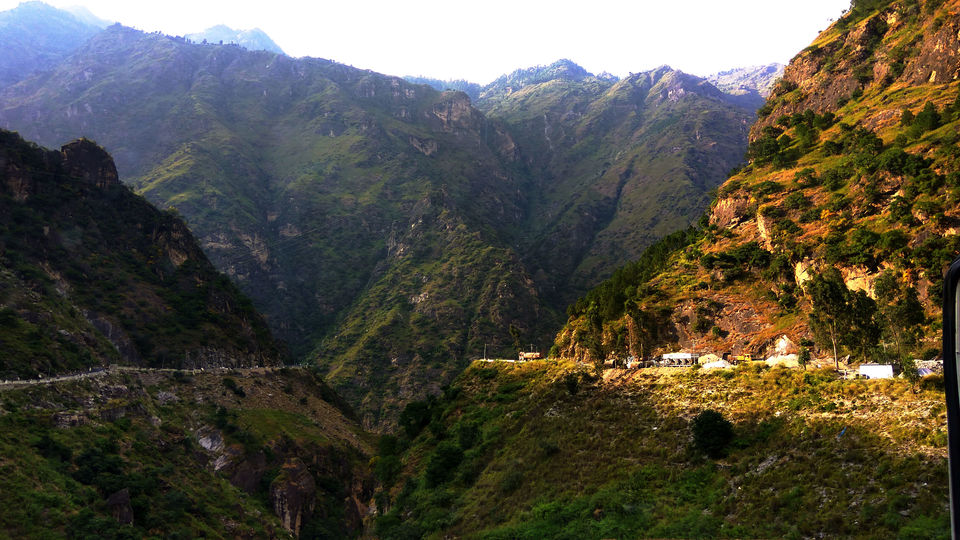 Sarahan:is small picturesque village in Himachal Pradesh of India. It is the site of famous Bhimakali Temple and is known as the gateway of Kinnaur Valley on Indo- Tibetian Road. Jeori to Sarahan is occupied by settlement of India Tibet Border police.
Rakcham is located at an altitude of 3050 mtr with population less than 1000 people. On the right side of village flows the Mighty Baspa river with dense forest peaks, apple orchards on rightside to the left is the cold desert mountains showing a glimpse of kinner Kailash.
If you are planning only kinnaurvalley. This is the place to stay. From where the hotel organize different type of trekking, camping, mountain sports etc.
The majesty of this place was revealed by the sunrise behind the golden snow peak. Yes this place was like heaven. This place had all elements of nature glory
I opened the door of my room balcony and was mesmerized with the sight of it.Astonished me started screaming on top of my voice & called my sister to witness it. Ran to other room to wake some sleepy heads up...
All geared up with necessary layers of clothing, head gear gloves etc we headed down towards the River. We crossed the bridge connecting towards the lower side of river . The speciality of bridge in this region of himachal is that they are all tied up with no of tibetian flags symbolizing the harmony of Hinduism and Buddhism in this regions. The flowing flags make the view more engaging.
After Crossing the bridge we walked down to the bank of Baspa River. We soaked our feet in the river . It was too cold but refreshing. Observed the sunrise creating dramatic effects on mountains and valley. Photographed the site thoroughly and went back to hotel resturant for Breakfast.
Word of Caution to people getting down at bank of River in Himachal Pradesh. Check/ make sure there is no dam on this river. If there is do not stand on banks of it as it is not safe. The dam may release excess water anytime leading to major accident to people on the bank.
Our next destination was Chitkul just 30 mins away from our Hotel.
The road to Chitkul is in itself the most adventurous journey with the most picturesque sights.If possible try to walk or go on a bike.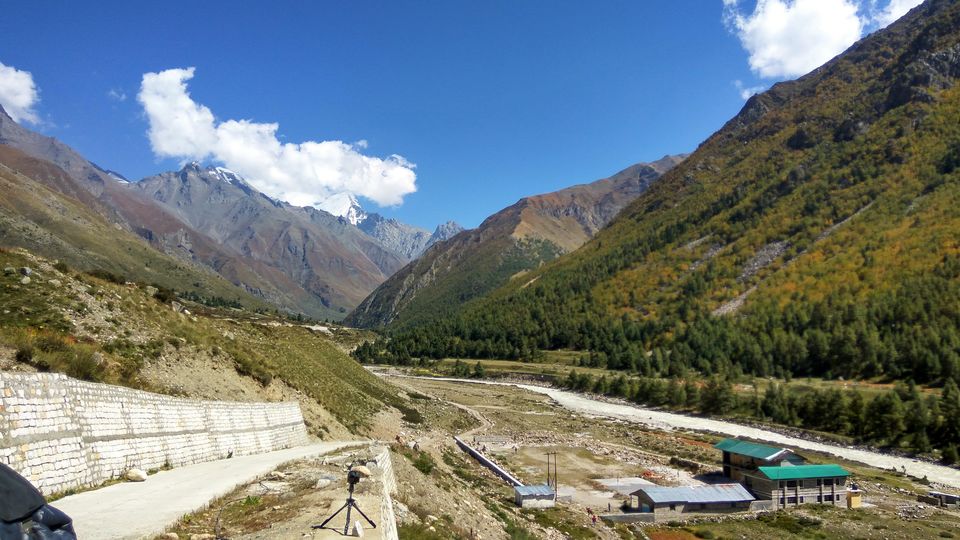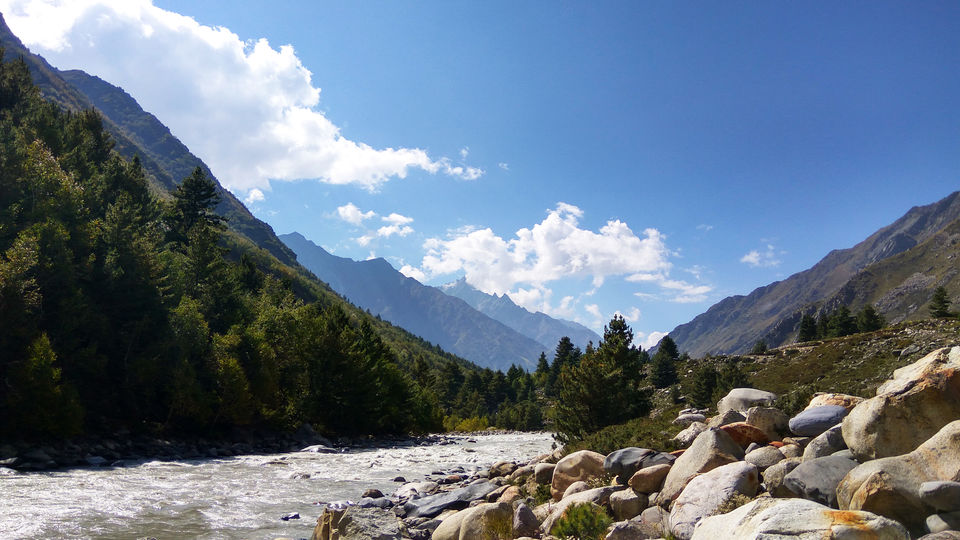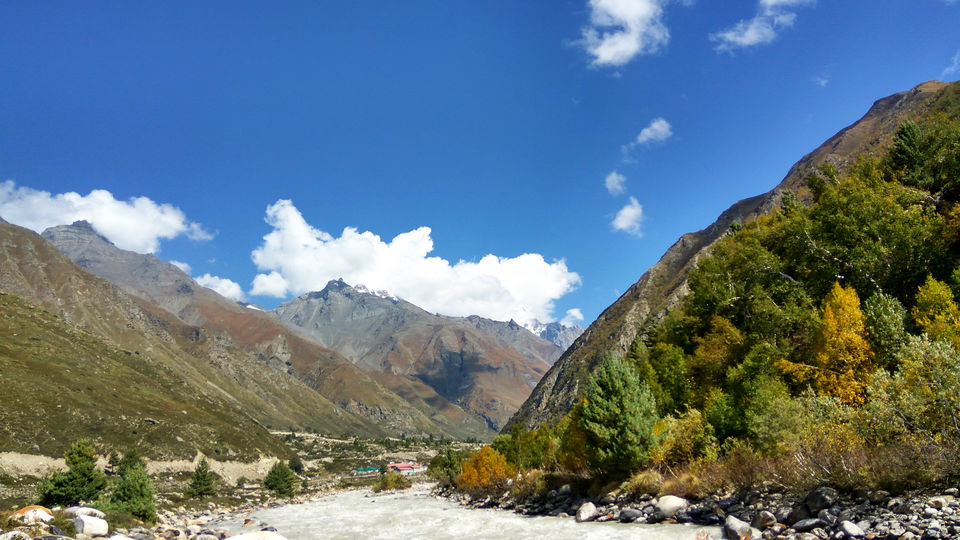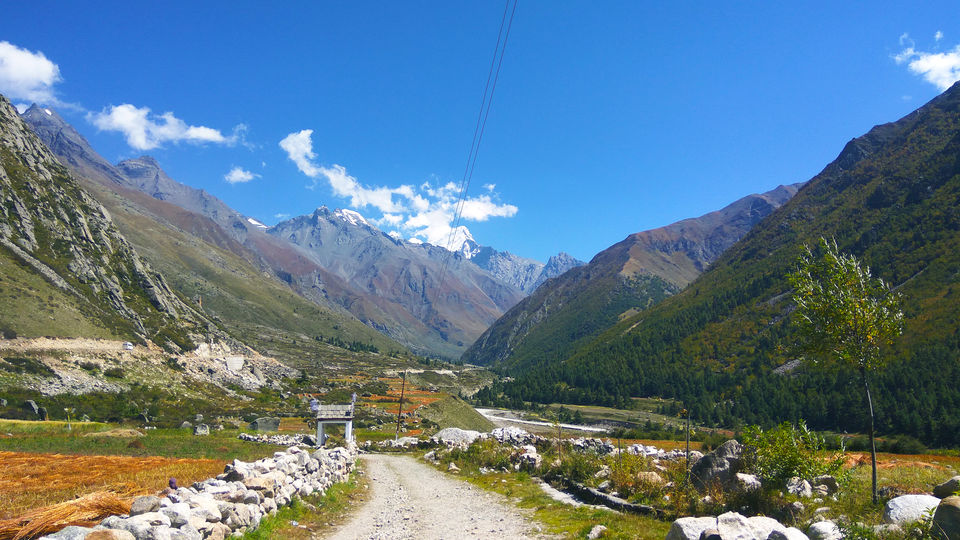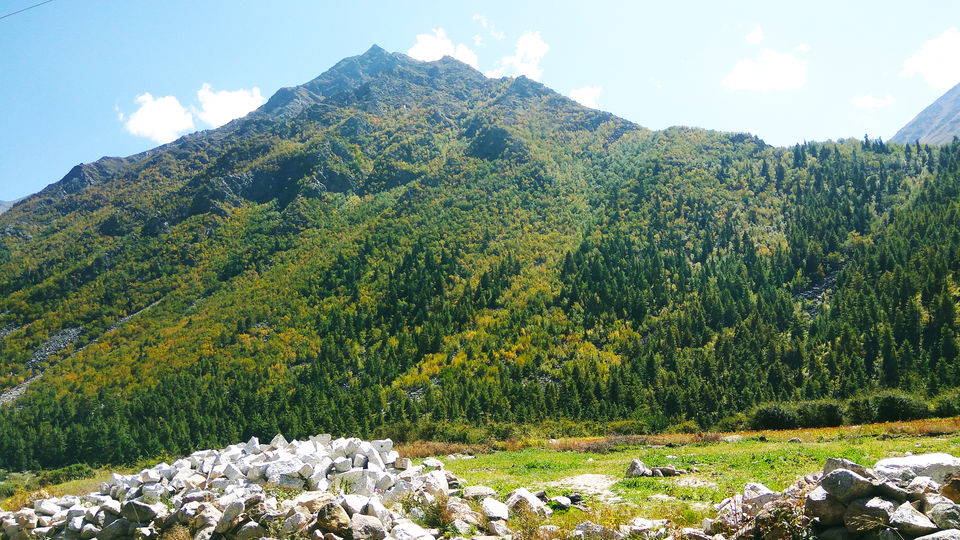 The thick forest on steep ground changing into rocky forest into the cold desert on one side and deep dense mountains on other side. The change in landscape was very much visual and the waterfalls were adding more delight to the view. After roaming around the village and sitting near river bank we went back to the same hotel for our lunch.
We had a funny conversation with our hotel manger starting from war to different countries and living there and Himachal and the very village. He told us one thing which we will never forget. He said that the trekking here is a very different experience and mountains speak for itself and what they say is this "If you want to feel me feel me " by being with me for some days.
We headed to Kalpa at around 3:30pm. The route was again the same dangerous route but smooth till Karcham. From where route towards Kalpa seemed like a bullock cart ride. The roads were just dust laid on rubble. We reached reckong pro at around 7:00pm .