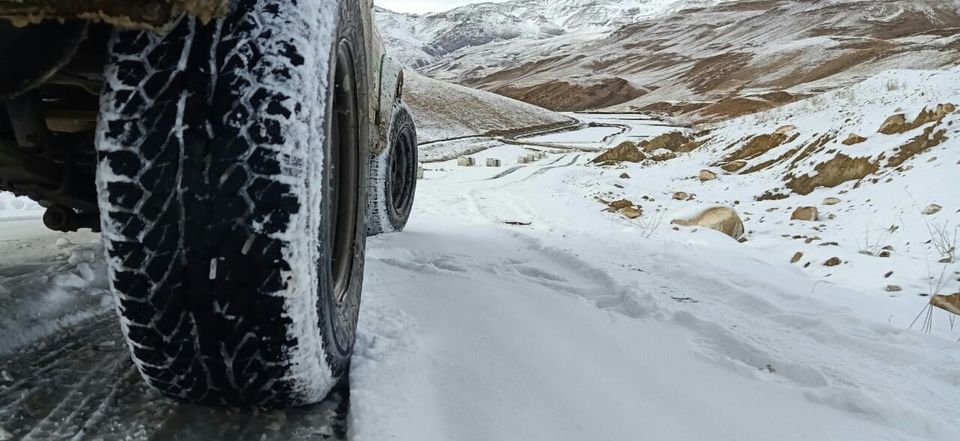 Dehradun to Rampur Bushahr(Tiuni,Rohru)
Start early from Dehradun for Rampur Bushahr via Teuni, Rohru. Mesmerising drive from green lush will end on the Sutluj Banks at Rampur Bushahr.
Rampur to Nako(Kalpa,Rekong Peo,Hangrang Valley)
After breakfast, drive along Sutluj river for Kalpa. In Kalpa visit Roghi Sucide Point 2km from city centre. Take blessings from Kinnour Kailash 72 feet high shivling at an altitude of 6023 Mtr. Spend half hour. Leave for Nako. Stay at Nako.
Nako to Mud(Gue Mummy,Tabo Monastry,Dhankar Monastry,Pin Valley)
In morning visit Nako lake and Monastry of Medicine Buddha. Have Breakfast and leave for Gue. Visit Gue Mummy. It will take half hour to explore around. Leave for Dhankar Monastry. It will take 45 to 60 min at Monastry.
Witness Spiti and Pin comfluence(Can wait for sunset if confortable to drive during night). It will take 2 to 2 1/2 hrs to reach Mud from Dhankar.Stay at Mud.
Mud to Kaza(Langza,Komic,Hikkim,Kibber, Key, Chicham)
Explore Pin Valley in morning then leave for Langza through Kaza. Then to Komic and followed by Hikkim Post Office. You get Spiti theam post cards near post office. Post cards and descend to Kaza. Have Lunch and move towards Key Monastry. Expolre monastry then go to Highest Bridge in the World 'Chicham bridge'. From Chicham itself go directly to Kiato via Dumley. Go and stay at Lohsar. Road from Kaza to Lohsar and Chicham to Lohsar are of same condition'Pathetic'. Only 15 Km from kaza side is good after that its completly offroad.
Lohsar to Manali(Chandratal,Rohtang Pass,Kunzum Pass,Solang Valley)
Leave lohsar for Kunzum pass. From kunzum enjoy views of CB13 peak, huge glaciers chenab river and mighty snow capped mountains. While descending kunzum road cut towards right leading to Chandratal Lake. CAMPING IS NOT ALLOWED NEAT CHANDRATAL. From Lake move towards Manali well in time because you need to cross Rohtang Pass. Temprature gets very low and winds gusts heavily. After comming down from Rohtang and crossing Gulaba check post go to Solang valley. One can do Paragliding, Zip line, Zorbing, Sling Shot, Rope Way. Move down and stay at Manali.
Manali to Dehradun(Mandi,Chandigrah,Nahan Valley,Ponta Sahib)
Start early from Manali to avoid traffic from down and need to go long way. By 9 PM you reach Dehradun.