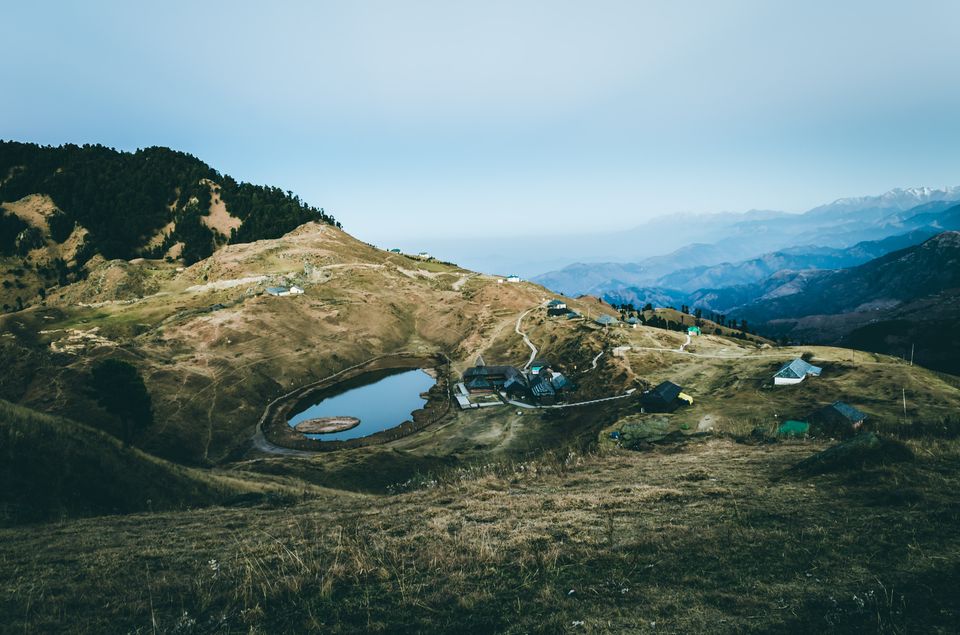 India boasts of some beautiful destinations for amazing winter treks. Though a bit challenging, winter treks offer rewarding perks like skiing on the snowy slopes, enjoying the warmth of bonfires and soaking in the crisp winter air. The best months to undertake the winter treks are from December till mid-April. These months offer the best scenic backdrops and amazingly beautiful panorama of snow blanketed landscapes. The temperatures vary from sub-zero to even minus 15 degrees- so Bravehearts don your layered clothing, thick winter jackets, snow boots, gloves, hat, and scarves, and you are all set for your winter rendezvous. Let's find where to head this winter for your escapade of adventure and thrill.
Himachal Pradesh, the name literally translates to "The Region of Snow". The beautiful state of Himachal Pradesh is blessed with some pristine sites that offer picture-perfect trails for winter treks in India. Some of the famous winter treks of Himachal Pradesh are-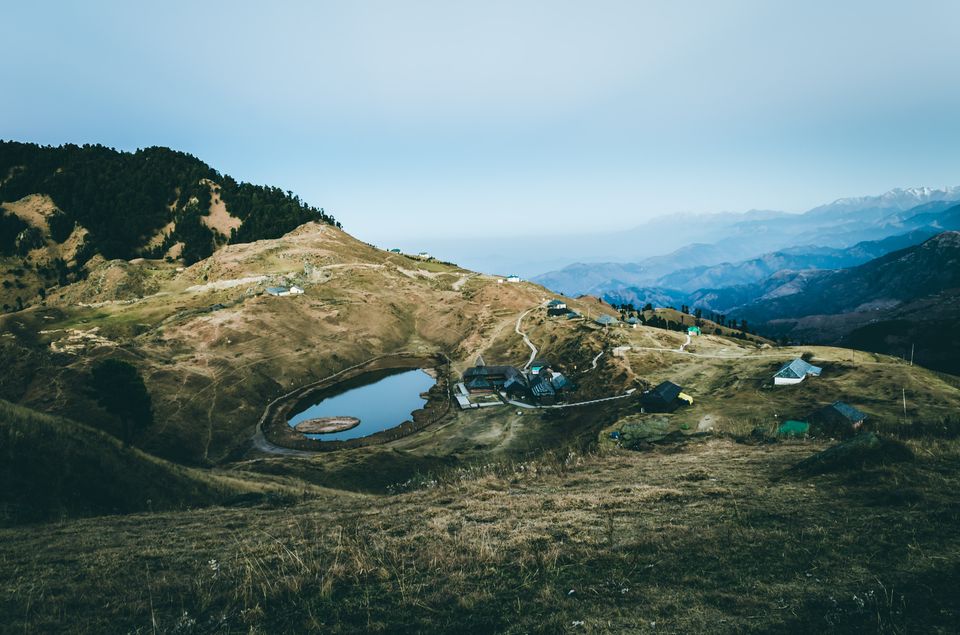 The beautiful Prashar Lake (aka Parashar Lake) cradled in the saucer-shaped valley amidst the Dhauladhar mountain range is a delight in winters. This marvellous trek traverses through the beautiful state of Himachal Pradesh. The scenic mountain trails lined with dense forests keep you captivated. Beautiful views of Dhauladhar, Pir Panjal and Kinnaur mountain ranges enthrall you throughout the trek.
Another highlight of this trek is the 3-storey Pagoda shaped temple dedicated to the sage Parashar located on the banks of this lake. This sacred temple boasts of beautiful wooden architecture and continues to draw visitors all year long.
Altitude- 8,956 feet
Region- Kullu Valley, Himachal Pradesh
Trek level- Easy to moderate
Distance- 19 km
Duration- 2 days
Nearest airport- Bhuntar Airport, Kullu
Start and end point- Mandi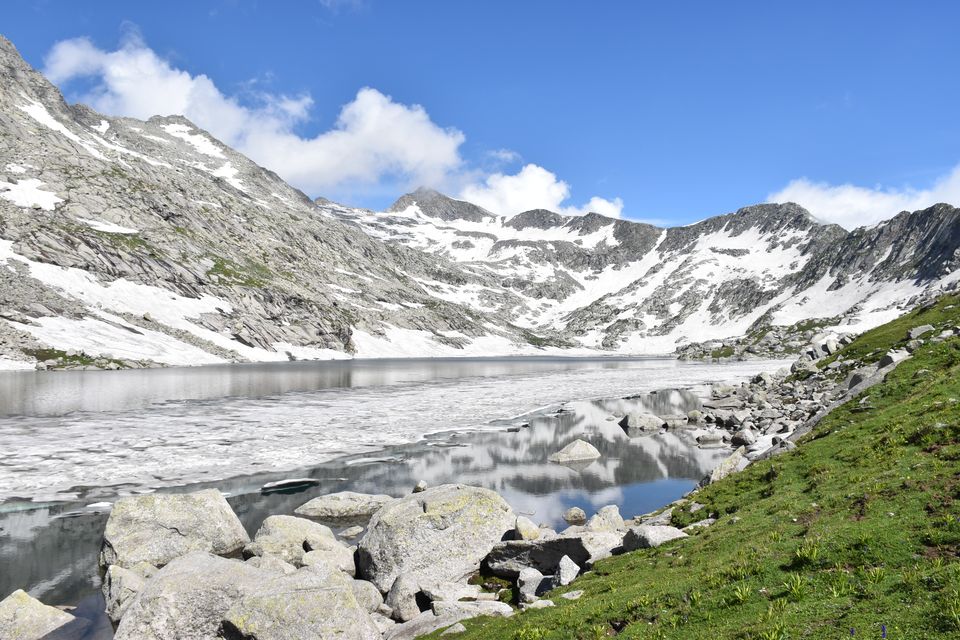 A temple dedicated to Lord Shiva, effervescent mountain streams, expansive snowy meadows, diverse terrains, elegant villages, snow-capped peaks and dense alpine forests scattered with snow make Kareri Lake a fascinating winter trek. Kareri Lake trek is a perfect mix of gradual ascends, descends and steep hikes. It takes you to the quaint Kareri Village and to the shallow water Kareri Lake which looks stunning in its frigid form. This high altitude lake is formed as a result of melting glaciers from the surrounding Dhauladhar mountains. Surrounded by a blanket of snow, Kareri Lake campsite is 15 minutes walk from the main lake. A temple dedicated to Lord Shiva on a hilltop nearby is the main attraction of the trek.
Altitude- 9,650 feet
Region- Kangra District, Himachal Pradesh Himalayas
Trek Level- Easy to Moderate
Distance- 26 km
Duration- 3 days
Start and end point- Dharamshala
3. Chandrakhani Pass Trek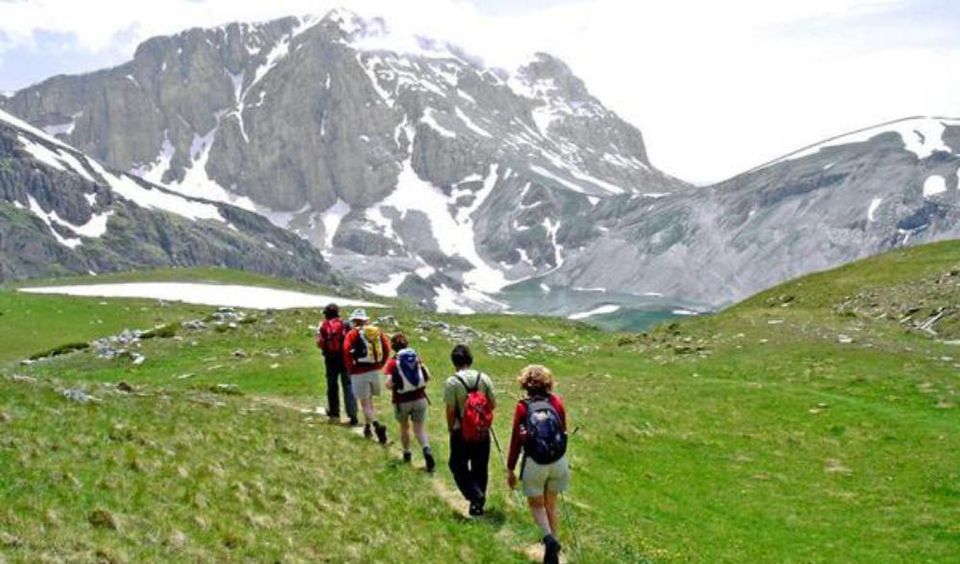 Chandrakhani Pass is one of the most scenic passes of the country. You traverse along hidden trails meandering through the snow-drifted dense forests of fir and oak trees. The amazingly beautiful villages of Naggar and Rumsu and Chandrakhani Pass are the major attractions of this trek which is covered in the snow till the end of May. From the Chandrakhani Pass, you are treated to the awe-inspiring views of Deo Tibba, Indrasan, Barabangal, Hanuman Tibba, Parvati and Pir Panjal peaks. The trek is a mix of gradual ascends and steep uphill hikes. In addition to offering the most stunning visuals, Chandrakhani Pass is rooted deep in mythology. Legend has that Jamlu (the local deity of Malana) once carried the idols of Gods in a basket, a strong gust of wind blew the idols in different directions of the mountain peaks. For this reason, the peaks are known by the names of Hindu Gods and considered sacred.
Altitude- 12,010 feet
Trek Level- Easy in spring, summer, and fall, to moderate in winters
Region- Kullu Valley, Himachal Pradesh Himalayas
Distance- 21 km
Duration- 3 days
Start and end point- Patlikuhl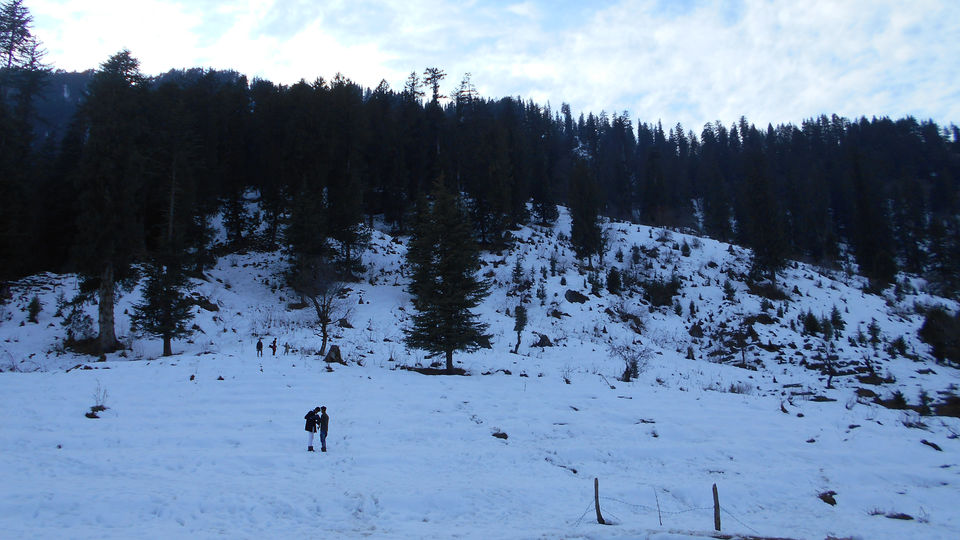 Not many know about this hidden jewel in Old Manali with a maximum altitude of 9,900 ft (3,018 metres). The trek offers you experiences and views that you may have never witnessed before.
This day trek to the meadow of Lamadugh starts with your arrival at the meeting point in the Old Manali. You will then start the trek and climb through thick forests of Pine and Deodar to reach your destination. The trek offers majestic views of the many high mountains of the Himalayas that surround the valley like Indrasan, Deo Tibba and the peaks of Bara Shigri glacier.
Altitude: 9,900 ft
Trek Level: Easy To Moderate
Region: Old Manali, Himachal Pradesh Himalayas
Distance: 10 kms
Duration: 1 day
Start and end Point: Log Huts Area, Old Manali
Read about my own experience here:
All you need to know about Manali Lamadugh Snow Trek
For any queries, reach the Tripoto Forum. Also, follow on Instagram for all the new updates. Subscribe for upcoming articles like these.