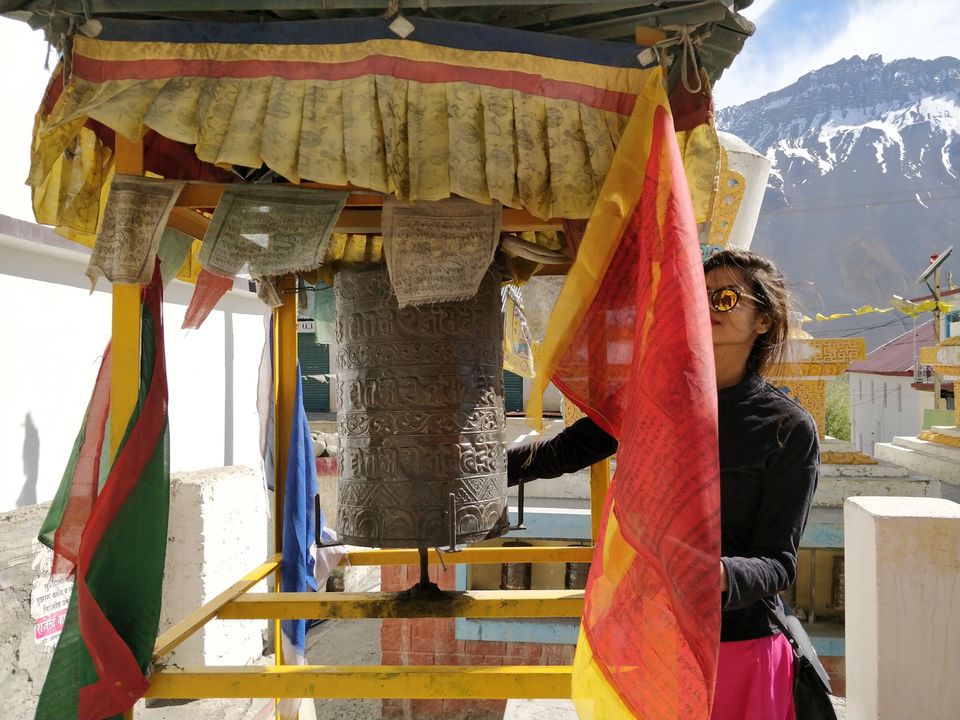 If you are reading this blog or reached to this blog it means that you are already aware about where Spiti is located, how to reach Spiti, where to stay etc. Generally we search for the the famous places to visit at so and so place when we are either planning to go there or it's in our bucket list. Even if that's not the case then let me tell you Spiti is the magical valley situated in North of India - Himachal Pradesh(state).
Entire Spiti is splendid, mesmerizing, enthralling, bewitching, dazzling, captivating, hypnotizing and I can just go on and use all the adjectives but it still won't be sufficient to compliment the beauty of that place. No matter where you go the landscape is just outstanding. Even if you go to washroom and peep out of the window that view would be fascinating too. And I am not kidding!
These are the top five monasteries worth spending time at.
Kaza is one of the very well developed area as compared to other places in that region.The monastery there is huge and is noticeable from almost anywhere in Kaza. If you're staying there then you'll surely take a trip to this place multiple times.
The brightly painted walls are welcoming and stand different from all the other monasteries in Spiti. It is very spacious and over-looking the humongous deserted mountains.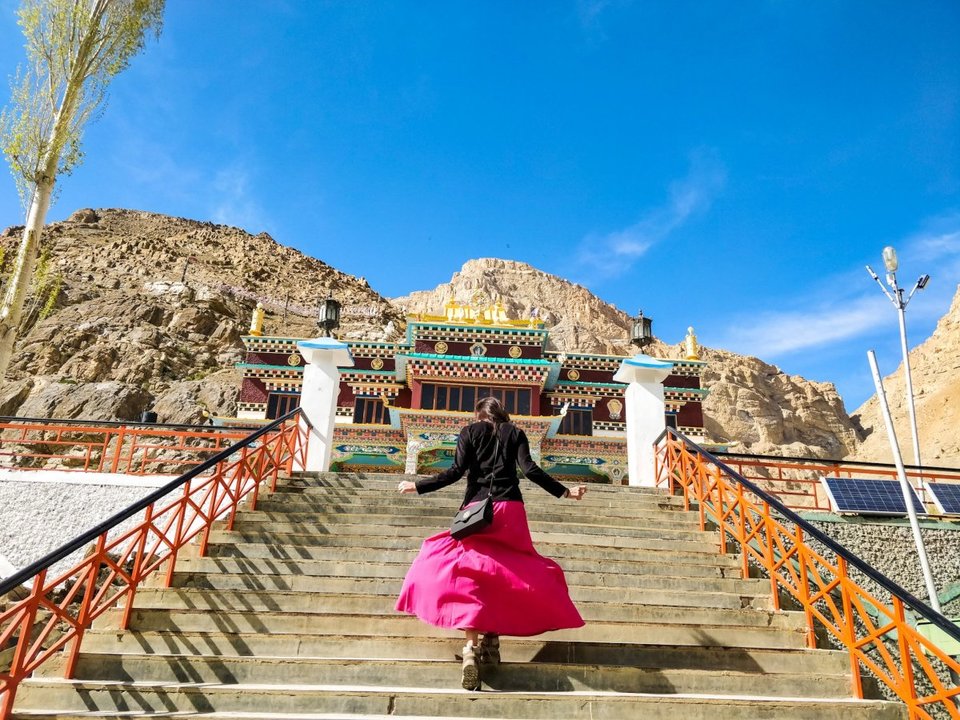 The interior of the Kaza monastery is very calming and has minute detailing providing information about Buddhism.
Splendid, isn't it.?
Key Monastery In Himachal Pradesh is a picturesque Tibetan Buddhist monastery located on a hilltop in Spiti valley of Himachal Pradesh, in midst of brown and white coated gigantic mountain ranges. The spectacular monastery is located at a height of 4166 meters above sea level and can be easily spotted from the town of Kaza which is 7km away.
It would appear like a gigantic white balloon floating in the air from that distance. Sounds interesting right? This place is also considered as one of the Seven Wonders of India.
I had very high expectation from this place and apart from being historically rich, I didn't find it very fascinating. Maybe if you visit in winters the look will be quite different. But then winter in Spiti is dreading.
You can take a shared cab from Kaza to Kee or can also hike to the monastery depending upon your level of fitness. Also, avoid going during lunch hours since the monastery is home for young kids (monk to be) and it's not appropriate to disturb them and ask them a question or click a hundred pictures during their breaks.
After seeing several monasteries it's common to not find the experience of visiting a new monastery to be that marvelous as compared to what we feel during our visit to the first monastery.
But Dhankar Monastery will definitely make your heart go gaga. It's constructed in a shape of fortress also called as Dhankar Gompa. the beautiful monastery is locked between the rocky spurs at the top of the cliff in the Dhankar village at an elevation of over 3,800 meters in the Spiti valley.
The architecture is magnificent and was used to serve as a prison for the erstwhile era.
One can reach here by boarding a private vehicle from either Kee, Hikkim, Komic, Demul, Lahlung, Tabo depending on which village you prefer to stay overnight at.
Public transport doesn't halt at Dhankar so make sure you book a private cab to Dhankar, and it is worth the money you'll be spending on the travel.
This was one of the earliest monastery founded in Spiti. The stories say that Lhalung literally means 'land of the gods' (lha = deities, devas; lung = land, area) and it's also said that the Lhalung Devta is head of all the Devtas of the valley and emerges from the Tangmar mountain beyond the village. This mountain is said to change color depending on the moods of the devtas. For instance, Red: Showing anger, Yellow: Happiness, etc.
I didn't observe any of it, so not sure how true it holds.
As soon as you enter the Lhalung Monastery you'll observe a huge tree which is said to be around 1700 year old and is the foundation of the entire monastery.
To find a new place which seems perfect to build a monastery, the monks plant a lifeless wood in the soil. If that wood flourishes it means it's a magical land and is ideal to build a monastery.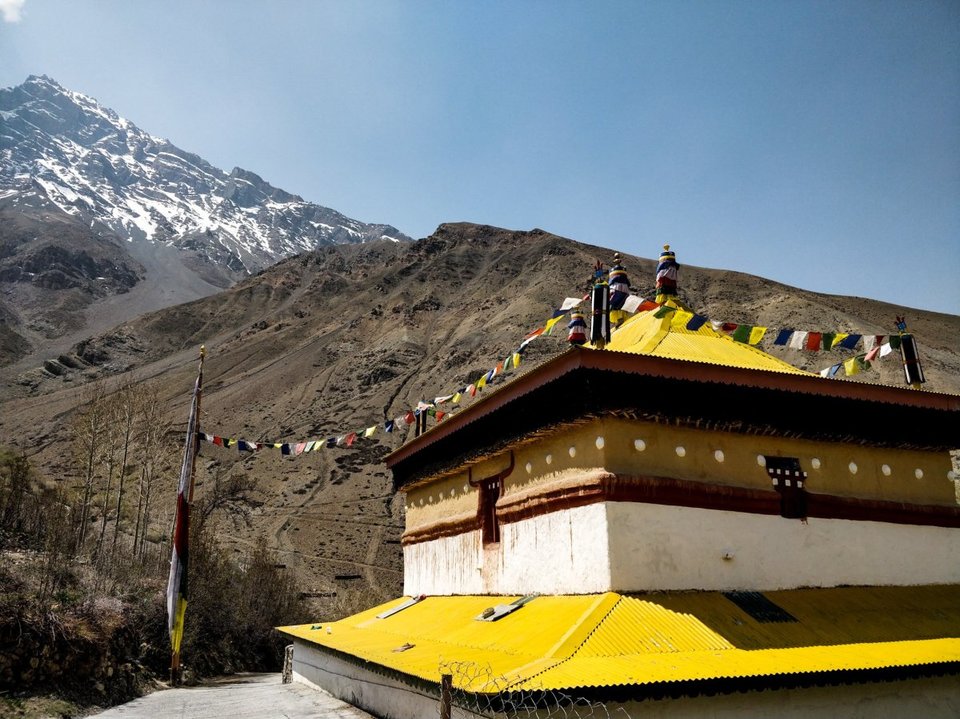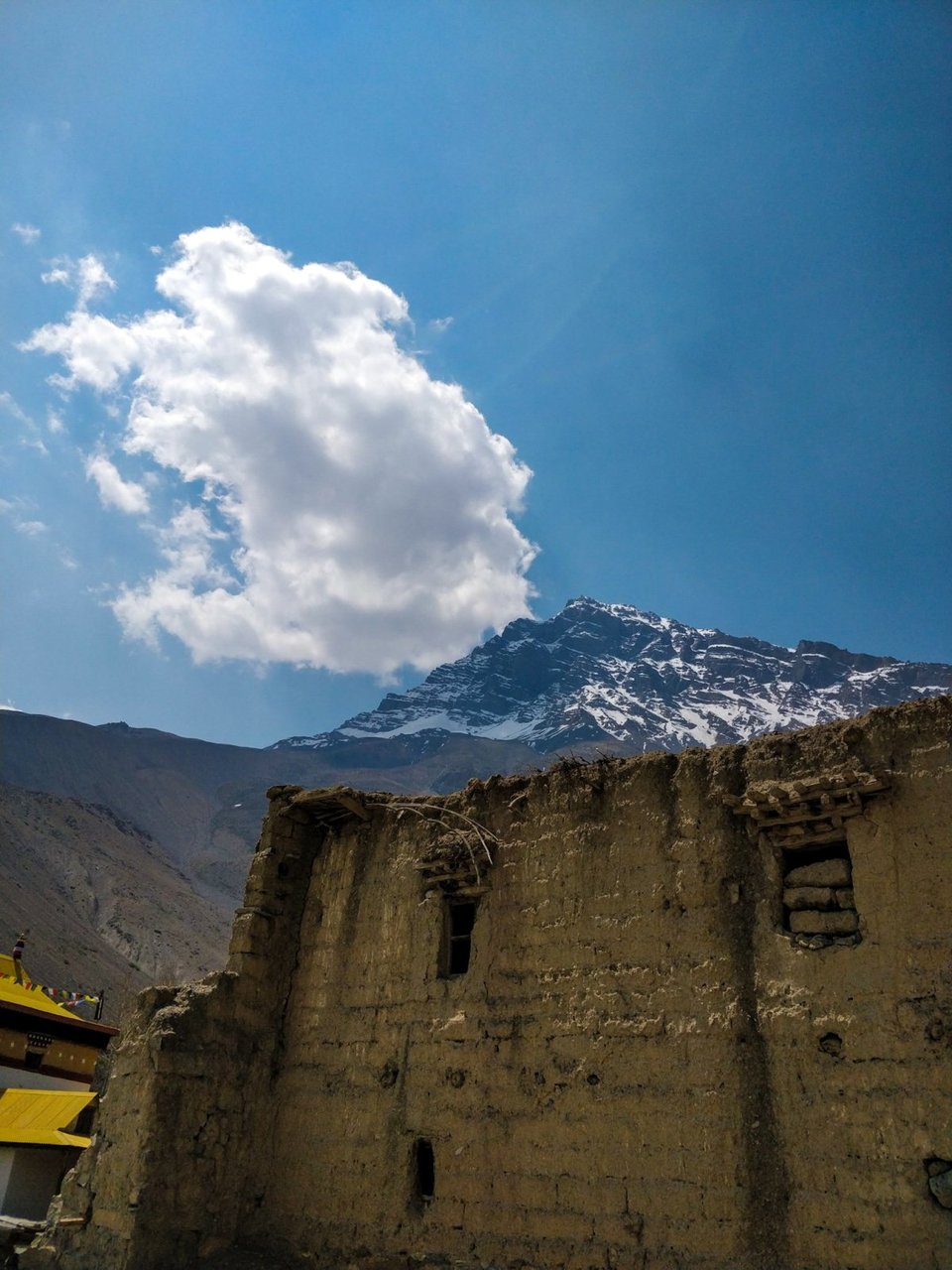 Also, the story says that the entire monastery was somehow magically built over-night. I am not sure how true is it, but definitely, it's worth a visit.
Lhalung is a very small village housing not more than 45 homes and comes on the way while heading towards Dhankar and hence no need to stay here over-night.
This one here is the most popular monastery in Spiti and is also known as the 'Ajanta of the Himalayas'. It was founded more than a millennium back in 996 A.D.
Tabo monastery has two parts, old and the new one. The ancient structure stands on the barren, cold, and rocky desert of the Tabo Valley at a dizzying height of 3050 meters above sea level.
The ancient architecture is completely built from sand and emits some kind of positive vibe which is very soothing to our body. It has stupas and the small houses build for the monk to stay in.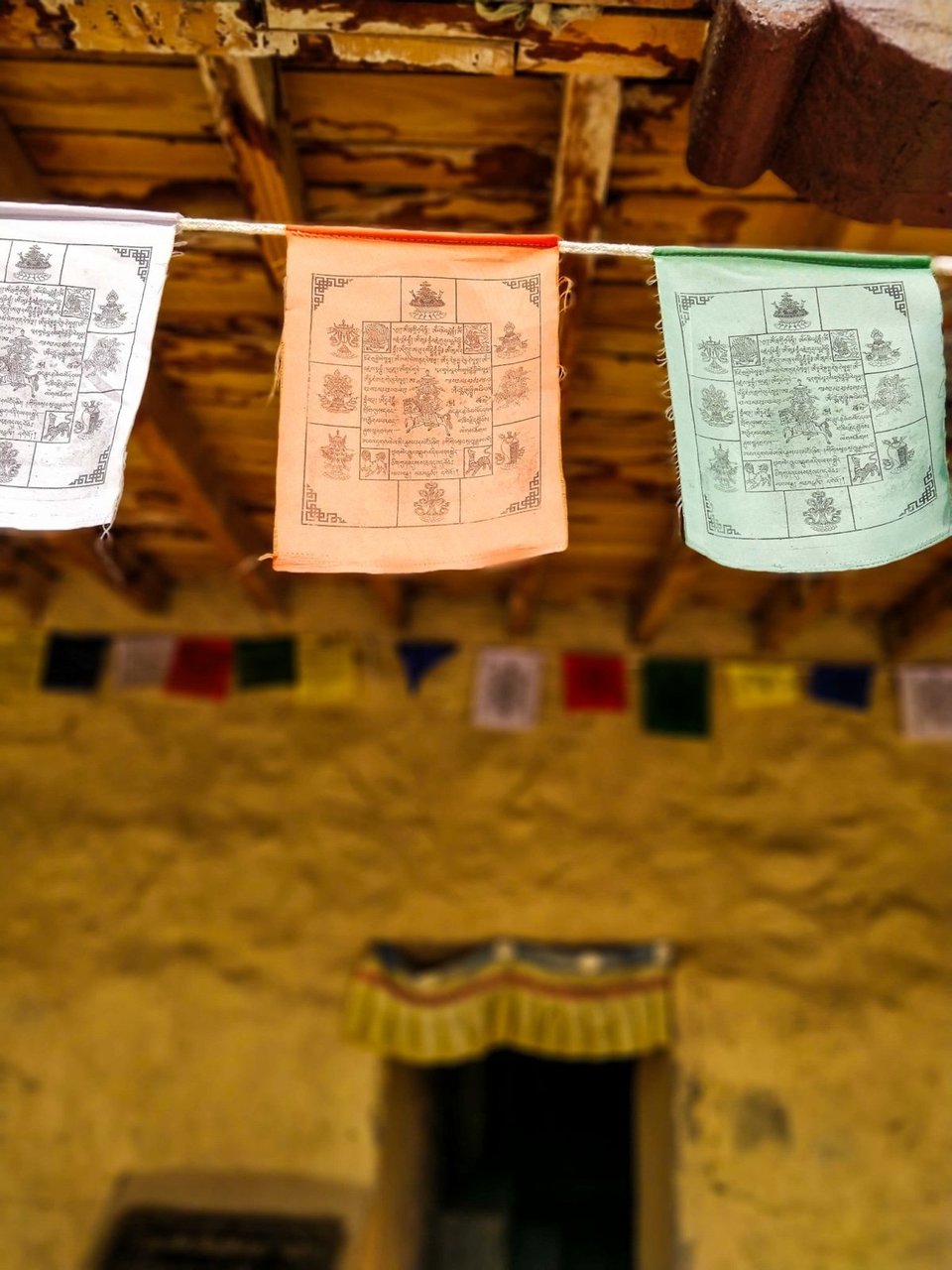 The new construction is colorful and has minute detailing on walls. It quite resembles the architecture at Kaza monastery.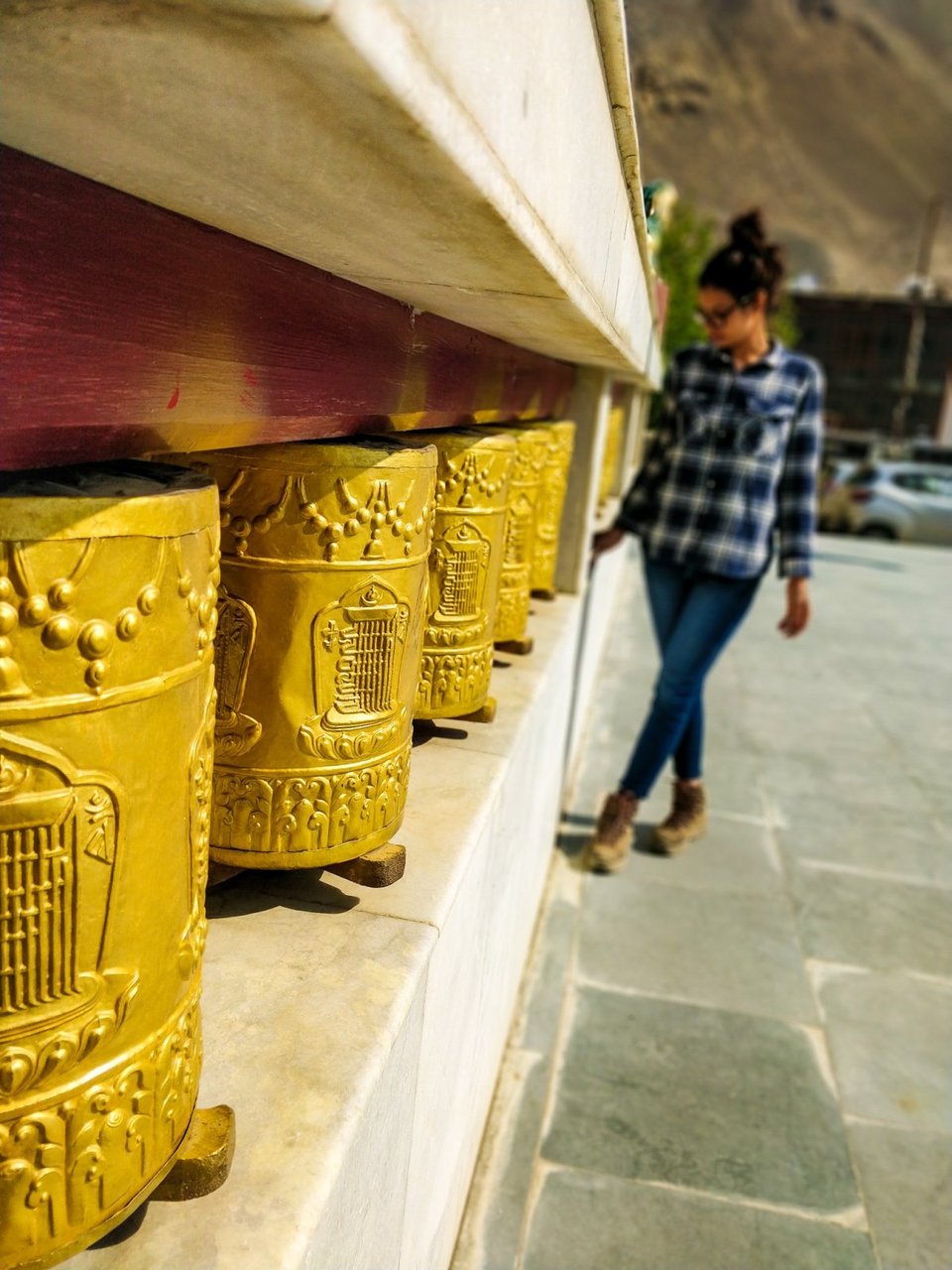 Another thing which sets Tabo apart from other monasteries is the fact that it allows visitors to stay within its walls and get a firsthand experience of the life in the monastery. Accommodation options are limited.
Budget hotels are available. Dormitories are also available in the monastery and the rates are quite low.
Hope you enjoyed the short trip to Spiti through my eyes, let me know if you have visited this place and/or planning to visit. Follow us on Instagram for some daily dose of travel.
Stay connected!