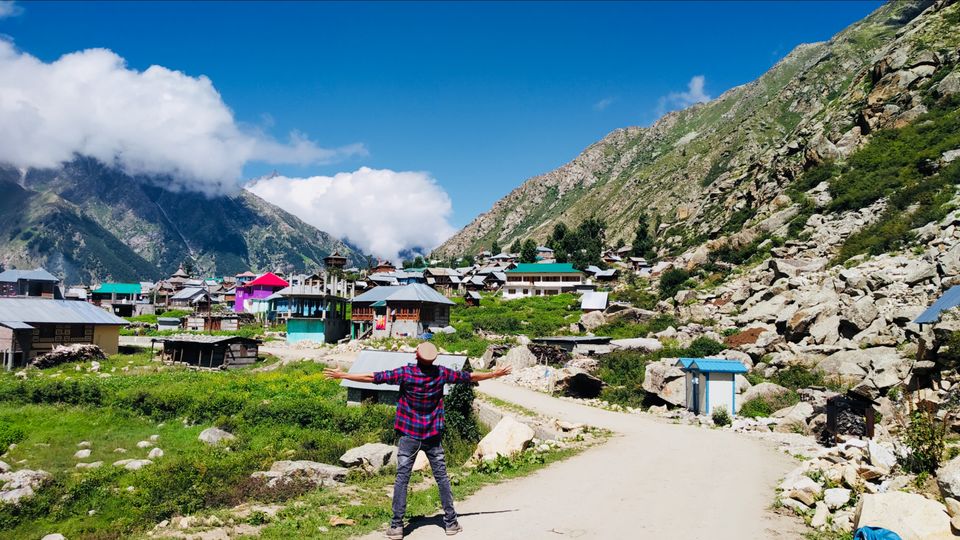 Here,I go with my most memorable trip of Chitkul(Last Indian Village) that lies in Kinnaur district of Himachal Pradesh.I am going to tell you how much it costed me?.Now i am not in Uttarakhand.So here i dont have any free homestays and food.I have to pay for food and hotel stays.But there are lots of similarity in these both states.The culture,people,food is very similar.The people of both states are very hard working,gentle and very helping.So called the crown of both states is the cap that i wear.
So me and my friend took bus from ISBT(Kashmere Gate) to Sangla.We both took metro from dwarka mor to kashmere gate.All of you know about charges.After that we took a direct bus from Kashmere gate to Sangla.Sangla is about 570km from Delhi.We took an ordinary HRTC bus.Ticket cost was about 700Rs.We were only two who were directly going to sangla.I knew that this is going to be very hectic but than also we enjoyed.HRTC bus took halt at a dhaba.It was pathetic.We already had our dinner at our home.Than we reached shimla at 6am.Bus took halt there for half an hour.Again we started our second part of journey towards Sangla via Narkanda➡️Rampur➡️Karcham➡️Sangla.
We reached Sangla at about 5:30Pm.It was a journey of about 19hours.Now it was time to take rest.We took a hotel named Baspa Valley that was nearby the bridge.That hotel owner was from Uttarakhand😉.That hotel costed both of bus for 400Rs.After that we had our dinner that costed us very minimum.We woke up early in the morning for our next destination that CHITKUL(last indian village).Sangla to Chitkul bus is at 9am in the morning that comes from Mandi.So we had our break fast and started towards Chitkul.
Bus fare from Sangla to Chitkul is Rs76.
Sangla➡️Rakcham➡️Chitkul
Chitkul is always my favourite place.If anyone know about lamkhaga pass.Its from chitkul to harsil vice-versa.It was august and we were only 4-5 people in chitkul due to monsoon period.After one day stay at chitkul.We again took bus from Chitkul to Shimla at 2:40pm which costed us 350Rs.We reached shimla early in the morning at 3:40am approx.We went back to our hotel that was already booked by us in Chitkul.Till evening we were enjoying the view of monsoon weather and in the evening we went to the ridge Shimla.After spending 4hours there.We went back to the bus stand where our bus was waiting for delhi.Shimla to Delhi AC bus costed us Rs630 per head.