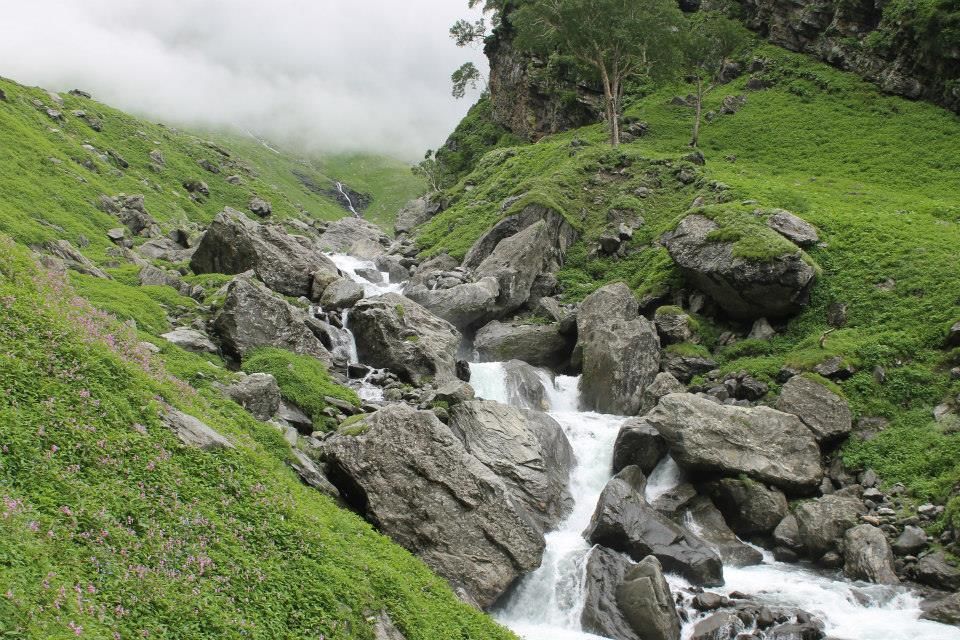 Best time for the trek : June to October
Trek Altitude : Approx 14000 ft
Trek Grade : Moderate
Duration : 5 days
Trek Cost : INR 9800/- + Plus taxes
Destinations covered : Jobra, Chika, Balu ka Ghera, Siagoru, Chatru, Chandrataal Lake
"You will surely miss on something if you dont go for atleast one himalayan trek ever in your life".
Let me justify my statement
Here goes the experience!!
May was the time when I decided to go for a himalayan trek.
Our point of contact was Adventure Nation who in turn co-ordinated with Trek the Himalayas (TTH).
So here goes our journey plan starting from Mumbai to reaching Chandigarh.
Journey from Mumbai to Chandigarh
We started off from Mumbai took the spice jet flight of 3.30 pm and landed Chandigarh at 5.30 pm costing approx 5500 per Pax. Our pre bookings got us this cheap fare. By the time we came out from Chandigarh airport it was 6.00 pm. We decided to roam a bit of Chandigarh and explore the new city. We went to Sukhna lake which is meant to be the beauty of Chandigarh, which really is!!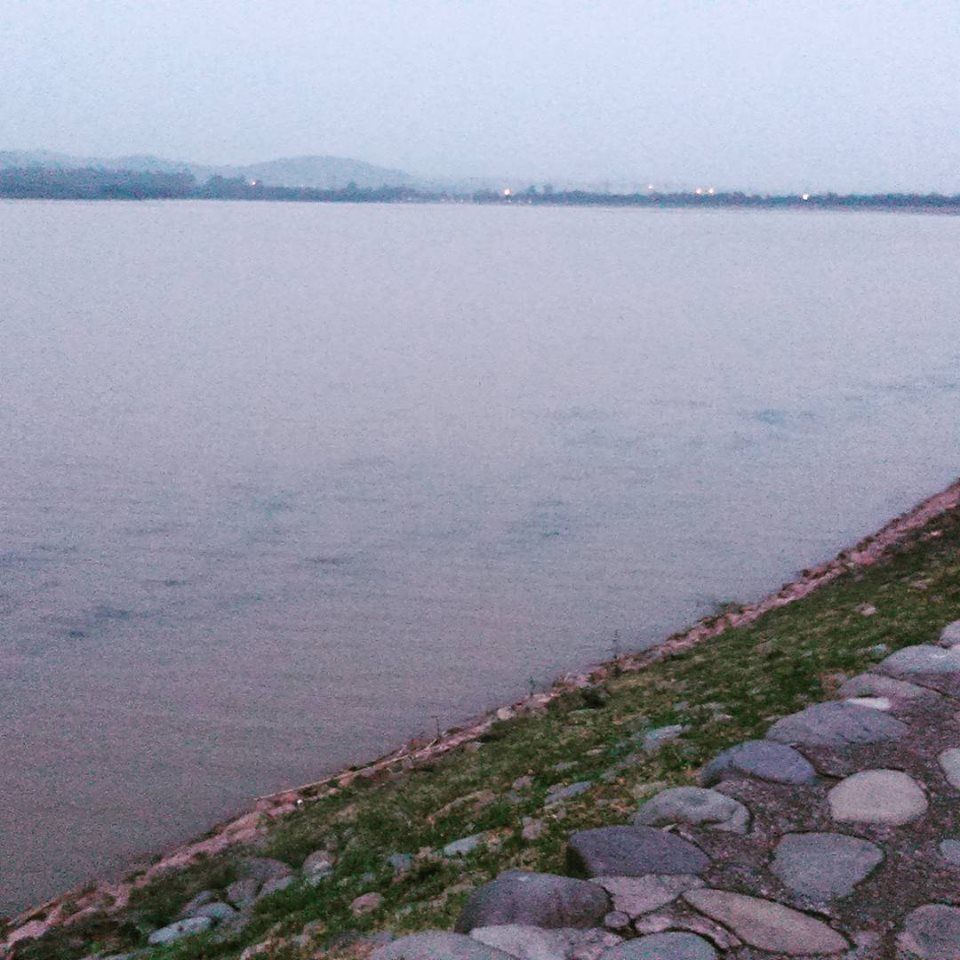 Sukhna Lake, Chandigarh
Finally after all the Chandigarh fun, we reached the bus stand Sec-43 HP Petrol pump from where we had to board our bus to Manali. We took the Himalayan Volvo Semi Seater bus costing Rs. 1000 per Pax. The bus timings were 11.00 pm to 7.00 am from Chandigarh to Manali
Day 1 - Manali to Jobra
We managed to reach Manali by 9.30 am and decided to stay at "Day and night" hotel (that costed us INR 800 for 2 rooms) to freshen up before we start trekking.
Finally we met our trek leader Mr. Sanjeev Thakur and Mr. Mahendar (who were our trek guide) and came along with us in the car to arrive at our trek starting point - Jobra.
The trek guides informed us the following things :
1. No network for 4 days. Once you reach back to manali on the 5th day, you will find network on the phone. So inform your family members about it.
2. Carry some food or energetic so you dont feel down while walking
3. Try to motivate your friends and help them while walking because it is not that easy for beginners
4. We give packed lunch while trekking.
And with all the fun, masti talking on the way there we go Jobra.
We gave our bags to the mules and since it was raining we had to wear our ponchos/winsheters
There you go started walking from Jobra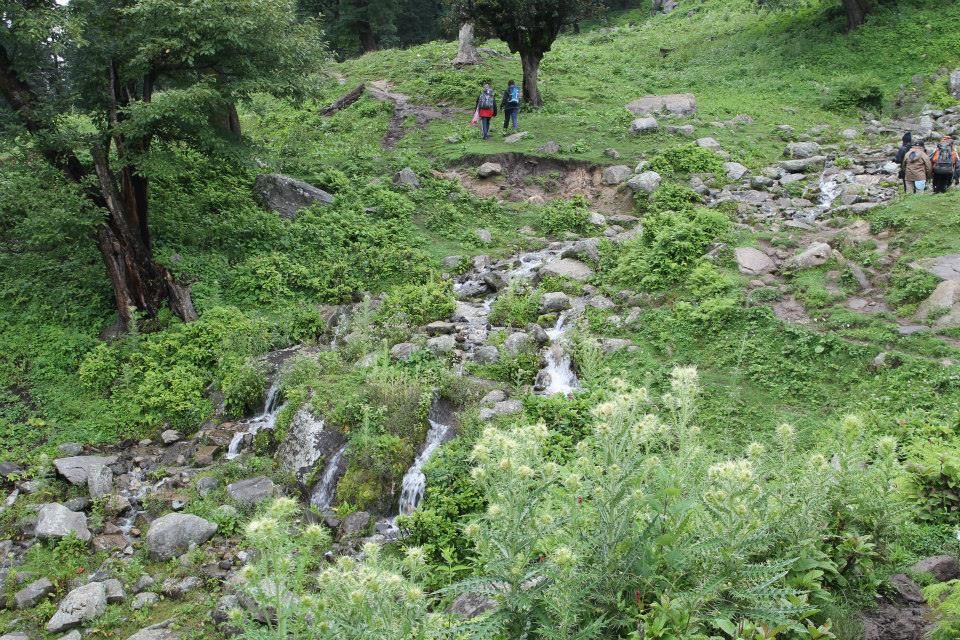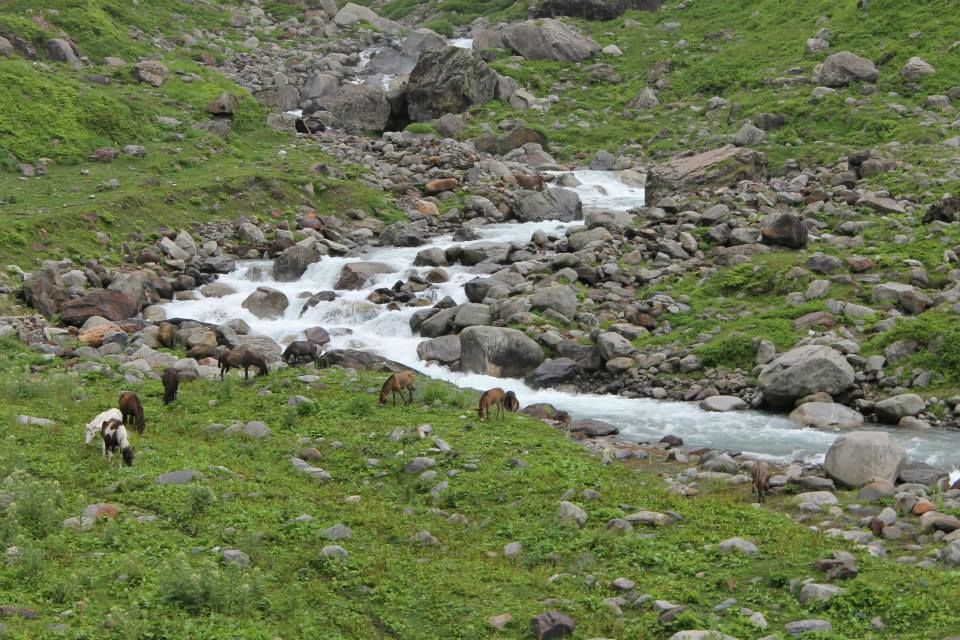 The slope to be climbed is easy and not very steep. The site is refreshing as you go up trekking. You will also see few sheep and cows grazing in the field.
We reached our tents around 6.00-6.30 pm in the evening and everyone of us was trying to get a feel of what a tent life is. Our base camps were located near the waterfall at Chika. Surrounded by Rani river water, beautiful mountain, chilling cold climate
We filed our water bottles from the fresh flowing river water. The allocation was for 5 girls ed in the bigger tent and 2 girls in the smaller tent.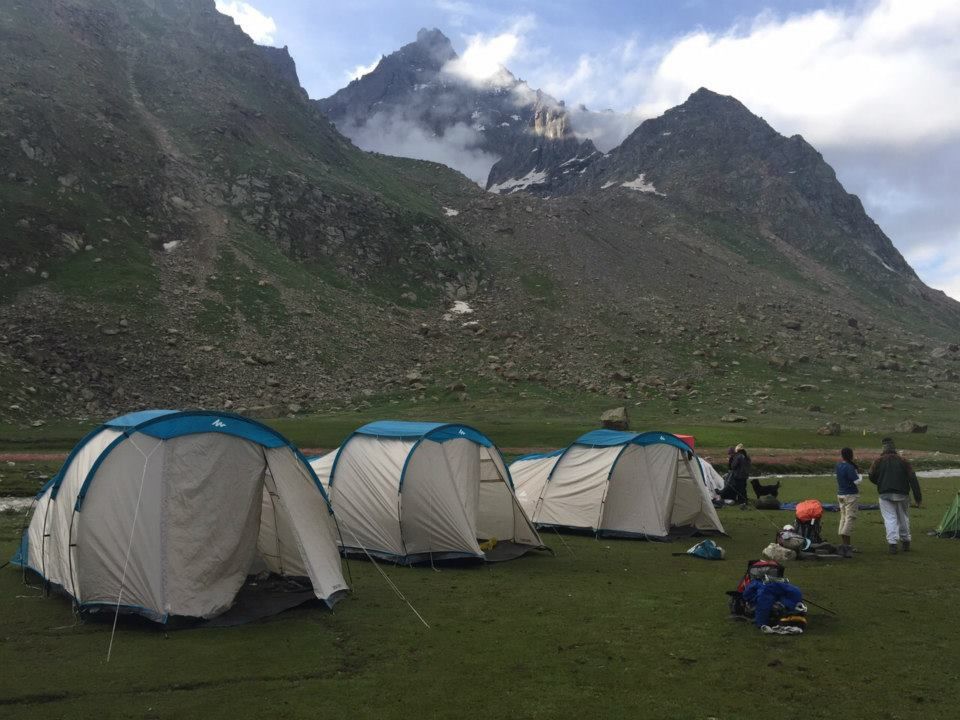 Day 2 Chika to Balu ka Ghera

Waking up at 6 am, packed our bags, tent and started our trek towards the next destination balu ka ghera. The first part came river crossing but thank god it was a small bridge river crossing unlike the river crossing you come across in the later part.We walked 8 kms on day 2. There came river crossing at around 1. Tie your shoes to your bag or aim and throw your shoes on the other of the river. This was just to ensure shoes don't get wet in the river. Make a chain hold each other hands and walk. We were asked to make a train and cross to ensure you don't get carried away by the force of the river. Here are some photos of river crossing. The water is super cold and will definetely prick your feet
After river crossing until the numb feet we were asked to have lunch. Packed lunch - bread butter and bread jam. A 15 minute break wear your shoes and all set again to walk. by this time you reach Jwara. Jwara is beautiful place with huge snow clad rocks on one side and valley drops down to the river on the other. You will find snows melting into the river.
The path ahead is covered with multi colored flowers. Balu ka ghera is located at 11,900 ft.
Finally after the day's efforts we were on time reached our tent by around 2 as instructed by the trek guide. Built our tents, rested and by that time soup was ready, Chilling weather hot soup and papad. A delight!!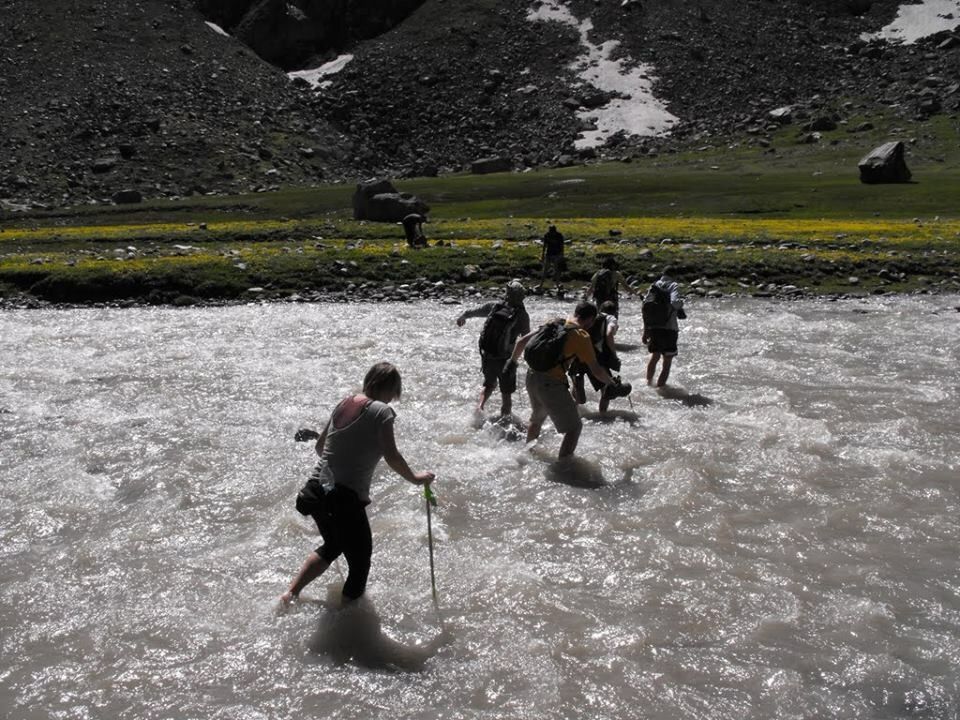 Do carry proper cold clothes - socks, gloves, jacket, Very less probablity of clothes drying up in the mountains. Later after the tea and coffee session we stood with our trek to hear some stories about himalayas. Its interesting to hear them from the horses mouth (the true core himalayan people). And trust me you cant miss out on those stories.
Day 3 Balu-Ka-Gera to Shea Goru crossing Hampta Pass

Destination - Hampta Pass
We had to walk 14 kms on day 3. This day includes rock climbing at an altitude of 14000 ft high and down again to 12000 ft where your camp site will be located at Sia Goru. Rock climbing all the way for the next few hours and it was a sunny day which was actually a very good part.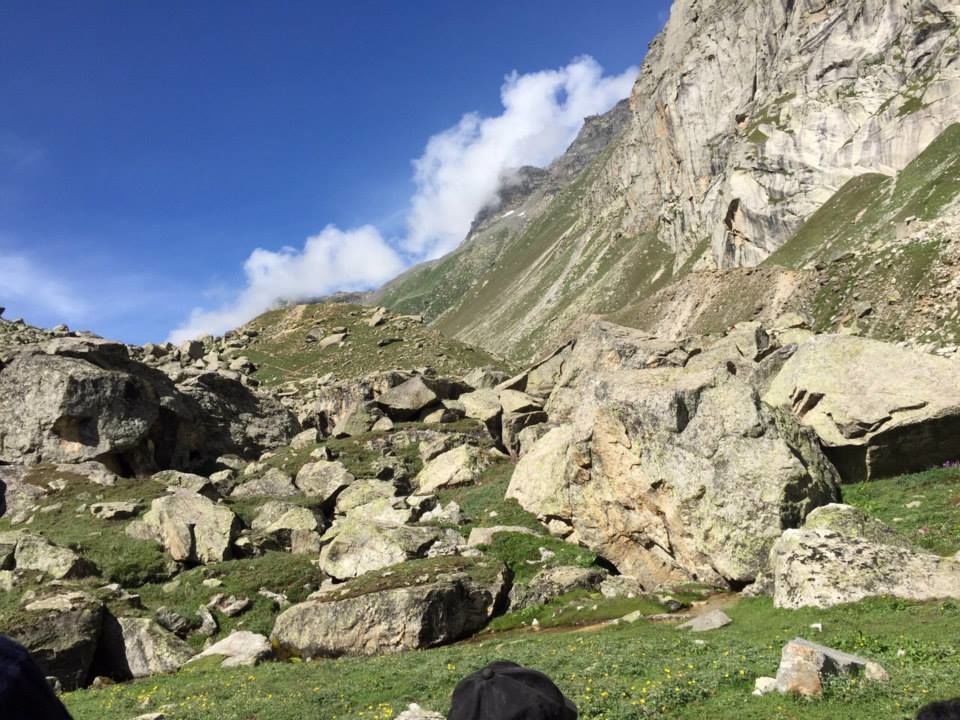 On the way we faced a few difficulties due to the mud and all the slippery mountains.We took camphor tablets along with us for use in case of emergency. Post rock climbing there came one more big river crossing. River crossing once a day is like an achievement in itself. It was not limited to rock climbing and river crossing.
Here we go Snow and Glaciers!!!! You cant keep your feet straight on the glacier. No wonder you wear the Quecha shoes or any trekking shoes. You were bound to slip and fall. Walk slowly looking at each step. Not the snow roads, they were steep glacier mountains. First balance your feet in the glacier and walk upwards. Walking on the glacier consumed most of the time on day 3. Just follow your trek guide.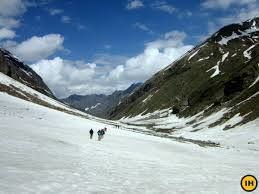 Packed lunch roti and Bhendi sabji was provided.

Post lunch for the next 2-3 hours there was only glacier and snow mountains.
Don't look up at how much you have to climb don't look down at how much you have walked. Just look down and keep walking.
And There you go!! You can see Hampta Pass coming ahead. Excitement and motivation suddenly rises that you finally conquered it. Foggy climate, snowy mountains, Mountains all around walk and walk, Life couldn't have gotten better than this.

There you go HAMPTA PASS. Heaven on earth!!. You will suddenly feel lively and enjoy the best feeling being on top of the world.
This feeling is important and all the 3 days efforts are definetely worth it. Lights, Camera, Action and suddenly you are all ready to click photographs.
Then came the trickiest part of the journey - descent from the mountains.

The best way to get down is using sticks as a balance or by sliding down. The descent is equally tiring. But part of the descent will involve walking on a flat land.
But once you come down at 12000 ft you will see your base camp at Siagoru which is also located at the river side, snow capped mountains and green base camp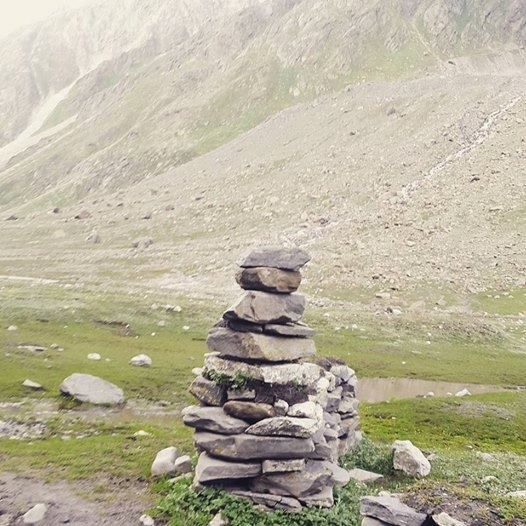 Day 4 SiaGoru to Chatru
This day is again a descent walking but less tiring and less difficult than day 3 It involved approx 4-5 hours of downhill trek. However the downhill walking involved walking on the edges of mountains. Also the routes are slippery which can lead to slippages. The glacier descent is also involved in this route. The glacier on this route is more slippery as it a downhill and careful steps to be taken while placing the next foot. Chandra river is too huge and you'll see heavy waves flowing aside while you walk.
Once you reach the destination Chatru we halted for a break and our jeeps were waiting to take us to the most awaited destination - Chandratal Lake.

On the wheels, I was literally sitting straight clicking pictures of the beauty around and maneuvering between all-pervasive boulders/rocks & crumbly edges. It's almost like an off driving experience that too in high Himalayas.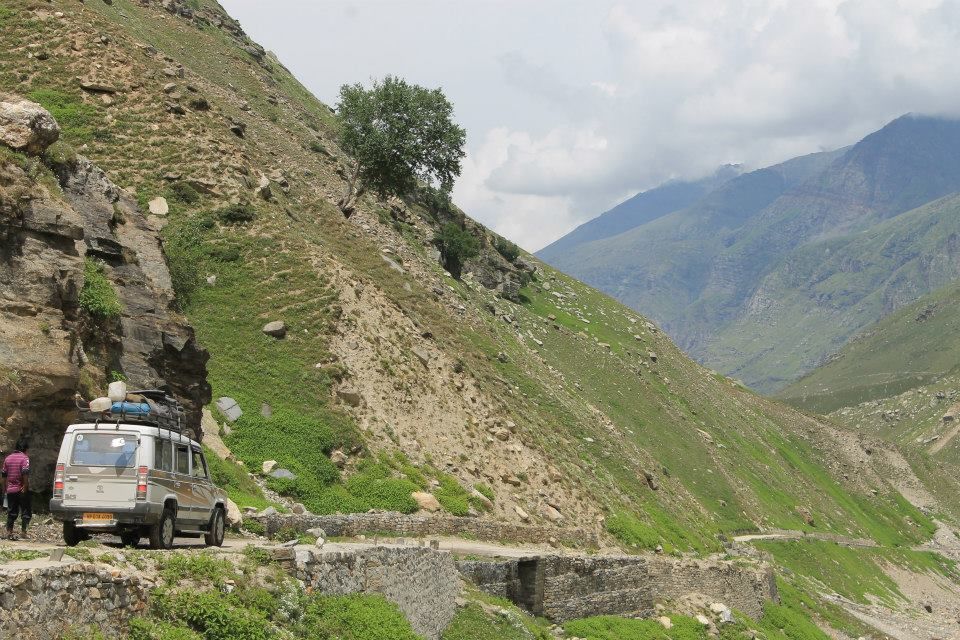 While you reach the chandrataal lake, you come across marvalous scenic beauty, eye catching beautiful mountains, clear skies.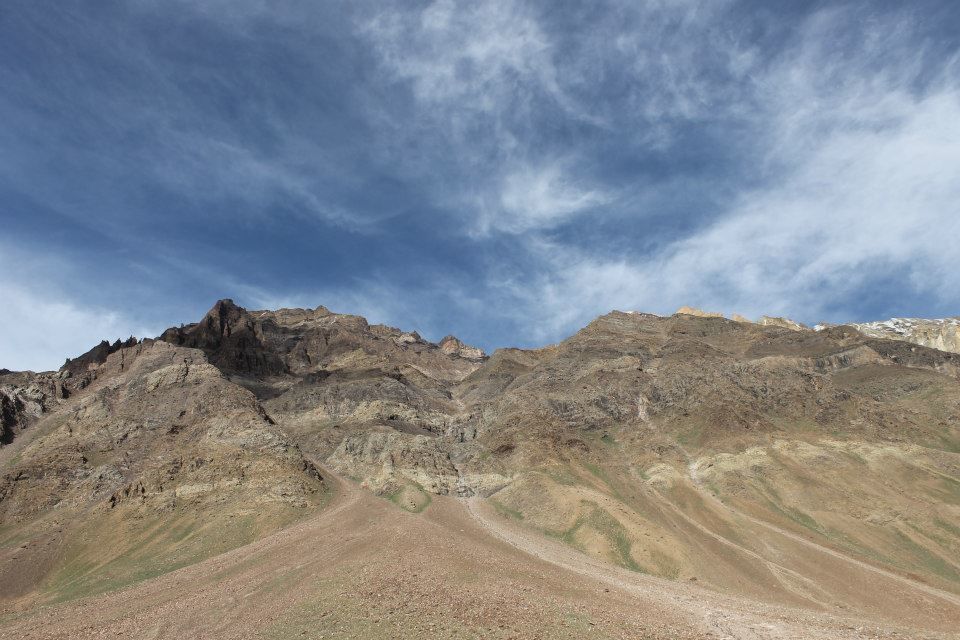 The crystal clear lake water and you can actually see the reflection of the siding mountains in the lake is the beauty of this lake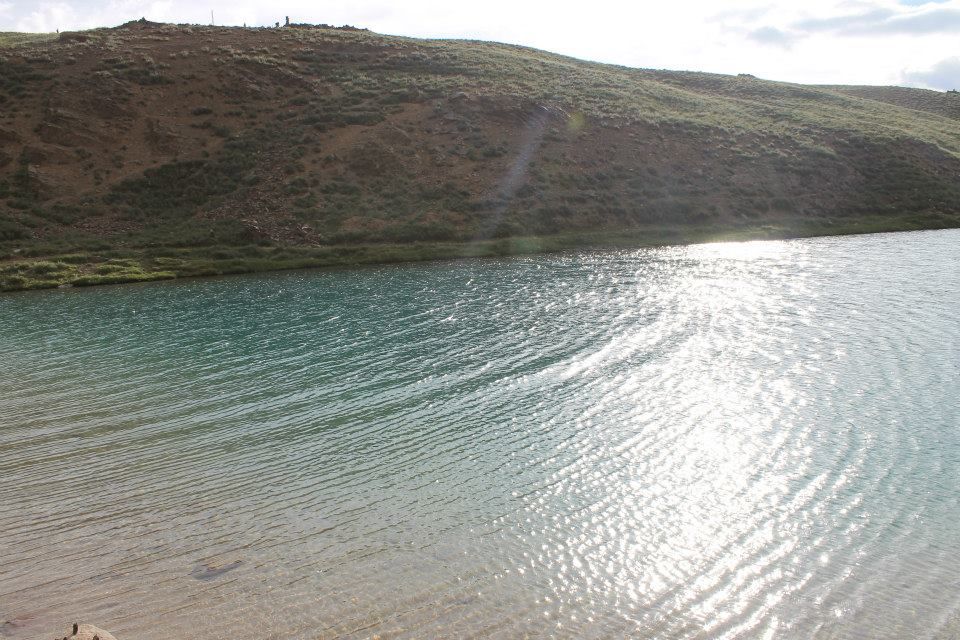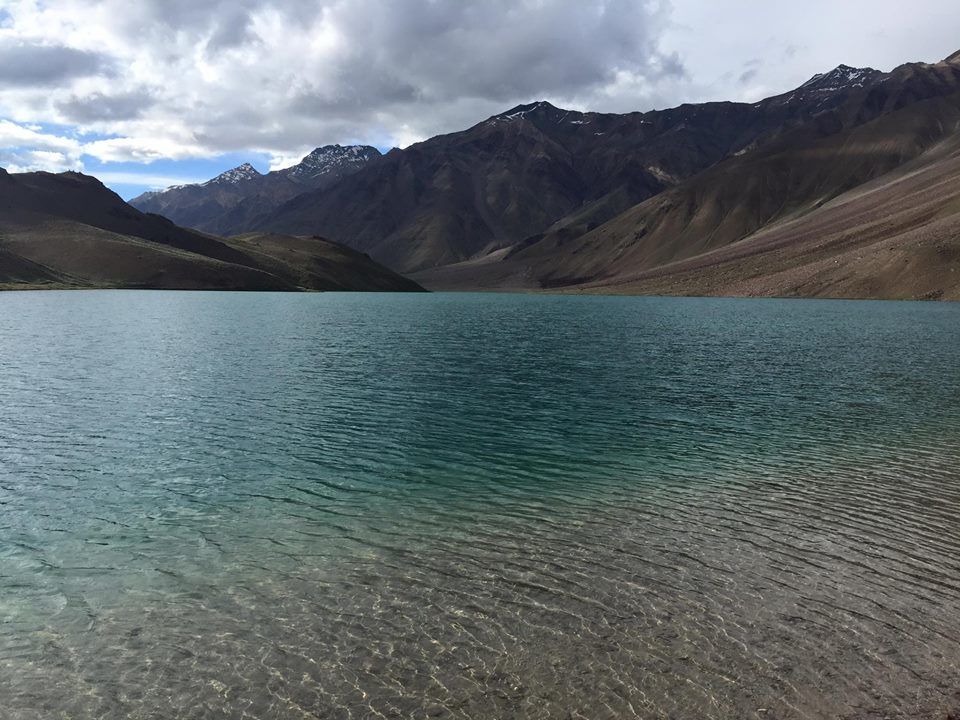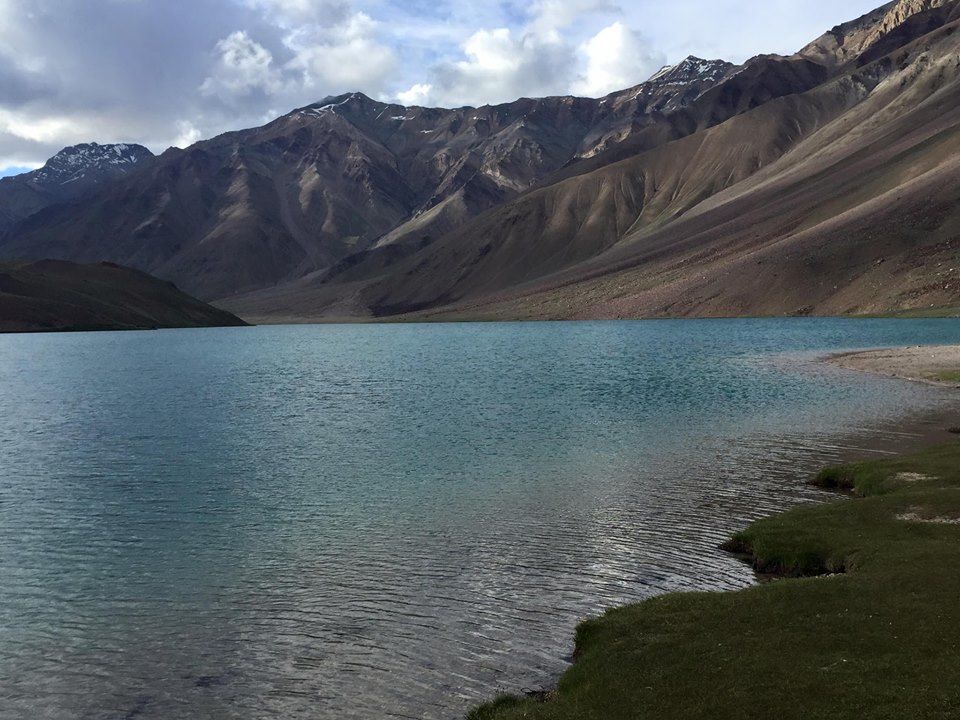 This is the most beautiful part of the entire trek. Could you ever get bored of this beauty?
We came back to our base camp at Chatru and ended the day
Day 5 Chatru to Manali
We said goodbyes to all the new and nice people we met and then hit the road back to Manali. We halted at Rohtang pass on our way back and as we had extended out trip to stay back in manali. we stayed at a hotel and the others left for their way back to home.
It was a memorable life thrilling experience ever!!
I would like to thank Trek the Himalayas group for arranging such an amazing trek. Starting from arranging our campsites, to lunch and dinner to dropping us safely to Manali.
Really worth choosing Trek the Himalayas!!