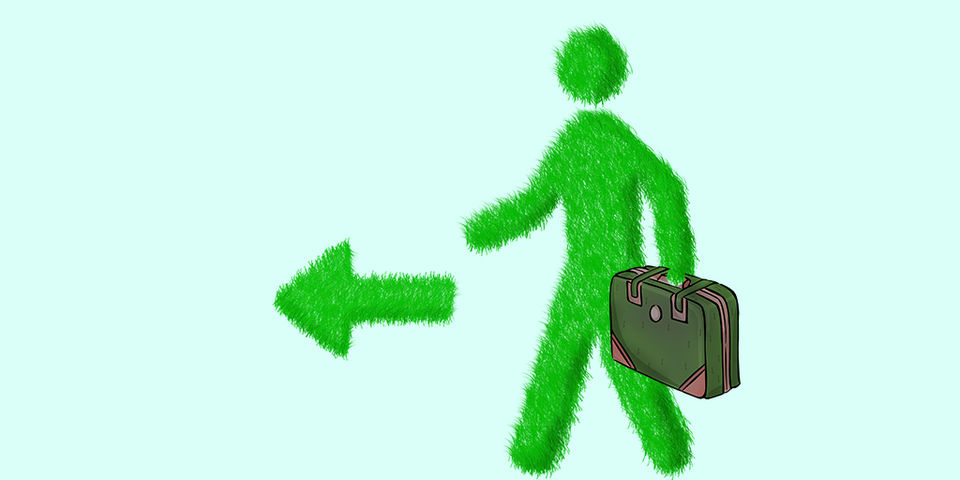 Did you know that travelling is bad for the environment? Yes, when you want to go on that cruise with the three water-slides and unlimited buffet, or if you book a suite in that 5-star with the infinity pool; you are harming the Earth more than you think. With every single footstep of your journey you leave a carbon footprint behind.
From transport, to shopping, and food; the amount of carbon that the global activities of tourism release, form 8% of the total greenhouse gas emissions; flights being the principal emitters.
These inferences were obtained by a new research report in the journal Nature Climate Change titled "The carbon footprint of global tourism", authored by Manfred Lenzen, Ya-Yen Sun, Futu Faturay, Yuan-Peng Ting, Arne Geschke and Arunima Malik. 
From the report; in a list of 160 countries emitting carbon from tourism, India stands fourth. 
This means that after the USA, China and Germany, India has the largest carbon footprint from tourism in the world. With more and more households joining the middle-class population with their growing disposable incomes, travel is one large sector people are spending their money on.
The report has been covered by major media houses such as BBC News and The Independent, with Indian publications such as The Times of India, The Hindu, Financial Express, The Telegraph, and the Economic Times also running stories in relation to the report's implications to India. While we at Tripoto are passionate proponents for travelling; we believe this comes with a responsibility towards the very Earth we are exploring.
A very unfortunate trend has been on the rise lately, with many reports of various travel destinations across India reaching their saturation point in terms of the number of people they can accommodate. With most Indians rushing to the mountains and hill stations during the summers to beat the heat, or in winters to get a taste of snowfall; these places, spanning the Himalayas all the way to the Nilgiris and beyond, are bearing the brunt.
Just recently, with reports of Shimla facing a water scarcity, questions were being raised regarding the causes. High rates of tourist footfall and climate change were found out to be two of the leading factors.
 We must understand that these places are inhabited by locals. Our summer getaway is their home. While they are benefiting from tourism, they are also forced to share their own resources with reckless tourists who don't value them.
A major part of the responsibility lies with the members of the tourism industry themselves. Both large hotel chains and independent lodging establishments must establish initiatives to build new properties that comply with international green standards and regulations, as well as make existing hotels more sustainable. Further, the Government should look at options to either grant contracts that make multiple forms of domestic transport more energy efficient, or create advisory boards for the same. There must also be stringent caps put in place for the number of tourists that visit a place in a certain time-period, especially those places that are already struggling to cope.
The greatest onus is, however, still on us travellers. There are a lot of choices we can make while planning our trips and while travelling, to make sure we leave behind the lightest carbon footprint possible.
 Most of these involve little to no extra costs, and do not make your travels any less comfortable or entertaining. Here are some ways to make your trips a little less hard on Mother Nature: not visiting places that are reportedly overcrowded, choosing trains/buses over flights, choosing hostels/homestays/eco-resorts over conventional hotels, packing light using reusable items and less plastic, not littering, not wasting electricity and water supply, and supporting the local economy.
If you would like any more details, experiences, and exposure to the world of sustainable tourism; here are a few articles written by Tripoto staff writers that cover some pressing issues.
A Dummies Guide To Responsible Travel: Indian Edition by Sreshti Verma
Frequently Used Bits of Plastic That Are Turning Our Favourite Destinations Into Plastic Graveyards by Disha Kapkoti
We Have Ruined Kasol Forever. But Is It Too Late To Save Parvati Valley? by Sreshti Verma
'3 Idiots' Has Brought A Bunch Of Idiots To Pangong Tso And We Really Need To Talk About It by Disha Kapkoti
Have We Ruined McLeod Ganj Forever? by Sreshti Verma
The Mountain Is Not There For Your Hobby Climbs: Here's How You Can Trek Responsibly by Sreshti Verma