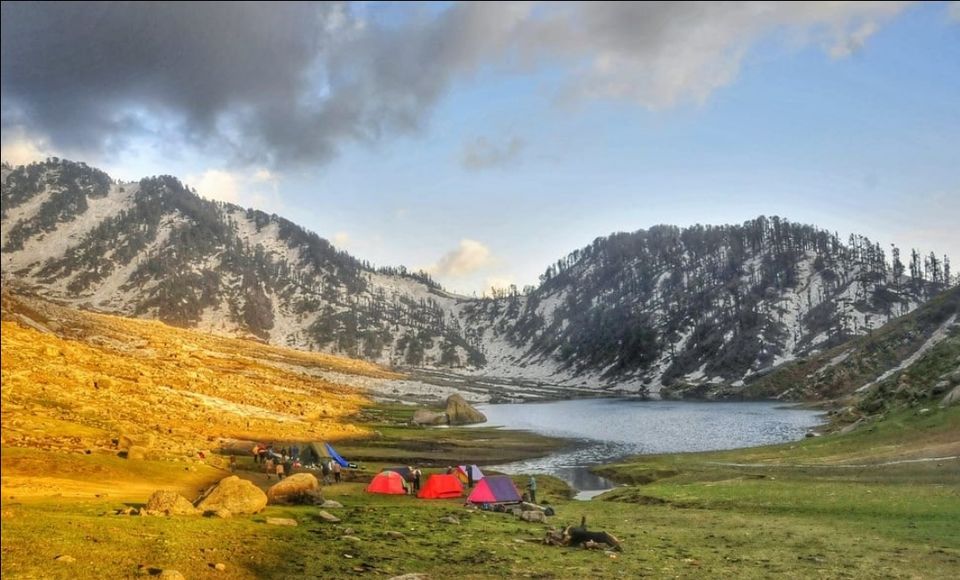 Kareri lake is a shallow, freshwater lake situated in the Dhauladhar range which is approx. 9 kms Dharamshala, in the Kangra District of Himachal Pradesh. It is located at an altitude of 2,934 metres above the sea level and is a popular trekking destination as well as a major sightseeing attraction. The snow melting from the Dhauladhar range serves as the water source for this high-altitude lake. The water visibility is very high, and in most of the places, the lake bed is visible. The lake remains frozen from early December to March–April.
Trek to Kareri Lake
The trek to the Kareri Lake commences from Mcleodganj and then leads up to the Kareri Village, which is located at an altitude of 1,800 metres above the sea level. This entire trek passes through a thick pine forest and small villages. Trekkers will find themselves gradually moving upwards to the Kareri Lake through narrow ridges and thick forests. Many times trekkers will find themselves crossing the Kareri Nallah several times over a wooden bridge. The trek then proceeds directly to the Guna Devi Temple that is dedicated to Lord Shiva and Shakti. This fantastic temple is located on a hilltop and overlooks the breathtakingly beautiful lake which is situated at an elevation of 2,120 metres above the sea level. From Guna Devi Temple the trail continues its ascend towards Triund at 2,850 meters before finally wheeling to Mcleodganj.
While most of the backpackers who visit Dharamshala chooses to trek to famous spots like Triund or Indrahar Pass circuit, a short trek to the Kareri Lake makes for a more richer and quieter experience.
When to Visit
The best time to visit the Kareri Lake is between May to July. Experienced Trekkers also visit the lake during September to November.
How to Reach:
By Air: Gaggal airport is the nearest airport which is approx. 12 km from Dharamshala
By Train: There are no direct trains for Kangra & Dharamshala. Multiple trains ply till nearest towns like Jalandhar & Pathankhot
By Road: One can hire taxis from Dharamshala to Ghera village, which is approx. 20 kms. away from the Lake. The nearest village that is linked via public transport is Ghera which is approx. 17 kms from Dharamshala. Then one can rent a taxis from Ghera
Where to Stay:
Kareri village has a Forest Rest House or else you can choose for homestays
Other places to Visit:
There are many options to trek beyond Kareri lake like to Chamba via Baleni pass (3750 Meters) or Minkiani pass (4250 Metres). You can also go and explore seven alpine lakes that lie beyond Minkiani pass. Another option is to walk to Guna Devi temple from Kareri lake via Raeel
Kareri lake is the perfect spot if you love mountains. This placid glacier fed lake that sits nestled under the towering Dhauladhars is a treat to your eyes. So get up and explore, breathe deep, soak in the ambience, smell the rhododendrons, feel the unfettered mountain air in your hair till it becomes a part of you.