Planning a birthday is one hell of a task! It's cruel and gruesome! From ensuring only the right set of people are there to keeping a check at every order that is placed to making certain that the birthday boy/girl does the mandatory bday-shots to making sure the DJ plays just the right kind of dance tracks to ofcourse ensuring that you get the cake, gifts, birthday glasses and what not! Phew!
In the last surprise birthday party that we had planned for our friend, everything that could go wrong did go wrong! From unpleasant beings to exotic orders to embarrassing pictures to exorbitant bill at the end to an extremely bad hangover! That party could very well be documented for teaching us/anybody "what not to do while planning a surprise birthday party."
So, this time around when our friend took complete ownership of planning his birthday party, we were more than happy! After much research and consideration, he had decided to go to Kareri Lake. We were happy about the choice of the destination when we saw the pictures but all that changed when we got to the 'details' bit of it.
Kareri Lake lies in Kangra District of Himachal Pradesh with an altitude of approximately 10,500 feet and is a total trek of 34 kms (two way). Thanks to the city lifestyle, we were extremely unsure of our fitness level to be able to do it. But nonetheless, we were excited for the trip! The mountains were calling and we had to go!
Day 1: Delhi - Dharamshala - Ghera Village - Kareri Village
As always, we had booked our tickets on redbus. The tickets were extremely expensive for some reason this time! We boarded the Volvo from New Delhi and reached Dharamshala around 9am the next day. After a hearty breakfast at Jimmy's at Mcleodganj, we headed towards Dharamkot, which is another 2kms from the main town of Mcleod. We met our guide, Sonu at one of the home stays there. And after filling up forms and taking our set of raincoats and trekking sticks, we headed towards Ghera Village in a cab. Ghera is around 20kms from Dharamshala. The roads to the village were bumpy! Within an hour and a half we had reached the village. This was the point where we had to leave the cab and start the trek. After crossing the bridge, we took a left turn and trekked upwards, straight along the Kareri stream.
The distance from Ghera village to Kareri village was 5kms only. But it was the steepest trek that we had done till date! We took a mini-breather-break after every 5 minutes! We reached Kareri village around 5pm. Our rooms had an adjoining mini garden and we crashed on the grass as soon as we reached there! We were delighted that they served us kadak chai and pakoras! We spent the evening admiring the sunset. The sky had turned into a glittery patch of oranges, pinks and purples! Post a scrumptious meal, we called it a night!
Day 2: Kareri Village - Kareri Lake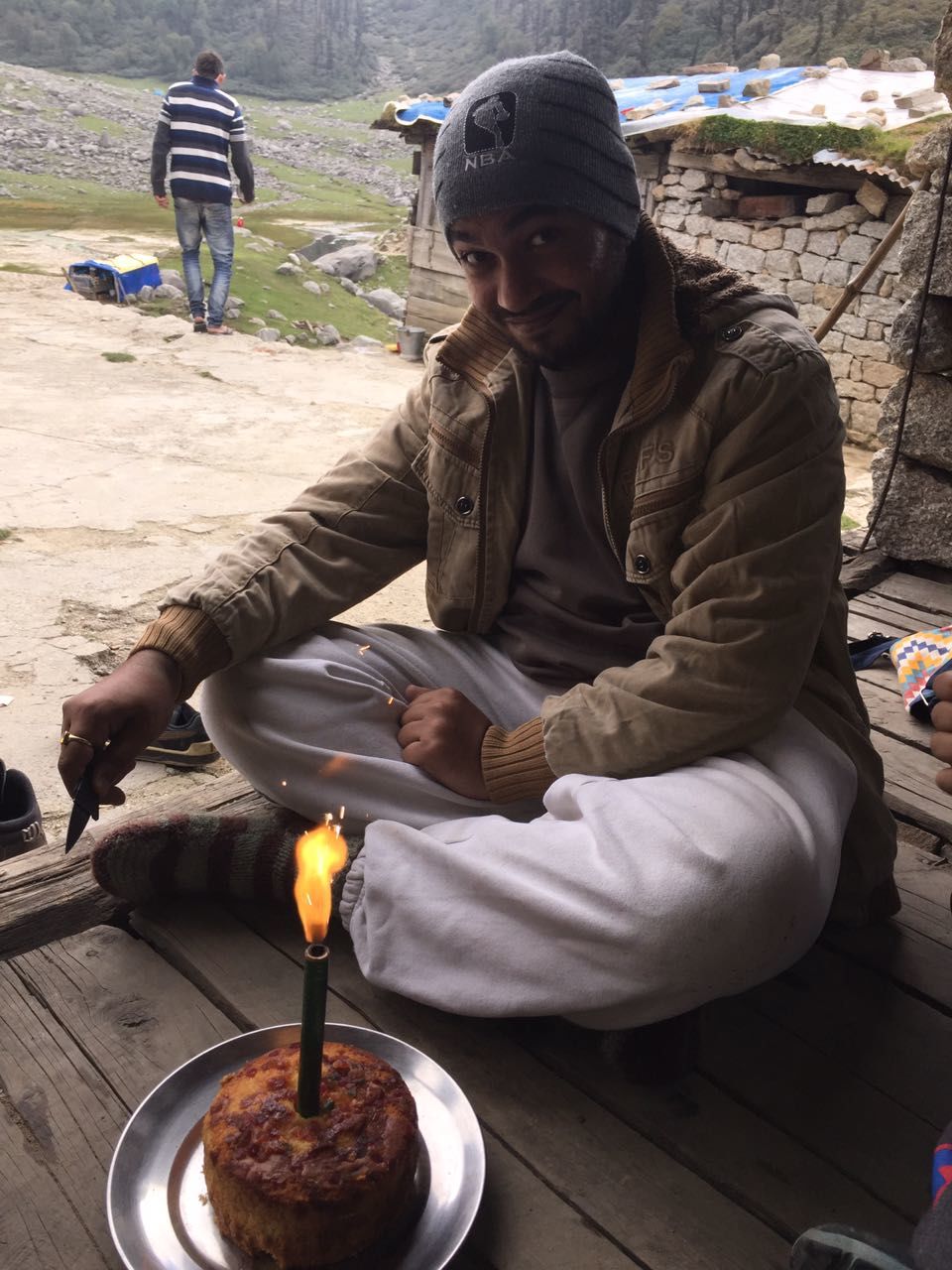 We got up early and post an appetising breakfast, we started the trek towards Kareri Lake. After numerous photo-ops, mini-breather-breaks, we reached the top of the Lake. We had trekked a total of 13kms only to be slightly disappointed with the Lake view. All the blogs and articles that we had checked out about this place had such beautiful pictures of the Lake...Some of them even had people swimming in it! And we had chosen the best time to visit the place...Let's just say that the Lake was not in its full glory! But other than that, the view overall was breathtaking! It was chilly and we had two rounds of tea at the shop near the temple. Post which we had one of a kind birthday celebrations! ???? Our friend who turned 27 (and he is going to kill me for mentioning his age) loves trekking and we were happy that we could do this trek with him. Singing the birthday song and having a huge slice of fruit cake at 10,500 feet was an experience in itself!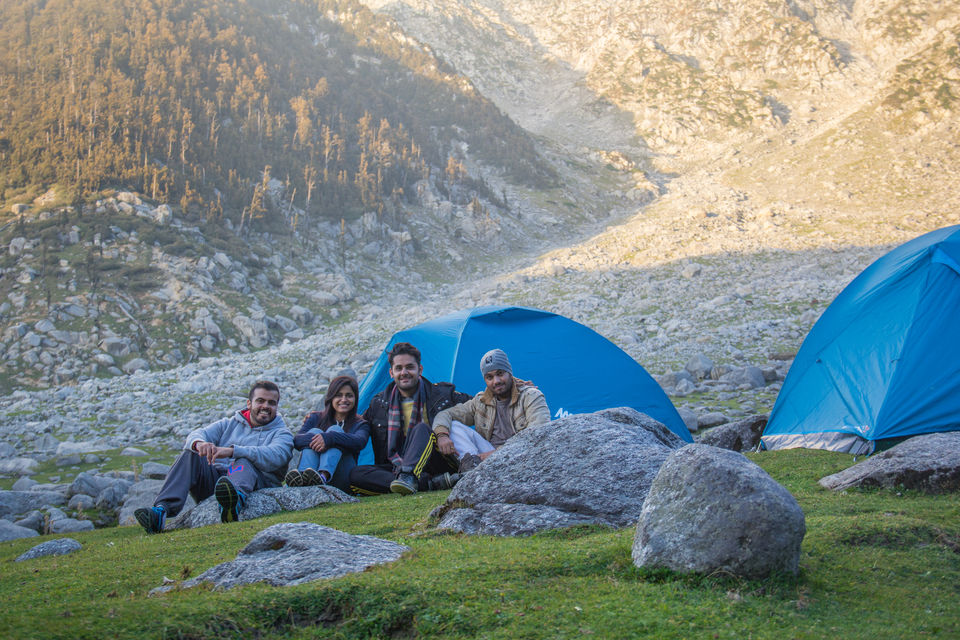 Our camps were set-up in the soft grasslands surrounding the Lake. After a quick power nap, we had another round of tea-pakoras and we tried to capture the magnificent landscape around. They had arranged for a big bonfire near the dining tent but on special request, we got a replica of that warm necessity near our tents. The night sky looked like a million dollars! We experienced the true joy of a moonlit night! It was sheer magic! And the 12 year old Chivas ofcourse had its own charm! ????
We wrapped up the day with a delicious meal and our silly little talks! The temperatures had dropped to 2 degrees in the night...as we tossed and turned numerous times to find our own warm space, we were happy we did this trek!
Day 3: Kareri Village - Dharamshala
This was the most dreadful day! We had to trek a total of 17kms before sunset to catch our bus! The last 5kms in this stretch was the most tiring bit! But we reached Dharamshala much before time! Sipping Hazelnut Latte and playing UNO at Café Coffee Day while waiting for our bus, I was reminded of these lines by Jon Krakauer, "The very basic core of a man's living spirit is his passion for adventure. The joy of life comes from our encounters with new experiences, and hence there is no greater joy than to have an endlessly changing horizon, for each day to have a new and different sun."
Rupin Trek? Roopkund Trek? Chadar Trek? What's next?!
Pic credits: @mohit27690