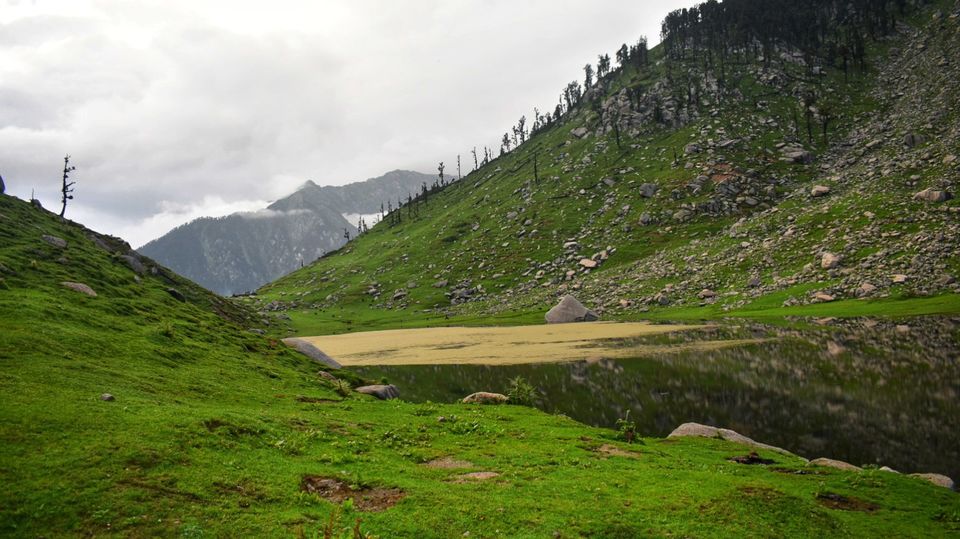 Kareri Lake is a high altitude lake which lies in Dhauladhar range of Dharamshala in Kangra district. It lies approximately 10,000 feet above sea level, which makes it one of the highest lakes in India. What makes this lake more secluded is, you have to trek around 15 kms(one way) to reach here.
Day 2:
As we woke up in the morning it was raining heavingly. So we got bit late and started by 9:30am for the trek while it was still drizzling!
Trek to Kareri Lake is doable for a beginner or we can say for a person with considerable fitness. It's a total of 15-16kms trek one way. It takes around 6 hours on an average to reach the lake. Kareri lake is base for Minkiani Pass (4.5 km from the lake) and Bleni Pass.
Dhauladhar ranges keeps the view captive throughout. This trek also takes you through lush subtropical forests and alpine grasslands. Kareri lake feeds to the Nyund nallah which serves as both guide and refreshing companion for almost the entire trek. After completing approximately 7kms, you can find a beautiful campsite by the nallah at Reoti/Revti.
We reached Kareri Village around 12:30pm. There are quite a few staying options in the village like Forest Rest House (which supposingly doesn't accepts booking during peak monsoon season), small hotels and many Homestays! Homestay proves to be the best bid, since you get to know ample of things about the place staying with locals. I stayed with my guide's family , the same person who took me from Dharamshala to Kareri Village.
After having delicious home-cooked food for lunch, my guide took me for a tour of this small scenic village. We also trekked to a beautiful stream called 'Harnala'.
Evening walk to Kareri Village :
Trek is well defined except for the last stretch which is bit rocky. We reached Kareri Lake around 3:15-3:30pm which is approximately 6 hours from when we started. I would recommend to camp here for the rest of the day , so that you start descending fresh next morning. Also because, a moonlight night under stars with resplendent view of Dhauladhar range would be worth experiencing!
Enjoying extremely chilled night at campsite, we started descending by 10 am next morning. It took not more than 3 hours and was much easier , though most heartfelt. Mountains have never failed to surprise me with its evergrowing beauty!
After such beautiful yet challenging experience, I reached my homestay in Kareri Village. From there I left for Dharamshala soon after having delicious lunch.
Note: Recommended month to visit Kareri Lake would be April-May, October-November. But if rain is not your concern, then believe me beauty of these mountain is at its best in the month of July. You can hire a private taxi from Dharamshala to Kareri Village which costs not less than 1200rs. Homestay in Kareri costs minimum of 300rs/night for a shared room. Kareri trek including camping and food costs 1500rs/person. This trip costed me a total of 5000rs including transportation to-and-fro Delhi.
You can check my blog for more travel stories!
Ever since I started following mountain stories I learnt about this place called 'Dharamshala'. Dharamshala being home to Dalai Lama, is also a popular hippie place among people in and around Delhi. Now if you ask me what made me travel to this place!!! Answer would be, Rain! Dharamshala is known to receive maximum rainfall among all places in Himachal Pradesh in the month of July-August. Due to which if you follow some blogs, videos or news , they definitely suggest you to avoid visiting Dharamshala during monsoons (which became obvious reason for me to explore this part of Himachal Pradesh during this very time).
While looking for some less explored places in and around Dharamshala, I came across this beautiful village called Kareri, which is approximately 30kms from Dharamshala. Kareri Village is also starting point for Kareri Lake trek.
So let me tour you through this breathtaking village and lake!
My short itinerary for Kareri Lake Trek –
Day 0 :
I boarded an overnight bus from Majnu ka Tila in Delhi for Dharamshala. It took around 12 hours to reach Dharamshala(since it was raining throughout, in best case you can reach Dharamshala in 10.5 hours).
Day 1:
After reaching Dharamshala around 10am, I took help from one of the locals to reach Kareri Village. Drive from Dharamshala to Kareri Village takes around 1.5 hours. Groh, Chadi and Ghera are the villages on the way from Dharamshala to Kareri village. Roads are in terrible condition after Ghera or you can say there are no proper roads after this point. But views throughout definitely compensates for everything!
Here is some glimpse :