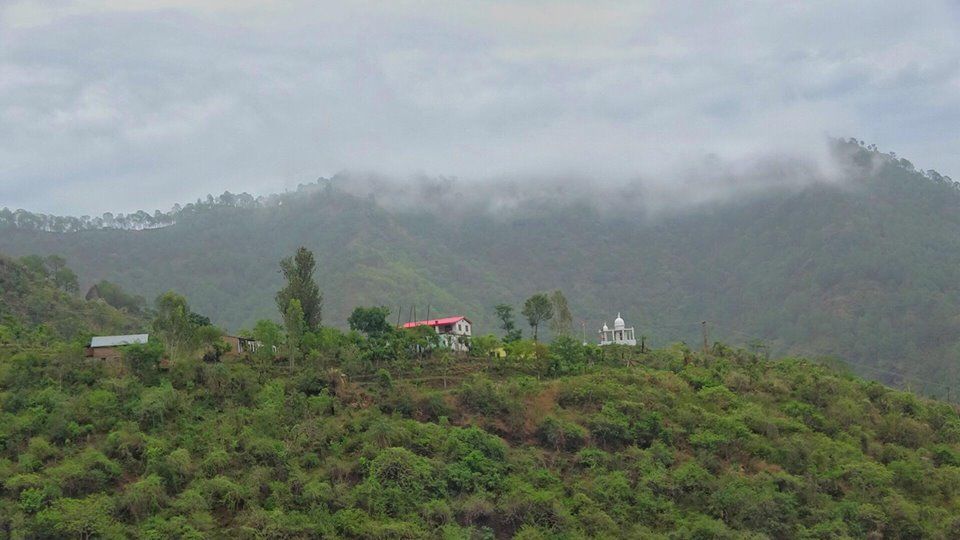 We returned from our last travel around mid of April and with no firm travel plans, the traveler in me was getting impatient and anxious.
Having taken two long breaks in the past five months and with two more planned in the next six, we were looking for somewhere close (by time) that we could visit over a long weekend. Also, we love to travel anywhere in the shoulder season – you can have the place to yourself. But with summer vacations on, its holiday season everywhere! We chose Kasauli – it was a perfect fit! Six hours' drive from Delhi/Gurgaon and a RELATIVELY less popular hill station (in comparison to the likes of Shimla, Chail, Nainital, Almora etc)
We started off from Delhi and hoped that we would leave behind the heat and dust and will get some respite from it. We crossed all of Haryana, entered Punjab and then into Himachal Pradesh. It was it as bad. To put things in perspective – we were driving in the hills but couldn't see any. The visibility was limited to a couple of hundred meters and it continued to be so till we reached our Hotel – Baikunth Resorts.
It's a beautiful property, nestled among the hills, in Garkhal. It's on the hill opposite Kasauli and I was hoping to get a beautiful view, but was disappointed because of the weather. We fed and rested ourselves a bit, relaxed at the property for a while and the decided to drive down to Kasauli!
Kasuali is a very small town. The Mall Road even smaller. After a twenty-minute drive, we reached the Mall Road. You pay tax at the entry and then can either park just there, or look for parking further ahead. We crossed the Mall Road and found a parking lot. And then took to walking. The Mall isn't like the ones you would have visited. Its narrow, congested and not very pretty looking! But it is lined with small eating joints serving Maggi, momos, parathas, samosas and the likes! And there are a few souvenir shops as well. One end of the Mall Road extends towards the Christ Church and then uphill to Manki Point – lined with some cottages – old world charm!
The other end is marked by a statue of Dhyanchand. One road from there goes uphill to the Sunset Point and one goes downhill to the Heritage Market. After roaming around for a while, we headed to the Heritage Market, browsed through some souvenir shops and the then settled into a quaint café at one end of the Heritage Market – Café Mantra. There weren't too many people around Kasauli that evening and we shared the café with another couple. It served amazing Chinese food and played old Bollywood Classics. We sat there for a little over and hour and then headed back to Baikunth.
On our way back, we could spot Kasauli through the haze thanks to all the lights! We reached Baikunth, took a stroll around the around the resort as it started to drizzle and then finally called it a day!
We had plans to trek the Gilbert Trail early in the morning but we woke up to the sound of rains and a view of Kasauli floating in the clouds!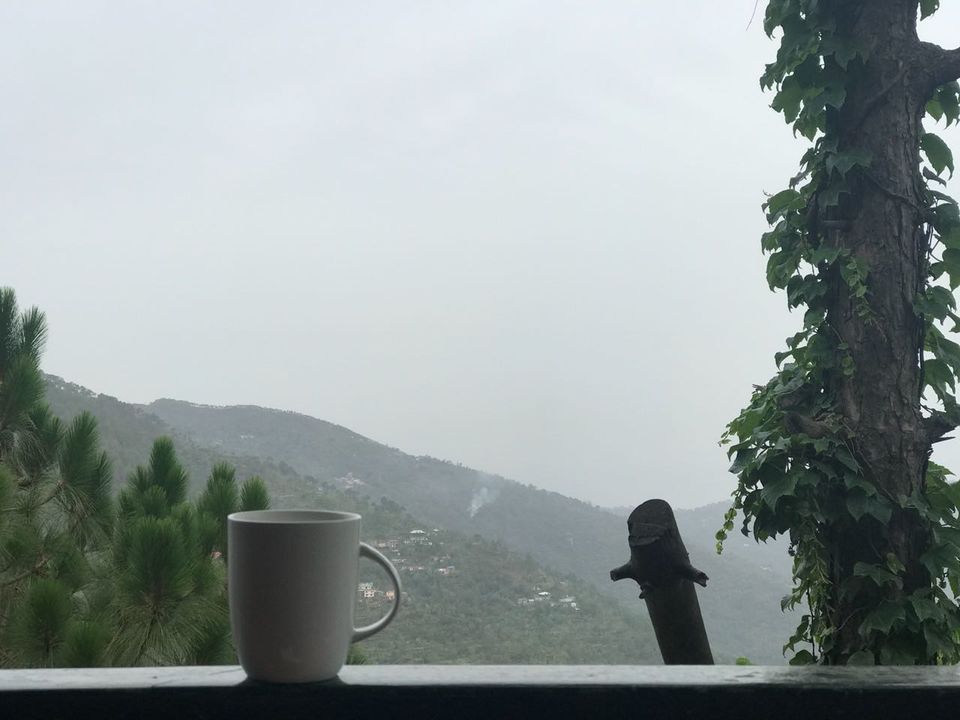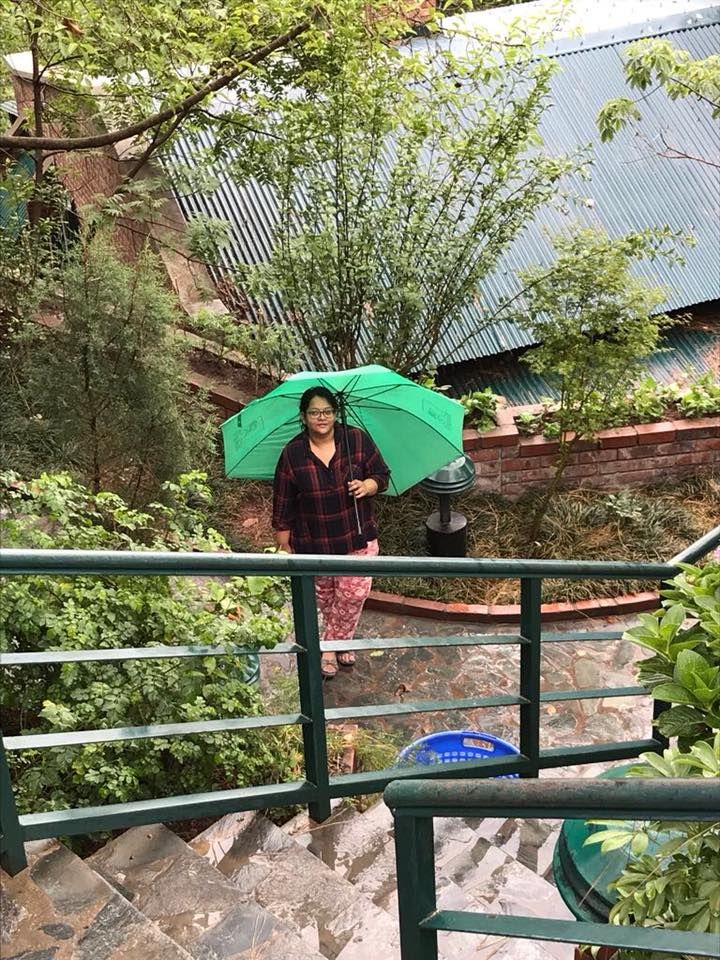 It rained till about noon and then we headed out to Manki Point. There was so much traffic on the way leading upto Manki Point that we decided to take a detour and headed to the Sunset Point instead. Sunset Point is within an Army Area and hence the movement of traffic is restricted. You can take the car up to a point and then walk further. There was no sign of sun and we were dismayed that we would miss a very beautiful sunset. We stopped there for a while and then headed to the Gilbert Trail. It's a beautiful walk! You walk for about 300m and you would find a cemented bench. You can pick that spot to see the sunset. Walk a little further down from that spot and you will find a better one. The trail is about a km and a half. From the bench, the trail turns to the left and you can walk further through trees witnessing amazing views to your right. If you keep walking you can see the Manki Point and hear people chattering as the walk up the steps to the temple. I am sure that if one would climb to the top, it would take you to a beautiful view of the city! Beware of the monkeys on the way! We walked back and sat down in some peace at the second spot I mentioned earlier, played some soulful music and an hour passed by before we knew!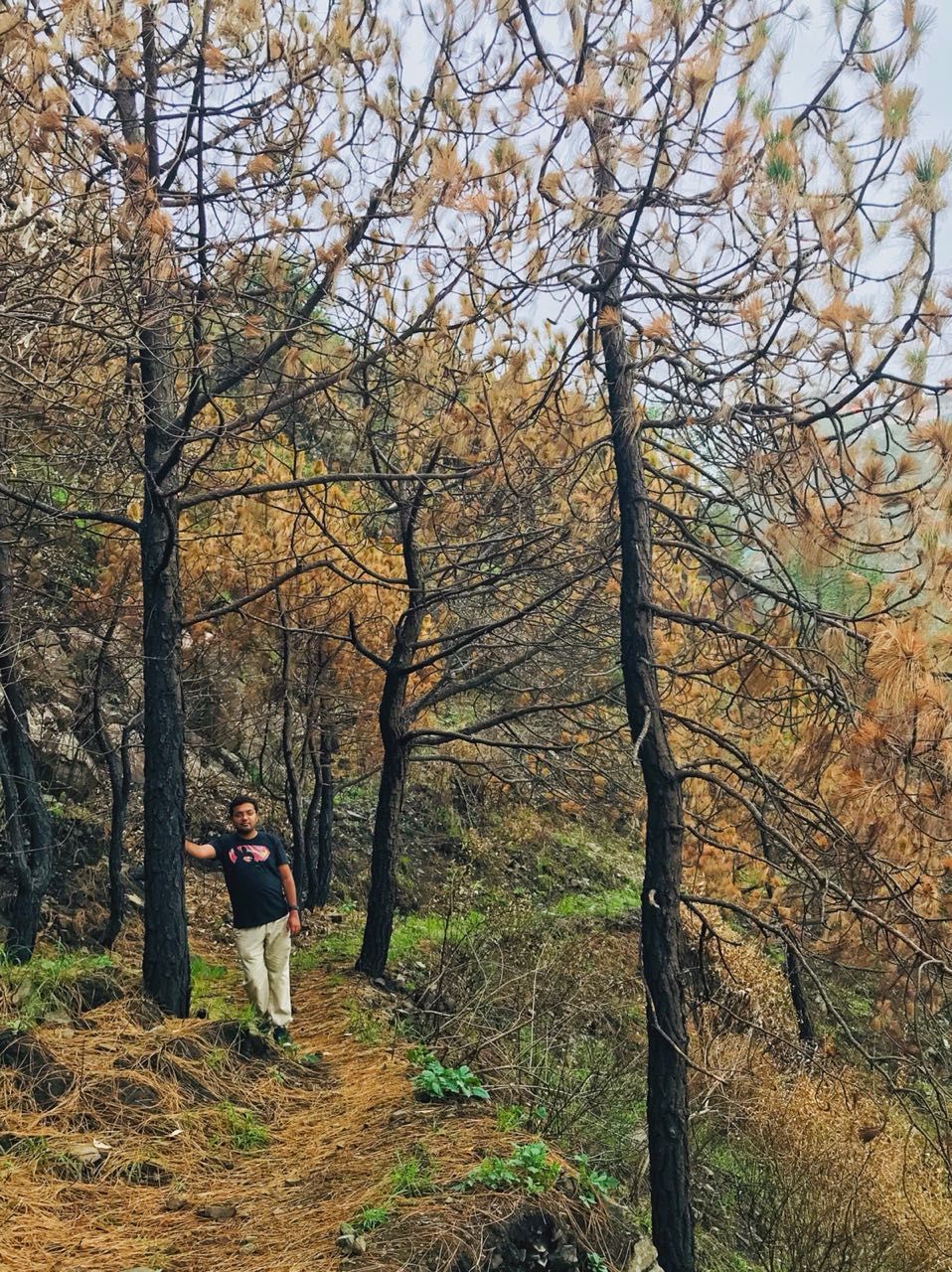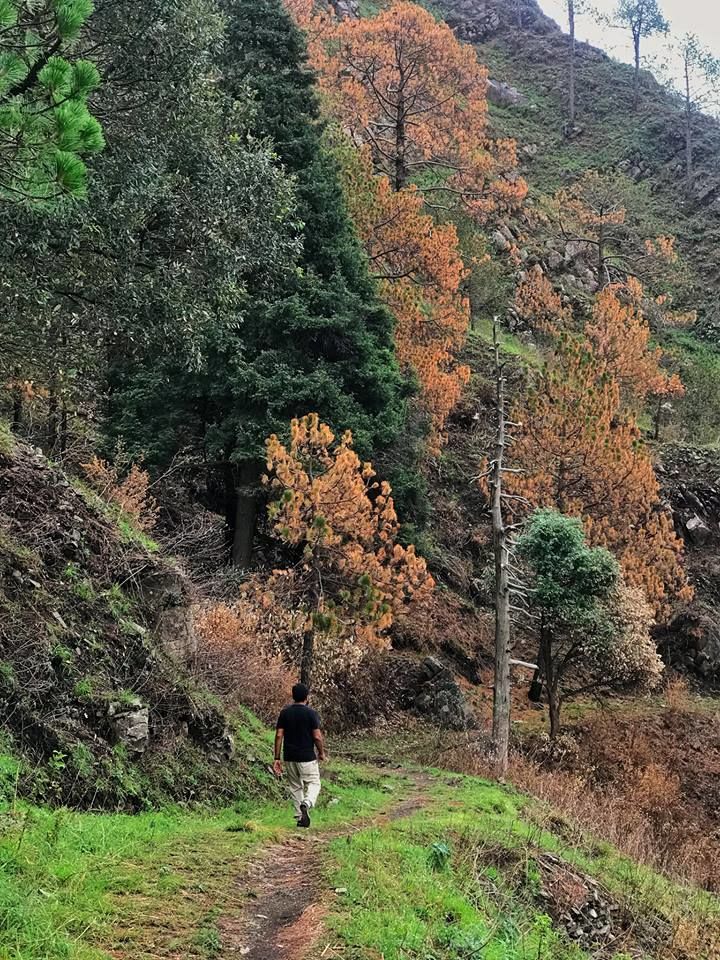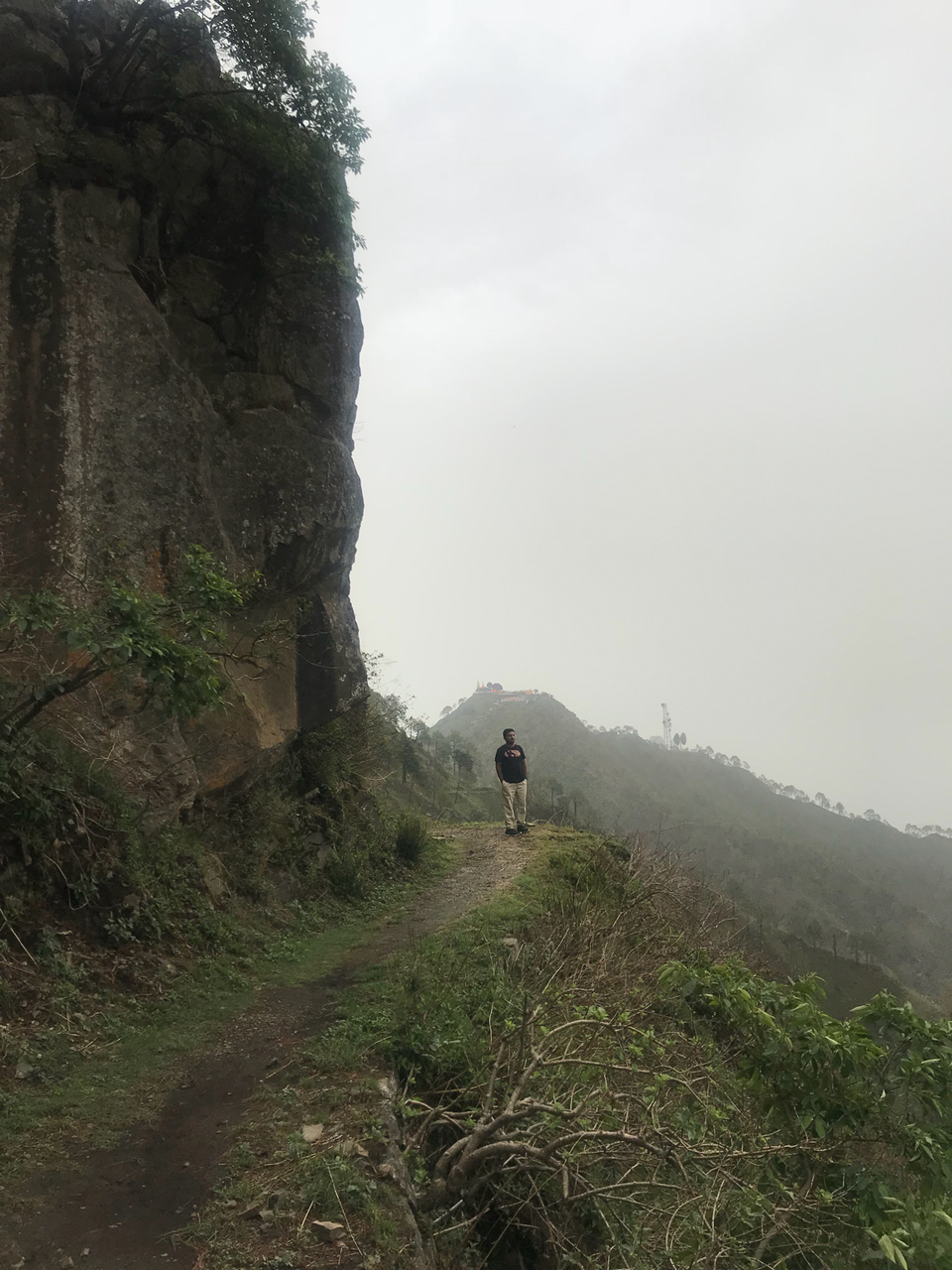 Tired and hungry, we headed back to the Mall Road for some yummy street side food while it rained! We then headed to the Christ Church – the oldest church in Himachal Pradesh. It's has humble interiors but Is beautiful nevertheless. It's one of the very few places where I have spotted a sun dial.
We spent the rest of the evening walking through the lanes of Kasauli and then settled at Café Mantra yet again for a warm dinner! It eventually started to rain again and we strolled through the Mall Road to our car and headed back to the Hotel.
The Hotel was playing host to someone Wedding Anniversary celebrations and luckily for us, they loved Old Hindi Songs! Classic! The music, which played late into the night added its own charm to the rains! We woke up to rains yet again the next morning. I sipped my team, sitting in the balcony, watching cloud after cloud pass by as the husband slept!
We packed up around 10 to start our journey back home. As we touched the highway, we stopped at Gyani ka Dhaba. Having spent 4 years studying engineering at Solan, I had zeroed in on this place as the destination for the best Aloo Parathas! Having eaten to our hearts content, we headed home, planning where to go next!