Mahasu Jatar, also known as the Mahasu Devta Fair, is a popular festival celebrated in the state of Himachal Pradesh, India.
The festival is dedicated to the worship of Mahasu Devta, the local deity of the region. At about 65 km from Shimla-Kotkhai road, this fair is celebrated for two days - usually on the 3rd Tuesday in the month of Baisakh.
The festival is celebrated with great zeal and enthusiasm by the locals who believe that Mahasu Devta is the protector of their land and offers blessings and protection to the people of the region. The fair is celebrated for three days, and during this time, the region is transformed into a colorful and vibrant place filled with music, dance, and devotion.
The rituals:
The first day of the festival is known as the 'Chhadir' day. On this day, people from different villages come together to bring flags and offerings to the temple of Mahasu Devta. The second day is known as the 'Mela' day, which is the main day of the fair. On this day, people from all over the region come to the temple to seek blessings from Mahasu Devta. The third day is known as the 'Jatar' day, and it marks the end of the festival.
During the fair, you can witness a lot of traditional dance forms like the Natti and the Rasa. The Natti is a traditional folk dance of the region, performed by men and women together, and is a sight to behold. The Rasa is another traditional dance that is performed by women, and it involves a lot of spinning and twirling.
Apart from the dance and music, the fair also offers a lot of food and shopping options. You can find a variety of local delicacies like the Channa Madra, a dish made of chickpeas and yogurt, and the Siddu, a steamed bread stuffed with potato or paneer.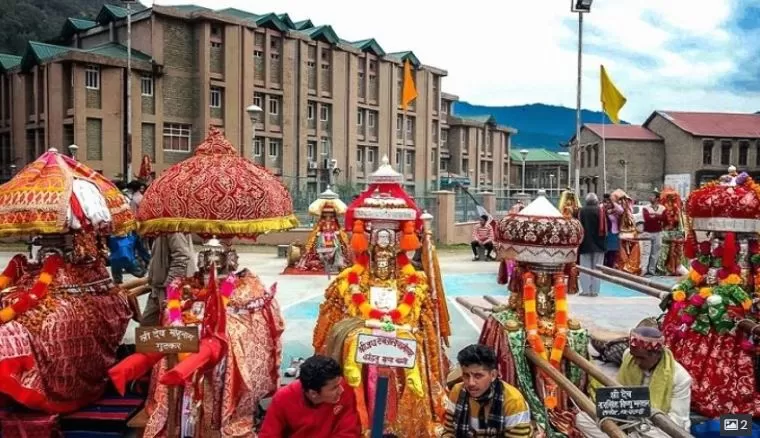 Dates: 17th May – 18th May 2023
If you're planning to visit Himachal Pradesh during the month of May, the Mahasu Jatar festival is an experience that you shouldn't miss. The festival is a perfect way to immerse yourself in the local culture and traditions of the region. The vibrant colors, lively music, and delicious food are sure to leave a lasting impression on you.
Do you know about any unique festival in Himachal? Let us know in the comments below.
Think we missed out on something? Tell us about it in the comments below. Or write about it here on Tripoto.