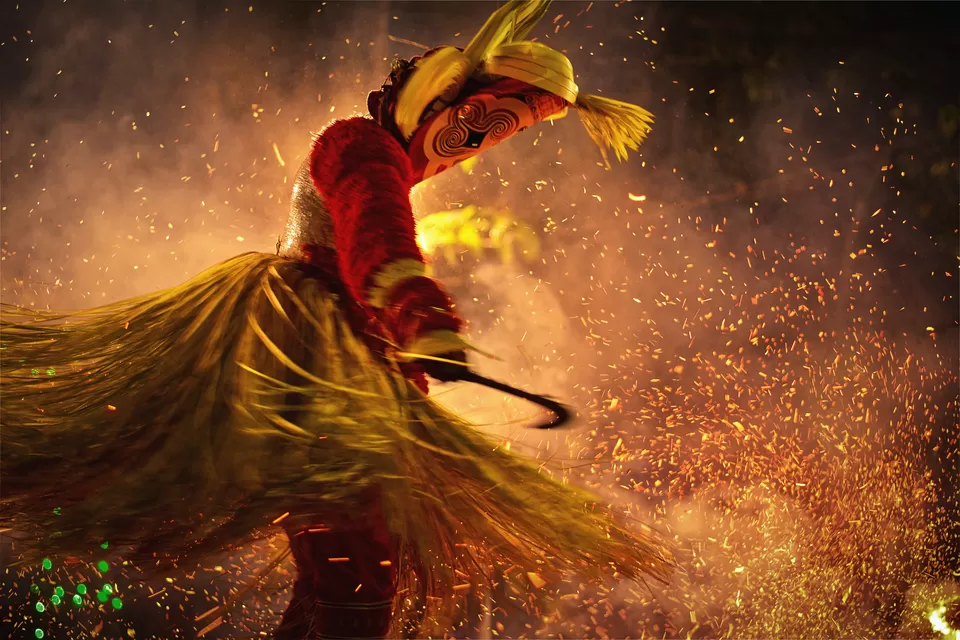 With its diverse cultures, India is not limited to a handful of festivals. Every state, every district, every corner celebrates something special every day. What we have done is bring the most unique ones that are observed during the first half of the year (the whole year would have been way too long!!) so that it provides the readers ample time to prepare an itinerary to attend most of them, if not all!
JANUARY
1. Bikaner Camel Festival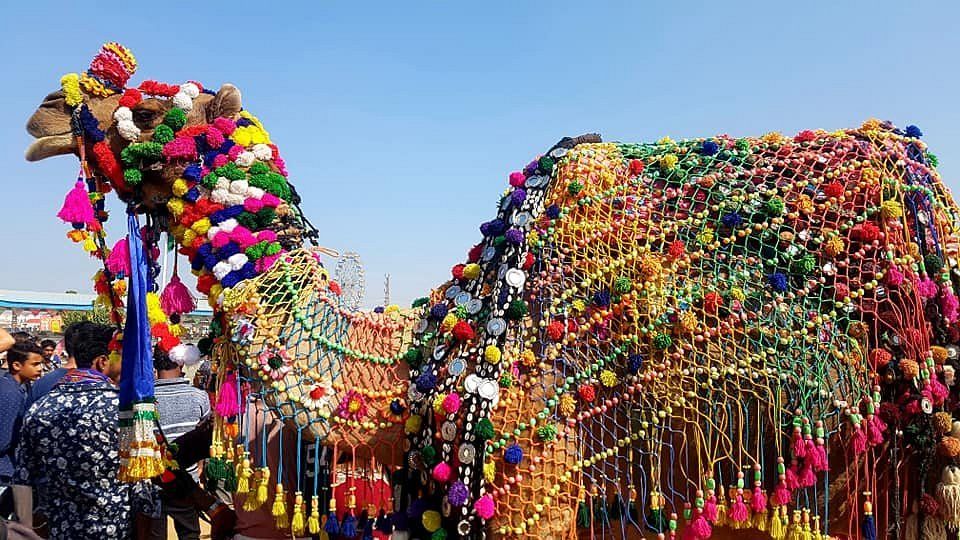 The princely state founded by Rao Bika in 1488 CE was one of my favourites during my Rajasthan travel. This peaceful and well-managed city might not be on every tourists' list who visit Rajasthan but is equally endearing. And now the city of Bikaner is all set to host the annual Bikaner Camel Festival!!! The festival will be held to celebrate Thar desert's lifeline – "the ship of the desert", an initiative that has been taken by the Department of Tourism, Government of Rajasthan.
Where: Bikaner, Rajasthan
When: 11th January – 12th January 2023
2. Lohri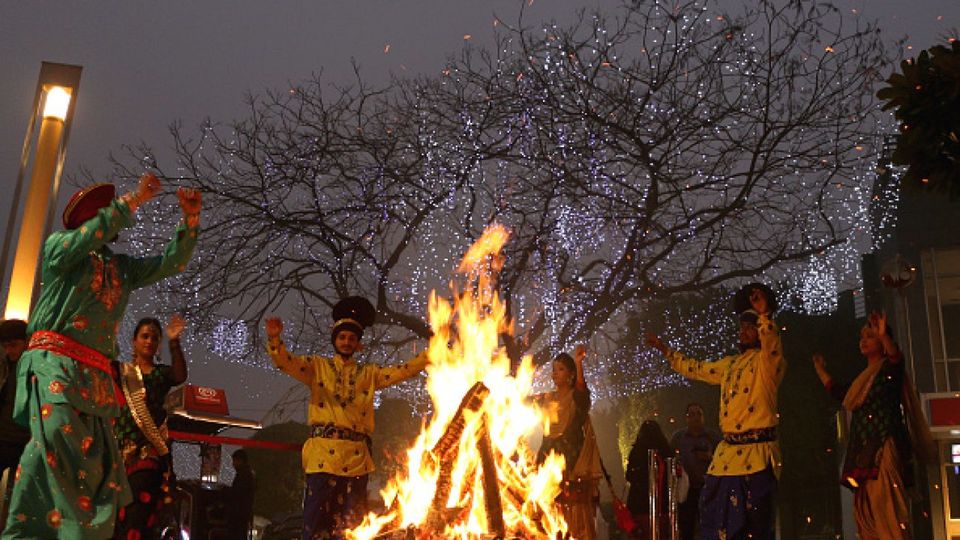 Lohri that is celebrated by lighting bonfires, eating festive food, dancing, and collecting gifts and marks the start of the harvest season. The festival is celebrated.
Where: Punjab and some other parts of North India
When: 14th January 2023
3. International Kite Festival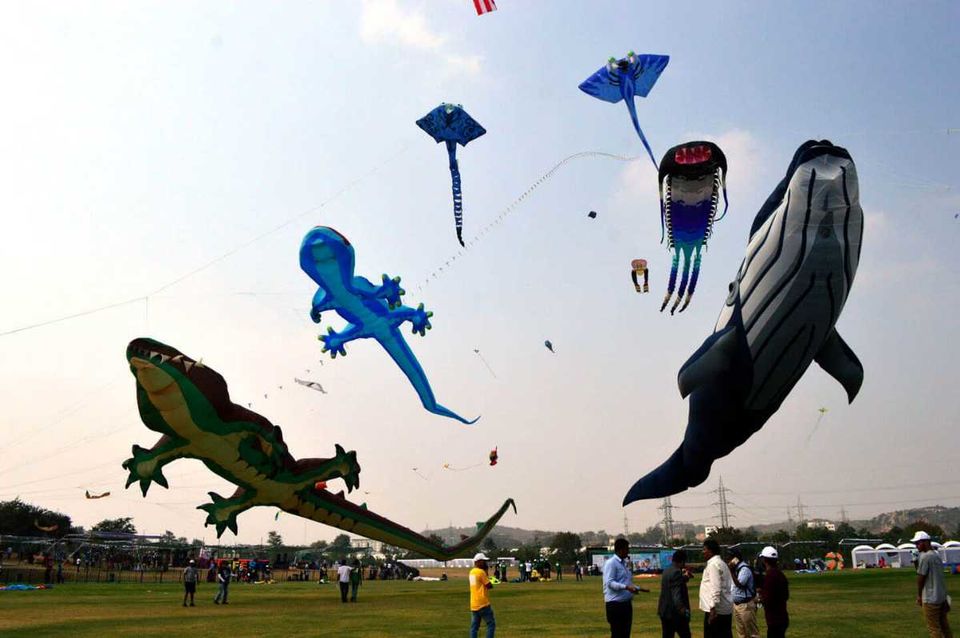 The International Kite Festival in Gujarat marks the commencement of the harvest festival of Makar Sankranti when winter slowly starts to turn into summer. Celebrated by flying colourful kites the festival attracts a lot of visitors across the states.
Where: Ahmedabad, Gujrat
When: 8th January – 14th January 2023
Highlights: Variety of kites in all shapes and sizes.
FEBRUARY
4. Khajuraho Dance Festival
A week-long gala festival that is hosted in Khajuraho, encourages dancers and artists who perform different cultural dance forms like Kathak, Odissi, Manipuri, Bharatnatyam, Kuchipudi, and Mohiniattam.
Where: Khajuraho, Madhya Pradesh
When: 20th February – 26th February
5. Kala Ghoda Arts Festival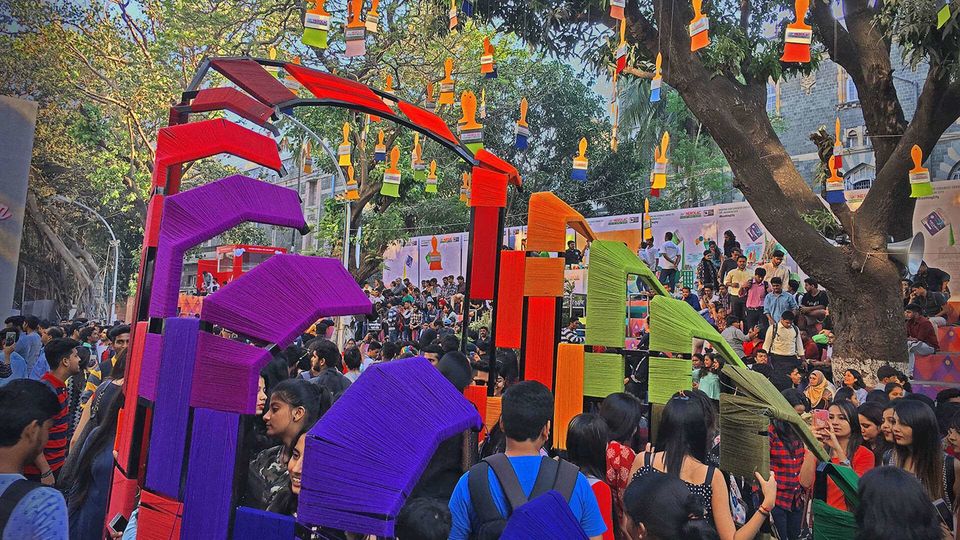 The Kala Ghoda Arts Festival that was founded in 1999 has become one of the biggest street art festivals in the country, drawing huge number of visitors not just from Mumbai but all over the country and the world. The funds raised from the festival every year go towards restoration efforts undertaken by the Association.
Where: Kala Ghoda Fort, Mumbai
When: 4th February – 12th February
Highlights: The art and artists
6. Deccan Festival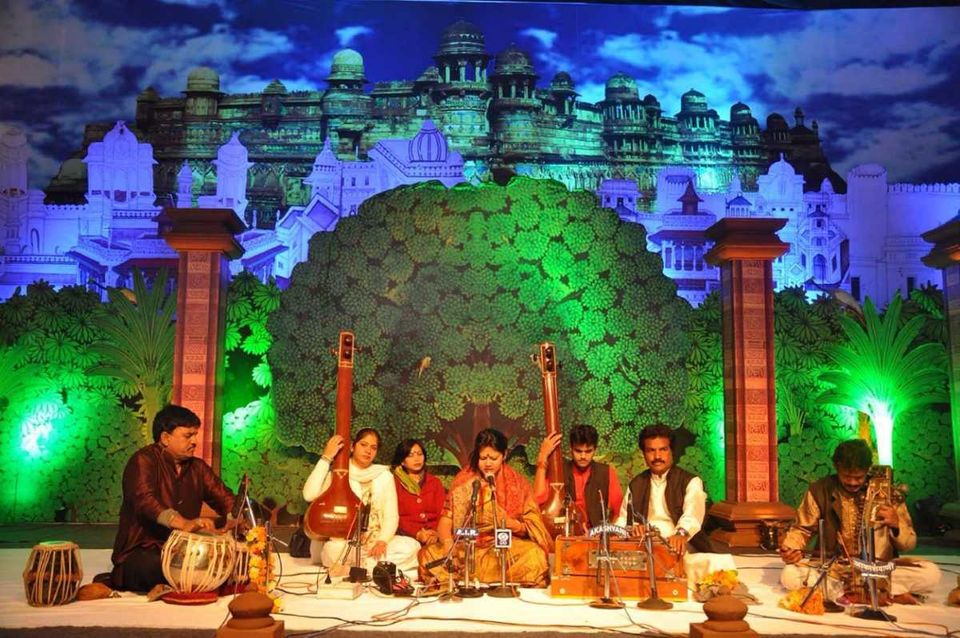 The city of Hyderabad turns vibrant during the Deccan festival spanning over five-days with a riot of colours, music, spices and fairs. Organized by the tourism Department of Andhra Pradesh, the festival is celebrated to keep the culture and tradition of Deccan alive. Deccan Festival where you'll find a rich collection of beautiful pearls, jewellery, accessories, and multi-coloured bangles.
Where: Hyderabad, Andhra Pradesh
When: 25th February – 01st March 2023
7. Losar Festival Tour India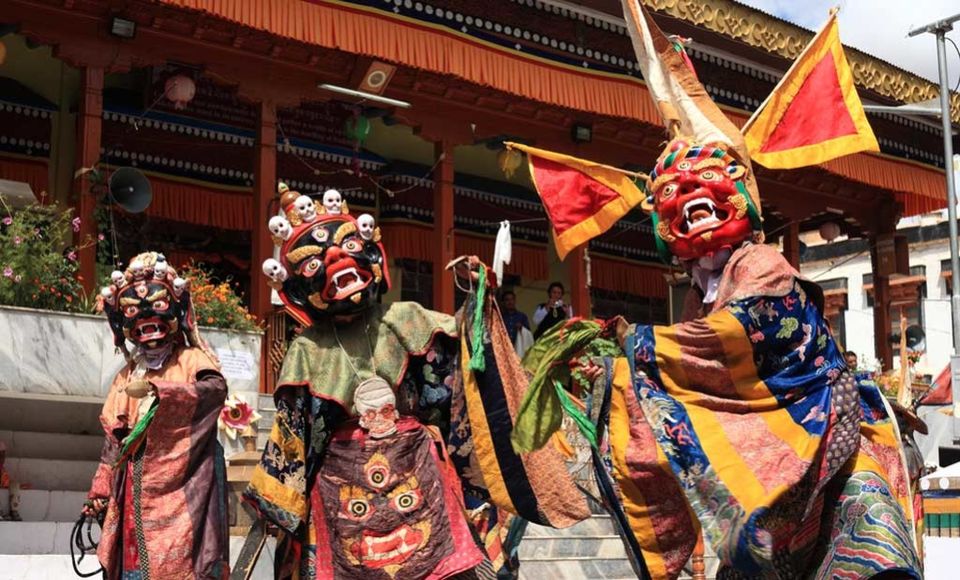 Also known as Gyalpo Losar in Tibetan meaning "King's New Year", this festival is celebrated in to mark the ceremonies that represent the struggle between good and evil.
Where: Sikkim, Arunachal Pradesh
When: 21st February – 27th February 2023
Highlights: Colored flags on top of the houses, monasteries, and hills, everyone dressed in their traditional best, offerings at monasteries, fragrant smoke from juniper, artemisia, and other herbs, chanting slogans, incense, and the traditional noodle soup Guthuk.
8. Goa Carnival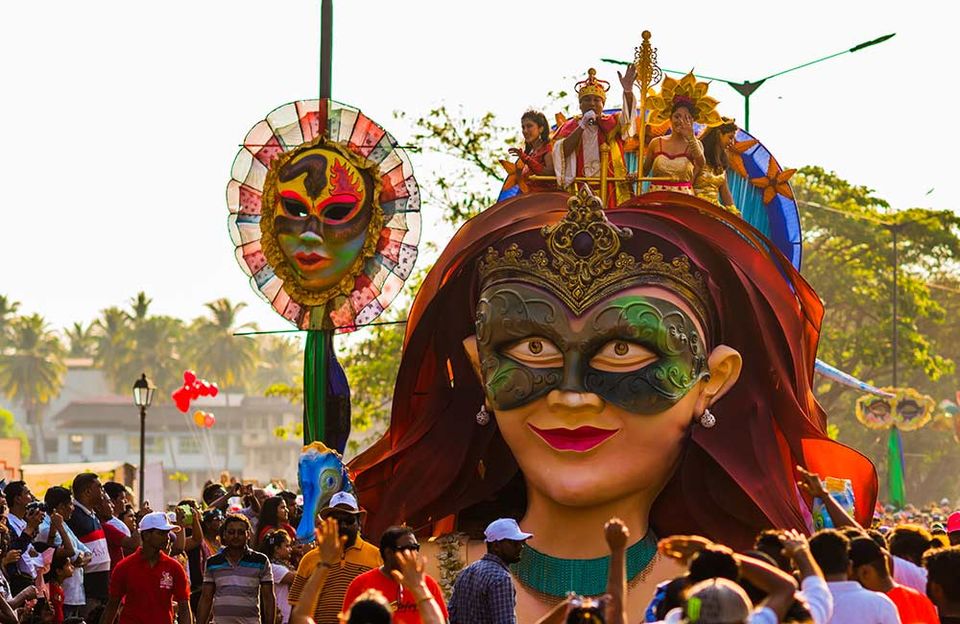 Introduced by Portuguese settlers 500 years back, but originally celebrated as by Catholics to mark the start of Lent – 40 days of abstinence before Easter, this four-day Goa carnival is a pre-Mardi Gras revelry that starts from Panjim, travelling through Margao, villages of Vasco and then Mapusa.
Where: Goa
When: 18th February – 21st February 2023
Highlights: Fun, frolic, food, dance, vibrant parade.
9. Maha Shivratri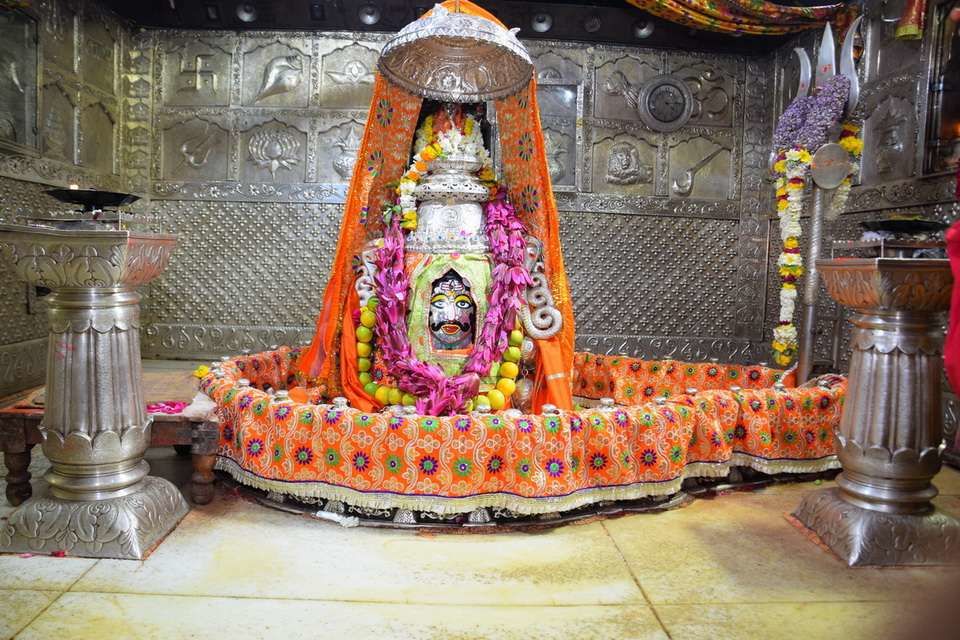 Although celebrated across India, the grand event is held in one of the twelve Jyotirlingas of Lord Shiva - Mahakaleshwar temple in Ujjain that marks the union Lord Shiva and Shakti.
Where: Across India but unique celebrations occur in Ujjain, Guwahati, Haridwar, Srisailam, Junagadh and Khajuraho
When: 15th February – 18th February 2023
Highlights: An all-night prayer, chants, the ambience of positive energy.
10. Surajkund International Crafts Fair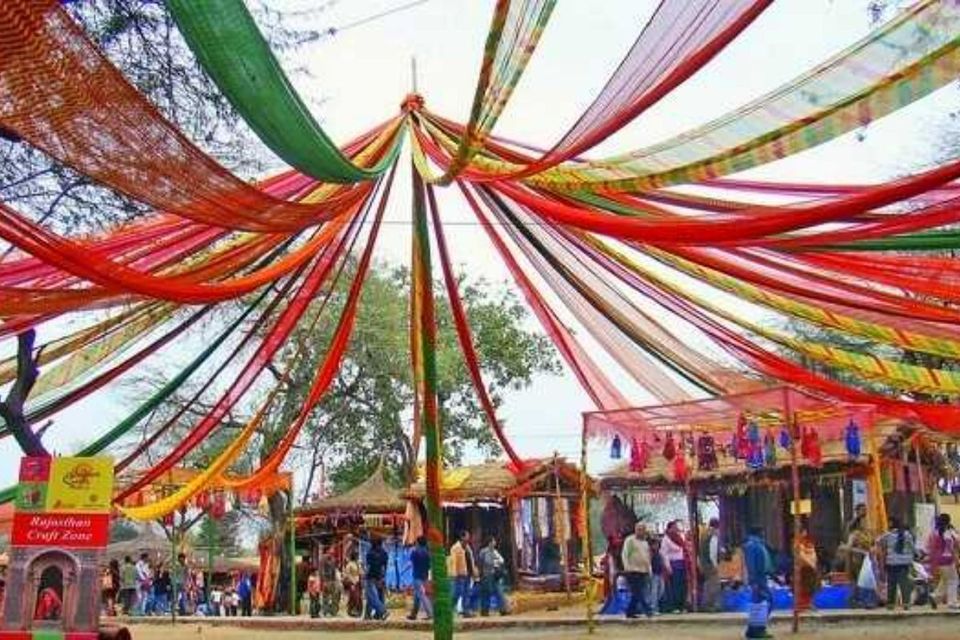 Organized by the Surajkund Mela Authority & Haryana Tourism in collaboration with Union Ministries of Tourism, Textiles, Culture and External Affairs the Mela calls at least 20 countries & all the states of India for participation.
Where: Faridabad, Delhi
When: 03rd February – 19th February 2023
Highlights: Ethnic cuisines from over the world offered at the multi-cuisine Food Court, exquisite handlooms and handicrafts of India, splash of colours and rhythm of drumbeats.
11. Udaipur World Music Festival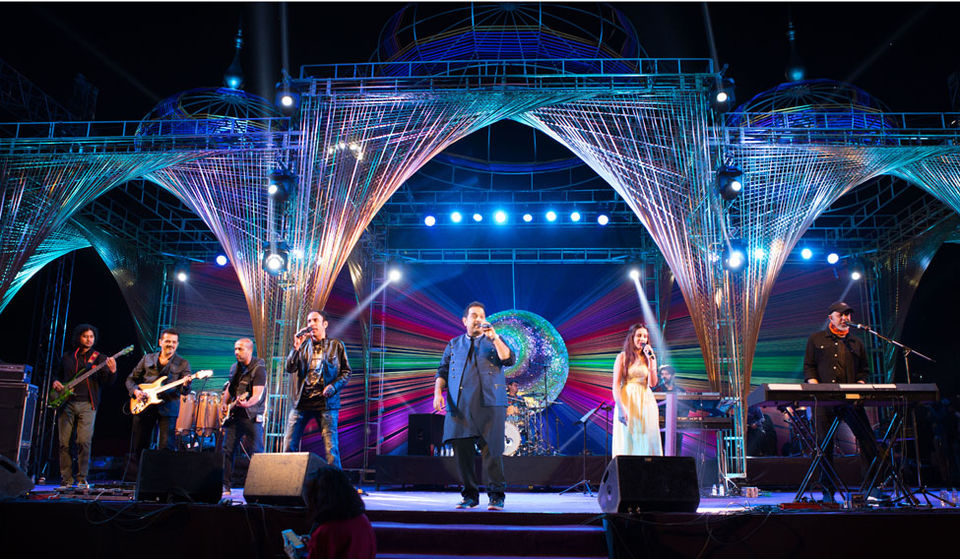 Incredible performances by over 150 artists, performers, composers and musicians who speak the language of music.
Where: Udaipur, Rajasthan
When: 11th February – 13th February 2023
Timing: 8 am – 10 pm
Highlights: Performances by world-class musicians like Kabir Café, London Community Gospel Choir, and Azam Ali, among others.
12. Alwar Festival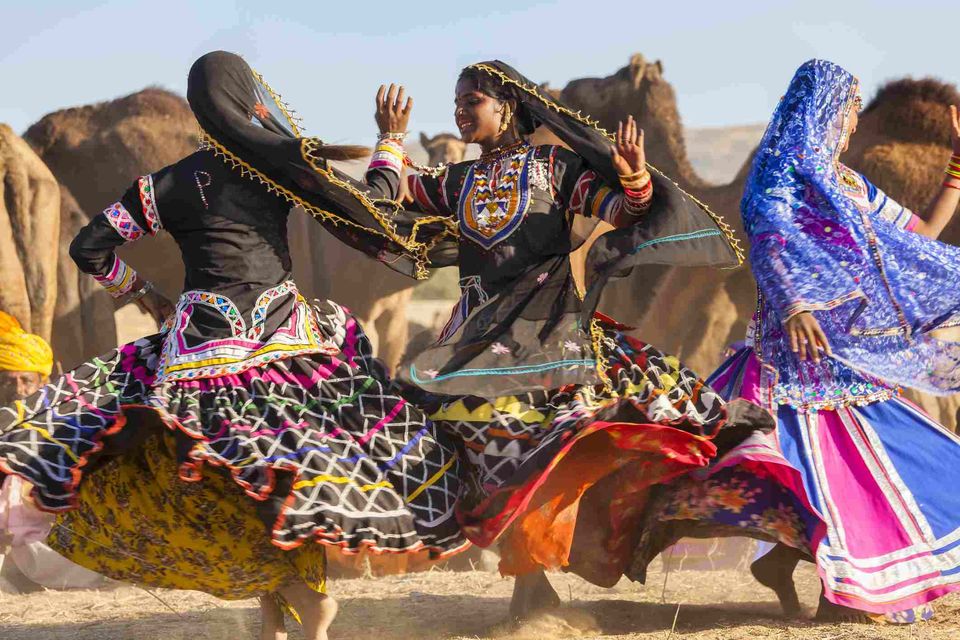 The land of Tigers, Alwar is also the gateway of Rajasthan and celebrates Alwar Festival to promote the culture of the region.
Where: Alwar, Rajasthan
When: 13th February – 15th February
Highlights: Display of handicrafts, fabrics and other goods. Events such as elephant sports, fancy dress contests and sketching and art competitions for kids, flower exhibitions, etc remain the focal point of the celebration.
13. Jaisalmer Desert Festival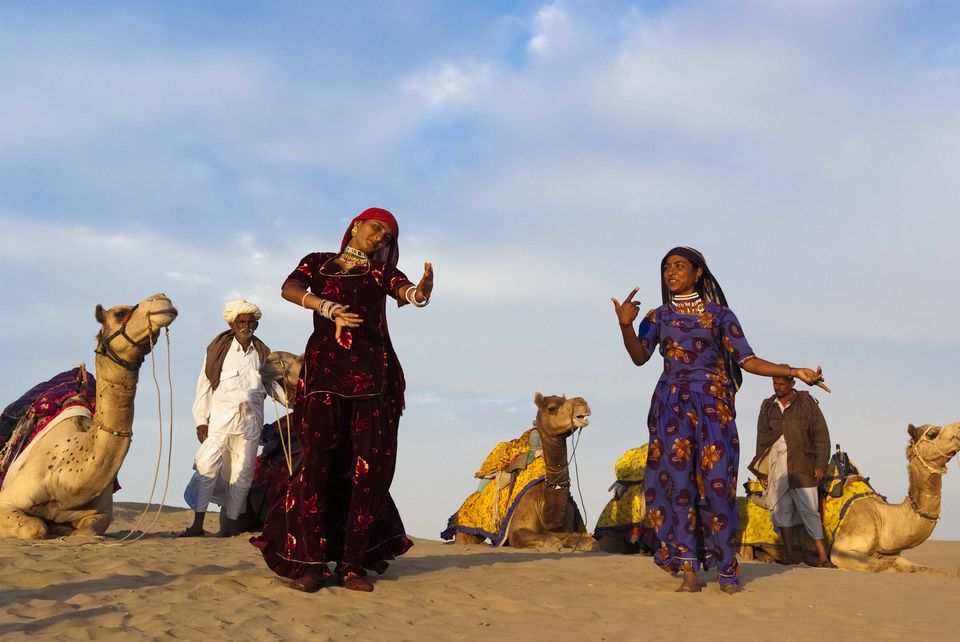 Celebrated amidst the stunning dunes of Thar Desert, the festival witnessed the transition from winters into the blossoming flavour.
Where: Jaisalmer, Rajasthan
When: 03rd February – 05th February 2023
Highlights: Turban tying, Ghoomar dance competitions, mustache competitions
14. World Sufi Festival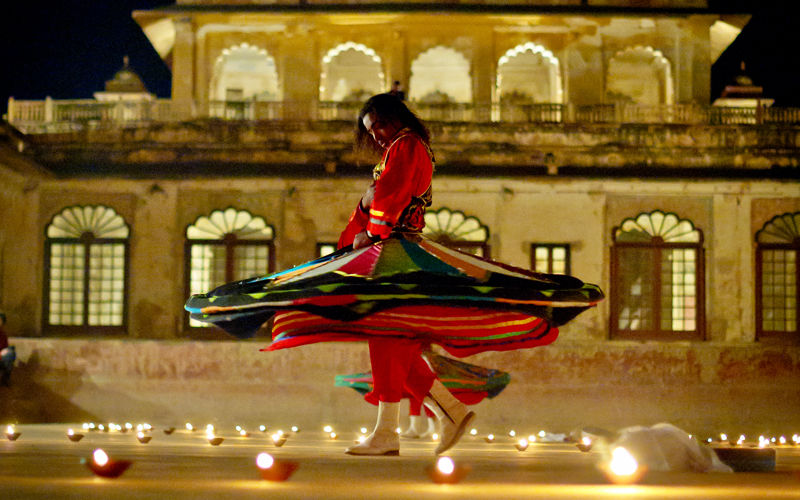 Organised within the premises of the majestic Mehrangarh Fort, the World Sufi festival get to witness the likes of some of the greatest musical minds in the world and not just India!
Where: Nagaur & Jodhpur, Rajasthan
When: 10th February – 12th February
Highlights: Loup Barrow, Bakhor Dance Ensemble, Hatan Ensemble Mongolia, Justin Adams and many more.
15. Elephanta Festival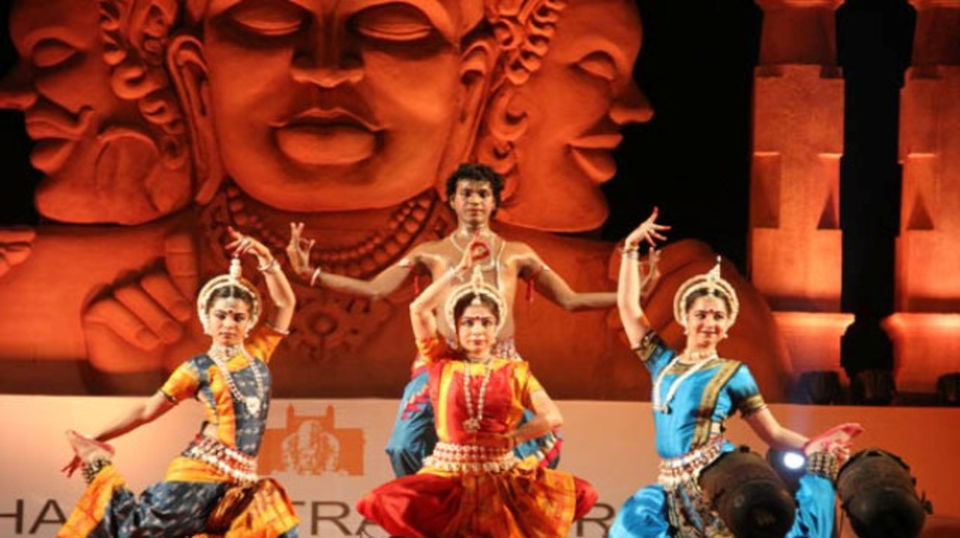 Organised by the Maharashtra Tourism Development Corporation (MTDC), this two-day festival transforms Elephanta Caves into an open-air auditorium where renowned dancers perform under the starry sky.
Where: Elephants Caves, Mumbai
When: 13th February – 15th February
Highlights: Boat ride from the Gateway of India in Mumbai to the Elephanta Islands.
16. Pariyanampetta Pooram Kattakulam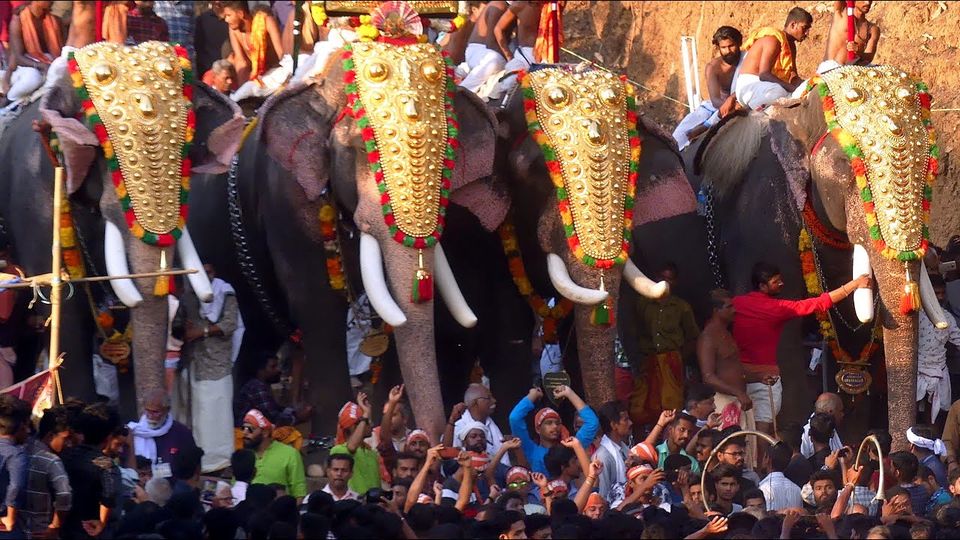 The annual festival at the Pariyanampetta Bhagavathy Temple is celebrated for two days with extensive display of folk art and parade.
Where: Palakkad, Kerala
When: 13th February – 19th February
Hightlights: Kalamezhuthu Pattu - images of the Goddesses are drawn on the floor using different colourful natural powders, Kathakali and Chakiyarkoothu performances, the folk-art form of Tholpavakoothu (Shadow Puppetry), Kaalavela (bull effigy) and Kuthiravela (horse effigy) showcasing traditions. And a procession of around 21 elephants at the end of the event.
17. Taj Mahotsav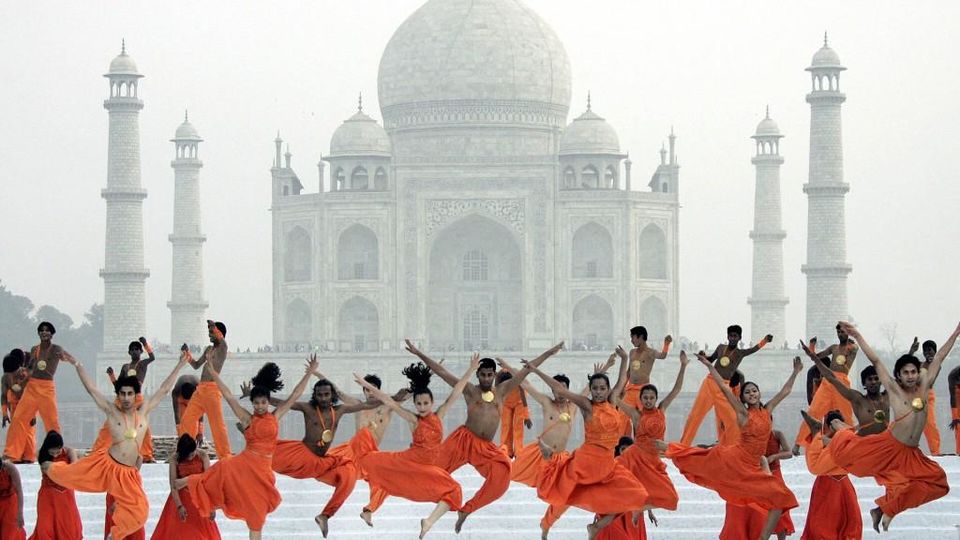 Organized by the Department of Tourism, Government of India, Taj Mahotsav that started in 1992 is dedicated to the promotion of our country's rich art and craft, culture, cuisine, dance and music and acknowledges the brilliance of their craft.
Where: Near Taj Mahal, Agra
When: 18th February – 27th February
Highlights: Chikan work of Lucknow, handmade carpets of Badohi, woodcarvings of Saharanpur, blue pottery of Khurja, silk of Varanasi, pottery from Khurja, shawls and carpets from Kashmir/Gujarat, hand printing from Farrukhabad, brass and other metal ware of Moradabad, wood/stone carvings from Tamil Nadu, bamboo/cane work from North East India, kantha stitch from West Bengal, and paper & mash work from South India. The Food Festival is one of the major attractions of the Taj Mahal Mahotsav where one finds the cuisine platter from all over India.
MARCH
18. Chapchar Kut Festival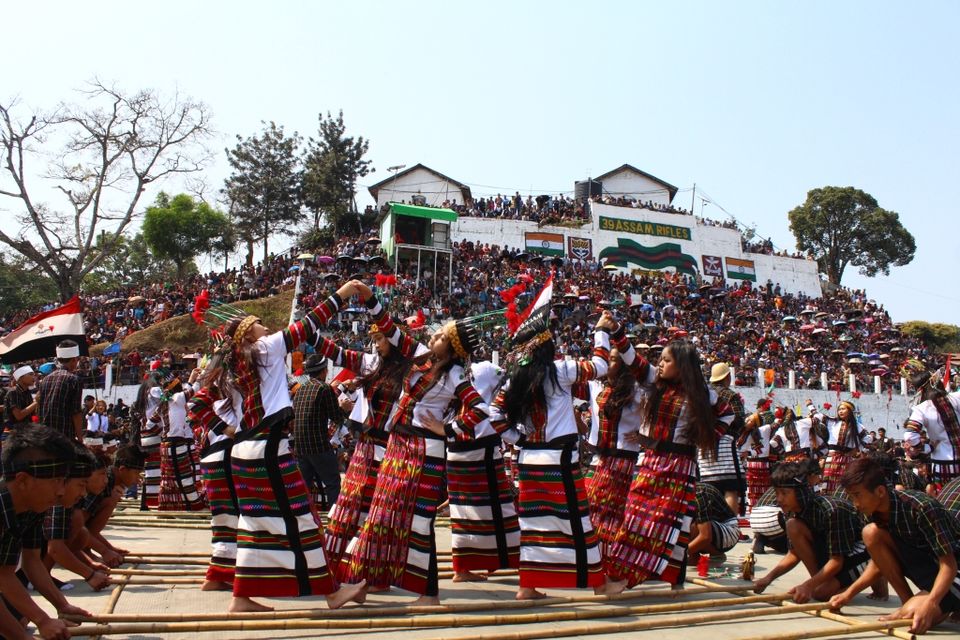 Celebrated with great enthusiasm and joy after the completion of their arduous task of jhum cultivation where they clear the forests, Chapchar Kut is among the most popular festivals of Mizoram.
Where: Mizoram
When: 03rd March 2023
Highlights: Local cuisine, unique traditions and colourful cultural performances.
19. Hola Mohalla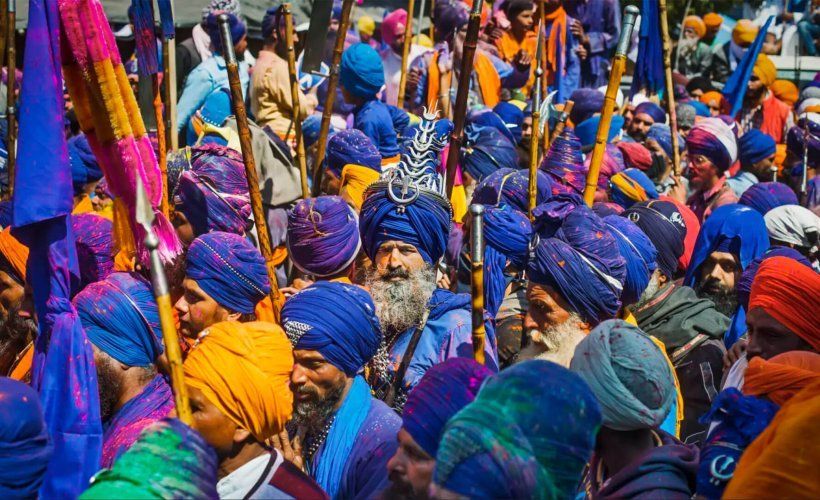 An annual three-day affair which is a celebrated at a grand scale in Anandpur Sahib, Punjab brings the brotherhood of bravery to the forefront. The martial arts procession is led by the Gurudwara's Nishan Sahibs.
Where: Punjab
When: 8th March – 10th March 2023
Highlights: Military and martial art experts in action, Nihang Sikhs considered as the Knights of the Guru.
20. Matho Nagrang Festival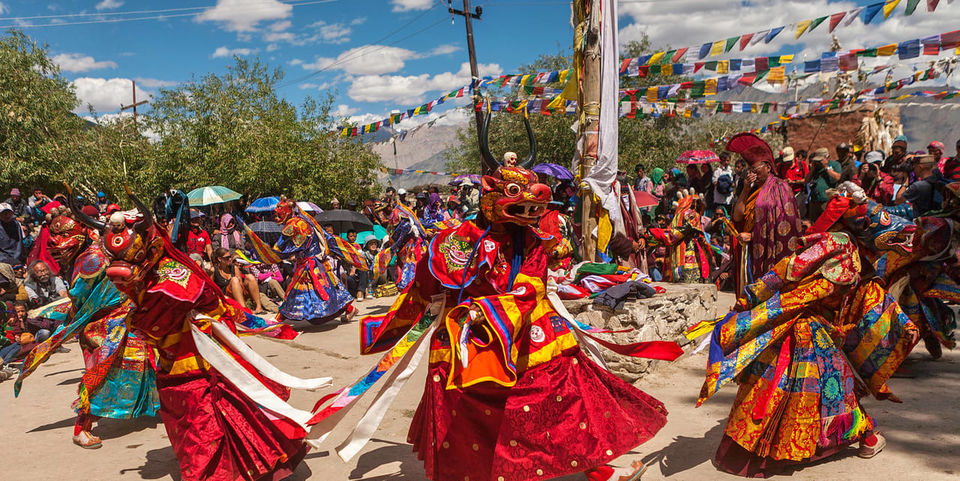 A prevalent "festival of oracles" or Matho Nagrang festival is celebrated in Ladakh where deities take over laymen to make predictions. The oracles or ronstang take over the bodies of two monks who meditate for months before being chosen as the ones who would make predictions for the village and people of Ladakh.
Where: Leh Ladakh
When: 06th March – 07th March 2023
21. Myoko Festival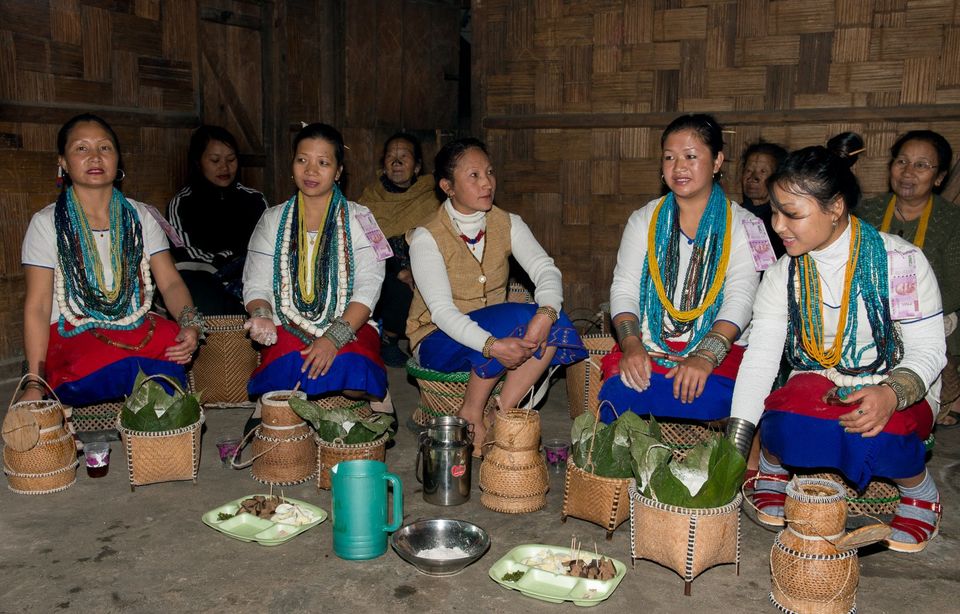 This 10-day annual festival upholds the spirit of togetherness and friendship, where the Apatani tribes of Ziro prays for better cultivation and protection of crops that is their livelihood.
Where: Ziro, Arunachal Pradesh
When: 18th March – 04th April 2023
Highlights: Local rites, rituals and prayers, singing and dancing competitions.
22. Lathmar Holi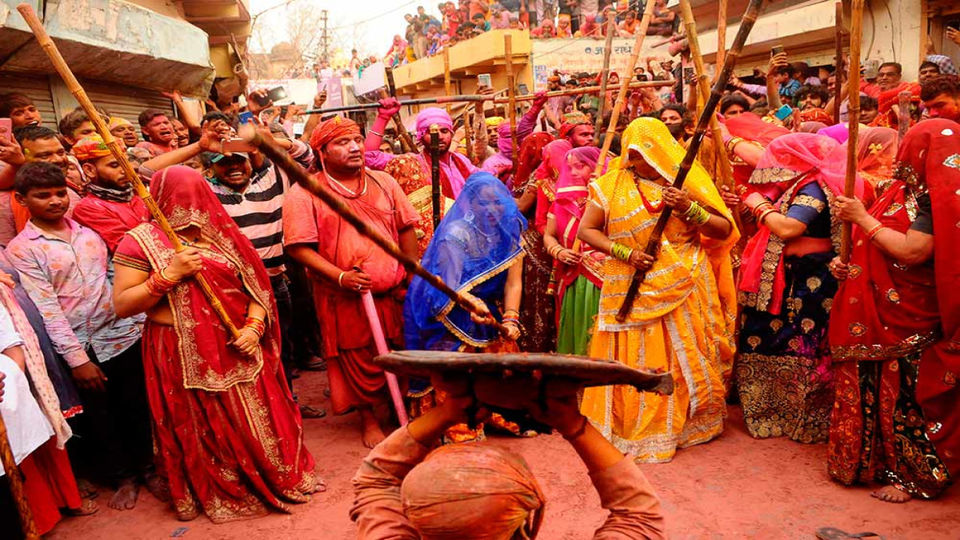 Lathmar Holi which is celebrated in a unique style in the Barsana and Nandgaon towns of Mathura involves women playfully shoving bamboo sticks to chase away men!!
Where: Mathura, Uttar Pradesh
When: 02nd March 2023
Highlights: The unique way of playing Holi with sticks! And of course colour.
23. Mewar Festival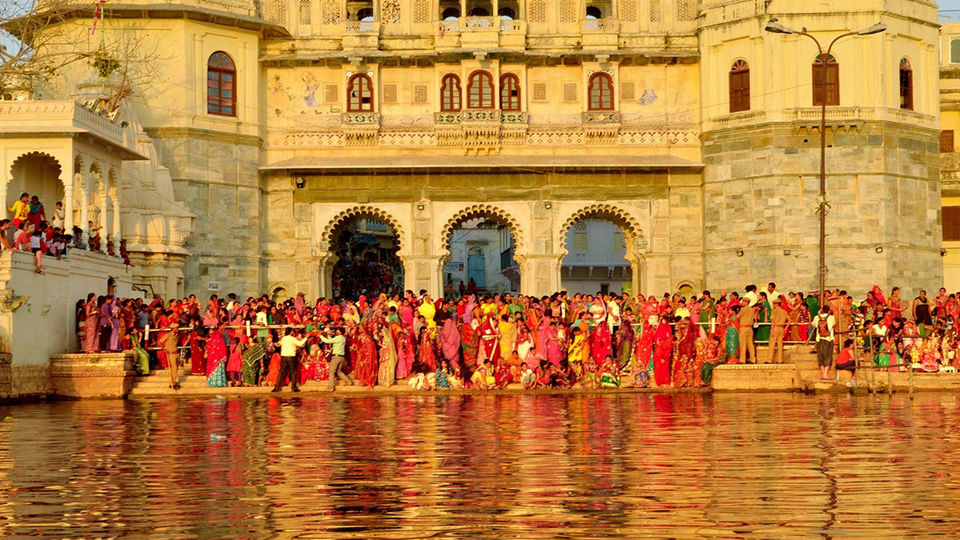 The Mewar Festival is an annual celebration that marks the foundation of the grand city of Udaipur and also to welcome the advent of spring. The Mewar festival is considered as the second World living Heritage festival of India.
Where: Udaipur, Rajasthan
When: 24th March – 26th March 2023
Highlights: The festive look of the city, beauty, traditions and culture of the region
24. Shigmo Festival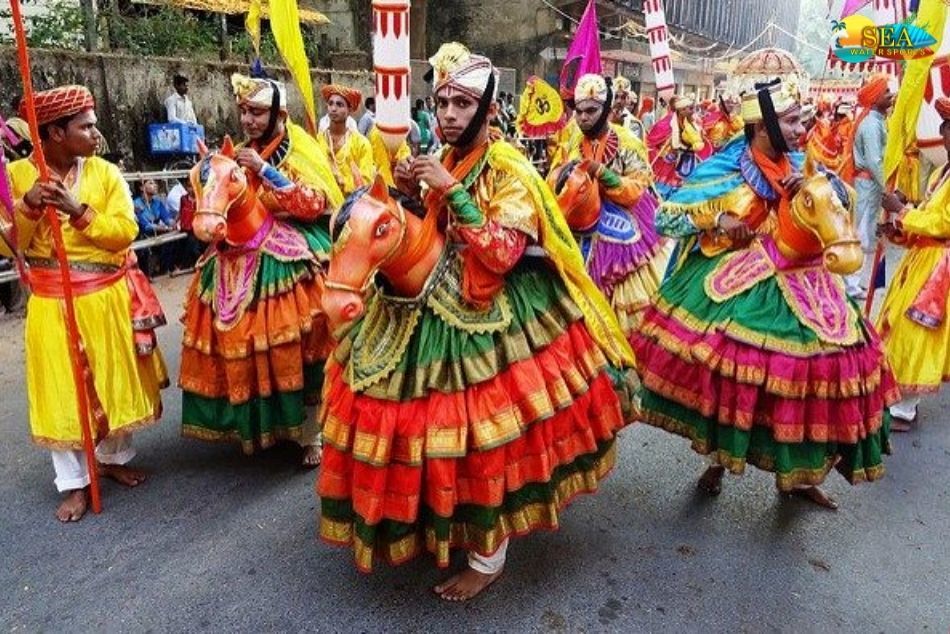 Holi is otherwise celebrated as a five-day cultural event called Shigmo in the Konkan region of Goa. This festival celebrates the vibrancy of colours.
Where: Panjim, Goa
When: 14th March – 15th March 2023
Highlights: local groups dressed in shiny and flashy traditional costumes.
Highlights: Festive vibes, playful celebrations of colors, dance performances organized by the farmers in the remote villages of Goa.
25. Attuvela Mahotsavam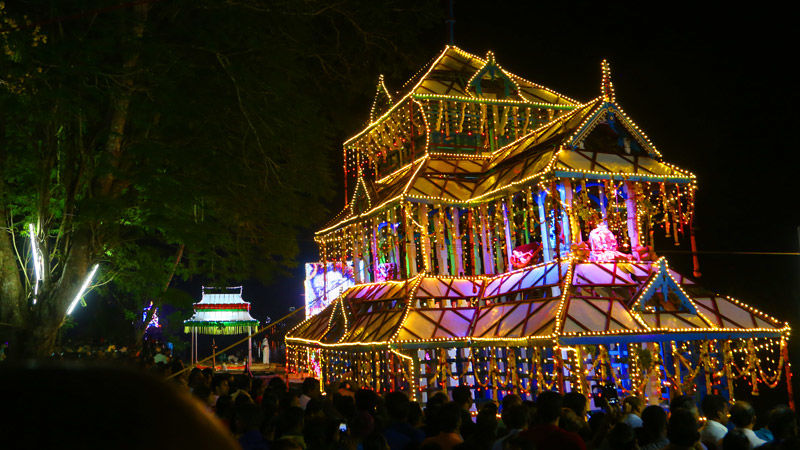 A water carnival, Attuvela Mahotsavam is celebrated with the the worship the Goddess of Kodungalloor with her sister where the replica of their shrines are garlanded and illuminated as they float across the river accompanied by an entourage of small canoes that are exquisitely decorated, with the temple percussion music resounding in the background.
Where: Kerala
When: 24th March 2023
Highlights: The floating temple along with an entourage of canoes that fill the air with temple percussion music.
APRIL
26. Tulip Festival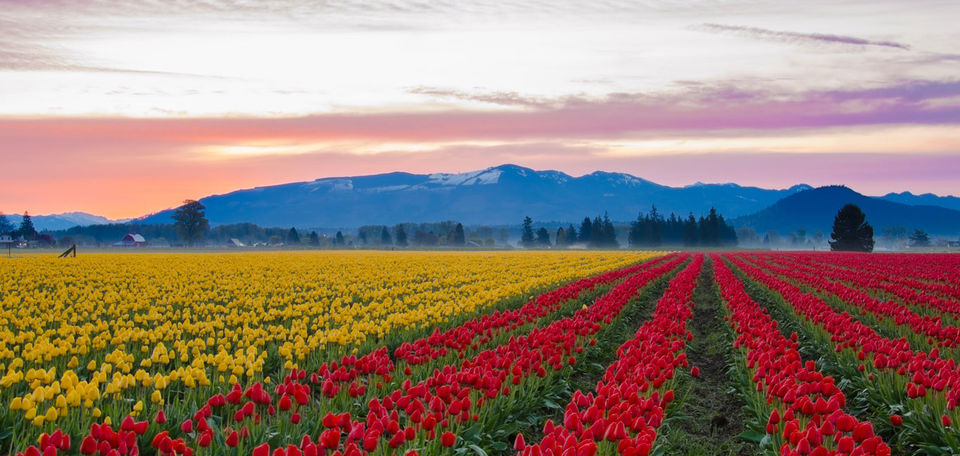 Spread over a vast stretch of 30 hectares in Indira Gandhi Memorial Tulip Garden, Srinagar celebrates the bloom of over a million tulips that is expected to witness the blooming of more than 62 varieties of tulips this year. This is the famous Tulip Festival of Srinagar.
Where: Srinagar, Kashmir
When: 01st April – 20th April 2023
Highlights: The surreal vista of acres of mulli-coloured bliss.
27. Shad Suk Mynsiem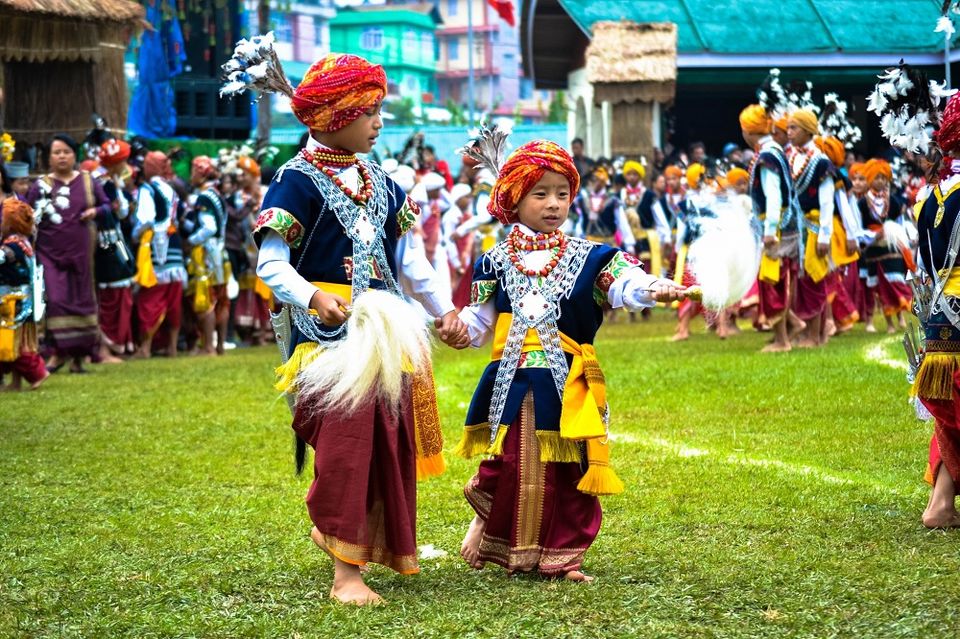 The onset of spring is marked by one of Khasi communities' biggest festivals - Shad Suk Mynsiem, an agrarian festival, that celebrates the cycle of new beginning and rebirth and new seedlings are planted.
Where: Meghalaya
When: 10th April – 11th April 2023
Highlights: Traditional rituals, dances and the best of ritualistic apparels
28. Bohag Bihu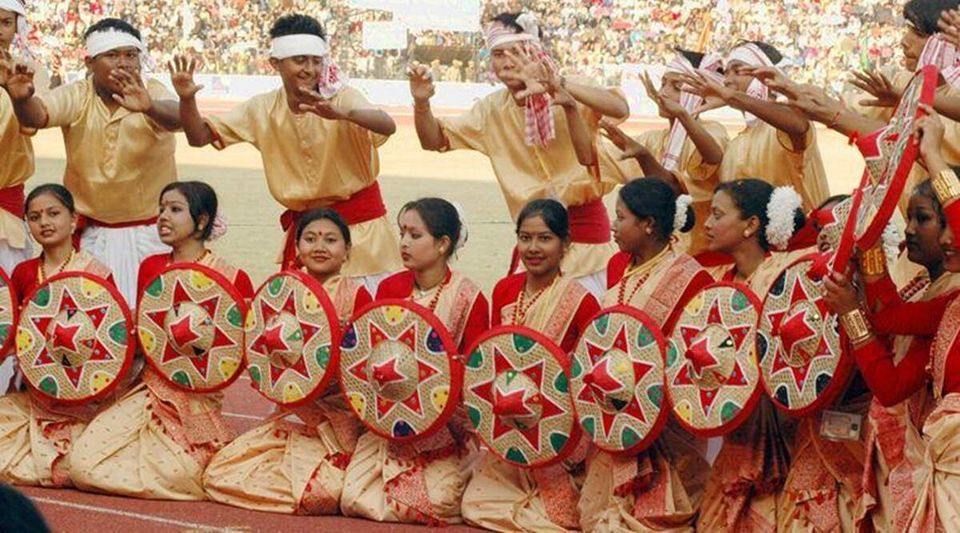 Bohag Bihu, an Assamese festival is celebrated for a period of seven-days to welcome the onset of spring and the Assamese New Year.
Where: Assam
When: 14th April – 16th April 2023
Highlights: Folk dance of Bihu, traditional attire.
29. Mopin Festival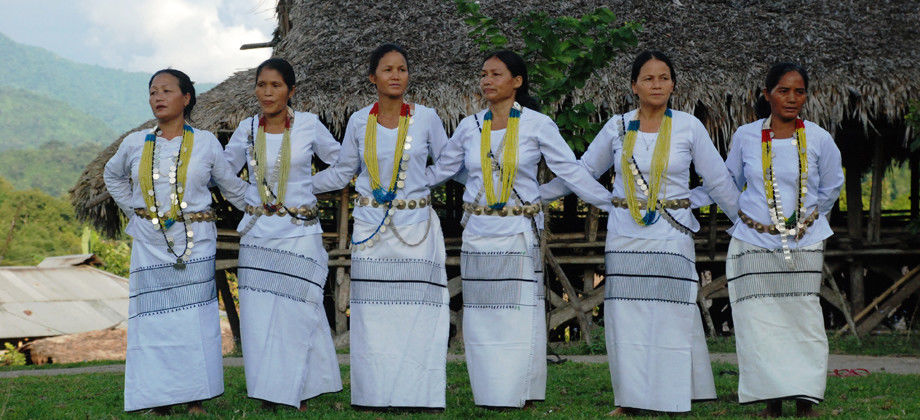 An agricultural festival celebrated by the Galo tribe of Arunachal Pradesh asking for wealth, good health and prosperity to everyone in the community.
Where: Arunachal Pradesh
When: 05th April 2023
Highlights: Folk dance - "Popir Dance", local dish "Apong" or rice wine.
30. Kadammanitta Padayani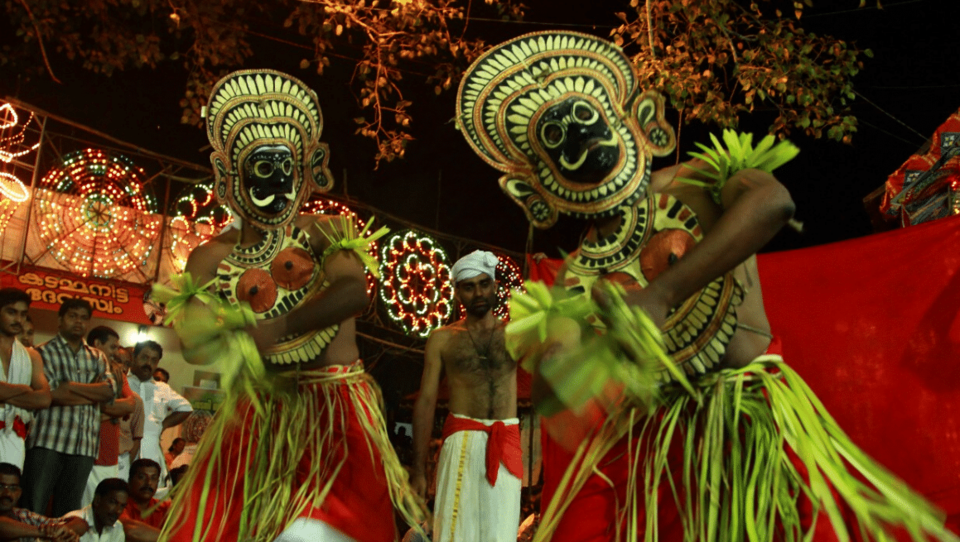 The festival is associated local Goddess temples where the magic healers of Kerala who would heal the chronic ailment of people through their dances. The fest comprises a rhythmic synchronization between heavy drumming and harmonious folklore music. The use of several masks etches the God of death, Yakshi, Pakshi, and Bhairavi recalls the fundamentals of Hindu mythology.
Where: Kerala
When: 14th April – 23rd April 2023
Highlights: Traditionally painted masks and unique dance forms.
31. Aoling Festival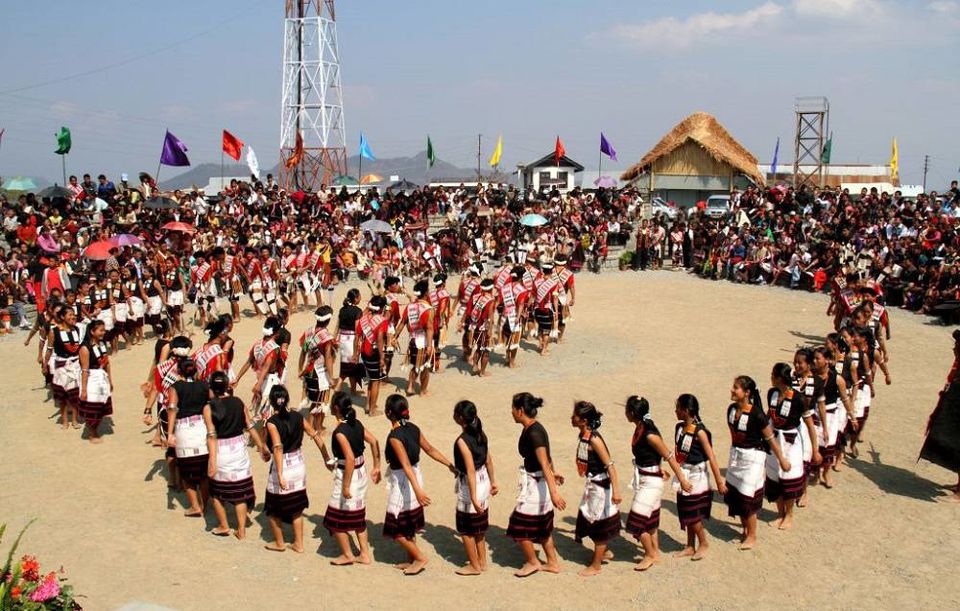 Celebrated by the valiant headhunter Konyak tribes in Nagaland, Aoling festival marks the beginning of spring ever year.
Where: Nagaland
When: 01st April – 10th April 2023
Highlights: Vibrant colours, traditional attires, intriguing local dance forms.
32. Chithirai Festival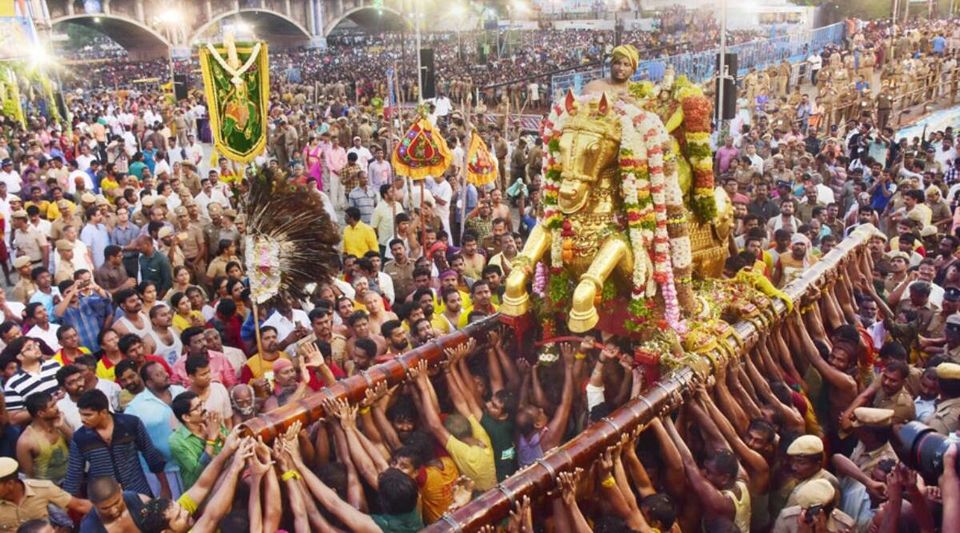 A festival which lasts 15-days where Lord Vishnu rides on a golden horse to Madurai for the wedding of Goddess Meenakshi with Lord Sundareshwar.
Where: Madurai, Tamil Nadu
When: 05th April – 19th April 2023
Highlights: The grandeur, the enthusiasm of the people, the festive fervour, the procession.
MAY
33. Thrissur Pooram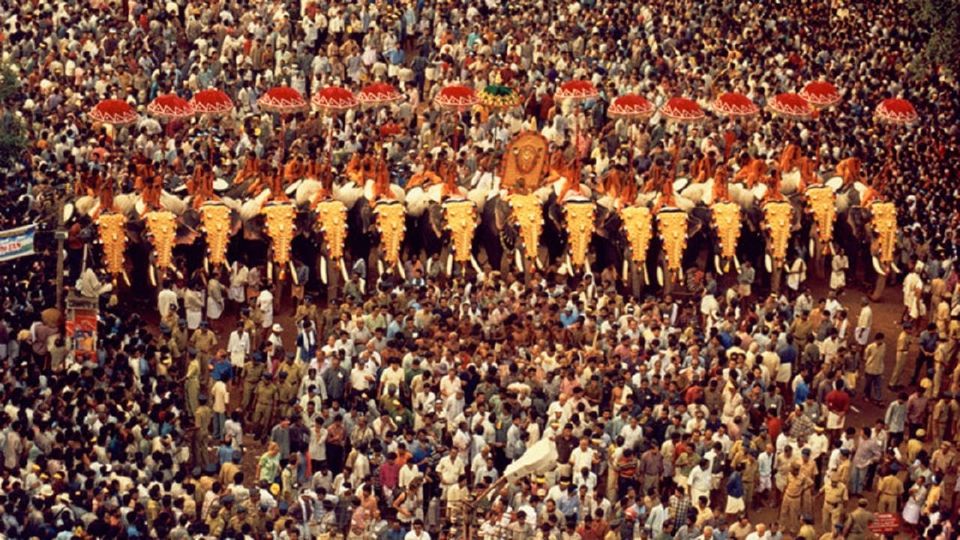 Spanning over two centuries, the celebration of festival of festivals - Thrissur Pooram is the most famous of all the Pooram festivals that was introduced by Sakthan Thampuran, the Maharaja of the erstwhile Cochin State, in the late eighteenth century.
Where: Thrissur, Kerala
When: 10th May – 11th May 2023
Highlights: Extant percussion performances over 36 hours starting at 6 am and extending till noon the next day.
34. Rabindra Jayanti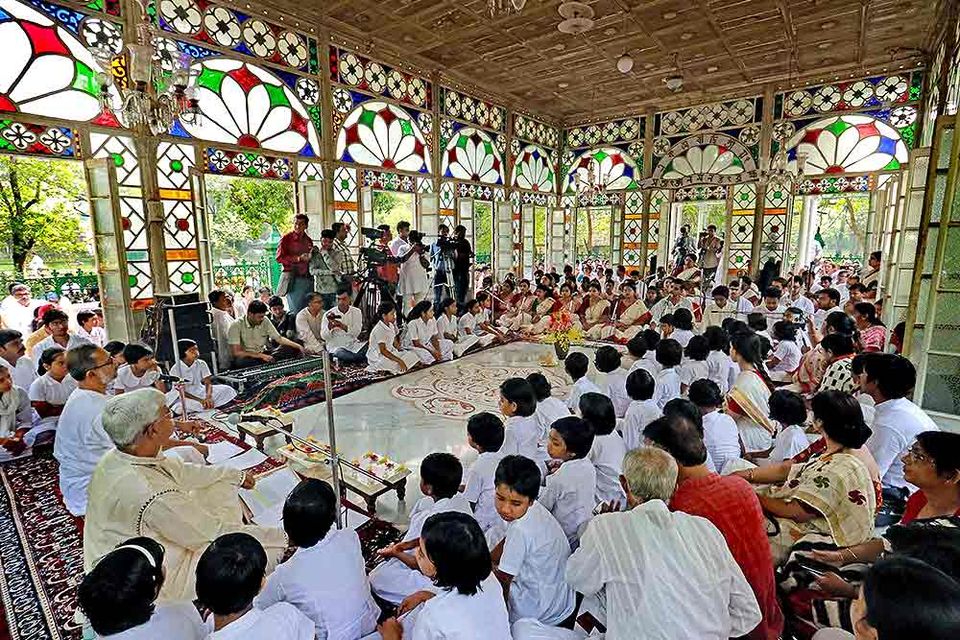 According to the Hindu calendar, the birth anniversary of Kabiguru Rabindranath Tagore is celebrated on 25th day of Baisakh every year that falls on or around 07th of May on the Gregorian calendar. His contribution to the field of literature is celebrated with numerous cultural events like dance, drama, elocution and poetry, where his life's work is brought to the forefront.
Where: Santiniketan, West Bengal
When: 09th May 2023
Highlights: The various cultural events.
35. Mahasu Jatar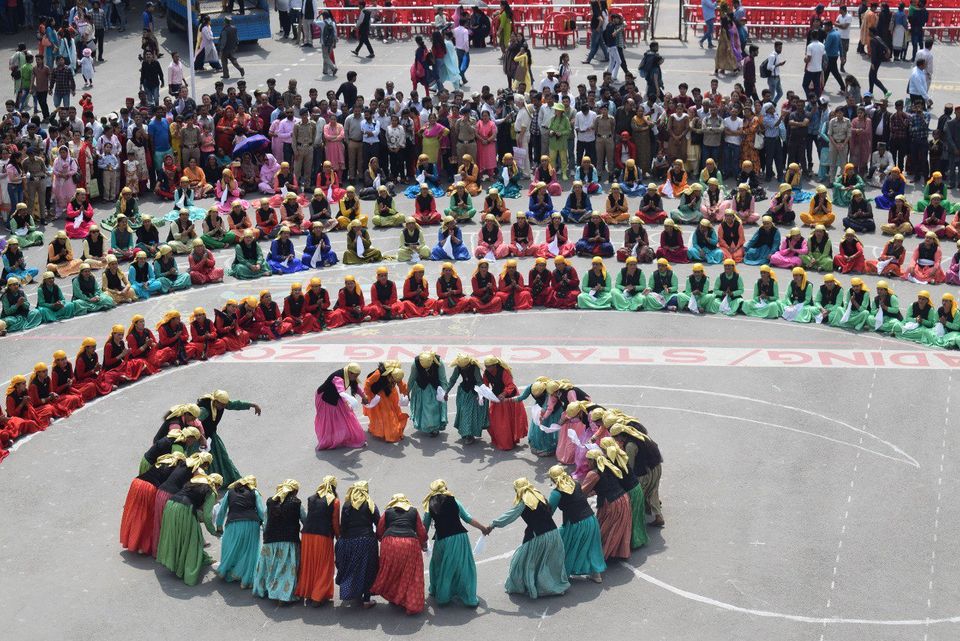 The two-day festival that celebrates Lord Mahasu who is the deity of the region.
Where: Himachal Pradesh
When: 17th May – 18th May 2023
Highlights: Folk songs, tribal dances Natti, archery competition.
36. Buddha Purnima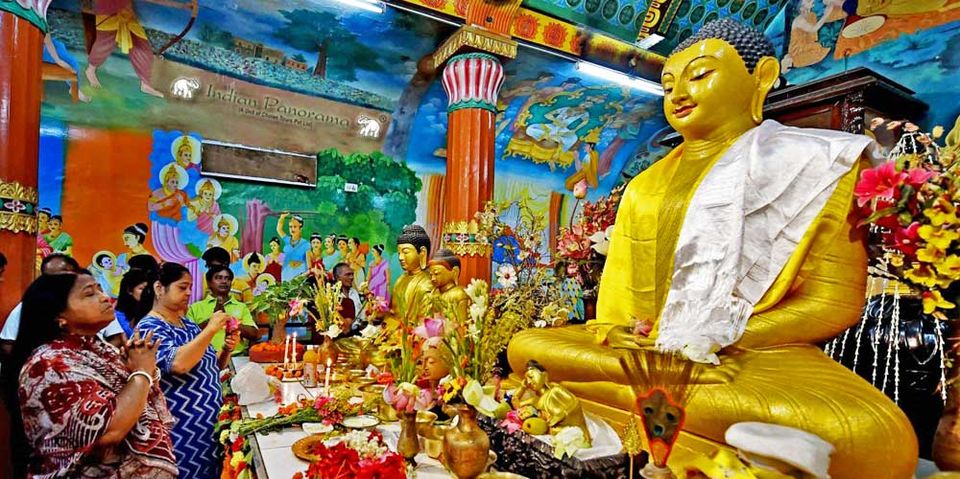 Marking the birth, enlightenment and Death of Gautam Buddha, Buddha Purnima is grandly celebrated in Bodh Gaya with great enthusiasm.
Where: Bodhgaya, Bihar
When: 05th May 2023
Highlights: Chants, rituals.
37. Ganga Dussehra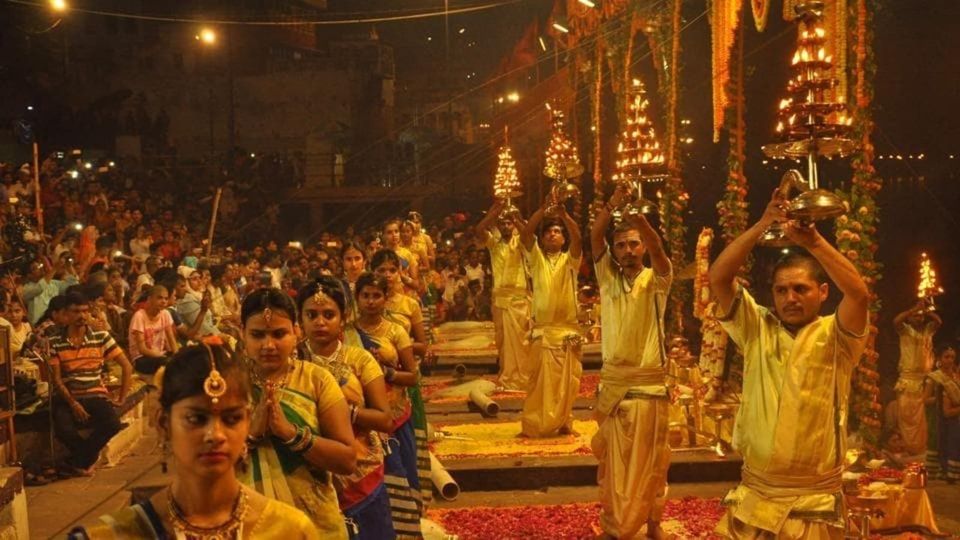 Celebrated on the 10th day when Goddess Ganga had descended from heaven and stepped foot on Earth.
Where: Uttarakhand
When: 29th May – 30th May 2023
Highlights: Festive fervour, lit-up Ghats, chants, Ganga Aarti.
JUNE
38. Shimla Summer Festival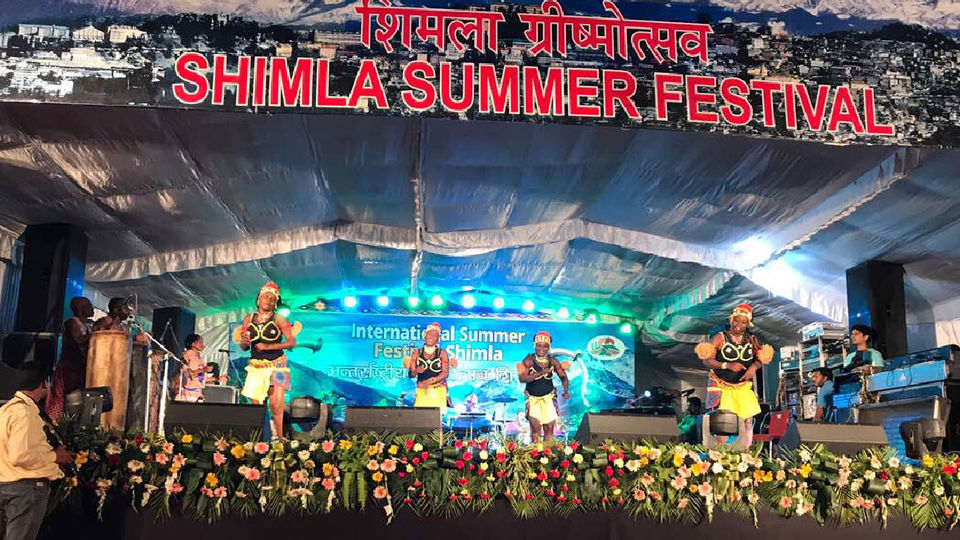 The five-day annual carnival hosted either in May or June in Shimla welcomes the advent of summer and to thank gods for the harvest of the season.
Where: Shimla, Himachal Pradesh
When: Not yet disclosed
Highlights: Performances, competitions, sports, flower show, display of arts etc.
39. Ambubachi Mela
Ambubachi, the annual day which celebrates the menstruation of Goddess Kamakhya. The temple doors remain closed for three days and when on the fourth day it opens, devotees are allowed to enter and pray after the Goddess is bathed.
Where: Guwahati, Assam
When: 23rd June 2023
40. Jagannath Rath Yatra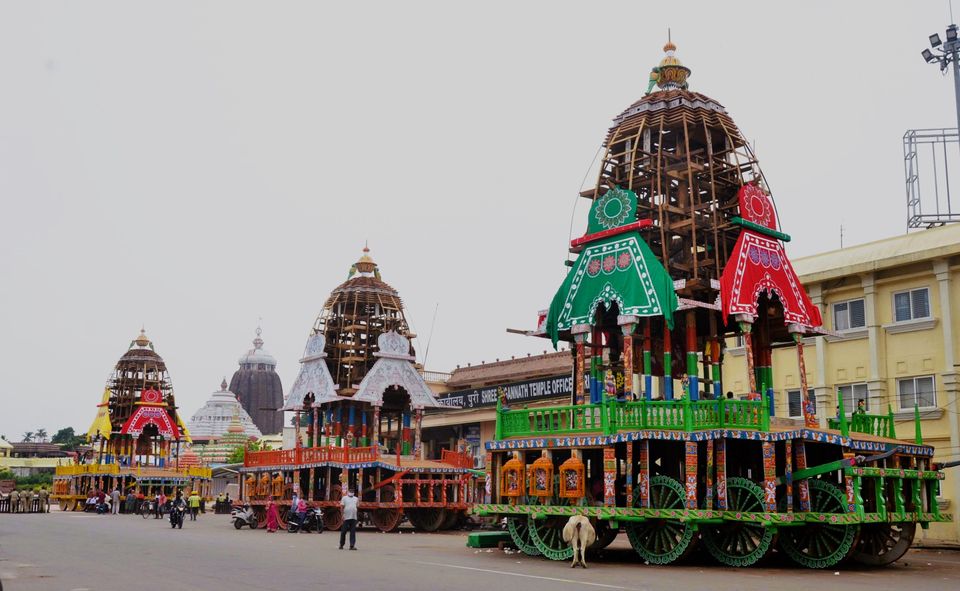 Age-old tradition steeped in faith, Rath Yatra is held in the sleepy sea-side town of Puri (also called Purushottam Dham), situated in the eastern state of Orissa which transforms into one of the largest religious gatherings in the world - Rath Yatra!
Where: Puri, Odisha
When: 19th June - 20th June 2023
Highlights: The grand procession, the traditional rituals.
41. Sao Joao Festival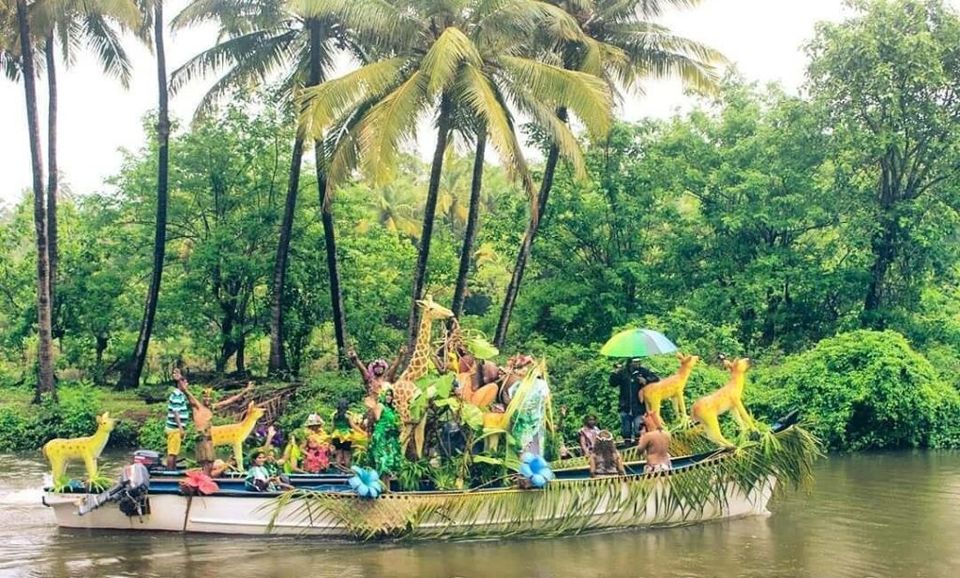 Organised at the beginning of monsoon, the festival of Sao Joao is dedicated to St. John the Baptist, who according to Christian texts had jumped with joy inside his mother's womb when she was informed of Jesus' birth.
Where: Goa
When: 22nd June – 24th June 2023
Highlights: Boat parade in the stream, decorated float, feast.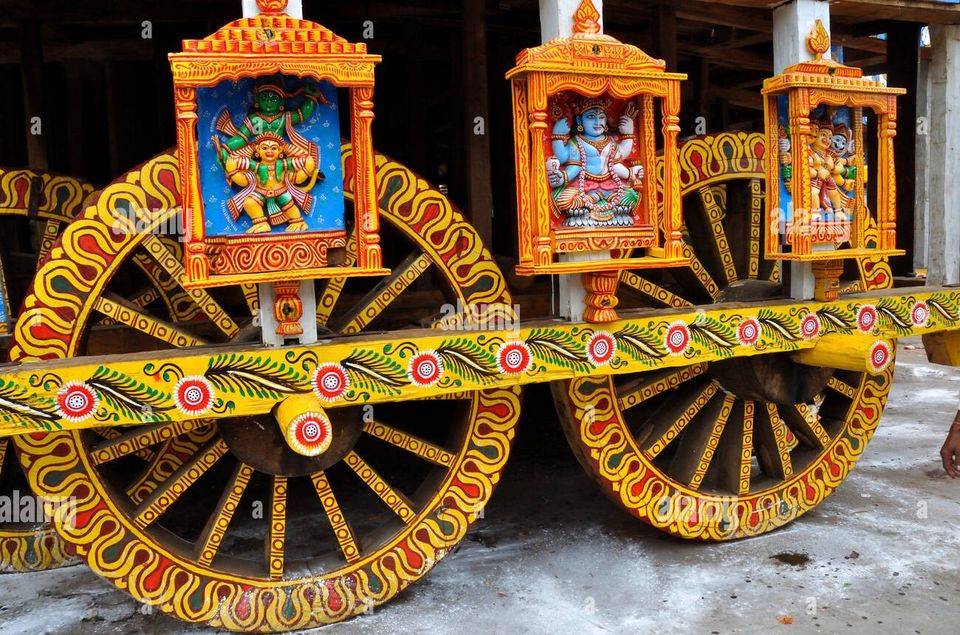 Festivals are a great way to bond over cultural contrasts that makes India so unique, so vibrant and beautiful so why not "Save The Dates" and attend them all!
I am trying to wrap my head around which ones would be feasible for me to attend. Are you?
Think we missed out on something? Tell us about it in the comments below. Or write about it here on Tripoto and earn Tripoto Credits!
Be a part of the largest online community of travellers on Tripoto's Facebook page!