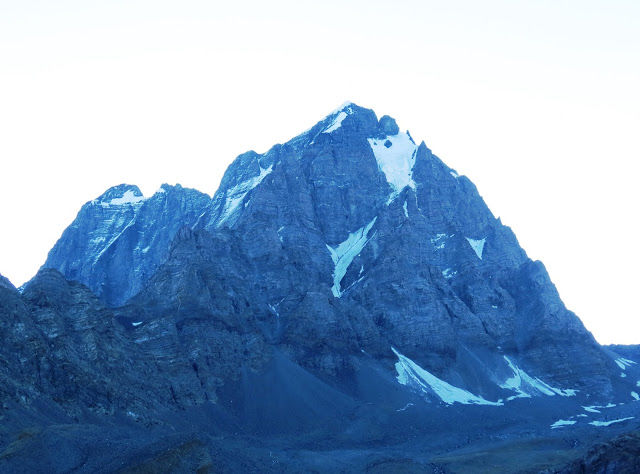 I am back again to share experiences of journey that has a great significance to me. It was more like a pilgrimage than merely another trek.
I have been a great lover of nature and find solace in the lap of Himalayas. I feel blessed and lucky that 'Dev Bhumi Himachal' is my birthplace.
Among five KAILASHs, 'Manimahesh' is situated at a distance of 26KM (13 by bus/taxi and rest on foot) from Bharmour town of Chamba district in Himachal Pradesh. It is located in 'Pir Panjal' Range of the Himalayas. There is a lake called 'Dal' at an altitude of approx. 13,500 feet opposite to the Manimahesh Peak. Every year, on the 8th day of the half-moon in the month of 'Bhadon', thousands of pilgrims take this journey to take a dip in the holy waters.
According to beliefs, Lord Shiva created this peak after getting married to goddess Parvati. The literal meaning of the Manimahesh is jewel (Mani), which can be found on Lord Shiva's crown. Moon-rays reflected from jewel can be seen from Dal Lake and I feel lucky & blessed to witness it myself during this trip.
It is also believed that no one has ever succeeded in climbing this Manimahesh.
One has to reach Hadsar from where the hiking to Manimahesh starts. You will have pony/horses during yatra to reach Dal lake. Hadsar village may be approached from Kangra side or Pathankot by your own vehicle or bus/taxi. Helicopter services are also avaiable from Bharmour to the peak.
Among 2-3 trekking routes to Manimahesh, one from Hadsar is used by travelers the most.
There are buses from Pathankot to Chamba or Banikhet. Chamba is approx. 50 Kms from Banikhet. Buses from Chamba to Bharmour (68 kms , journey of 3 hours) are available in the morning and during the day. Buses/Taxi from Bharmour to Hadsar (13 kms, approx. 30 minutes, may cost from 30-250 Rs).
During Yatra season there are special buses ply between Chamba, Bharmour and Hadsar.
Overnight Journey from Delhi to Pathankot by train and Pathankot to Nurpur by bus. (8 hrs by train and 40 minutes by bus)
DAY1 --> Nurpur - Jot - Chamba - Bharmour - Hadsar - Dhanshow
DAY2 --> Dhanshow - Manimahesh - Hadsar - Chamba
DAY3 --> Chamba - Khajjiar- Kangra
DAY4 --> Kangra - Delhi
My younger brother Rakesh was companion on this journey which we undertook on Bajaj Pulsar bike. Since we work out of our native in Himachal, idea was that Rakesh shall travel one day earlier to pick the bike from home and meet me at Nurpur .

I took overnight train from Delhi to Pathankot.
DAY1--> Nurpur - Jot - Chamba - Bharmour - Hadsar - Dhanshow
After reaching Pathankot Cantt. early in the morning, I took bus to Nurpur. Bus connectivity from Pathankot to Kangra, Chamba and other part of Himachal is excellent. I reached at Nurpur around 07:00 hrs and waited for Rakesh to join me there.
We left from Nurpur at 07:45 hrs. Ideal travel time by bike from Nurpur to Bharmour is around 5 hrs. While driving towards Jot (via Chuwari), we witnessed lush green fields and picturesque view of the valley. All the way long, we made breaks to click pics and soak under the scenic beauty .
Me, Myself, Bike and Nature. Chuwari. A village on the way to Jot
We reached Chamba around 10:15 hrs. I have spent good part of my childhood at this place since my dad was posted here for 20 long years. It was like coming back home. We roamed around Chamba Chowgan and near by local market-'Sapri Bazzar'. We also went to some of the most famous shops of that time to taste the delicacies like Dahi Boondi , Burfi , Sour Aloo etc.
After a short break and repairing the punctured tire we headed to Bharmour at 12:15 hrs. Ride was not that comfortable as some of the stretches of road were in bad shape due to heavy monsoon in that region. Nevertheless the scenic beauty along the journey was too good to mention bumpy ride :)
Place near Bharmour from where one can have view of 'Manimahesh peak'
After riding for 3 hours & 60 Kms we reached Bharmour at 13:45 hrs.

It is said that all peoples intending to go on pilgrimage to Manimahesh must visit Bharmani Devi temple and take a dip in the pool situated inside temple premises. It was further 4-5 Kms away from the the town via road. Bharmour is also popular for Chaurasi temples. Pir Panjal mountain ranges seen from Barmani Devi One may take the trail that goes right till the temple on foot or travel by vehicle to reach Bharmani Devi temple.
As we were on the bike it was quick to get there. After praying at the temple we carried on with further journey to Hadsar. It is 13 kms from Bharmour and took 30 minutes to reach there. Since it was yatra time there was a huge rush, we had to struggle to find place to park our bike. Nevertheless after a little bit of searching around we managed to park it.
Sun was about to set and we had a long journey of 8-9 hours ahead. We took our first steps with a long chant of 'Om Namah Shivaya'. Since it was my first kailash yatra, I was all excited to have the feel of magical place dedicated to Lord Shiva.
On the way, we saw many people coming down, though they seemed very tired but greeted us with a smile on their faces as we passed by them. Hike seemed very comfortable initially but challenges kept increasing with every step we took. Sun went down within 1.5 Hrs of hike and we kept crawling with the help of flash light. As the sun light overpowered by the night; temperature started falling below 9-10 degrees. We intended to take a break at Dhanshow which was around 8 kms from Hadar.
After 3 hours of walk we reached 'Dhanshow' at 20:00 hrs. There were ample arrangements by organizing committee, enough of food and shelters were available.
After having dinner at the nearby camp we planned to sleep for 2-3 hrs.
Since we were dead tired due to the day's long journey, we fell asleep immediately.
DAY2 --> Dhanshow - Manimahesh - Hadsar - Chamba
I woke up as soon my alarm rang at 00:15 hrs. After freshening up we gathered our stuff and pushed-off. From Dhanshow we have two routes to reach 'Gauri Kund' one via Sundrasi and other through Bhairo Ghati. We mistakenly took trail via Sundrasi.
Citing of 'Mani' disappeared in next 15 minutes as the morning marked its presence and teared apart the darkness.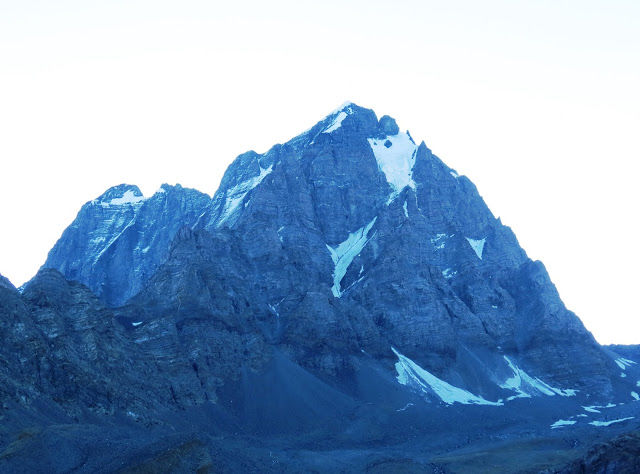 Manimahesh Early morning sun hitting Pir Panjal mountain range Man's best friend Jai Bholenath
All our tiredness vanished after dharshan of Mani and felt so energetic that we didn't want to rest anymore.
It was too cold to take bath in icy cold water hence we decided to take rest for couple of hours unless sun rise. Now the sun was out with guns blazing that made the environment little warm. Without further thought we took dip in holy waters and prayed in the temple beside lake.
Felt so pure and pious after the dip. We had breakfast at one of the many camps setup by organizing committee.
Our next plan was to reach Chamba as soon as possible. We started crawling on the journey back to Hadsar. This time we took other route to reach Dhanshow. It was a comfortable 7 hours walk till Hadsar. Scenic beauty en route was breathtaking, I witness clouds making random shapes of 'V 'and 'OM' in the sky.
We reached Hadsar by 19:00 hrs . After having light snakes we picked up our bike and started our ride to Chamba.
Helicopter service from Bharmour to Gauri Kund.
Waterfall en-route Dhanshow We reached Chamba at 20:00 hrs after 3 hours of ride on bike. We managed to find shelter at Circuit House and after heavy dinner it was time to crash.
We managed to leave Chamba by 9 in the morning. After visiting Khajjiar which was on the route to Jot, I comfortably reached at my home (in Kangra distt.) in the evening. Thanked God for all the blessings and helping us reach home safe n sound.