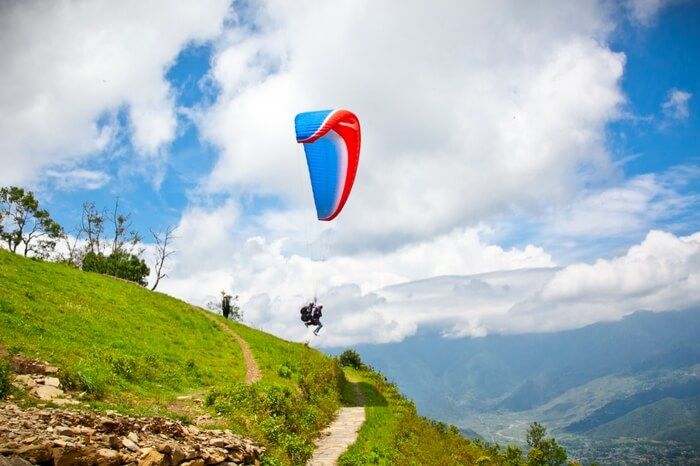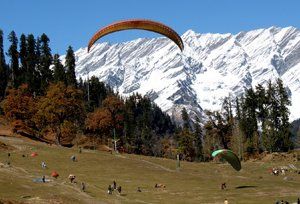 Interesting Facts
Himachal Pradesh is known as Paragliding Capital of India
Paragliding world-cup 2015 will be organized in Himachal Pradesh. The World Cup will be held from October 24, 2015 in Kangra district in which around 150 top ranked pilots of the world would participate besides 500 free flying pilots.
Best Time to Visit: March to early June and from September to November. Himalayan Para Gliding Pre World Event held in Bir and Billing attracts large number of adventurers from across the world.
Gliding Time: 10 – 40 minutes
Spots: Bir Billing in Kangra Valley and Solang Nala in Manali are the best places to enjoy paragliding. Other places where tourist can enjoy paragliding are
Rohtang Pass near Manali (3978 meters above sea level)
Kothi below Rohtang Pass (2500 meters above sea level)
Bijli Mahadev near Kullu (2460 meters above sea level)
Bandla Ridge in Bilaspur (2600 meters above sea level)
How about standing at an elevation of 3500 m above the ground level and then taking a sudden jump with a lone support of bungee cords? Well, if tourist's posses such courage to confront such an experience, then Paragliding is just for them. Paragliding is a wonderful sport that not only enables adventurers to enjoy the excitement of flying, but also admire the wonderful panoramic views. Doing paragliding in the panoramic landscapes of Himachal Pradesh is simply a never to be forgotten experience.
Quaint tourist destinations in Himachal Pradesh are all about fun and adventure. Referred to as the Paragliding Capital of India, Himachal Pradesh is certainly one of the best places to enjoy paragliding. Towering mountains with favourable climatic condition attracts large number of tourists from across the world to enjoy paragliding. Both beginners and experts are eligible to undertake paragliding in Himachal Pradesh.
Kullu Valley, Bir Billing (Palampur) and Solang valley are the prominent places to indulge in paragliding. Paragliding in Bir Billing is an experience worth remembering, as it passes through green tea plantations; further the view of the snow-capped mountains can simply make the tourist ecstatic. For an adventure lover, such an experience is the gateway to unlimited fun and excitement.
Paragliders can take up a training course at the Aero Sport Institute. The institute hosts a number of air championship which are open for beginners and professional par gliders. Enjoy the prismatic beauty of Himachal Pradesh by paragliding. Give wings to your dream of flying, witness the magnificent hills and azure landscapes like a bird! Himachal Pradesh, with all its glory, proves to be an excellent paragliding destination in India.