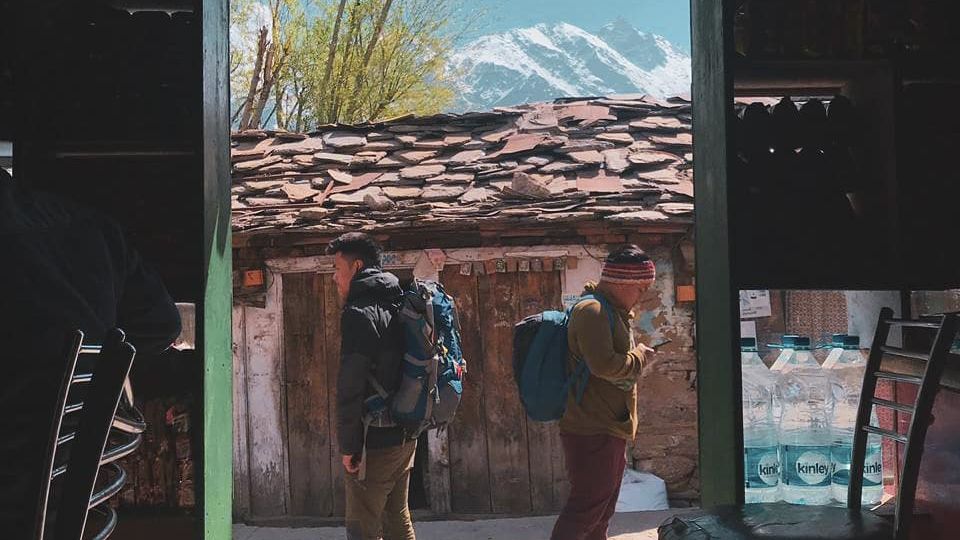 After Reaching Recongpeo .. it was almost 8 , in the night so we decided to reast after this long journey , and we had some drinks and snacks over some , conversations about love , life and Traveling .. oh speaking of love .. i remember calling the girl i love , standing at the chowk of recongpeo . With the full moon and some complementary clouds with it in the Frame .
.
I told her how we waited for 4 hours at one place , because of the land slide , and i also told her how we were accompanied by Almost 25 Workers in the bus ( labours migrating from down south towards North in search of work ) they use to pee , spit and take a shit in womens bathrooms in every local dhaba our bus stops by .
.
In return she just kept quiet and listened to every word i uttered .. and finally after i was finished talking she asked , mohit Tu kush tho hai na ? , lol at that moment i wasn't , i was disappointed by the place i was at , i came to recongpeo thinking it would be a silent and less commercialized , but it was totally opposite , the hotels were costly as hell and were also very conjusted .
.
Place was so confusing during night , that i entered this bar once there with my rucksack thinking its a hotel . Oh man what an embarrassment it was .
Finally got a cool place at 600Rs . . And the food was also cheap and tasty .
The hotel is located just next to the one and only beer shop in recongpeo .
.
The shopkeepers of recongpeo were very kind and friendly , and there is no extra charge for any snacks or food in recongpeo . As compare to truind and MacLeodganj.
.
I thought Recongpeo is a substitute of shimla .. untill i woke up next morning and realized everything i was thinking and bitching about last night was utter bullshit .. and this place is way beyond my expectations , this place was like it has been Protected by the mountains . I means the whole place was surrounded by the gigantic mountains i had ever seen in my life , oh man
.
We left our hotel before the usual check out time and took a bus for kalpa , we have heard that there is a scucide point there , i thought it would be cool to visit there once and later we will go to sangla and spend the night there . Our plan was on point , but the only barrier which was in our way was the time ,
It was sunday and a local informed us that it on sunday there are only 2 buses which will take us to sangla , but later as the events started to unfold we got to know , its a myth , if you want to know the exact timings of the bus contact directly to the recongpeo bus depo and they will give you the right information .
.
Unfortunately we didn't make it to the scucide point , instead we explored some of the nearly places . . we later settled down in a cafe , where i met a fellow traveler , age 60 , retired army Officer , was traveling for 6 months straight now , he told me many unknown treks , which are not so popular in the Trekking community .
I made a list of all thoese trekks .. and made him a promise that one day ill do them all .
.
After having breakfast in that same cafe we left , hitchhiked with some school teachers , going somewhere on ghere truck .
They dropped us at the depo and after waiting for an hour , we get on the bus for sangla .
And whithin 5 mins , after sitting in the bus i took out my dairy and cut recongpeo from the list .