The area through which the river Ganges traverses around Calcutta is steeped in history. British empire started its Indian journey after they sailed through this river over three centuries ago.
As a result, volumes of historical data can be found existing in various nooks and cranny of this piece of historic land.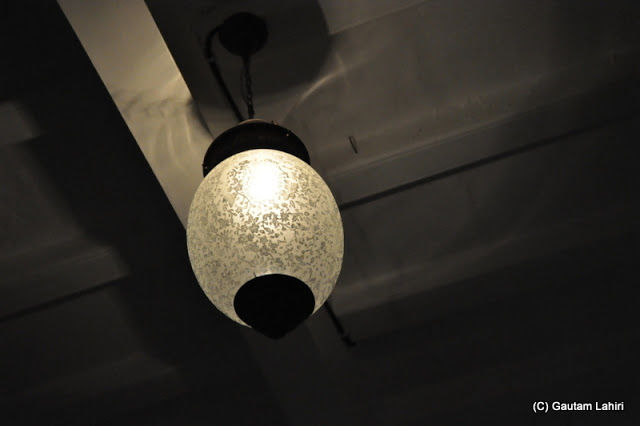 Kings, nobles and rich merchants who flourished in that era have left series of legacy in the form of exquisite mansions, palaces and any visitor inclined to see old vestibules of time will be left surprised as few of them have stood the test of time, and quite a big number of them have succumbed to the nature's elements.

The ones which by chance, attracted the attention of few sympathizers of historical monuments got a fresh lease of life as the broken structures were given a complete renovation. Most of the personally owned palaces remain neglected by the authorities across years. It is slightly different where the present generations of these nobles who are able to maintain remain resplendent with their glory and provides a glimpse to the by gone era.
The lost grandeur was painstakingly brought back...this effort is humongous and an enthusiast needs to seriously study history to take on a task as complicated as this; however, when passion takes over, I guess, there's no dearth of interest and every challenge becomes a milestone.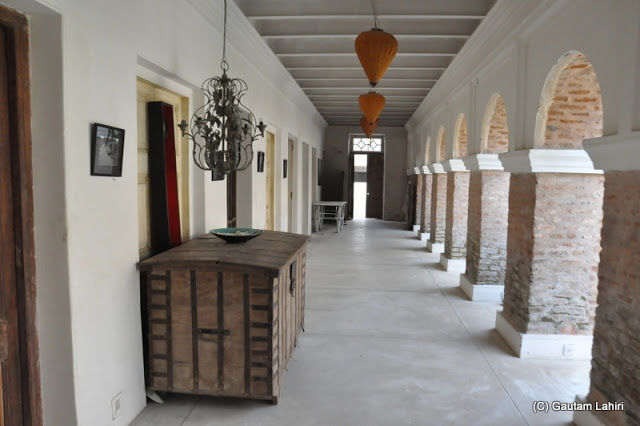 We were thinking of visiting such a place and located one near Budge Budge. A city based entrepreneur, armed with resources and love for history turned the Rajbari (Bengali term for a king's palace ) which belonged to erstwhile Mondal family into a heritage resting place for the city burned travelers who would like to spend couple of hours or perhaps a day or two to stay within the confines of a palace and feel the hours glide in slow speed.
The palace is called the Rajbari Bawali and we drove down to experience the forgotten atmosphere of the historical edifice and visit the nearby places around it. We drove about 32 kilometers through few of the busiest sections of Kolkata, like Rashbehari Avenue, Taratola, Thakurpukur, Bibirhat, Bakrahat and finally reached the palace compound.
The approach roads from the main roads are very confusing to a motorist and we had to ask local people several times as there's a labyrinth of lanes and small roads. Parking poses a bit of an issue if there's a fair held right across the palace.
The neighbors around the palace were not too friendly either and asked us to park the car either in front of the palace or drive away. We chose to stay and explore.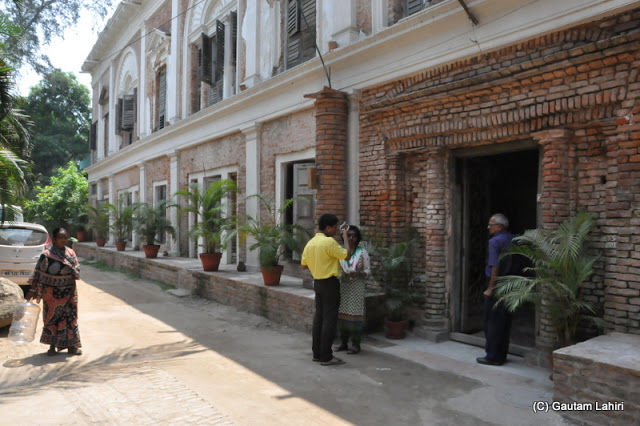 Usually, a palace has big imposing iron gates and a drive way; however we found a straight piece of wall two storied high well decorated with windows interspersed with corinthian pillars running along and an entrance in the middle opens up. The entrance is an assemblage of old small bricks and with its mortar brick color surrounded by white background looked quite nice.
As we stepped in, a sprawling courtyard welcomed us. On the right a flight of steps rose up to a building which has a typical Greek architecture - The pediment supported by the columns underneath.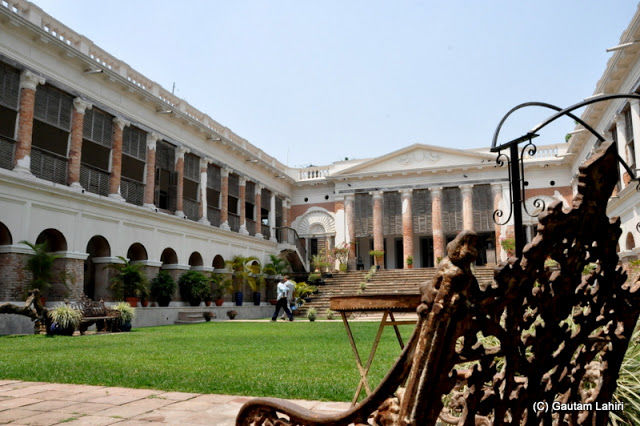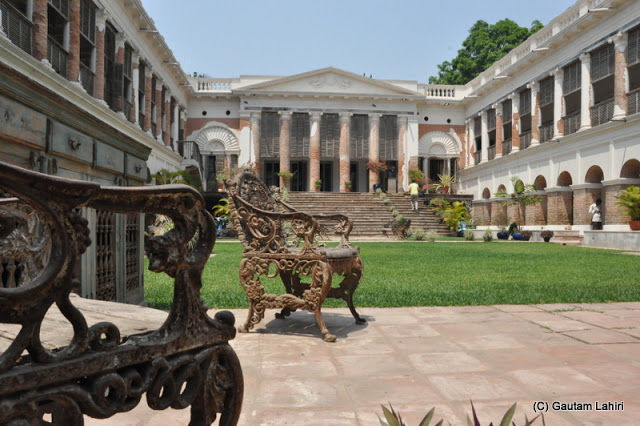 We had visited in April and in 2016, the summer had been fierce. The harsh sun rays made us spend limited time to explore the building, so we climbed the steps that you see to the main building to feel the ambiance and to savor the shade from the blistering sun.
Would we be taken back in time ? We wanted to know...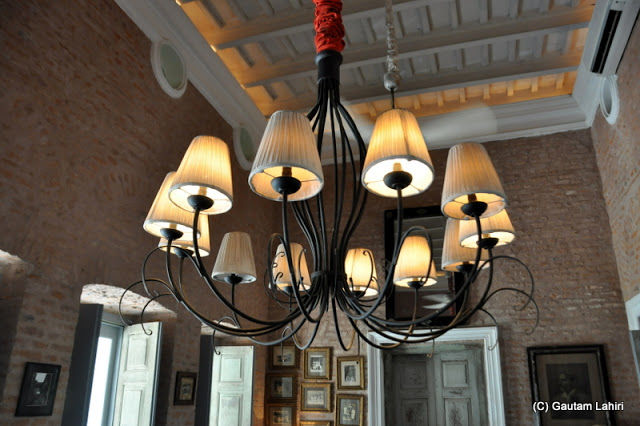 The room which presented itself was the dinning room. The ceiling had parallel beams supporting the roof section and on all sides the wall had a brick layered surface on all sides with old photographs of gods and goddess hung.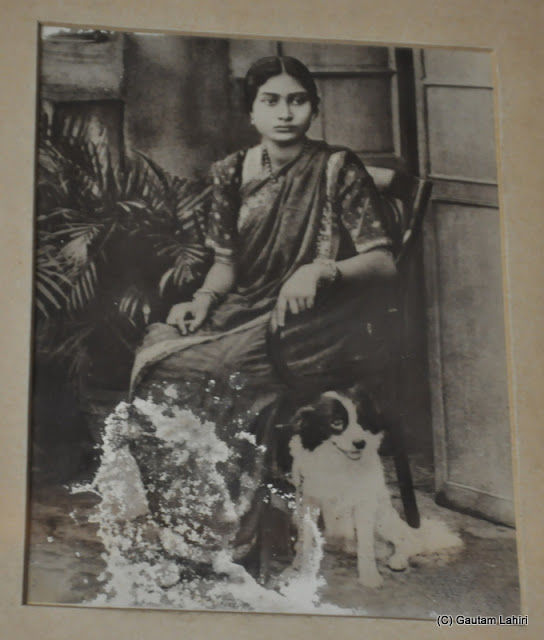 Few black and white pictures of perhaps the owners' family were present and looked at us in wonder as if to feel how we felt looking back 300 years.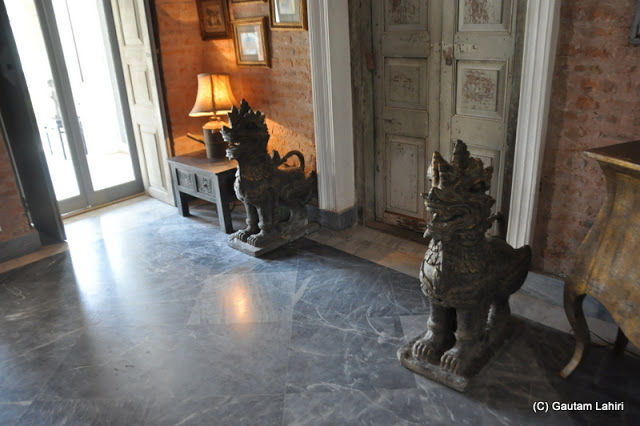 Few oriental designed dragons stood like sentinels. A well laid out dinner table took most of the area of the room. A touch of both old and new could be seen co-existing. I wish the elements that have been kept in this palace aligned with the time to which the palace existed.
A little bit of study of history can do wonders to this palace...what the rich and elite of those times actually used in those days.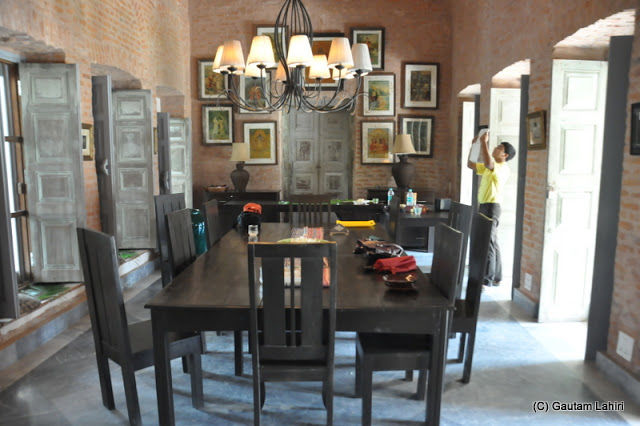 An adjoining room, thoroughly painted white was all set to take more visitors looked very modern in design and to an extent looked out of place in this palace. We sat there for a while, and looked outside at the trees and old buildings around.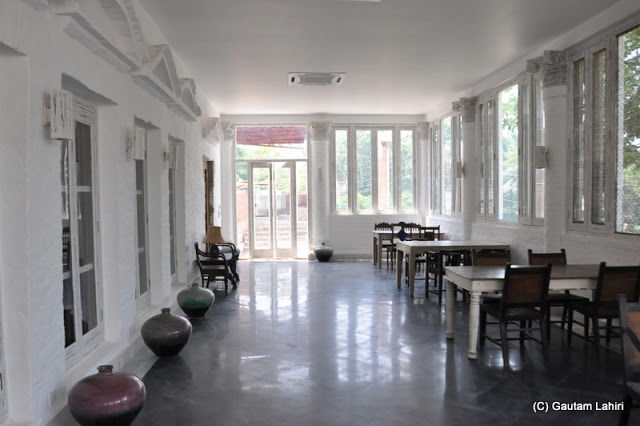 We walked on from one quarter to the other. The next room was quite interesting. What caught my eye was a very old radio set sitting atop a wooden wheeled casket.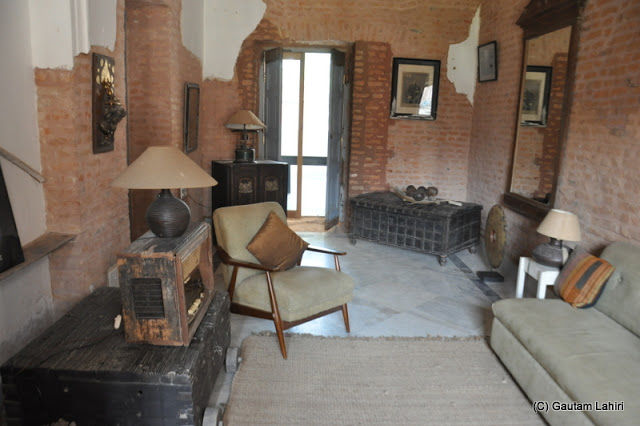 We went past the rooms on a long veranda with arched openings on the left which gave a good view of the garden outside.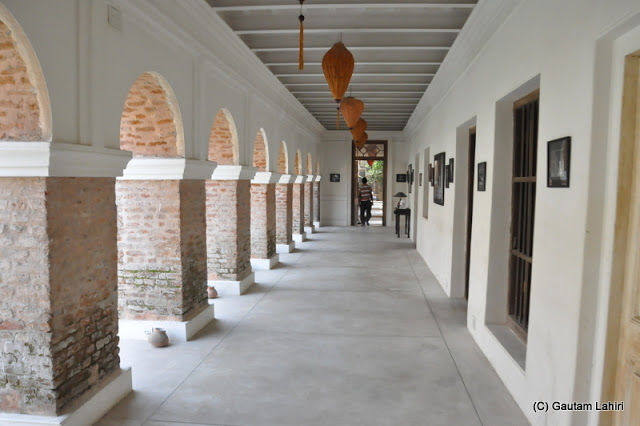 Next came a recce of couple of well decorated bedrooms. They served now as the living rooms for the guests who come to the palace to spend time in solitude.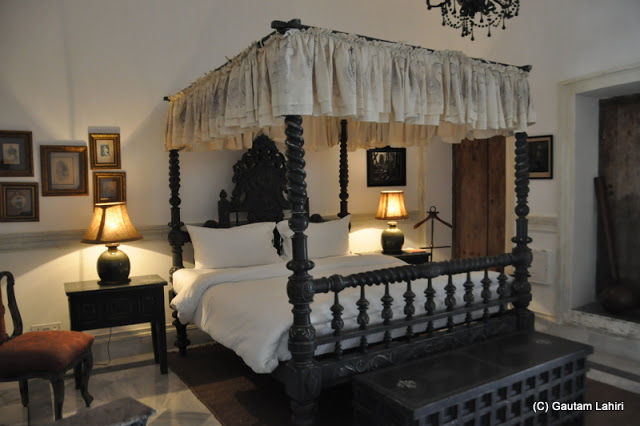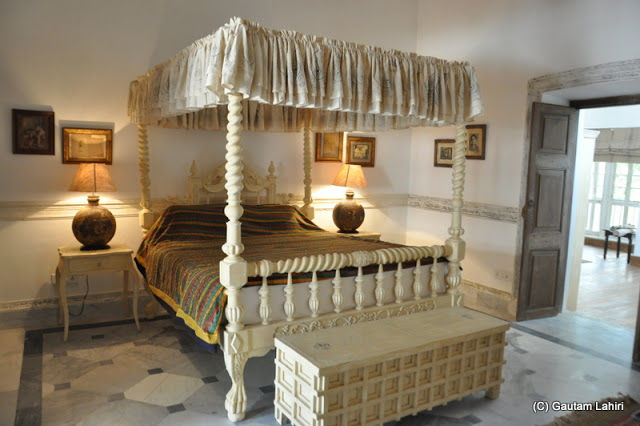 We continued our exploration of the palace and came to a corner room beside an old balcony. This room served as a sitting room; ideal for sipping a 4 pm afternoon tea with a story book in hand.
We sat for a while and heard the birds chirping, heralding their return to the trees for the night ahead.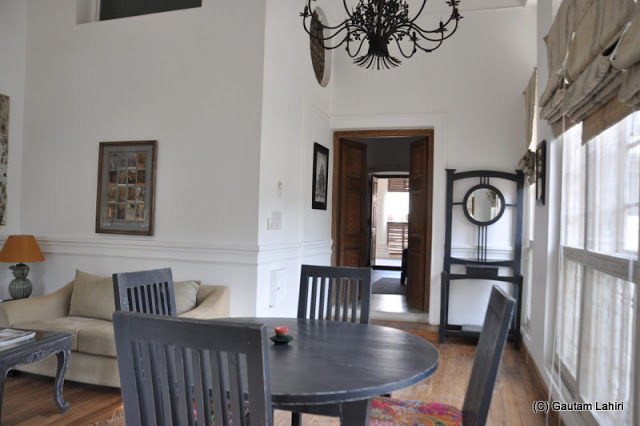 By the time we came to the last room along the corridor, the sun had sunk westwards and the heat had reduced.
It was time now to go outside the renovated rooms and explore the immediate surroundings.
In the middle of the entire area of the palace ground, there existed a pond or a water body surrounded by old gates and metal structures that tried to bring that old world charm.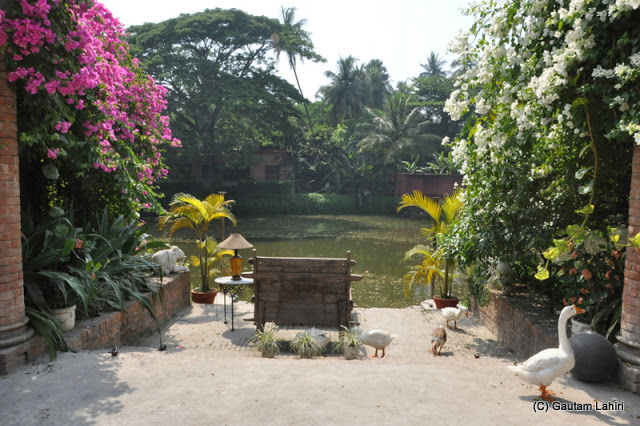 One of the out houses, that was newly built or reconditioned, had British design and with the long trees crowding around its roof, looked quite inviting to spend couple of hours in privacy.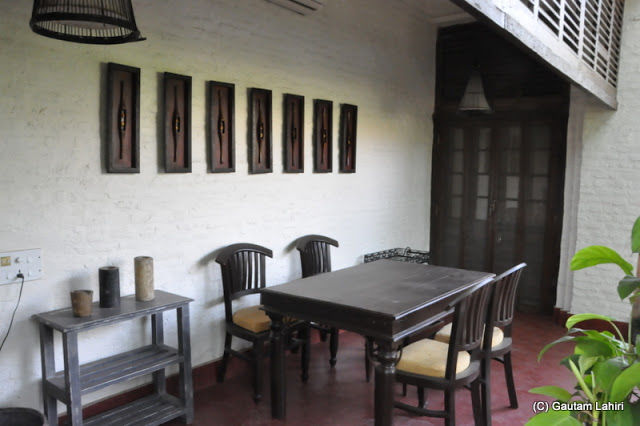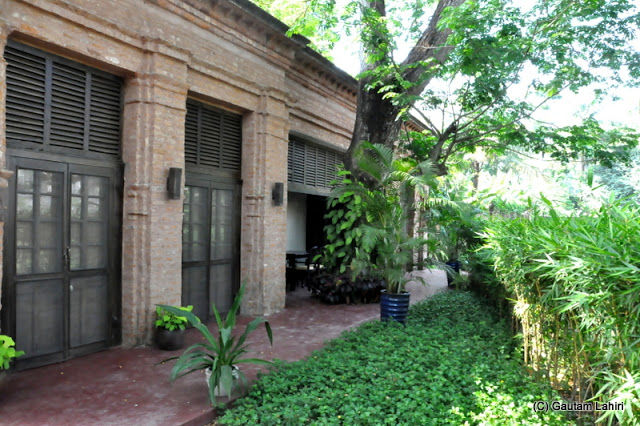 After a good three hours of moving around made all of us quite famished and we came down to the dinning room to have a well deserved lunch.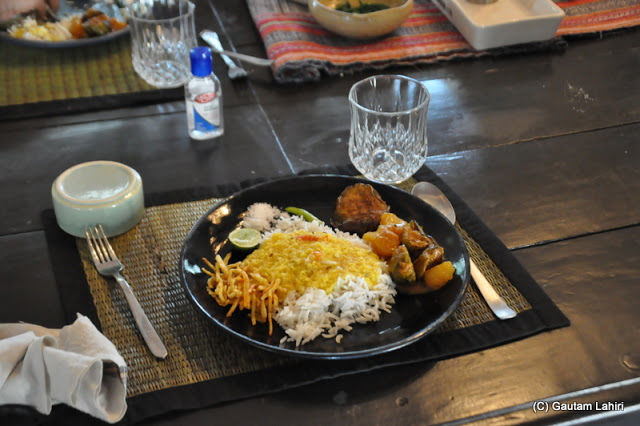 The lunch consisted of pure Bengali dishes and included white rice, potato fries(aloo bhaja), lentils, chicken and ended with sweet curd dessert.
It was time for us to bid goodbye to the palace and drive to few places that were present in about six to seven kilometers radius from it.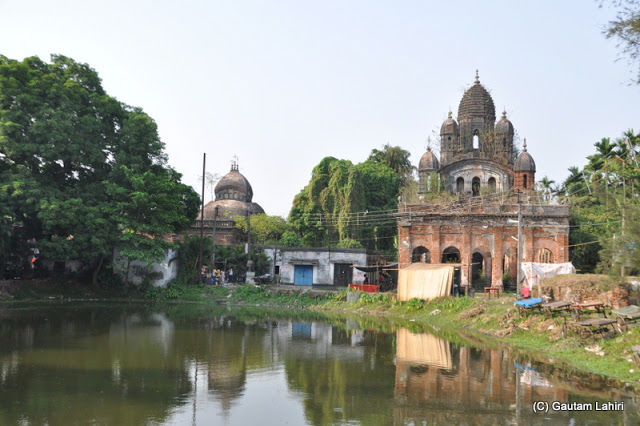 There were two temple complexes beside the parking area and they were in extreme state of disrepair.
Complete neglect could be seen. After asking the locals, we learned that historically these temples were forerunners to Dakshineswar and Kalighat and queen Rashmoni after seeing this temple built Dakshineswar.
So, these temples were built well beyond 350 plus years ago.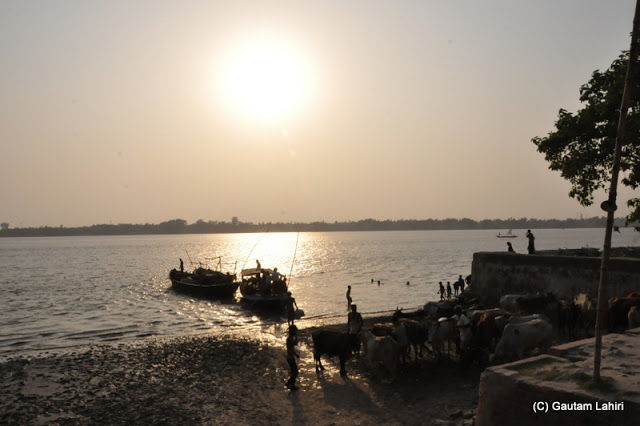 Two places are frequented by the tourists and we chased the same route and came across a place called Achipur. We saw a Chinese temple which was constructed by an individual of Chinese origin named Tong Achi years back.
River Ganges in this part of the state is quite wide. It meanders her way into the mouth of Bay of Bengal. You can see big ships sail by on their way to Calcutta port. However, in the afternoon the river level goes down putting a stop to the ships as they may go aground.
The western sun flashed on the horizon. A cool breeze swept our hair as we stood by the river and soaked in the captivating scenery.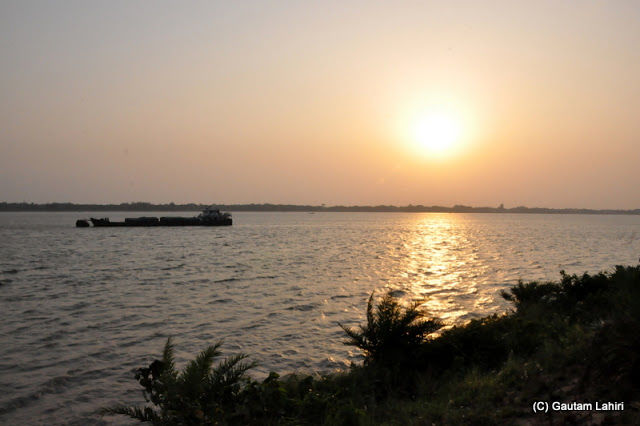 We found a brick crusted road, ideal for a walk and it skirted the river bank; however, I took my dependable Swift on this broken road. We bounced to and fro as we slowly drove by the river banks, facing the southward cool wind.
Suddenly, on our left we came across couple of broken buildings. Most of them were eaten away by the ravages of time. From the locals, we learned that these were called 'Barud Ghar' (which means house where you keep explosives) or buildings which were used by the British to store explosives during the war..
Perhaps the war British warships used to berth here to replenish their stock of explosives for the battles they fought.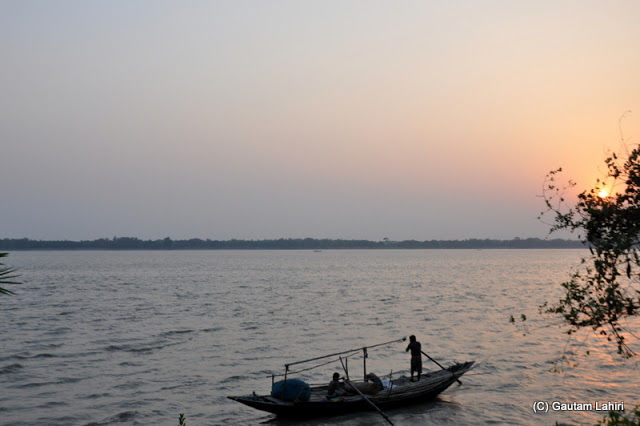 Our day long history class came to an end. Came across a 300 year old palace, the famous Ganges river which stands as a mute testimony to uncountable historic events.
We saw few and the knowledge we gathered was good enough which made us ponder about the past as we returned to base.
Trip first published on The Voyager
Frequent Searches Leading To This Page:-
bawali rajbari west bengal, the rajbari bawali nodakhali west bengal, the rajbari bawali hasnecha bawali west bengal, rajbari bawali distance from kolkata, the rajbari bawali bawali west bengal