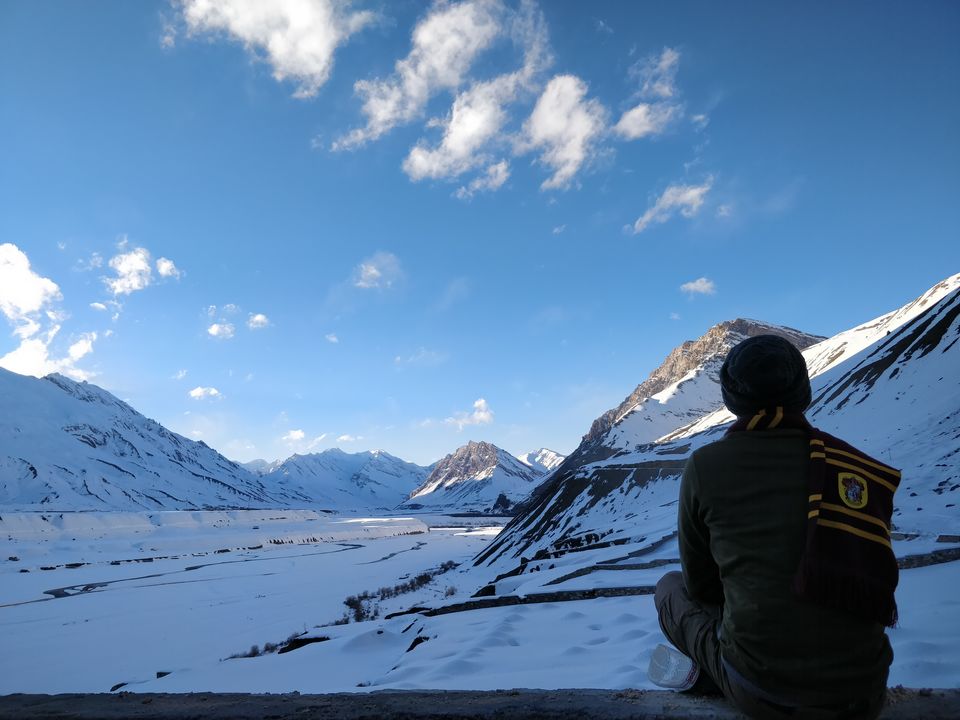 I am apologetic for the extended leave of absence here on Tripoto. I've been way too busy fighting off Cyber-crime this past year. I sincerely hope you are in the best of your health. My fingers are trembling with mountain sickness as I find it hard to type. My intentions as always are to motivate you to step out of your comfort zone. Even though it may be the hardest vacation you ever took, you'll return wiser with intriguing stories.
Listening about a place a hundred times from others << Experiencing it yourself.
As I relay my experience of the week I spent in the wintry snow-laden Spiti Valley, I'm positive you'll be able to relate to some, if not most, encounters and incidents throughout this write-up, even if you haven't been there physically. Yet.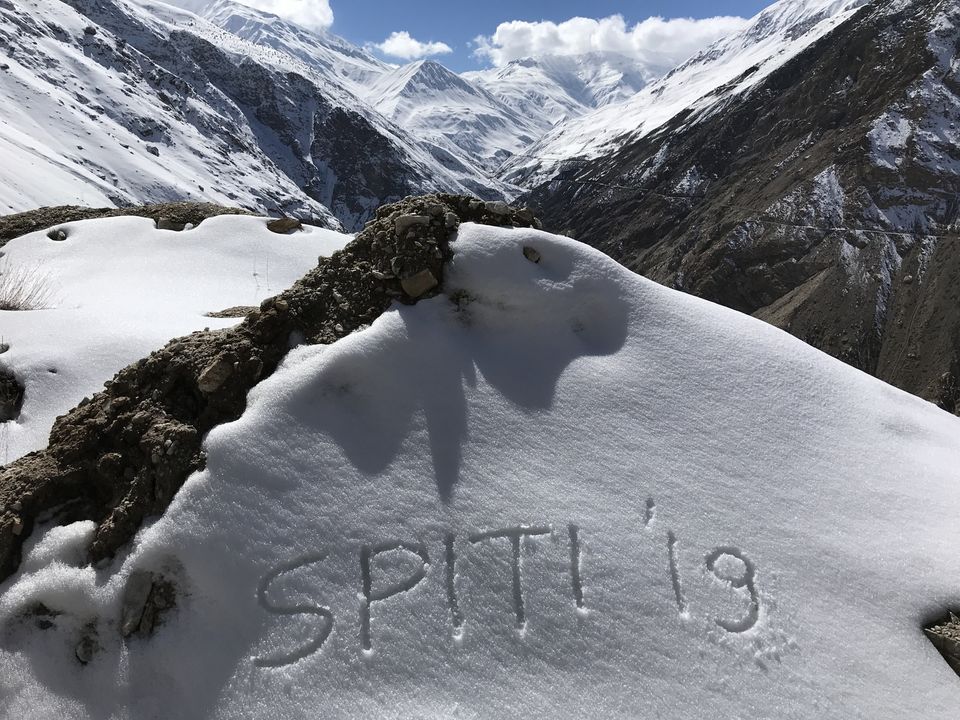 What is the best time to visit XYZ?
The answer is always. It's you who may not be the perfect fit for the said place at a given time.
A Bumpy Ride but a Resolute Friendship
This was my second stint in this valley, the previous one being in the comparatively warmer month of September back in 2017. Last time we couldn't discover even a tiny snowflake but as the story progresses, you'll feel I've had enough of this white cocaine for a lifetime. This time, the default setting of this valley was something along the lines of -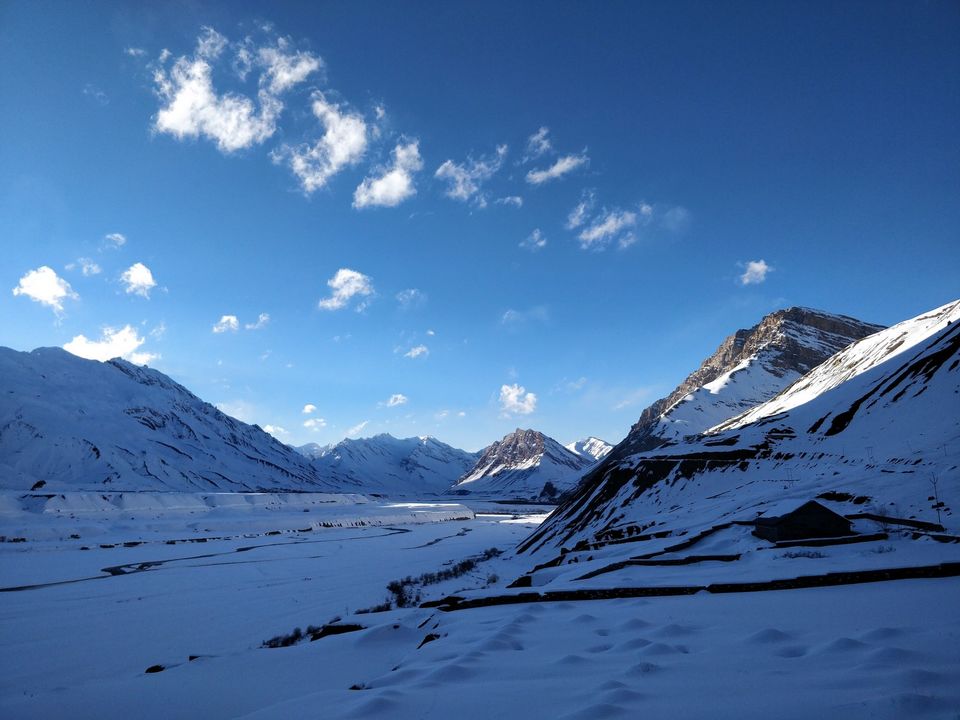 Spoiler: The winds so chilly they penetrated through every layer of clothing you have on, a shiver across your spine follows and the body simply gives in. What seemed to help was the company I decided to share this experience with. Amateurs they were, or mountain n00bs if you'd fancy, two of them who I consider as my younger brothers. Do you have a close friend's sibling who you connect with? On top of this blessing, add a friend of theirs who spices things up even more and convert the most unpleasant of moments into memories you could laugh reminiscing.
They are basically each other's support system. Bonnie to his Clyde, Jai to his Veeru and sometimes Joker to his Batman.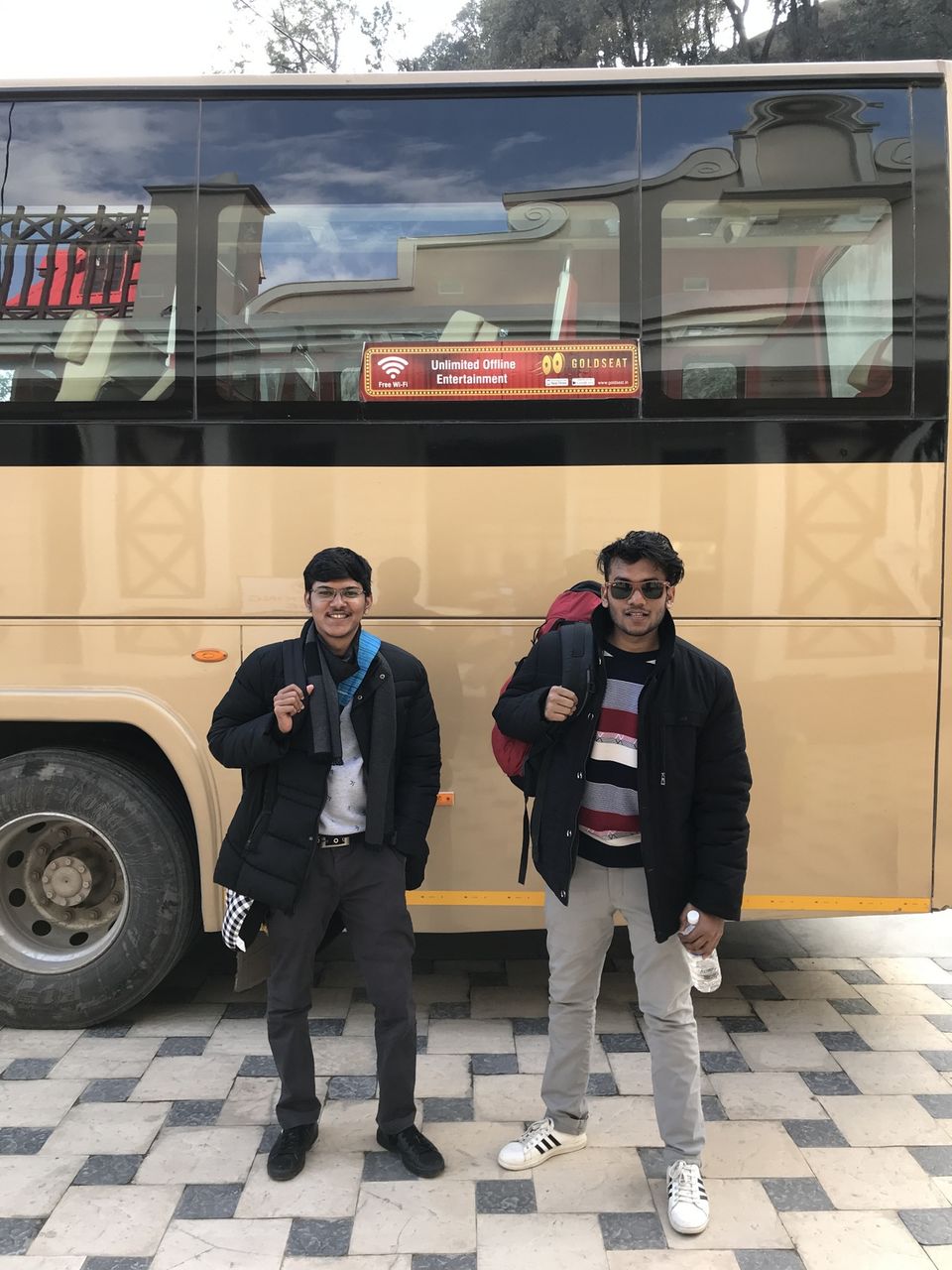 Like it is between two best friends, pulling each other's legs is a necessary job responsibility. And so is taking care of each other,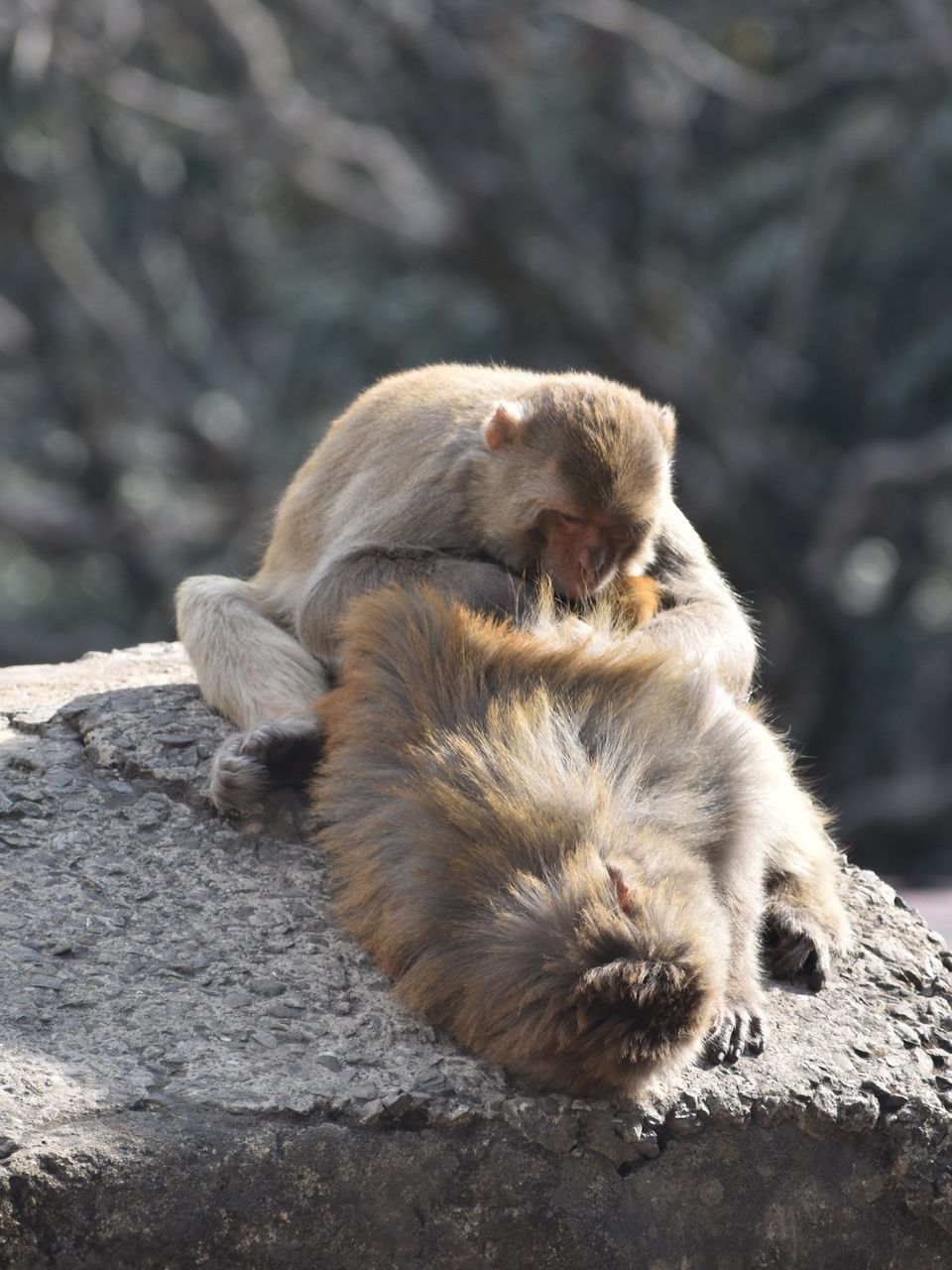 After months of yays and nays, weeks of preparation the judgment day approached. I kept pestering my driver for updates on road status. A few days before the trip, I got news from my driver that the first time in 8-10 years Spiti was experiencing an unimaginable amount of snow hence roads weren't looking very well.
Me - "Too bad, Ramesh Ji Hum to aayenge aur aap gaadi chadaoge barf pe."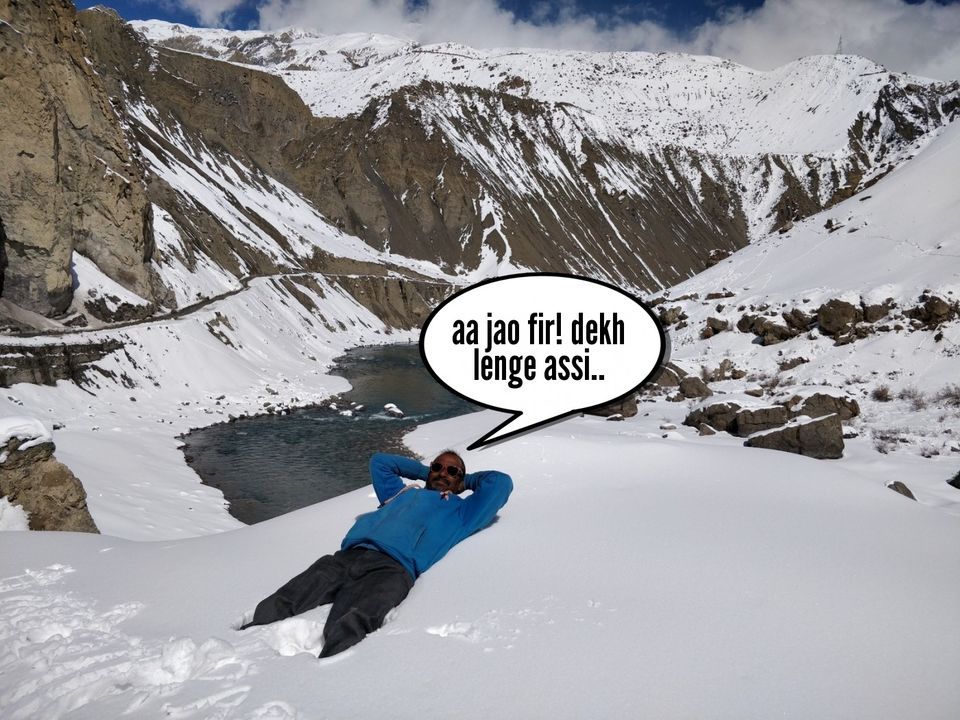 That was an assurance enough for us to depart for Delhi from where we had an early morning bus towards Shimla. The final hour of approach towards Shimla, the sky suddenly turned to pitch dark and we could hear baseball sized rain droplets pounding our windowpanes. The bus kept swerving from one side to another, dodging vehicles coming from all directions. Our bus driver was already responsible for a middle-aged woman being hoisted into the air landing near the conductor's seat because he was allegedly testing if the brakes worked. We were already skeptic if we'll deboard in one piece.
Shortly thereafter, we were greeted by none other than our driver who we fondly call Lord Ramesh due to his immaculate driving skills in the mountains. He was able to locate us across the heavy downpour with which Shimla welcomed us. The climate equaled to what you'd expect when the dementors approach. Everything was cold and wet, but we didn't come to be intimidated by mere liquid droplets from the sky. Nature had to up its game to strike us with lightning if we were to back down. [JK LOL MOTHER NATURE]. One day at a time, tiny footsteps and no forward planning was the motto at this point.
The only advance booking I had done was an average hotel in the nearby town called Mashobra. As beautiful as it seemed on the Internet, the roads leading to the hotel had a different story to utter. The main road was already looked spooky when we had to take a steep descent towards the hotel. Our hearts climbed their way to our mouths and we clutched to everything we could while our driver maneuvered the vehicle across a road which never was. Google Maps almost failed us miserably and if I were to open Apple Maps, I think our trip would've ended right there. To my surprise, the shabby hotel turned out to be nice, the rooms were spacious. Wooden architecture is a common sight in hotels and it complements the beauty of the surroundings. The presence of furry dogs in the estate are always a welcome bonus.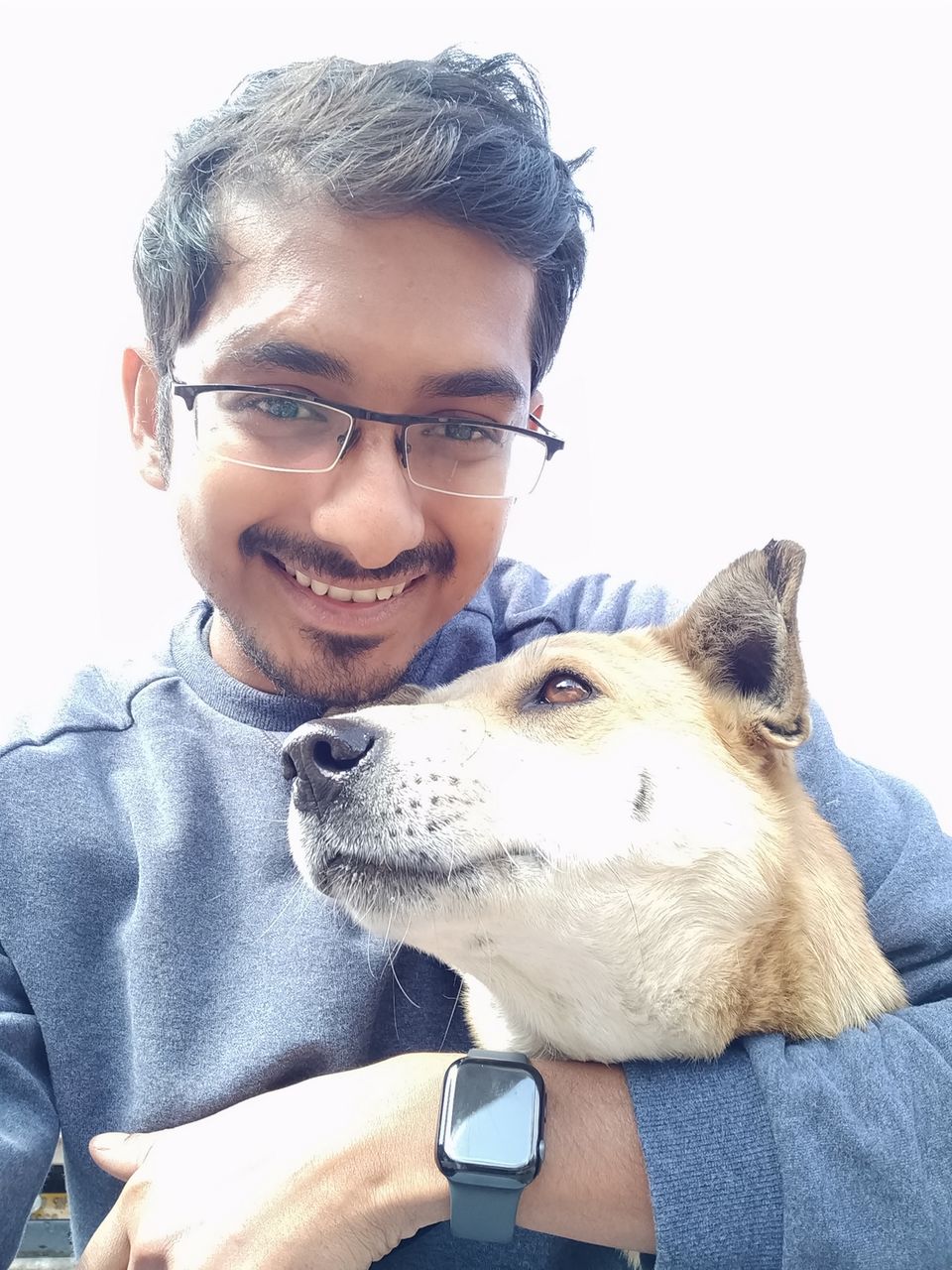 The two lads were scared shitless during the short car ride, but their enthusiasm was exceptional. They immediately covered themselves with multiple layers of clothing and sat across me anticipating further instructions.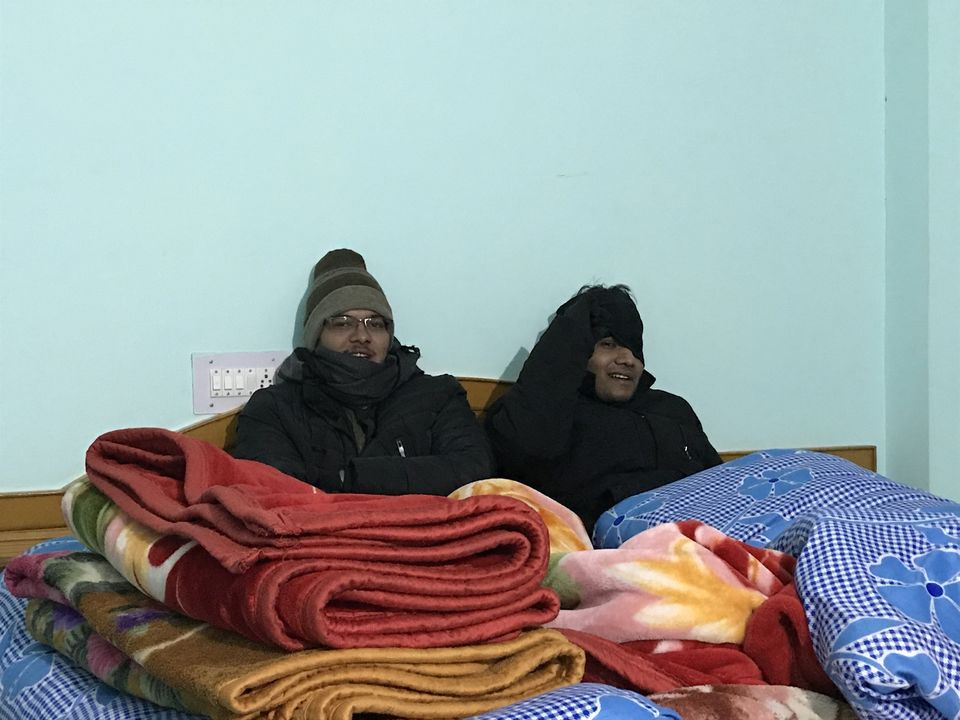 "Kya? Kuch "karne" nahi aaye. Ye hafta bas chill hi maarna hai."
In times like these, your paternal instincts often kick in and you assume full accountability of anything that could eventually go wrong. I tried my best to ensure they packed adequately in advance. I went as far as creating a customized Excel checklist for the dynamic duo.
Compared to the wicked last evening our sunny morning was a pleasant surprise. The sky had cleared overnight giving way to the bright warm rays of sun piercing their way through our windows. But still, it was so damn cold!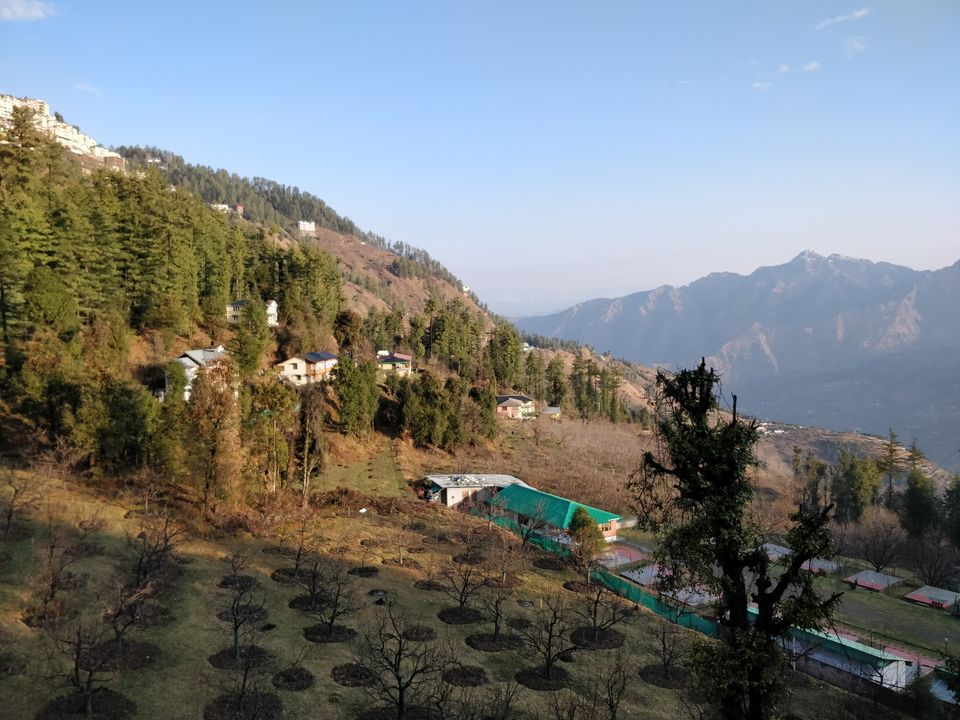 As we made our way towards Kalpa, which was the planned destination for the day, the roads embraced along Sutlej to accompany us through every twist and turn. The hues of the river remained constant while the lads argued to what the color was called.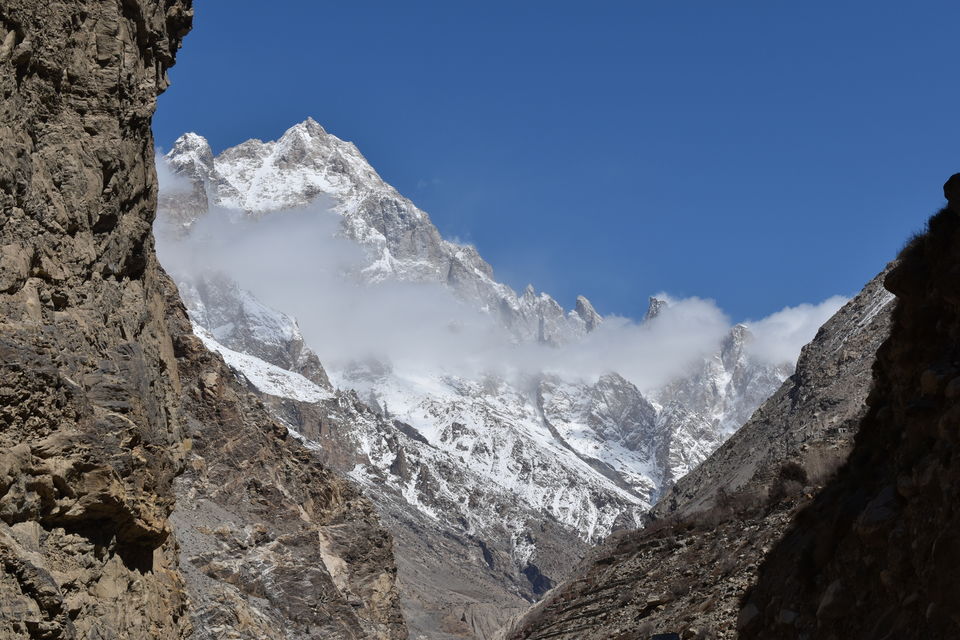 Our lungs made way for the fresh mountain air to replace the contaminated one we started with. We crossed fields brimming with yellow mustard flowers and the sky was a soothing shade of blue. We clenched to our jackets tighter with every mile marker that went by.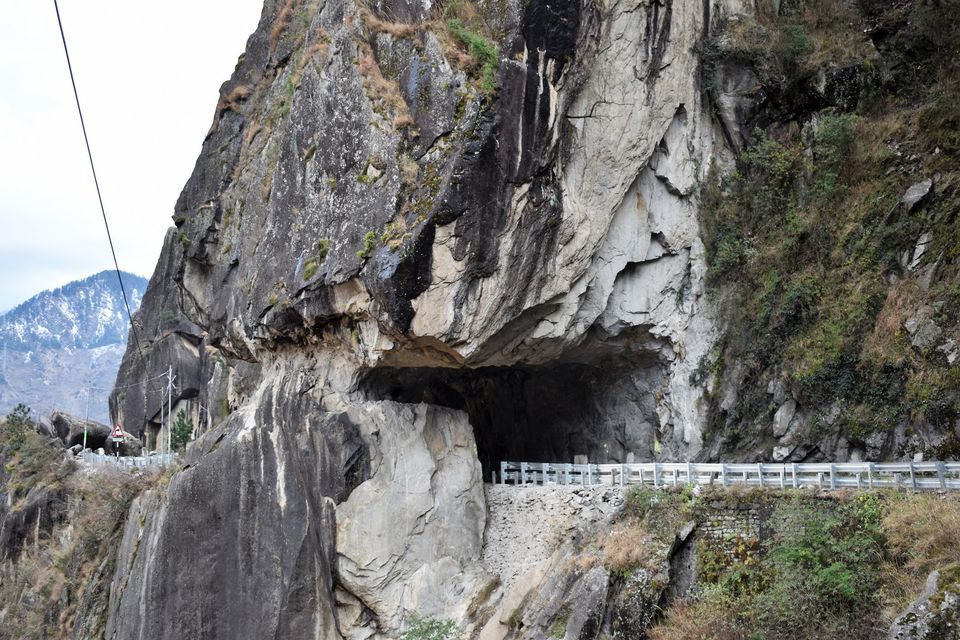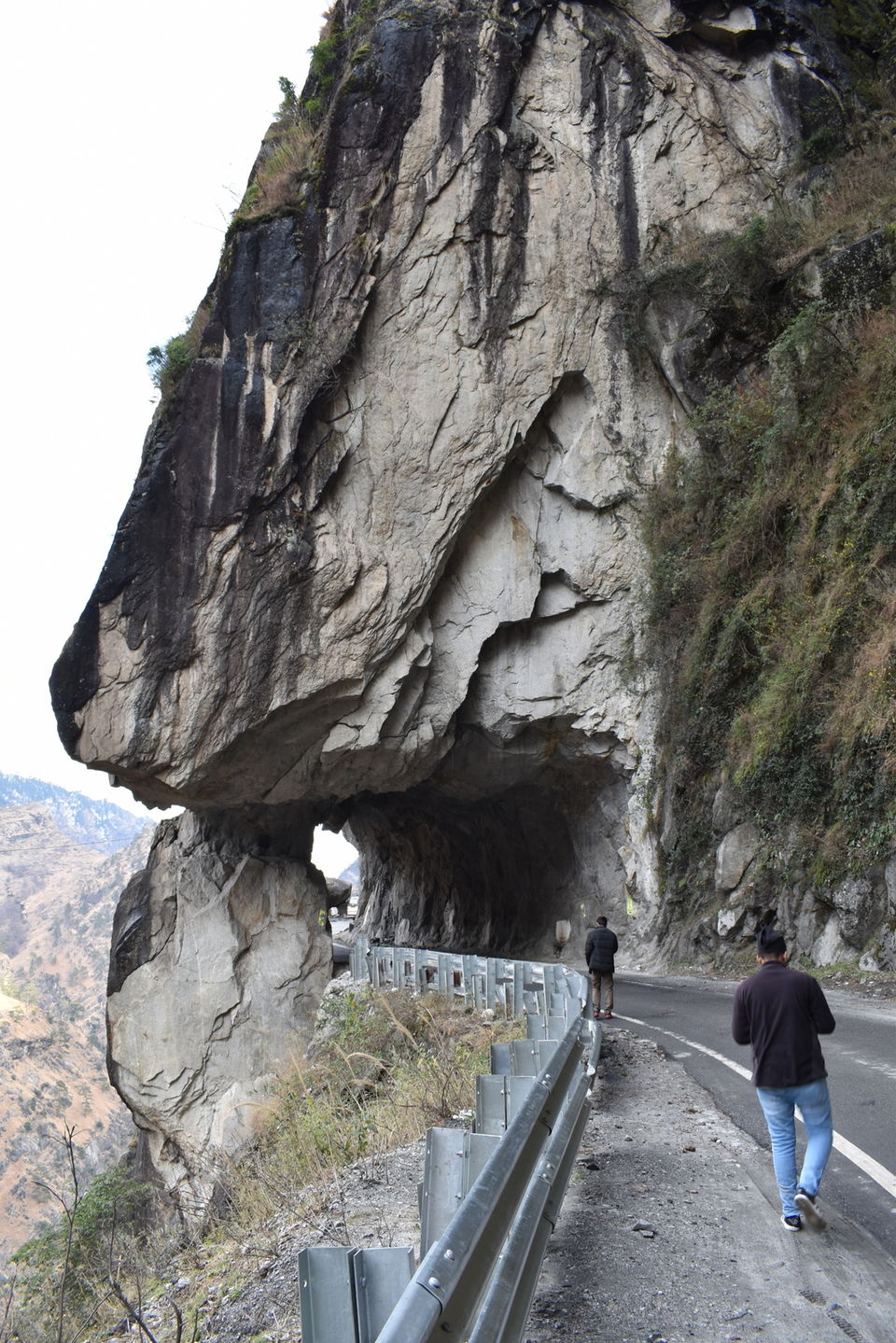 It was dusk when we reached Reckong Peo with only a single hotel which was welcoming tourists.
The hotel was stringent on space. Water was limited. The food was hot, but it felt stale. The temperature dropped below zero degrees. It was about time to liven up the damp mood and the fastest way was to introduce our body to Old Monk which practically washed away the cold. From this point on, you can't even spell fear lest feel it.
"Of course, the PARTAY has to be taken OUTSIDE." But that wasn't the end of it. The hotel staff consisted of 3 local boys who seemed particularly interested in our miniature house party as opposed to other people who were staying there. They must have profiled us to realize we didn't brave the cold for just a new display picture. We lured them outside and danced together to the beat of their favorite music. Suddenly, all our fears turned into hope for a better tomorrow.
An Ode to Paranthas and Chai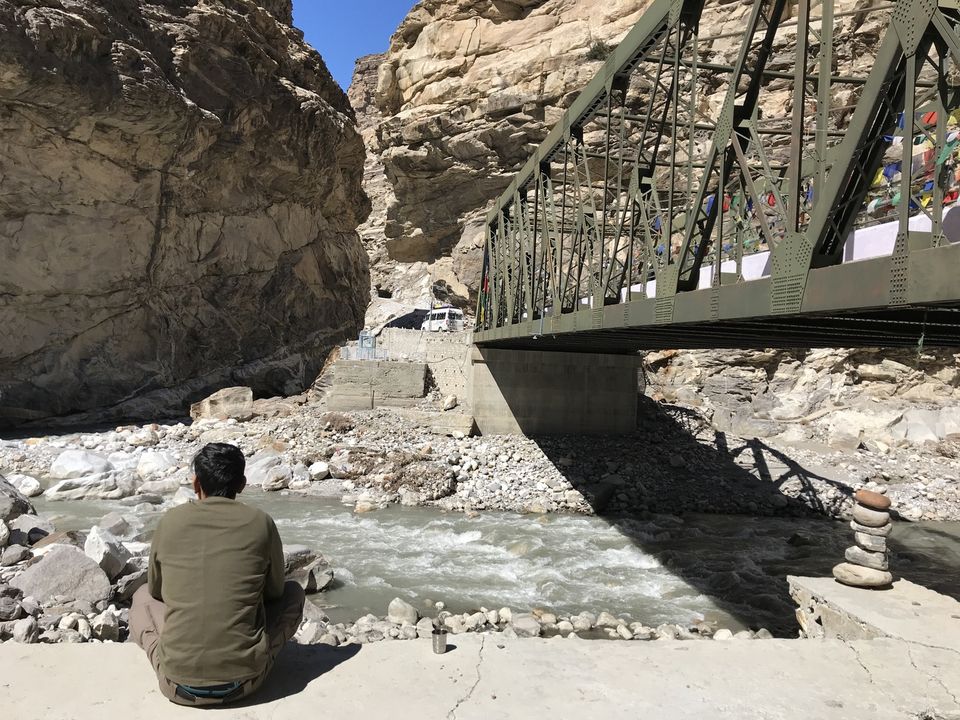 I'm convinced of a simple fact that paranthas taste completely different high up in the mountains and its better half, chai even better. The ingredients are similar, preparation of this delicacy more or less the same, then what makes me believe that? Our driver was instantly reminded of my request to stop the car at every opportunity I could get just so I could taste the entire valley's variation of our very own chai. Sometimes they are served in a simplistic glass of steel and when it's my lucky day, I could see the fragile old host of mine carefully bringing down the beautiful Chinese teacup to serve the curious guests she was instantly delighted to host. The smile with which she serves the tea waters down your fatigue. For what all this hospitality for? A meager INR 40? She can't host a banquet with this money even if you multiply it a handful of tourists who stop by her warm place. Hearing about Himachali people's hospitality a hundred times is one thing, experiencing it just once, another.
One Frozen Lake garnished with Snow.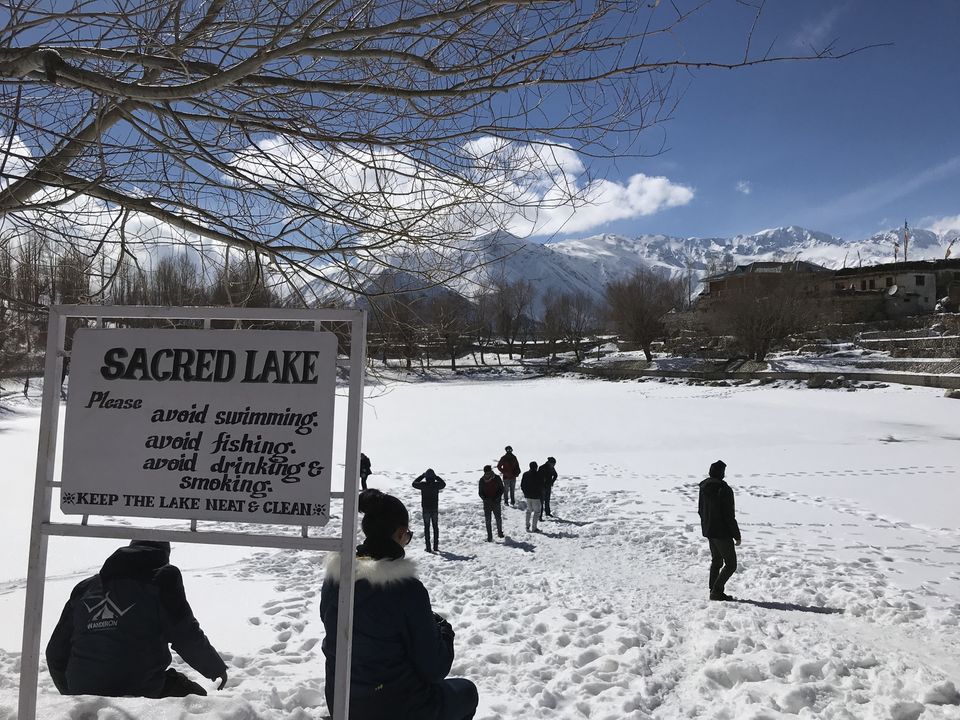 Our two fine lads had seen lakes. They had seen snow. But their astonishment knew no bounds when they witnessed a heavenly concoction of them. This was the day when we had taken a small detour to walk towards the famous Nako lake. The same lake I was able to reach effortlessly during summers felt like a trek downhill. The trees I had seen blossomed with leaves were all dry yet adding to the vista of mountains that surrounded the village.
Have you ever pranced on snow before? If not, I'm sure you remember the childhood days when we deliberately strolled on dry leaves just to hear that crackling sound which was relaxing to the core. This was no different.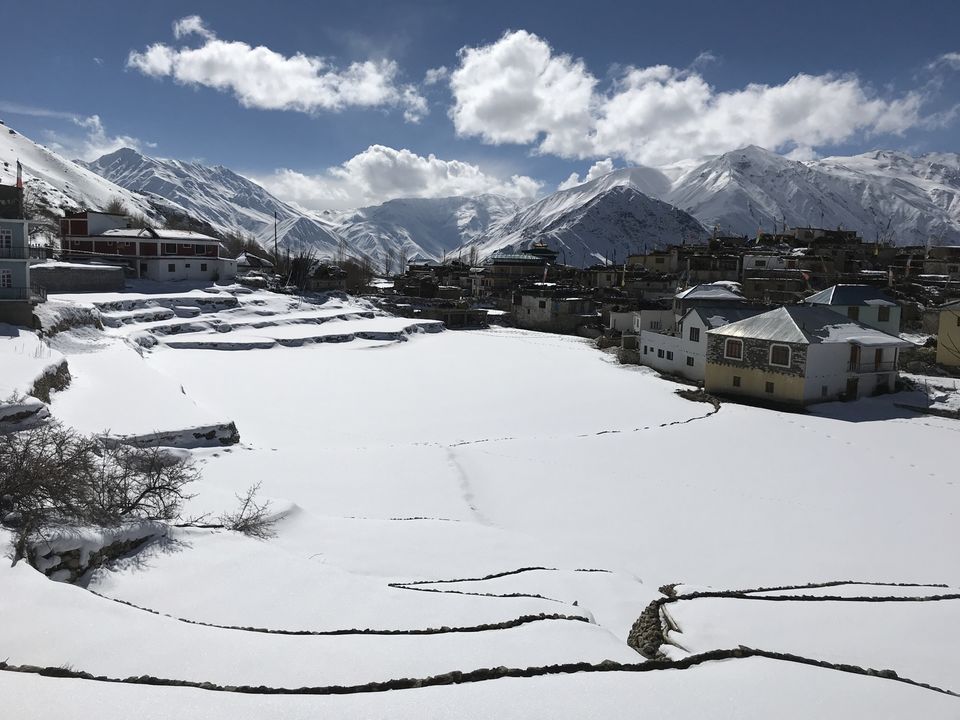 The fun factor in our excursion immediately multiplied when we witnessed a few people slip and kiss the snow-turned-icy surface with their bums and kept doing so repeatedly until our lungs ran out of air laughing.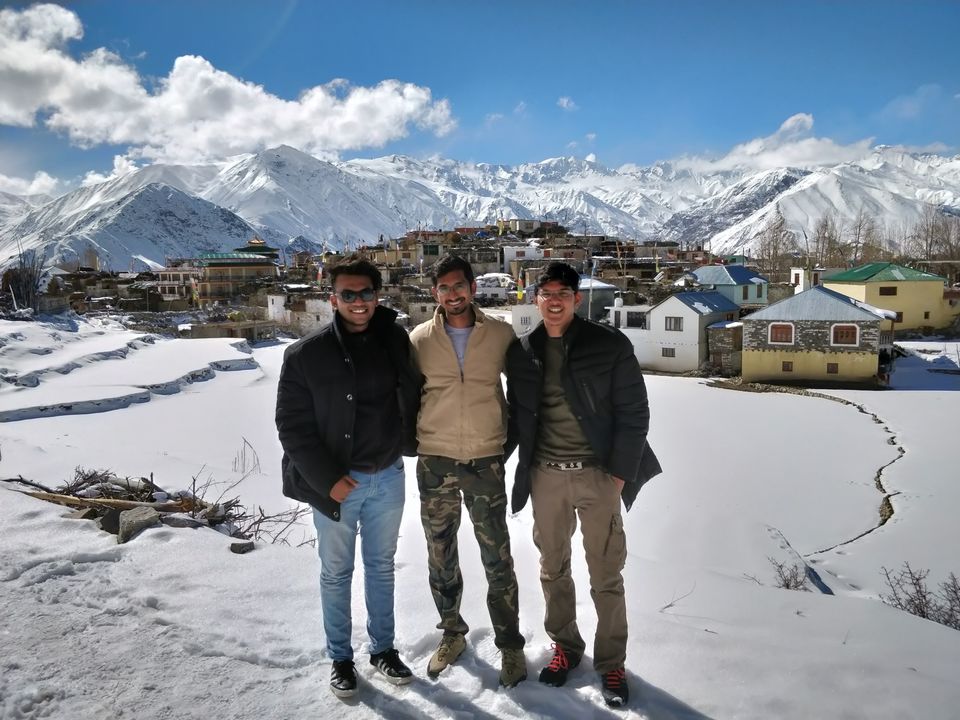 The lads were often spotted bickering over petty issues and in the absence of any cellular network, they were the only entertainment I could afford.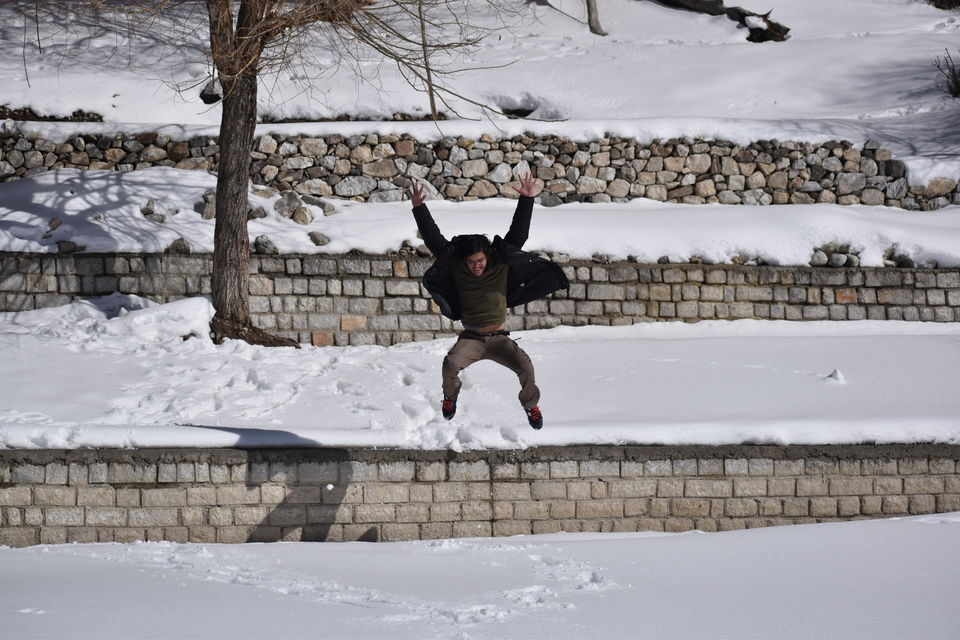 As it's a high-altitude lake every step you take puts a strain across your body due to the minimal amount of oxygen in the air. Slow and steady survives the race here. The entire Nako village was covered in a thick blanket of snow which drastically redefined the landscape. No amount of time could do justice to soak in the beauty of this village. I for one hadn't seen a more beautiful landscape scattered with conventional mud houses contrasting the blindingly white snow which was omnipresent. Stupid furry dogs were often seen running around, chasing each other's tails in the snow. The cuteness multiplied in their attempt to shake the soft snow off their fur. Their friendliness makes this place an animal lover's paradise.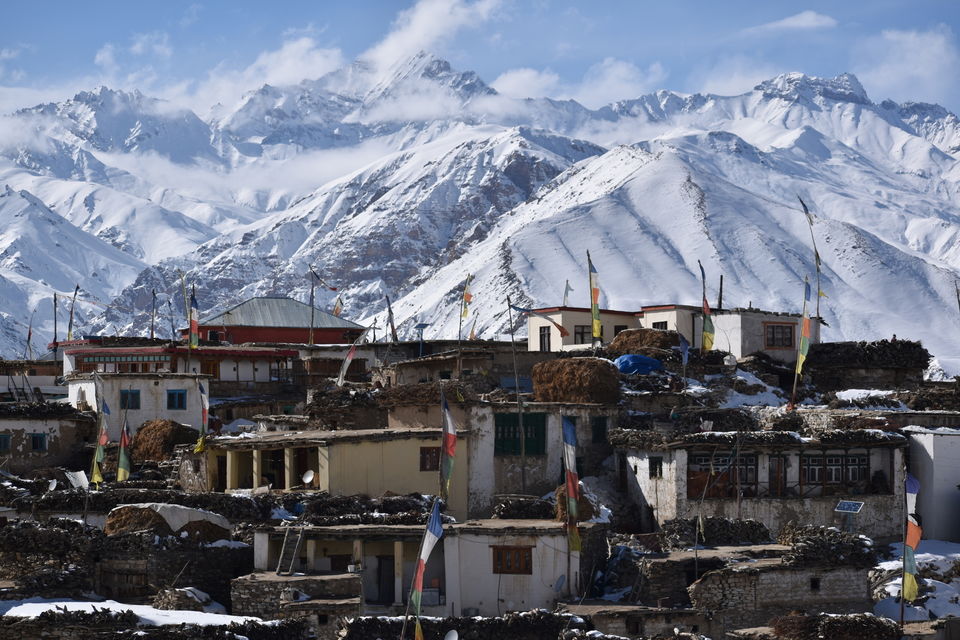 As there's very little to do in the valley this time of the year, we could see a huddle of local elderly men playing cards outside the only restaurant that was serving. We exchanged friendly greetings because that's what vacationists do. The server for the day was a lady who informed there's only noodles in the menu. And it was horrendously uncooked. She allegedly seemed in a bad mood. I sherlocked this deduction based on observation. Interestingly, the lady's kitchen was generating periodic uproars which resembled the ones you would expect from torture chambers and with every thud, we roared with laughter till our eyes watered. We were in a pickle so as to who would go and settle the bill.
A Common Bathroom Downstairs, Seriously? Tabo
Our destination for the day was the entire drive from Peo to a small village called Tabo which is home to a monastery that is said to be over a thousand years old. There was only one home-stay which was open to tourists.
Now don't get me wrong but locals absolutely hate amateurs in this season. They are selectively skeptic about hosting people who don't have the slightest of ideas how tough it is to spend even a single day in the horrific weather. They expect people who have either been to Spiti Valley before or are mentally and physically prepared for the atrocious weather this valley gift you with. They are quite upfront about advising against visiting this place in the winters because they actually care for your well-being. They go to lengths in making sure nothing happens to you on their watch. Accountability is indeed an inseparable fragment of their hospitality.
We immediately draped ourselves with everything we could lay hands on. As the sun set, the temperature dipped and that was the moment my fine lads knew what real cold felt like. The attached washrooms were nothing more than a piece of art put up on an exhibition. As the water in the overhead tanks freeze, there's no point in using it as a storage. Solution? You are gifted with a bucket of water every time you get a nature's call.
It's like winning a $100 lottery. You either squander it in one go or utilize it judiciously on things of necessity.
The highlight of this day spent in Tabo was the fact that it was our driver's birthday! The moment he shared this with us, our celebratory senses started to tingle. Our livers collectively cried in unison fearing the worst. Our driver is of the habit of not socializing much with his clients but as it was the second time he brought us into this valley, he made an exception. We sang the birthday song in our adorably horrible voices which must've left the other residents in a state of shock. One of the many many interesting stories he shared with us, one of them left a lasting impression on me. I was already a few drinks down.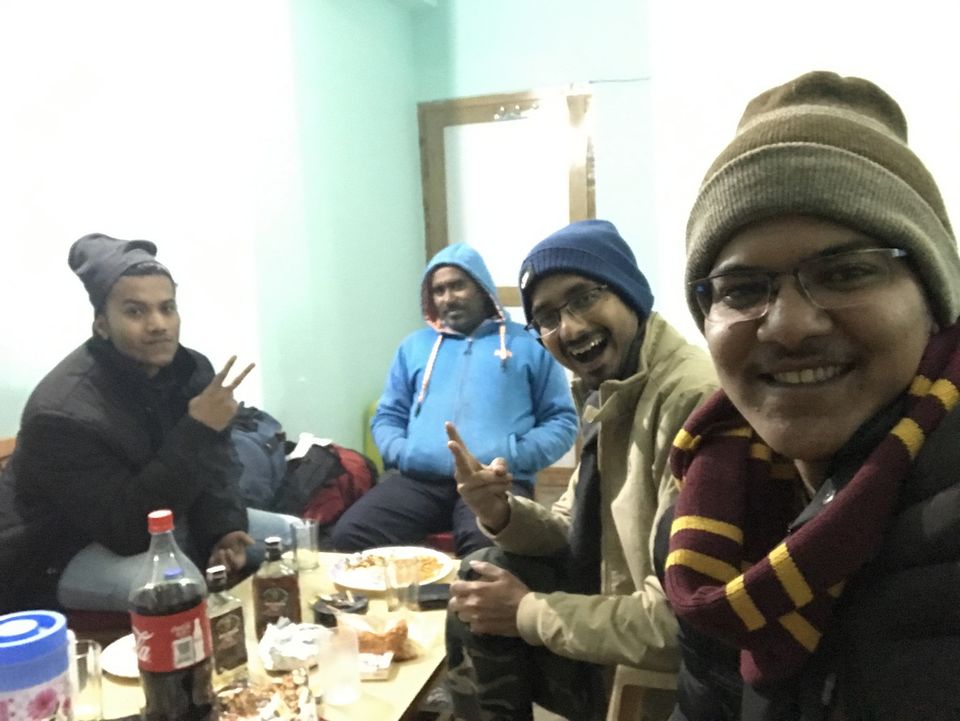 "One day I was driving from Muradabad towards Landsdowne. I was cruising at 80-100 Kmph when out of a sudden my vehicle hit a monkey. Of course, it was purely unintentional as he appeared out of nowhere and didn't give me a chance to save the poor soul. He died on the spot. Although I couldn't do anything, I felt intensely remorseful about the accident. Some 250 KM further into the journey when I stopped to take a break, I spotted a bunch of monkeys who were quite friendly with the onlookers who were giving them some food and water. As an act of repentance, I bought some biscuits and placed it before them. Before I could blink, one of them threw it back impulsively. It's like they knew instinctively what I had done. None of the other monkeys wandered near to the food I offered them. I was horrified of their inexplicable behavior."
The drinks I had were nullified, and I was sober in an instant. Turns out those weird NatGeo experiments weren't a complete sham. I didn't sign up for this.
Rest of the night was uneventful, thankfully.
Men at Work. A True Story.
It was a bright sunny morning in Tabo when I lurked out the window to see my driver half naked in the verandah with a toothbrush in his hand. I did not what was more amusing, the fact he was intolerant to the chilly winds or the impulsive urge to brush your teeth in that weather with icy cold water. I know I'm getting a mixed reaction here. Are you supposed to do that on a vacay?
He wished me Good Morning with a piece of bad news. He received a phone call last night about a car which got stuck due to a glacier which engulfed the road near Lingti which is almost halfway from Tabo towards Kaza, the heart and soul of this valley. That was quite depressing as the lads were on a schedule and couldn't afford sitting around waiting which is how it should be in this weather.
In winters, the weather decides your itinerary here and not a fancy app. Arguably it's in winters when the district headquarters looks the most beautiful but boy does that come with a catch.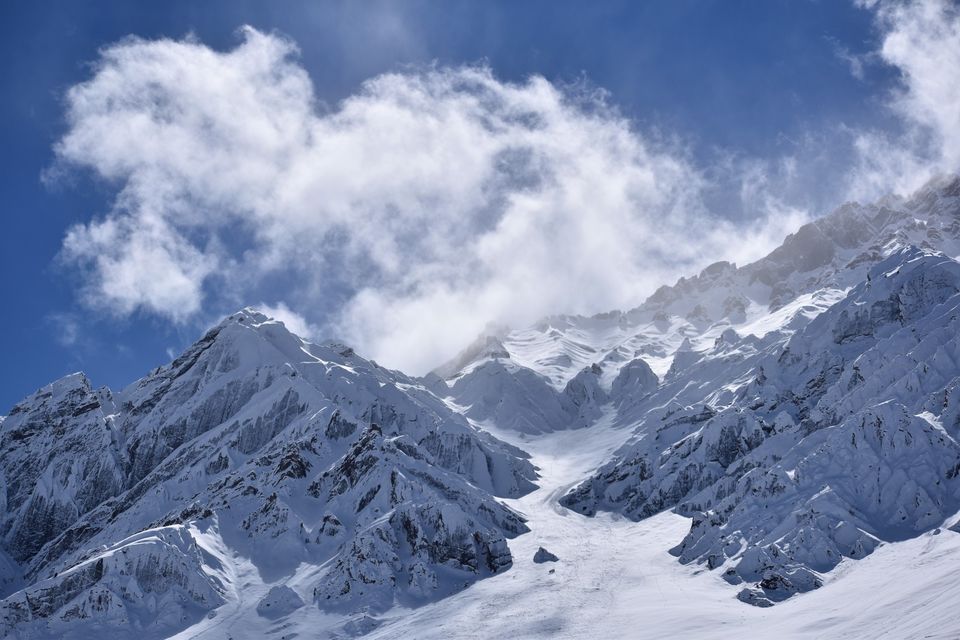 White Spiti has been digitally marketed to the extent that a tourist is often unaware of the challenges it brings along. For sure our adventure seeking genomes are in constant pursuit of doing something different, we should always know the consequences of what we'll be up against.
Under an hour we got news that a few cars were able to make their way towards us from Kaza. This reassuring news built our confidence to be on our way. The roads from Tabo to Kaza and beyond are covered with snow and in some places, solid ice. It will make the most experienced of drivers cringe for a minute when they sense they are losing control. At some places, the car dances like snakes do to the tune of a charmer. Local buses are infrequent and can't be comfortably relied upon. Only the locals have access to/from the towns and if you're entering the valley, prior knowledge of the road conditions is a must. In bad weather conditions in these areas, there's a thumb rule locals and tourists follow.
Travel in a pack.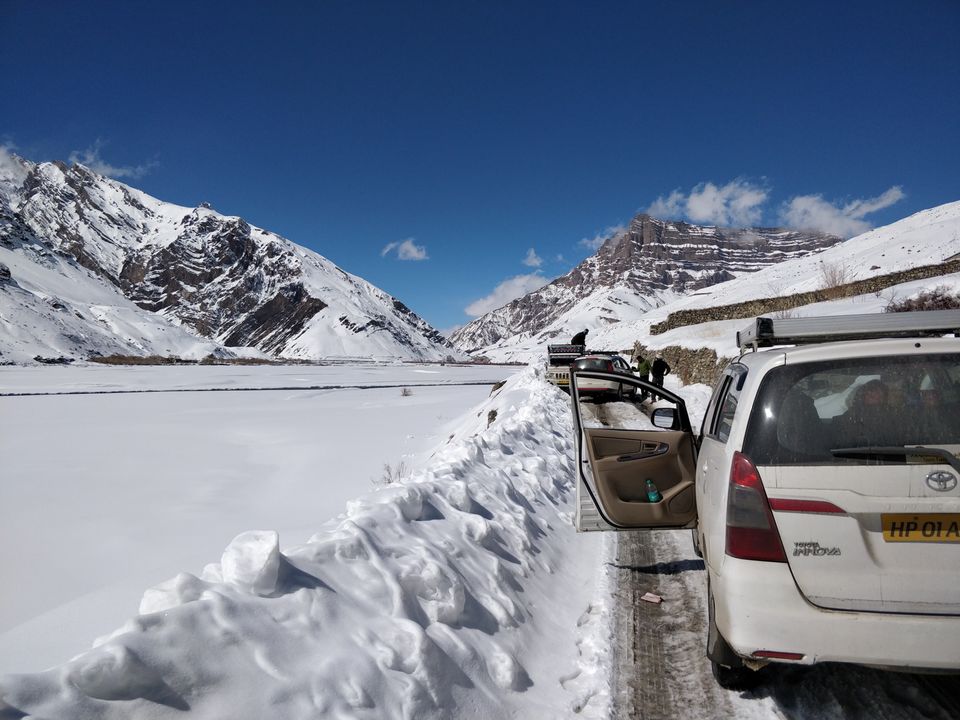 4x4 [pronounced four by four or four-wheel drive] is a type of vehicle in which the power is evenly distributed across all 4 tires making it an ideal fit on a battleground of uneven, rocky and sometimes snow-laden terrains. Ideally, a vehicle like this leads the way and the peasants follow in its trail very carefully. Each vehicle becomes each other's support system.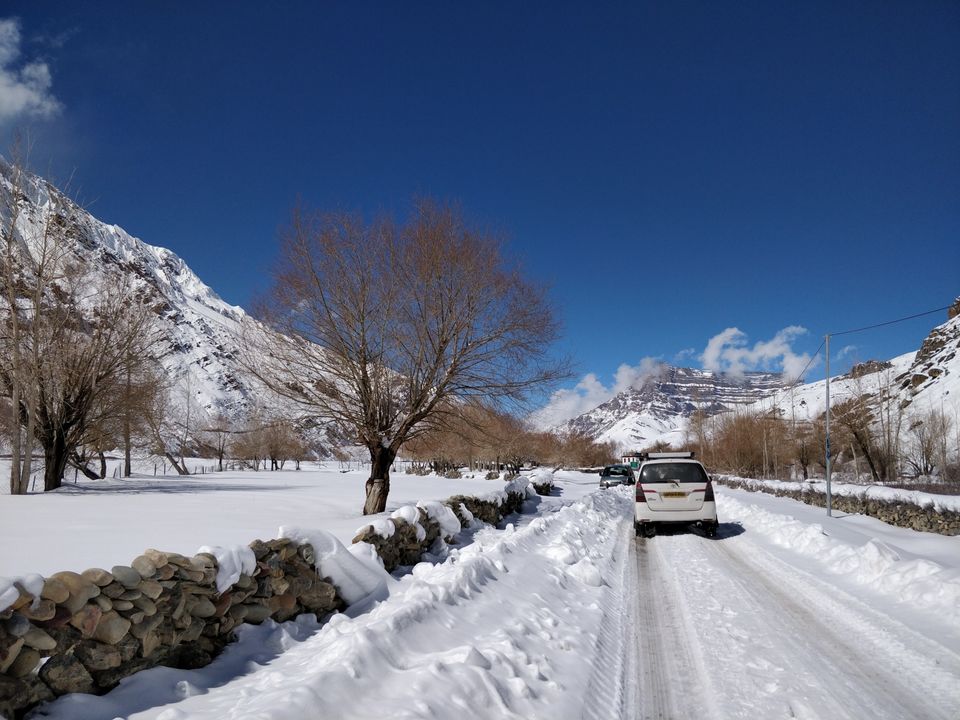 But.. that wasn't the case here. The only other vehicle that was supposed to go with us was a frail Toyota Innova whose tires weren't as broad as ours, we still had it go upfront. And the nightmare began. In winters, early to rise, slips you off a cliff and die. The trick is to depart late when the sun has been out enough to melt the solid ice on the roads enough for the cars to maintain a solid grip. I know some of you are aware of special metallic chains which are kind of a winter-coat for tires, but as I said above - Lord Ramesh don't need no chains, will-power and talent is everything.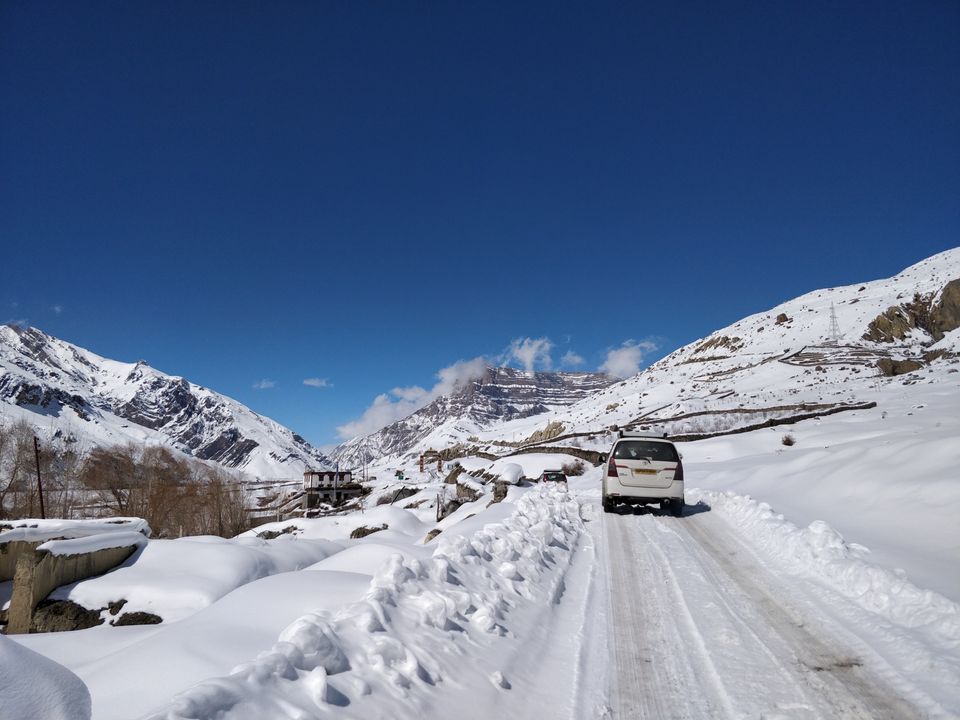 The residents of the Innova were 4 Bengali lads and my current company of two mischievous lads left no stone unturned to crack jokes about them. In their defense, a pair of sneakers to be used on a foot-high snow demands to be made fun of. They slipped we laugh, they fell we helped them up. We're not monsters.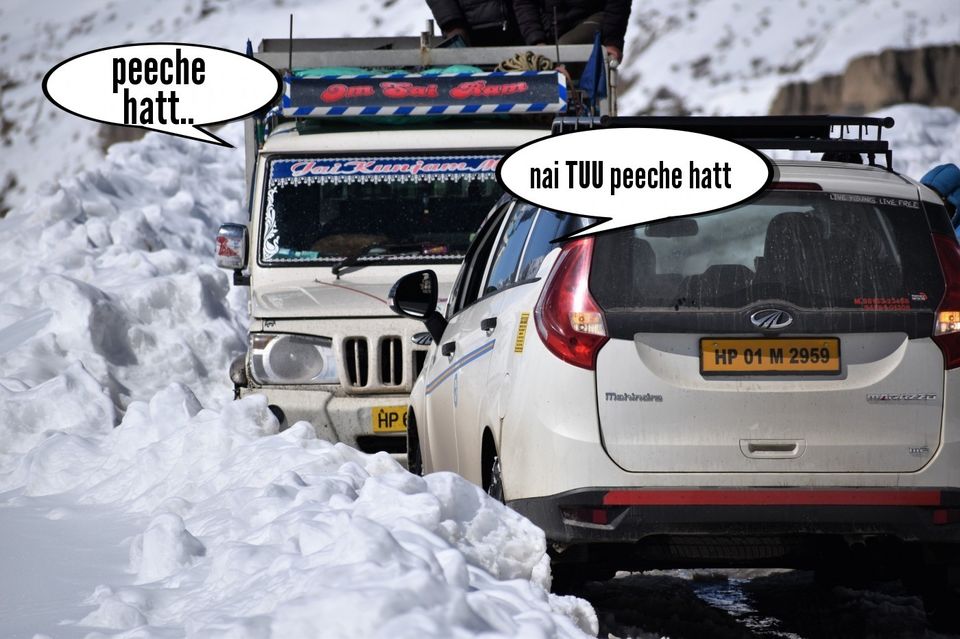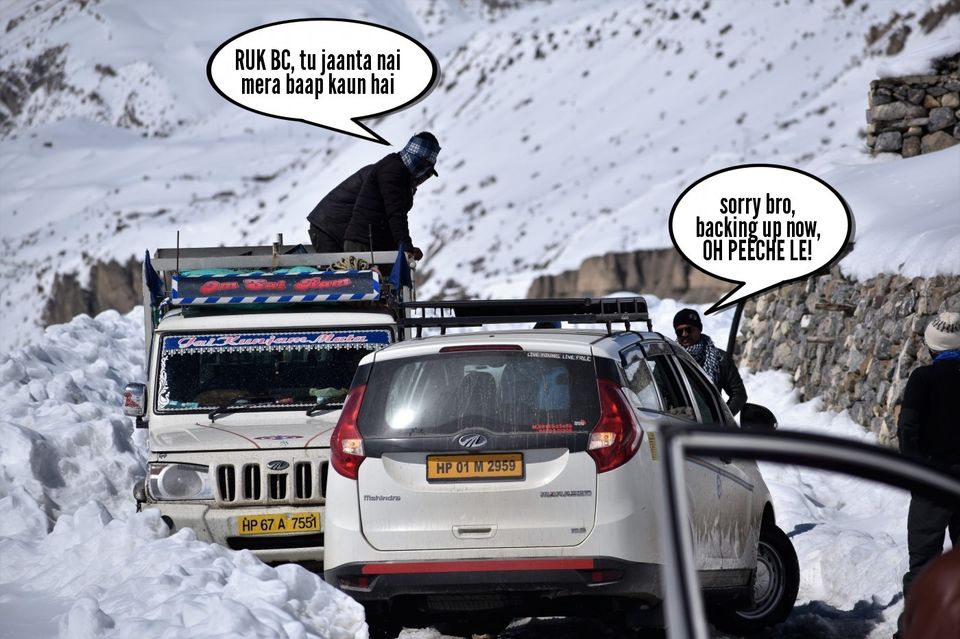 A glacier obstructing our road stole the spotlight, fortunately for us it was in a very scenic location. If that wasn't harrowing enough, the moment we stopped our vehicles on the side of the road, a few pebbles bumped across the roof of our car. That shook us to the bones as that's exactly how a landslide gives you a knock. Unfortunately for the Innova, a pebble decided to the missile slammed into the windscreen leaving a nasty hole.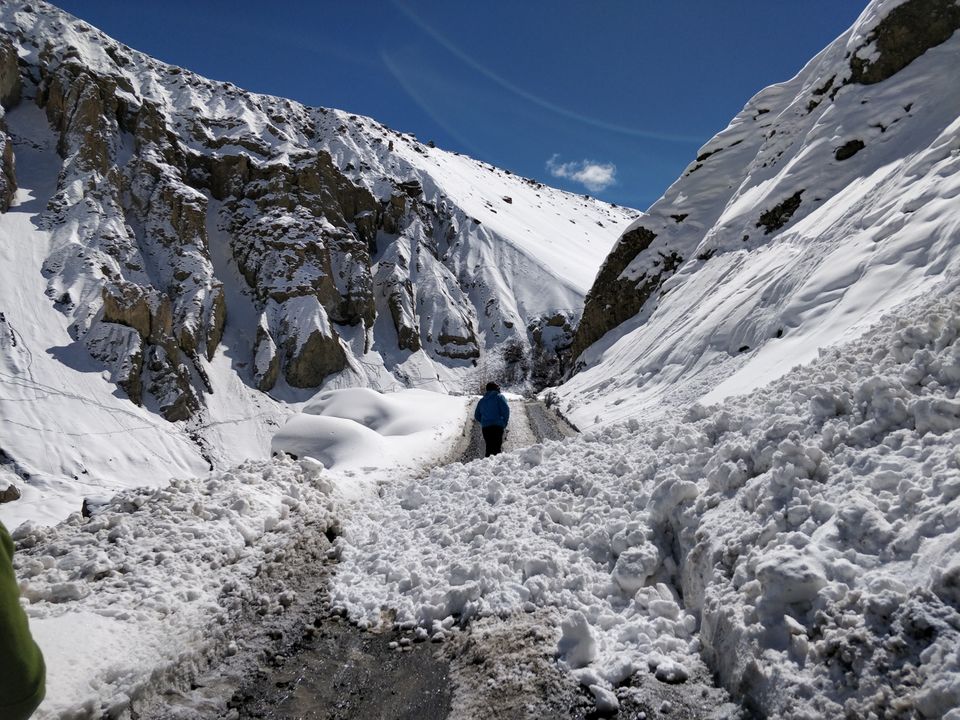 We carefully marched towards the huge pile of ice and knew it's going to a long damn day. Luckily for us, the workers who constantly monitor these roads were nearby. They consisted of some men and women and started to shove off the snow into the valley. Our drivers joined soon and so did we. Watching us shove the snow off of the road the women giggled. To add to our embarrassment and misery, the drivers couldn't wait to enlighten them,
"Modi ke desh ke ladke hain." Haan BC ruk laate tere acche din.
When I say drivers, our Lord Ramesh and Binkal were close friends. Binkal was as funny and spontaneous as drivers come.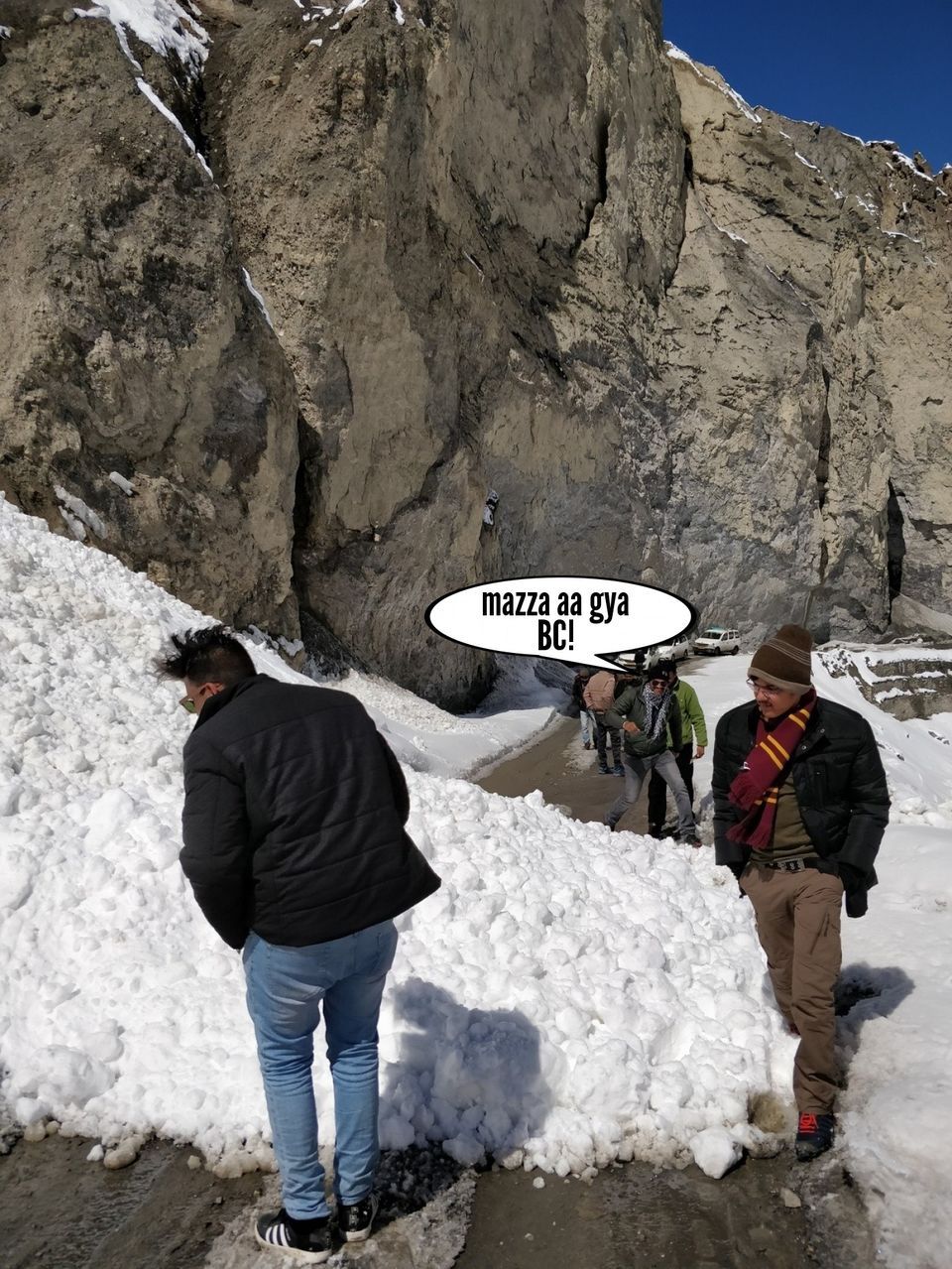 The halt gave us enough time to play around with the only toy we had access to, the abundance about of pure unadulterated snow. The kind which sways away from the hustle and bustle of Shimla/Manali and decides to make its home here. I found a nice spot where I was planning to perch my GoPro on for a timelapse. During these times of excitement, your brain doesn't work. Deservingly, the moment I put my first step on the snow to reach there, I was halfway deep inside and my foot.. let's say we're still not on t(w)alking terms. Always tread carefully, unless you're the Lord himself. He's always as excited as I when it comes to taking pictures, videos or VLog, so he helped me set up the camera for a beautiful time-lapse of us pretending to help.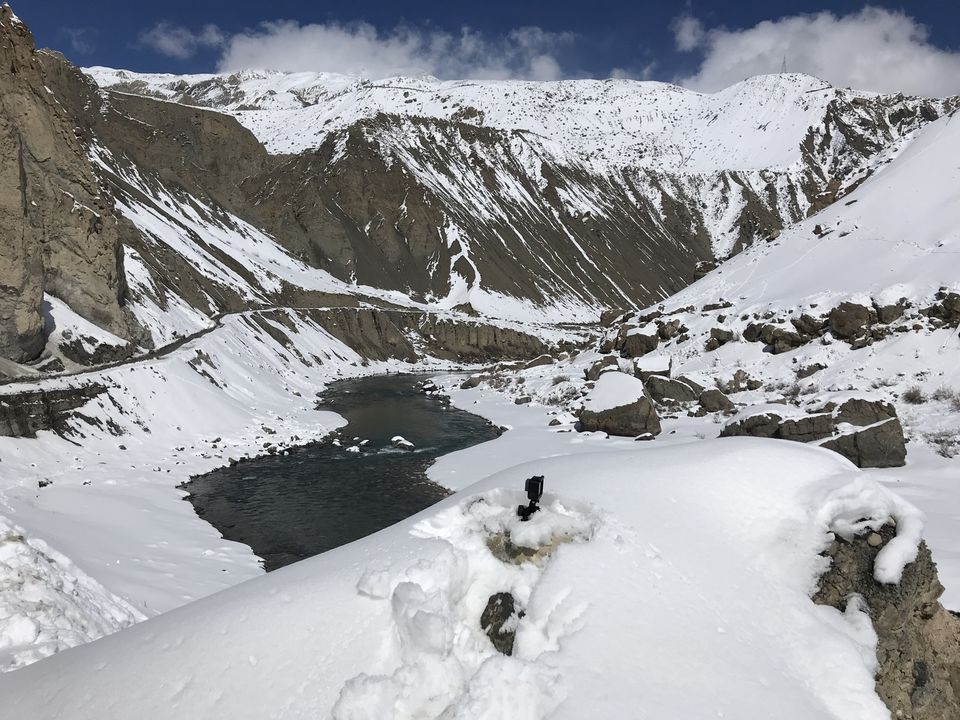 The road was motorable in a couple of hours. The Innova was clearly struggling owing to the narrow tires and when the rear tires slipped momentarily, our hands immediately rushed for something to hold on to. There were a few places where the car simply refused to steer upwards.
"Main to nai nai jaa rahi upar. Ask these jackass tourists to hire a damn bullock cart."
With the combined efforts of our minuscule strength, we were able to push the fancy box through those slippery spots.
The vistas changed with every turn of the road with the mountains were totally draped in snow and not just a small hat of white sprinkle. The side of our cars accidentally scraping off the snow on the side of the roads became a routine and the vehicle didn't go past the second gear. There were crucial times when it's of utmost importance to not slow down or stop the vehicle on the icy roads else it won't pick-up. Our very own Binkal managed to make that mistake more times we'd like to accept. I had never seen my driver curse in such imaginative ways that the onlookers would laugh instead of getting offended.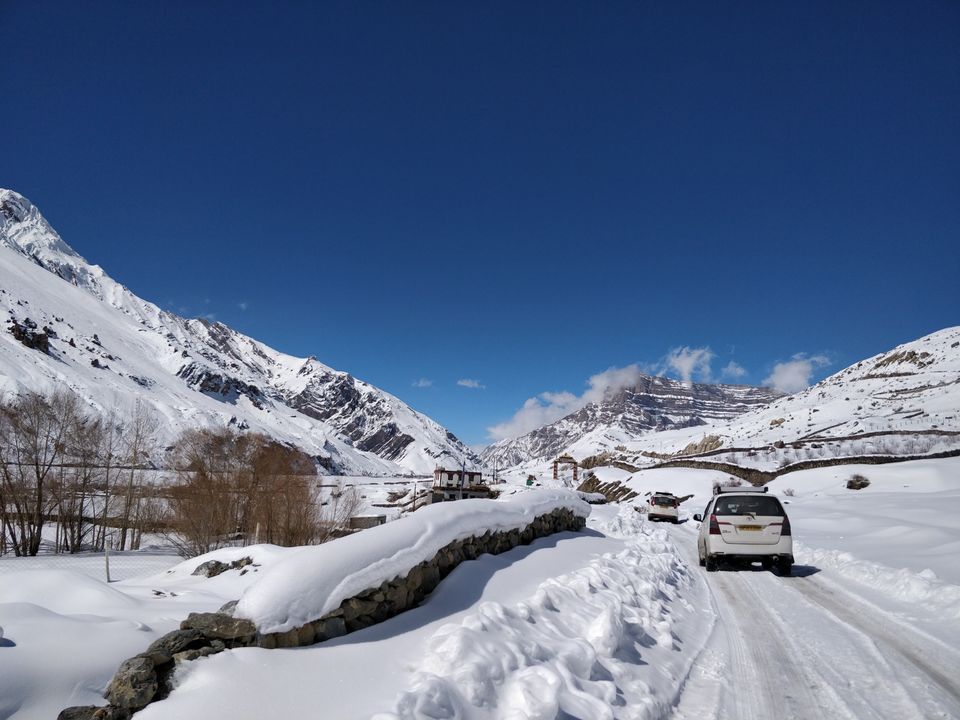 He surely had his moments when his presence of mind tickled our funny bones. Our weird and tasteless sense of humor was icing on the cake. It really made his job easier.
Me: "Isko dekho, Snow load karke kidhar jaa raha?"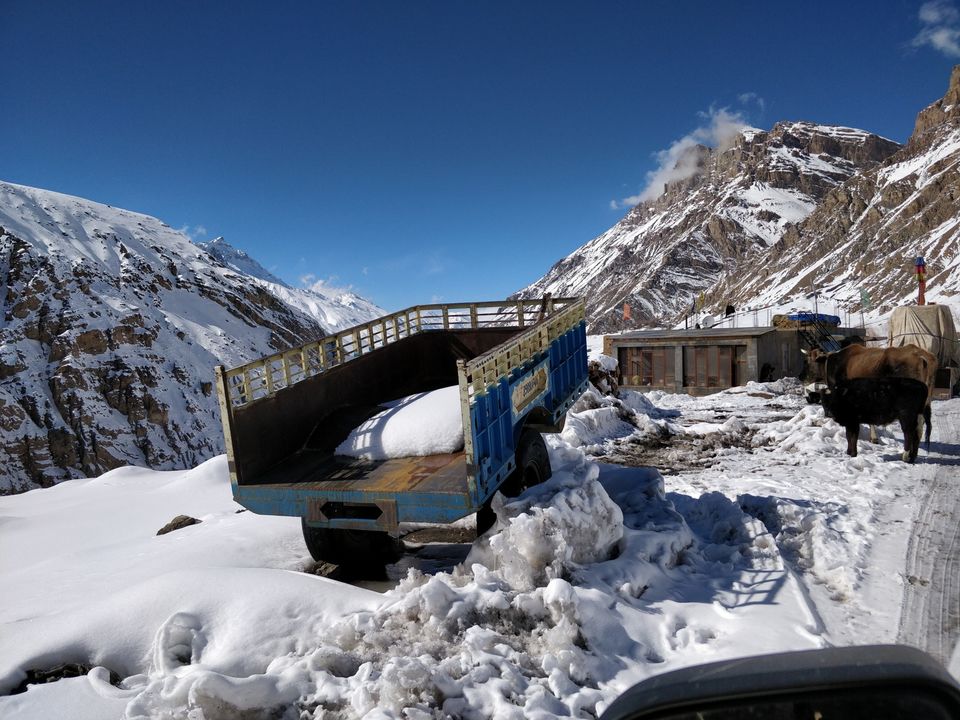 Lord Ramesh: "Wo ise garmiyon ke liye store karke rakhega."
Beauty is in the eyes of the steering holder. The majestic route towards leading up to the valley is adjacent to the river Satluj up until Khab. You bid goodbye to Satluj and follow Spiti instead. Throughout our drive, we saw the river disappearing under the heavy snow and only resurfaced in the form of a tiny stream here and there cutting through boulders and at places, tiny pebbles.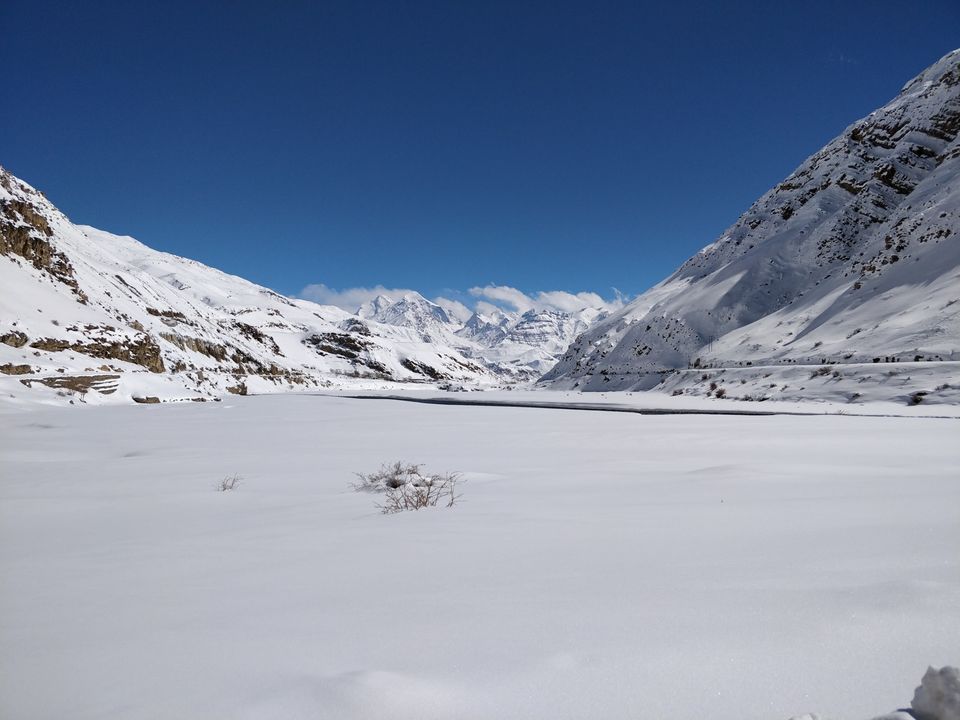 As much as we requested the driver to off-road the vehicle to the bank, he denied the request quoting a stupid reason of wanting to live for an extra few years. Boring.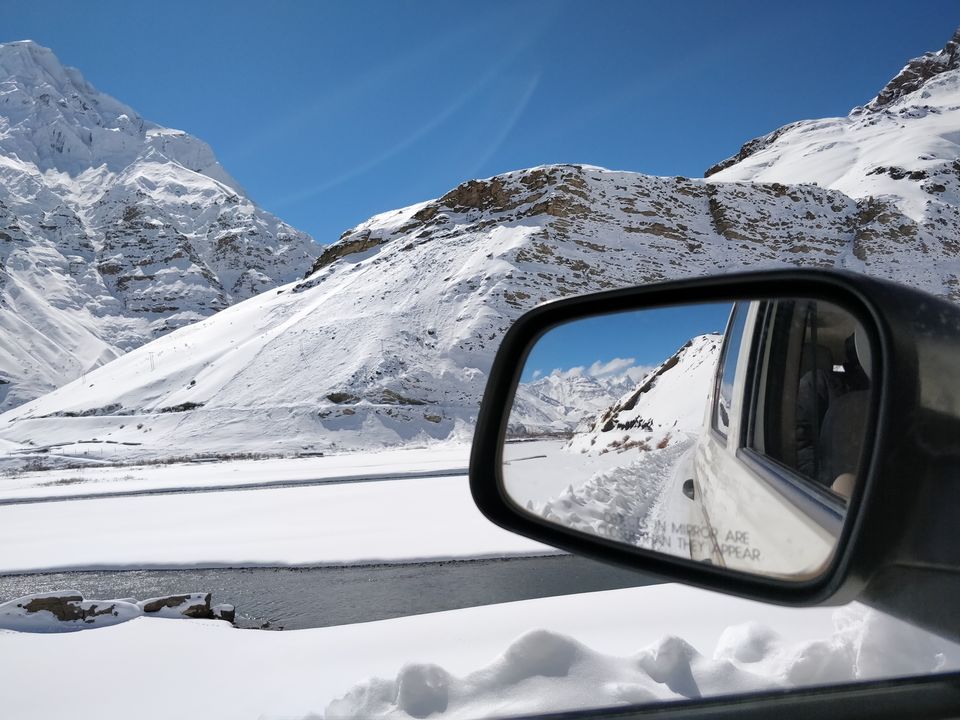 A Warm Welcome from Frozen Kaza
And so, we reached Kaza in one piece. It was cold as balls and the sunset was near. Our tiny yet beautiful homestay had recently been opened at the outer edge of the city.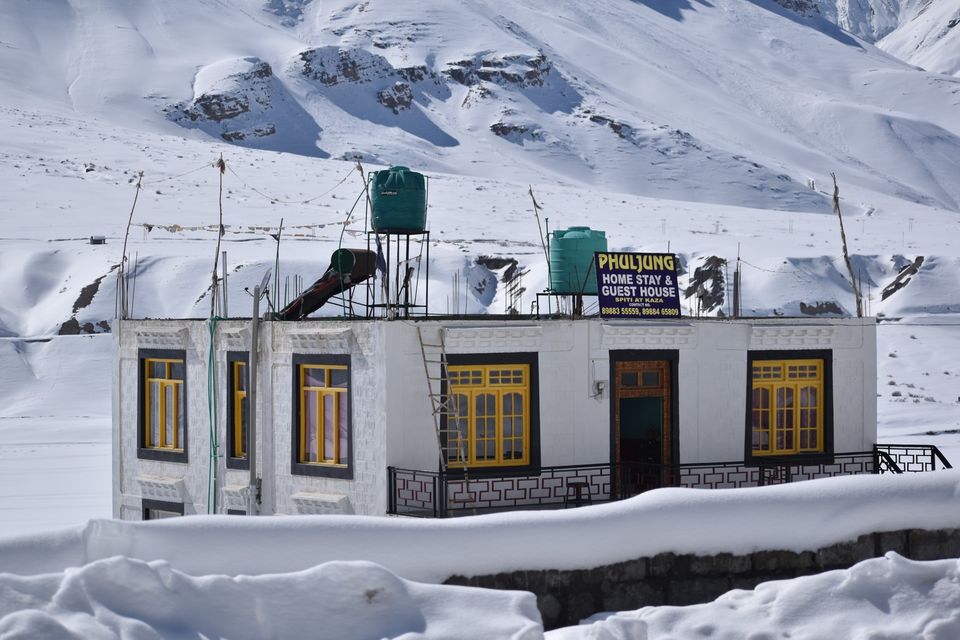 The views were magnificent from every single window of this homestay. But our lads were not satisfied. They saw a bamboo ladder leading up to the terrace and asked me to subject-ify them. I did a fairly good job.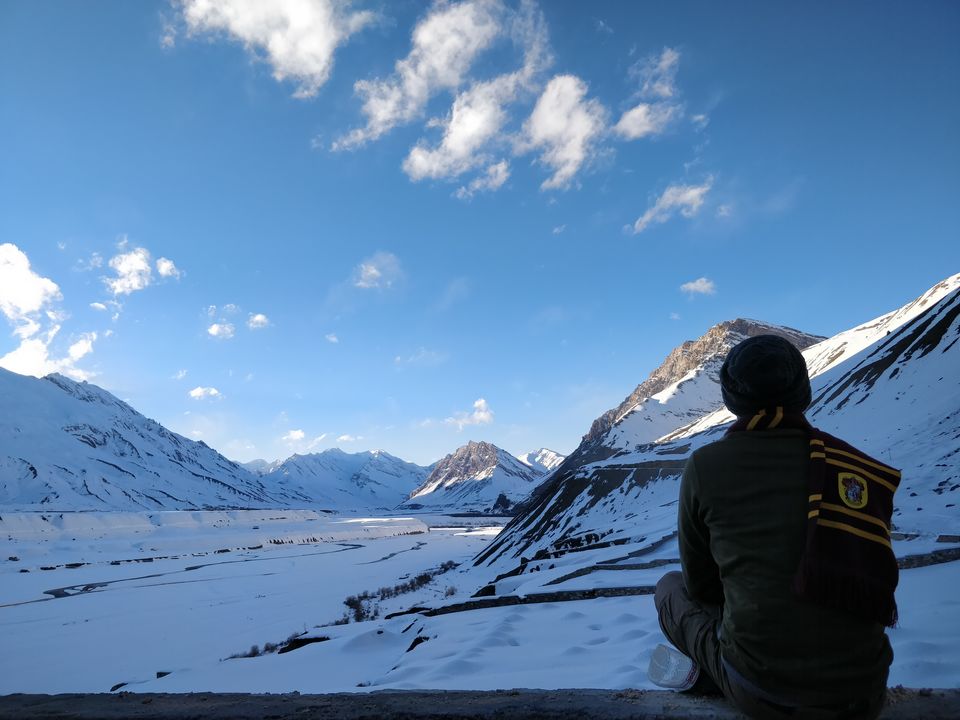 There was snow as far as the eye could see; the once expansive Spiti River tamed into a tiny stream thanks to all the snow; you howl and the mountains howled back many times. Small houses at a distance cradled by the mountains seemed to be made of gingerbread.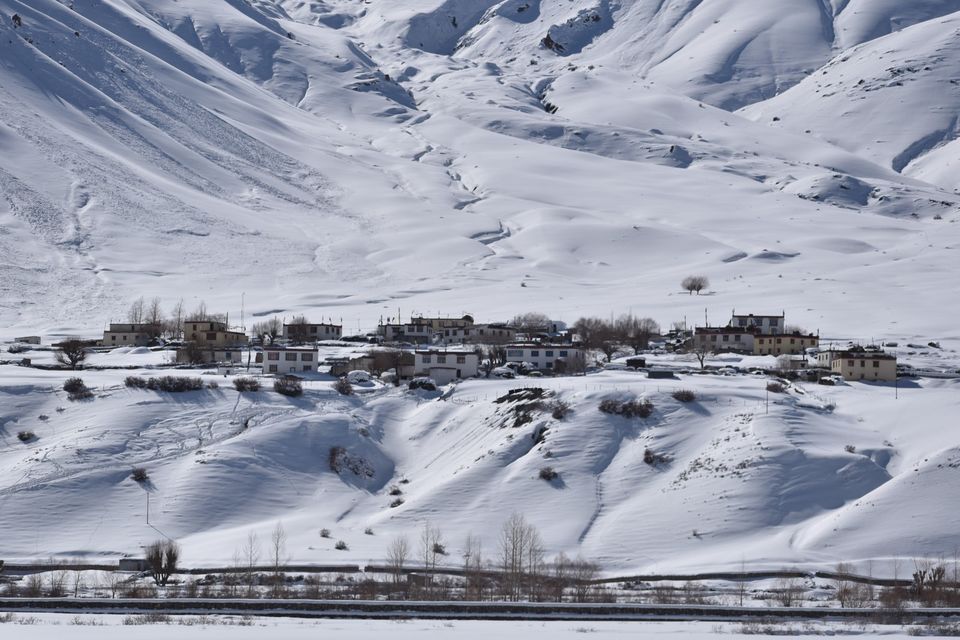 Snow-laden rooftops seemed like frosting you could scrape off with your tongue.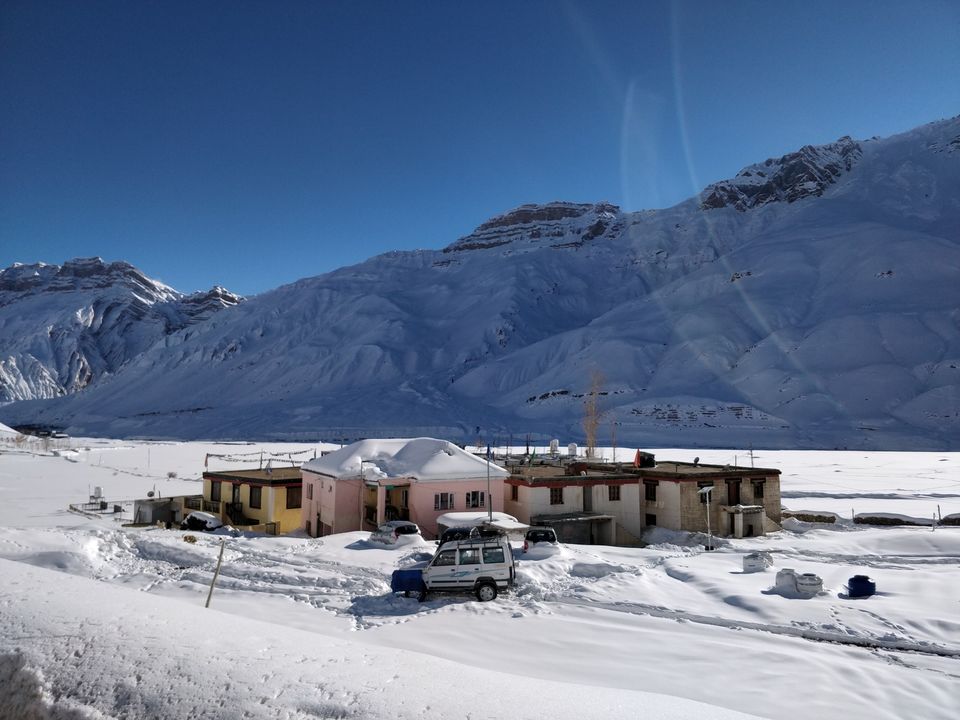 In the isolated town of Kaza, there isn't much to do. I took the lads to the market area where almost all of the shops, hotels were closed due to winters. The town was sprawling with locals as compared to tourists during the summers. The market roads were covered with thick solid ice and it was an arduous task to walk on it without stumbling.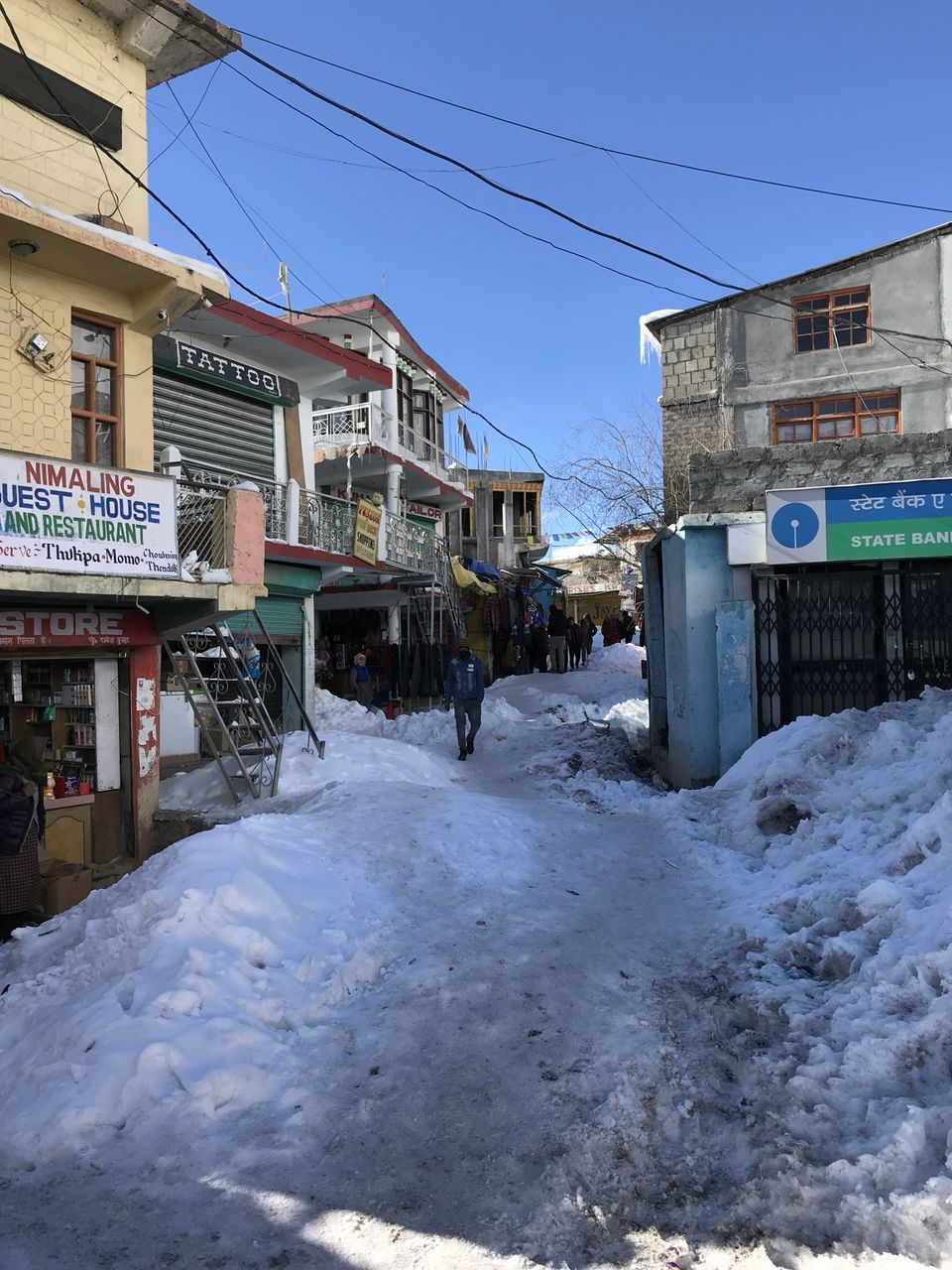 The only living beings gliding on the surface effortlessly were dogs and I almost thought of going on all fours. At least that would be less embarrassing compared to falling face down or ass up in the air with each step.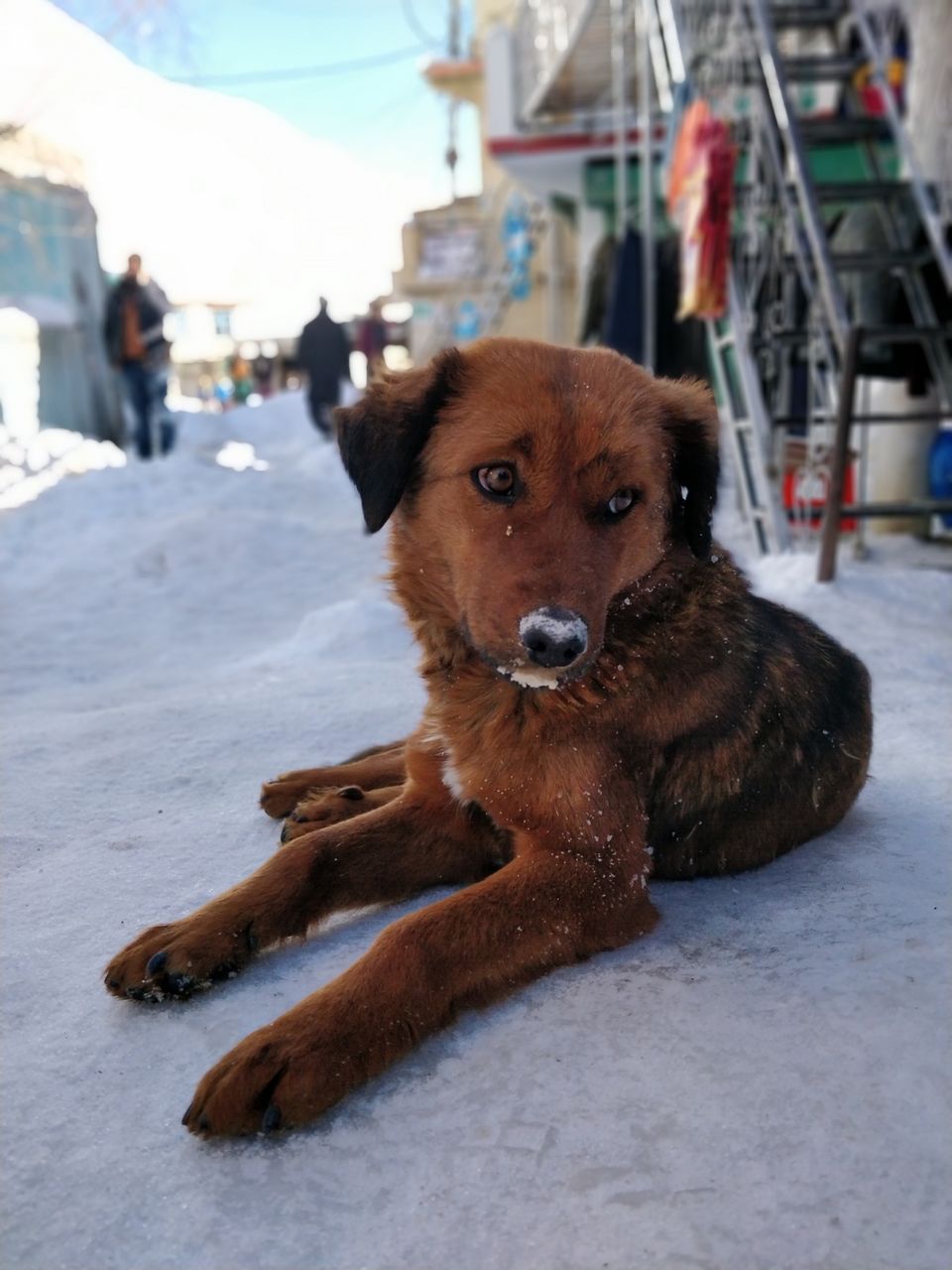 Small food joints had little to offer other than their local delicacies like momos, thukpas, and noodles. We savored mutton momos and washed it down with surprisingly good tea before heading back to our homestay. We collectively rushed to their main room where a fireplace was actively being kept warm by our hosts for us. They had a huge LED with all the channels but for the first time, none of us were remotely interested.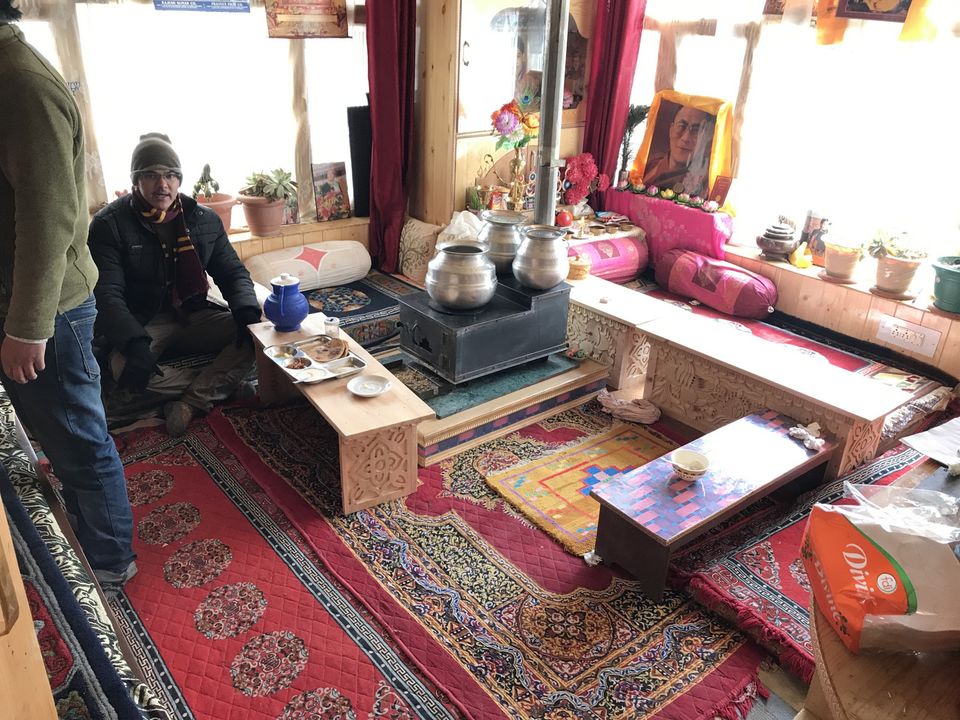 We went up to our rooms and noticed an aluminum cylindrical rod piercing its way through the ground floor all the way up to the terrace through the middle of our room.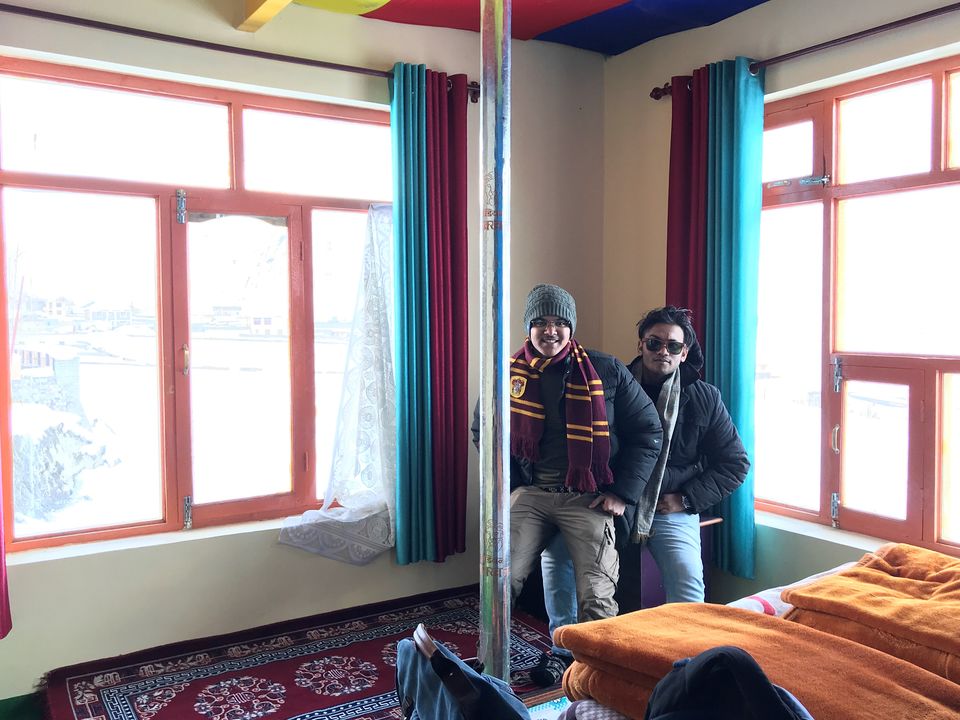 Before I could scream caution, one of the lads accidentally touched the chimney which was fiercely hot. His reaction made me laugh and I told them that its purpose is to keep the surroundings warm. But do they learn?
"4 Peg ke baad ispe pole dance hoga."
The evening saw an onset of heavy clouds in the sky but they cleared as the night progressed and the city lads witnessed an aura like never before - crystal clear night sky laden with stars. If you're worried about the food being served at homestays, don't be. They pay special attention to every guest's needs and serve nothing they won't eat with you themselves. Delicious kidney beans served with steaming hot rice is a delicacy best enjoyed at temperatures below freezing point.
Azkaban Escapee - Harri Puttar
Kaza this time of the year is a place which gets mixed reactions from travelers, locals, and drivers. For instance, it was the first time in 10 years Kaza was overwhelmed with a staggering amount of snow. Our morning was slow owing to our vehicle unable to power on. We passed it off as a one-off incident. The fuel had frozen and we could easily see the stalactites of ice on the mudguard and under the vehicle.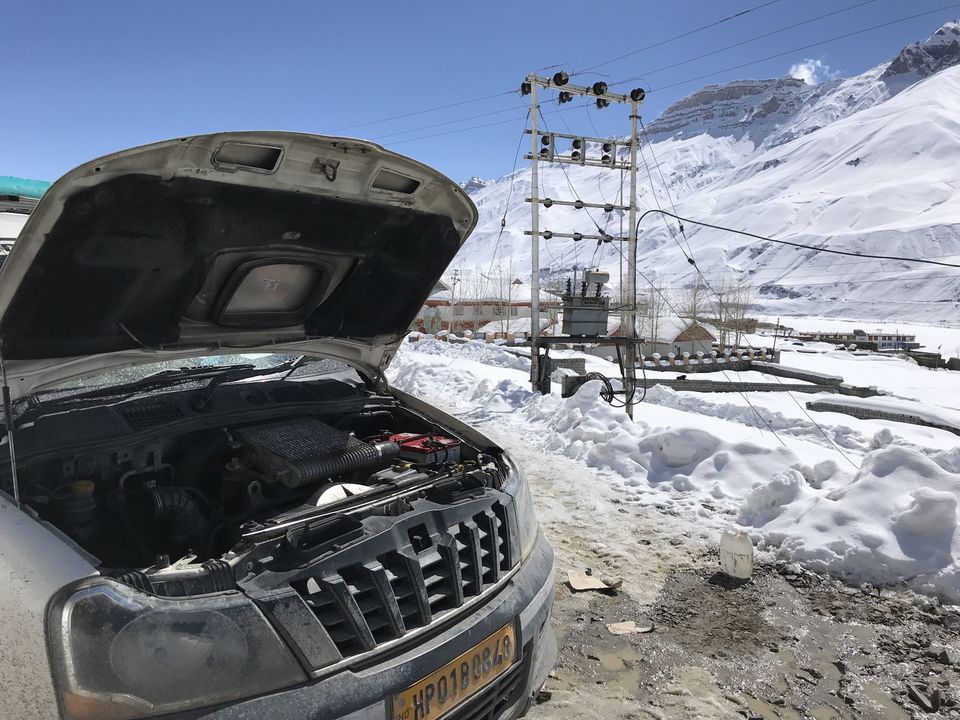 We knew at this point that we're going to be stuck here for the day but an hour of sunbathing and few cups of tea later, we decided to not let the weather diminish our excitement.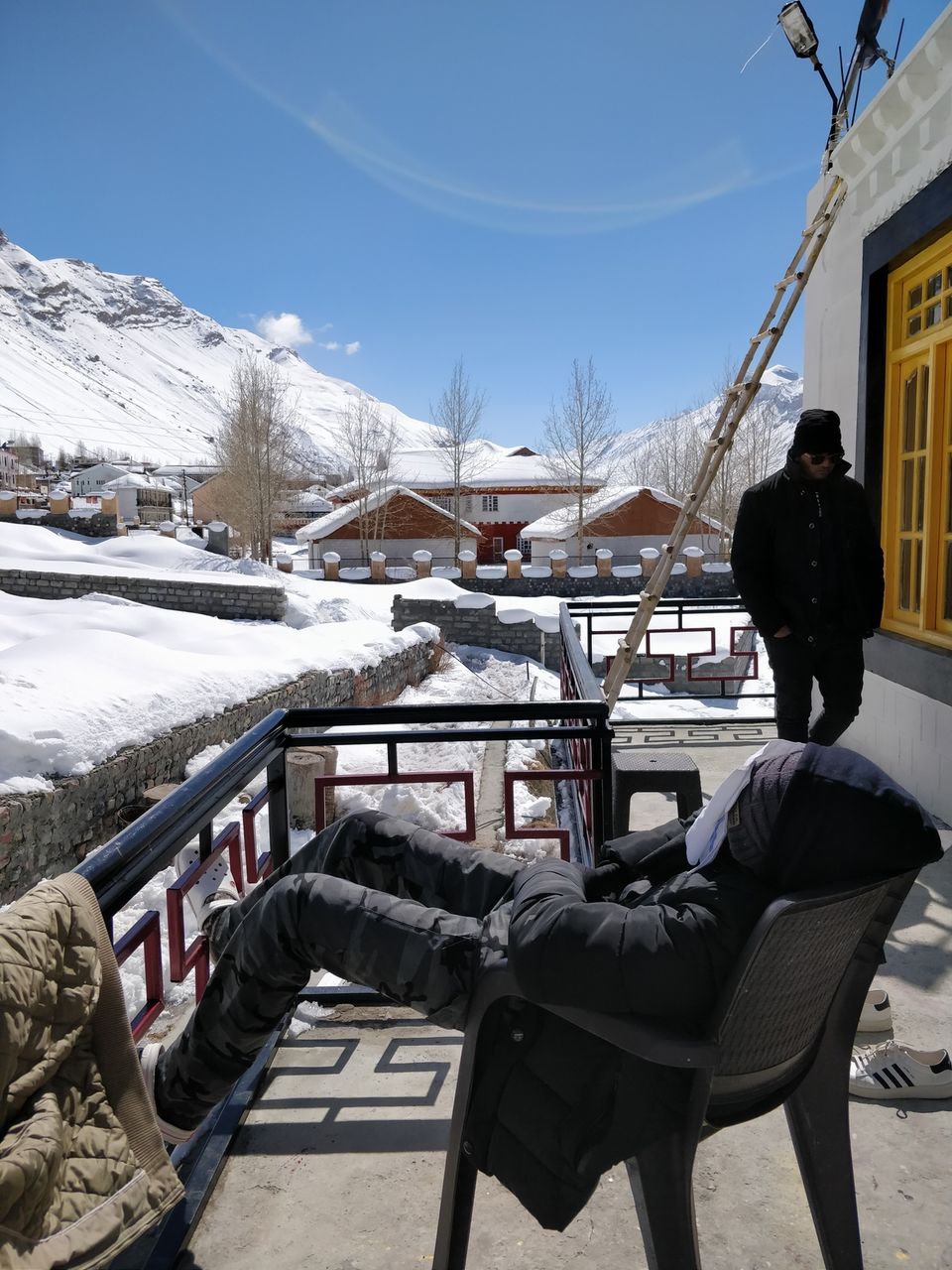 How often do you get to see or play with snow? City people have sordid memories of the first time they saw a snow-fall when they had a family vacation to a certain hill station. It's a mysterious entity to us contained to school textbooks and Bollywood movies. The color white itself is associated with innocence and all things pure. On seeing snow, our hearts jump with joy in exhilaration. What's the next thing that comes to your mind?
A SNOW FIGHT. RUTHLESS. NO DEADLINE DEATHMATCH.
That's aam zindagi. My lads live the Mentos Zindagi where they don't even stress over packing a toothpaste with them. A snow fight involving actual movement was out of the question. The only other cliched idea was to build a snowman. So after various high-level diagrams, architectural brainstorming and engineering notes, we let out creative juices flow and gave in to the clichéd idea of building a snowman.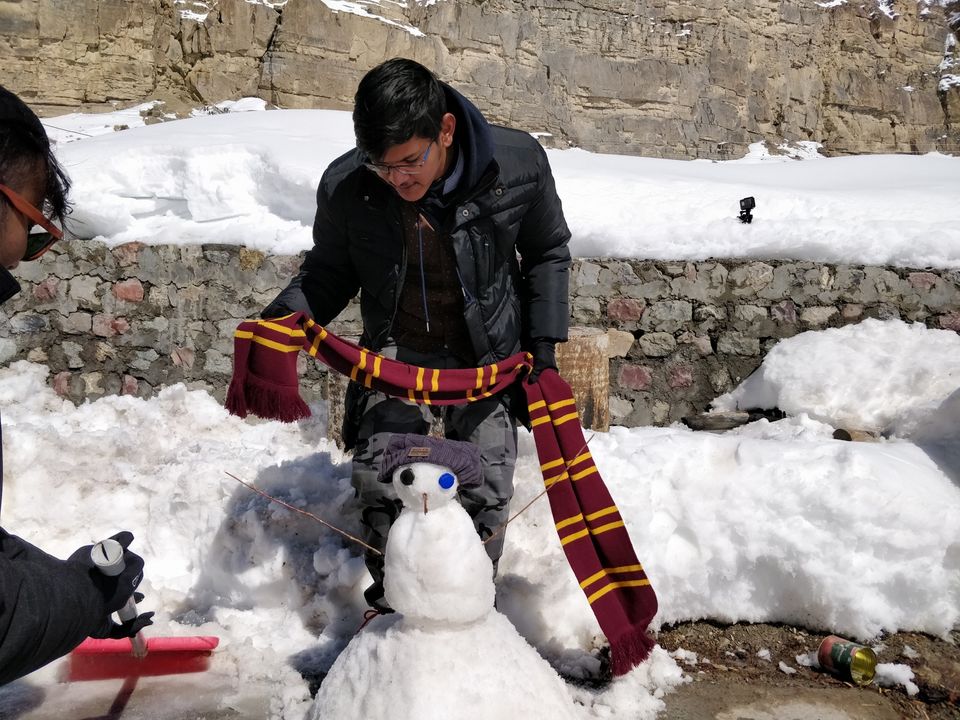 My lads were particularly impressed with their million-dollar art. The architectural marvel attracted people from all over the world so much that he became a deity.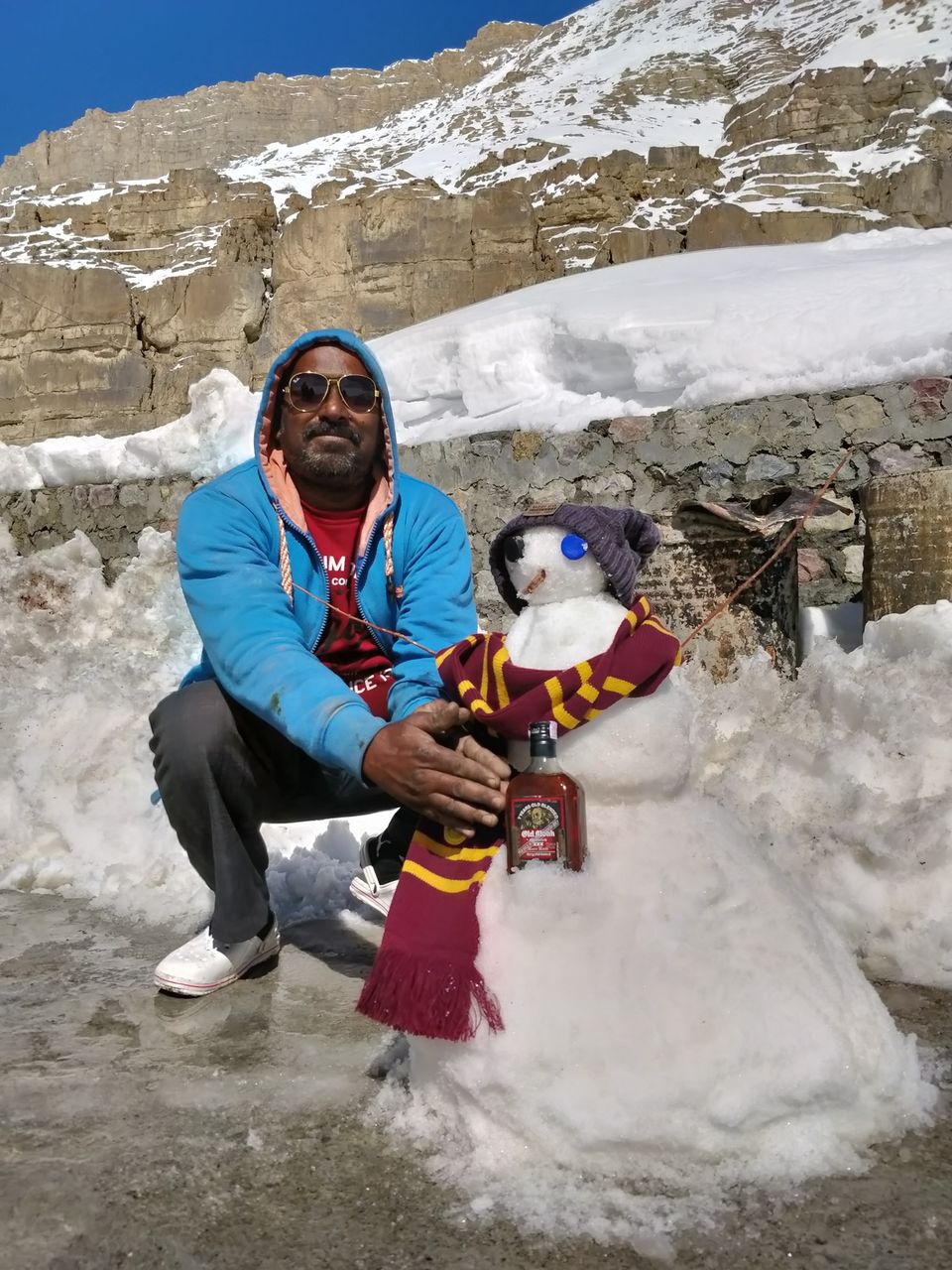 Rushing from school, dashing towards the TV just to play Contra is one of our most cherished memories. We relived it during our stay as we had an NES Emulator on all the phones. Coupled with this view, the time went by without a hint of boredom.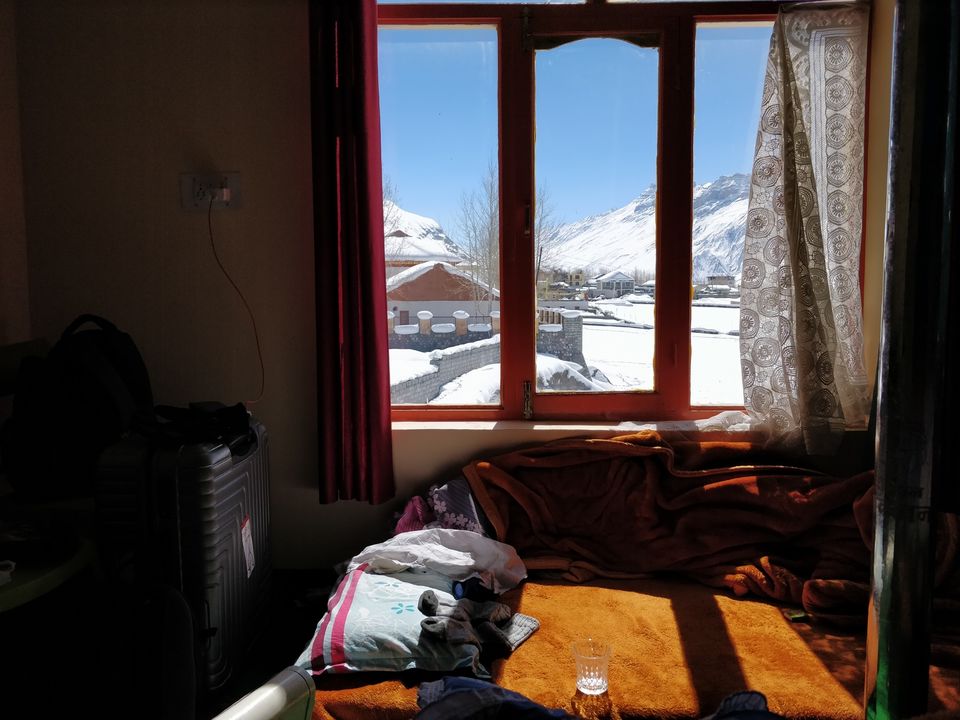 Stranded in the Heart of Spiti. From Kaza With Love.
Every single routine activity we do since the time we stretch our limbs in the morning with a huge yawn till the last action of setting an alarm at night is a struggle during this time of the year. As the temperature dips below -18° easily, storage of water in its original form is an impractical task. For that same reason, the overhead tanks are emptied out. Team work is essential hence every family member tries to pitch in.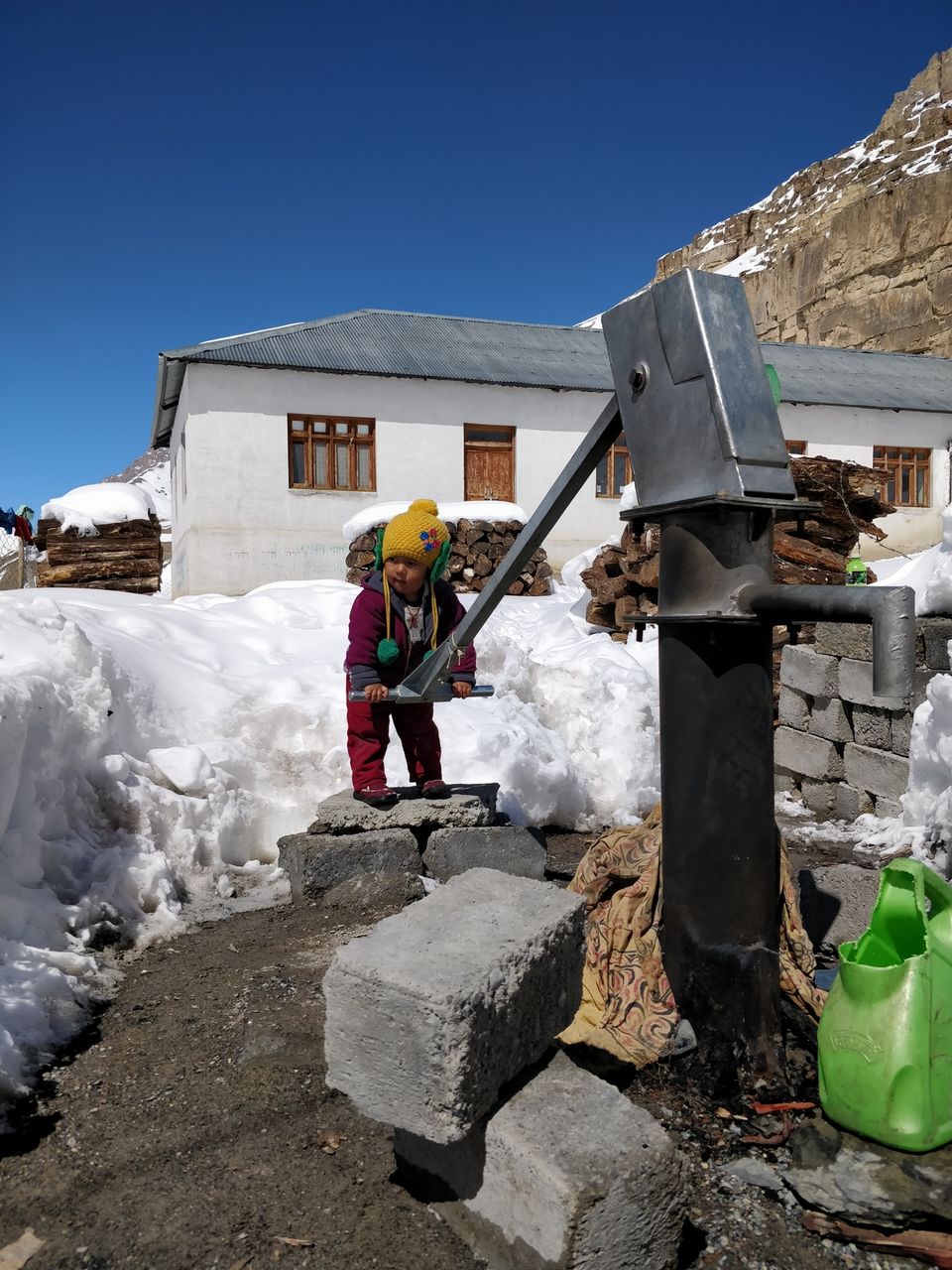 Impressed with the little kid's diligence, I wanted to capture that moment in time to cherish forever.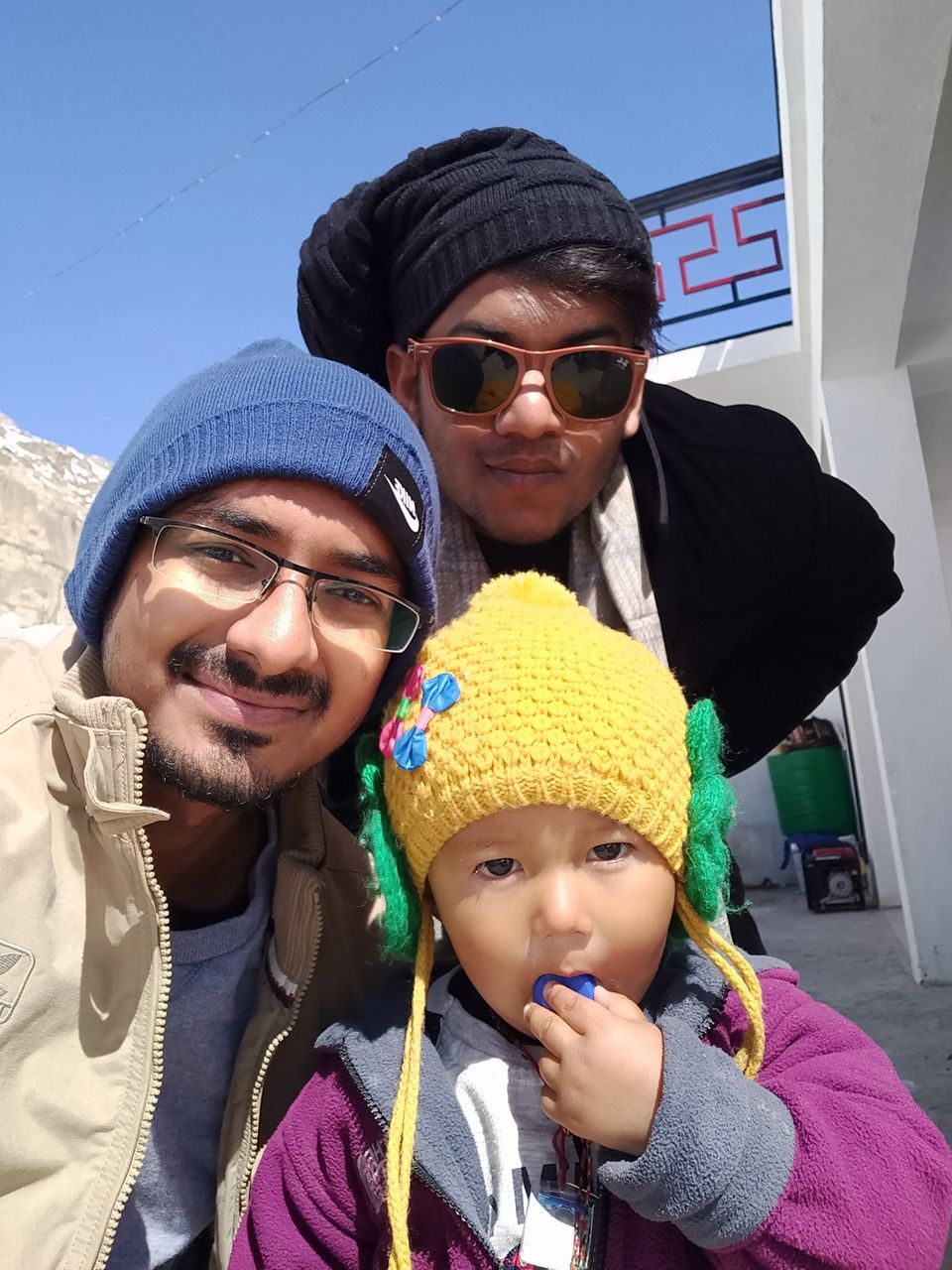 The houses don't have the luxury of a thermostat, so they rely on a fireplace in the main room. The walls are adorned with local scriptures, His Holiness the Dalai Lama, prayer flags and beautiful paintings and photographs of the valley. The family members huddle around the fireplace which is constantly fed food to keep the fire* from dying [and us]. Yes, it's as cozy as you can imagine.
It was this fine morning when we were supposed to make our way towards Kibber which is famous for Snow Leopard sightings if the weather and road conditions permit. But our vehicle had other plans owing to our driver's extremely silly mistake. The very quintessential liquid called coolant which is responsible to keep the radiators from freezing or overheating was replaced by water. Anywhere else water would've done the trick but Kaza wasn't going to be undermined. Our car broke down, in fact, it never started since we landed in Kaza. We only got to know about it the next morning.
I found solace in the fact that I made it this far with these two lads who experienced this valley for its intricate way of life, unparalleled beauty devoid of summer tourists. They survived the week experiencing the harsh life the residents live without a hint of complaint in their voices. That is a victory, a splendid souvenir I brought back with me.
A beautiful woman draped in white untamed to the bones had held us in captivity for a wholesome two days. One enjoyable experience was a shortcut from our homestay leading all the way up to our favorite momos shop deep inside the market. The route took us through open fields covered with snow with a narrow pathway with a fear of submerging into thick ice at any moment.
Our afternoons were spent lazing around sitting outside trying to spot an elusive goat species called the Himalayan Blue Sheep on the north face of a tall mountain near our homestay. Luckily, we were able to witness a mother and her cub prancing along the steep slopes without a hiccup devouring whatever vegetation that was left by mother nature.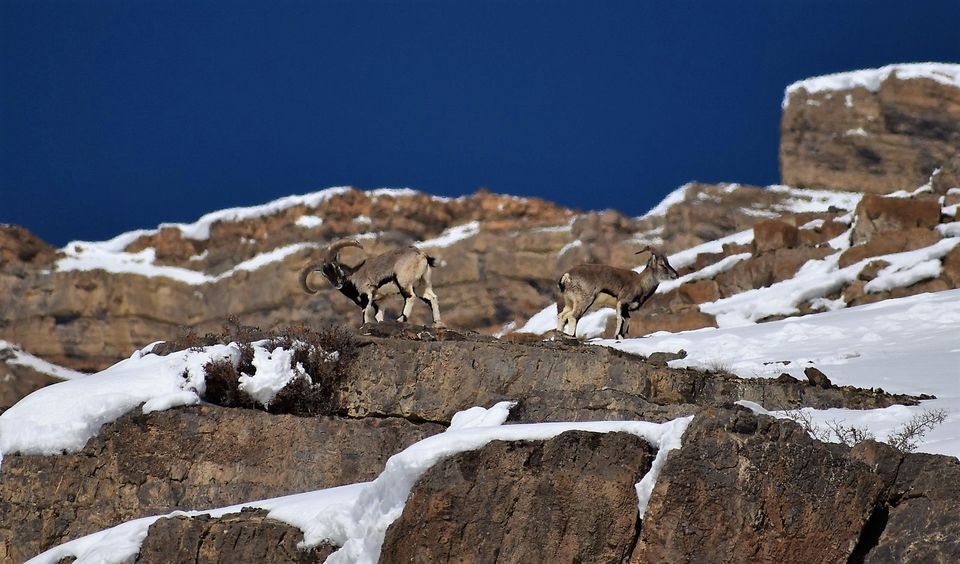 The official conversation status of this species on Wikipedia is an embarrassing "Least Concern". Not to the lads, their eyes were wide open in astonishment like they just saw a 4-legged UFO.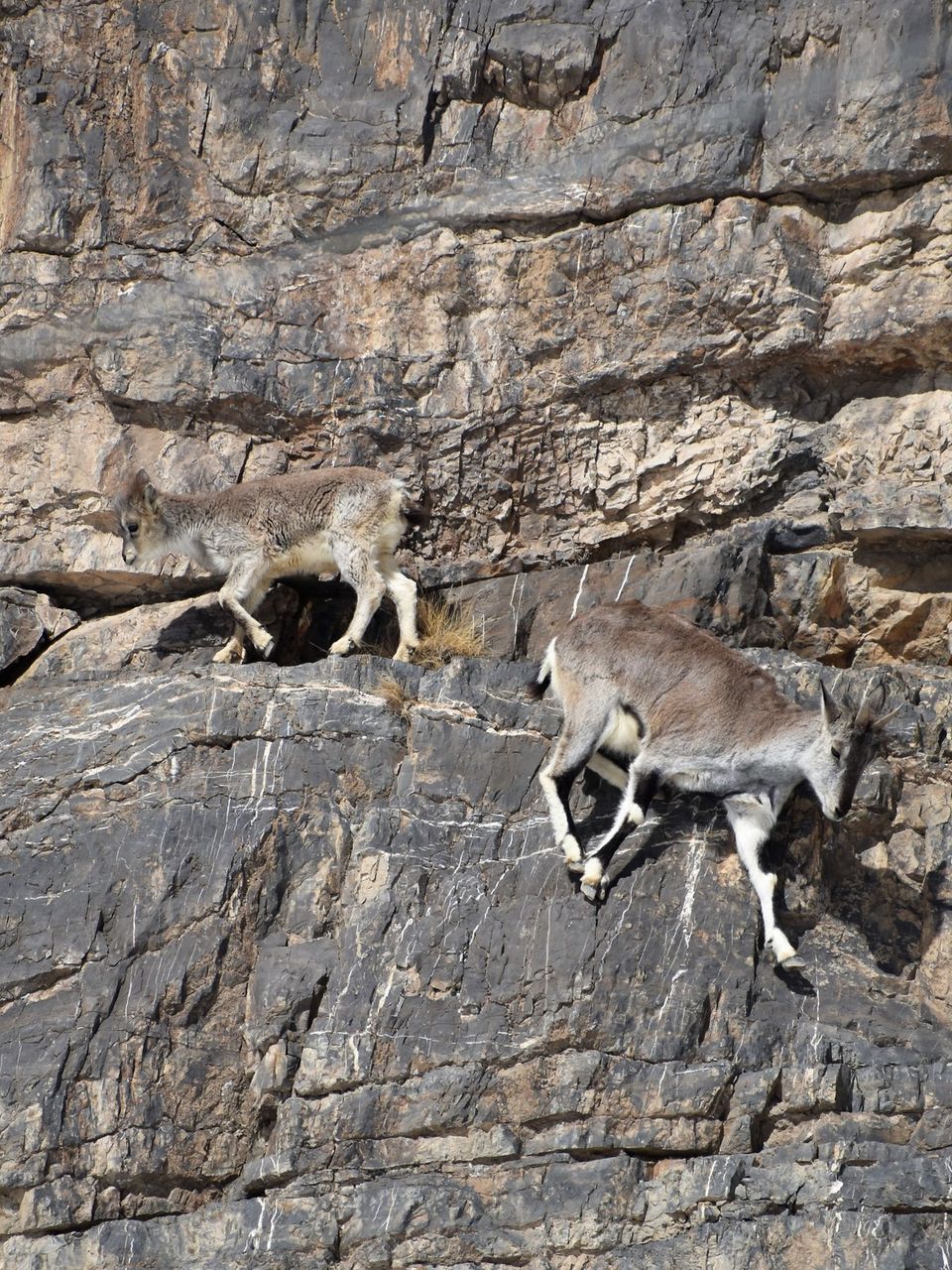 They were constantly worried about the broken vehicle to which our driver was relentlessly working on. To our despair, his efforts bore no fruits and he called upon a mechanic the next day to see if there was anything he missed.
Not all Heroes Wear Capes. Some Drive.
It takes more than courage or nerves of steel to ride shotgun through hundreds of kilometers traversing world's most treacherous roads. Even with the most experienced of drivers, your options are limited to chanting your favorite hymn.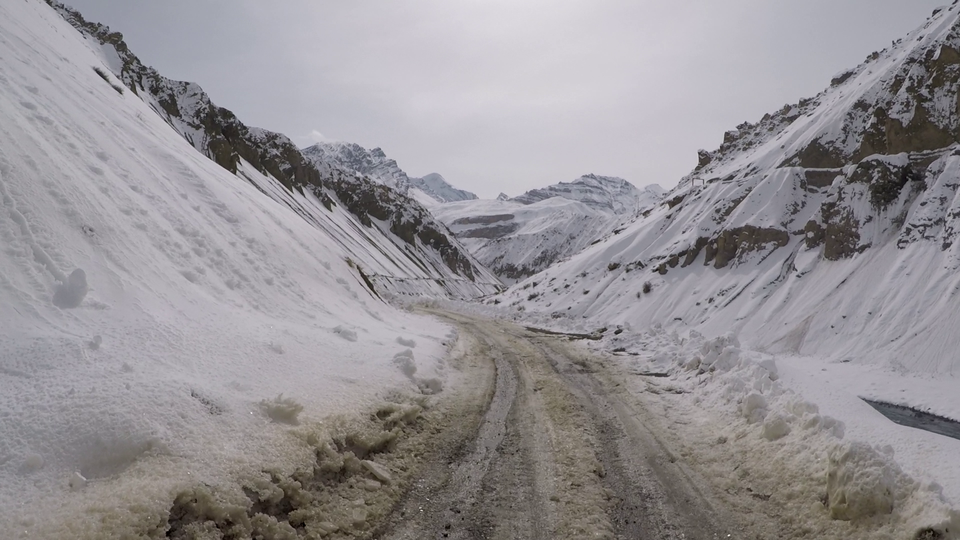 The roads from Kaza towards Tabo hadn't improved but in fact worsened over the couple of days.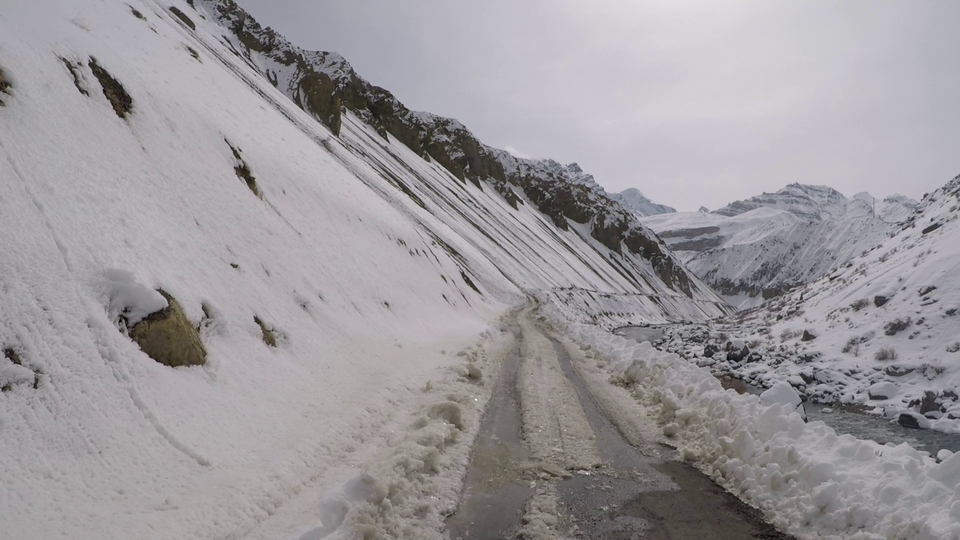 I had the pleasure of being a client of a driver who was well read, educated and remarkably well traveled. The owner himself of a popular homestay called Sakya Abode. Some of us are not at all very chatty when it comes to extended road trips, I feel you. I know you crave for a supplementary toggle in Uber to choose the level of chattiness you'd want in your driver.
He approach to life was different and his perception towards life was admirable. Unlike us peasants, he didn't discuss people, was least interested in politics or didn't educate me about the Tourists' To Do/Don'ts. He discussed ideas he believed in, reforms which will help his local community back home. Being from Kaza, the entirety of his teenage life was spent in the plains only to realize he was needed more where he belonged. He has several cars, hotels, and homestays to his name but firmly believes in preserving the tightly knit community which is slowly being introduced to people across the world. He ensures that he hires locals, educates them so that every single tourist takes the essence of Spiti back home instead of meaningless souvenirs which might have been made half a kilometer from where you are reading this.
We were engaged in a deep conversation all the while he was able to drive at the same time with impeccable concentration.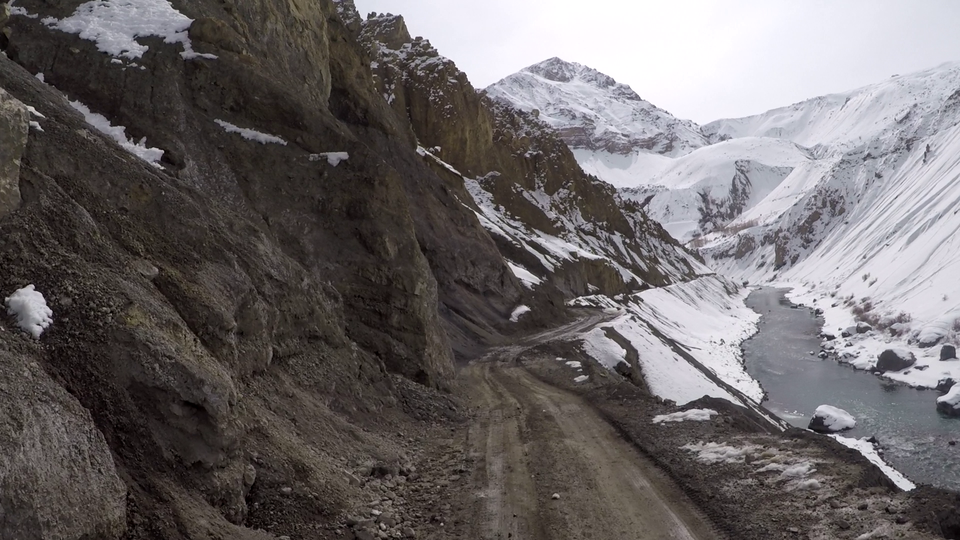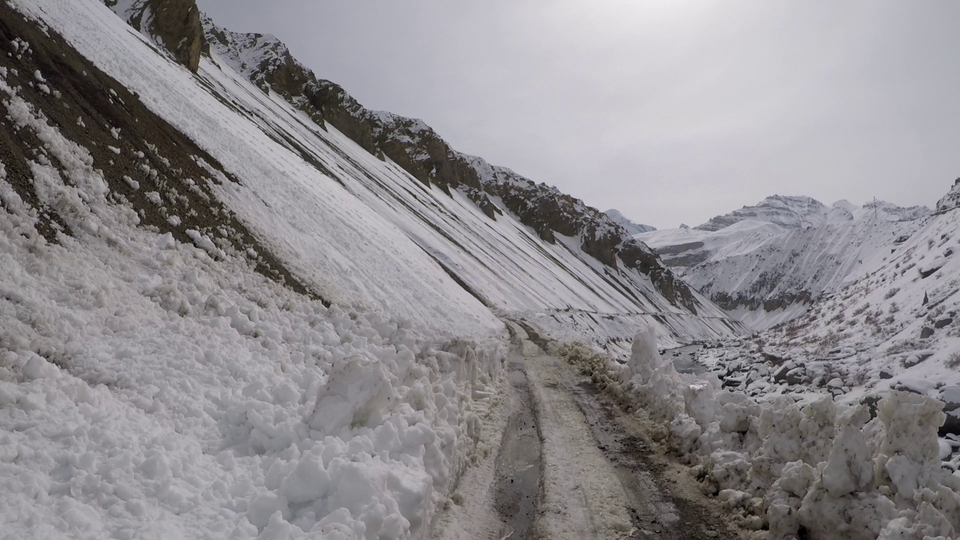 Conversations on the roads are sometimes hilarious, in a cute way. Upon answering what my day job was, he was amazed. You could literally see the astonishment in his eyes when I said I could basically work from anywhere in the world!
"So just a laptop and the Internet?"
This is a tiny example of how travel unites two drastically different worlds. A mutually interdependent ecosystem. But these worlds are slowly converging, the distance has been bridged with the advent of technology.
I showed him some photographs clicked from my iPhone and he spontaneously took out his own, a newer model, with astonishment on his face,
"Whoa, how come the pictures turn out to be so vivid and beautiful in your phone.. Is my iPhone duplicate or a cloned copy?" I chuckled at his innocence.
That's All Folks.
Every memorable trip deserves a proper send-off. Bidding farewell to the valley has always been painful from a corporate rat's perspective because it has gifted me more than money could ever buy, teach me more than I could in classrooms. She nurtured me like her own. It was only fair I decided to spend the buffer day in Shimla at Spars Lodge. It's a small family run business quite close to Mall Road. The owners were soft spoken and politely struck up a conversation listening intently to our stories on the road.
Shimla is infamous for its hustle and bustle but it's close to my heart. This cosmopolitan capital sees tourists from every part of the country. Be it the heritage walk starting from Advanced Studies, haggling at Lakkar Bazaar, watching our tri-color flutter in all its glory at The Ridge or laughing over the disfigured wax statues at the Johnnie's Wax museum. I would do it all over again in a blink of an eye. And so should you.
The road less traveled never leads to a nice brewery.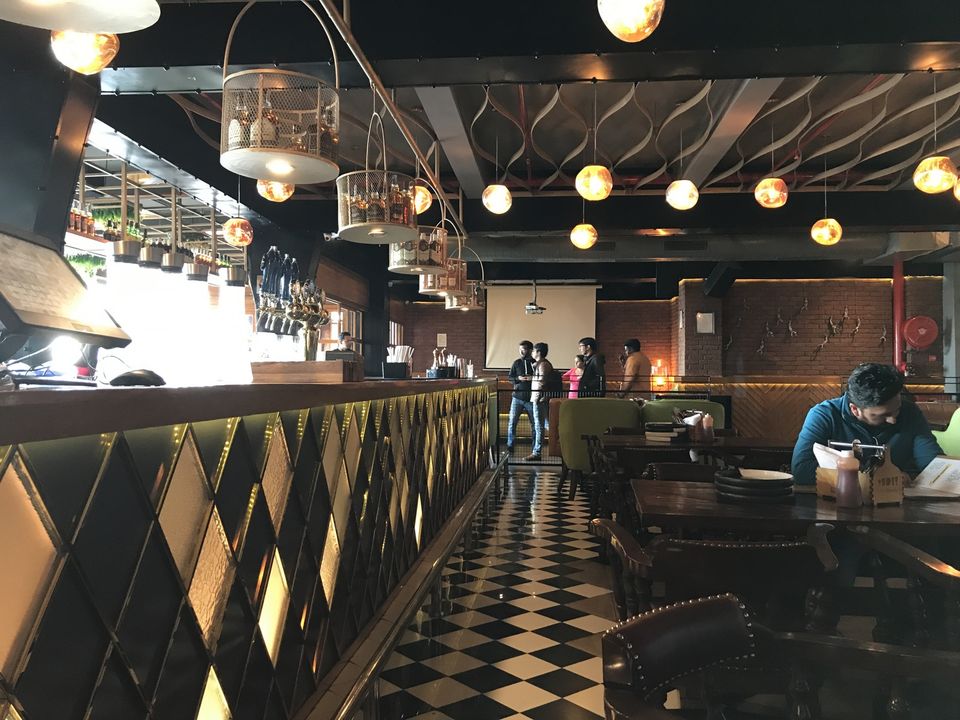 The Beer Estate, Shimla is a stellar example. My lads had fun, I guarantee you will too.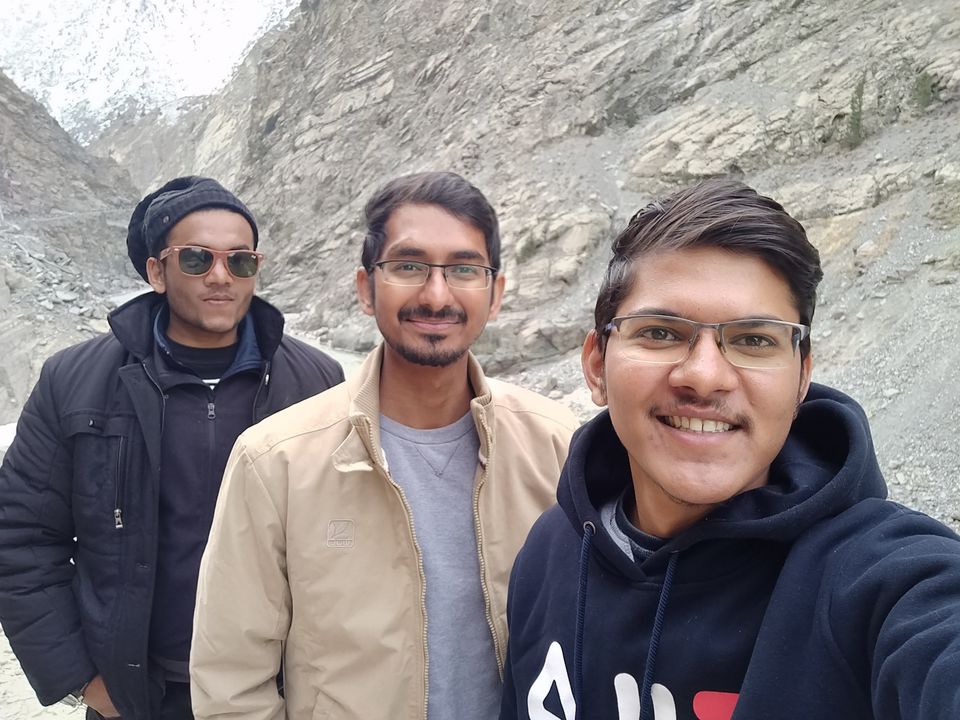 For those select few who have managed to reach till this section, you have our heartfelt gratitude for lending your precious time to experience what we'll be speaking about for years to come.
Namaste.