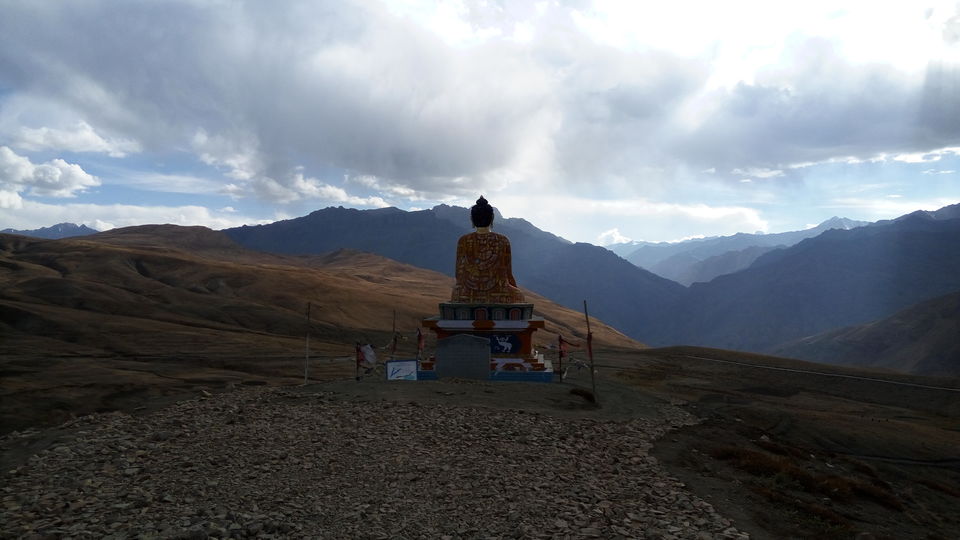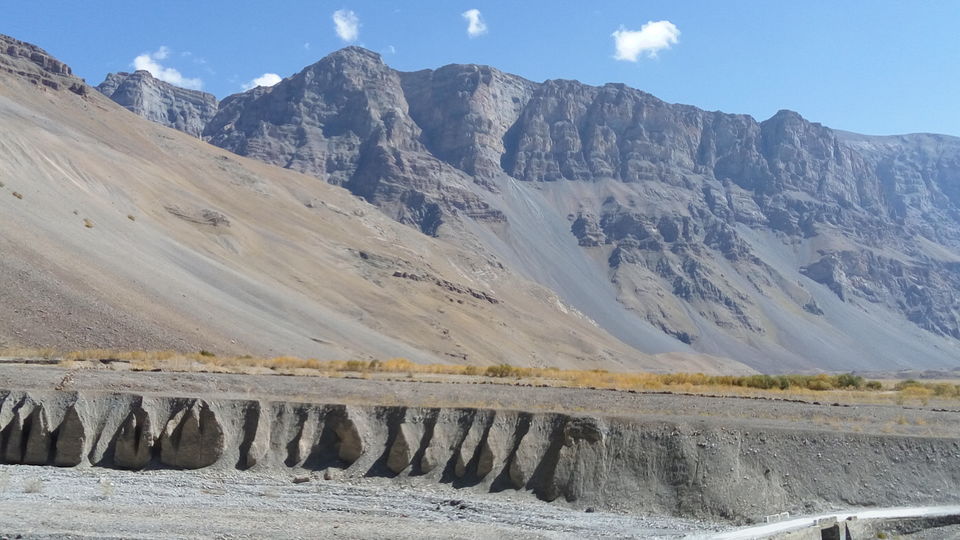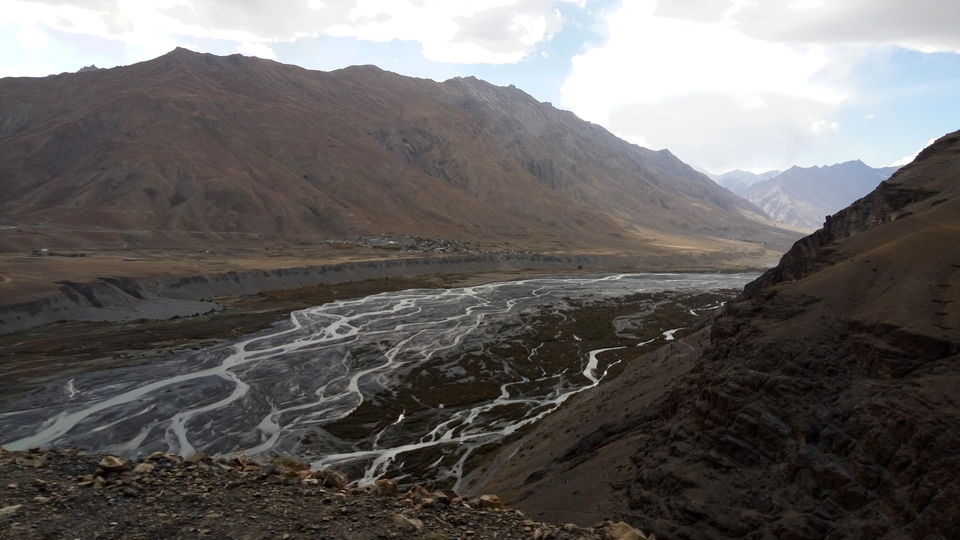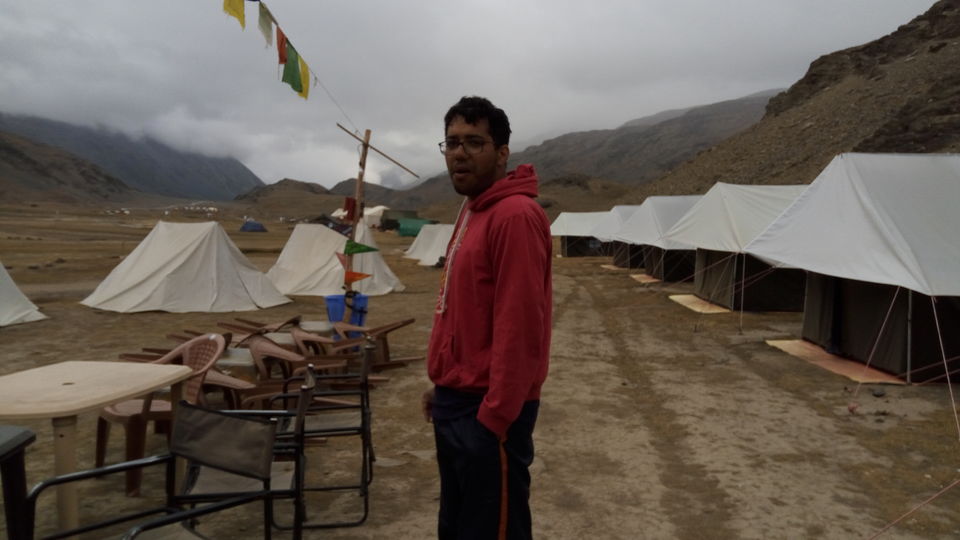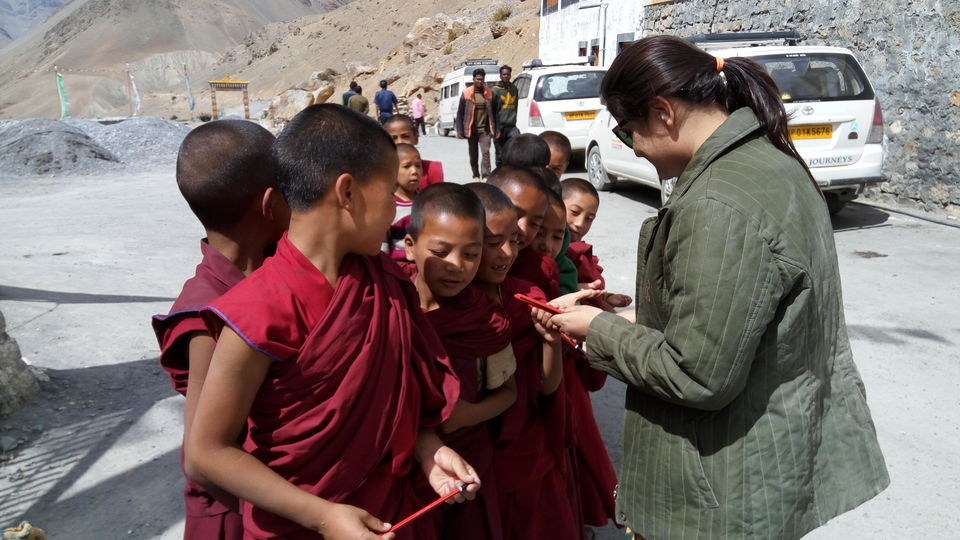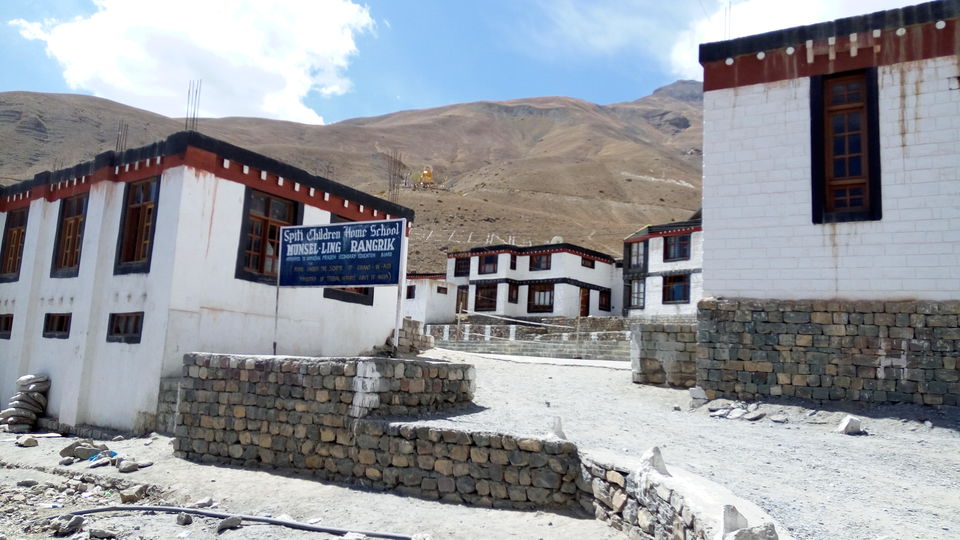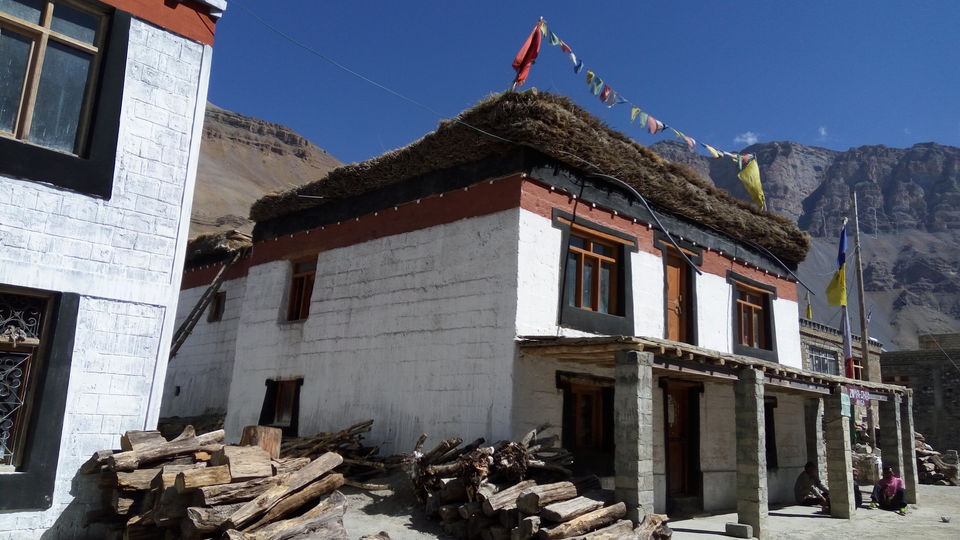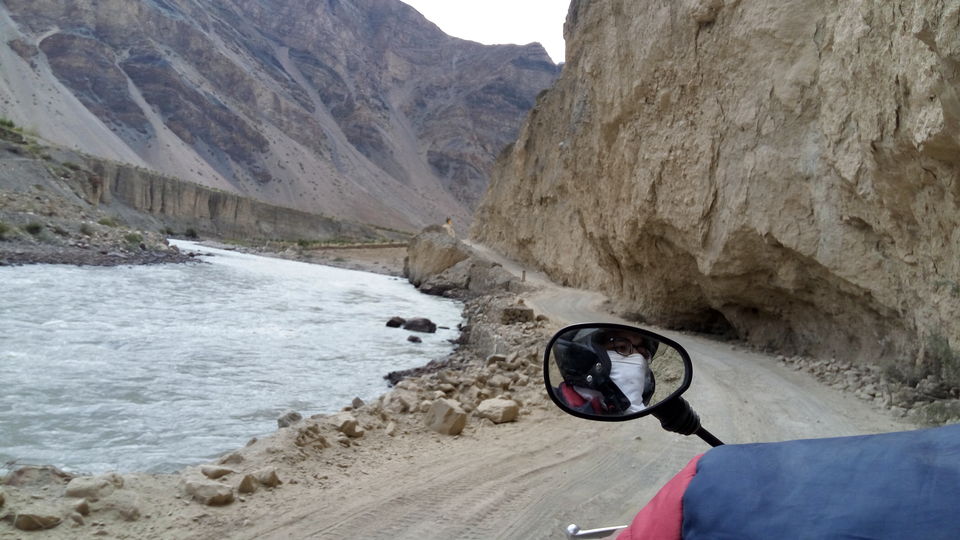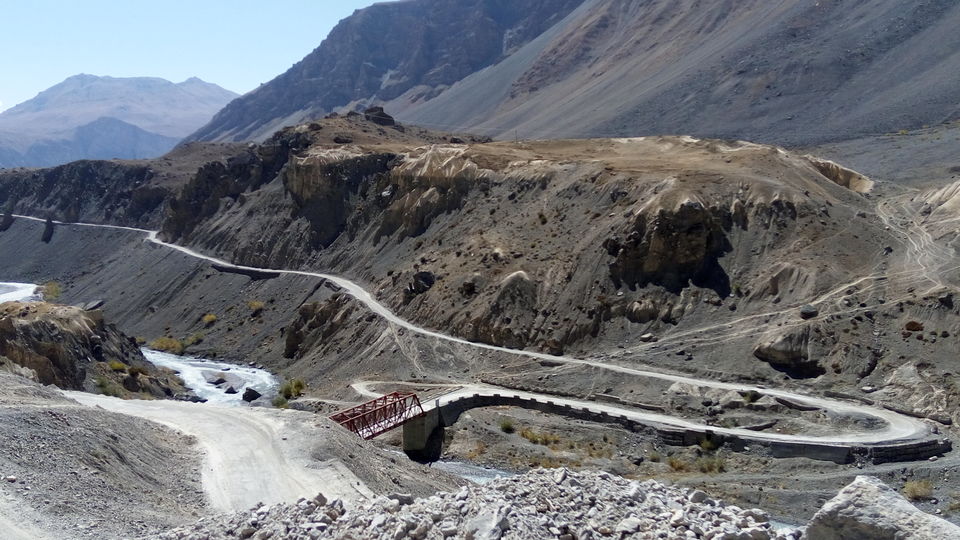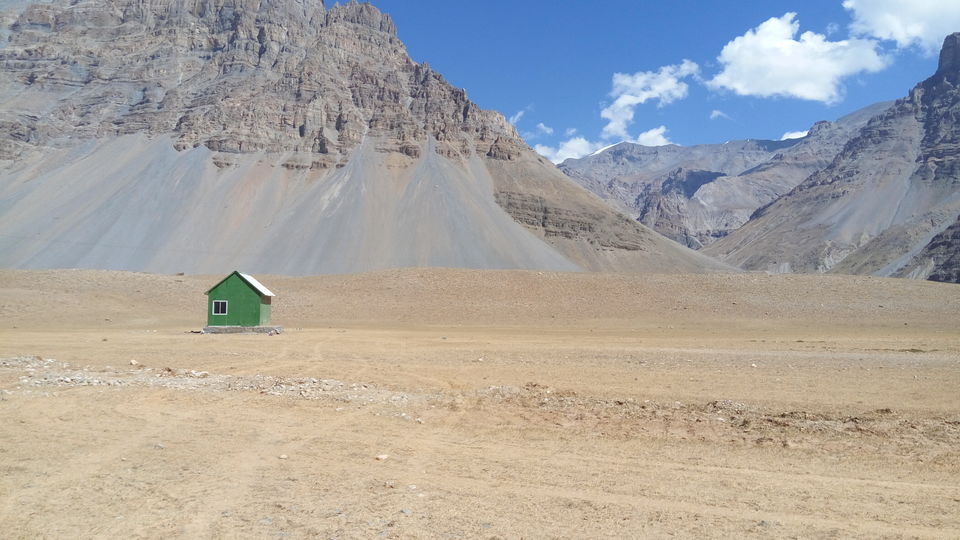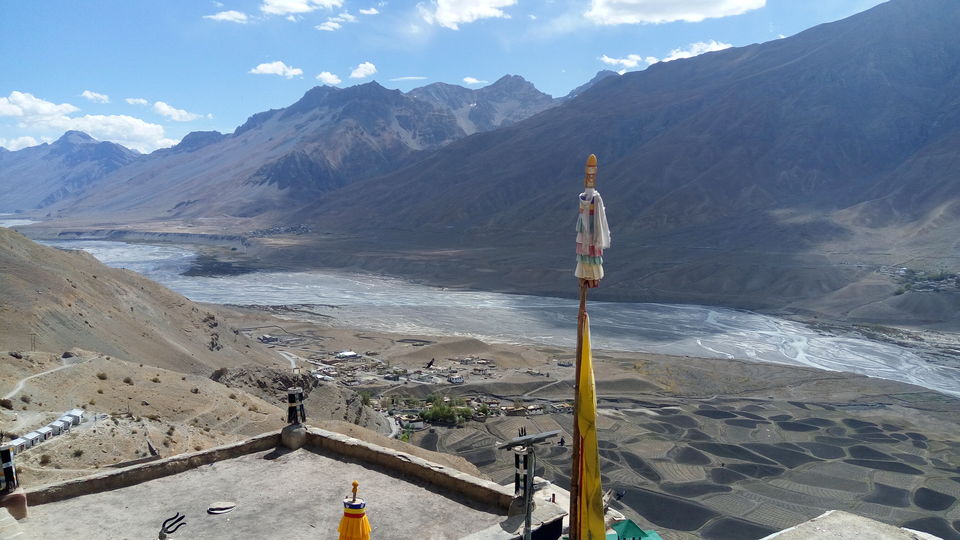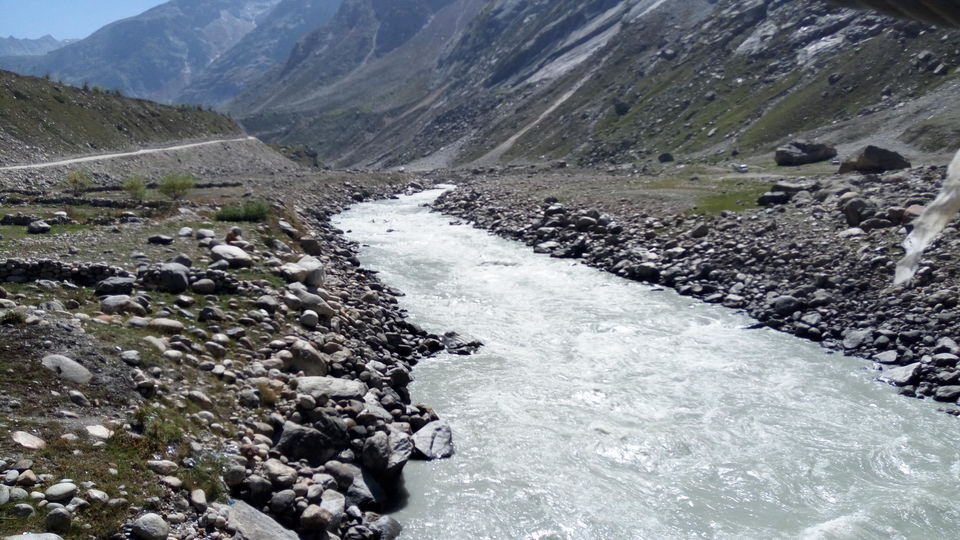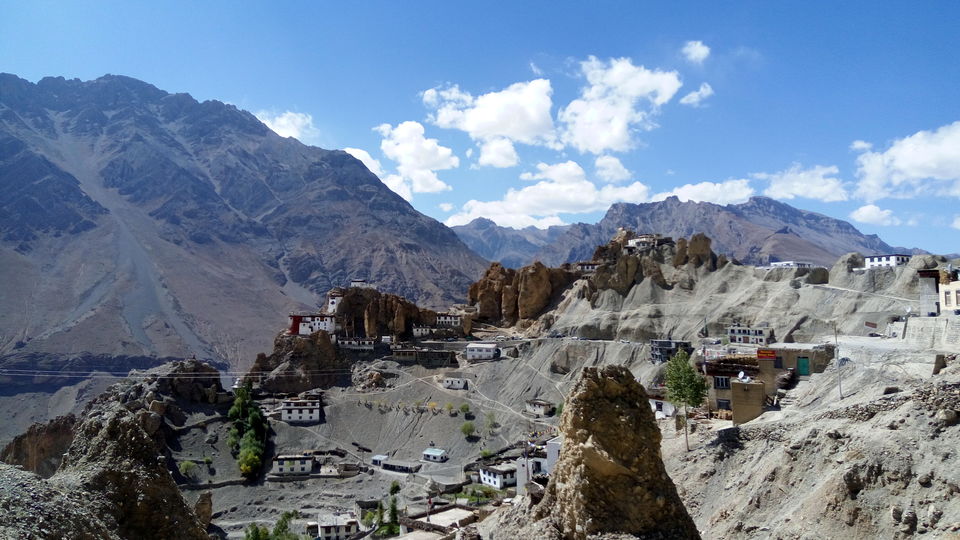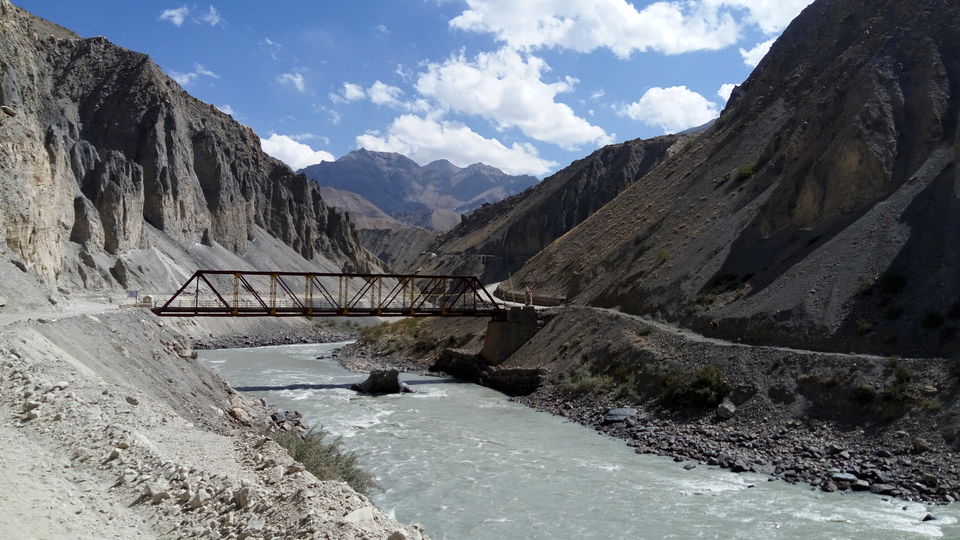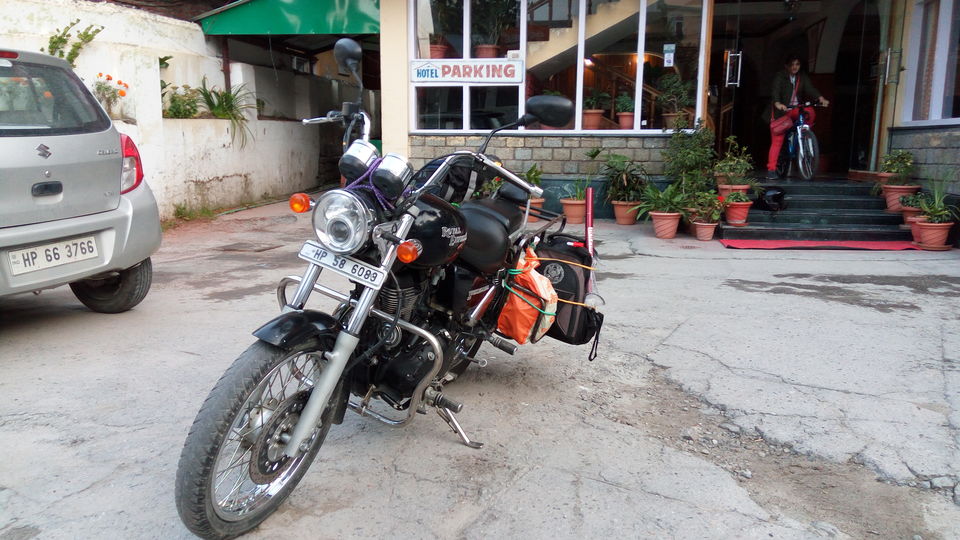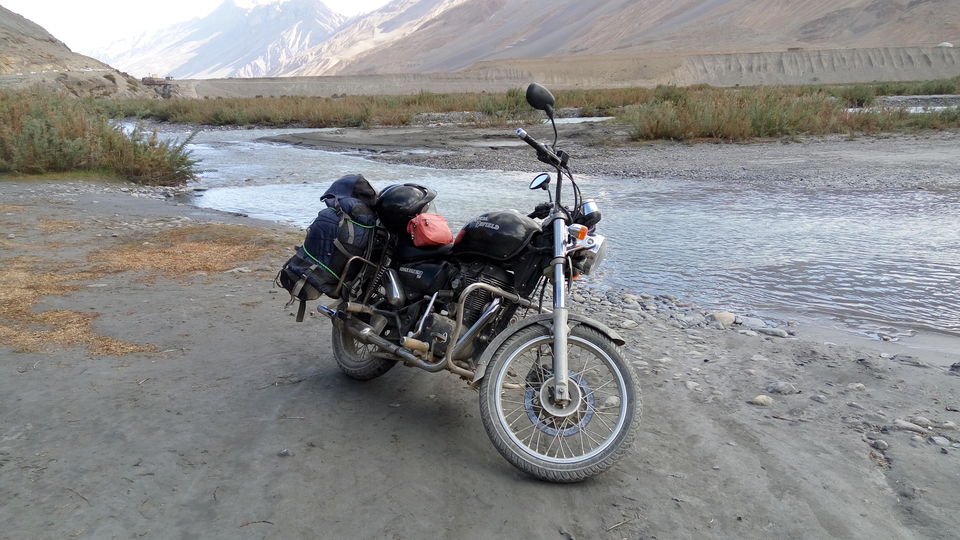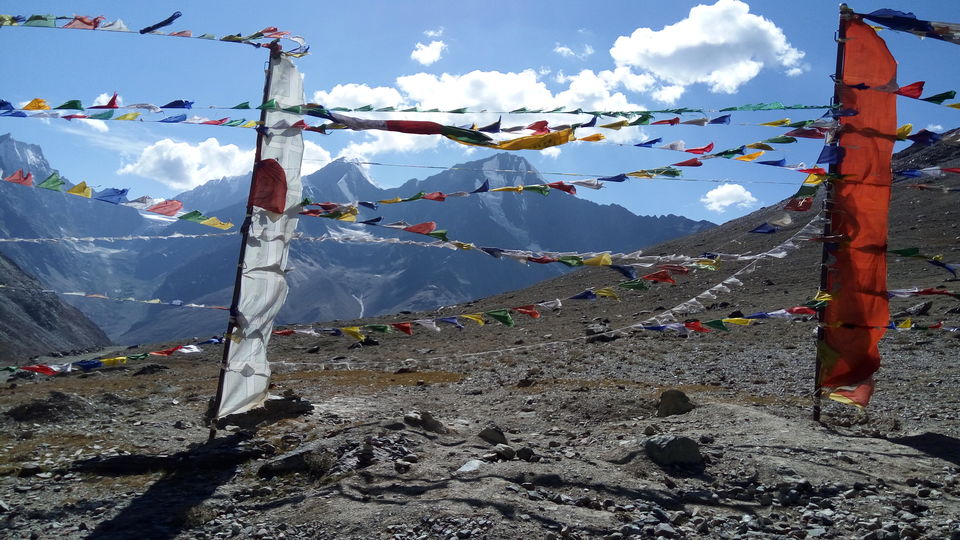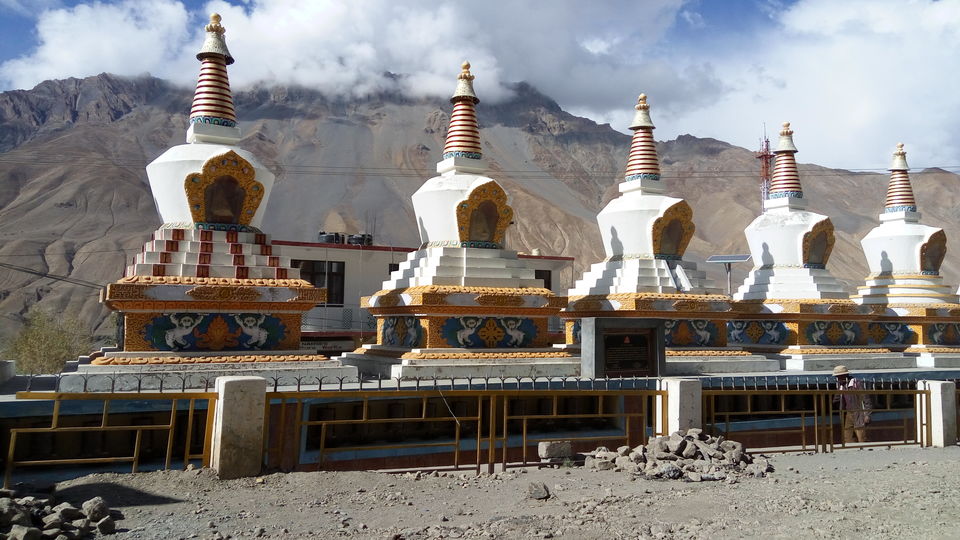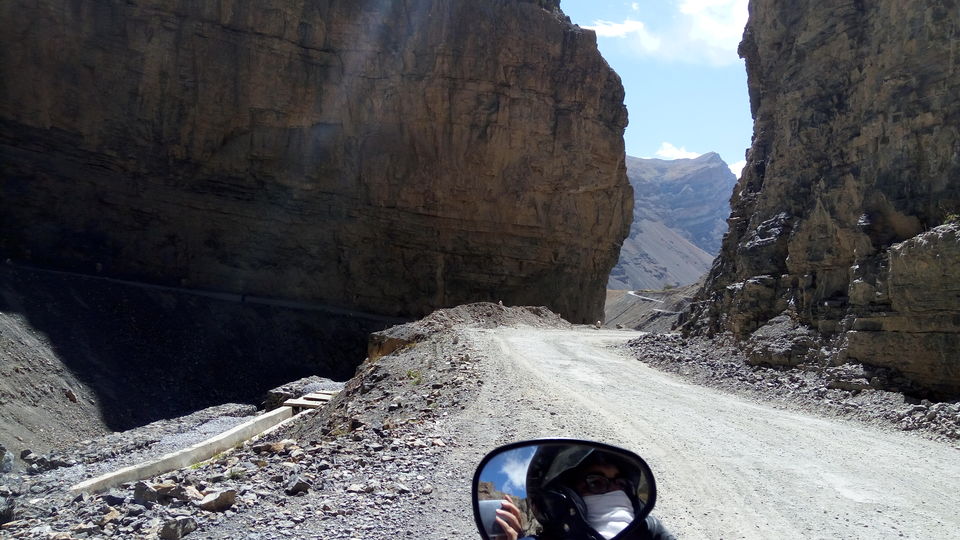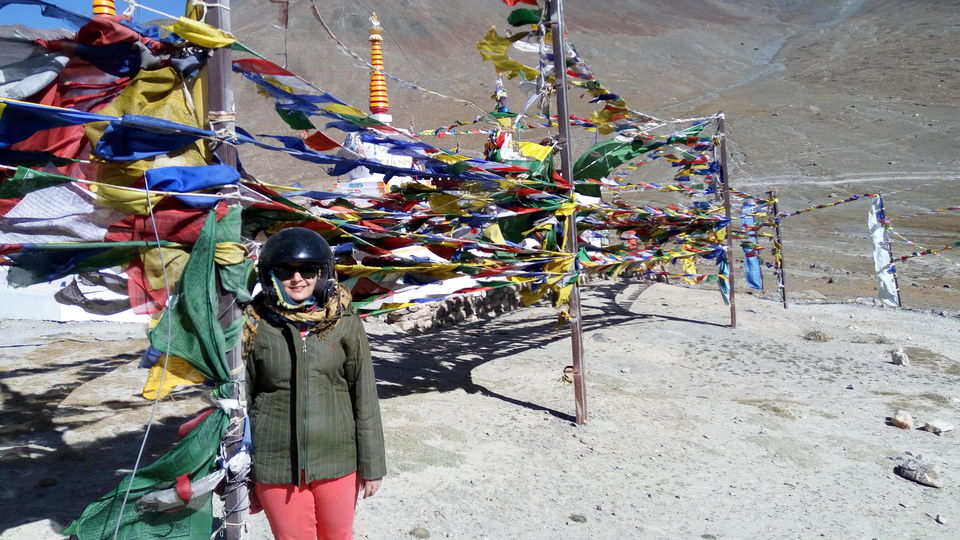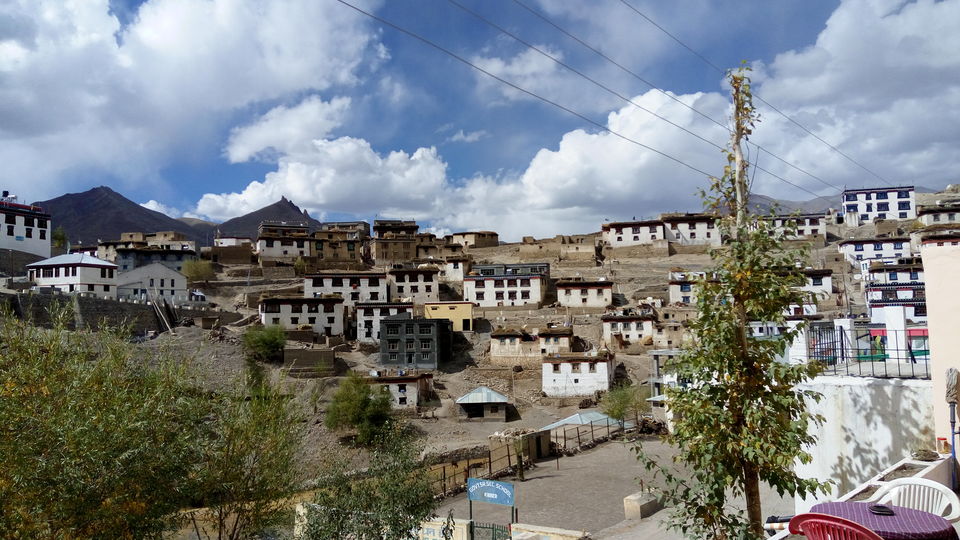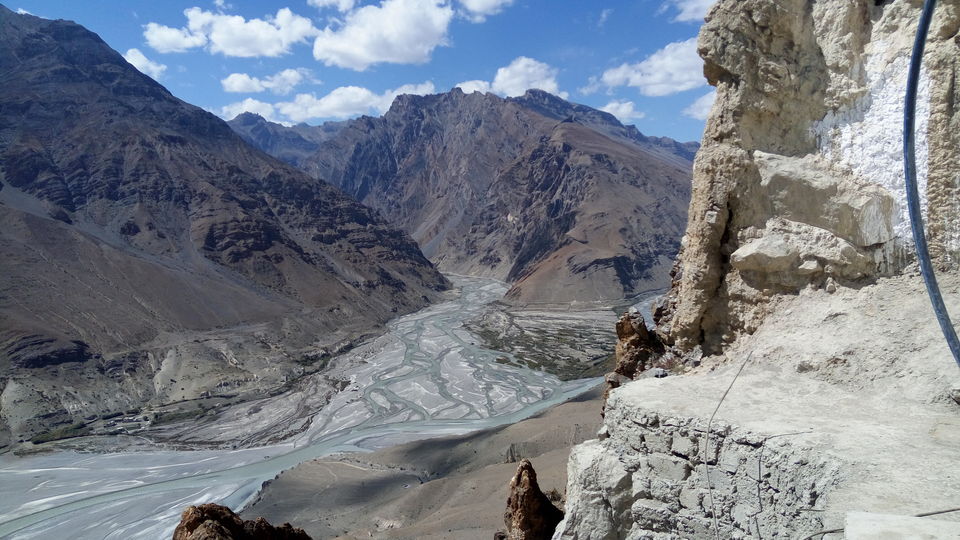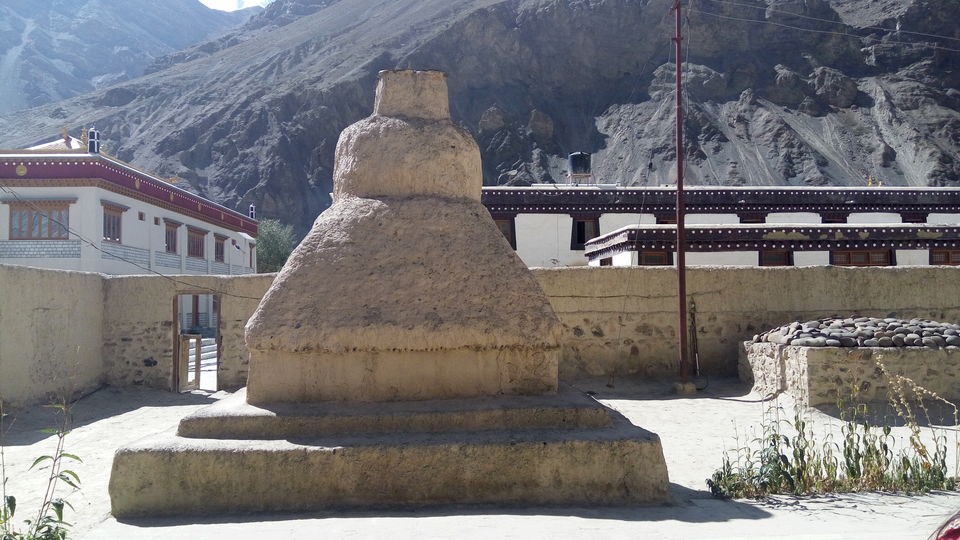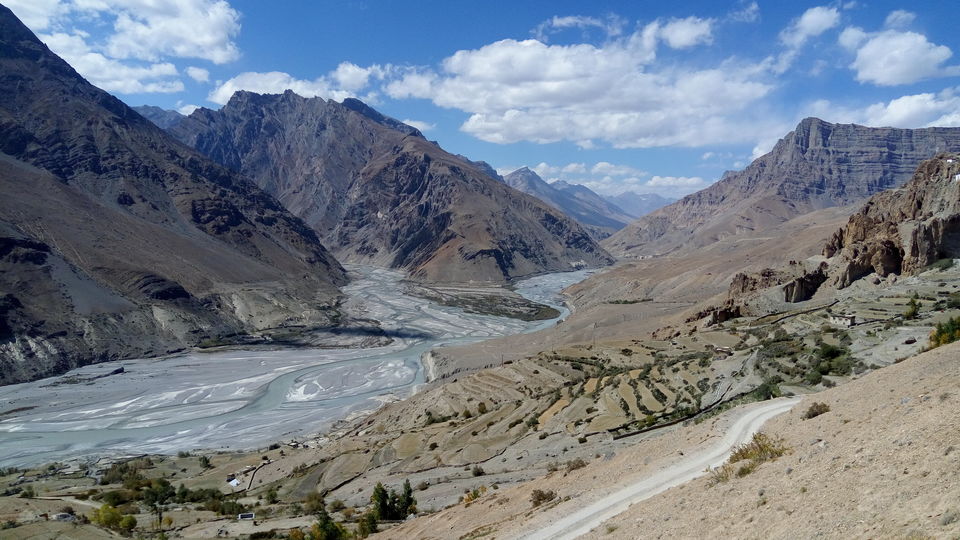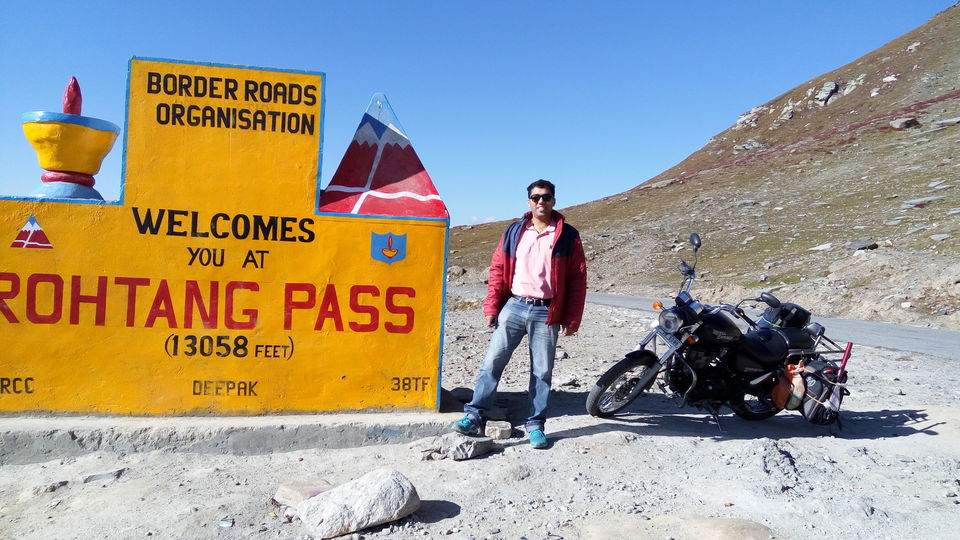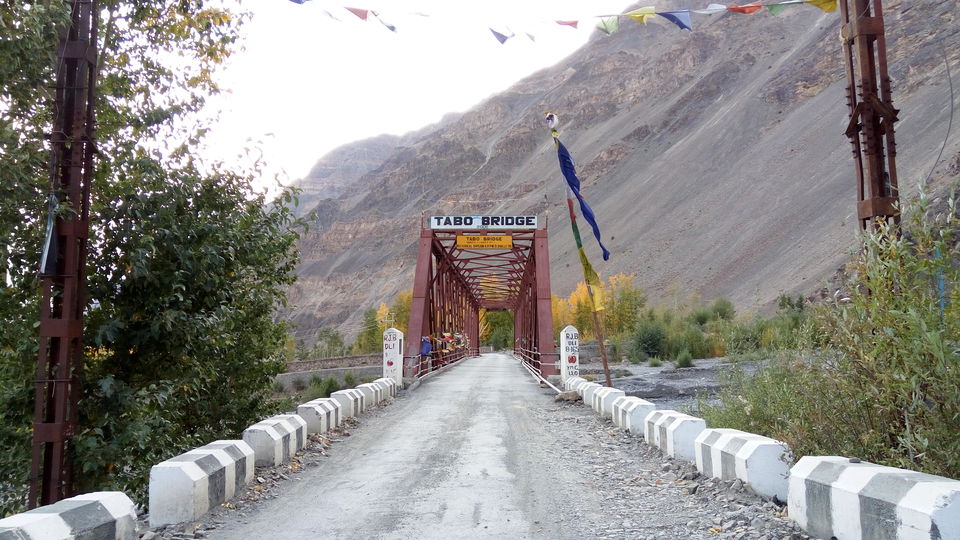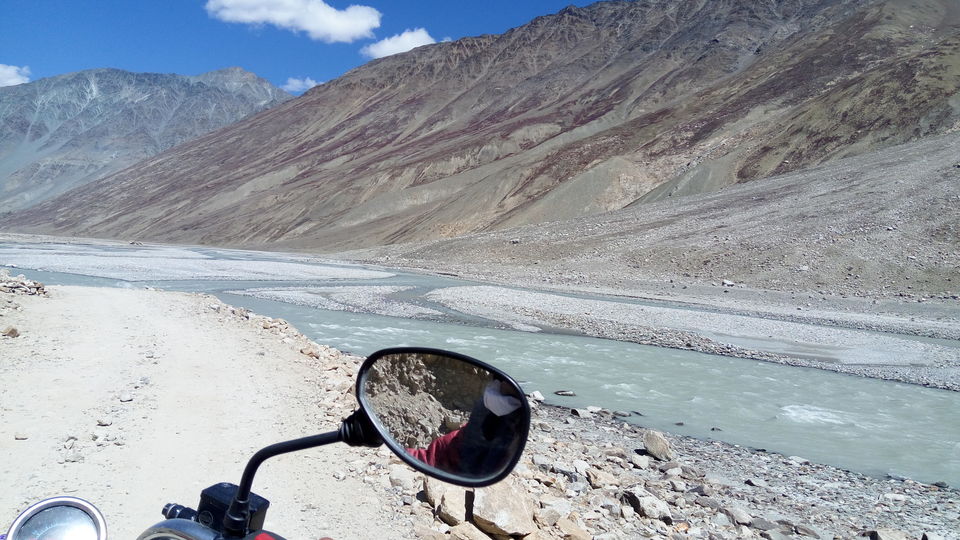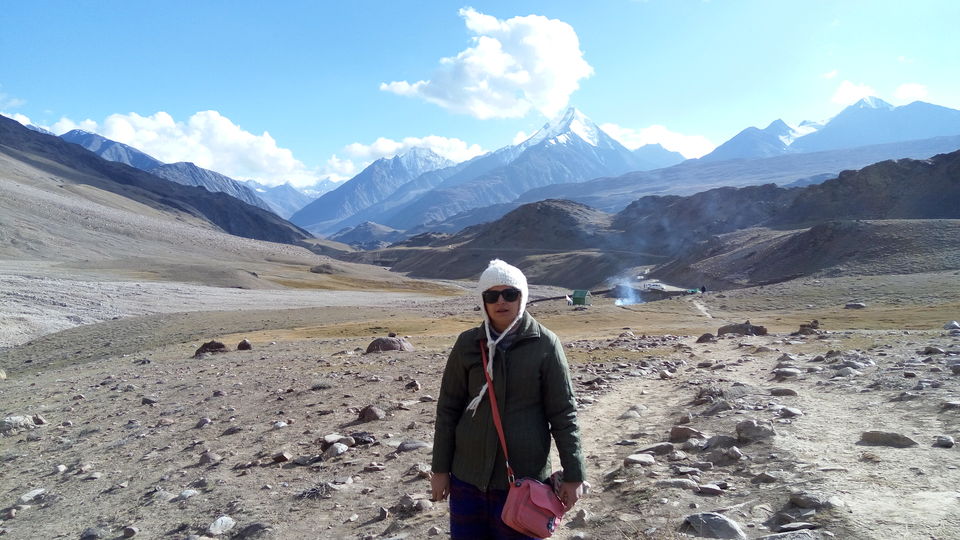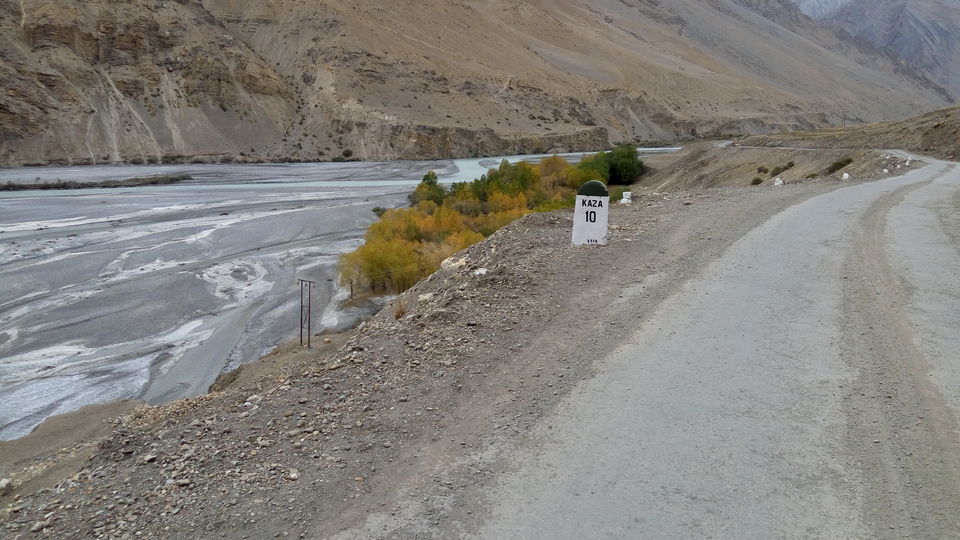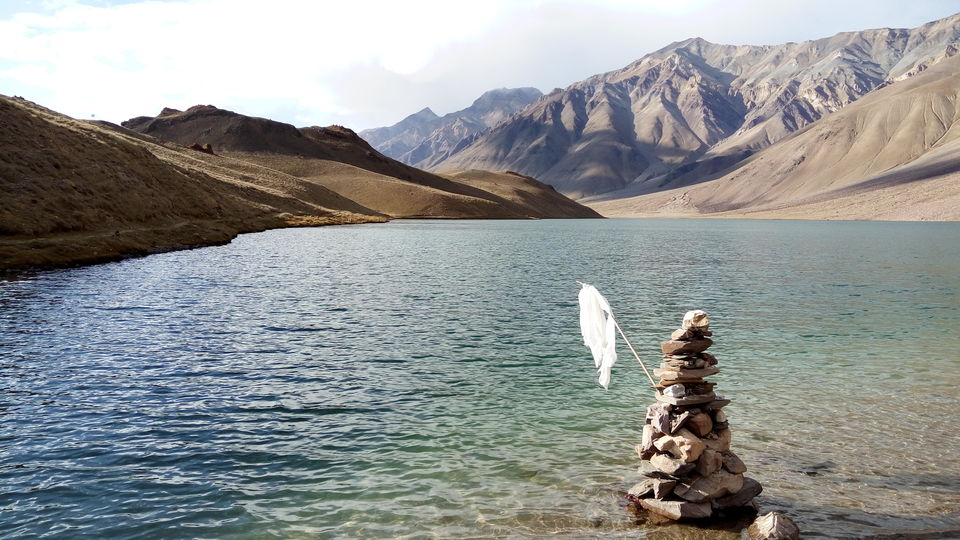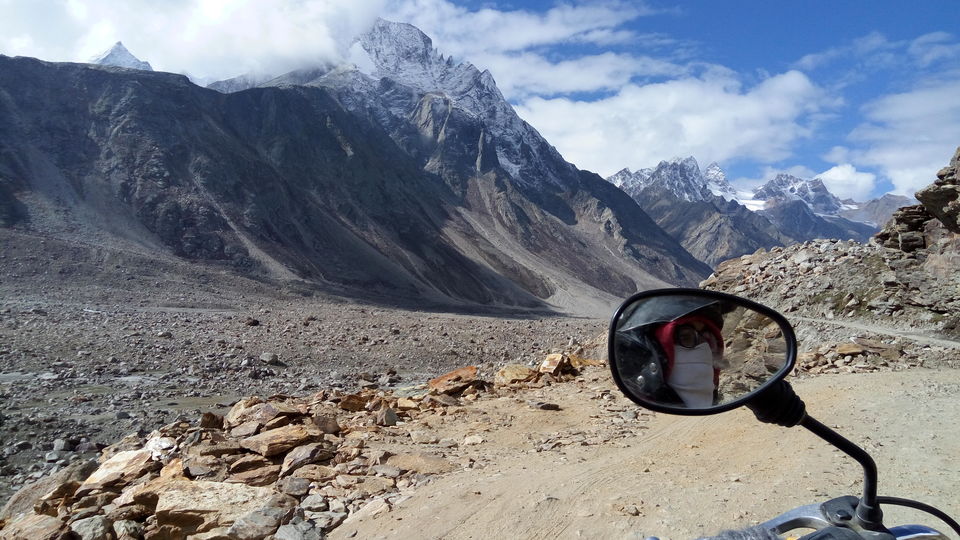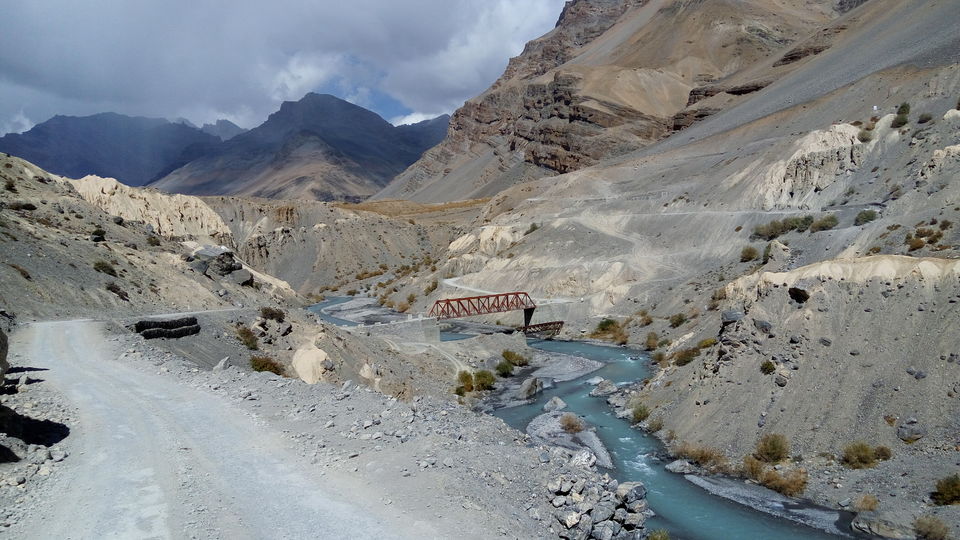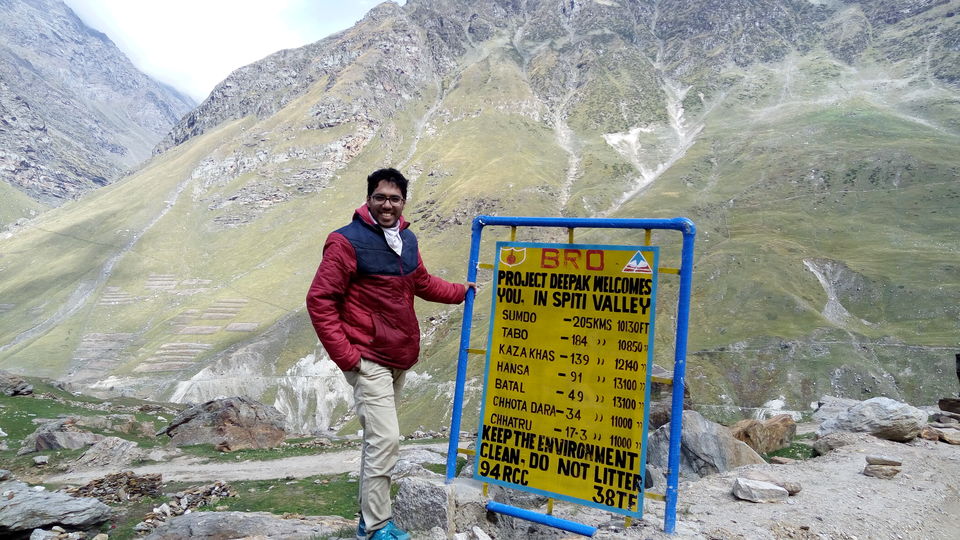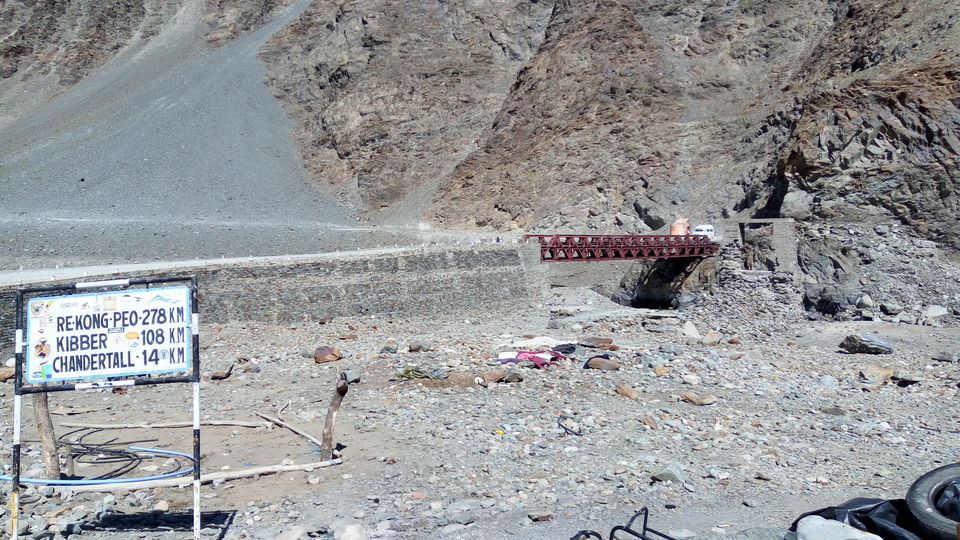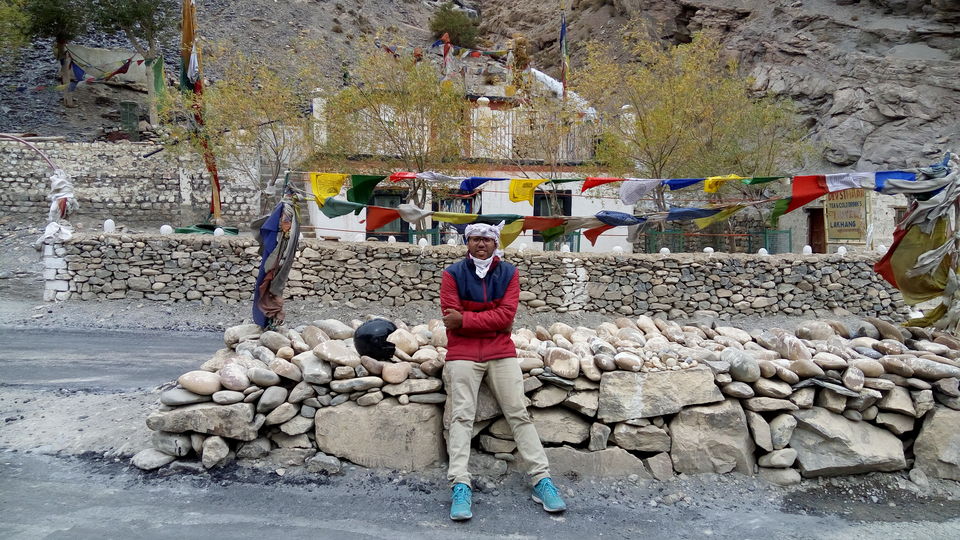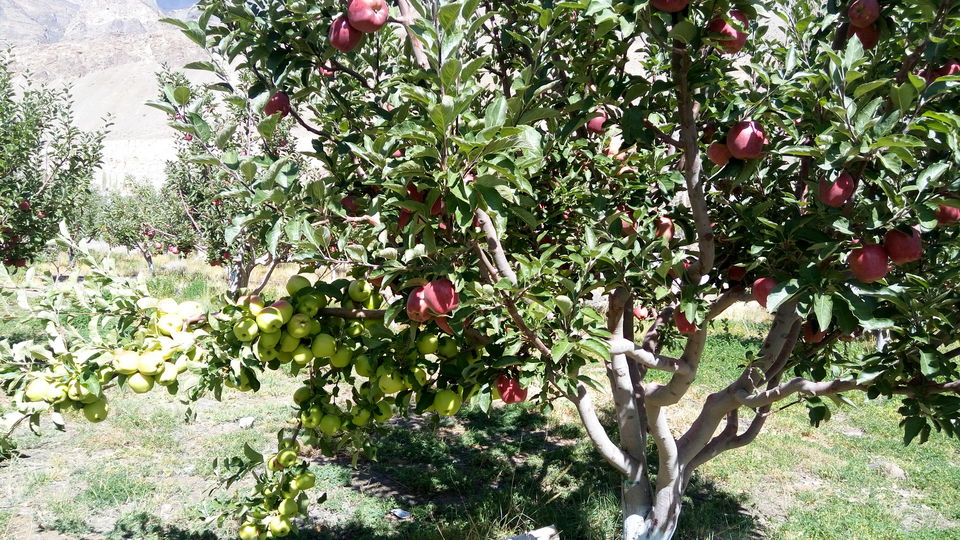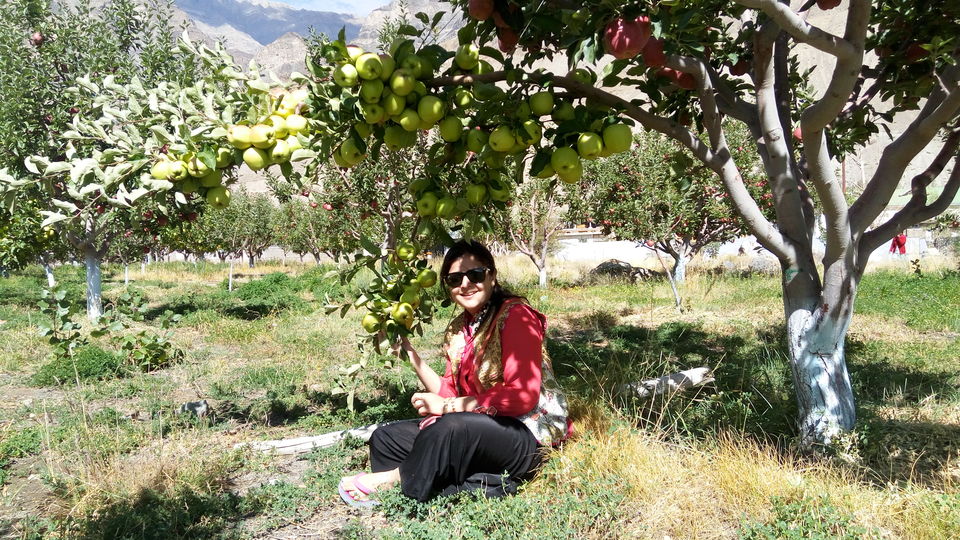 Trips like these make a person humble, it makes one realize the importance of gifts he has and significance which others have in his life. Life on mountains changes the perception. One may not come back with the answers but one surely comes with the questions which eventually help him in self-discovery.

Day Zero:

Travelling in a Delhi Metro is always a thrilling experience before going on a big trip. Since last one year in Delhi, we have been travelling a lot and every time travel by Delhi Metro to catch a train and therefore it has become associated with a vacation. We reached ISBT quite before time. Most of the people in bus were young and travelling to Bhunter to go to Kasol. Although we didn't get down in Bhunter but the view of confluence between Beas and Parvati river was just beautiful. One can figure out the colours of 2 rivers and as we approached towards Manali, apple gardens started appearing on both sides of the road.
After getting down at the private bus stand, we took an auto to our hotel near Mall Road. Since it was close to Mall road, we decided to stay at a budget and decent hotel called Hotel Himgiri. We kept 18th Sep for rest before the excruciating trip. After having a heartful lunch, I walked till Vashisht Chowk along the river to see my bullet. I met the owner, took a test ride, gave the advance and we decided to take the bike in evening after finishing touches.
After an afternoon siesta, Roli and I were strolling in Mall road and heard the music from open amphitheatre at the very end of Mall road. Local Rotary club had organized a function for school and college kids and there was whole lot of talent show, dances etc. We thoroughly enjoyed the evening. The performances were so vibrant that it boosted our energy levels. I got the bike in the evening and parked it in our hotel compound. We wanted to leave as early in the morning as possible so that we could reach Kaza and hence told the hotel guy to pack us breakfast in the morning.
Day One: Manali –Gramphoo-Chhatru-Chhotidhara-Batal-Kunzum Pass-Losar
We got up early, took a bath, got ready and were ready to checkout at 6.15 AM only to found that reception guy was sleeping and our breakfast was nowhere to be seen. The kitchen was deserted too. We woke up the guy and told him and he was unaware of the arrangement but somehow packed some breakfast for us. We left at 6.45 AM and stopped at Petrol Pump to full up the tank. Thunderbird is a great bike as it has 20 lts tank and since there is no petrol pump between Manali and Kaza, it was quite helpful.
On the deserted and windy road till Rohtang, we zoomed fast only stopping at Gulabra for the check post. By 8.30 AM we were at Rohtang without any difficulty. The air was chilly and we were all covered. We took our first stop at Gramphoo. It is a very small town where road for Spiti gets cut out. Straight road goes to Leh via Keylong and the right turn takes to Kaza. There was only a small dhaba out of sight and we discovered it only after some labourers working there directed us to.
The packed sandwiches were heated on the stove only after Roli made the dhaba guy wash the pan. We made friends with some truck drivers who were also headed to Kaza. I took their numbers in case we face some difficulty on the way. The friendly conversation reassured us of the good times.
The part of our trip which kept us on our toes had already begun and that was the roads or so to say the absence of them. Once we started descending Rohtang, I could see only two things, the beautiful Chenab which we were about to see more closely at it will become our friend till Batal and the worse roads full of stones and gravels.
When we left Gramphoo, it became abundantly clear that we could only target average speed of 15 kmph and that's the best case scenario. It was State Highway 505, but the roads were in worse state possible. It was good in some way that it discourages un-serious riders/visitors to visit Spiti. The roads were deserted. Vehicles crossed us in about 15-20 times each. We also overtook trucks in in about 15-20 minutes. On the narrow roads, the truck drivers showed us the friendliness which we were unfamiliar of. They themselves gave us the way to overtake them even without us asking for it.
After crossing Gramphoo, we entered the cold desert of Lahaul region which encompasses till Kunzum pass. After Kunzum pass lies the Spiti Valley till Sumdo and after Sumdo starts the Kinnaur Valley which will connect to Shimla. The mountain peaks were brown as all the snow of last season had melted and became the part of Chenab. This water flows from mountain top and reaches the river and in between also passes from roads forming nallahs. These nallahs are tricky to cross more so when riding pillion. I was scared a bit as this was the first time I was on bike in Spiti. I had to pay a lot of attention to the road and sometimes bike tilted while crossing the nallah and I had to ask Roli to help me get the bike on its tyres.
We reached Chhatru in about 1.5 hour. Our backs were already hurting. So it was important to take periodic breaks. There were 2 dhabas there. Few Indian young tourist and few foreigners as well. Foreigners outnumbered Indian tourists at most of the places. And most of these were carefree Israelis. There compulsory military training in Israel was the reason that they visit India in high numbers. It's cheap for them and they can enjoy it in the way they want to.
Soon after Chhatru, we started getting bikers from the other side and it is an un-said protocol to show thumb-up or give a small horn as a courtesy while crossing each other. This definitely increases a confidence level and gives the road a flavour of its own. Around 1.30 PM we reached Batal and stopped at famous Chandra Dhaba for lunch. Roli wasn't feeling very well so had a black tea and I had Maggi with sandwich. The famous chacha and chichi ran the dhaba and it is quite hit with the travellers. From Batal, one road leads to Chandratal and other takes to Kaza via Kunzum Pass. We had decided to visit Chandratal while coming back.
The road to Kunzum is the most scary. The chilly winds were cutting our hands as we were not wearing gloves. On the way to the top, we found 3 foreign bikers stranded as one of them got his bike punctured. Slowly and steadily while remembering our old and new gods, we climbed up. Kunzum is the highest pass of the Spiti Valley stood at the height of 16,500 ft. There are stupas on the top and we stopped there for 2 minutes. We had just travelled 125 kms from Manali, and it was already 2.30 PM, hard to believe that first 50 kms were covered by 8.30 AM.
We met a group of bikers and had a small conversation about the road ahead. He said the worse is yet to come and suggested to spent night at Losar. Roli quickly gave the verdict that night stop would be at Losar only. The group of bikers saw us as some poor people because we were not wearing typical bike accessories which a typical biker is supposed to wear. We were in normal shoes, good jackets so that wind can't get in, wearing jeans, handkerchief over the face and no protective gear apart from helmet. I find the protective gear except helmet to be over-hyped as we hardly crossed speed of 20.
Around 4 PM we reached Losar and examined couple of homestays where we could stay the night. Finally, decided the one which had a Solar heater for hot water for Rs. 500. It also gave the wonderful view of mountains and Spiti river which we are yet to meet close. We took a bath and found a place to eat before sunset.
We both strictly follow Jain diet and had to tell the cook in detail what we can eat and what not. Finally settled for Dal-chawal-roti as he did not have any vegetables with him. The tourist season is about to end and many people who run the shop and workers who are not locals would move to plains. After having our dinner at 5.30 PM, we decided to call it a day a go to sleep. The wind was really unbearable and we were not properly equipped to handle it. After 9 hours of biking and just covering 150 kms, our backs were in a very bad shape so we got our hands on as many blankets and quilts as possible and slept off. It was around 8.30 PM, that I woke up and found that I had a strong fever. Roli gave me water and medicines. After that, the night really became a horror show for me. I found myself awake a lot of time in night and it was really getting difficult. Roli was also having a mild fever. We both also took some medicines for altitude sickness. Tomorrow is going to be difficult.
Day Two: Losar-Kye-Kibber-Kaza
The effects of altitude sickness were visible in morning. We got up at 7 AM and asked for some warm water from our host. The Sunrays were strong as it always happens in case of mountain mornings yet it was cold. My head was spinning and back was hurting. I force fed myself to some dry fruits and tea and yet I wasn't in good condition. Somehow, Roli was doing well. I feel that fairer sex have a better coping mechanism. If you see, most of the hardwork in mountains like household chores, lifting, cutting woods, taking care of animals etc. is primarily done by women. Roli started distributing pencils to the kids of Losar and asking them about their school and studies.
I also started conversation with a guy from North East who worked in mountains in summer and at Goa in winters. In between, he spends 2-3 months at his village with his family. Well, the conversation with him worked and by 10 AM we were ready to hit the road again.
The route from Losar to Kaza is the most scenic amongst all in Spiti. The route is not much difficult and it was a perfect day for the ride. The villages in between like Hansa, Moorang and especially Rangrik were so beautiful and ideal looking. The Spiti river flowing in our left was a perfect setting. Just before Kaza, we took a left turn towards Kye. Some 10 Kms before Kaza, we found a nice road where I could get in the 4th gear as well. The road till Kye is in a wonderful condition. By 1 PM we reached Kye Monastery and met many little lamas. They were busy playing football and queued up when told that we would be giving them pencils.
Last time when we visited Spiti, we brought with us lot of chocolates to distribute as there are lot of kids but this time we thought let take some stationery as it would be more useful. A guide lama took us around the monastery and offered the tea. The exceptional view of Spiti from Kye just takes the breath away.
From Kye we decided to go Kibber and have lunch there. Kibber is one of the highest villages in the world. It is located at 14,010 ft height and is 16 kms away from Kye. But the place gets a lot of visitors. The main reasons for the same are excessive commercialization of Kaza, so people get some peace in Kibber and see the star trails more clearly in the night. Another one is its proximity to wild life and many people spot snow lions quite frequently. Also, spending a night at one of the highest villages has a different kick to it. We stopped at a small restaurant which also has 5-6 rooms. It was quite surprising to know that this small place could serve pizza and other western/continental dishes. They were quite well equipped to handle the visitor demand and all the rooms in their hotel were full that day. There were many bikers as well. After having lunch, we descended and after travelling some distance we climbed up another peak for village Langza.
Langza is 30 kms from Kibber and is famous for fossils and the big Buddha statue who is also known as Guardian Buddha of Spiti. People say that Langza is one of the most beautiful villages in Spiti. It is located at height of 14,440 ft. But to get here from Kibber requires descending to approx 12,470 m and again climbing up. There are very few people visit here as this part lacks amenities. It also gets extremely cold in the night. People looking for adrenaline rush stay at night in the villages of Komik and Hikkim. The village of Hikkim is famous for housing the highest post office and electoral office in the world. Hikkim is located at 14,500 ft and Komik is at 15,000 ft making it the highest inhabited place in India and one of the highest in the world.
After losing our way enroute Hikkim and feeling the lack of sunlight, we descended back to Kaza. Kaza is a beautiful town growing like a 15 year old child. The New Kaza houses government offices and staff residences along with some new hotels. Old Kaza houses market, school, locals and homestays. We went to find some hotel but didn't like any. Finally, we settled for nice, homely, homestay which is also dirt cheap, priced at INR 400 per night. Soon after unpacking, we went for a walk in the market to find some food. There we found a café, ran by a Mumbai lawyer who fairly understands what Jain Food is. From her, we understood a lot about Spiti, challenges of the place, locals and their work/hobbies.
We were thrilled to know that it was the last day of Spiti festival. It was a 3 day festival with cultural activities, prize distribution of sport activities amongst schools of Spiti region, dances etc. I believe the entire village of Kaza was present there. It was taking place at the government school ground and it was fun. The youngsters, housewives, kids, everyone was having a gala time and we also became the part of the crowd. The Spiti songs, laughter, dances made us crazy too.
After some star grazing from the delicate roof of our host while sipping a hot tea, we decided to call it a night and went for a sleep.
Day 3: Kaza – Dhankar – Tabo
Mornings are real difficult for me. I woke up with a heavy head. Our plan was to travel till Nako that day to meet a boy called Karma who we had met in our last trip of Spiti but we decided to take it easy for a while. Roli went to explore the town and I decided to refuel the tank. From my earlier experience, I have learnt that it is always better to refuel your vehicle at the earliest chance you get while being in mountains. You never know when the petrol pump will go out of order or when they start rationing. There was a chaotic situation at the pump as there was no electricity. The guy was totally confused. He was giving petrol from the tank in the plastic bottles. I gave him money upfront and poured petrol in my bullet. Then mu hunt for mechanic started. I am always little anxious about the tyre pressure. Although I had an air pump with me but I have never used it before. I couldn't find a mechanic and decided to find him on my way back.
Around 12, we left for Tabo. The road to Tabo from Kaza is in a much better condition. Spiti river runs alongside. The road has many blind turns. En route, we went to Dhankar village which has Dhankar Monastery. 8 kms long road cutting from the Kaza-Tabo road takes us to Dhankar which also has a helipad. The monastery is located on the cliff overseeing the confluence of Spiti and Pin River, what a beautiful site to behold. Located 12,800 ft asl, the monastery is now one of the most endangered monuments in the world and its existence is in danger. There is a new temple complex as well where many monks live.
In the Lahaul and Spiti valley, it gets really scary at times. The roads are so deserted for kilometers. There is no sign of any vehicles, humans, animals. And a joy erupts inside when some of sign of life revolves around.
As we were getting close to Tabo, the number of Apple gardens was increasing at both sides of road. The aroma in the air had changed and moods have been uplifted. It was our second time in Tabo. The last we couldn't go further ahead towards Kaza due to snow, now we have completed the circuit. Sense of achievement prevailed and while we were having late lunch at the roadside hotel, we decided not to go ahead towards Nako and spent rest of the day in Tabo.
We borrowed a mobile from a worker in restaurant and told of our well-being to our families. It was 4 days and we were completely off-radar. But the outside world was still the same. We found a decent a room and after unloading luggage from the bike we went around to have a closer look at the Apple farms. A middle-aged lady named Padma along with her son was working in the field. Although we went inside uninvited, she smiled and allowed us to roam around. The apples had already been plucked and packed. She told us a bit about farming and gave us few green apples. We never had such tasty and juicy apples before.
An Israeli couple was in a next room of us. Israelis are reserved tourist. They don't talk to others a lot. But the conversation started and we talked about a lot of stuff. The mountains peak surrounding Tabo are huge and intimidating. It could be made out in the night sky full of stars and that made me realize how small I am. There are caves in these mountains where monks meditate.
In the morning, we went around the oldest monastery in India. Tabo is the place which is also very special to Dalai Lama and he want to spend his retirement in Tabo. There is Apple garden close to the monastery and run by the government. The entire garden is auctioned every year. We spent a lot of time in the garden which had various varieties of Apples. Special mention for the tree which had both red and green apples.
The apple garden acted as a song that morning which left our soul dancing, whirling and soaking in the aroma and freshness of the pure Spiti region.
Day 4 –Tabo to Kaza
It was the day when we rode for the shortest time and distance. Our spirits were delighted. Lots of unasked questions have answered themselves.
The journey from Tabo to Kaza has given us the chance to reflect. Both of us were silent, thinking and gazing in the Spiti running near us with my hands firm on handle and leg on brake. The climate started changing a bit. Last week of September has started. Public transport will formally shut down in October mid. Police and administration will also go down to capital or other districts. Schools of the region would be shifted to Dharamshala. Outside workers will go back to their villages or Goa for further work opportunities. Locals will move to their second village in other parts of the state like Rewalsar. Monks will also move to South India or Dharamshala. The village will be left with a very few people who have started preparing alcohol in their homes. The wood for next 5 months have been accumulated and stored covered in front of their houses.
That day we experienced what is meant by "Winter is coming". It started with a little breeze, arrival of dark clouds and a dip in temperature. I accelerated towards Kaza. We will be seeing the peaks covered with snow which were naked when we came inside the valley.
It was getting dark by the time we reached Kaza and went straight to the familiar restaurant. We stayed in the same homestay that we stayed 2 nights back. Explored the village in the evening. Spoke with locals and decided that we should leave for Chandratal soon in the morning.
Day 5 –Kaza to Chandratal
We woke up early and packed the bags. While having breakfast, I also got the basic maintenance of bike done by the local mechanic. Roli also fulfilled the desire of having raw cow milk. She just went in someone's house and asked for it. Kind people also obliged. At their home, we saw the process of making an alcohol. Kaza was prepared for a ruthless winter.
This day is going to be tough. The wind was strong. We were on our bike at 9.30 AM, clouds were looming. Our first stop was Losar. We had lunch there. The guy had finished his supplies and we had parathas with pickles. It was getting closed and we decided to get one more layer. Kaza to Losar is a pretty scenic ride. The mountains move with you and invite you for a conversation. The landscape changes dramatically.
For once in life, uncertainty seems okay. The happiness lies in knowing the unknown. But we underestimated what was lying ahead of us. Just after Losar, we started our ascent to Kunzum Pass. The highest mountain pass in Spiti which connects Lahaual and Spiti valley. The roads here are non-existent. At one point, the road was so steep that bullet was struggling to climb. I had to ask Roli to get down and meet me little ahead.
But the real taste of adventure came when we took a turn after descending form Kunzum towards Chandratal. It is a 14 kms stretch. The road is wide enough for one vehicle only. And on the left lies a steep ditch. It is so steep, remote and unconnected that if you fall, probably no one will ever discover you. You will be gone without a trace into Chenab. The stones on the road are big enough to change the direction of your handle. One may not realize the difficulty in a car but for me it was the most challenging ride ever.
After covering 11 kms in one hour, we reached the camp. There is no electricity. Many camps have started removing their tents. We rented one tent, found few friendly guys. It was still some time for sunset and after experiencing mornings in mountains, we decided to go 3 kms further to see the lake. These 3 kms are the toughest. "Savdhani hati, durghatna ghati".
One has to get off the vehicle and walk half a km to reach the lake. Chandratal Lake is located 14,100 ft asl. It remains frozen 8 months in a year and on a clear day one can see complete reflection of mountains in the lake.
The lake was magnificent, serene and pure. There were very few people around. It is the perfect spot for people who want to meditate away from the people in the seclusion. There must be some monks around these mountains. The air was the purest my lungs have ever experienced. I was mesmerized by the beauty of this place and thought how in the world have humans reach here. So distant, so un-attached, so holy.
After spending some good time besides the lake, we headed back to our camp. It was so windy that spending even a minute outside the tent was unbearable. The camp guys were preparing for an early dinner. We told them just to boil rice and daal for us.
We sat in the tent in which dinner was being prepared. The guys were having a pot and telling us stories and how anyone, even in a saree, can reach to place like Chandratal due to increasing accessibility which will one day destroy the ecosystem. We were also inhaling the pot. The dal and rice came with butter and salt. I don't know what the taste was like but after riding the bike in tough terrain the whole day, feeling spiritual near the lake and now after inhaling the pot, the rice felt damn delicious.
We slept around 8 PM and the night was full of nightmares. Due to the altitude, we couldn't sleep well that night. We were frequently getting up in between only to realize most of the night is still left. Nothing was help. God knows what all was coming to my mind. I promised myself that I wouldn't come to such dangerous places again, only to laugh about it in the morning.
Day 6: Chandratal to Manali
We were planning to reach Manali by 2-3 PM so that we can get some rest, hearty lunch and be prepared for our bus back to Delhi in the evening.
The morning was windy and chilly. After having little breakfast, we left Chandratal at around 8AM. IN next one hour, we were at Batal. This time we didn't stop for anything because we wanted to reach Manali at the earliest and there was some momentum while riding and we didn't want to disrupt it.
The only unwanted incident happened in our trip happened today. We were between Chhoti Dhara and Chhatru, there was a short but steep slope which we had to climb and I increased the speed a bit. I don't know what happened but the handled turned towards right and the bike slipped. Thankfully, due to luggage carrier, our legs escaped unhurt. I still couldn't understand what went wrong. But had the bike turned left instead of right, our fates would be different. There was no one around. We got the bike into stand and spend some 5 minutes there, drinking water, looking at the snow covered peaks and talking about it.
We crossed numerous water crossing and stopped at a dhaba in Chhatru to recharge our batteries. Just as we were climbing Rohtang Pass before Gramphoo, it started drizzling. The slush on the road increased. As we reached Gramphoo, we stopped for few minutes to take some pictures. The number of bikes increased on the road as the road from Leh to Manali and Kaza to Manali merges at Gramphoo.
The most beautiful scene which will always with me is the curvy Chenab as seen from way ascending towards Rohtang. At Rohtang, we passed through number of tourists, sitting in a car or walking on a road with just a jacket on and I said to myself that I hope they get see what lies beyond Rohtang.
Because when you cross Rohtang, your questions no longer behold, you don't require answers, the perception towards life changes and the real meaning of the life unfolds.
Soon we were among the trademark trees of Rohtang. The traffic increased. We reached Manali around 2 and found a cheap hotel for the afternoon near Mall Road. We changed and took a hot shower and went to find a restaurant with wifi. It is because our phones were off from last 6-7 days and we hoped that the world would be missing us. But at least for me, there weren't many people looking for me. Although the world has become closer due to social media and all, but people have taken each other's presence for granted.
We had our lunch, bought Apples to take back home, returned the bike and spares to the guy and reached bus stand on the time to board our bus to Delhi.
Next morning, we were standing at Kashmiri Gate in Delhi hoping that we visit Spiti again soon.
Trips like these make a person humble, it makes one realize the importance of gifts he has and significance which others have in his life. Life on mountains changes the perception. One may not come back with the answers but one surely comes with the questions which eventually help him in self-discovery.