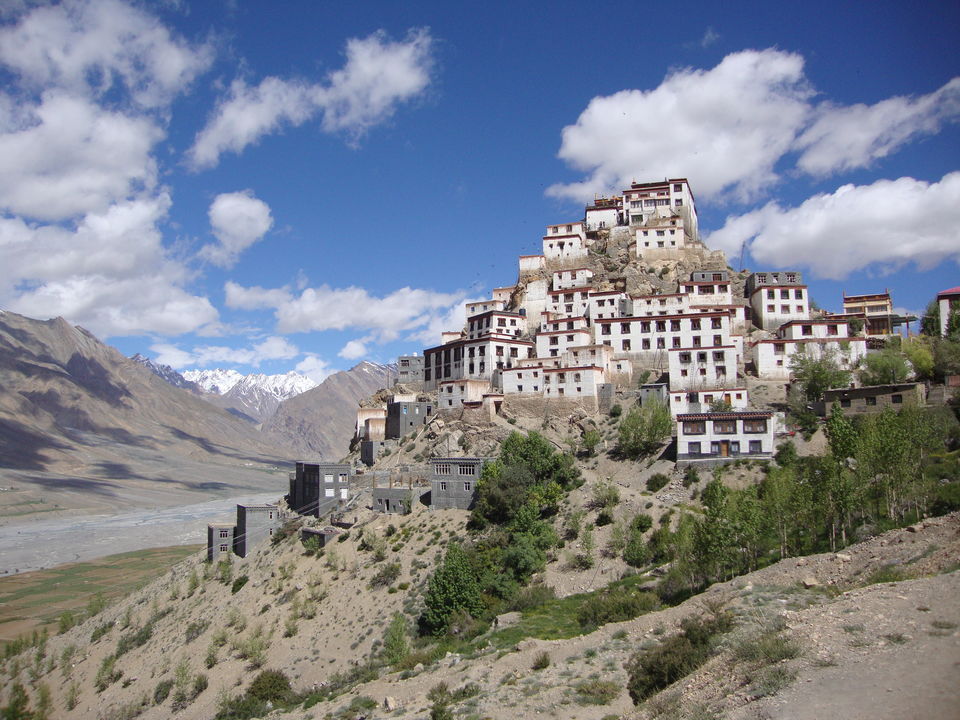 I would like to thank Shobhit Khatter for making this trip a successful one.
So after much cancellations of previous plans for various other hill stations, we decided for this, all the incidents that are mentioned in this blog are true to the core, not a single bit of exaggeration exists.I will try to make this simpler and interesting for you, however i have mentioned every tiny detail i could remember, so this is going to be long 9-13 minutes read.
I(QuirkyAlone) along with professional Photographers Ashish Langade (Troll Person), Mohit Tejpal (Procrastinator) and also Shobhit Khatter (Jugaadu) who all share a keen interest in Landscapes and consider photography their hobby spent 9 days with ups and downs to get those perfect shots and it was all worth it in the end.
We reached Manali on the brisk of afternoon of June 17 after taking a bus the previous night from Delhi, the journey was smooth and little bit hectic just at the end, though we did not had any reservations we had to go out on a miniature adventure for finding a hotel with tons of luggage in scorching sun at the mall road.
After much findings from Shobhit and Ashish in the area, we finally got a motel for 550 per head for a single room, we all were famished from the journey and had to get some spicy North Indian Cuisine for our taste buds. we freshened up one by one, took a cold shower bath, and were ready to hit the mall Road.
We finally got a place where we ordered some Spicy Noodles as starters and Then Kadhai Paneer,Dal Makhani with Butter Naan and Laccha Parantha, no goodness we ate like kings.
Now it was time to explore Manali and specially Old Manali, the locals were very helpful, they will tell you everything you need to know just ask them any question, you ask them about where can you get momos(dumplings) and they will tell you the best momos you can find, the price and the way leading to the vendor. so we explored Old Manali, the beautiful cafes along the road, with mountain belts in the background, the slight chilling effect of the weather, everything was soothing. we really were at peace.
we came back to our rented place in the evening after roaming out for around three hours, we were more excited about the journey from next day on wards and this was just the beginning. we got warm with some old monk and were dead on our beds for another 6 hours.
Now last night it was all cold and again we had to take help from our old beloved monk, we were all set for Kaza which was over one-hundred km away from the Lake, we ate some Puri-Sabzi and Bread Omlette as breakfast in Tenzin camp and it started raining, though it was a mild shower, we didn't had much trouble on the roads or anything, so what we did now was stay hydrated and sit back for the real journey embarked for us in the majestic chains of mountains of Spiti valley.
we were heading up when we moved from Chandratal and came to the maximum height of 4570 metres that was close to 15000 feet something, that was the time where we could again feel the chills in our ears and everything, the place was Kumzum Pass, where sightings of Ibex and Yak was usual, the roads were again not roads but harsh trails of concrete and rocks, i believe the most important thing is to let the beauty of the mountains fill you, there were times when small streams of water were running along the roads, some were deadly, we had to literally stop the car and look for the depth of water so that we can easily pass through, there'd be some twenty-twenty-five streams in all, and that gave you a pristine feeling about the whole place, you will have distances as far as you can see with no mobile living organisms visible anywhere, but all you'll see would be stones and greenery and silence covering the atmosphere, that is when you'll get to know the serenity of the place, the thoughts in your mind flowing freely, about one of the most populous country on earth but still you'd feel you're not in India anymore.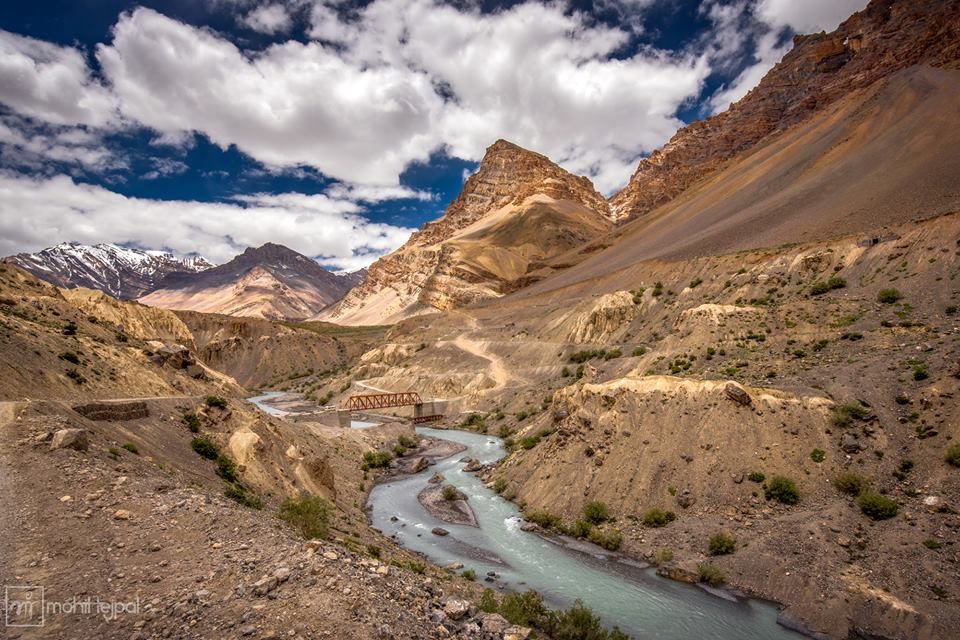 Now i woke up to Shobhit Coughing bad and his running nose, somehow we all knew that sooner or later we will catch this sickness due to sudden rise in altitude, and Shobhit was the first. We had to visit either Key Monastery or Kibber, we decided for Kibber, So now Kibber is a very small village with hardly a population of less than hundred. the home stays are the only option and man the cold needles running down our spine there were something, the village was clean and people again were all warm, we were actually surprised that there was this government school in the area with a Girl to Boy ratio of more than one, now the mountain belt around that area was something to look it, something to find a pattern to, the colossus rocks and carving added to the beauty altogether, during that time only i got this idea of writing it down, the whole experience of the trip, how does it felt?
the night came upon us, it was cold with stars refracting through the layers of atmosphere, it felt like the life will soon come to end for all of us one day, the colors of the sky were fading as if the earth is telling us to shut down for some time, we got back to our home stay to head out again for dinner at this small restaurant where pizza was served, the only reason we went there was it was the only option in the whole village and we ordered Dal-Chawal( Lentils-Rice). That was the end of Day 4 and somewhere i started missing home.
We woke up to the Sunshine of the sun after 3 days of overshadow, this was the day we had to visit the highlight of our trip, which was the Key Monastery, we all had hot Ginger Lemon tea, we also had the audacity of hot water in Kibber, still even thinking about the bath was not a mundane task for us all but Ashish, he was the guy who can take bath even in Winterfell. So there we were ready and all set to go hardly Fifteen minutes from the place and Voila we were at the Entrance of Key, So now it was Late in the morning when we got off from Kibber and still late in the morning when we set foot in Monastery, we were not tired so all we have to do was take the equipment of Photography and walk on the roads less traveled, but before that we had to get some Breakfast as we were starving, so just a small restaurant you can find outside the Monastery which can serve dumplings,potato fries and our very own favorite Maggi and of course people were super friendly.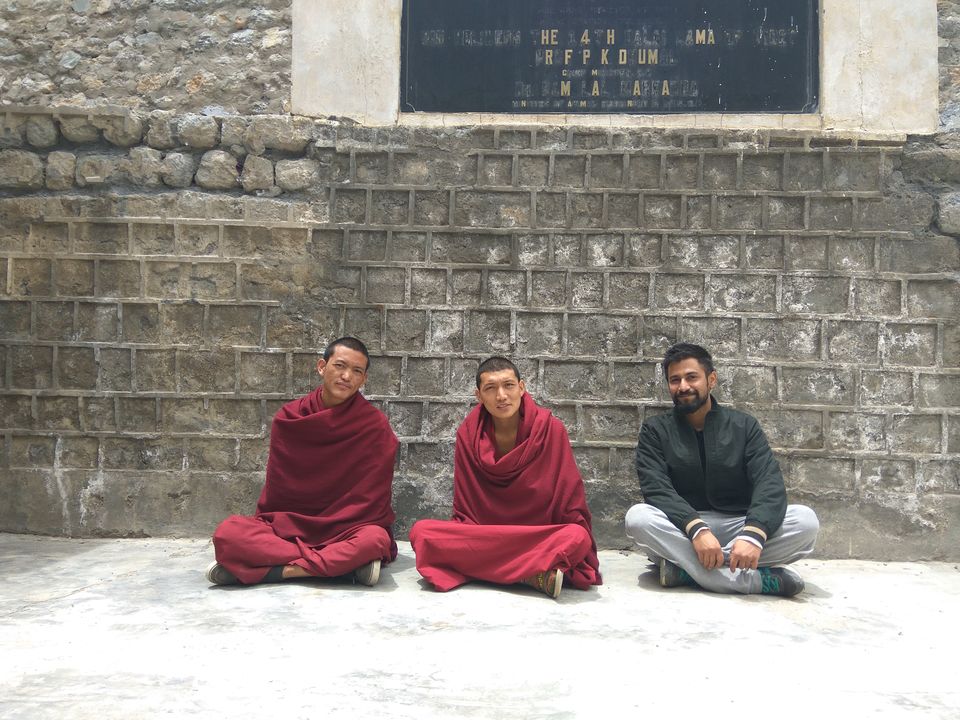 The next day early morning began with Monks preparing for their praying sessions, it was in the main hall of the Monastery where cameras were not allowed, so Ashish and I were awake and we rather took this opportunity to again take pictures of the Monastery from a different angle also there was sun shining above us, the sky was blue and the wind was fresh and chilly, despite all the differences we were enjoying it, we were able to feel our breath, the far distant villages were high definition eye-candies for us, i felt this is the time i'm here, tomorrow only my footsteps will be left but this aura will remain as it is, i felt infinite.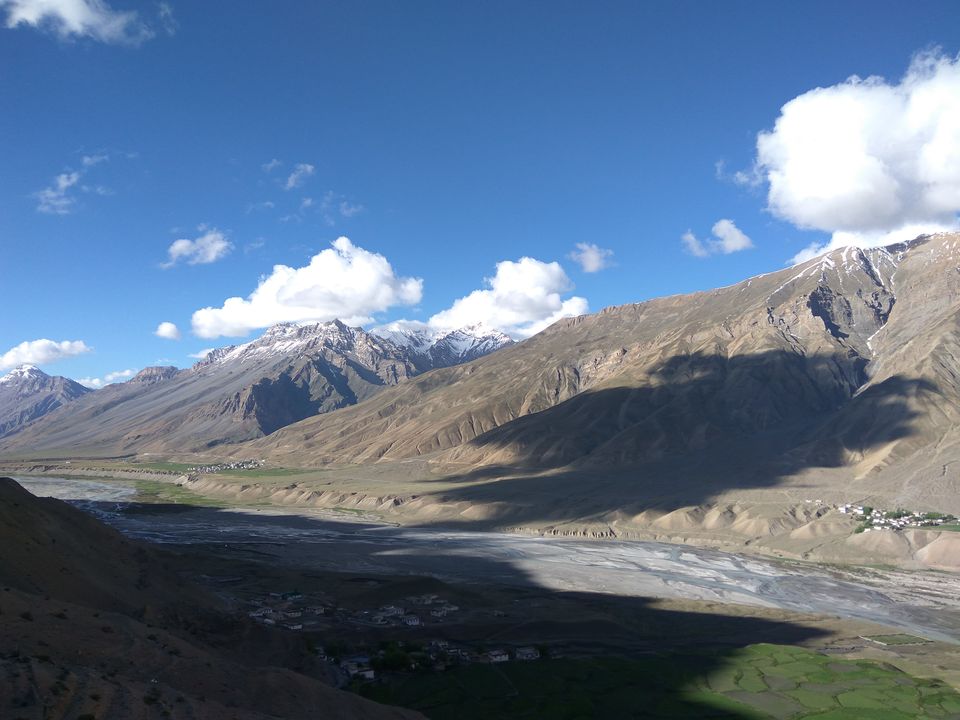 I woke up to a morning any person would describe, sun rays gleaming through the window and all fresh and warm, but wait, sunlight was there but the cold and chills down the spine were present since last night, after done peeing i asked the caretaker about the temperature that was the previous night, she told it was somewhere around negative four,five may have dropped to negative seven as well, and i remember i saw Ashish going during the midnight for star trails and Milky way galaxy, such passion for pictures. we woke up to eat our breakfast which was normal Omelette and home made bread buns, then came the realization of going back, that was the benchmark of our trip, we were bound to go in the direction we came from and not forward, i though went for sightseeing the last time to a big statue of Buddha sitting silently and smiling back to anyone who sees it.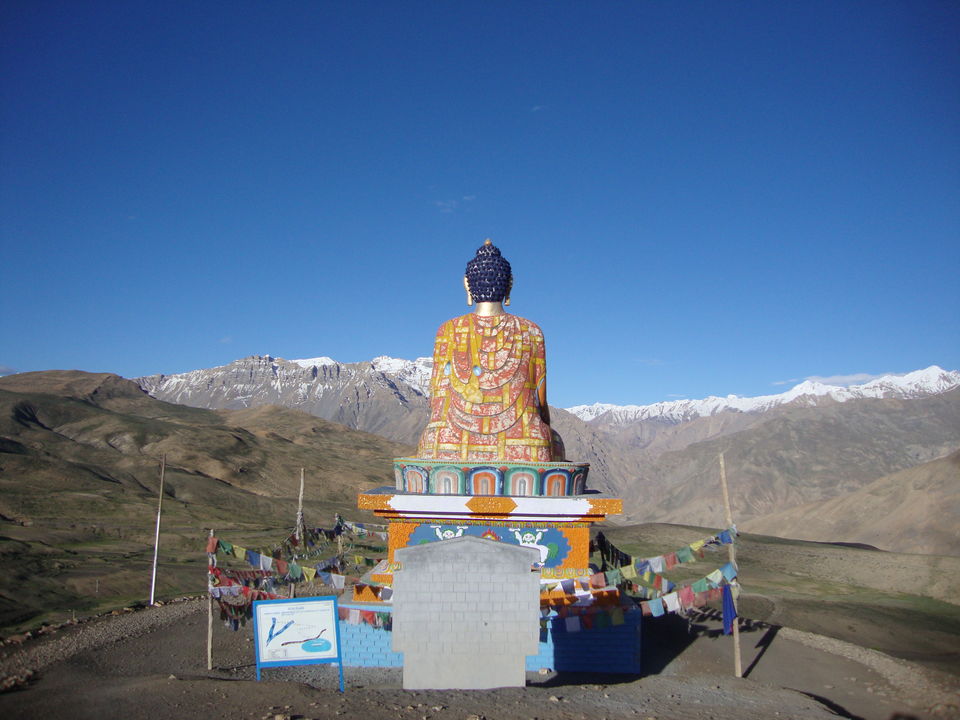 Now it was the second last day where we had to go back to Manali via Rohtang Pass, and we had to start early morning before the sun comes out of the mountains, so we paid for the lodge, packed our bags for one final time and we bid goodbye to the adventure left behind us thinking someday we will think about it and will smile of how we survived the days, we started at seven in the morning and were heading back to Manali in good shape, but what does life says to you when everything is going great "Lol. One second, let me screw it up", just four kilometers from Rohtang Pass, there was this huge Boulder of rock which had come down on the road maybe because of rain the mud had gotten soft, and what else could be done, during the time i wished only if i had one superpower, scores of car were standing, people got out, some even laid sheets of cloth, stoves were out, tea was being made, bread and butter were served to people, Indians are the most amusing species, no matter how big the problem, there is always time for gossip and tea and bread. it was like a picnic spot now, well we all waited for the JMC to come and to remove that boulder but it wasn't able to even move it by an inch, what could be done now, Keep Calm Fellas, now is the time of some real Bollywood, "DYNAMITE", it was the last option and it was surreal, the 'mountain care takers' i would say came with dynamite and of course Police was present to back people off and the vehicles were on both sides, it was like a dream come true for most people to see a large rock being exploded using Tri-Nitro-Toulene, i was rather worried about the avalanche it will create and some more rocks might come falling down again and then it would be a massacre, the silver lining would be for vultures and eagles then, we had to wait until all the cars were backed off to a safe distance, people waited inside and outside their cars for that blow to visit their ears, the mountain care takers started blowing whistles to signal that explosion is going to take place any second now. KABOOM--KABOOM, two explosions as planned with one second interval, small rocks were flying and coming down and some of them even gave cracks to the windshields, it was rejoiceful and terrifying simultaneously, the path was clear, so now the cars going towards Rohtang were given preference in going first, six hours were wasted in that, precious six hours, it was late afternoon, when we had Lunch on the outskirt of Manali just before reaching Manali City, and as it was a Saturday, so Manali was jam packed and the thought of staying back in Manali was going down with our tiredness, so now what we decided was to not stay back there and head back straight to Chandigarh, we can stay there for one night and then next day, back to Delhi.
It was 5:00 in the morning when we felt the cool breeze and the chirps of the birds, Shobhit and Ashish were already up setting up things and packing stuff, we had the chance to take a bath but winter was already on the way, so we neglected it.
we had booked a Taxi from Manali to Manali over a period of seven days, which was for 28k(everything included), the Driver was one hell of man, now let me tell you the difference between drivers who drive fast and drivers who fast drive, the former ones drive fast neglecting the comfort one feels inside the car and also don't care about their vehicle, he was the latter.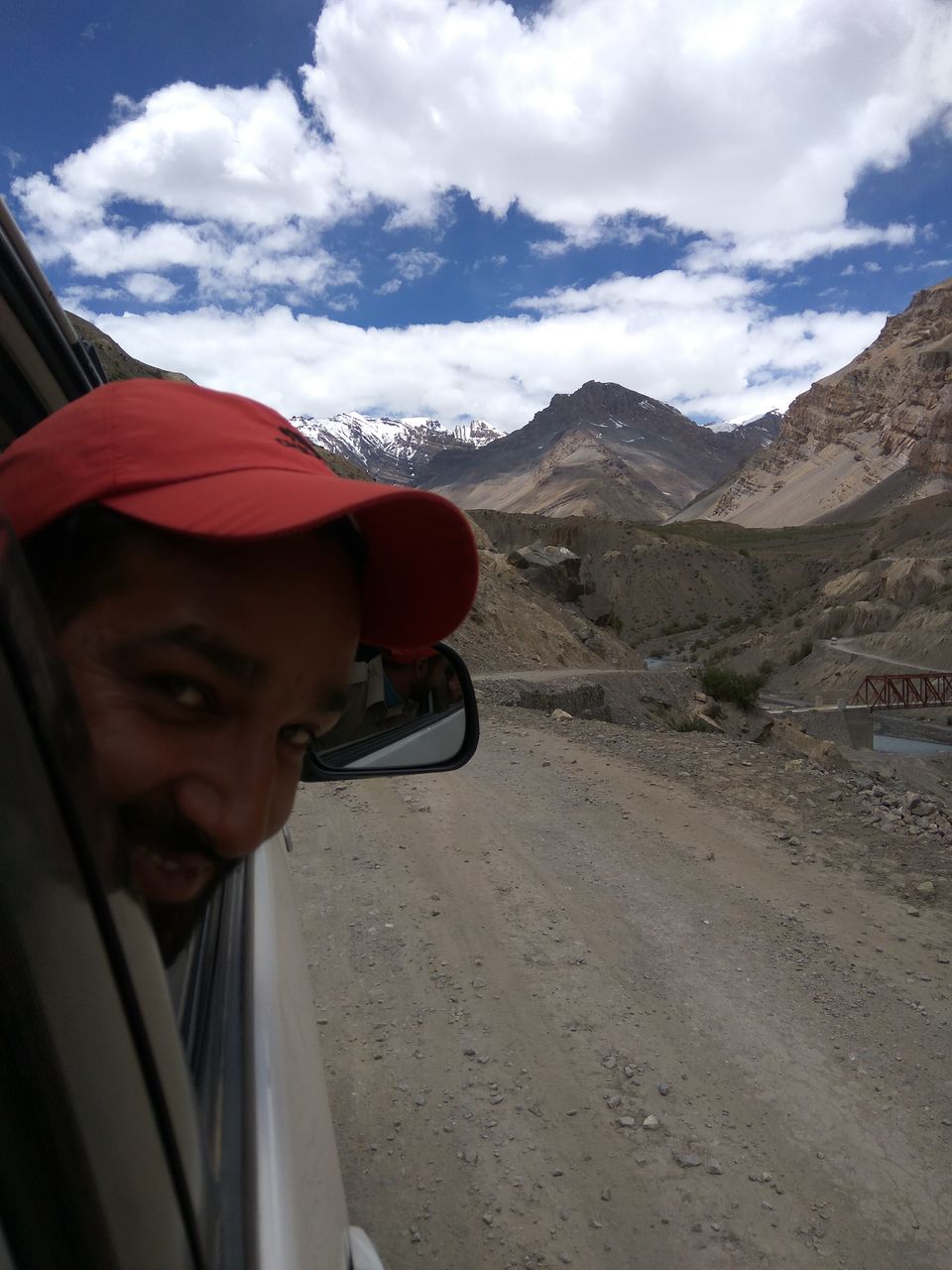 So now, after dragging through Manali City till Mandi, we had light Dinner at around Midnight at a Dhaba of Day 8-Day 9, our Driver Virendra took some "Herbal Medicine" to stay awake all night so that he can drive, the reason we were going to Chandigarh was Virendra had to go to his home town in Jalandhar and Chandigarh would come in between so that is why, and then we marched there in our 4x4 Toyota Innova with speed not less than eighty at any point of time, in five hours we covered three hundred and fifty Kilometers and we were at Chandigarh, it was 6'O clock in the morning, we thanked Virendra for the awesome driving and his time, bid farewell to him, we weren't sleepy at all as we did slept for four hours in the cab, so we all decided to take a bus back to Delhi then and there, the ticket was of five-hundred and fifty rupees, and again in next four hours in the afternoon when we were in Delhi, we all were feeling the heat, we all were tanned, we all were full of contentment and emotions, we all smiled at each other saying this is not the end, we are again having this kind of adventure, and we four parted in our ways. it was heart throbbing. Finally i got back home Late Afternoon. :)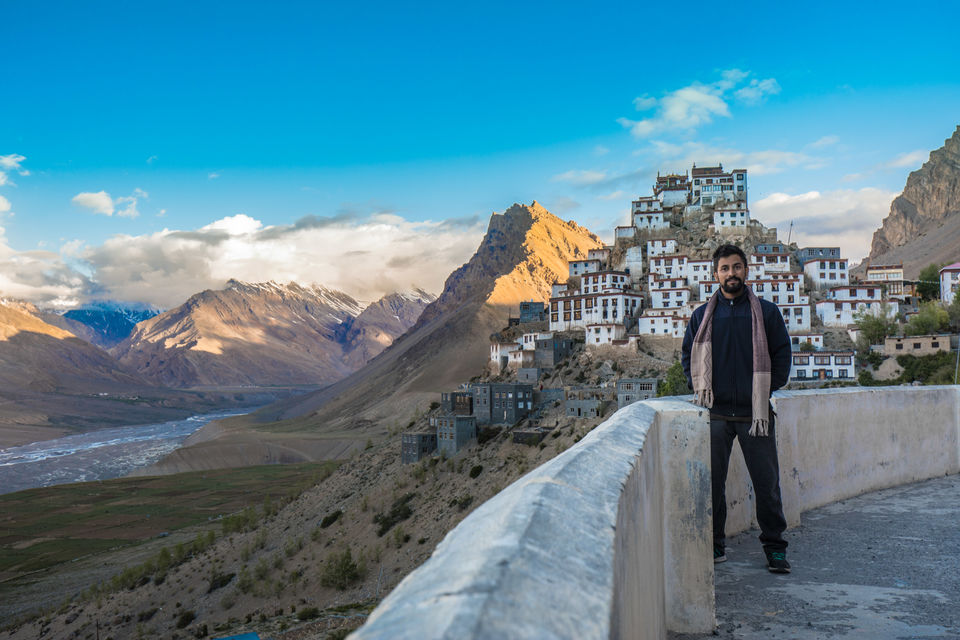 We kicked off our journey from the Mall road towards the trails of Spiti, we had to pass the famous Rohtang pass first, the journey towards Rohtang pass was smooth, the mountains were high and were vanishing into the clouds, the air was fresh, the green and blue mix were all energizing the neurons of our mind, however as we went on weekend, we did get traffic reaching up-top, we did have to get a permit to pass from Rohtang to go deep into Himachal.
After Crossing the icy Rohtang Pass, we were unaware of the route of Spiti as GPS was out of the equation, we went ahead towards Leh Route for some distance when they pointed that Spiti valley route is different, we had to go back for 4-5 kilometers to find the correct route, we saw it and we were flabbergasted it was a road hardly two meters wide only for one vehicle to pass at a time and it was all harsh and looking like just trails and no concrete, well that's what everyone wants during a adventure trip, isn't it?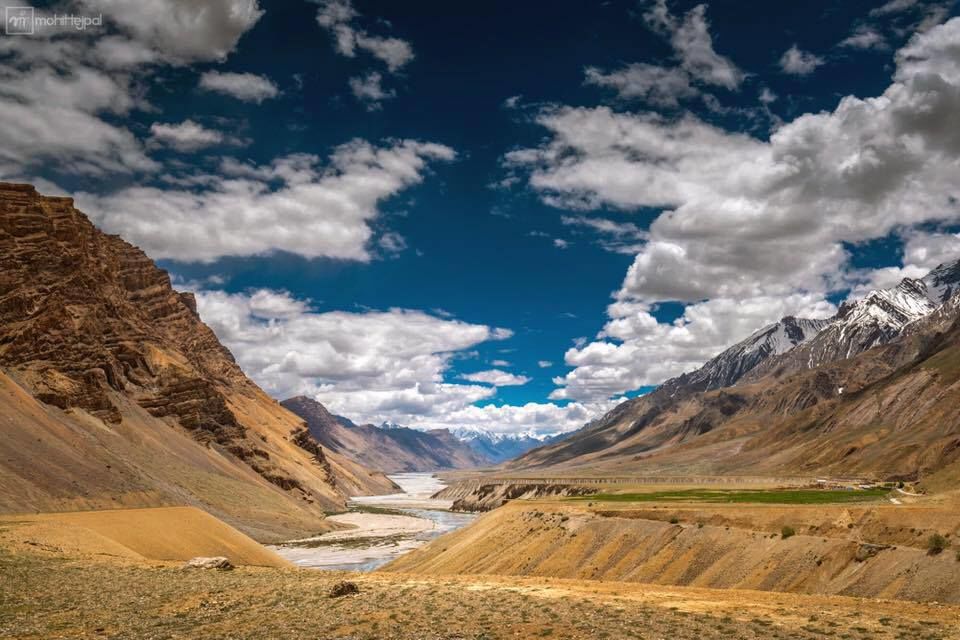 it was the afternoon of Day 2, and for three hours we were shaking and were used to the clinging of bags and lockets and seat noises, as the roads were not roads but trails, but man the scene outside the windows were this much severely cooler than anything. All the time our minds were like stop the car here and take some pictures but this was just the beginning. we were heading for Chandratal lake and there was this Famous Chacha-Chachi Dhaba in Batal( a Must stop) Chacha-Chachi are again super friendly people, they are always full of energy despite both being 50 years old, but try asking them their age and when they'll answer you, you'll definitely get a smile on your face.
From Batal, Chandratal lake was hardly 45 minutes(16Km), the roads got more rocky and at some point there were plains as well, the sun was just kissing the mountains so we reached the campsite and the cold we felt as soon as we got of our taxi, we could feel the chill in our spine and in ears like spikes, so there was this popular Tenzin Camp, they have tents from basic to luxury, we got a tent for 2k for 4 people with no toilet attached, we had to use the public one.
now the question was where was Chandratal lake, it was all mountains all around, we couldn't see it as far as we were looking, so the lake was again five kilometers from that site, and all vehicles could only go to a certain point, from there also we had to walk another 2 kilometers for that hidden beauty on this face of earth, but duuuude, when we got there and we saw the musky blue water among the greenery around and the black crystalline mountains on one side, it was something unique, the beauty was incomparable, the sound of the water was the voice of nature supporting everything in it, it could have it all, it was soothing to the core. we knew if we are no more on this earth, this would be still here still this beautiful, still this silent. the day was coming to the end and our hearts were filled with questions about life, love and universe. Ashish, Mohit and Shobhit were all at peace with their lens machines staring in the water trying to ask it 'what is the answer'?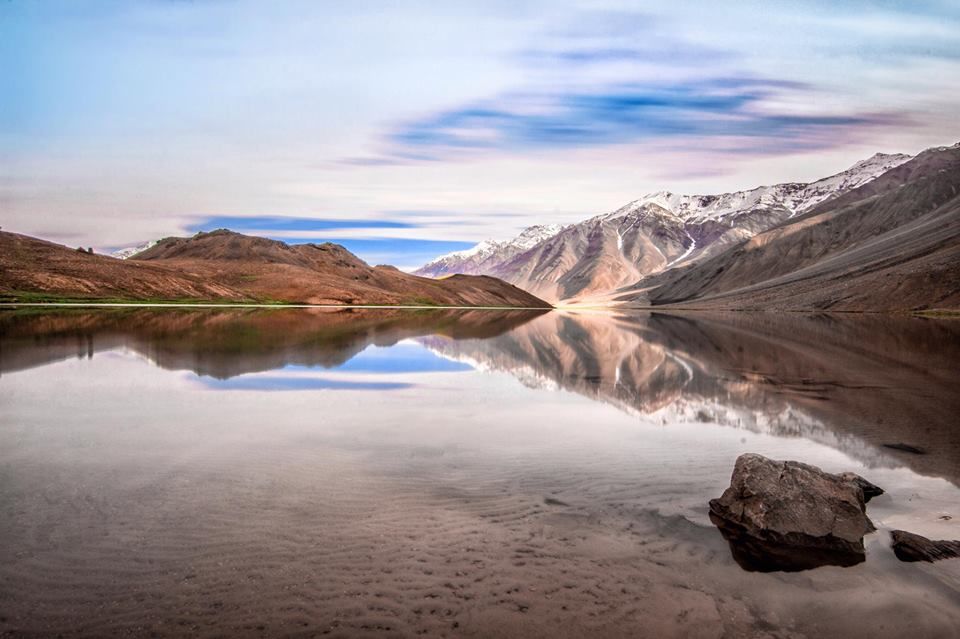 After travelling for about two hours, you'd reach a place known as Losar, where you can find some cell reception, there will be a checking post where you have to do an entry of your vehicle, you may stop there for satisfying your taste buds, now Kaza is another thirty kilometers from the place, and that is where the real Spiti will start flowing, it'll be all like a picture you've seen in textbooks in school and magazines, you'd think to stop if this is the place for the perfect shot or that would be, but let me tell you this will be the place, no matter where you stand, you can get a imperfecto of this scenic beauty.
Now Mohit is the type of person who loves his work but would sleep if feeling hungry or tired, so he would make us stop the vehicle anywhere for a quick grab of snacks, he just does not wanted to get out of his comfort zone anymore, and Ashish is just the opposite, he will never ever compromise with the things he loves the most even for a minute and that is photography, so they were always at this cold war of working and relaxing, but Shobhit and I knew we were there for a mix of both.
we reached Kaza just before sunset and again the search for hotels started, now Kaza is the most developed town in that area, the cell reception was good, so our first thought was to call home and tell our people that we have lived yet another day, we finally found a hotel in the old market of Kaza, the aurora of the market was healthy, people were friendly, smiles and talks all around, cool breeze from the mountains residing over the town, we were starving, we ordered the most popular local food - Thupka(a mix of soup with noodles and vegetables) however you won't find it spicy as we Delhiites crave. We had to freshen up and wait for the stars to come as the skies were clear during the time. Ashish and Mohit went late during the night for stargazing luckily they found a local guy who actually took them in his car to a point where the Milky way Galaxy was visible and that was it, we knew all about the Himachal's people heart and the stars visible from that area.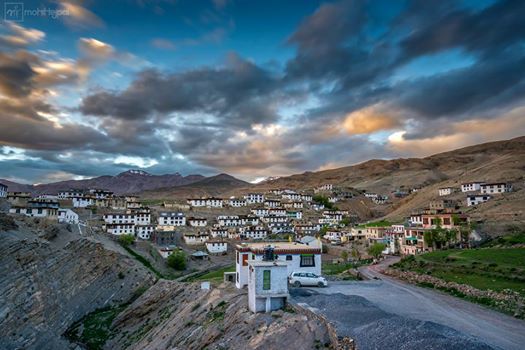 So there is this Monastery school which is funded by the Government and some Non-Government Organisation of USA and taken care of by the monks in the monastery itself, you'll find kids playing and studying and what all kids do in school, they will be all smiling and cheering for everything and playing with anything they find even a puffed soccer ball, their joyous eyes will take your worries away, you will feel the air flowing, the sun shining and the brisk voices of the leaves altogether it will be something, the more you'll try to interact with them the more they will open up, simple joys of living is the motto they would all stand by, it was a good time seeing them studying playing and interacting.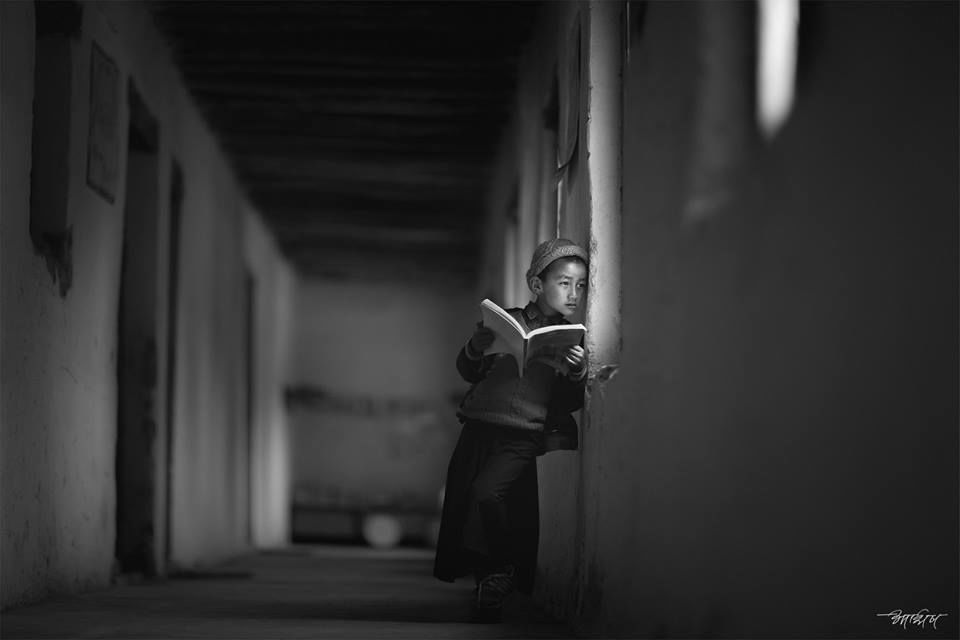 So now we had to take the shot which was the Epitome of the trip, the Key Monastery, we headed back for lunch before heading out again to climb the raw rocky mountains to get that perfect shot, now Ashish and Mohit being Brand Ambassadors for Nisi Filters had to do it anyway as it was their bread and butter, however for Shobhit and me it was more of a adventure trek, the idea to climb the mountains without proper gear but costly lenses wasn't such a great idea, we did somehow managed dragging ourselves inch by inch to the point where we can get the sunset just behind the back of the Monastery, we finally set the tripods of the cameras and clicked some good pictures to show the beauty to the other side of the world. We were somehow feeling a sense of fulfillment sitting there at top seeing the mountains and seeing the setting behind it, contemplating about- we come, we live, we go. How can a normal day defines so much about a life.?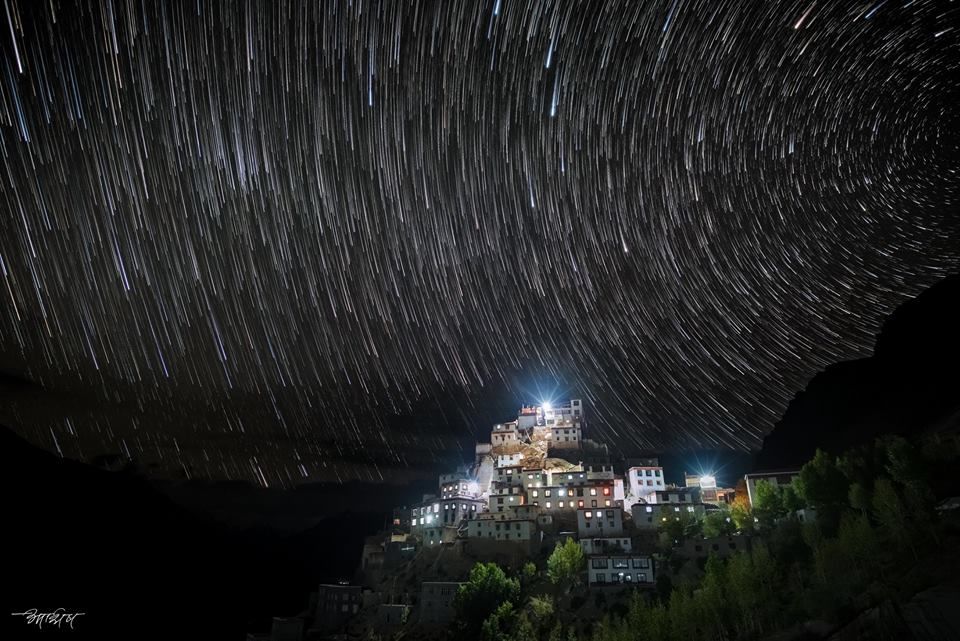 So now coming back to reality, Shobhit and Mohit were up and we were all set for Langza, this place didn't existed on the political map of the area but for the people there it was a regular thing, it was like an hour from the monastery but herd of sheep made that more than an hour, we have had our breakfast in Key so we weren't actually hungry, there was this home stay i still remember named "Sonam Home Stay" the lady taking care of it was the sweetest stranger i have ever met, her daughter was a cute shy one and her father-in-law the person whom you don't want to negotiate with, not because you're an evil manipulator but he'll give you the room with a smile & warmth with a fixed price of five-hundred rupees everything included. Now while i was all into this emotion and Sherlock mode of Analysis of humans around me, my three mates had gone sightseeing in our Taxi, and i'm all left with my stuff in the room, now this was the coldest place among the places we have spent nights during the trip, so believe it or not during the day time when sun is shining, there was snowfall, it was very minute like pins of snow falling with mundane wind flow, i got to know the toilet here is the one used even before Mohenjodaro and Harappa, the one you go to, you see a pile of shit already in the pit and the gush of strong wind coming from beneath onto your bums and nuts and you getting the feeling of war, this was the time i remember the movie Slumdog Millionaire after long, luckily i could wash it off using the drinking water else Toilet paper was the only option, that is what the whole village used, and they took bath once in 3 months, it was like i'm on a different planet, everything was hard to digest( pun intended), my mates are still not there after 2 hours and i'm getting thoughts of they leaving me here to die, but as innocent as i look, i always have a plan B, i fragmented the way i'll go back with enough cash in my pocket i could do it, this was the time i completely forgot about them and i was all alone in a room which was more quiet than a room with pin drop silence.
Bonus Incident : i thought i was already withering with my thoughts loudly bouncing up and down when after staying a while in the room so quiet,when a Traveller vehicle pulled up and some 10-15 lovely pretty ladies came in to ask the sweetest caretaker to make them Biryani( Steamed Rice with Boiled Chicken), i overheard one girl saying to the caretaker that they were here before last year and loved the Biryani, and they were passing one by one along my room seeing me sitting there in despair doing nothing and looking back at them. i was suddenly lost in my fantasy world with them and my thoughts of death were dead, Women i must say can put you in the brightest of situations from the darkest isolation, though it ended up them leaving one by one passing by my room and looking at me sitting in the exact same position and spot just this time a smirk on my face.
My lads came back and i was angry and relieved at the same time, they told me today's night is going to be the coldest, i somehow knew this is the winter that will hit me the hardest of all my days on earth. so of all the meals we've had that night in dinner we got the meal which every indian loves Rajma-Chawal(Kidney beans-Rice), that made us stuff more of it in our bellies just in case. The Night came and it was hard, i remember i was wearing everything i can wear when i go out in the morning to trek or sightseeing, and me was in the bed with two blankets on top and my urge to pee was still urge for the night and this was happening in the month of June. we survived.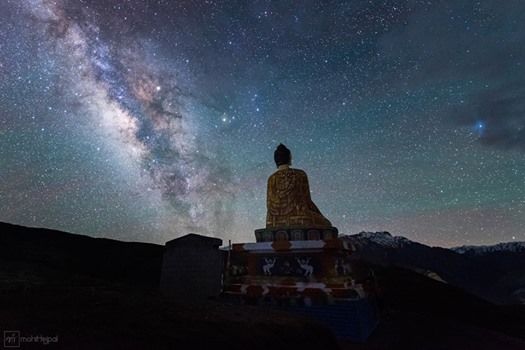 We departed from there around noon for Batal where Chacha-Chachi's Dhaba is, we stopped in between at Losar where we did Lunch and then coming back all the way to Batal via Kumzum pass. Now the feeling of home comes the moment you step into Chacha-Chachi's Dhaba, the liveliness comes into everyone and everyone is chatting and eating and smiling and the aura is all warm and light. there was this government made lodge just in front of the Dhaba where we were going to stay for the night, it may look haunted during the day with no person inside just your voice echoing however by the time night comes there will be more people filled in the lodge than there would be beds. The night was cold as usual but again i forgot to mention during all these cold nights two bottle cups of old monk helped us a lot in it, and so was this night.However that night i took the initiative to step out in complete darkness for seeing the galaxy and shooting stars with my own eyes with Ashish who was a nocturnal person during the trip, and that night was one of the most memorable nights when i was able to see the milky way with my own naked eyes and lot of shooting stars as well, that night made me believe that how miniscule we are in this world and so are our problems. one side of my body became numb due to the cold wind flowing but since i knew this night may never come again, i was easily bearing the chill which i wouldn't even think about on a cold day. The night's watch ended there with all four of us seeing the elegant visible universe.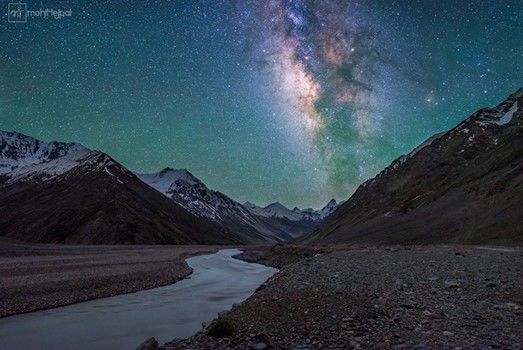 Follow Ashish, Mohit and Shobhit on Instagram for more incredible pictures, some of the pictures here are their's only.
Ashish Langade @Ashish.langade
Mohit Tejpal @tejpalmohit
Shobhit Khatter @iamshobhit