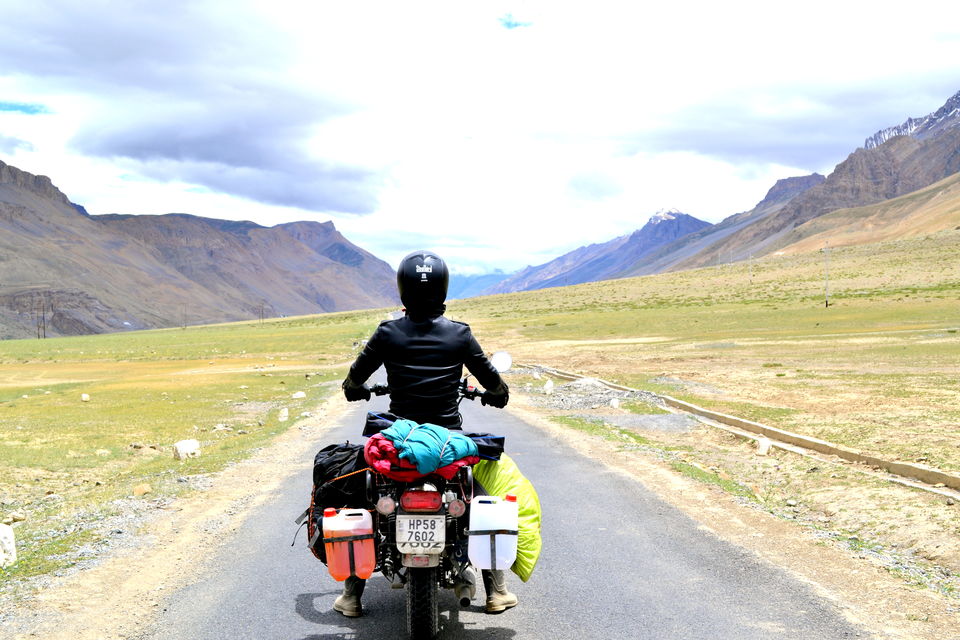 So you are looking for a vacation that will give you an adrenaline rush to a point that you are left forever high, butterflies in your stomach, to a point that you start loving the intense feeling of being borderline crazy all the time, and all of this while you are soaking in the beauty of nature, unparalleled and undiluted, do the Spiti Trail . More so, do it by yourself and do it on a bike.
I may not promise you the easiest of rides, no, not by far.
But what you will be left behind is a lifetime of memories and a sense of pride, at having survived some of most treacherous terrains in the world. And by treacherous, I mean, expect a few landslides here and there, the temperature touching sub zeros with no prior warnings, and no roads, anywhere, at all.
You may find a couple of routes to Spiti. The ex- Manali trail and the the ex-Shimla trail. The former, being the shorter one, though only in terms of distance. Make no mistake , it is just as formidable.
I started from Manali as early as 0400 hrs. The drive from the Manali town to Rohtang is a piece of a cake. The road is as smooth as butter. During peak season, we have a police checkpost at Gulaba, where they allow only a certain number of vehicles forward, everyday. Get a permit from http://admis.hp.nic.in/ngtkullu/Home/InformatoryScreen.
Make sure to spend some time at the Rohtang top. Also, be very aware that this is exactly where the AMS starts to kick in, the reason being, the increase in altitude and the temperature drops.Spend some time to acclimatize.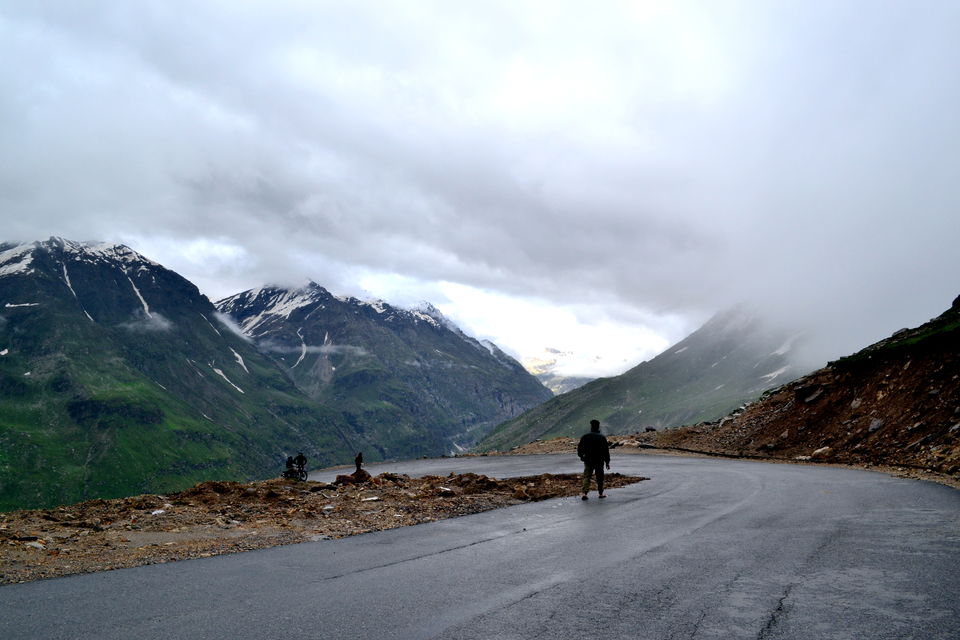 Beyond Rohtang, the state of roads start to get worse, although bearable until Koksar. Again, you might miss the board which says that the road to Spiti is to the right. Firstly, since it had been raining for a few days now, the board was nowhere to be seen. Secondly, it's a barely noticeable turn, when you are going towards Ladakh. In my case, I reached Koksar and rode 5 kms back just to find fellow riders stuck at the turn. Supposedly, the road to Spiti was badly hit by landslides and not do-able at the moment.
So another hour passes by, with the locals warning us about the conditions of the road ahead. Also, folks from BRO were apprehensive of the roads giving way to the landslides. Post one hour and a long discussions with the fellow riders, who decided to still go ahead and do the trail, we decided to ride further.
Sometimes, in your life, no matter how positive to are, you do get a feeling, that things would have been a lot better if you had decided otherwise. The roads were almost nonexistent. And water flowing through there. Mind you when I say, through them. Also, the weather starts getting frantically rough.
The next 6 hours, were a struggle to survive. The terrain is best not described. One needs to have a first hand experience of it. It was pouring by now, and we were riding in roads submerged , upto the lower shin, in ice cold water. It was dark and cold. The only hopeful thing, however, you would find is the brotherhood of the riders and the people around there. Everytime, there was a stream, people would be more than willing to offer help. Cars and 4 wheelers being pushed, motorbikes and other two wheelers being lifted, and people crossing the streams hand in hand.This world, afterall is not as bad as it looks. Except for ISIS and the shit heads in Jammu, pelting stones at the army. That stuff, is bad.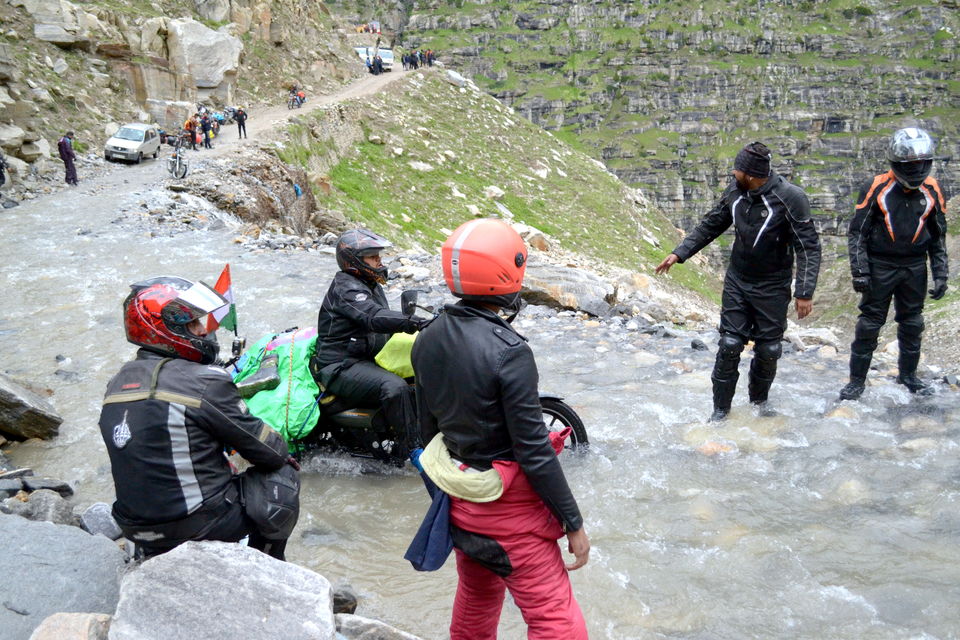 Anyways, the day ends with a flat tyre for me, broken shock absorbers for another and a leaking engine for a few others. I decided to stay back at Batal, which has exactly one small shop, one igloo and one guest house. The night I spent there was probably the worst night of my life. The cold was beyond bearable. And , to be honest, I did say these exact words to a friend of mine, " dude, I am unable to breathe and feeling nauseated. I might pass out any moment now. If I don't see the light of the day, you know what you have to do." It indeed, was so cold, that night. And I was lucky to have gotten a place to sleep. I could see people around me nauseating and vomiting and with severe headaches. Guys, ACUTE MOUNTAIN SICKNESS (AMS) is real and you never realize when it hits you, until it's too late. Camphor oil helps a bit. But what is important , for you to understand, is that you have to let your body acclimatize. Also, every time you start planning such a trip, start preparing yourself for the same physically and mentally. Swimming a lot helps. Also, jog a lot, every day. God forbid, if something goes wrong, you would not find any help anywhere in the radius of 200 kms, just a handful of people and that is it. Do not exert yourself. Stop immediately if you start feeling restless and unsure of going further. Also a piece of advice. Wear a trekking one piece suit on top of your riding gears. It does help a lot as it is both waterproof and cold proof. But it does look silly riding a bike wearing it. I am the one in flashy red.
The next morning ,fortunately , was clearer than before. But I had tasks at my hand. A flat tyre and a leaking engine. Not good. Just as things start looking bleak, miracle happens. A touring group was passing by and they helped me with a spare tyre and a little petrol for my journey ahead. Note, lest i should forget, always carry spare petrol. Always. There is no gas pump between Manali and Kaza and most often than not, no gas at the Kaza pump.
Thereafter around 20 kms ,the roads split. One takes you to Chandratal and the other takes you to Kaza. The state of the roads though, are still the same. Honestly, barely define-able as roads. Once again, we start ascending towards the Kunzum pass, with temperature dropping to sub zeros. Do take a 500 metres detour to the Kunzum monastery. Legend says it brings good luck. Not much in my case though. Not until the next 3 hours.
Only when you reach Losar, you find signs of life around you again. Also,I was all by myself from Batal to further.
From Losar, the struggle lessens and the ride becomes more enjoyable. More. Not that it wasn't, any before.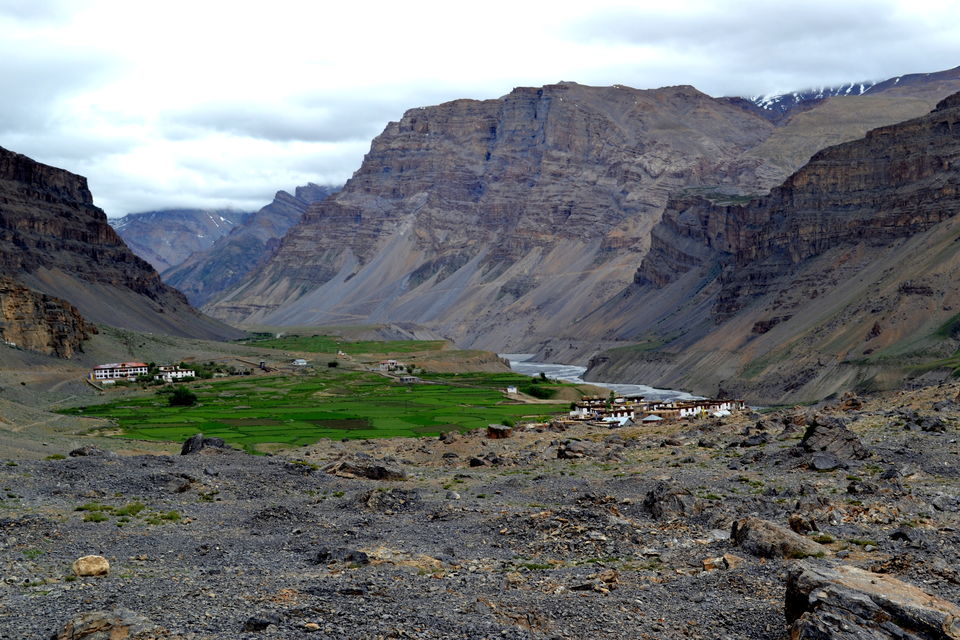 The last 21 kms before you reach Kaza is heaven.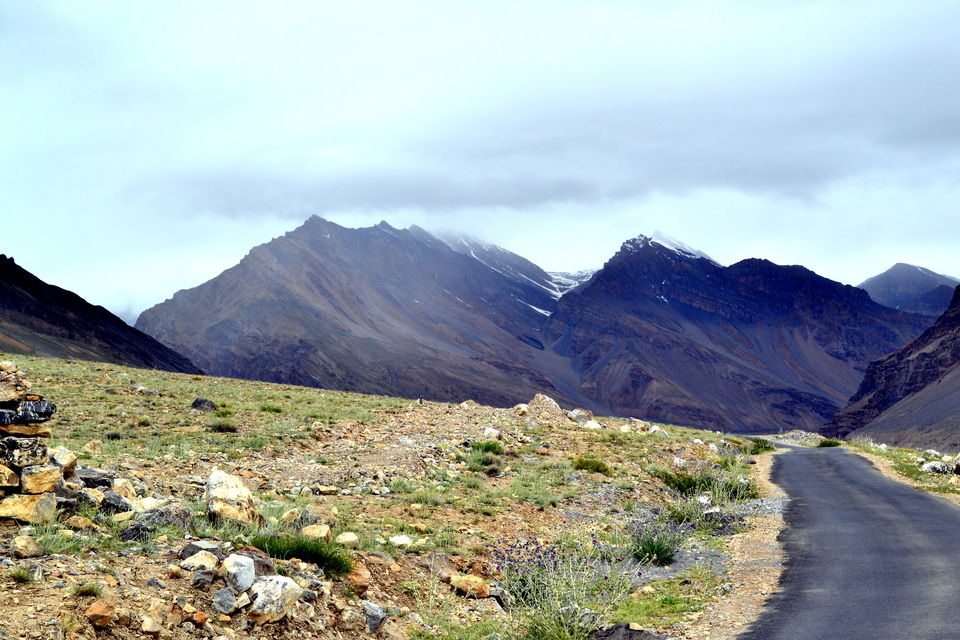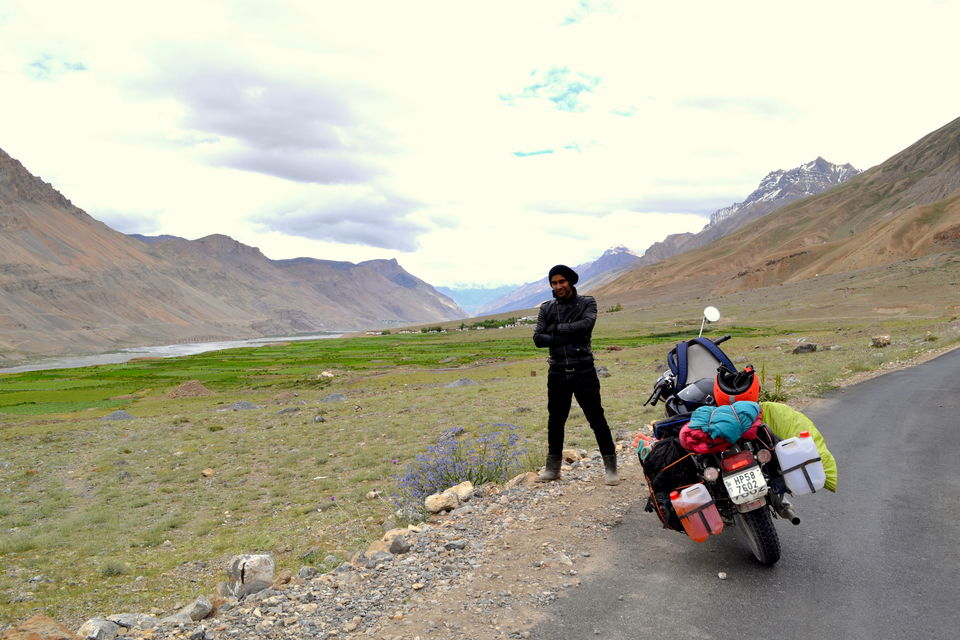 The Key Monastery.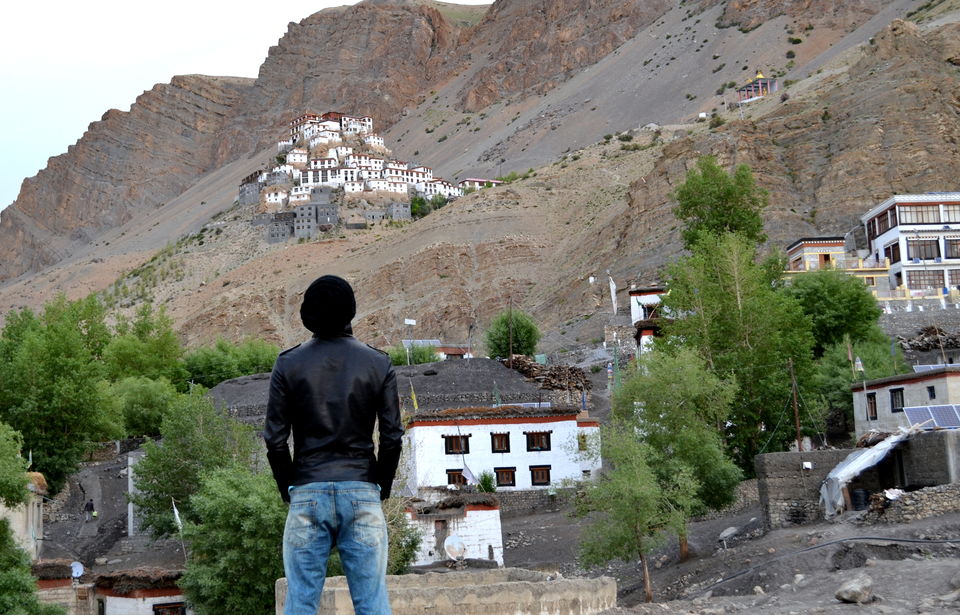 The Kibber Monastery.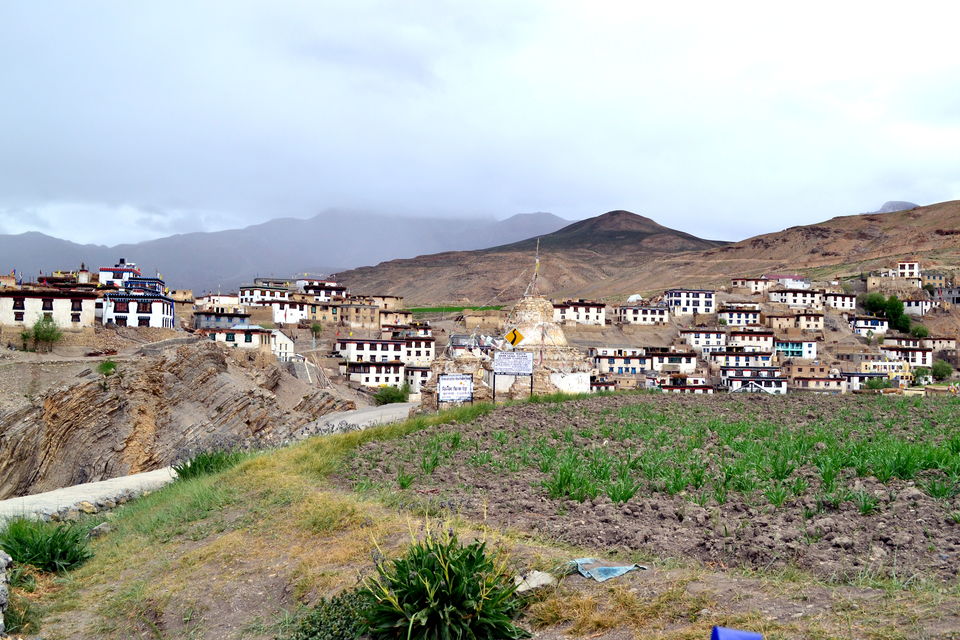 Do Tabo and Nako as well.Sadly, I had run out of memory on my camera. Luckily the video cam still had some ammunition left. From there, you can proceed towards Shimla, or , as in my case, since I had already been to Shimla & Kinnaur, ride back to Manali.
All in all, it was a hell of a ride. Someday, I shall go back and do it again. Hopefully.
P.S . I have not been able to tag my videos. WIP. More updates on that shortly.