"There will be an answer. Let it be."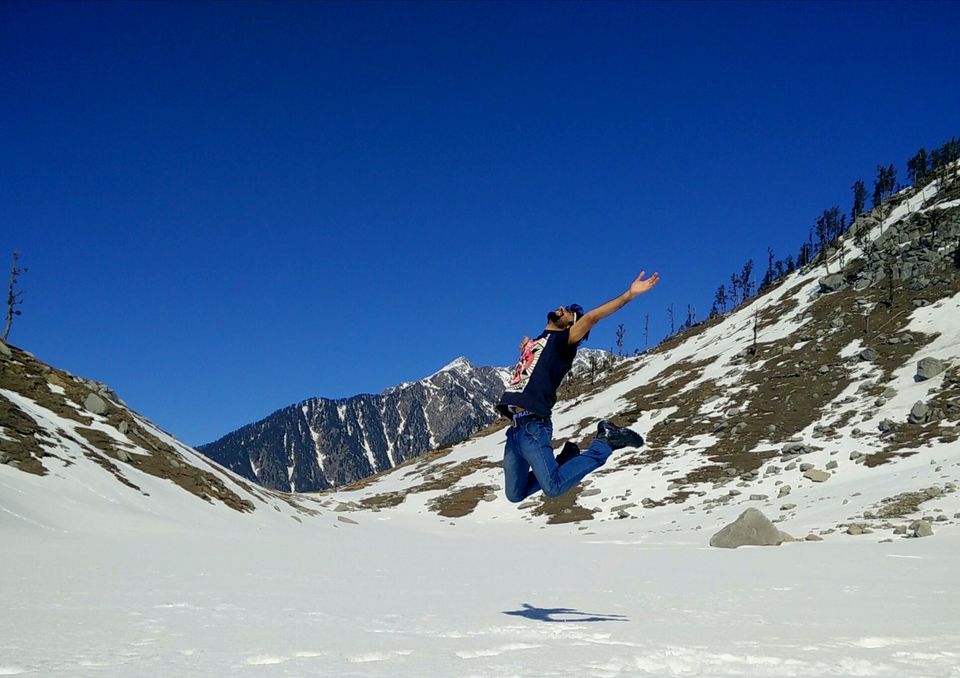 For the past few years, a lot of my friends have asked me to take them along on one of my trips. However, I have always resisted because of two reasons. One, I have had experiences which made me regret travel with someone else. I value the time, the money and the effort that I spend while traveling; I find it hard to jeopardize it. Second, I travel economically. I compromise on everything. Traveling in general compartments of a train, eating on the roadside, walking multiple kilometers instead of taking a taxi; these things are obviously uncomfortable. And I feel bad when my friends have to compromise on these things because of me. However, exceptions are always there.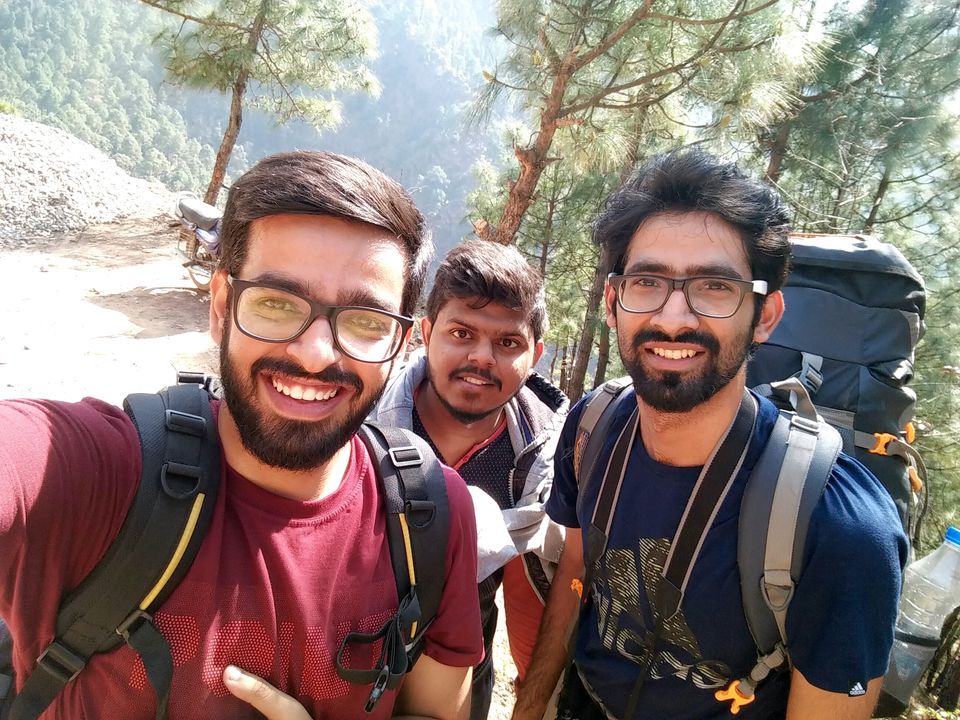 Two of my college juniors (Rahul & Akshay) had asked me at least 10 times in the past year to take them along. I always resisted assuming that they might end up blaming me for one of the worst trips of their life. Thankfully, I was proved wrong.
Given the adventures I've had with the unplanned solo trips, I decided to skip planning for this one too. I did have some idea about the place we were planning to go to. However, we didn't make any bookings apart from train tickets, which weren't confirmed. Also, Rahul and Akshay either trusted me too much or they were lazy as hell. They weren't concerned about anything.
Our train was deemed to leave at 10:45 PM. I recollected the last time I met Rahul was over two years ago. However, we'd been in touch. Akshay and I work in the same company, so I met him frequently. We all reached the station on time and conveniently boarded the train. We ate food that Akshay brought from home. Then, we kept talking till 1 AM as there was a lot of catching up to do.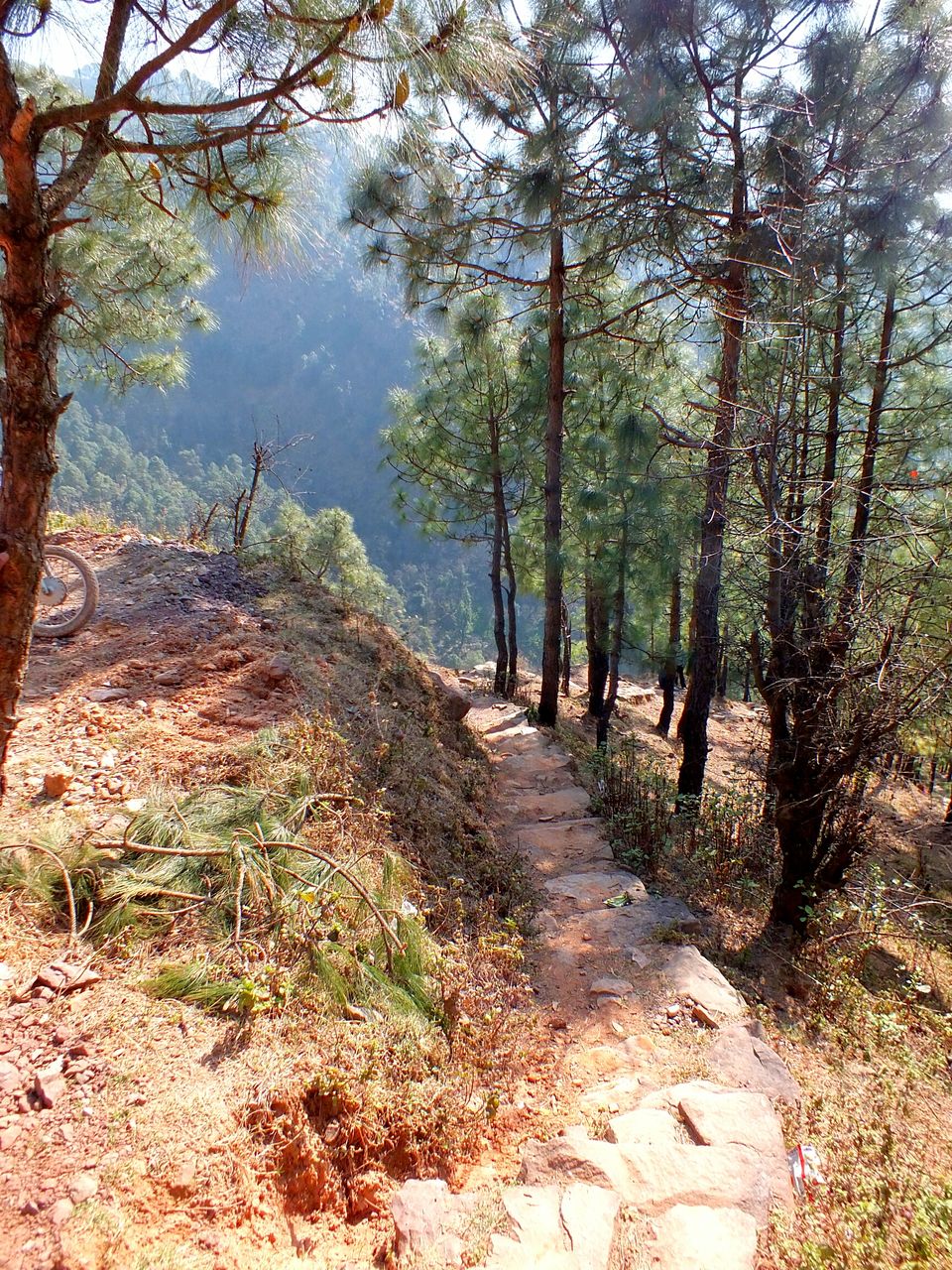 In the morning at around 9 AM, we reached Pathankot and boarded a bus to Dharamshala.
We didn't have much idea about the route, so we kept asking the locals that were traveling on the bus about it. Given that we had limited time as we were aiming to do a 3-day trek in 2 days, we wanted to ensure that we take the shortest path to reach Ghera village. Finally, after changing multiple buses, we reached Ghera at 12:30 PM.
Locals there suggested us not to go to Kareri Lake, which is a 14 Kilometer trek from Kareri Village because the route was filled with 3-4 feets of snow. Though we were suspecting this to happen, we were still disappointed. Anyway, we decided to make Kareri Village the final destination to our trek, which was about 4-5 Kilometers from Ghera. I went to Kareri Village via the same route last year in June. If we would have decided to go to Kareri Lake, we would have taken a taxi straight to Kareri Village which would have been a 12 kilometers route of paved roads and then trekked to Kareri Lake.
Given that it was the first trek (and that too with backpacks) for both Rahul and Akshay, I was expecting them to get tired soon. I was carrying my tent, mattress and sleeping bag and we were supposed to get the same for Rahul and Akshay from Kareri Village.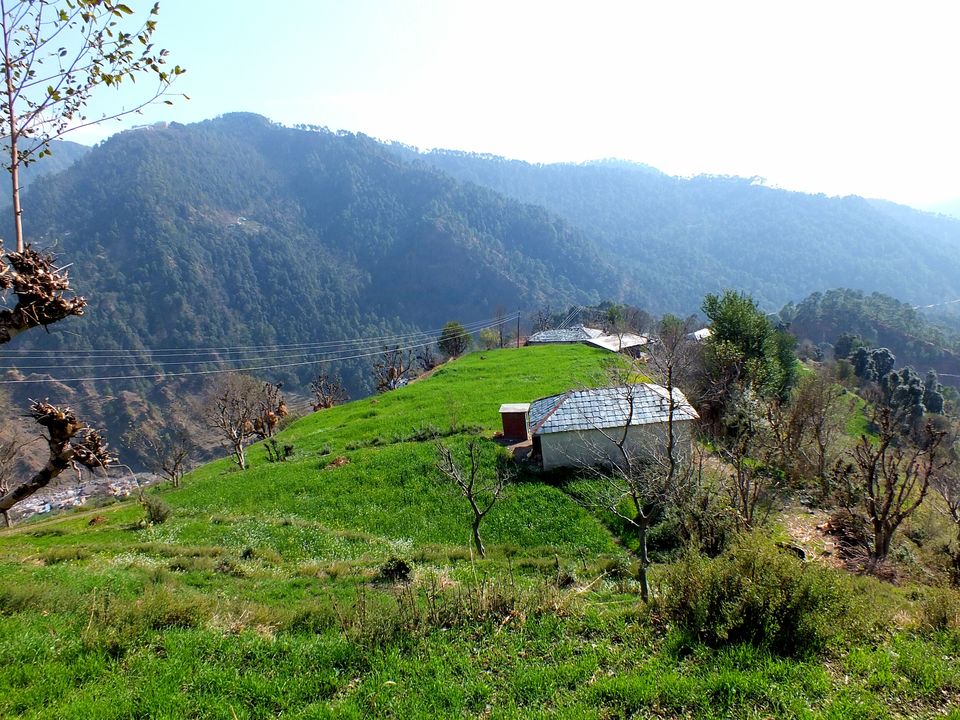 The beautiful green pastures and the glimpses of snow-covered mountains motivated us to keep on moving. I didn't remember the route well enough. But soon I felt that we were on the wrong track and there were no locals around to confirm the same. So, we kept on walking. Finally, some locals confirmed that indeed, we were on the wrong track.
I feel quite excited when I find myself going in the wrong direction for it brings the uncertainty and gives an adrenaline rush. Similar to a child, who is told not to do something, but he still does it. That day, I felt happy about that wrong turn. The locals, who confirmed that we were on the wrong track asked us to have food (Bhandara) at the mandir on the route. Though Rahul resisted, I wanted him to have such experiences. So, we went ahead to have the food. We were served rice and 4 sabzis (Rajma, Chole, Paneer, and Palak) on leaf plates. My god, such great food it was.
After having food, we kept on moving on and we reached Kareri Village at 4:00 PM. I met Uttam uncle, who served me food and gave a place to stay when I visited the village last year. After talking to the people there, we were shocked to hear that people are still going to Kareri Lake. Though the route is filled with snow, one could still visit the lake.
We felt so excited even by the thought of having snow all around that we decided to go to Kareri Lake. I must say, I was impressed with Rahul and Akshay's enthusiasm. We talked to Sansaar Uncle, who is the "go-to" person of Kareri Village. We freshened up at his home, his wife packed dinner for us and we also took tents for Rahul and Akshay from there.
Everyone there suggested us not to leave so late for Kareri Lake. However, we knew that if we didn't cover few kilometers that day itself, we won't be able to cover over 28 kilometers (14 kilometers one side) the next day. So, we decided to trek till it was dark and set up our tent on the route to the lake.
The journey ahead wasn't going to be easy given that we had an extra tent, two sleeping bag and two mattresses with us. Full of excitement, we kept on walking; aiming to cover maximum distance we could that day. We even took shortcuts by climbing mountains, instead of taking the paved path. It was dark; however, we kept on walking. At 7 PM, we reached a village named Naaoli, which was around 3 KMs from Kareri Village. We found a half-built house on the outskirts of the village and laid our tent under its roof to ensure our safety even if it rains.

We all were really happy to have been there. Under millions of bright stars, having dinner and excited about the day to come. Suddenly, we realized that we didn't have food for the next day, so we had to eat less and save up some for the next day.
We woke up at 6:00 AM to see one of the most beautiful sunrises. Rahul told us that he wasn't able to sleep properly last night because of the Akshay's and my loud snores. Akshay and I couldn't stop laughing hearing that. Akshay told us that he dreamt that we had to turn back from midway of our trek to Kareri Lake because of limited time. I felt bad about it; however, it gave me the enthusiasm to ensure that we reach Kareri Lake. We planned to complete the trek by 11 AM and reach Kareri Village back by 4 PM. So that we could comfortably catch the train or take a bus to Delhi.
Neither we were sure of the route to the lake nor we wanted to take our tents with us. So, we thought of keeping our luggage and tent in the village and also, take a guide. Luckily, within minutes we found a guy, Ankush, who was willing to take us to the lake. Also, he was comfortable in keeping our stuff in his home. His mother served us tea, while he was getting ready.
We started the trek at around 7:30 AM and aimed to reach the lake by 11:30 AM. The trek was beautiful. During some parts, it felt like we were in a forest. A stream of water directly from the lake was flowing on one side. Initial few kilometers were mostly stairs, because of which we got tired. However, not having backpack felt like a luxury at that time.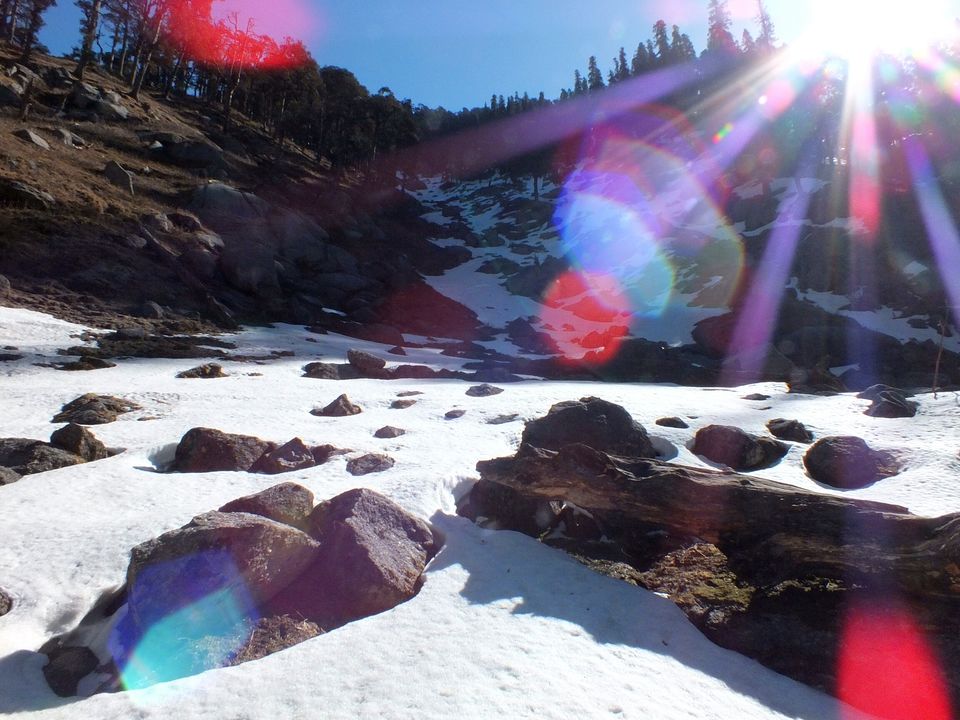 After covering half the distance, we saw a camping site, where we met 10-15 people, who had stayed there the night before. Just after crossing that area, we saw snow. We were so relieved and it felt like we had achieved something. But we knew that that was not the end of our journey. We still had a long way to go. With every step we took, we got more tired but we also got more excited seeing the snow-covered mountains coming closer to us.
At around 10:30 AM, we reached a place, which was completely filled with snow. I remember, how happy I felt just by looking around myself. We were completely surrounded by snow. It was like a dream come true for all of us. The smiling faces of Rahul and Akshay made me happy.
Finally, at 11:30, we reached Kareri Lake. What a relief that was. I started roaming around; however, I wasn't able to see the lake. So I asked a man there about it, he said, "The lake is where you are standing". I couldn't believe it. The lake was COMPLETELY frozen. I was standing on a lake. A lake with few feets of snow over its surface. What a bliss it was to be there. We all were so happy to have reached there. For Rahul and Akshay, it was a different kind of happiness, they had just completed their first trek.
I believe, when it comes to a long journey, life follows this funda " :-(-: " . We start our journey with great enthusiasm, we put a lot of efforts, however, we don't get the results as expected. We get disappointed and sad. We think that our efforts are going in vain. Hence, some of us give up in the middle of our journey. However, we all must know that it takes time for a tree to grow. Without persistence, nothing can be achieved. Only the person, who completes his journey, is able to experience the feeling of euphoria.
One day back, we were told that we can't go to Kareri Lake. The same evening, we started our journey, even though everyone asked us not to. In the morning, Akshay told us about his dream of us not completing the trek. Throughout the trek, we were uncertain if we will be able to reach our destination. Similar to life, our journey was full of uncertainty. We had no clue of what was going to happen next. We just kept on moving step by step. We tried to give our best with the things we had in our control. We were gifted with a place, which was more beautiful than any place, we had ever visited.