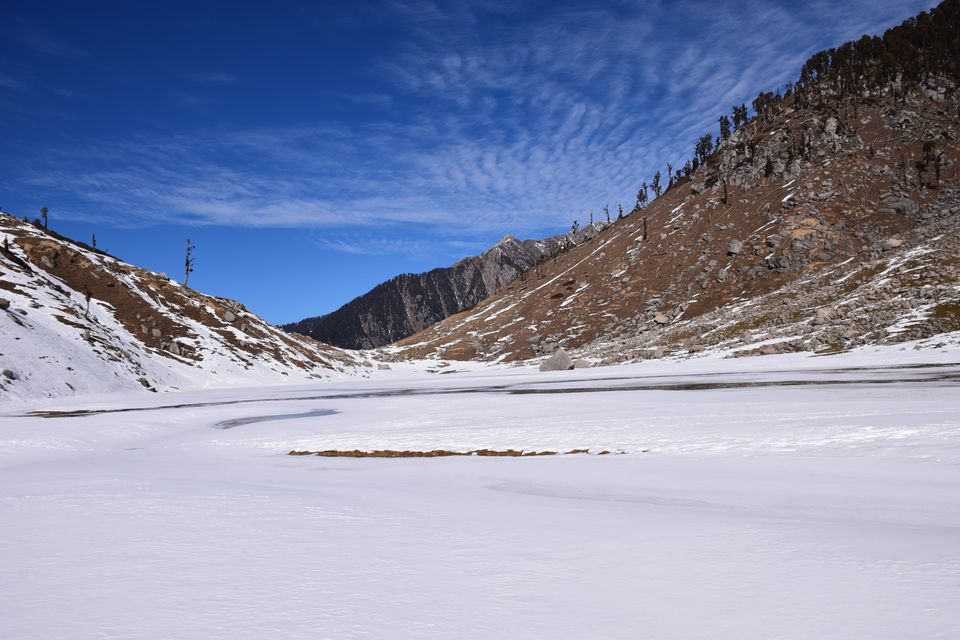 KARERI, an astonishing place which is situated in the Himalayas at the altitude of approx. 2900 meters from sea level. A beautiful unexplored peaceful destination truely for mountain lovers.
Well, i am a mountain person and prefer hills over beaches. If you are the same kind of personality, then i am sure you gonna fall in love with this place. It's a perfect destination for the trek lover who love to go to non-commercial unexplored places away from the crowd and daily chaos.
KARERI, It's situated in Himachal Pradesh, it's distance is approx 492 kms from Delhi (12-14 hours journey).
I went there in Dec'18 & during the lock down i finally write about my experience & would love to share it with you.
That time i was super excited about this trip, as i was going to explore a New destination. It was my birthday & i make it ritual to travel some new place on my special day. I am 200% sure most of the travellers feel the same way, cutting a cake doesn't excite as much as exploring an untouched destination.
For this trip, i had plan to go with one of my friends, but destination was not yet decided. Then i did google surf to know about the places where i can go for trekking in Himachal. Then finally we both said YES to go to KARERI. Like my other usual trips, we just booked the tickets from Delhi to Mcleodganj, nothing else. No hotel booking, no trek guide nothing. And we were pretty sure, will figure it out there.
We booked our ticket from red bus app, on this app there were plenty of bus options. With some research we finalised to go with Laxmi holidays, as we always had good experience with them.
21st Dec -
Our Journey is going to start from Huda City Centre.
We met at HUDA metro station & took the metro somewhere approx 6:45 pm and reached Vidhan sabha metro station by 8:20 pm. Metro ticket cost per person was Rs. 45 . From Vidhan sabha metro station we took an electric ricksha to reach to Majnu ka tilla, it took 10 mins to drop us at Majnu ka tilla and the electric riskha bhaiya charged Rs. 20 / person.
We could have taken taxi from HUDA City Centre to Majnu ka tilla, but we were very clear about one thing we are going as a traveller not just a tourist. There was one more option of option the Metro, we were afraid that If we take taxi we could have stucked in the traffic and might miss our bus, Comparetively Metro was fast & economical option.
Finally, we were at Majnu ka tilla by 8:30pm, and our bus was almost ready to left from departure. We both were super excited for our first girl's trip.
Then we board the bus and it left from Delhi @ 8:45 pm. During the journey, we talked about random stuff like families, interest, and many more girls talks.After some time, the driver stopped the bus midway nearby Ambala city for chai & dinner for half an hour. It's already midnight, then people came out of the bus and had chai, dinner, and some took chips, cold drinks for the way as well. After half an hour bus was ready to move, then we all hopped in the bus and started our journey ahead, some continued watching movies, some were talking and some fall asleep in few minutes. Bus kept moving on and then almost everyone fall sleep. Next morning @7:30 am we reached Dharamshala. Some of the passengers took drop there and rest continued to Mcleoadganj. Mcleodganj was the last stoppage.
Dharamshala to Mcleodganj distance is somewhere 20-22 kms ( 30 mins ride) journey.
Yippeee finally we were in mcleodganj by 8:30 am in the morning, bus dropped us at Mcleodganj bus stand, from there we got off the bus with our luggage and started walking toward main square area (mcleodganj main market) it was hardly at a distance of 10 minutes.
Since it was morning so there had very limited options for breakfast. We found an opened restaurant at Main square area, we went in and had our breakfast there. After breakfast, we took taxi from Square area @ 10:00 am, and reached to KARERI VILLAGE by 11:30 am. The route was so nice surrounded by mountains, fresh air.
During the journey, we interacted with our taxi driver and asked about the place. As it was our first trip to KARERI, we wanted to know more and more about it. We told him that we have no bookings and planning to have a guide or package there in KARERI. He informed us usually people take the packages which includes guide, tent & meal, even in Mcleodganj many tour operator provide the package for KARERI trek.
Then he introduced us a gentle man, who owns a shop there in the kareri village.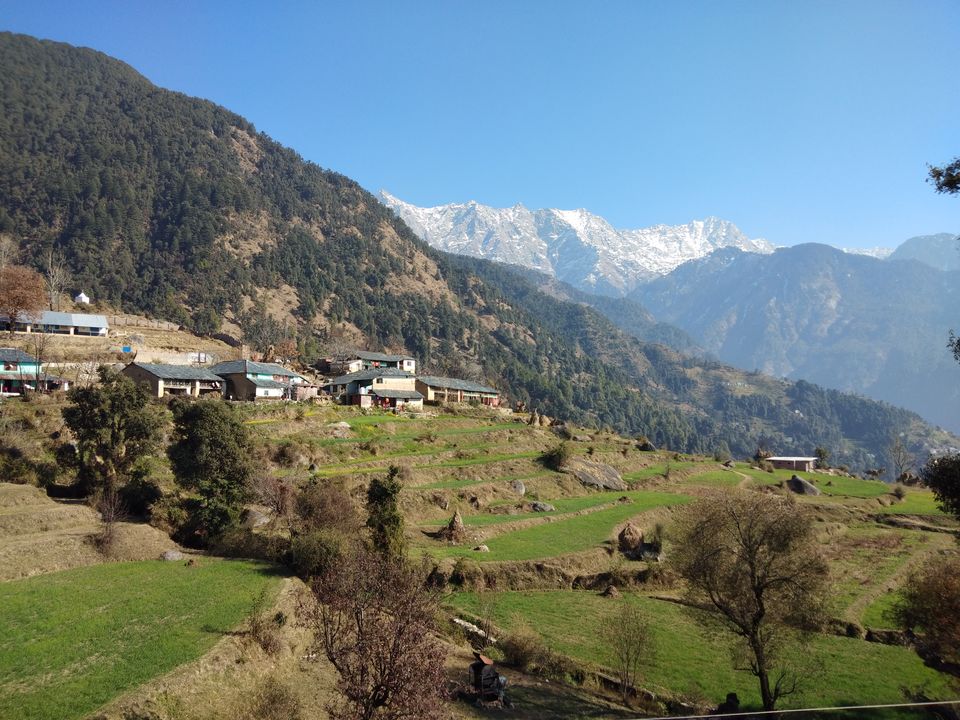 Travellers /Tourist can have tea, coffee, Maggie there, before starting the trek & he also provides package for kareri trek. We had Maggie & tea there and asked him about the trek package. Then he told us that it's a trek of 2 days trek, because there is so much snow on the trek which limited the trekkers speed. That's why it wouldn't be possible to come back on the same day. Then we took the package from him, it was Rs. 1500 / person which included Guide, Tent and food. Isn't it really cool price? For us, it was definitely.
We relaxed there for a while and started our trek @ 12: 30pm. Our guide name was Lucky, he was such a 18 yrs young cute boy.
We started our trek with little introduction with our guide and we all kept talking during the trek. The trek was a mix route of plain, snow, stairs, river & bridges . I would say that it's my best trek so far. Here are the glimpse of kareri trek.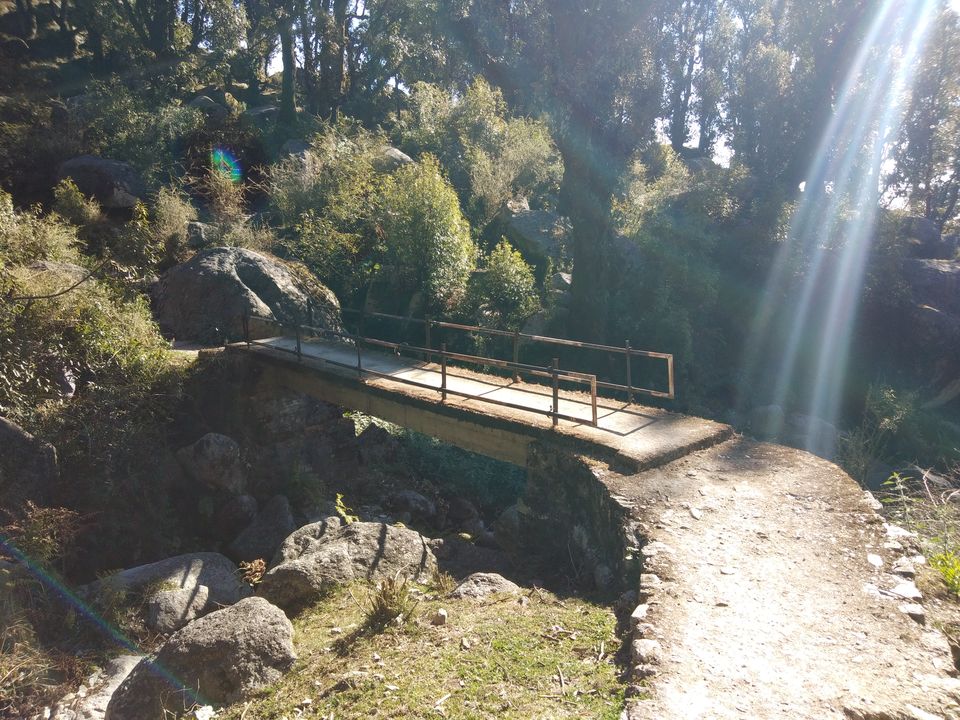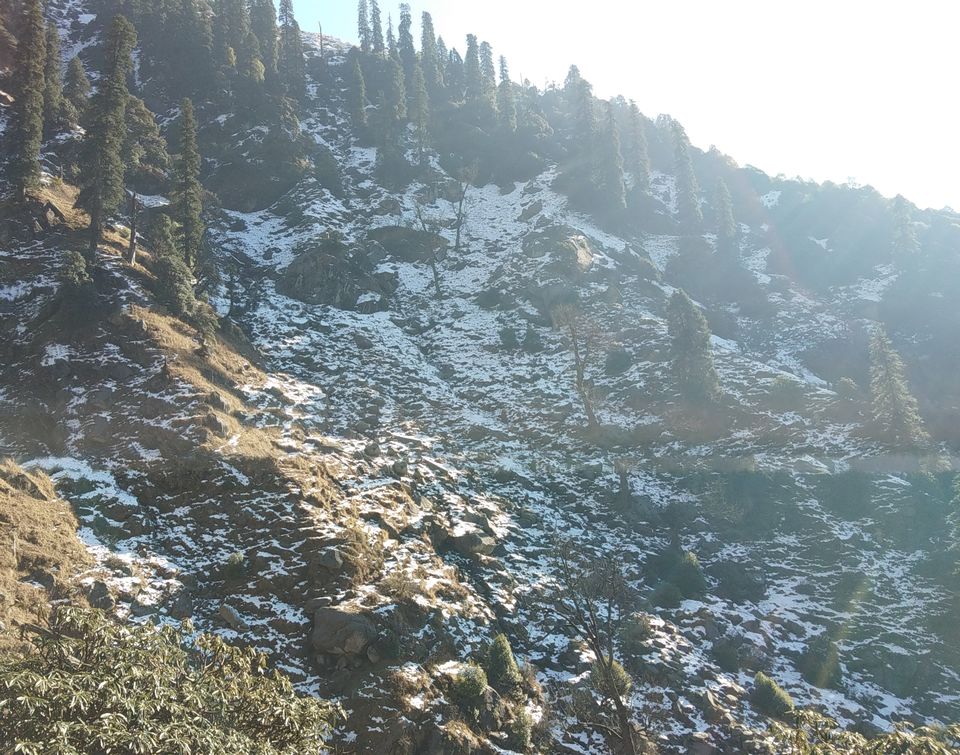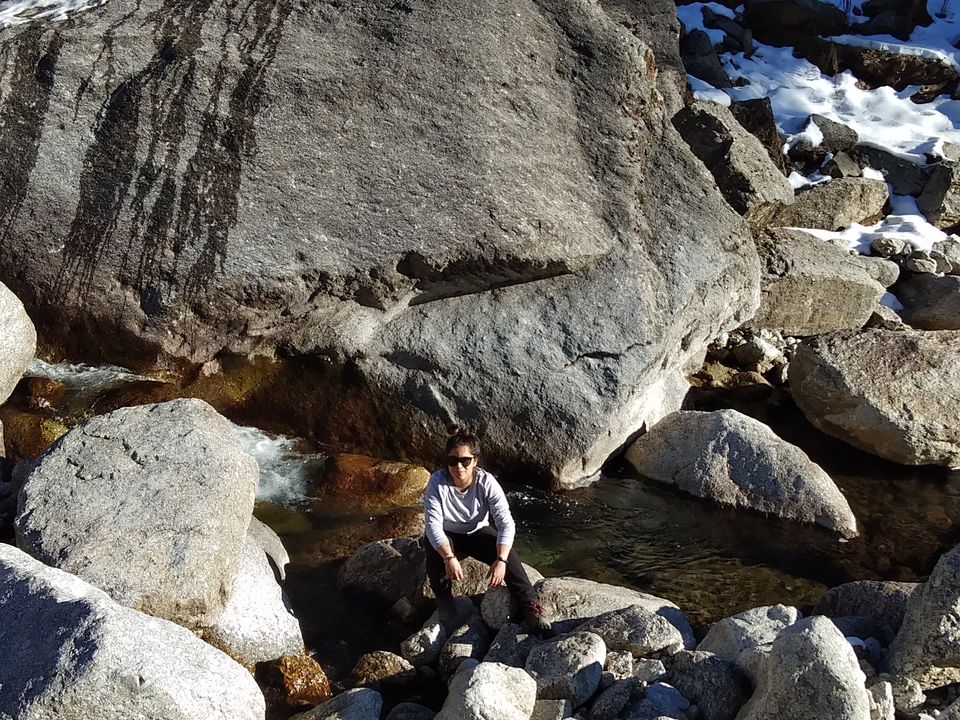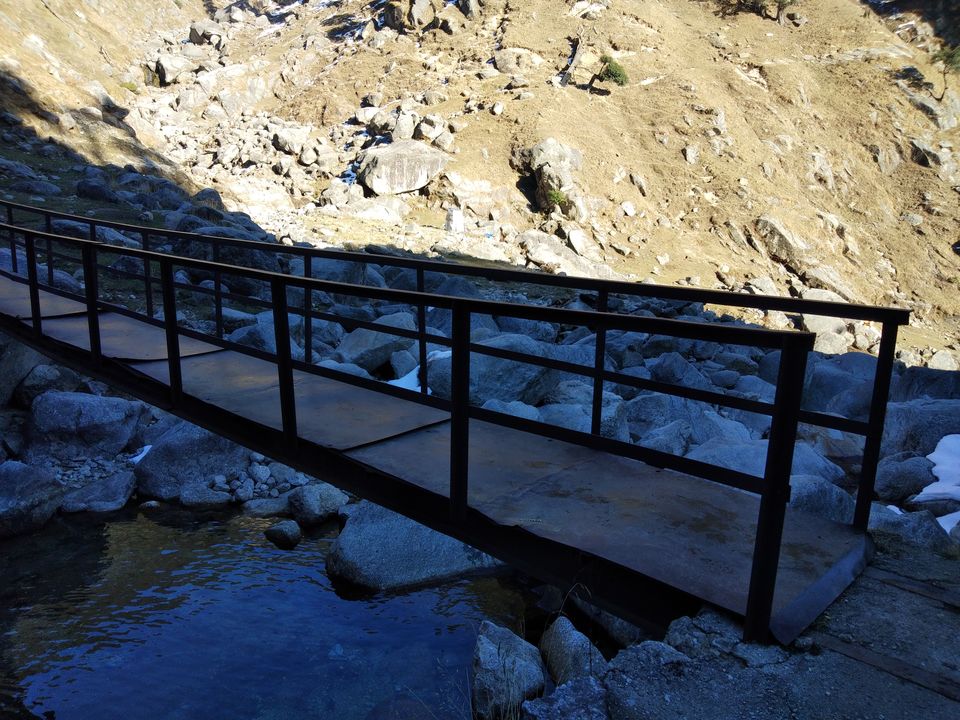 We completed approx. 9 kms by 4:00pm then our guide lucky told us that we are going to set up the camp here and going to do the rest of the trek tomorrow morning because of the winter it's starts getting dark early and there are no arrangements of staying over there in kareri lake. We agreed with him, and helped to set up our tent there. It was our first experience of setting up the tent. There was a flowing river in few steps from our tent, and across the river there was snow on the ground and mountains.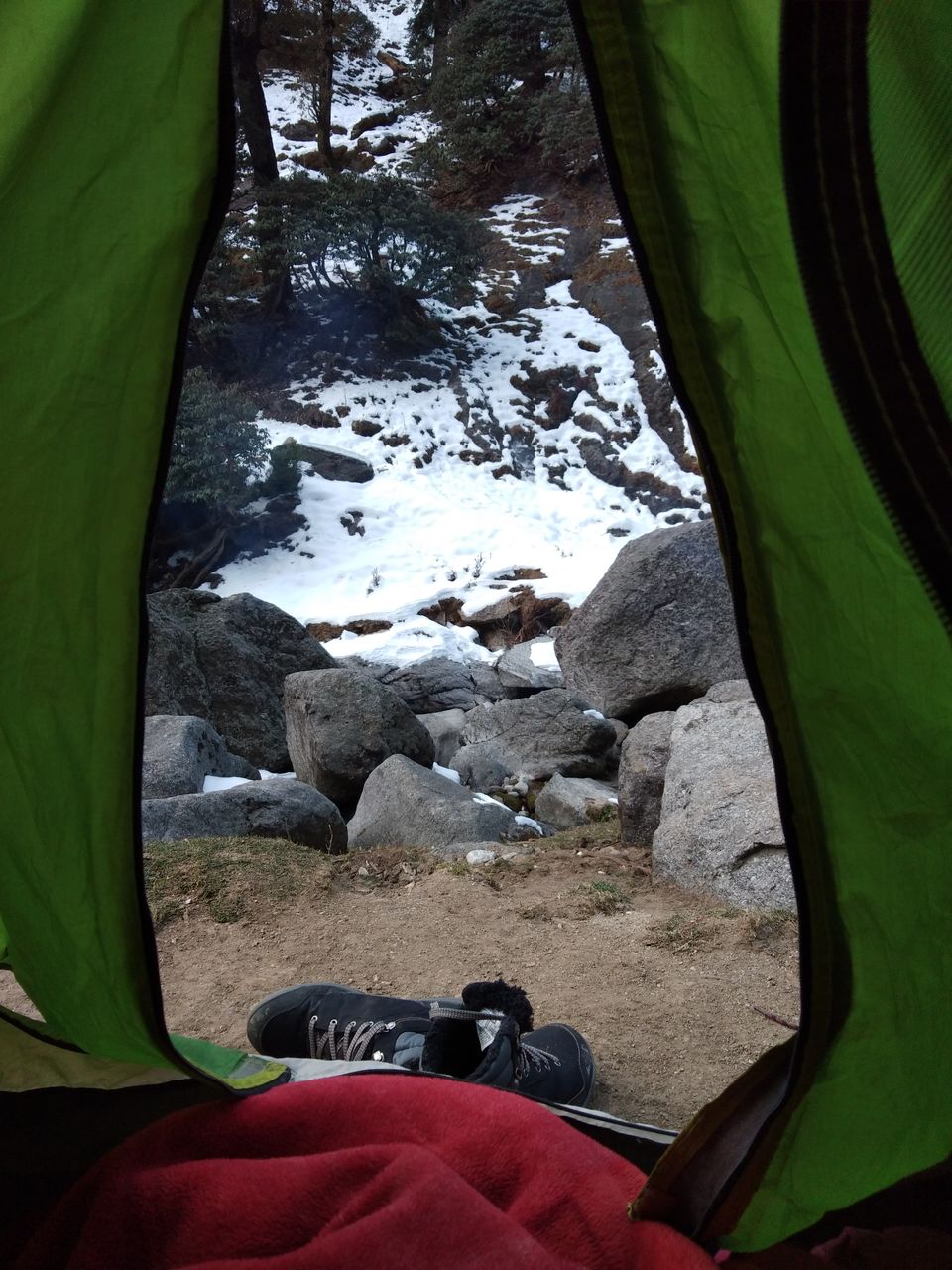 Now we were feeling hungry, then we had Maggie , toast and tea. The place where we set our tent, there was a small shop which was owned by Mr. Sanjay who made the food arrangements for all the travellers. He was a jolly fellow. Once we all settled there. Those guys made the arrangements for bonfire. As sun starting set, cold started increasing.
Our surroundings were covered with greenery and White fresh snow. It seem like recently snow fall happened here. The music of flowing river was so peaceful along with the bonfire.
It was so fantastic, nothing could be more perfect like this.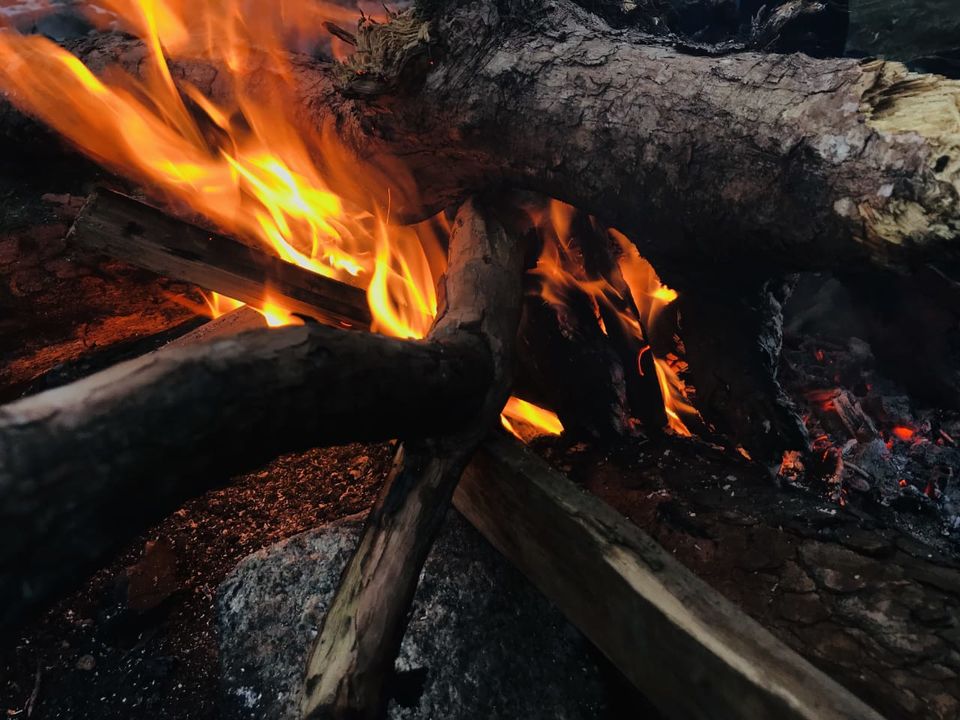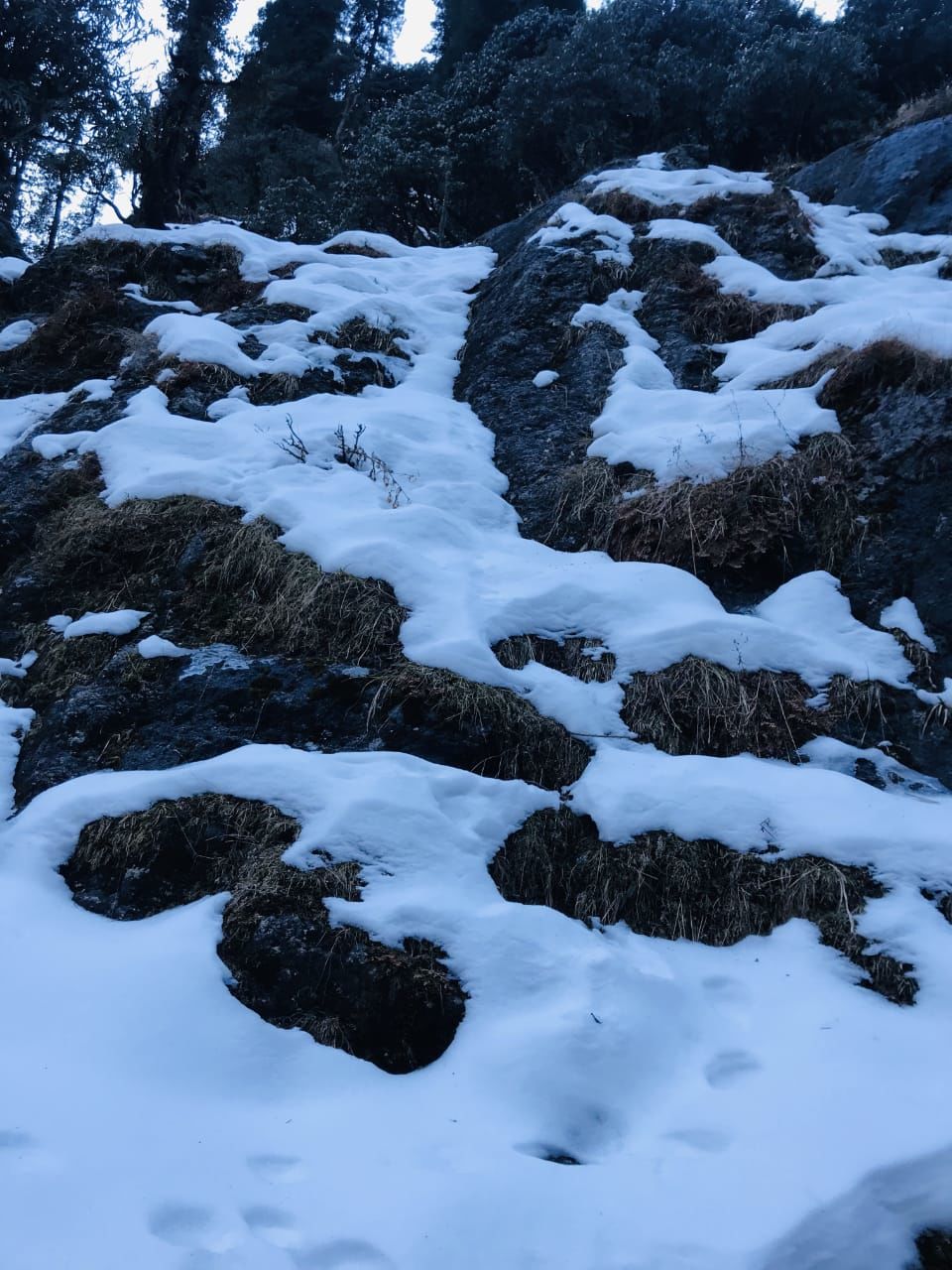 It has dark now by 5:30 , we were enjoying our talks and bonfire. Then we suddenly saw 2 guys were coming, we were like who are they coming so late in such darkness. They were actually 3, their guide was just behind them. One of them had got some injury in his knee during the trek, but still he was so determined to complete his trek. Wooo. We had a talk with them, and came to know that they were also from Gurgaon, and they were surprised to know that we only 2 girls were on this trip.
After getting relaxed and settled down they set up their tent. There was a one more 3rd tent there, those were from Punjab. Total there were 3 tents in that place and total number of people were 10.
As it was getting colder, so we all kept sitting around the bonfire to keep ourselves warm. We were talking to each other, enjoying music, dance and had our dinner. That night was wonderful.
Another Surprise yet to came for me. We kept sitting there around the bonfire till 12:00.
23rd Dec:
Now the date has changed in the calendar , it's 23rd dec @ 00:00, as my travel partner was aware about it that it's my bday she already told to people out there.
As the clock clicked 12:00, Sanjay brought the round utensil and put the snow in it & made a snowy birthday cake and wrote happy birthday with tomato ketch up, enlight the candles on it. It was crazy and overwhelming for me. I was away from my family where you can't say that i am just a call away because there were no networks, and the totally Strangers were celebrating my bday in the midnight. I felt so blessed that they made it memorable for me. See the picture of my b'day cake.
Then I blow off the candles and then we all throw the snow on each other like crazy. It was the craziest thing. Sometimes its good to be crazy, it add up spice in the life.
After celebration, we all went to our tents & fall asleep in our sleeping bags. The temperature was somewhere -1 or -2 in the night.
Next morning , we both woke up at 8:00 in the morning, and rest were already awaked till that time. Then we thought that we should wash our faces with the natural mountained water , as we dipped our hands inside the water our hands got freezed. We were in shock for few seconds and was not able to utter a single word.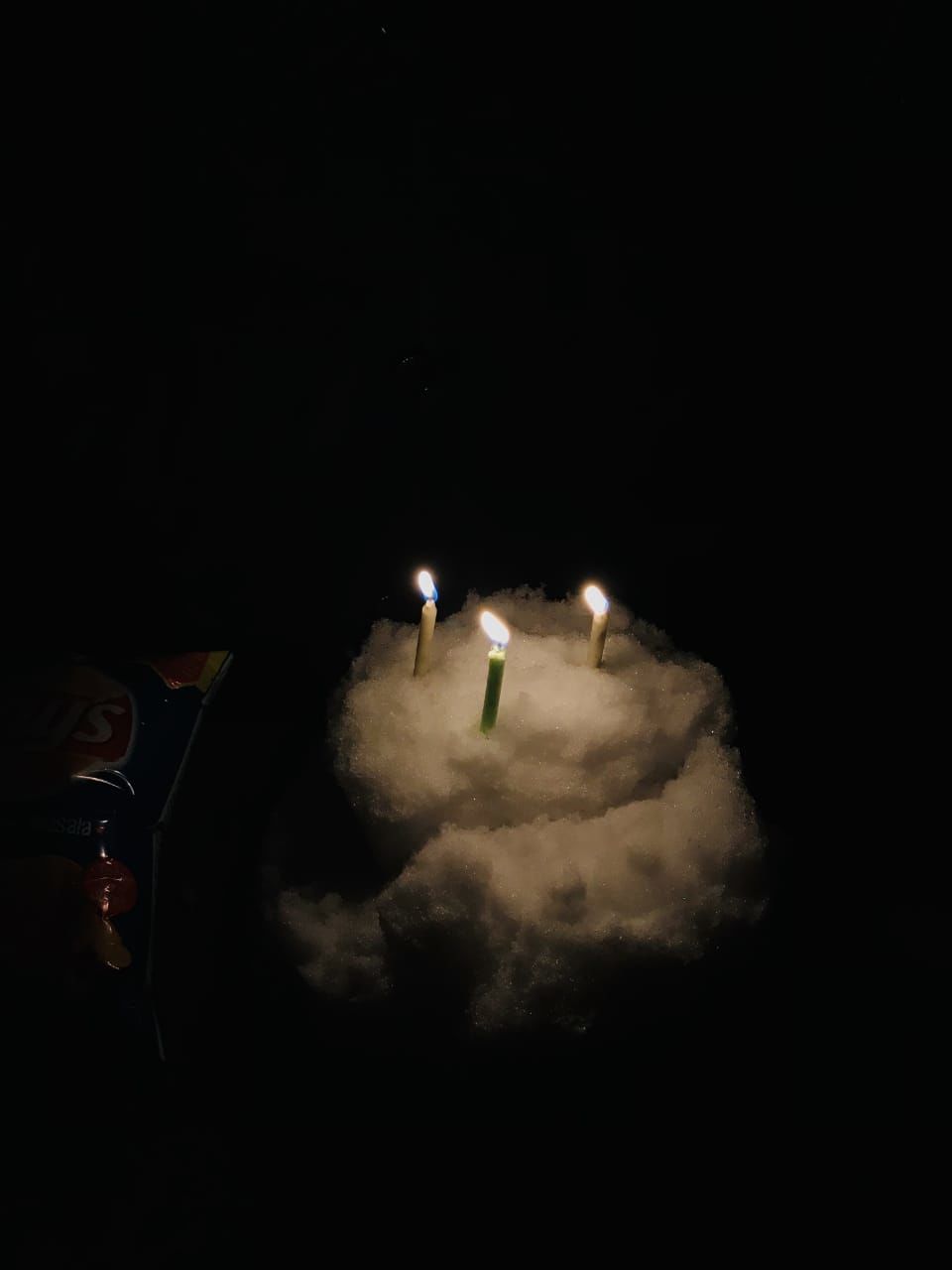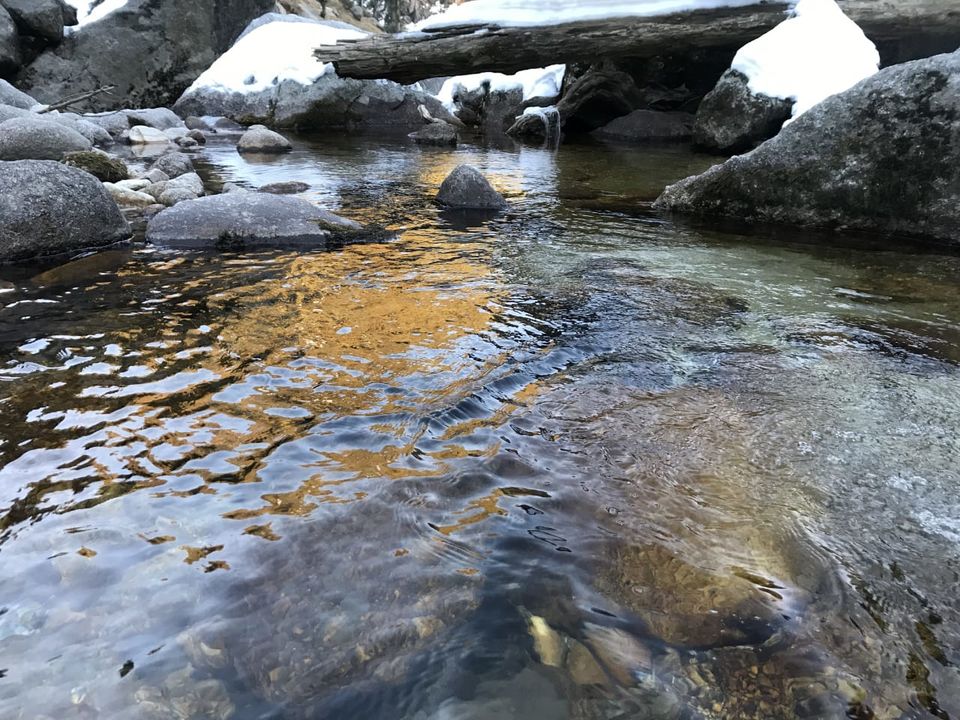 As slowly our hands came back in normal temperature, then we were laughing like mad. Then we had our breakfast and started our rest of the trek at 9:00am. This balance route was completely covered with snow.
Few of the Images of further trekking route: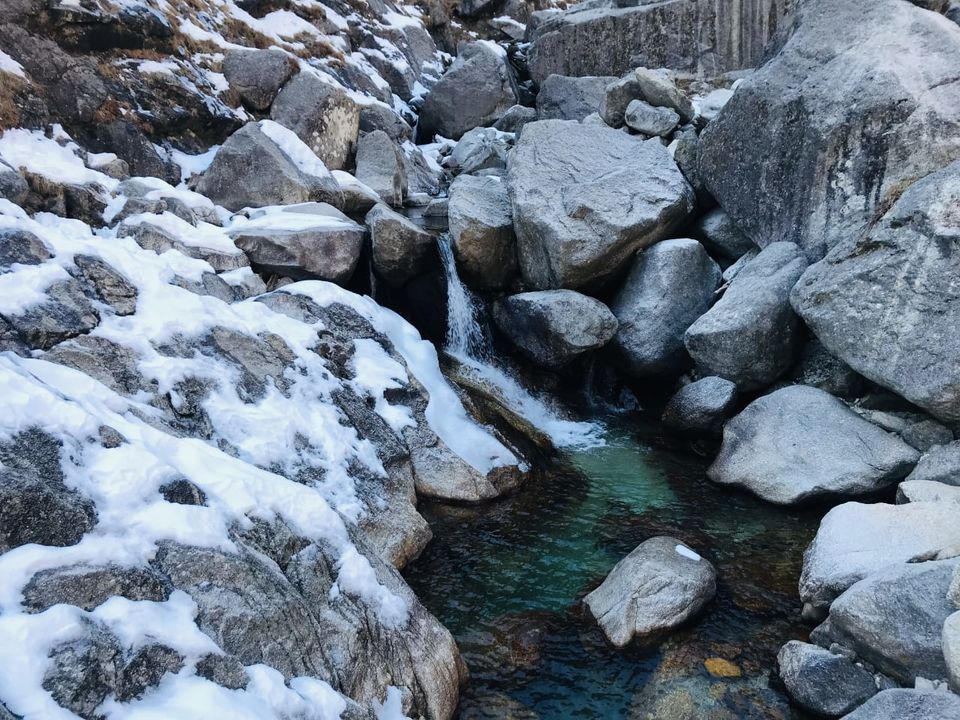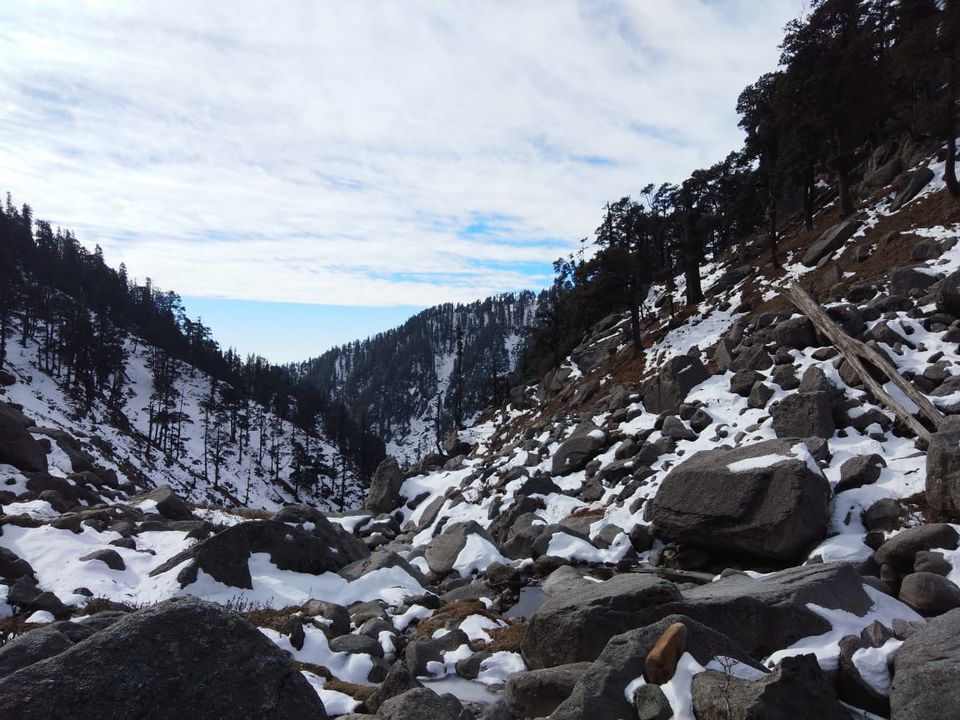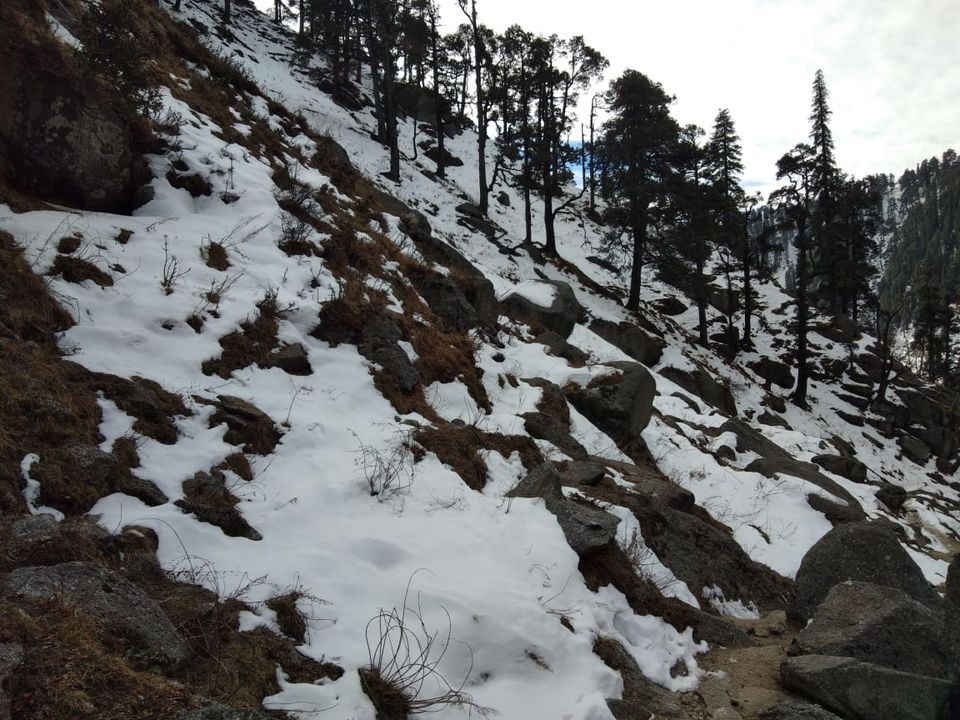 Before reaching to the final kareri lake, approx 20-25 mins before completing our trek we were surrounded by glaciers view , it was so mesmerising, breathtaking view.
With lil more walk, we reached at the top hill temple. There is a shiva's temple on the top hill.
Images of shiva temple at top hill Kareri

From there we were able to see the kareri lake downward. That downward stretch was completely covered with fresh snow.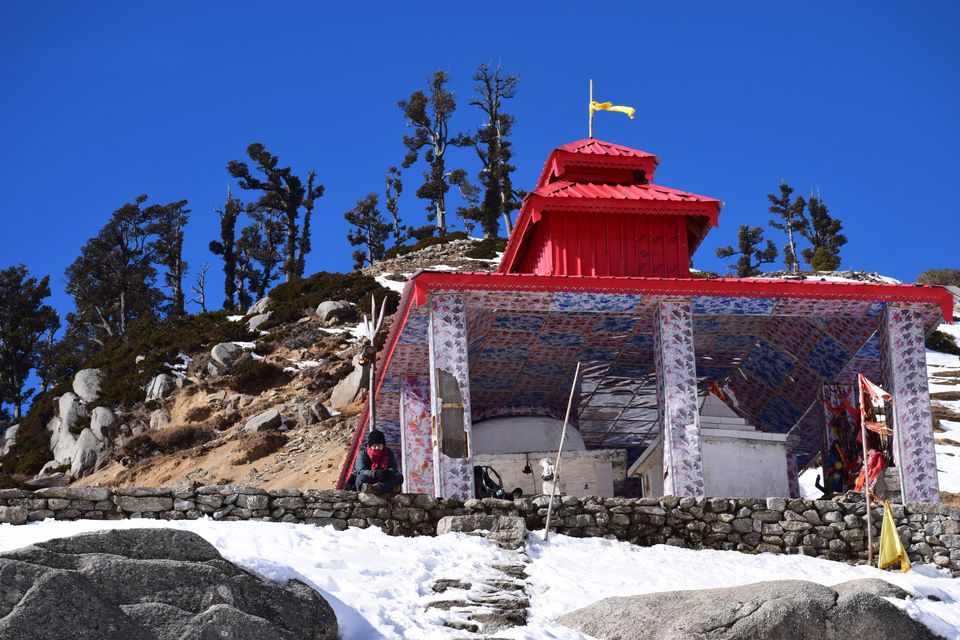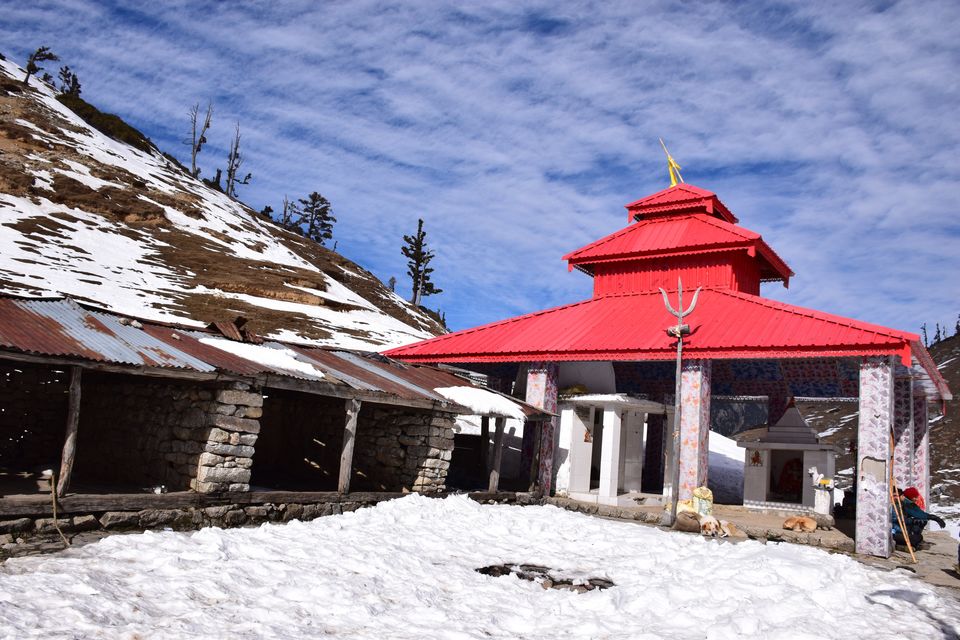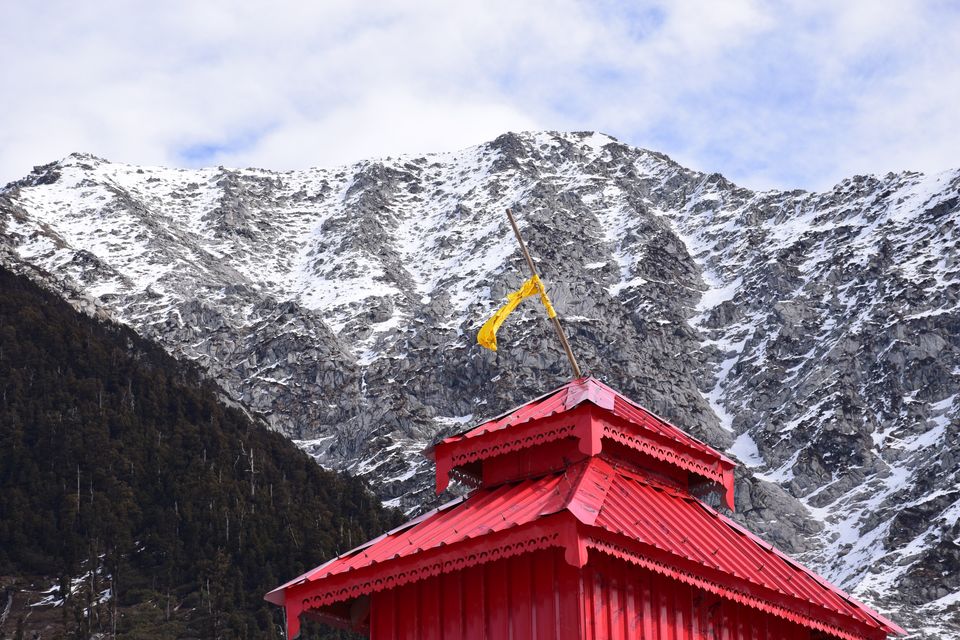 Then we walked down to kareri lake, frozen lake. It was ultimate, speechless.
It was wonderful , all over covered with snow all , surrounded by glacier view and you are just in the middle. That feeling was unbeatable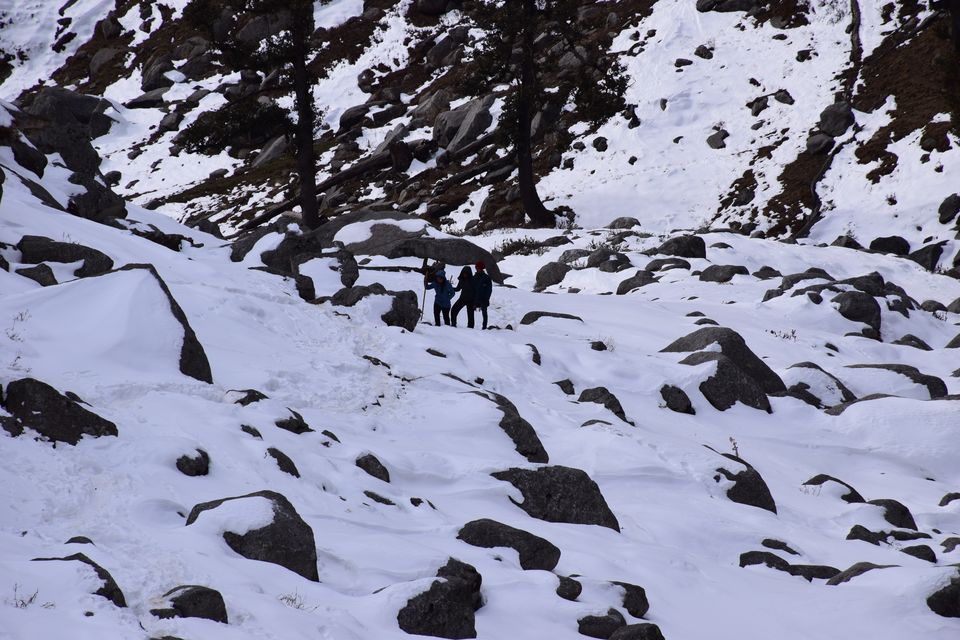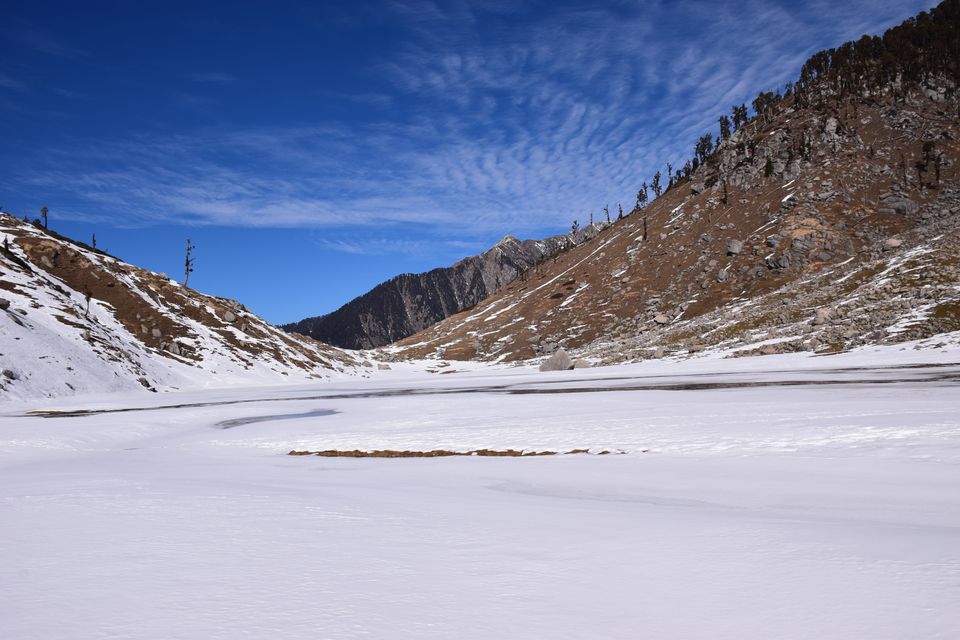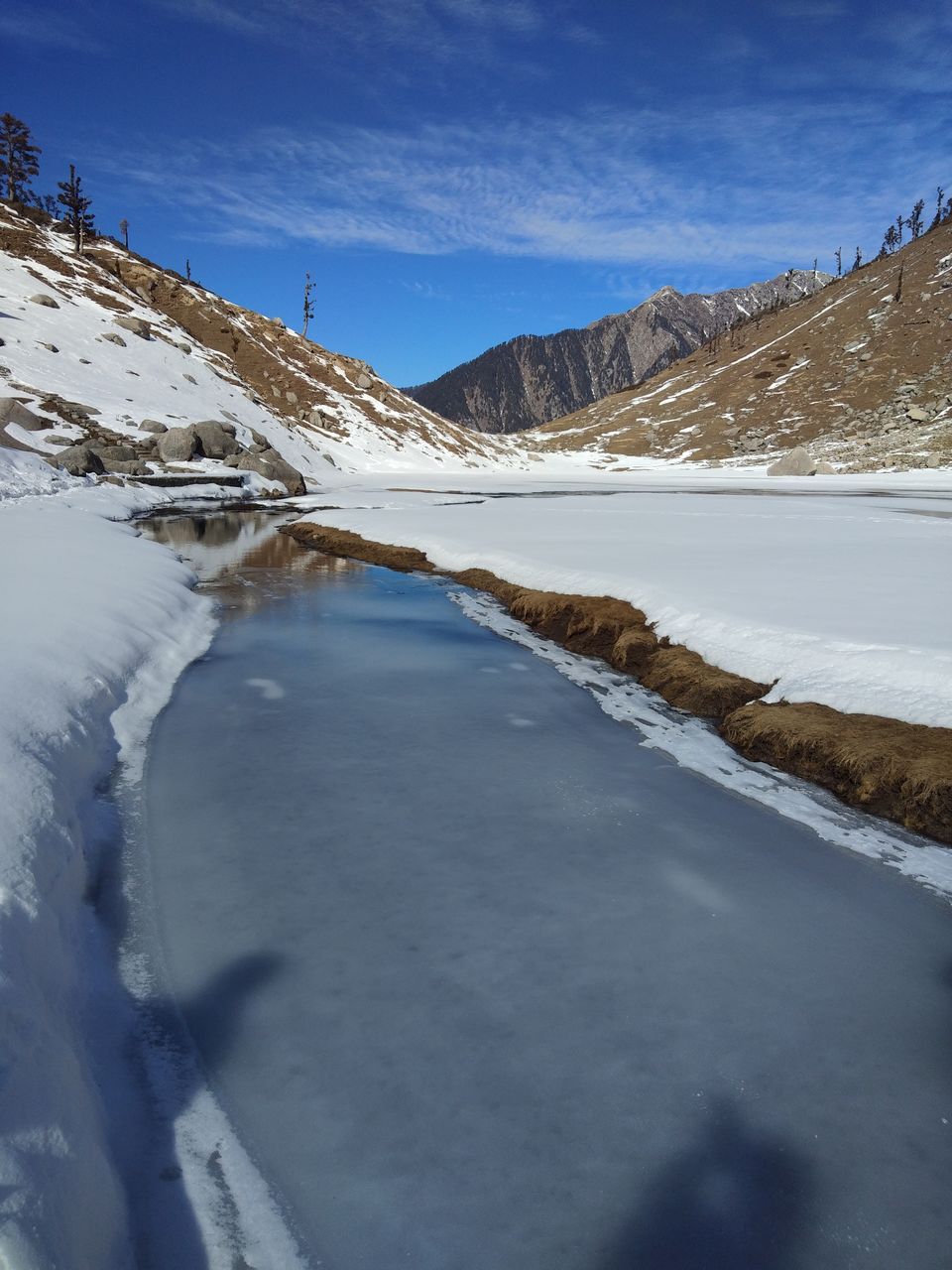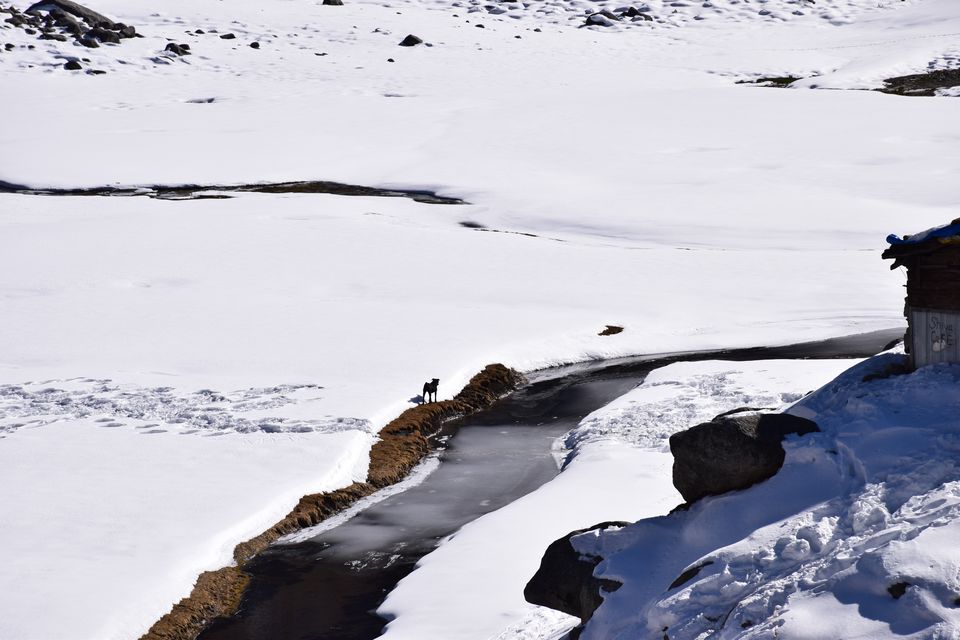 For some time, we walked in the fresh snow, enjoyed the view. Then came back upward to the temple, & kept sitting there for an hour and admired the surrounded beauty, and start our returned journey back to Kareri village. Though, we were not feeling like to come back, but we had to.
Then we were back on the way to to kareri village & we returned back to the point from where we started our trek by 5:30 pm. It already started getting dark, so it was not possible for taxi to come there at this time, then we decided to stay there in KARERI Village.
We had 2 options for stay, one in the tent and other one home stay. We opted for home stay. There we stayed with an Himachali family, it was the same guy' home who made our trek package. That family was really nice. We spent that night there with them. And we already called to taxi driver to come to pick us up tomorrow morning.
24th Dec: Next morning, our Taxi driver got late to reach there. At 9:00 am, we thanked to the family for their warm welcome & left the house and move toward to the point where the taxi driver dropped us the other day. We reached there early, as our taxi driver got late to pick us up. There again we met those 2 guys and came to know that they also wants to go back to Mcleod ganj. We started from kareri village somewhere 11:00 am, we all shared 4 shared the taxi and reached back to Mcleod ganj by 1:30pm. The taxi driver dropped us at the same point Mcleod ganj square area. :-)
After reaching there me and my travel partner booked our tickets from Mcleodganj to Delhi via redbus.
Our bus was supposed to leave from mcleodganj @ 7:00 pm. Now we have few hours to chill out in mcleodganj, then we hanged out in the Mcleod ganj market and went to Mcllo Restaurent to have some food and drink. Then by 6:30 pm, we left for Mcleodganj bus stand and boarded the bus at 7:00pm.
Next morning we were back to DELHI.