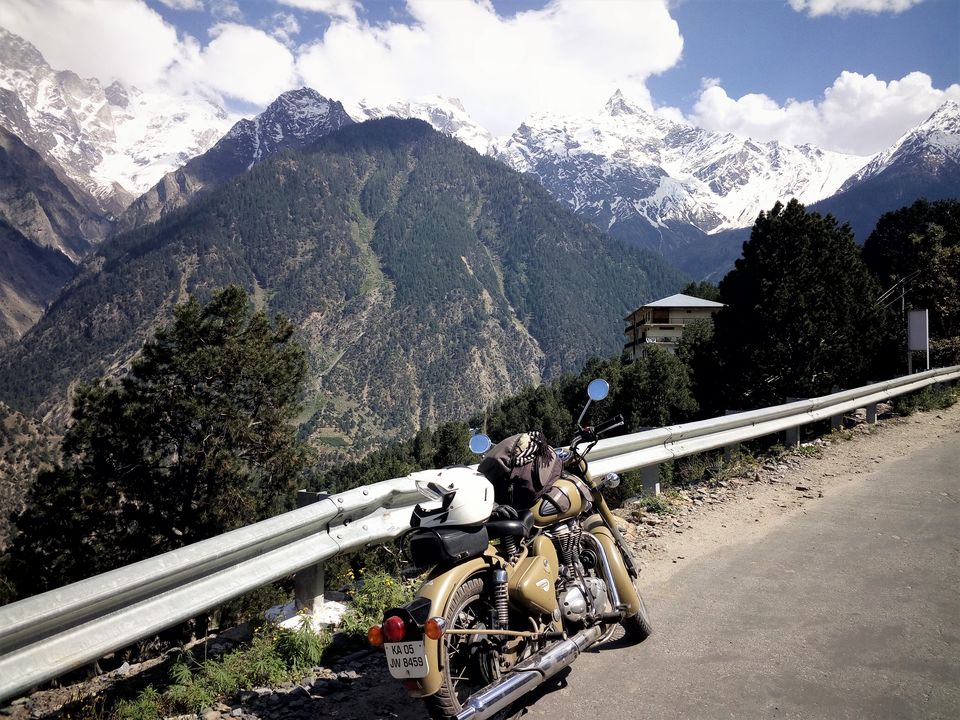 Chitkul or 'Chittkul' as it's written with two Ts for obvious reasons. Best guess would be sanctimonious one to ensure good luck to the village? (Just a guess though). Yes India is a country with lot of good faiths, and one of them is 'do twin letters in names'. It's a way to bring good luck. Do I believe in this theory? Maybe , or maybe not
But there has to be a strong reason for the omnipresent peace and adrenaline that I saw in people there. Something is surely working in their favor in a difficult environment, an environment which gives an overwhelming feeling of 'seclusion' with bad roads, missing phone network (only BSNL for rescue), invisible fuel stations/ATMs/banks/market and fields which don't grow much food except mainly Potatoes, and last but not the least a highly cold climate (sub-zero temperatures in months of May-June, you can only imagine what winters be like). There is river Baspa to get things rolling, which is primarily formed from the melting snow of Kinner Kailash mountains generating a beautiful river and a soothing sound of flowing water stream in an enormous noiseless valley. And with this act of nature, you see a remotest dungeon like place Chitkul coming to life and its people who are a miniscule population of around 800+, working day in day out to make things happen.
"Four wheels move the body, and two wheels move the soul"
I read this line in Zostel, where I had put up in Chitkul and suddenly I jumped few days back when I had started this trip on my motorcycle RE Desert Storm/500cc. With that signature godlike roar of Desert Storm, I had covered a distance of 500+ kms from Delhi to Chitkul in 3 days crossing mirage of places like Shimla, Kufri, Narkanda, Rampur, Reckong Peo and then divulged from Hindustan-Tibet road (NH 22) towards Sangla Valley, Raksham and last village on India-Tibet border 'Chitkul'. The journey was tiring, the road was to die for (especially the stretch from Raksham to Chitkul which gave a thin stream of flowing Baspa, one side surrounded by snow-clad mountains, and other side with apple orchards and wooden houses all over the valley) and the landscapes hypnotizing. Shimla was good, Kufri was better, Narkanda was okaish, Reckong Peo eye-popping, Sangla valley mind-boggling (falls 20 kms short of Chitkul),
but Chitkul?
….was mother of all blissful experiences combined till now on the road. It was something else. It was WOW. It was speechlessness!
And I stayed for couple of days in this last inhabited village on India-Tibet border in Kinnaur district, located 40 kms off from Hindustan-Tibet highway. By the way, let's not play around with the name for obvious reasons ;), and call it Chittkul, not Chitkul. I mean, c'mon even just hypothetically I don't want to angry the gods who are pouring their lucky charm on the village. Karchham is the place where you have to divulge from the highway, and take right towards Chittkul. Another small village on Hindustan-Tibet road, 40 kms short of Chittkul, 30 kms short of ReckongPeo, surrounded with gigantic mountains on both sides of the road, overlooks thick Baspa river and is mostly inhabited by Army camps and, the big Karchham – Wangtoo dam.
God Damn, what a dam!
A huge structure which will stop your vehicle, make you come out and admire this wonderful creation of man diverting water from Baspa and throwing it into1000MW hydro-electric power plant located underground in Wangtoo. The water is again thrown back into Baspa. Karchham – Wangtoo 1000 MW, is what it's called and which is helping Karchham, Wangtoo and nearby towns with electricity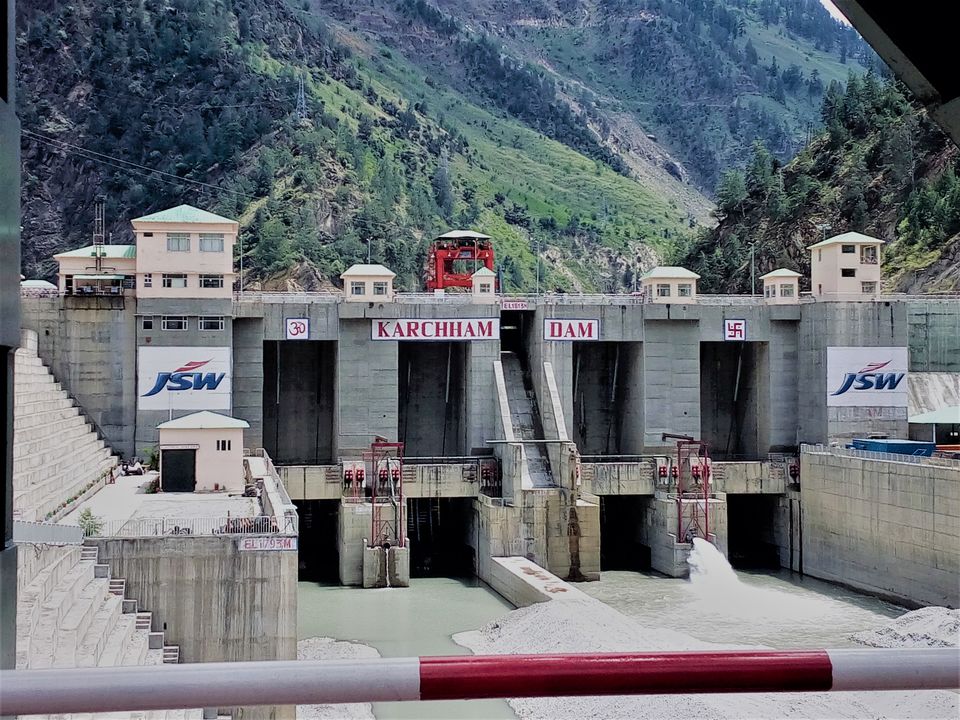 But, this was not my moment
Something bigger was awaiting me in Chittkul, something more nature, something which can be called as the life giving source in the valley and not in my wildest dreams I had imagined that it will be so incredibly picturesque and close to my vicinity. A gift of nature, maybe an abode of gods, the mighty snow caped Kinner Kailash (the source which is giving Baspa river life, and making things work for the villagers)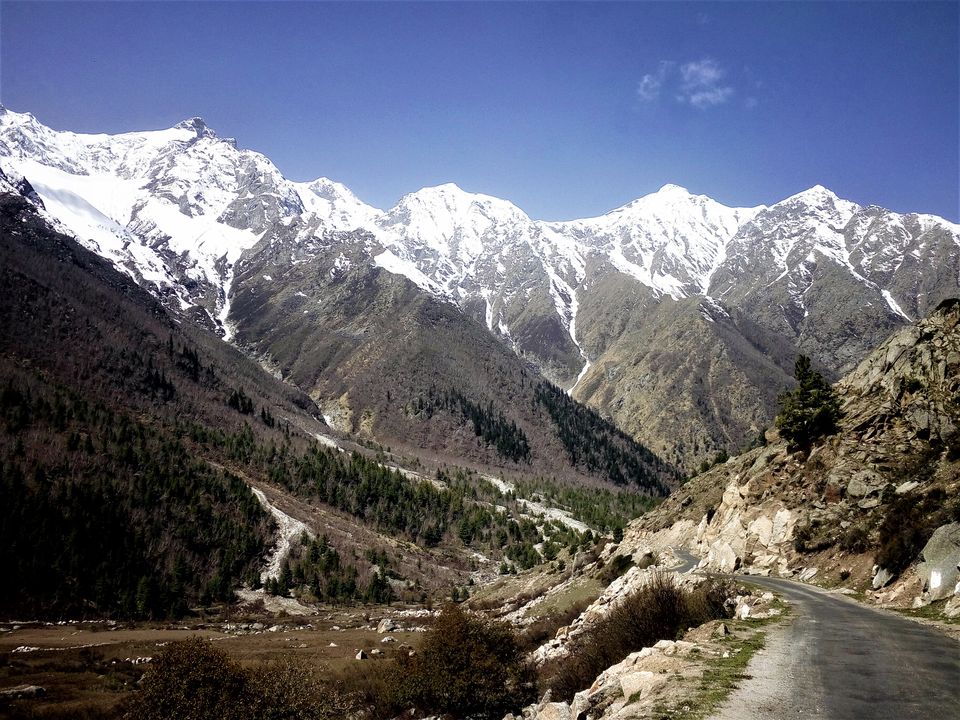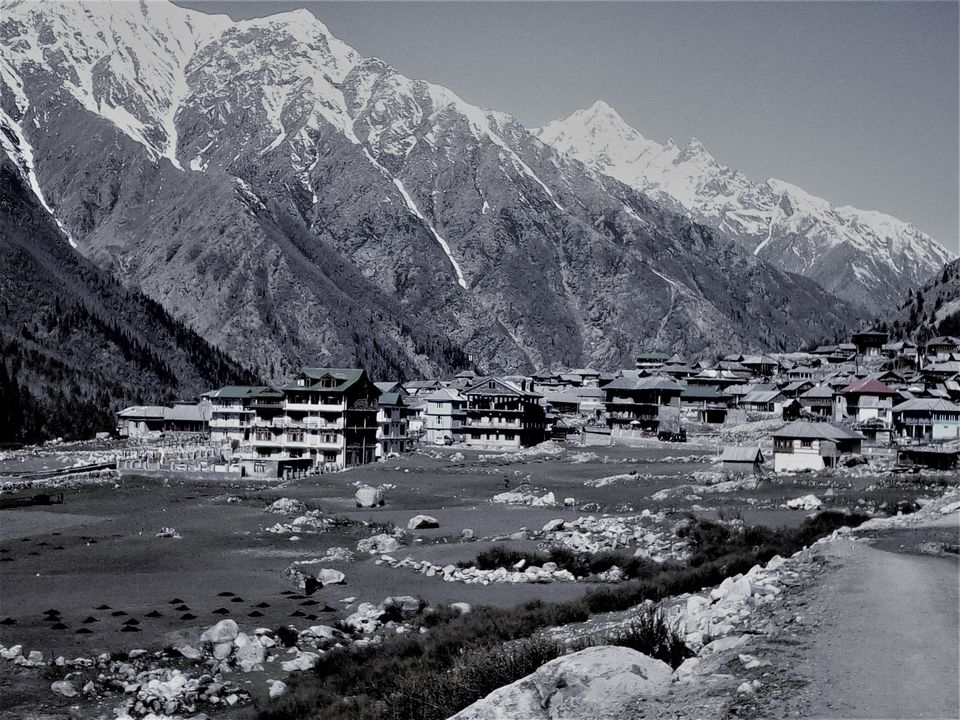 As much as the place amazed me, I could not stop myself talking to some of the locales there. The ones who looked different and larger than life and I got to say this, they were quite an inspiration as well
Mahender and Mahender
A very dynamic duo in Chittkul, taking up all the wood work / carpentry that could come there way, Mahender and Mahender don't do any less but ' purely enjoy' of what they do. The 'Wood masters' of Chittkul, they have taken up furniture work of almost all the hotels at the border area of Chittkul village and execute their work with such adrenaline even in harsh sub-zero conditions which is commendable indeed. Hailing from different places Solan and Mandi, they first met each other in Chittkul as they came cruising in search of work. And what an intelligent thinking, they would have known that Chittkul is an upcoming place for tourists,
..and thus a potential flourishing hospitality industry!
They are seen working on wood most of the time, and if not doing that, then chilling and eating food. Apart from carrying a disciplined work ethic, they also carry humbling attitude and a positive outlook towards life. They did not hesitate to talk to me, and share their story but also replied with clarity when I asked them,
"Bhaiya, itne thand mein itna mushkil kaam kaise kar lete ho?"
One of the Mahenders' – "Kaam karne se shareer mein garmi badti hai, isliye hame zyada thand nahi lagti"
Kaboom! Doesn't that make sense?
Now you know how to tackle shivers when in cold climate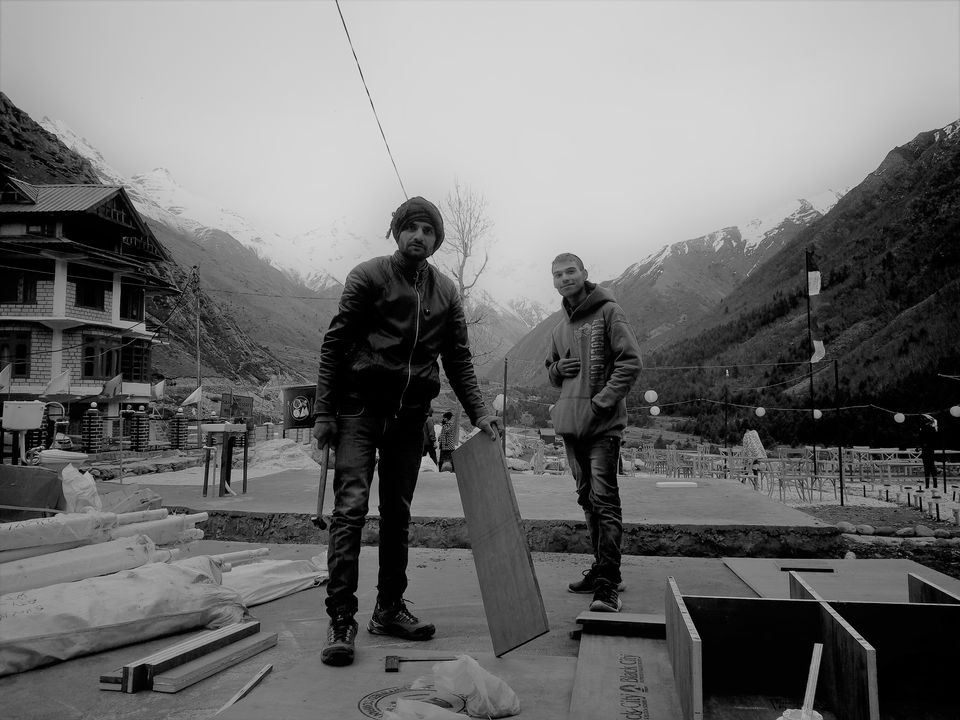 Ravi & Suraj
There is huge lineup of wooden houses turned into hotels/ lodges at the frontier of Chittkul, which come as a life savior because you are extremely worn-out by the time you reach the village after traversing an strenuous road. Couple of things that keeps you going, one your temptation to witness the grandeur of Kinner Kailash, and second the unrelenting buoyant spirit of people who live there especially the Indian Army, and then you realise the triviality of your fear and apprehensions that you may have been carrying all this while. Reaching the very tip of the village, there was 'Zostel' (a backpacker's stopover), where I checked in without any delay. The staff told me there's more of 90 kms of road ahead which take you to China border, but isn't accessible as this stretch of road is rested under the control of the Indian Army & ITBP (Indian Paramilitary) who doesn't let you pass with a humble check post. I still tried my gut though, going until the check post only to get a good 'NO'. Tourists not allowed to linger on in that part, but I had come very far and so was fortunate enough to get a 10 minutes conversation time with Ravi & Suraj (officers in Indian Army), who were guarding the check post and making sure no civilians were trespassing at that part of the valley.
Senior officer Suraj has been posted in the valley for more than 2 years now, and Ravi joined him 6 months back from Ladakh, coming mentally prepared that he would not only have to survive but carry out his work efficiently, irrespective of what climate condition he is posed with. November to April is the time when the entire valley is covered with snow and almost all the people migrate to nearest Sangla Valley, except the Army and ITBP who have to stay put in the snow caped mountains surviving temperatures as low as -20 to -30 degrees, and making sure the valley is safe from Chinese infiltration. Their mode of transport becomes horses for food and other supplies, and clothing becomes white colored highly muscular snow 'nipping in the butt' jackets, pants, and big leather boots. And before I could attempt to persuade Ravi & Suraj to take a picture with me (which is prohibited in that part), I was told by the daredevils to leave immediately as officer jeeps were coming to monitor the situation which had gone out of hands in the border with Chinese army bringing in some kind of assault, a common occurrence in the valley. And that was the time, I bid adieu both the patriots, with a smile on my face
P.S – It's said the road is opened for civilians on the eve of Mahashivratri every year, and pilgrims are allowed to walk it up to reach certain spots in the interiors, paying homage to Chittkul deity. How true is this piece of information? IDK (that's I don't know! Welcome to the screwed up 21st century of mindless people, where every sentence is either a WhatsApp meme or a mindless abbreviation…sigh!!)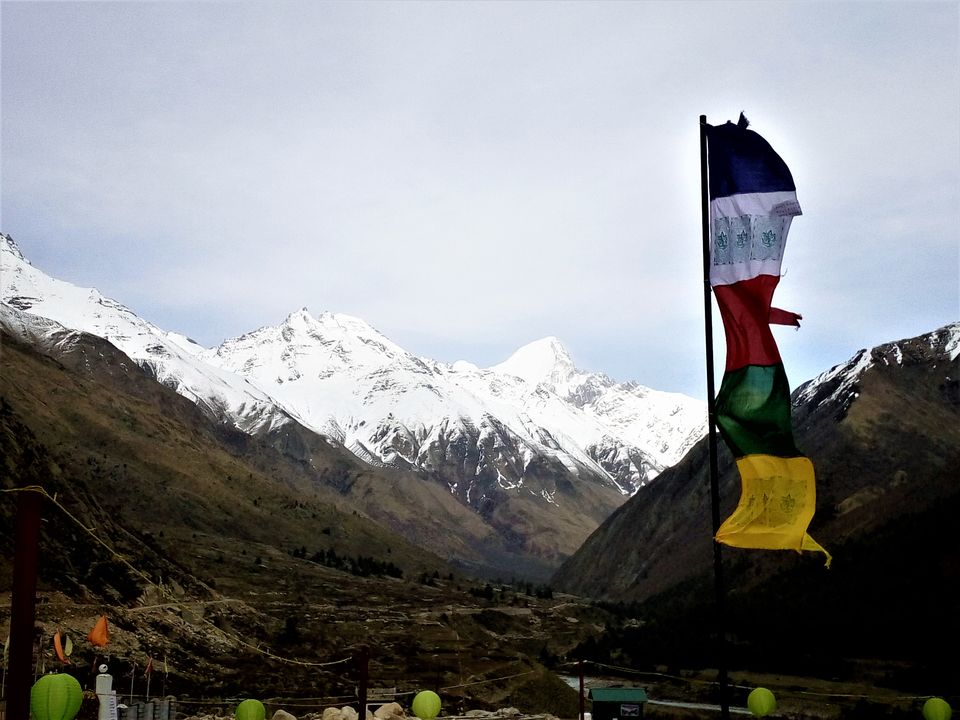 Shanti
Mountains do not offer an easy life, and people know that. Locales work across various jobs earning a living, even if gets physically demanding they don't hesitate. Any work is seen with respect and there is no 'good or bad' classification which we usually see typically in urban metropolitans. Reason quite straightforward, strenuous geographical situation giving people tough challenge to even look after for basic survival needs, which in turn leads to a humble behavioral outlook towards other people. You submit to nature, and not bother about petty issues on what work one should do. In other words, we know our tiny place as human beings against nature's grandeur. Consequently people don't have huge ambitions of touching the skies, becoming rich and wealthy and craving for a comfortable regime. They know, in a terrain like Chittkul, survival is just about the most important thing, that's the goal! And thus, one doesn't hesitate to indulge in any sort of job even it's difficult and painful to take it on.
Shanti is the name of a gutsy woman who lives in the hard-hitting valley of Chittkul, enduring her way through the toughest job that could ever there be. She spends her day breaking bigger rocks into smaller stones by the roadside and makes a living out of it. I got a chance to interact with her, as she sat amidst ocean of rocks, and her hand holding a hammer, executioner style.
"Aapka photo le lun" (Can I take your picture?)
Shanti - (with a smile) "Han" (Yes)
"Aapka naam?" (Your name?)
Shanti - "Kyun?" (Why?)
She did agree for a photograph, and later agreed to tell her name as well. Maybe she was proud to tell her name which means peace, something which is heart-felt all over the place, and people carry it with pride, even if you are a rock crusher. It could be seen in her eyes. Hats off to her, to maintain such calm and composed poise, even after knowing your life is tough and there could be challenging times ahead.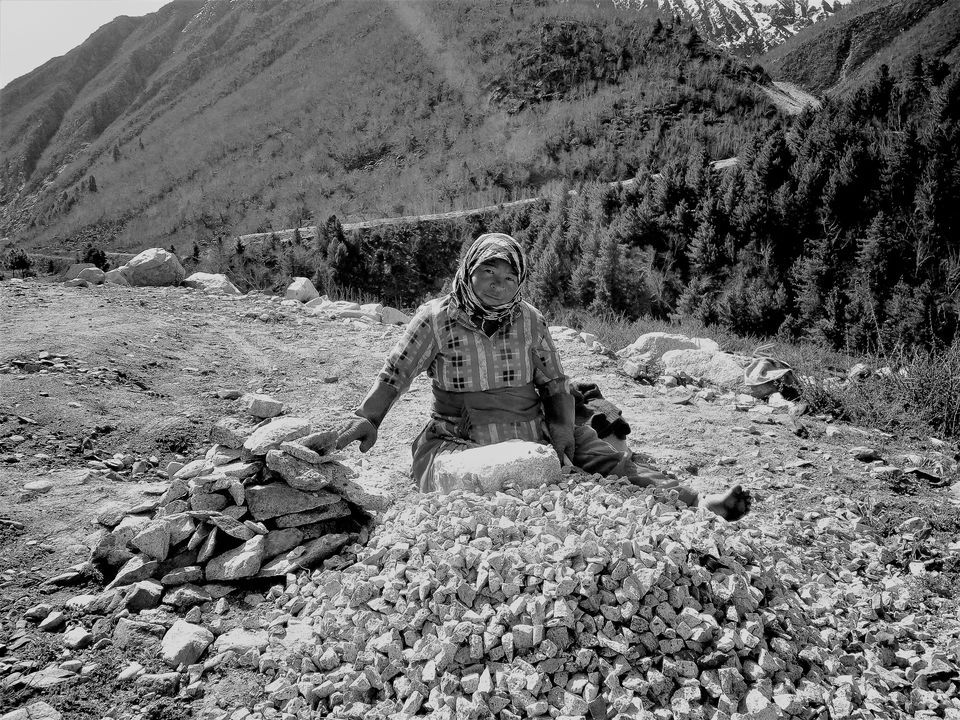 The Band of Boys
And indeed they are truly the rockstars of Chittkul, as quoted by one of the Bengali guests who had checked in with his family. Avinash, Minto, Ravinder and a bunch of others work day in day out running the only 'commercially established' restaurant cum hotel along with neighboring newbie Zostel (where I was staying). They are a big group of close acquaintances, orchestrating with great rhythm in pursuit of flawless operations and client service. Like a set of synchronized moving parts of a big intelligent machine, which is producing a nicely packaged product resulting in nothing short but customer delight. As workaholic as they may sound, they believe in another 180 degree bang opposite balancing phenomena called, yes you guessed right, 'partying'! Partying in the night to balance it all out with a must bonfire set ablaze in the chilling night, the staff circle up at dusk for good 2-3 hours drinking their favorite local fruit alcohol (apple flavor), chit chatting and dancing to popular punjabi rap tunes.
Looks like a kick-ass lifestyle right there at the footsteps of deserted Kinner Kailash, they prove one saying very true, even if "life gives you just lemons, you should make a lemonade out of it".
Next morning before leaving, I had to take a picture with them, here goes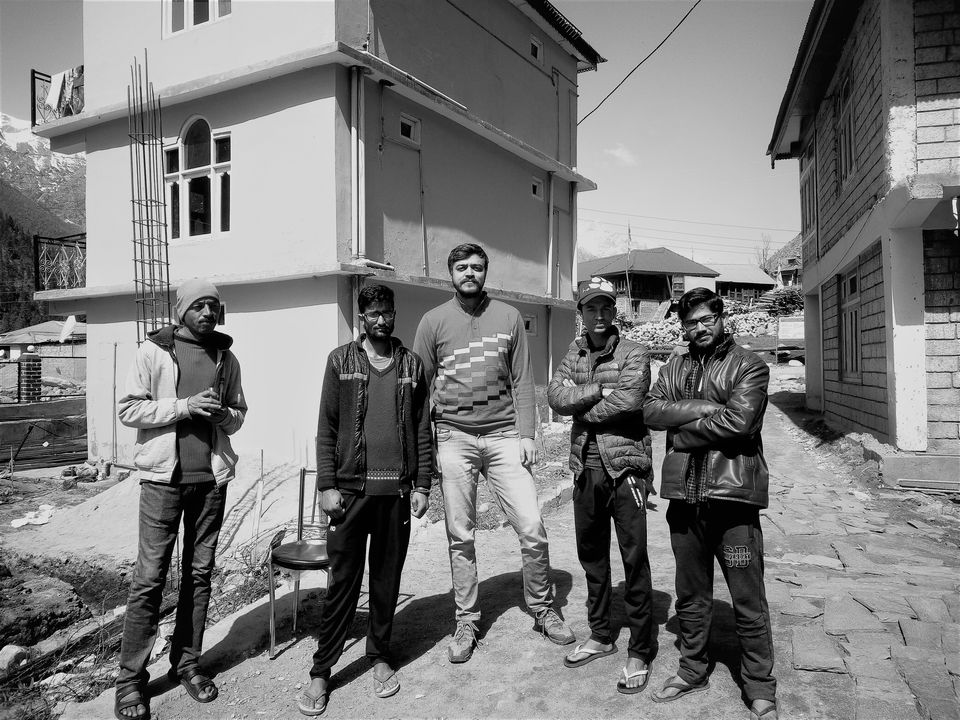 Chittkul is a must visit for a die hard road trip and a spectacular visual treatment by nature. If you like motorcycle touring and like to get awed by mountain life, please keep this magical road trip to top of your bucket list coz the road journey gives nothing but pure adrenaline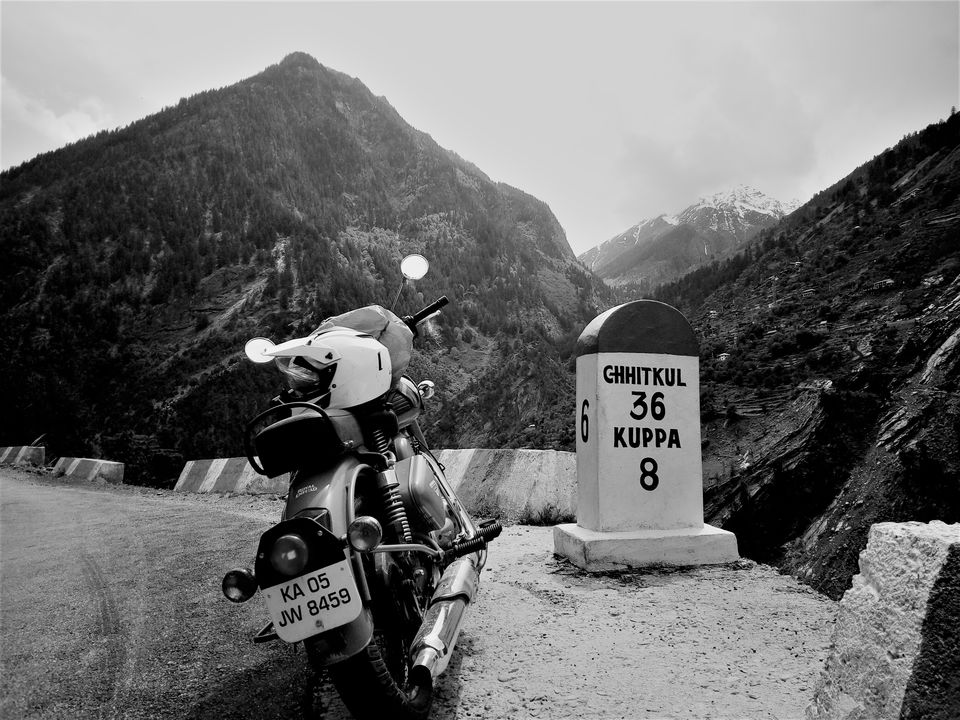 Signing off, chao