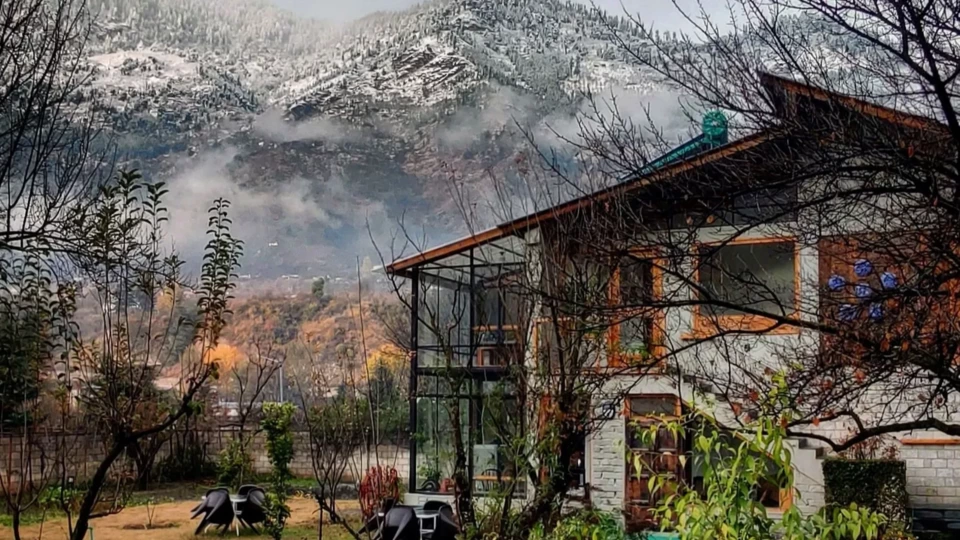 A lot of us day dream of long weekend holidays waking up to a river flowing in front of your window or perhaps a long workation where nature is your constant companion. A place that you can call home, that gives you peace and warmth.
And whichever one is your dream, it definitely will fit perfectly into this homestay named Raison D'etre which stands for 'the purpose of someone's existence'. A thoughtfully curated homestay, you will be at peace the instant you step into it. The homestay is named after a Himalayan riverside village named Raison. After a decade of designing, landscaping and building the two hosts, called their home Raison D'etre—their life's project.
About The Hosts
Shalini and Nitin worked as Previous creative heads at a series of major communications groups in Mumbai and Delhi. In 2013, they took the brave decision to ditch their corporate life and move to Kullu valley.
"We wanted a place with weather so good, you could spend 360 days of the year outdoors. Where we wouldn't ever need to trade beauty for practicality, adventure for comfort, or joy for peace."
Shalini had always dreamed of a home in the hills and now the couple is spending their 50s running their own communication firm from the hills and managing the homestay.
The Dream Homestay
The only private riverfront home between Kullu and Manali, Raison D'Etre homestay has four bedrooms named after each season of the year. Enjoy a cup of tea in the common sit-outs with a dining area and pantry. Decorated with an eclectic mix of vintage and modern furniture, you will notice art that is collected from across India. For the cool nights, all guest beds are heated and rooms have towel heaters along with wood burning bukharis.
The home easily accommodates total of 12 guests, apt for a group of friends or a family vacation. You might just wake up to the couples two cats, Baarish and Bijlee. So, if you plan to bring your furry friend along with you, make sure to check with the hosts in advance.
Wake up in A Picturesque Location
Raison is located in a sweet spot of the valley, a temperate zone between Kullu and Manali. Located right by the Beas river, you can enjoy some unmatched views of the orchard and the gurgling river against the snow-covered mountains. The river is more than a beautiful view here offering the homestay access to crystal-clear, mineral-rich water from a Himalayan aquifer that's hundreds of feet below. This is the water you see used everywhere around you at Raison D'etre, including in the overflow infinity pool overlooking the river.
Fresh Food in the Mountains
Unless it's raining or snowing, all meals are served alfresco, under an apricot tree! The meals are prepared by an in-house cook, but Nitin enjoys cooking family favourites for guests. Don't miss out on the range of dals - Moradabadi, Punjabi dhaba dal with buttermilk, Lakhnavi arhar dal and bhuni moong with panch phoran, among others. For non-vegetarians a family recipe of Pahadi-style mountain goat meat with rice sounds unreal whilst sitting out on the alfresco in the fresh air. Try some of the best homemade jams, chutneys, pickles and juices made with fruits grown on the property orchard.
Things To Do During Your Stay at Raison D'etre
Although who wants to do anything when they are in a location like this besides relaxing? But if you are in a mood for a peaceful walk, the neighbourhood has some quiet walking trails up the hills, along the river and to villages nearby.
1. The homestay is a great starting point for walks to the nearby forest, village and the Dhakpo Shedrupling Monastery.
2. Go for river rafting, quad biking or ziplining.
3. Rent a motorbike to ride around the valley towards hot sulphur springs to bathe in or set up a cosy bonfire by the river.
4. A half-hour drive from the homestay, you can visit Himalayan dairy to sample cheese, a spot for local village food located close to a waterfall and several cafés where you can enjoy wood-fired pizzas.
5. The mall road in Manali is just 30 minutes away, good for some shopping options!
Location
Address: Off NH-3, VPO Raison, Manali, Himachal Pradesh 175128, India
Price: Rs. 7,499 for two
Contact: +91 82192 48858, Website;
During your stay at Raison D'etre all you need to do is lie on the hammock in the orchard under the trees with the river right next to you. Plan your next stay in Manali at this homestay and sink your feet in the sand on the riverbank, enjoy hot chai and some garam garam meals whilst sharing a laugh with your loved ones!
Check out my below article if you are looking for more ideas for your next trip to Himachal Pradesh.
Affordable Homestays and B&BS in India That Are Surrounded by Nature Hidden in Himachal Pradesh
Plan A Trip To These Beautiful Places in The Mountains of Himachal Pradesh
Think we missed out on something? Tell us about it in the comments below. Or write about it here on Tripoto and earn Tripoto Credits!