For most of us living in Delhi, a trip to the mountains meant either Shimla or Manali. Places such as Kasol, Shogi, Chindi, Theog were completely unheard of. This trip, which was considered a break from the city, had its fair share of horse-riding afternoons, numerous ice-cream treats on the mall and posing infront of an erstwhile church from the British era.
Things have changed and how! Reminiscing about my childhood in the hills, only one thing comforts me – there are cooler places to stay at rather than the boring, monotonous and see-it-all, done-it-all hotels!
And here's my very special list of some of the best homestays in Himachal Pradesh:
A small village tucked away in Tirthan Valley, the place is situated close to the Great Himalayan National Park. Enveloped in greenery and overwhelming mountains, it's a delight for travellers!
Raju's Cottage, Goshaini
If you are planning a trip to Tirthan Valley, you will want to make sure your research is up to date. Things here change within weeks and something that is applicable in May will not be applicable in August. Before going, confirm your accommodation, figure out your transport options and have alternate plans for everything.
While Raju's Guest House is extremely popular as a homestay in Himachal Pradesh, it is very difficult to book. Sometimes the phone lines are down and at times the guest house is completely booked. Yet, if the mountains want it, you will land up at this quaint guest house in Goshaini.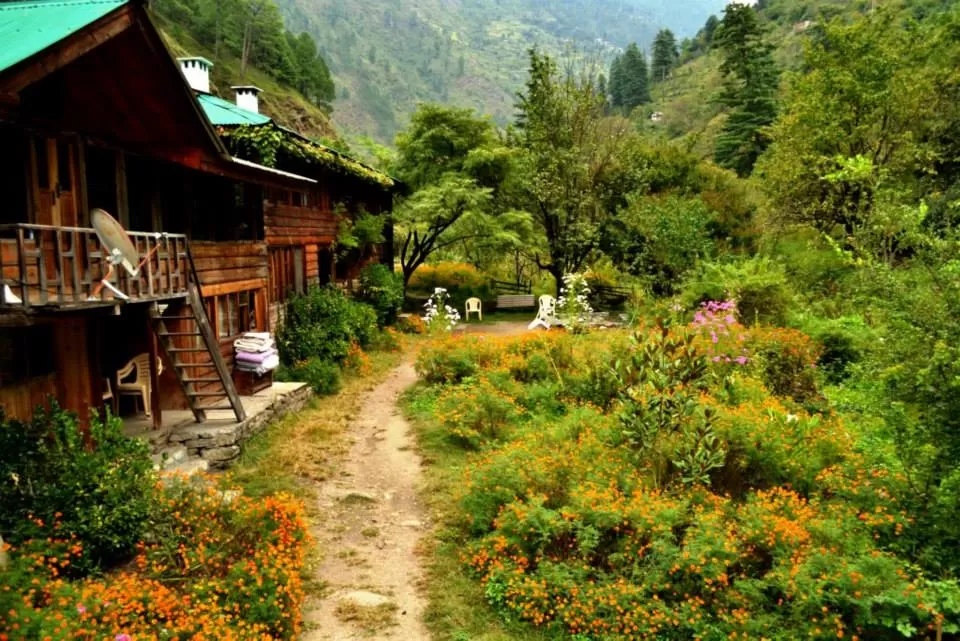 The guest house itself sits perched on a small hill and looks perfectly in place amidst the overwhelming mountains and sparkling greenery. The first glimpse of the guesthouse is breathtaking to say the least. Rooms are very comfortable, cozy and clean with everything that you can possibly need (though warmth is the only thing that counts in the freezing cold). There is a welcoming living room, dining area, a lounge and a porch where the streaming sunlight will force you to sit and admire at the ways of nature.
The area outside is perfect for a bonfire (should wood be available). The food is great and your tariff will depend on your choice of meals (veg or non-veg). But most of all, what'll make this trip amazing is the hospitality! Warm and extremely informative, everyone here is very helpful and it's best to ask them for places around (if you do manage to push yourself outside the room). For the adventurous, there's a waterfall close to the cottage, the Great Himalayan National Park at a few km ahead and enough opportunities for you to trek!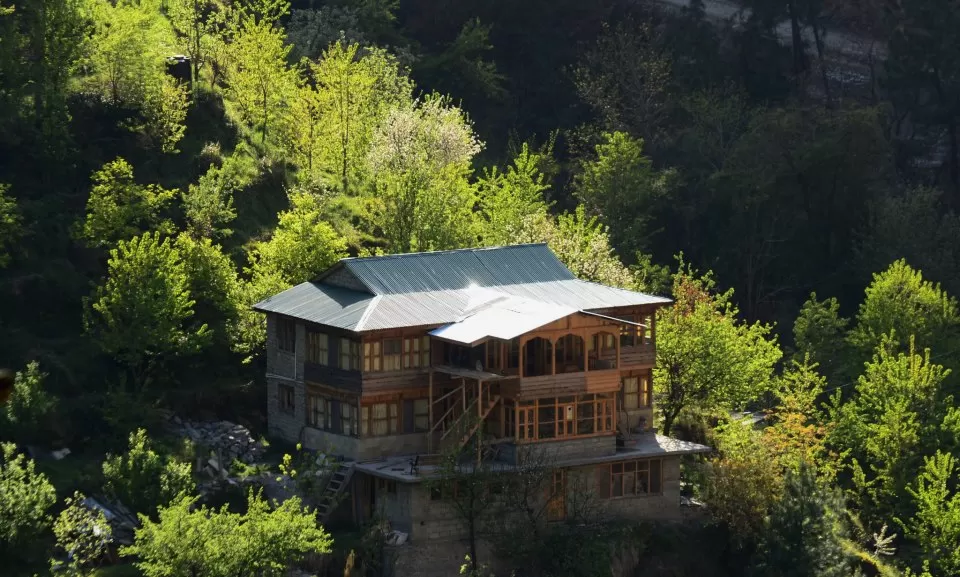 Biking, angling and camping are some of the other things that you can treat yourself to and the gear for everything is easily available at the cottage itself – yes, I know it's perfect.
How to reach: If you are coming from Manali/Mandi, take a U turn toward Goshaini (stop and ask locals for directions when confused). After passing Nagini Village, it's best to call the cottage for proper directions.
Palampur, a small valley in Himachal Pradesh is a well known destination for those who are truly seeking a break from the chaos of the city!
Bundla Tea Estate, Palampur
There are reasons to keep coming back to the mountains but if a homestay gives you a reason to visit again, you know you have found your home in the hills. Bundla Tea Estate is a pleasure! Tucked away in Palampur, the homestay seems to be just another house in this small town. Basic yet impressive, this lovely homestay wins you with its hospitality!
Only an hour away from Dharamshala, the town itself is very quiet and naturally the homestay personifies the silence. The view from all the rooms is breathtaking and the sudden spurt of greenness around you will overwhelm you for a few hours (unless you are travelling in winter)! There is a small river nearby and it makes for a perfect afternoon escapade while Bir and Billing is an hour and a half away (in case you are in the mood for some paragliding). The host is informative, kind and courteous and assures that you have everything you need.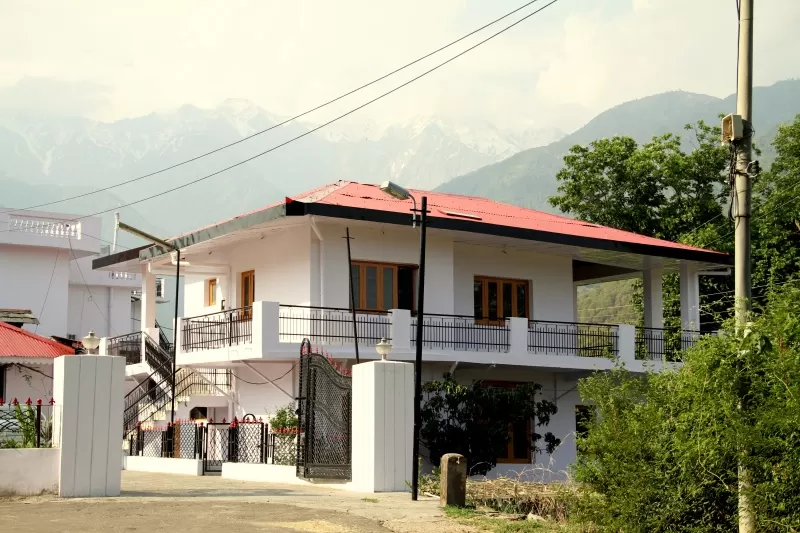 If you are in luck, you may also spot some of the activities that happen at a tea estate (for city folks, it's a huge bonus, trust me). After a few days here, I had decided that another 5 years in the city and I am off to the mountains!
How to reach: You can take a bus to Palampur from Delhi but do make sure the bus makes a stop at Palampur. It's easy to locate once you are in the city.
Raison is a few km ahead of Kullu. Quiet and peaceful, this tiny town reminds one of a potentially life-changing book lying unread. A must visit for anyone who isn't in the mood for Manali!
Our Place, Raison
Raison, a few hours before Manali is beautiful! I don't have enough adjectives to describe the peace and serenity the mountains offer but do know that Raison is a must visit. If you are bored of Manali and the chaos that comes with, Our Place in Raison is a heavenly break. The homestay is very basic yet extremely comfortable! The rooms are spacious, well maintained and are designed in a way to let the afternoon sun filter in beautifully!
The area outside the guesthouse offers panoramic views of the mountains and the river and was easily my favourite place to hang out! There are various sit-ins around the house and outside that make for amazingly comfortable snuggle in couches.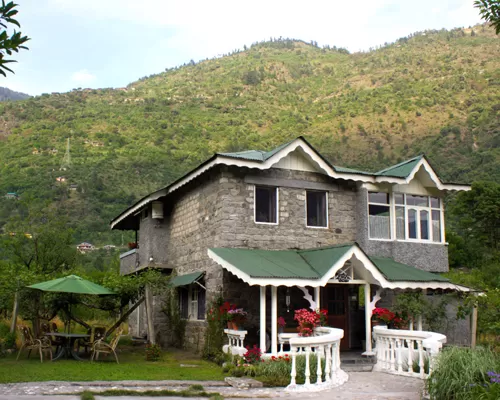 The food served here is great and you only need to let the chef know what you'd like for the next meal so he can prepare it for you. The hosts are helpful and also advice you on the various places you can visit around Raison including a few treks, a market (woolens here are a steal), a temple and a castle. Definitely one of the best homestays in Himachal Pradesh as far as I think!
Location: Raison. It's on the way to Manali, after Kullu. A major bus stop and a prominent stop-over, it's unlikely that you'll miss it.
Kariyali is located about 60 km from Shimla and is an ideal spot for adventure seekers since it offers many opportunities for trekking. The district is very small and not very well-known.
Spirits Unplugged! Farm and Orchard Retreat, Shimla
Located about 60 km from Shimla, this great homestay is a relief amidst the number of hotels brimming in smaller towns. With the idea of refreshing your soul, the homestay is bang in the middle of natural beauty. With a waterfall nearby and various trekking routes, the homestay is also great for those who like a little bit of adventure.
The host is very courteous and extremely well informed about the surrounding areas. Any suggestions from the host will really help you make your holiday even better, so do listen carefully.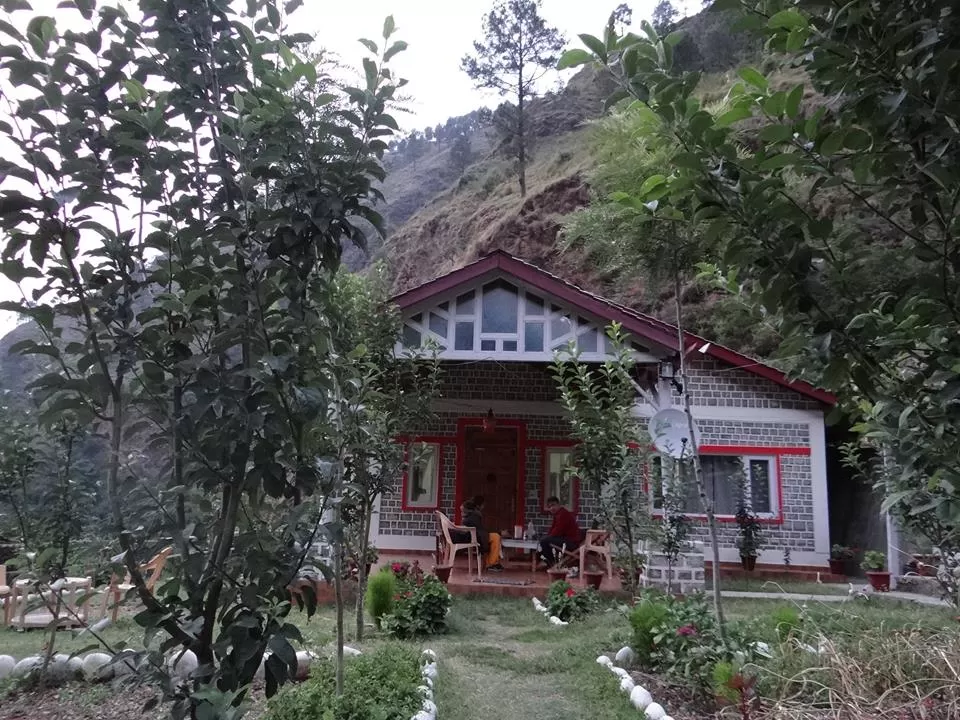 Though the chef is great, it's better to let them know what you'd like to eat so they can prepare your meal well in advance. Being bratty in a homestay defeats the purpose of a quiet trip so for a few days, let go of your usual habits and who knows you may just end up enjoying the experience.
Another great thing about the resort is that everything one may need for a comfortable, peaceful holiday is available within the resort and you don't need to run around arranging things!
P.S: It's pet friendly! Whee!
How to reach: Karyali is located about an hour and a half from Shimla and it'll be best to ask some locals for directions or call the homestay.
The last major spot before Dharamshala, Kangra is a small town in Himachal. Located perfectly in the midst of popular tourist destinations including Mcleodganj, Bir and Billing, this lovely town is a dream to visit.
Darang tea estate, Kangra
The warmth and the hospitality of Darang Tea Estate will ensure that you have a fabulous holiday. The hosts go out of their way to make you comfortable and while the homestay has all the basic amenities one may need, it's such a great feeling to be pampered!
There are three accommodation options at Darang and depending on the number of people you are, you will have to make the booking accordingly. There is only one double room while the rest are cottages with two rooms each – it's best to call ahead of your trip to plan all the details.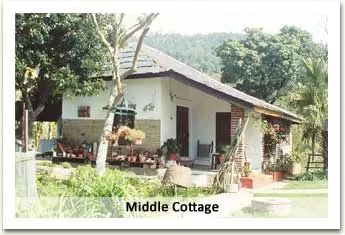 There are quite a few monasteries to visit around the homestay and if you are in the mood for some adventure, Bir and Billing is only an hour away. Mcleodganj isn't too far away either and if you are missing the hustle bustle of a noisy town, you can head here for a day!
Location: Kangra (it's a prominent stop and most taxi drivers and bus drivers are aware of the stop)
That was a long list and a lot of memories! Do try and also add to the list should there be something I missed out!
Frequent Searches Leading To This Page:-
himachal tour packages from delhi, himachal tour package for couple, himachal tour packages online, himachal tour packages itinerary, himachal tour package from jammu