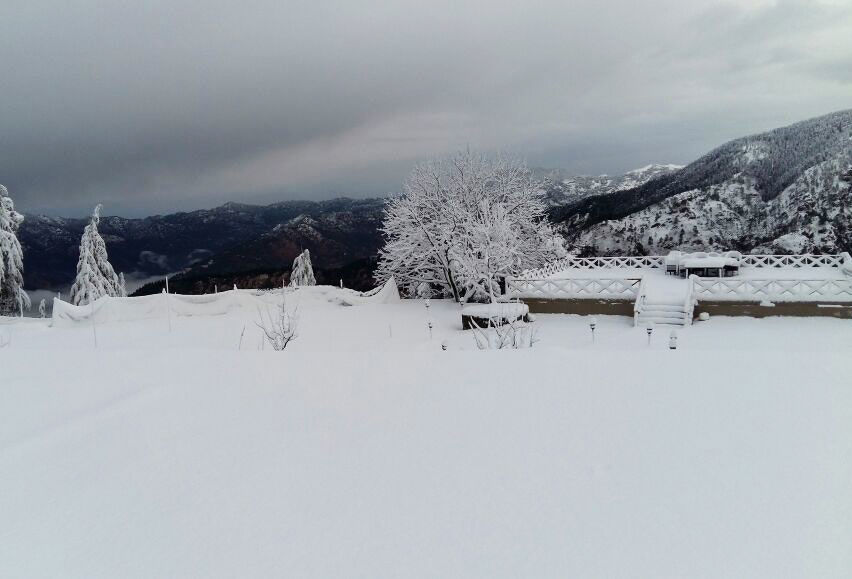 The mornings are chilly. The air is thick with the soft fragrance of the mountains. The trees stand tall with their crisp leaves. A stunning backdrop of mountains. There's little sound except that of the chirping of the birds. This sums up the charm of the beautiful Chail.
Nestled amidst these charms, safely hidden from the worries of the world and endowed with marvellous views rests an isolated and luxurious resort, Vue Magique Resorts and Camps. The resort lies in the tranquility of the mighty Himalayas and is completely secluded from all chaos and hustle-bustle of the city-life.
Ideal For
Situated at a height of 7,054 ft, Chail is the haven of peace and tranquility. If you are looking for a quick getaway from Delhi's sweltering heat and pollution, Chail's gorgeous landscapes are the perfect fit for you. A stay at Vue Magique amidst these views with luxurious hospitality will help your soul rejuvenate.
Why You Should Visit
While places like Shimla and Nainital are buzzing with tourists all throughout the year, Chail is still an offbeat tourist destination. Vue Magique's secluded location, literally at the end of a mountain, makes it even more perfect a place for you if you seek solitude and quiet. There is no other property located close to the resort, allowing you to enjoy the complete charm and calm of the mountains without anything to disturb you!
The resort has various types of rooms available to spoil you with choice. If you are feeling luxurious, you can book the suite, which has a private pool inside the room, for you to enjoy all by yourself! The rooms have jacuzzis too! If you are feeling a bit more adventurous, the resort also provides the option to stay in camps to let you stay closer to nature. Each camp has an enchanting view of the surrounding hills with clouds hanging over them at all times.
Vue Magique offers a lot of activities too to ensure your stay is fun and relaxed. While the resort has an activities room equipped with a table tennis table, foosball table, darts and much more, there are various outdoor activities too. Go for rope climbing and rope sliding right outside your rooms as you stare down the mountainous cliff! Unwind with pakoras and adrak chai while soaking in the simply breathtaking view of the sunset from the resort gardens after a day full of activities.
If you have been waiting all your life to witness an actual snowfall, Chail might just be your best bet. Owing to its high altitude and unpredictable weather conditions, Chail witnesses rain and sunshine erratically all throughout the day. However, if it is your lucky day, it might just snow and the resort looks like a piece of heaven after a good snowfall. The resort can be covered in inches deep snow anytime in the year, even in the middle of the scorching months of June and July!
Things To Do Around Chail
With the immensely popular hill station of Shimla only 38 km from Chail, you can head there anytime you want. Enjoy a ride on the toy train, walk through the lush green forests or pay a visit to the stately Christ Church. A relaxed stroll down Mall Road and shopping at Lakkar Bazaar for cheap crafts and small mementos are a must while you are in Shimla!
Solan is just 45 km from the resort. You can indulge in small treks in Solan surrounded by tall green Deodars and scenic views of the mountains. You can also pay a visit to the Bon Monastery and Kuthar Fort to enjoy beautiful architecture and listen to interesting anecdotes from history about the places.
Getting There
By Air- The nearest airport to Chail is the Jabarhatti airport of Shimla. Chandigarh airport is 113km away. Both the airports are well-connected to major Indian cities.
By Rail- Kalka Raiway Station is the closest station to Chail with multiple trains connecting it to most Indian cities.
By Road- While you can easily drive up to Chail, there are many buses travelling from Delhi, Chandigarh and Kalka to Chail at regular intervals.
Do you know of any other place which feels like the perfect weekend getaway to you? We would love to hear about it from you! You can also ask our Tripoto community any travel related doubts.