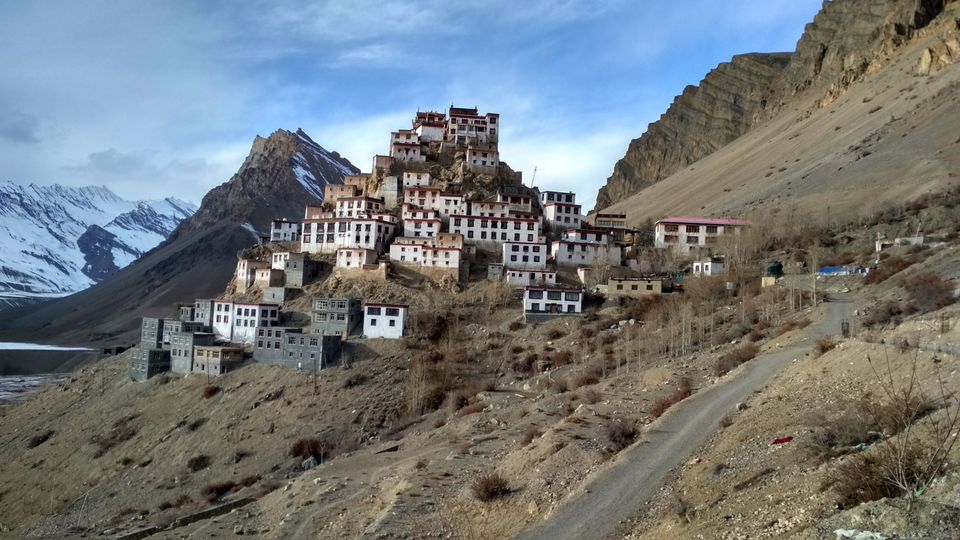 Hi guys, This is my first blog post.
Spiti Valley is a cold desert mountain valley located high in the Himalaya in north Indian states of Himachal Pradesh.
Spiti valley is a place that tops the bucket-list for many travelers, especially if you are a mountain lover. Well my journey began from Calcutta to Delhi on first day.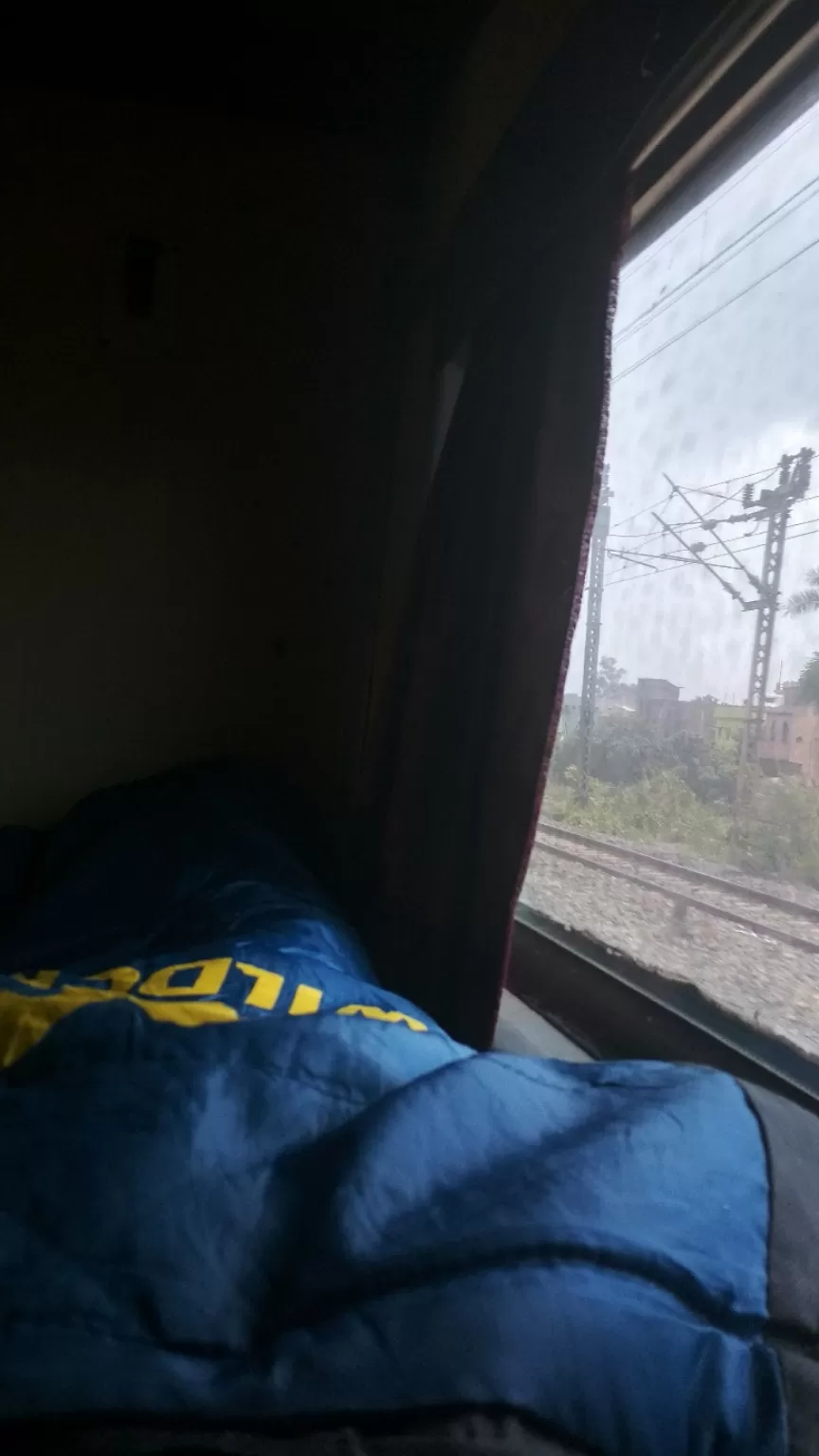 Finally the day come to say goodbye to Spiti:(
Early morning at 6 we leave for kaza, by hiring taxi. Because I was not in the mood of hitchhike again, also my hitchhike ends here.
I need to catch bus from Kaza to Reckong peo.
Bus from Kaza to Reckong peo leave at 7am, this is the only bus in a day for Reckong peo.
Fare from Kaza to Reckong peo Rs 410. Although I was a memorable and adventurous to Spiti.
I reach Reckong peo by 4 In evening. Same bus leave for Simla from Reckong peo bus station at 7pm, cost from Reckong to Shimla Rs 400. So I took that bus for Shimla.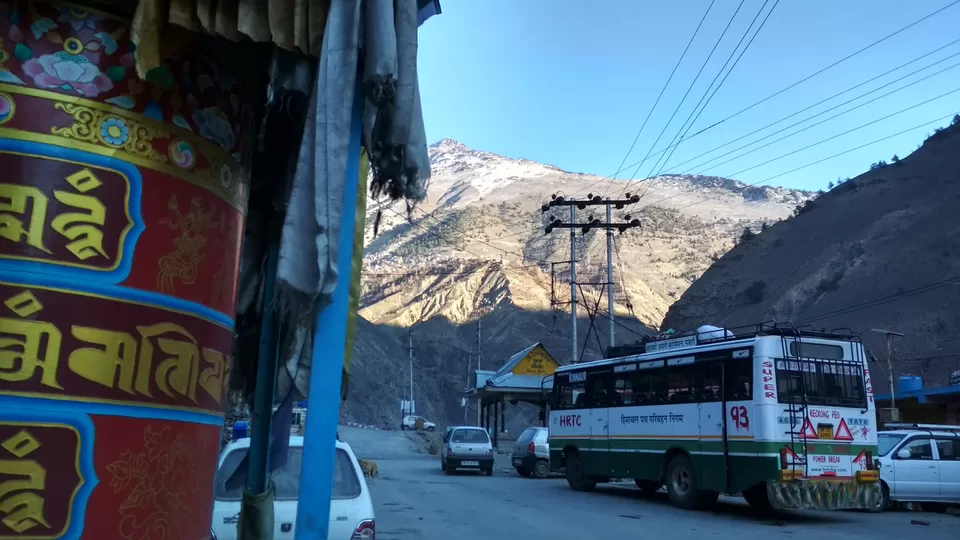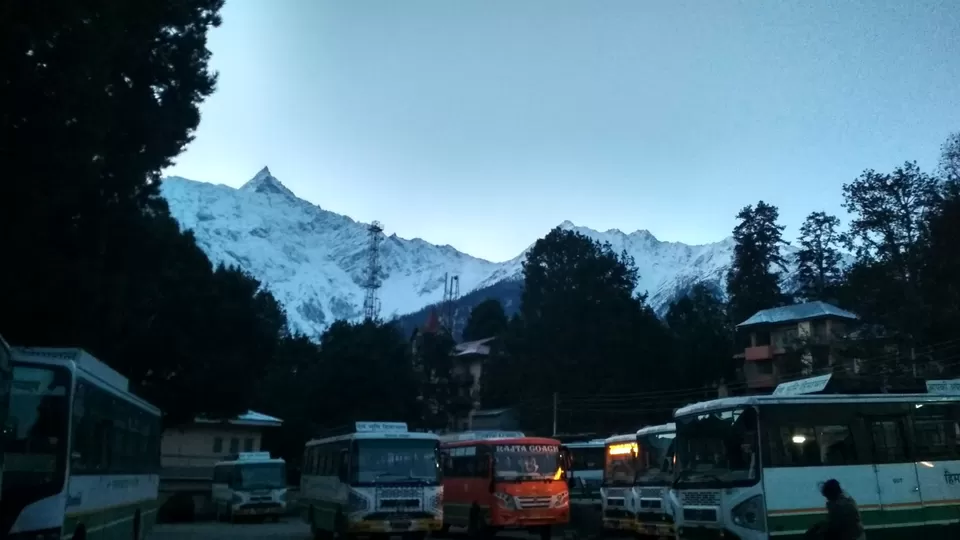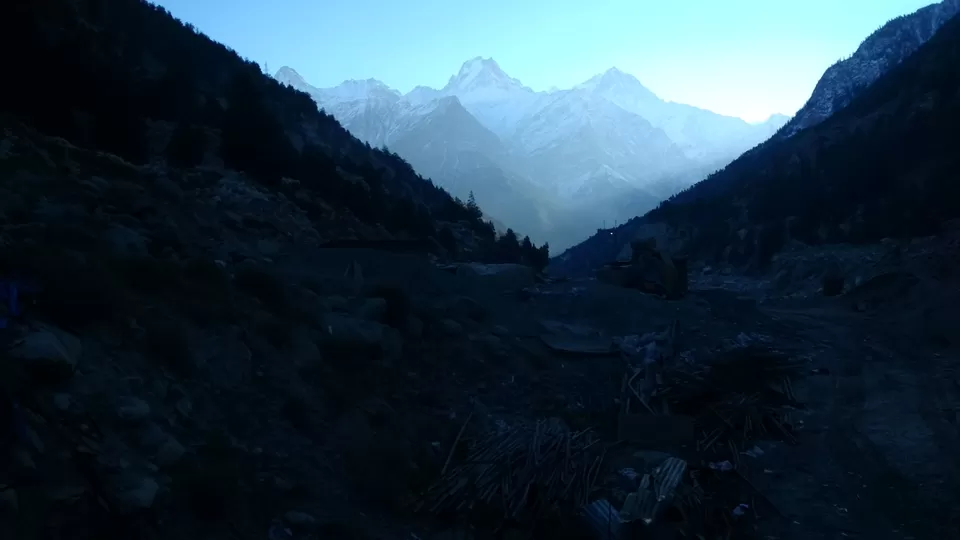 At 5am, I was in Shimla. So I have a day time to spare before I go Delhi. From Shimla bus stand I walk towards mall road. On my way I have tried some street food of Shimla. Which I will mention on what to do and what not to do.
After I reach mall road, I click some pictures of Christ church and other monument. Spare my time on walking on street and explore alley of Shimla. At 2pm after 8 hours of roaming in Shimla, I took toy train to kalka (Haryana). Fare of toy train from Shimla to kalka is Rs.20.
It took me around 6 hours to reach kalka from Shimla.
From kalka you will get many train an buses for Delhi. I took train, which was kalka Howrah mail. After sparing a night at general coach of train, next morning I was in Delhi. It cost me only Rs.100 train fare from kalka to Delhi.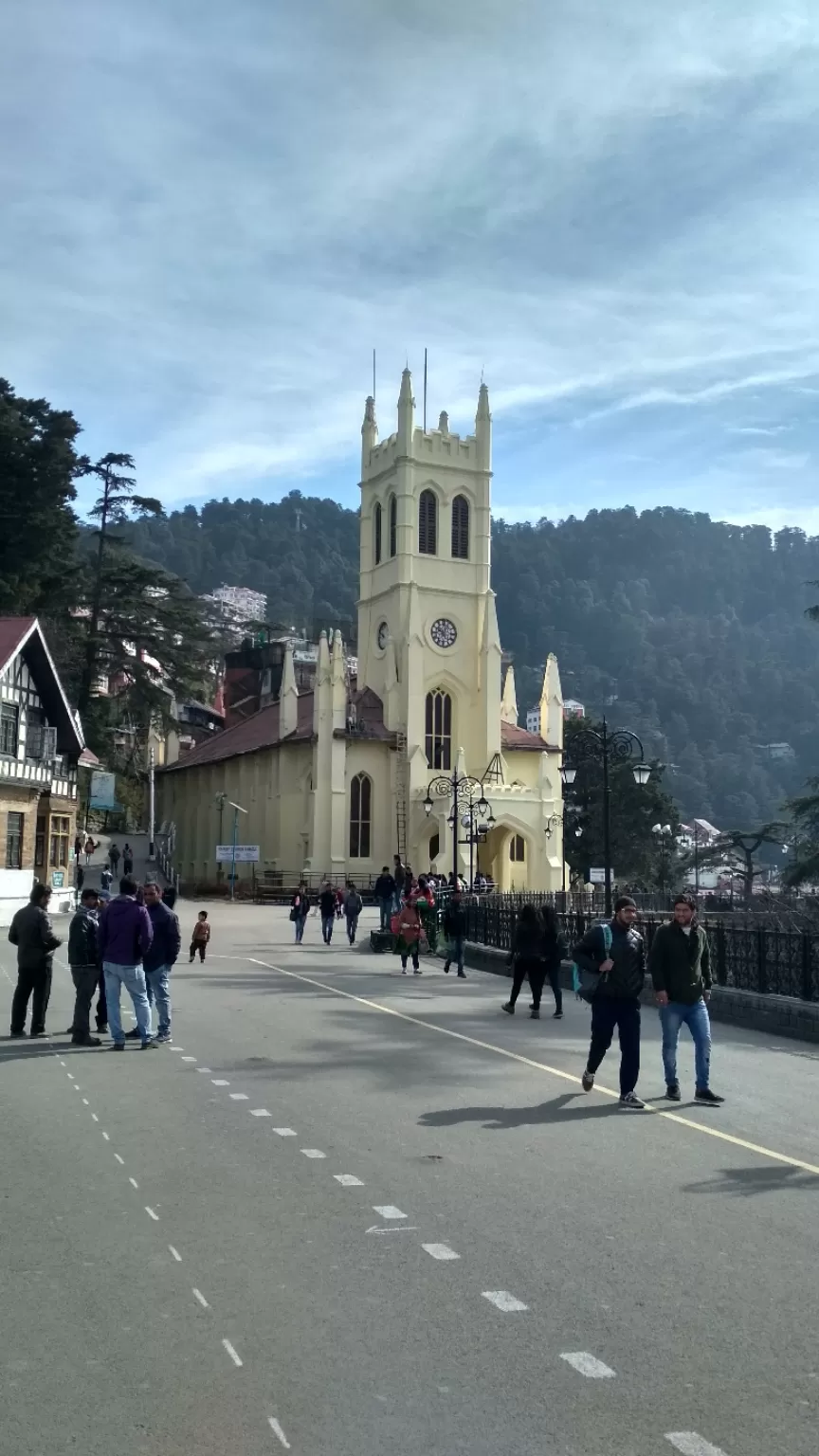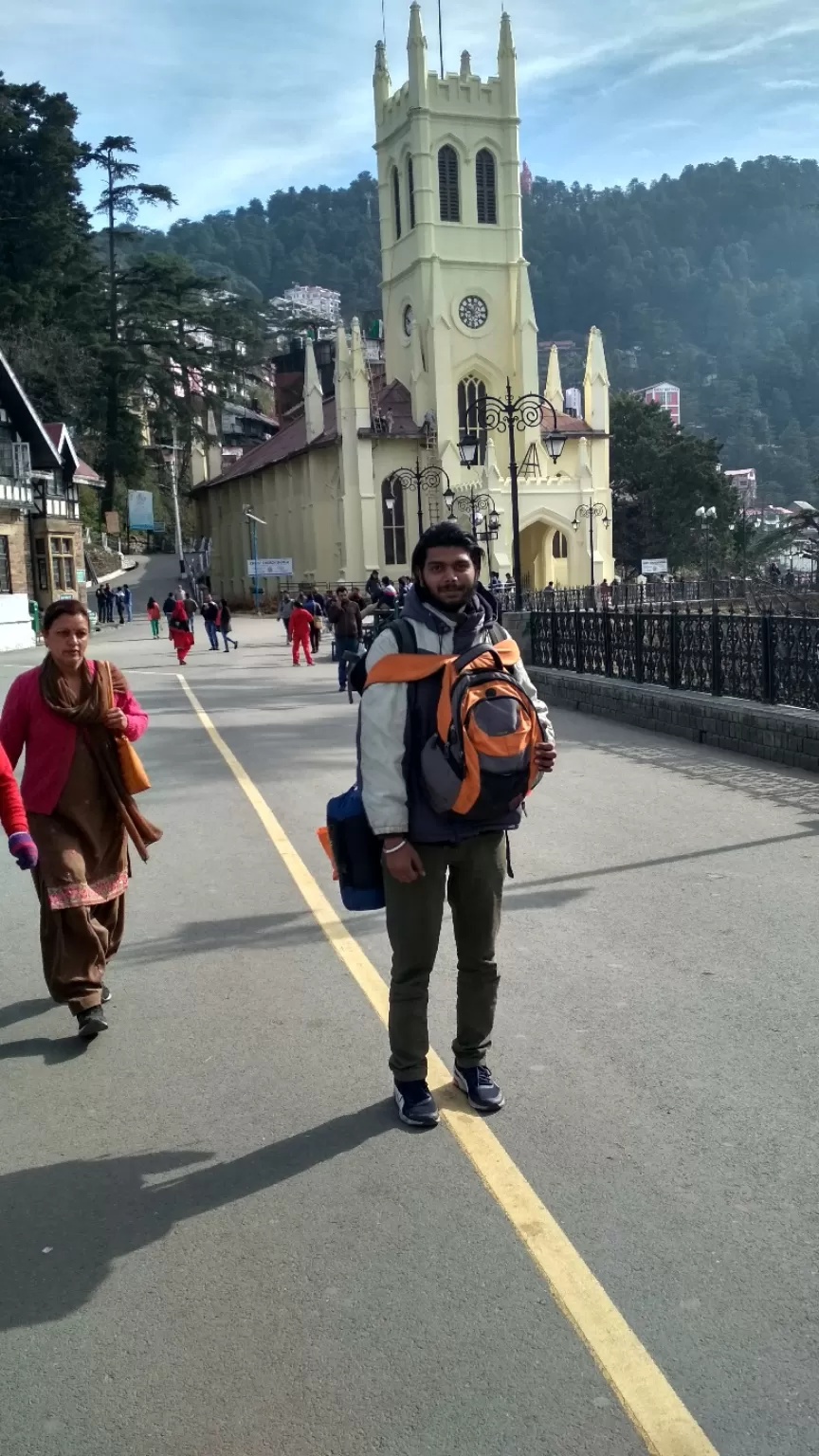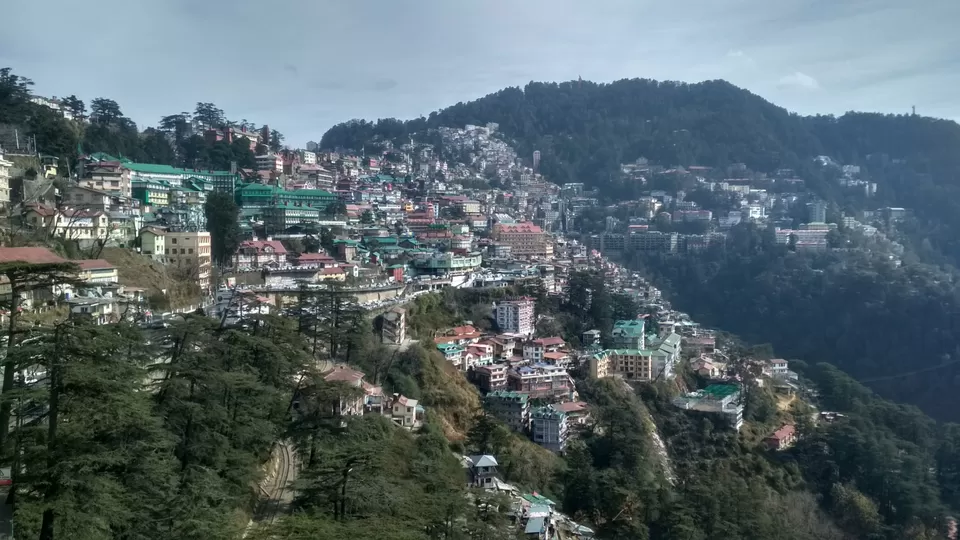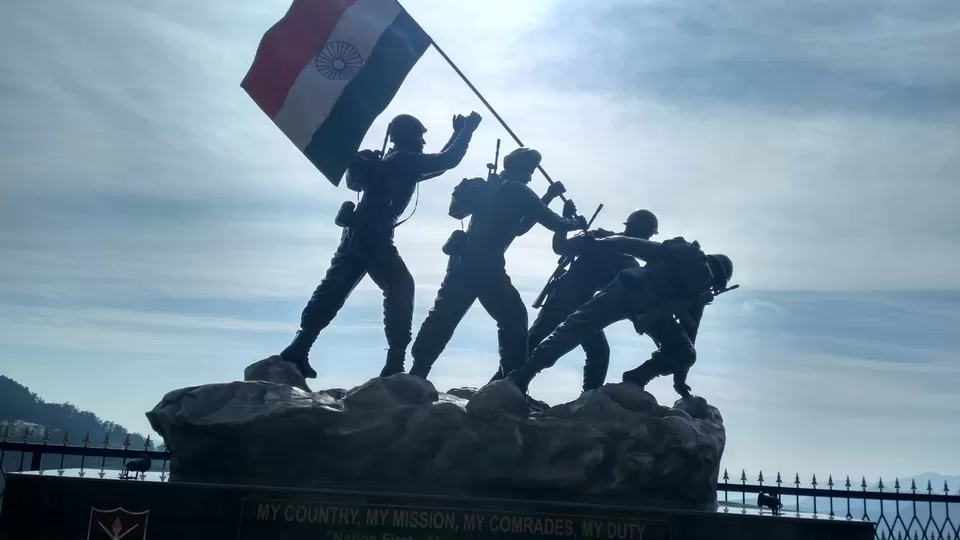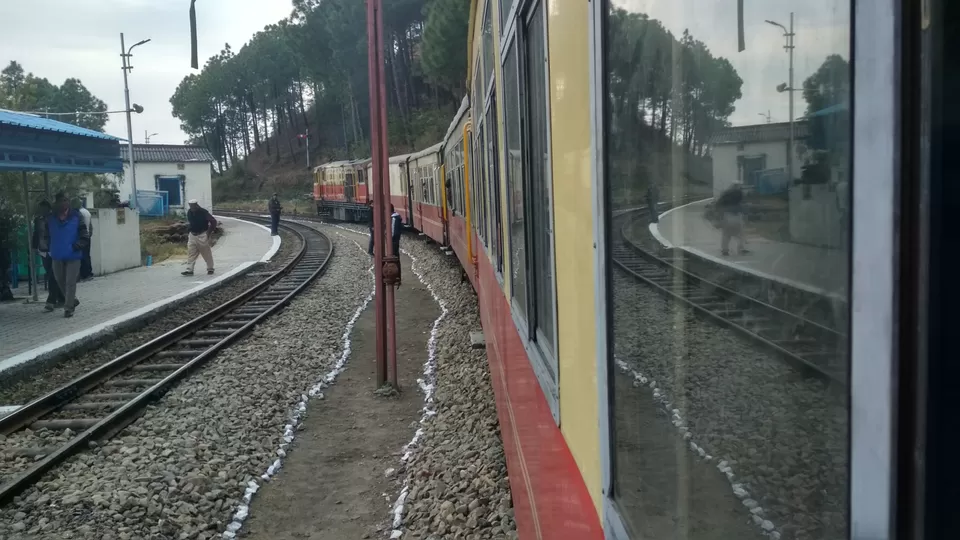 At 11:30 am, I reached Delhi.
Same day afternoon I left for Shimla. I took HRTC bus, from Delhi Anand Vihar bus station. There are plenty of buses ply between Delhi and Shimla.
If you are traveling at low budget then you can take HRTC ordinary bus, this will cost you around Rs 440. Also there are deluxe and another A.C buses are available. I'm a low budget traveller, so I took the ordinary HRTC bus.
There are 2 routes, that will take you Spiti valley:
1. Manali- Keylong- Kaza (town in spiti valley)
2. Shimla- Reckong peo- Kaza
I choose 2nd options, in winter 1st route don't operate because of heavy snow and road block
But brace yourself for bumpy ride after you cross Chandigarh. Also make sure to carry basic medical precautions, you never know when you required :p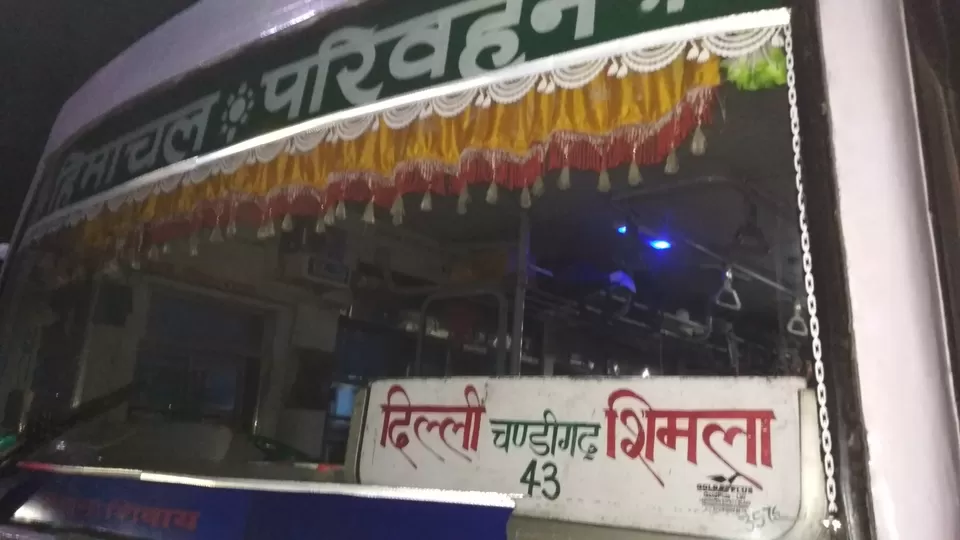 Third day morning at 5 am I was in Shimla.
That was a very chilled welcome, temperature was around -5c. But that is just the beginning of cold.
After I get off from bus, I quickly refresh myself with a warm coffee. Although it was a very tried journey from Delhi. So I slept on bench which was there in bus station.
When I wake up, time was around 12 noon.
I quickly grab my meal and prepare my self for hitchhike from Shimla.
But it was not an easy start, after 2 hours of effort I got a lift from a private car. That take me to a Rampur. It's a small town in Himachal Pradesh, which was about 125 km from Shimla.
Though if you want you can take a bus from Shimla to reckong people, which will cost you around Rs. 450. There is a bus at 7am from Shimla bus stand, will drop you Reckong peo by evening 4pm.
I reach Rampur by 8pm, just next to the bus stand you will get dorm for Rs 200 for a night, which was average. Also plenty of hotels are there, near Rampur bus stand. Which you can choose according to your budget.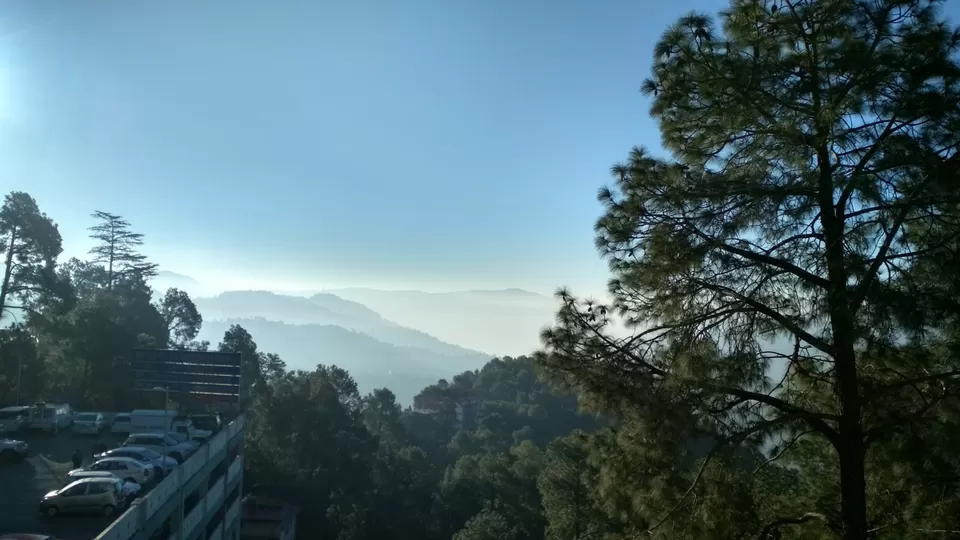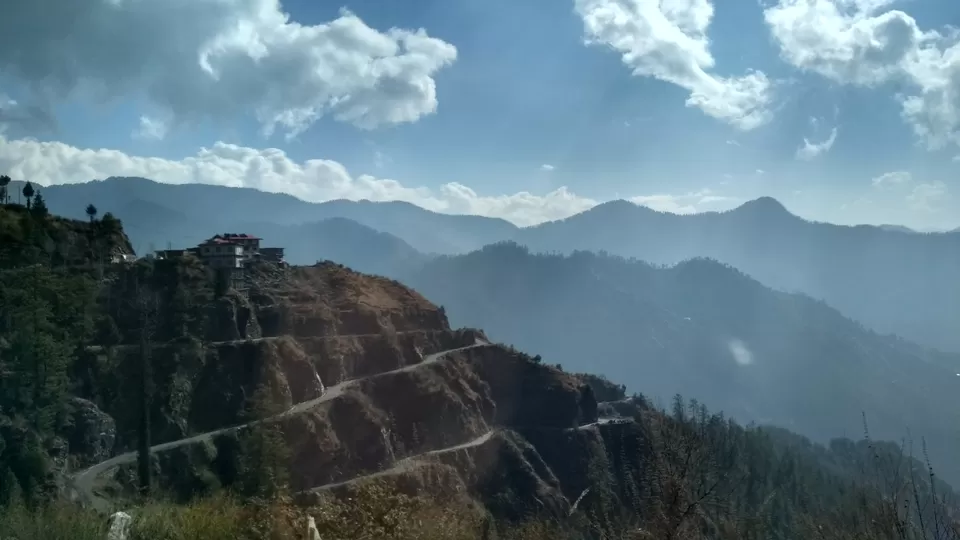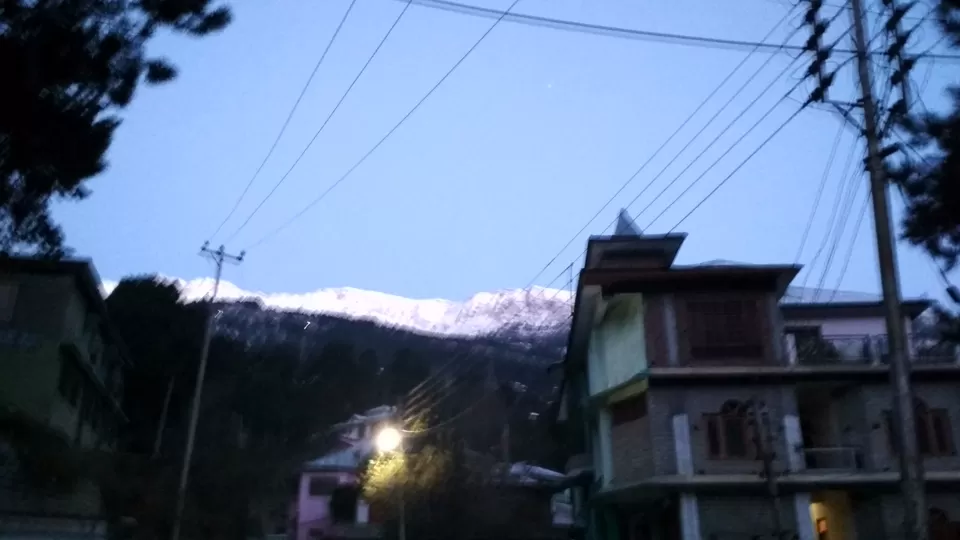 So far everything was good, I was ready to leave from Rampur. Days 4 aim was to reach Reckong peo. After breakfast, I get ready to do hitchhike again.
Without any much trouble, I get lift for Reckong peo. Also Reckong peo know as kinnaur kailash. This time I got a lift from a truck. Everything was going smooth, but a wrong incedent happen before 25 km from Reckong peo.
For the first time I experience landslide, which was an horrible experience. A big price of rock crush a vehicle which was in front us. Anyhow after 4 hours of rescue everything sorted. Although it was 100km journey from Rampur to reckong peo. It took 10 hours to reach.
After reaching Reckong peo, I had 2 options. Either to pitch a tent or rent a room.
After thinking too much, I took a decision to take a room. Temperature was -10c in Reckong peo. At upper Reckong peo, easily room is available for Rs. 500. But if you can negotiate, it will bring up to Rs. 200.
But don't forget to try Tibetan food.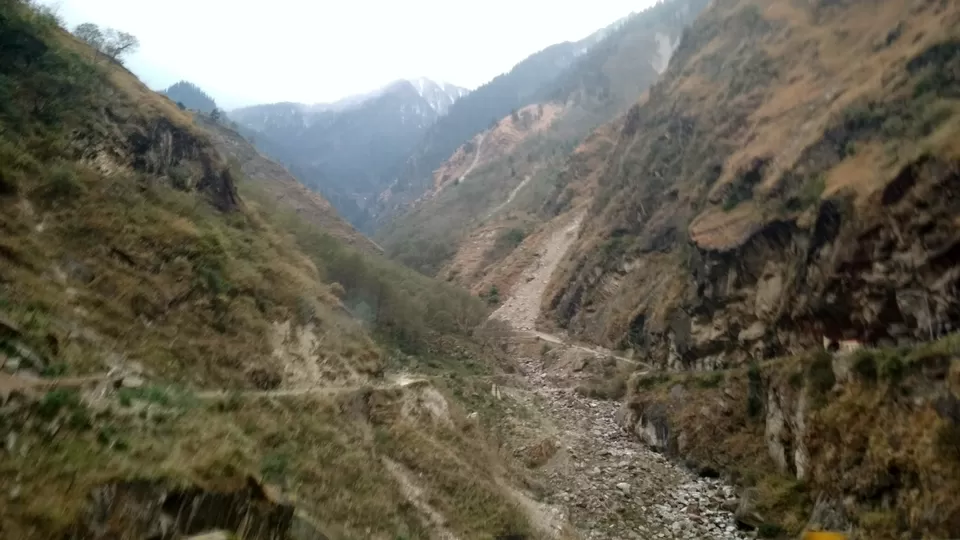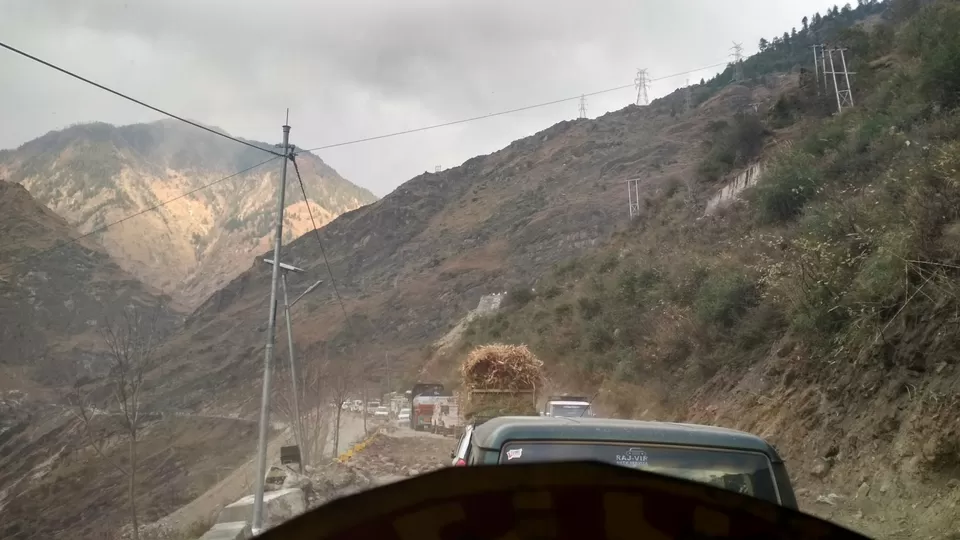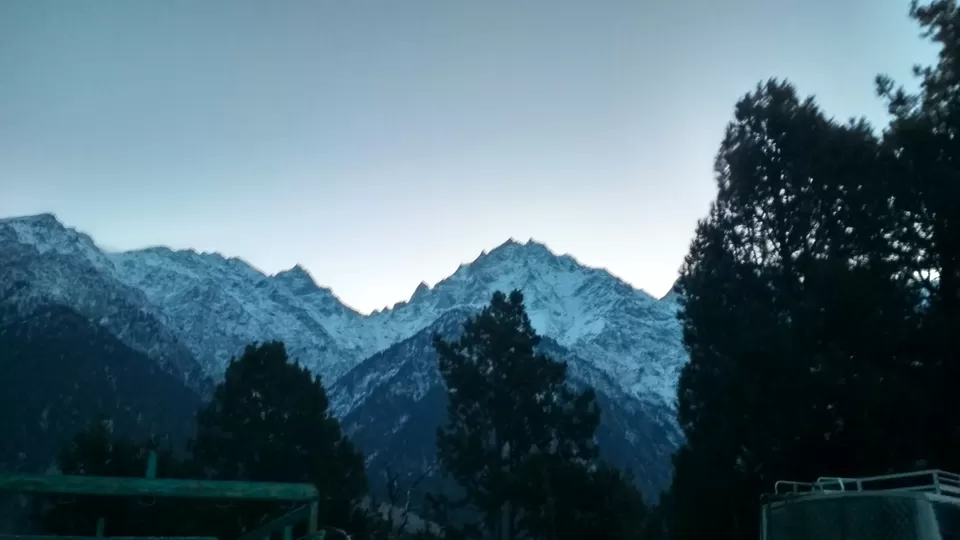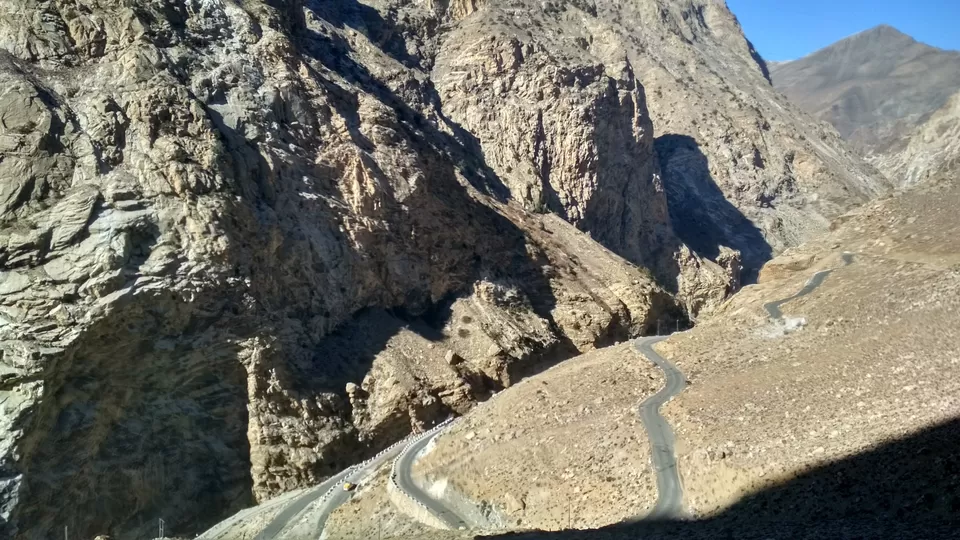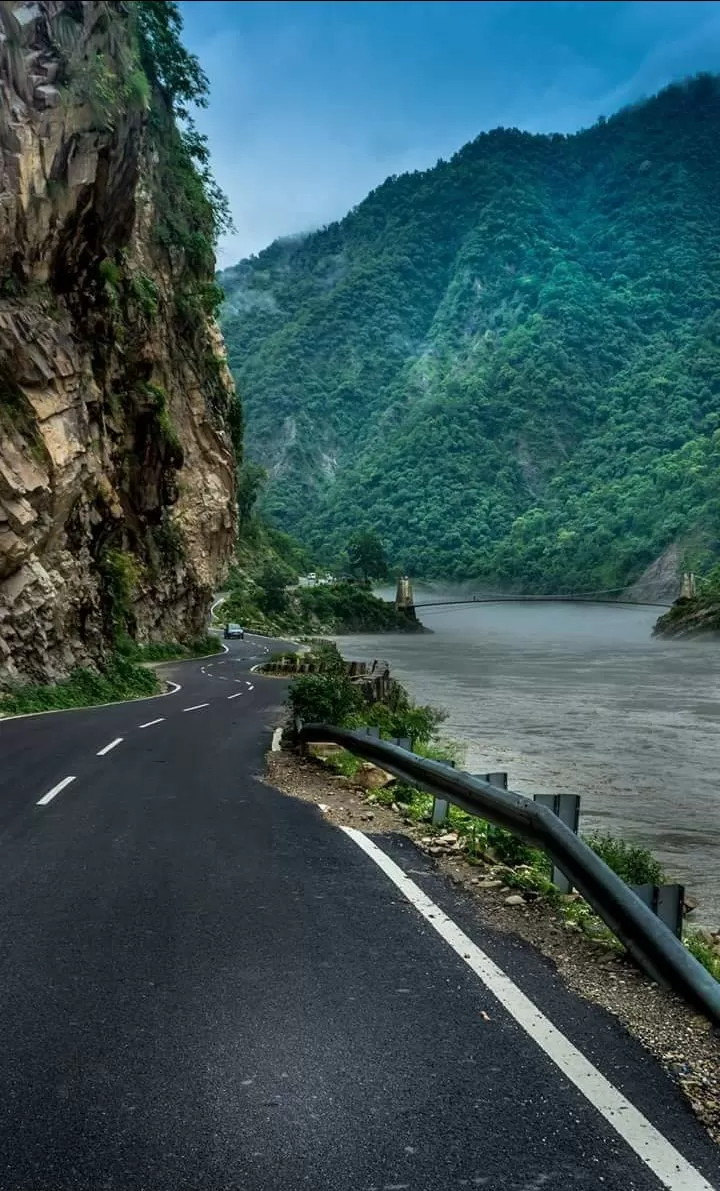 Today was blessed day, I was happy to meet 2 more hitchhiker from kerela. Finally I was not alone, but the sad part is don't expect any mobile signal after Reckong peo. No mobile network work after Reckong peo. Anyways, nature will stunt you with beauty.
So we are 3 now, again we get to the road for seeking lift. After 1 hour we have hot a lift from army vehicle and they drop us at a small village name Tabo. Although you can take bus from Reckong peo to Kaza (spiti valley). Which will cost you around Rs. 410. From Reckong to Kaza distance is 200 km.
On the way you will pass though many beauty places like pooh, sumdo, nako, tabo and Dhankar monastery
Journey to Tabo was very adventurous and bumpy. You will pass through many beautiful and big mountain, which will make you feel like another world. Army officer was very kind and helpful, they also let us stay at their camp and also arrange a vehicle for next day to Kaza. From Tabo, Kaza is only 50 km.
If you are traveling by bus, there is a problem, there is only one bus operate from Reckong peo to Kaza.
It was a pleasant stay at Tabo, in -25c. We also had a bonfire and food in army canteen, which was delicious.
You will get many beautiful spot for picture shoot. If you are a foreign tourist, then you need to opt for a permit, to get into spiti valley region. For permit you need to apply at tourist information centre in Reckong peo.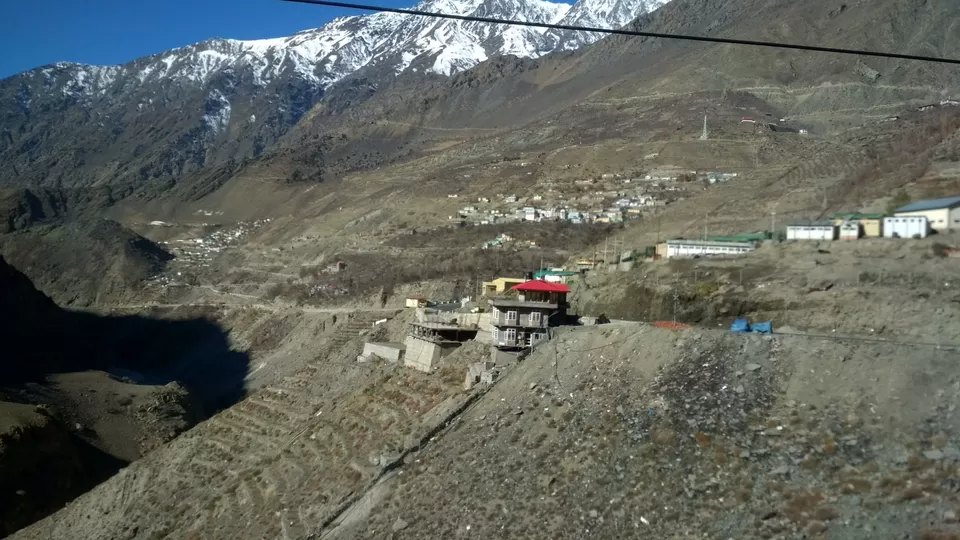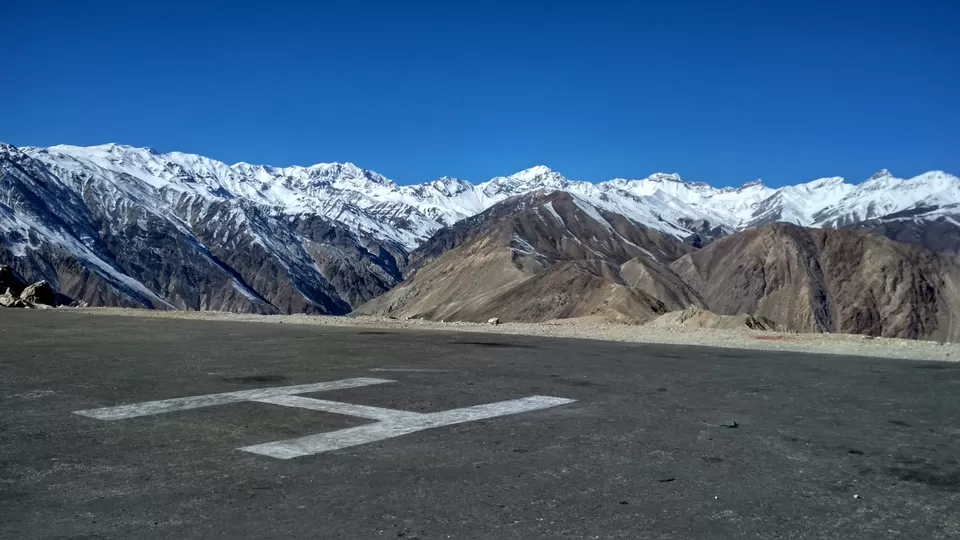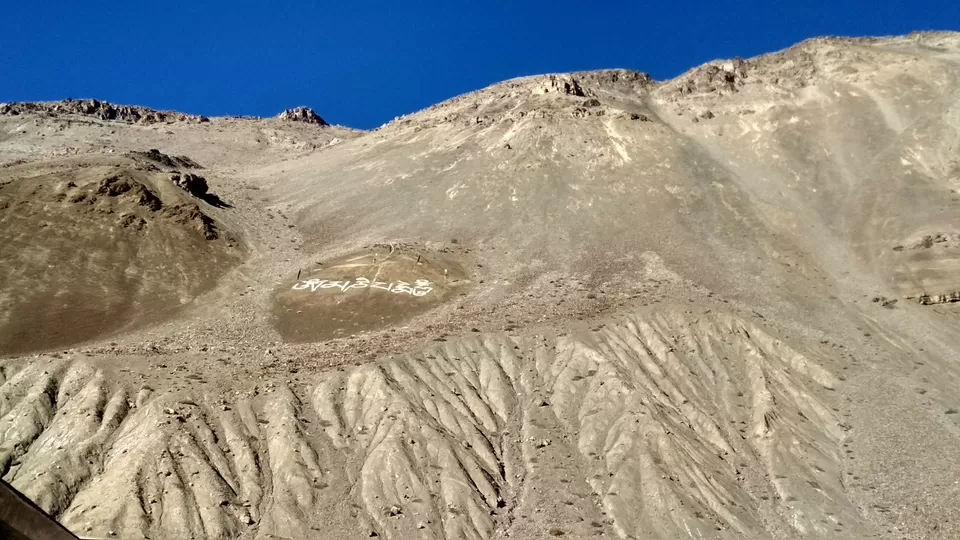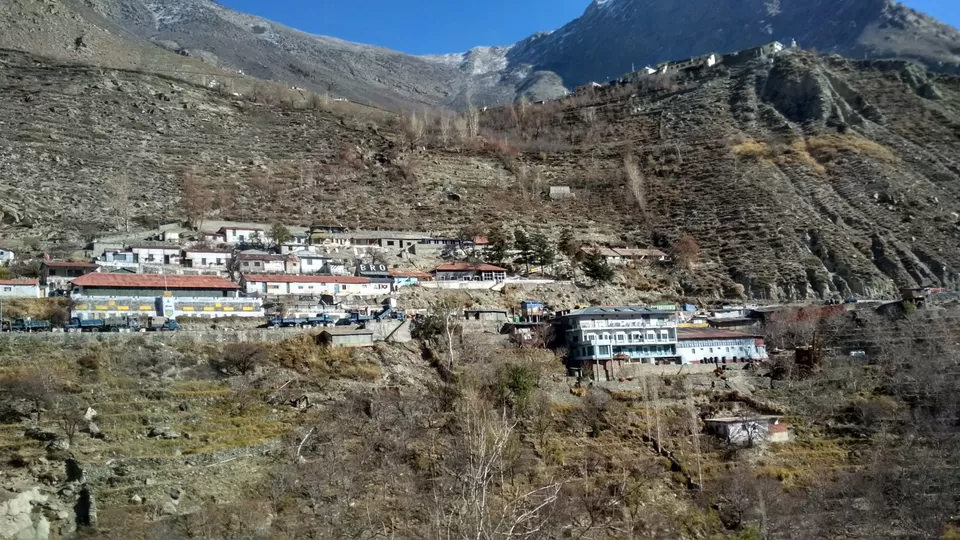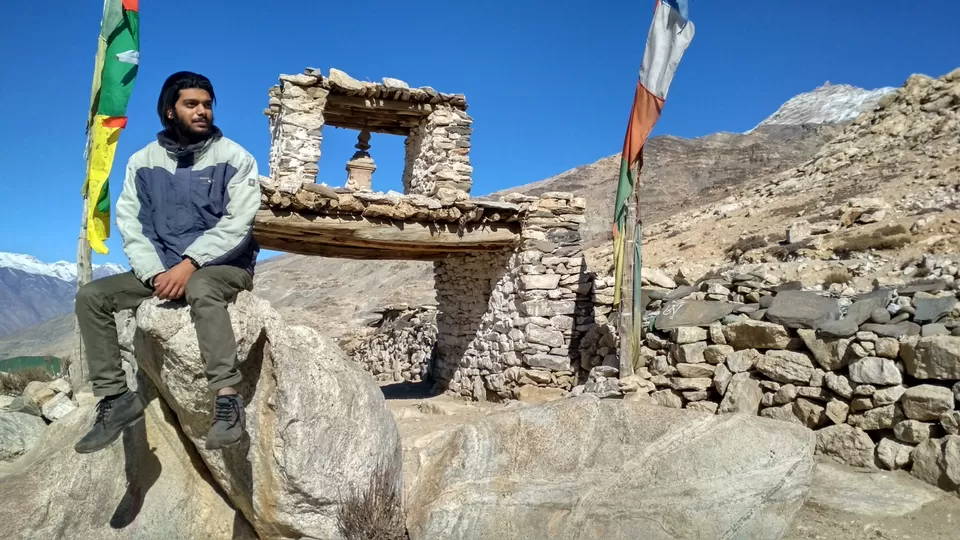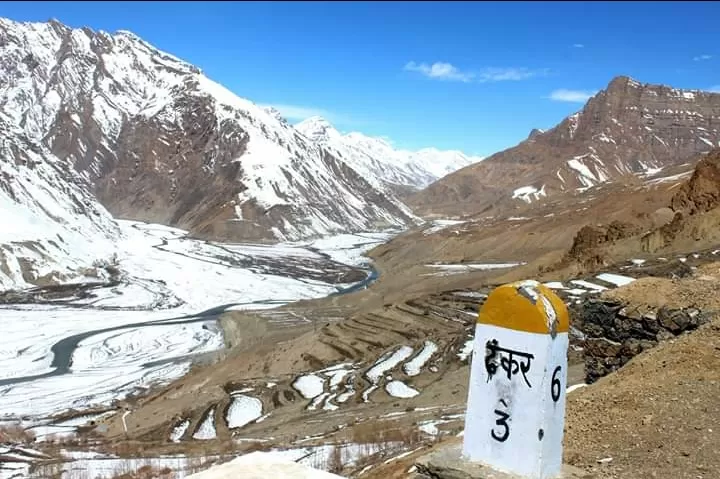 Finally the day I was waiting for, I reach Kaza possible around 12 pm,which was 3 hours journey from Tabo. While comming to Kaza, don't miss the Gue monastery in Dhankar.
When I reach there it make feel like an another planet experience. Temperature was around -22c during day, but during night it will fall to -30c to -35c. This was my coldest experience ever, don't forget to carry your heavy clothes.
If you are planning to come in December, make sure you come with tight preparation. Most of the shop remain closed during winter and also many cafe and tent house.
There was nothing to do much on first day. We roam around town and took pictures. One more thing there will be problem for money, better get the money from Reckong peo, after Reckong peo most of the ATM are not function. There are only 2 ATM in Kaza. There is a possibility non of them will work.
Homestay are available easy through out Kaza, which will cost you around Rs 250 for a day and if you want to have food, then you need to request from your host. They will charge you extra for food, but tea is free.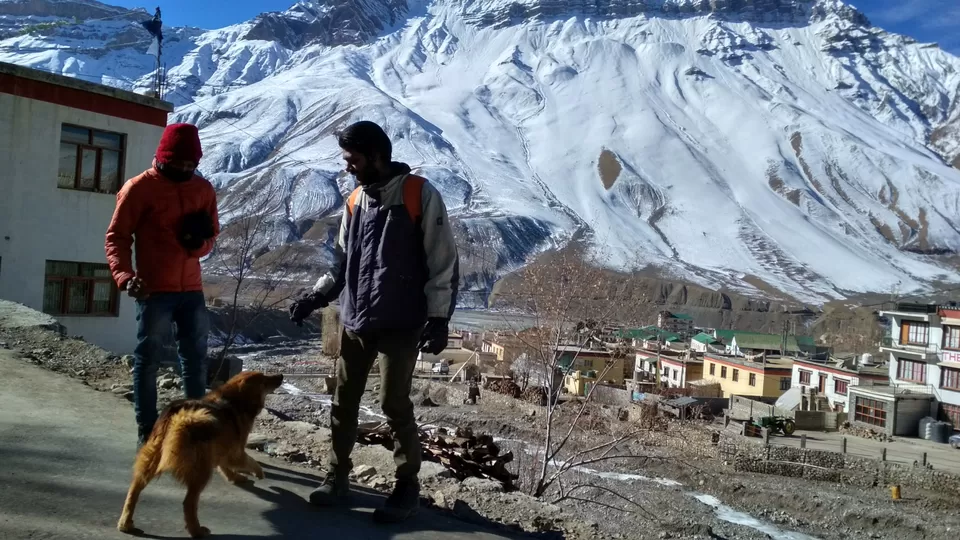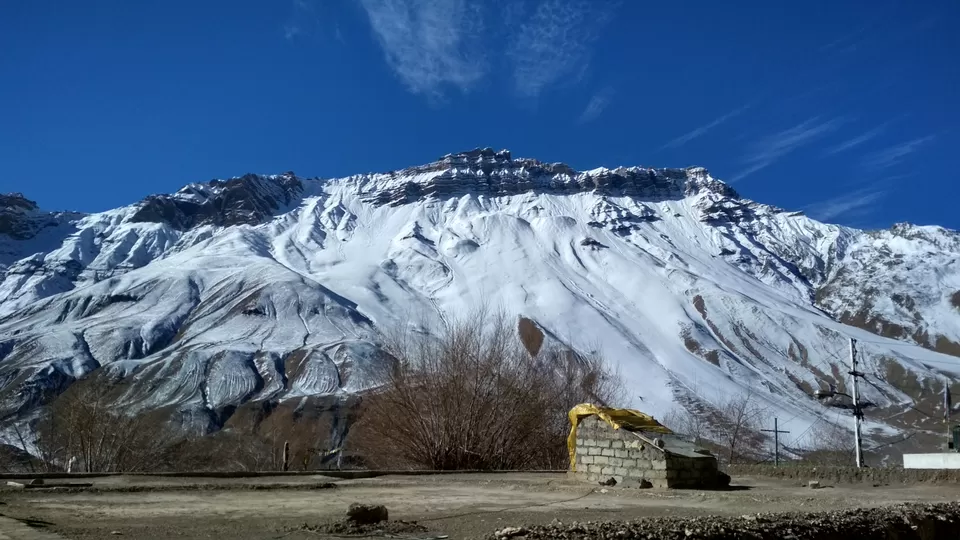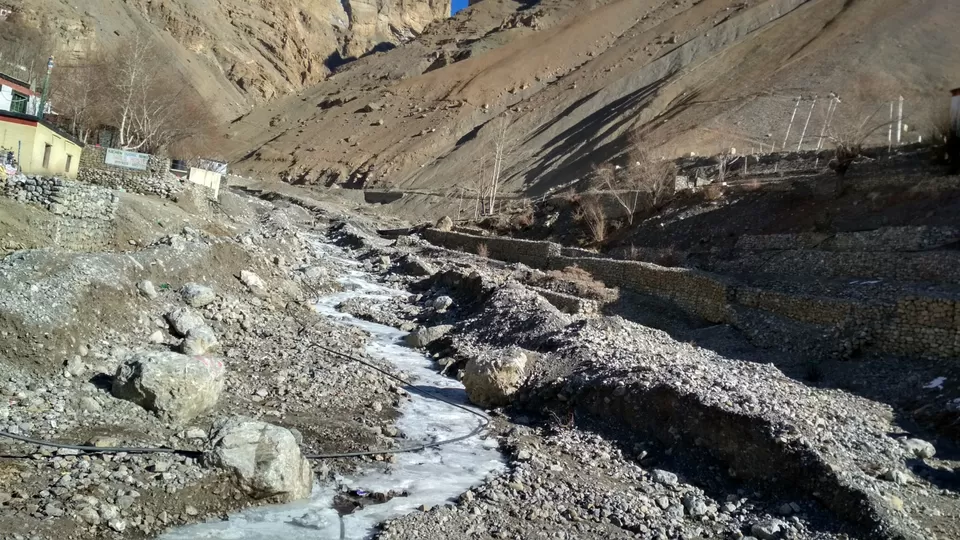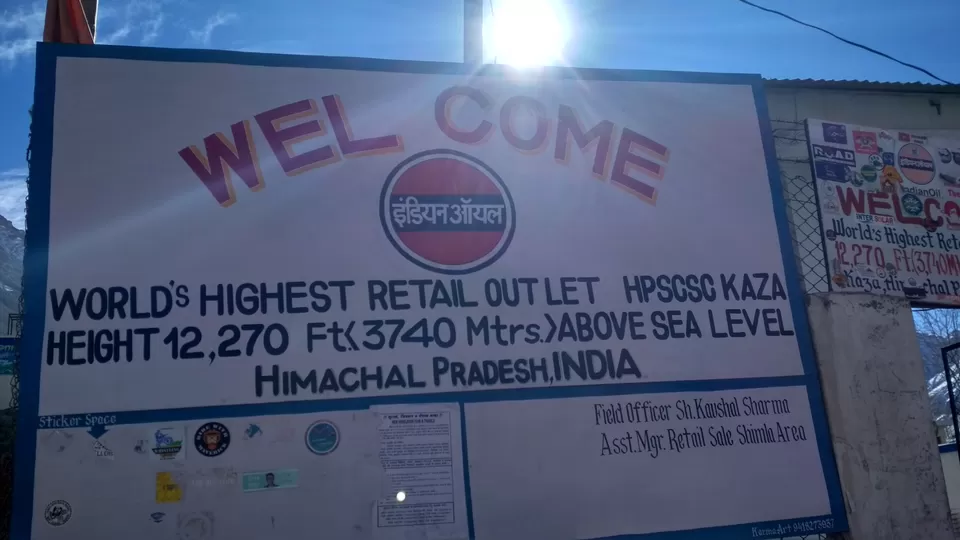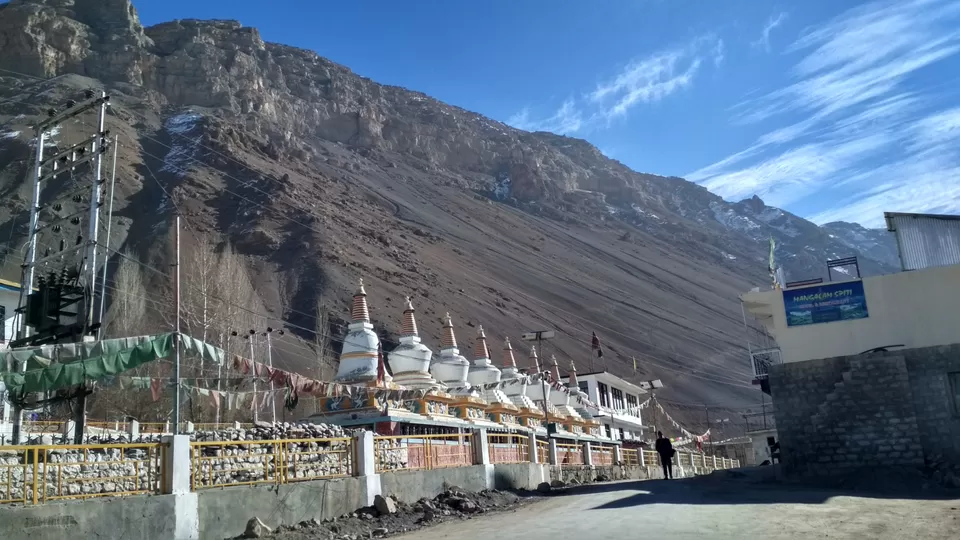 This was second my day in Spiti. Today iteney was to visit 3 places. Hikkim (world highest post office), Langza ( Buddha statue and fossil village) and Komic (world highest village connected with motorable road). If you want to hire vehicle, you need to go to Kaza taxi union. Taxi are available for a day trip within Rs. 2500. There is also a bus that go till Komic, for that you need to enquire from Kaza bus station.
Langza is 16 Km from Kaza, so I decided to hike from Kaza to Langza, which was a bit challenging because I was hiking in high altitude mountain area. It took 8 hours to reach Langza village. Road conditions was not good but it's worth to hike. Possibly around 2p.m We reach Langza village.
View was stunning from village, whole mountain valley was full of snow, which was adding charm on mountain. After exploring village and Buddha statue, then we continue hike towards Hikkim. From Langza village Hikkim is 8km, until we reach Hikkim it was about to dark. Any how we pitch our tent in Hikkim for sparing a night. It was one of the most memorable experience spending a night in Hikkim, temperature was around -34c. At a moment we were shivering, but the shinning sky made that night magical. Our plan was to reach komic, but we only able to make till Hikkim.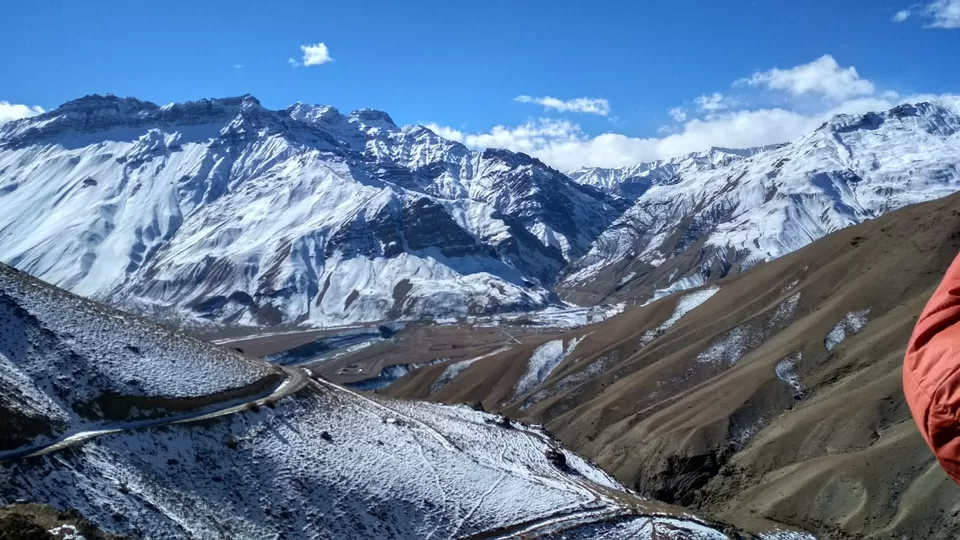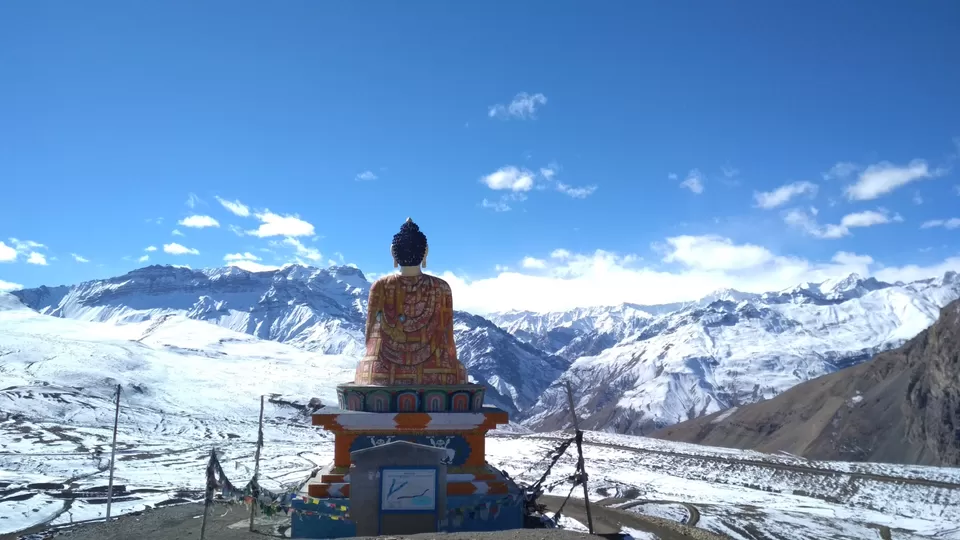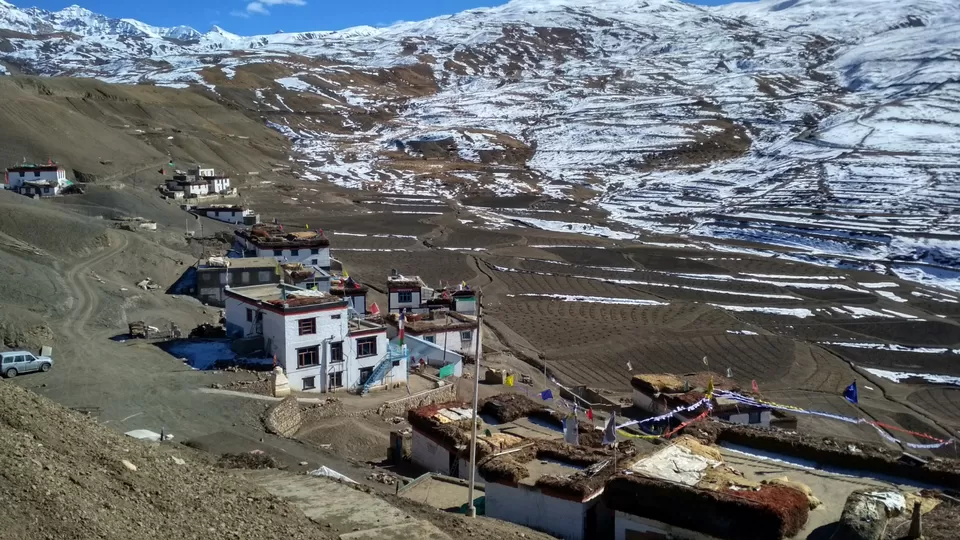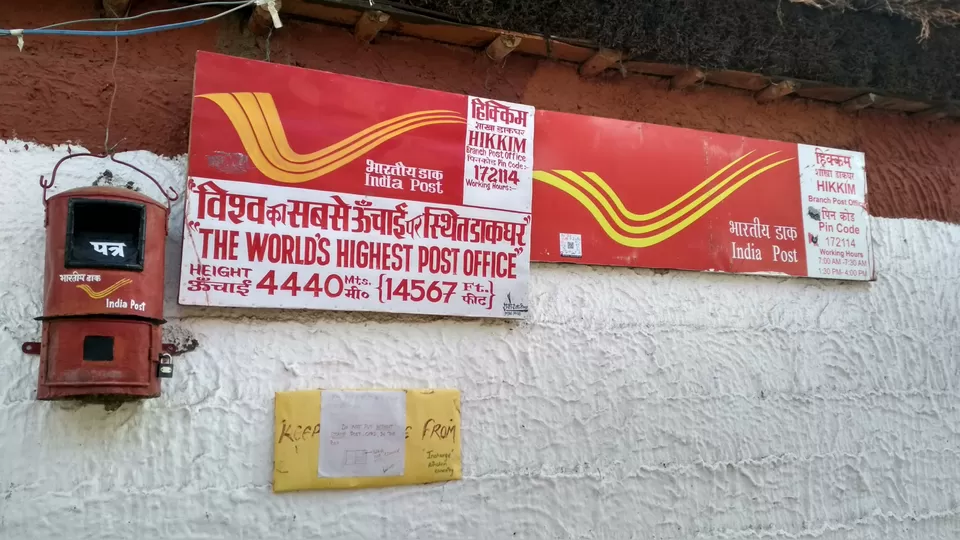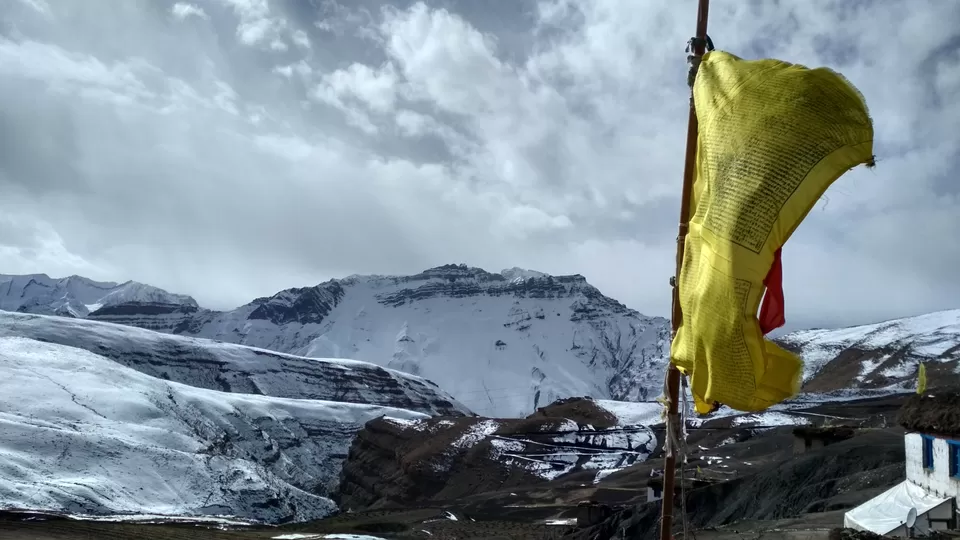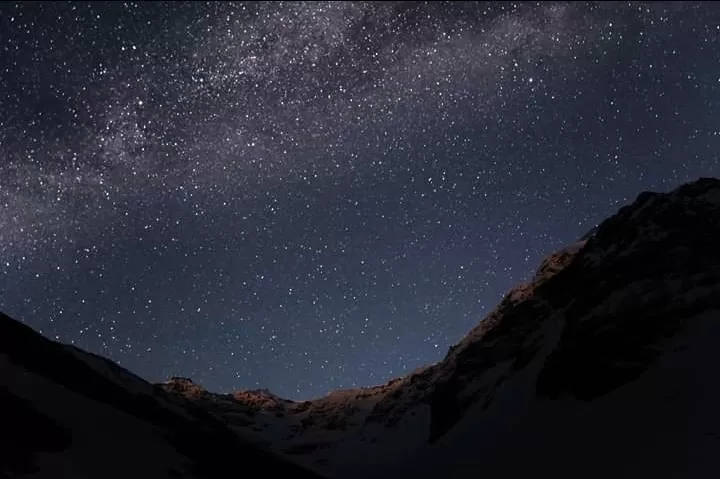 After a chilled night, we had a bit body pain and health was seems to be not good. After we get up we had our breakfast, we had try a unique soupy noodles, in local language they called Thukpa. Only we need to hike 4 km from Hikkim to Komic village.
Komic village experience was great, also there is a monastery and a world highest restaurant is there, if you want you can check out those places. In Komic, homestay are available for Rs. 300 to Rs.1000
Lucky we have got a lift for kibber village( world's highest village), which was provided by a monk of Komic monastery. Distance from Komic to kibber is 37km.
We spend a night in a monastery in kibber. Monks were calm and respectful, they also provide meal for free and offer us to stay as many day we want. Road to kibber are very picturesque.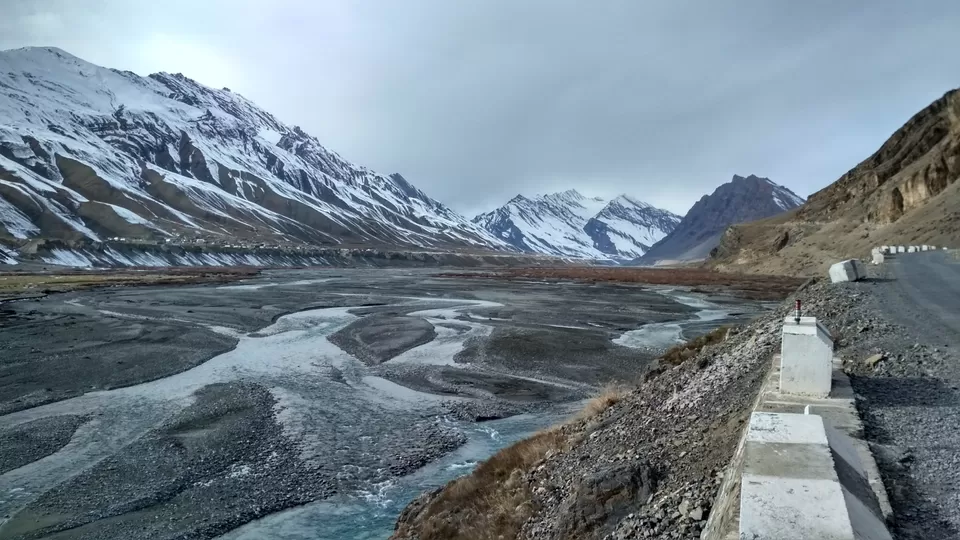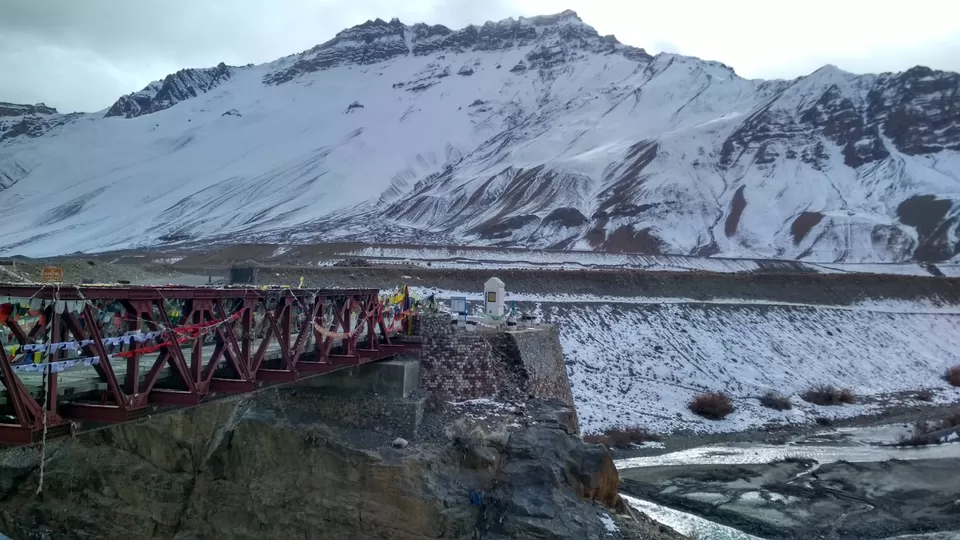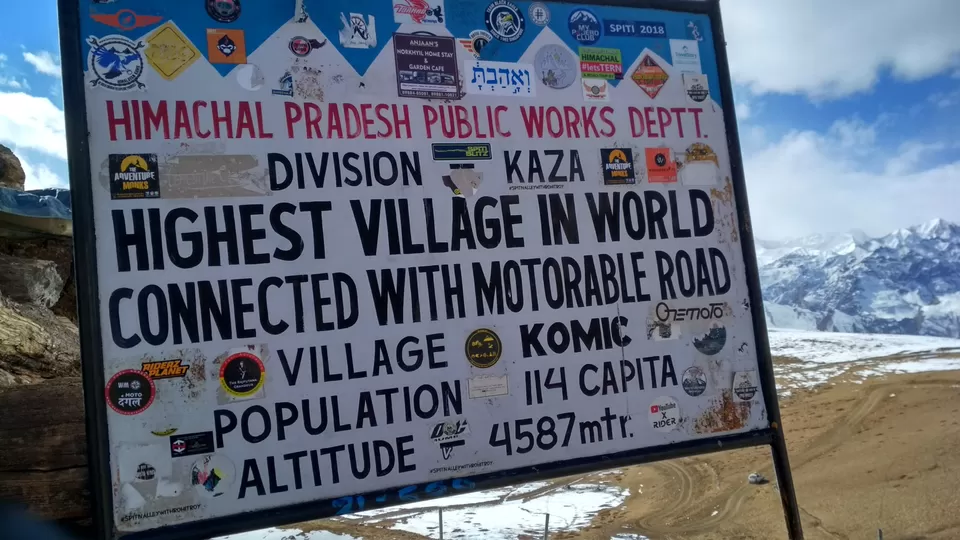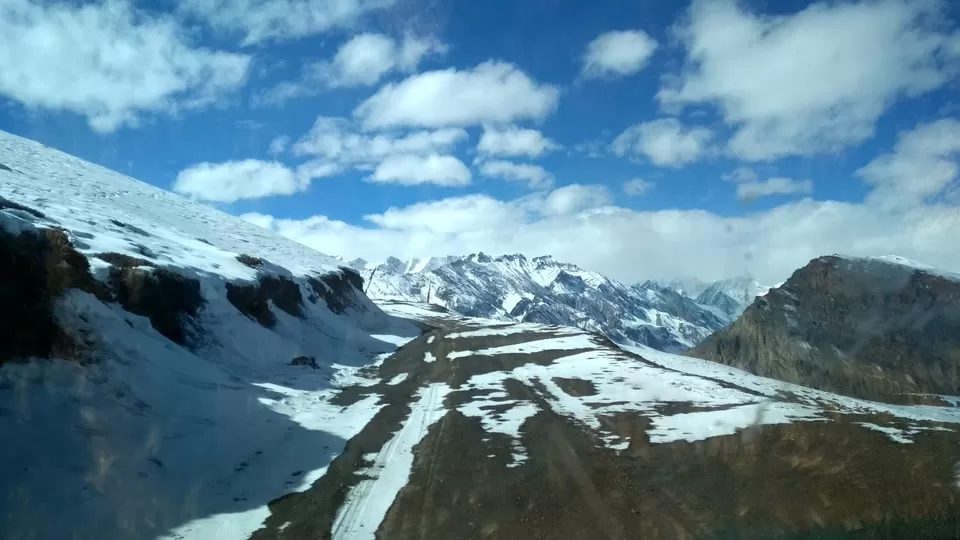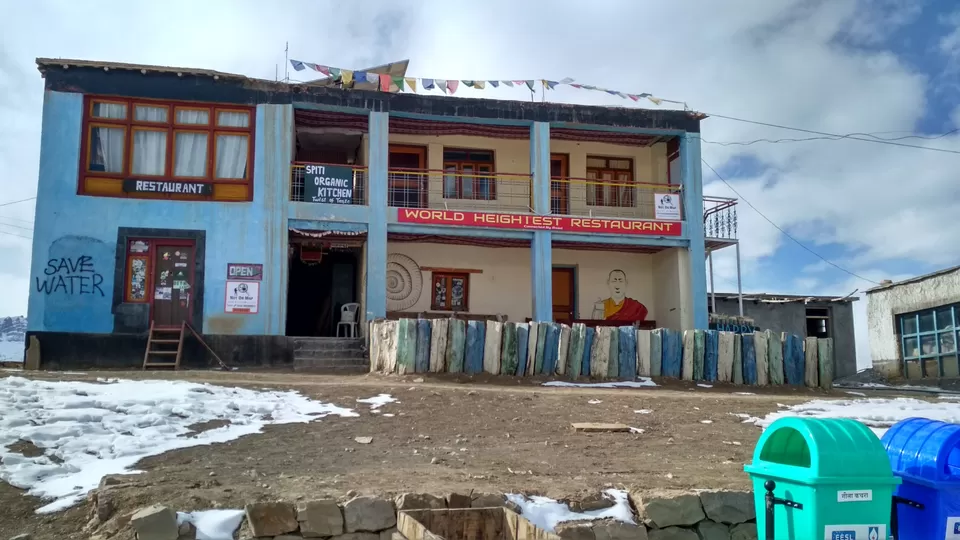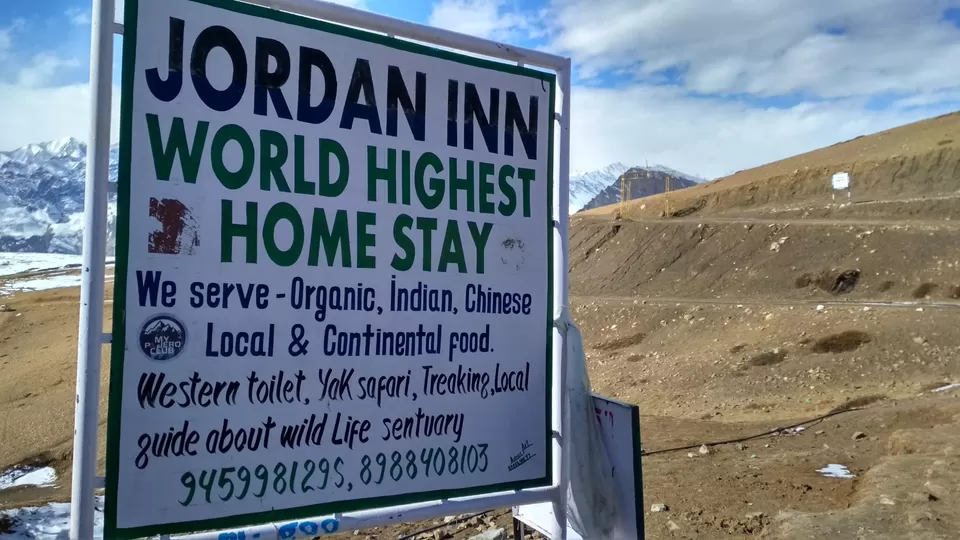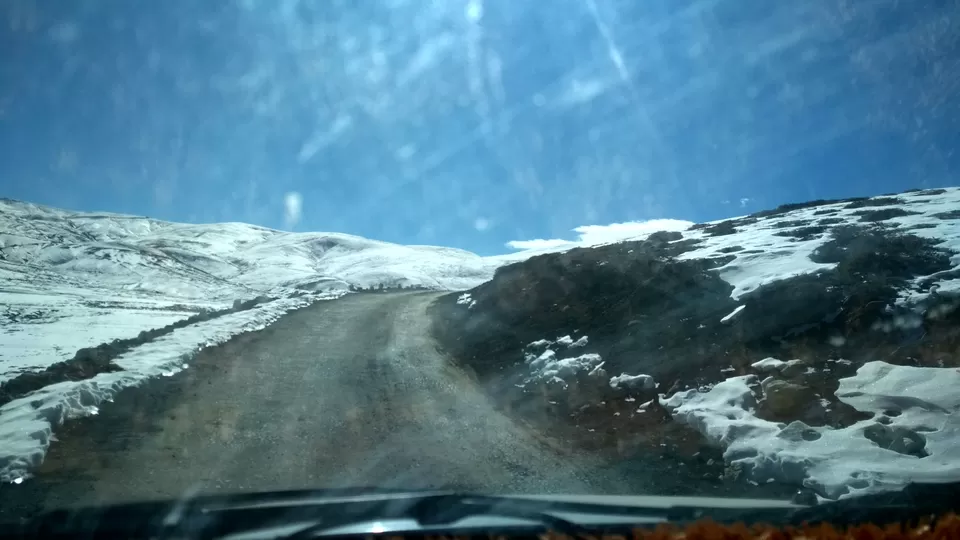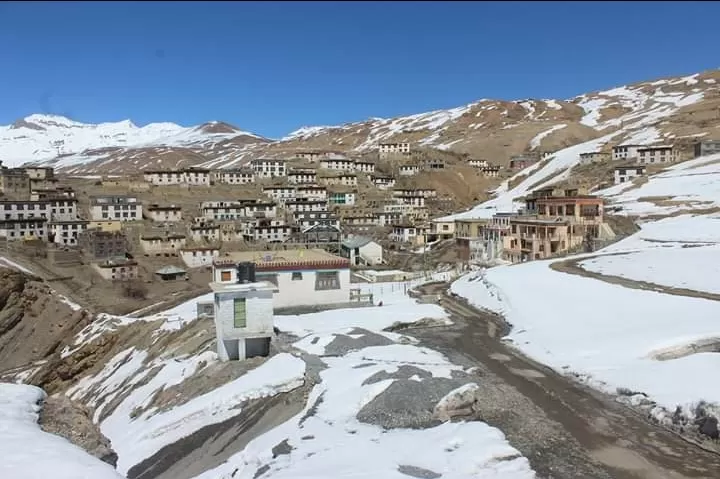 After spend a night in kibber village, we planed to visit iconic key monastery of spiti. But plan are meant to be unsuccessful. We have got a free offer to visit pin valley national park from a forest ranger in kibber.
Pin valley national park is around 50 km from kibber village.
We are ready to expect unexpected journey, it was one of the best part of spiti valley. When we reach pin valley national park, the valley look like a sheet of snow. Which was given beautiful naturalistic view. If you are planning to visit pin valley national park, take a guide or accompany for forest ranger. It makes valley unsafe because of wild animals. Ibex and mountain dogs you will find everywhere. But wild animals are also there in forest like snow leopard. But we haven't seen any leopard there.
After spending a day in pin valley we back to kibber and spend one more night there. Next morning we need to prepare for key monastery.
If you are planning to visit ahead from kibber village, then drop your plan. All route get shut because of heavy snow.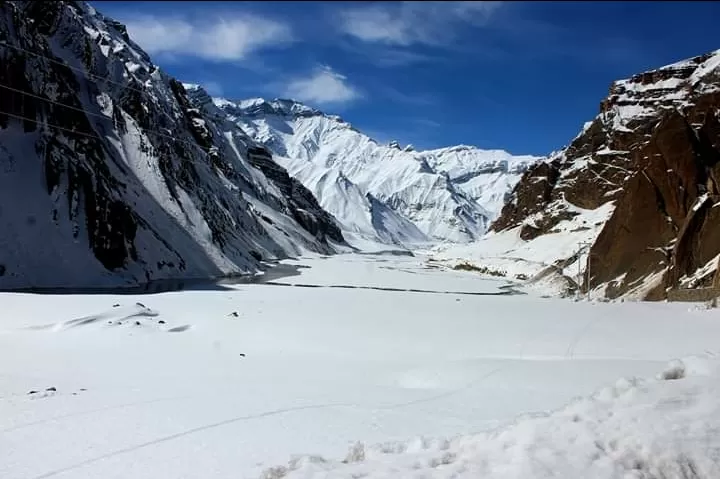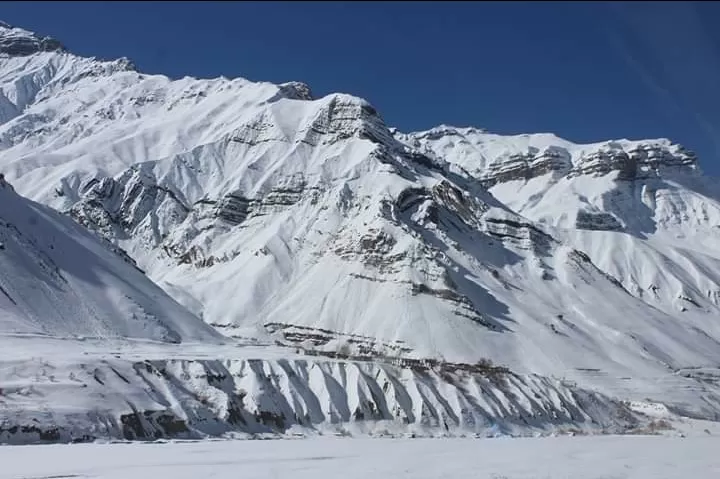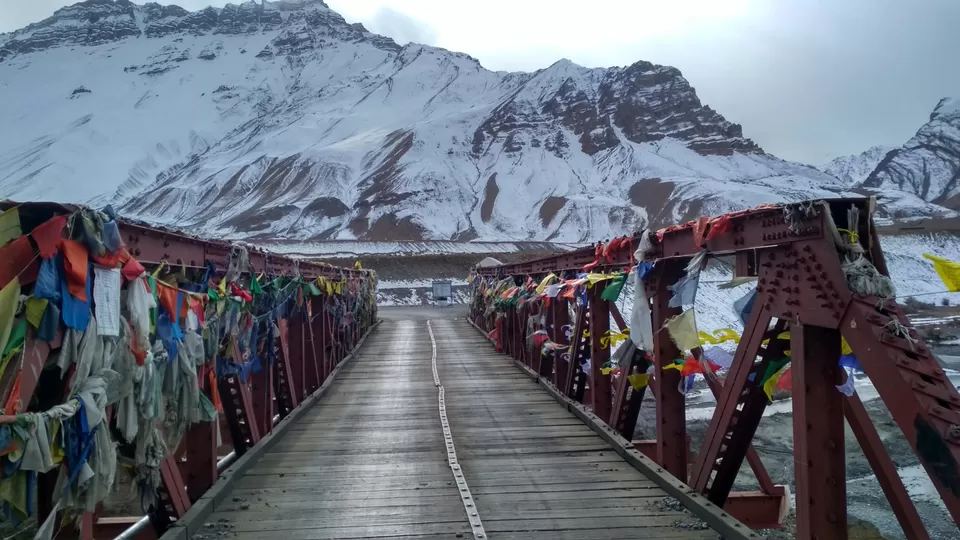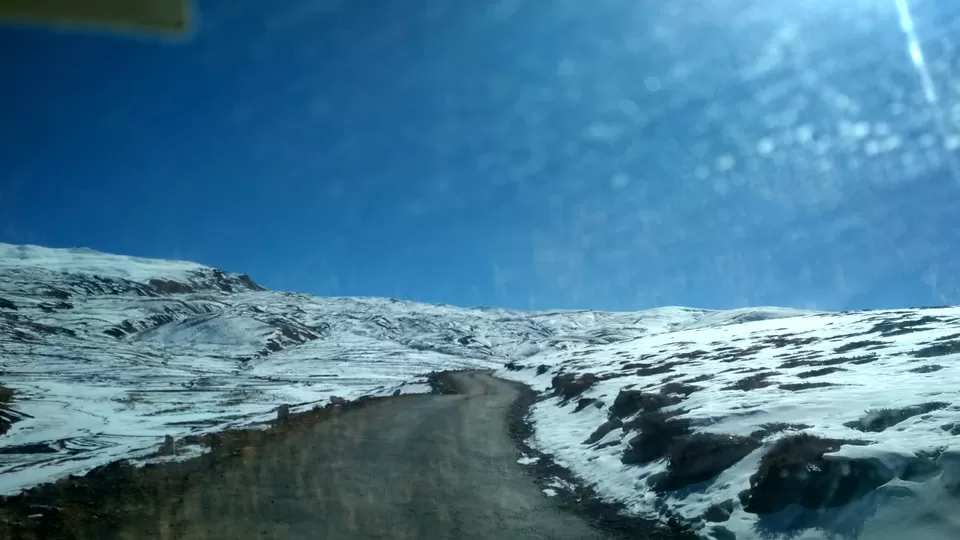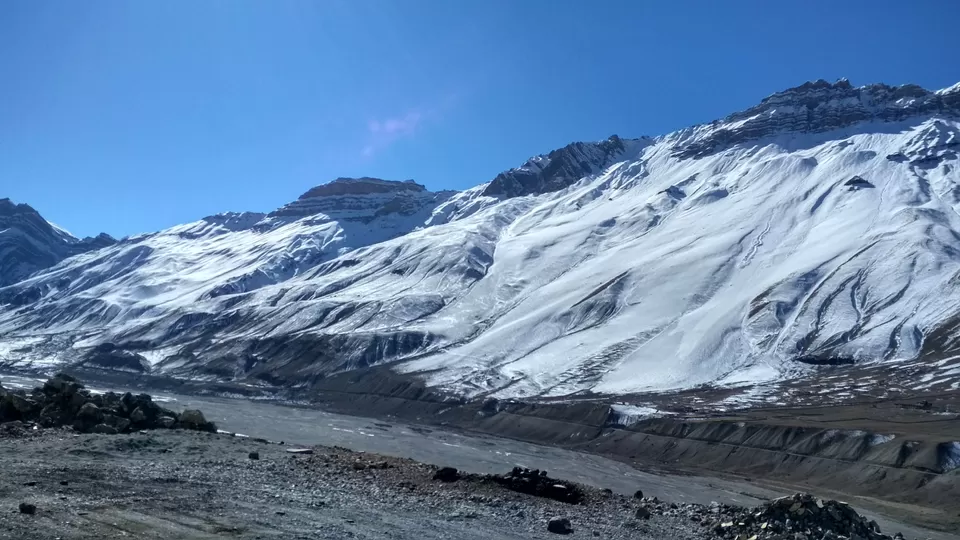 This was my 9th day of my trip, luckily we got a lift from food truck. Time to leave kibber village, they drop us at key village. From key village key monastery is 5 km. So we hike from key village to key monastery.
Because of steep road, we get tired. Once we reach in the monastery, hospitality of the monks make our tiredness vanished. They provide tea as a welcome drink and make bonfire for us. Also they took us for a small trip of monastery. View was stunning from monastery, you will able to witness the actual beauty of spiti valley from key monastery.
Also there is option for stay in monastery for Rs. 250 per night. It's really worth to spend a night there. Also they will provide you food but there will no nonveg options.
After having chit chat from monks and monastery tour, we hit our bed and we ready to roll of back to Shimla. Because there is nothing to see more, most of the places are closed.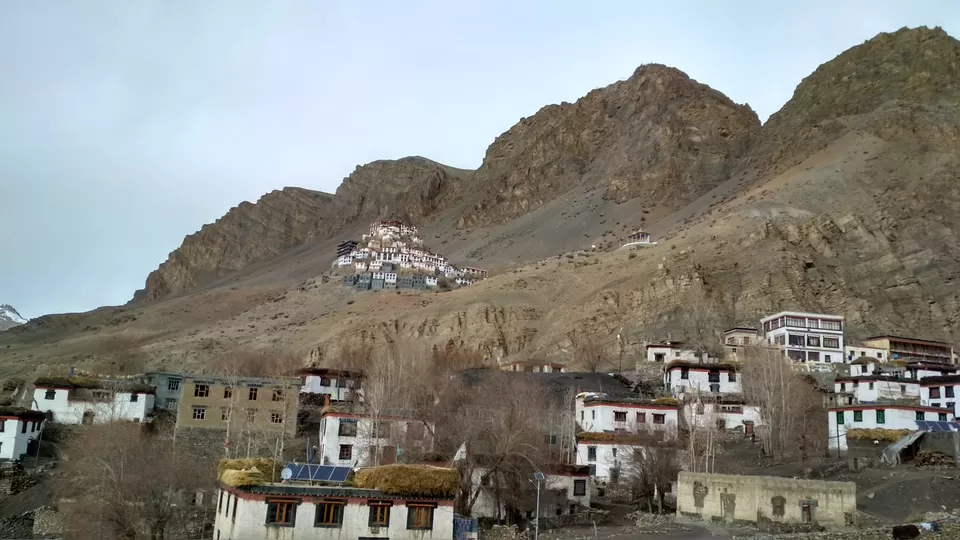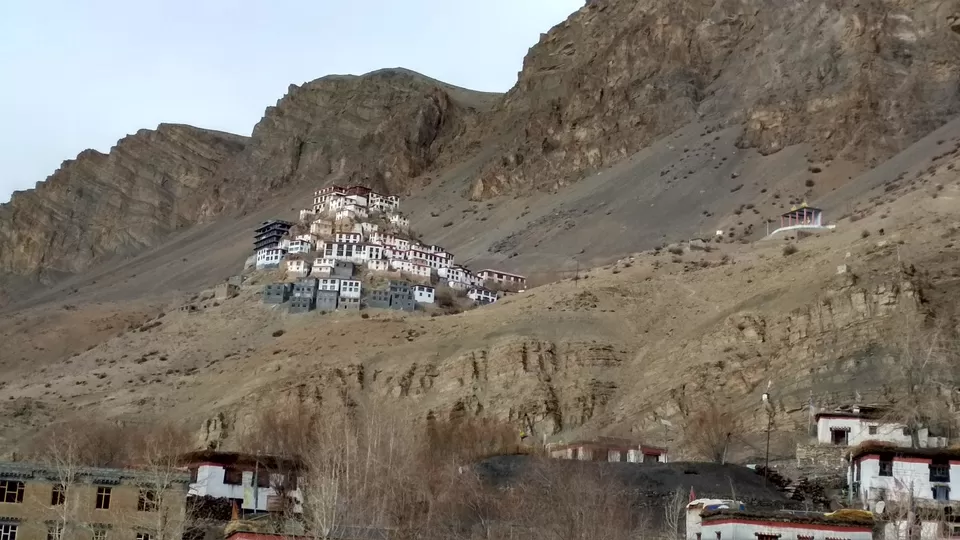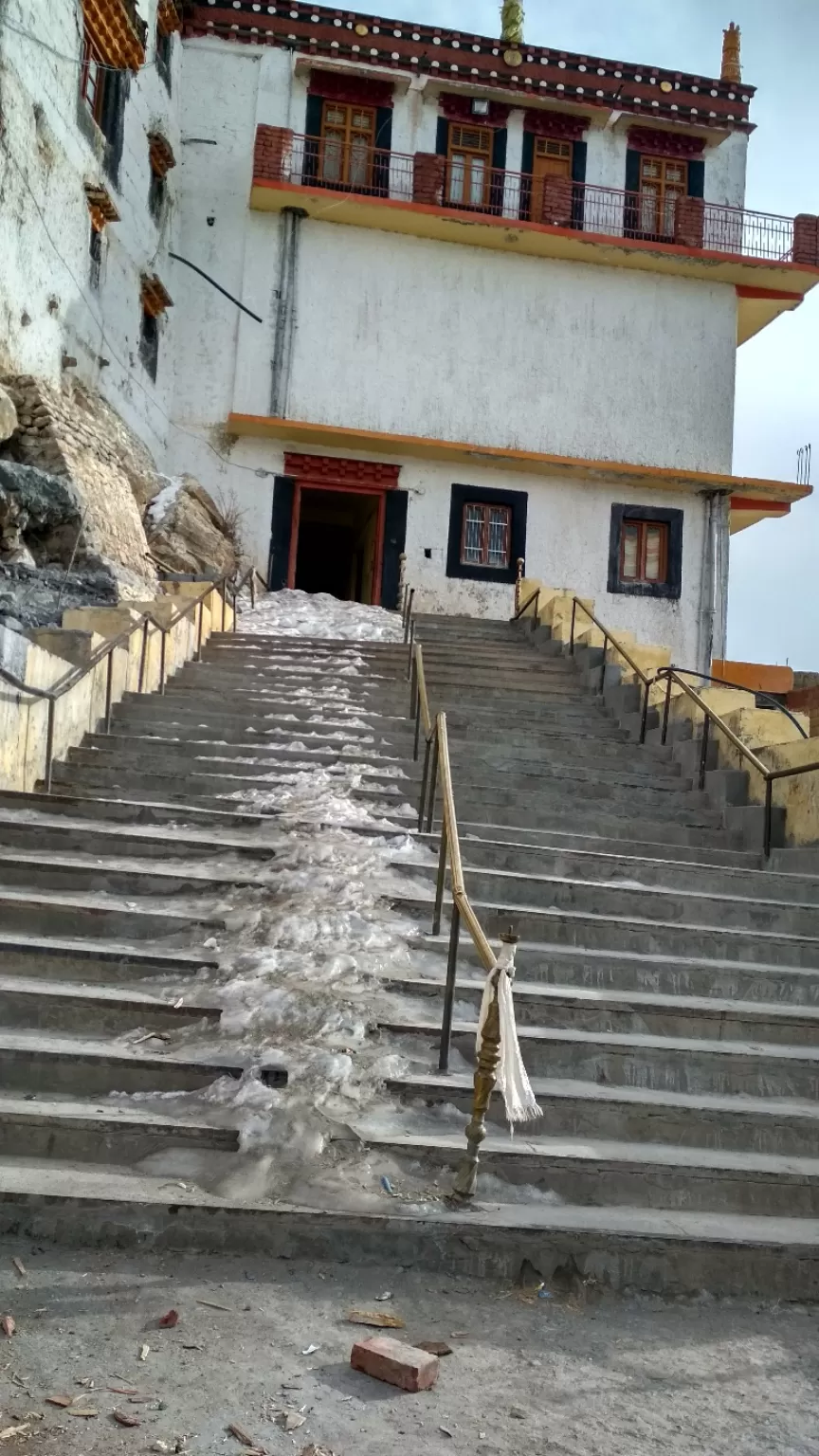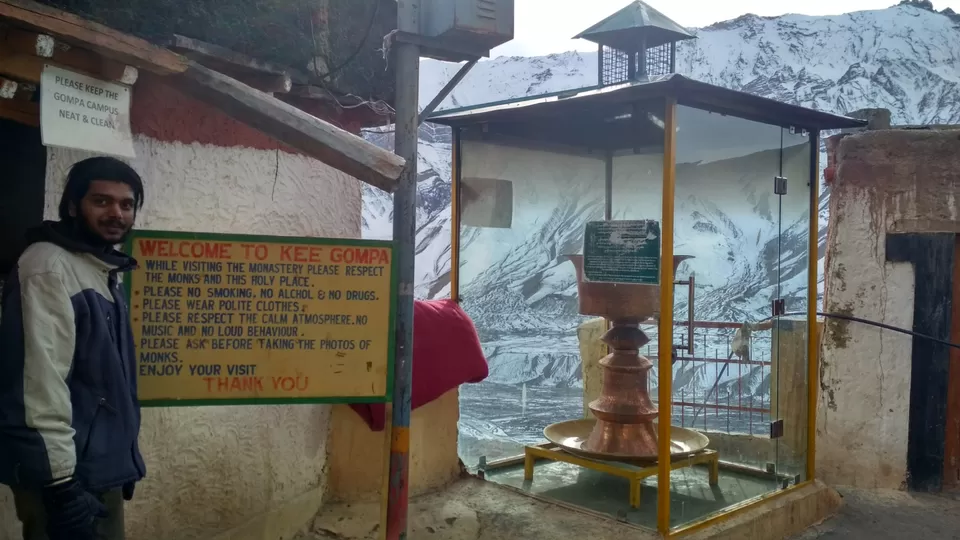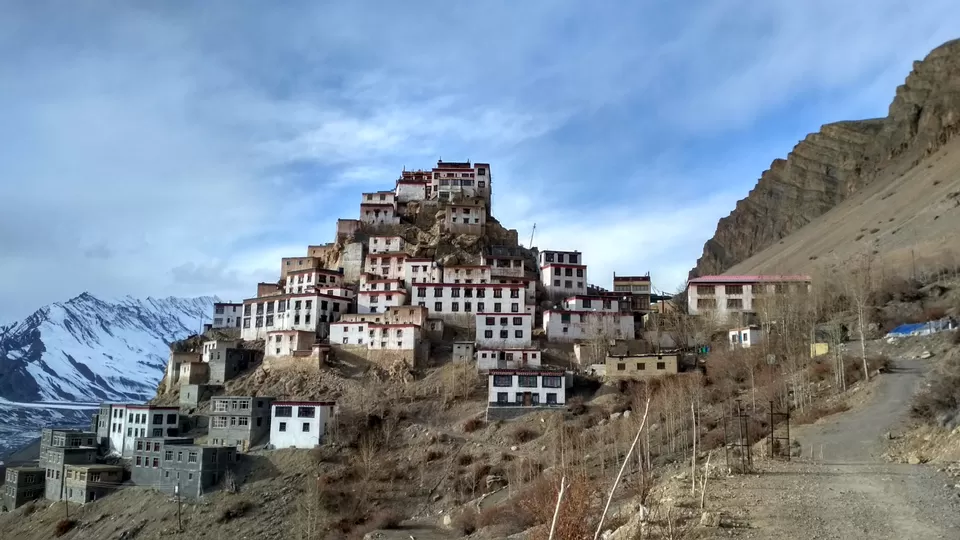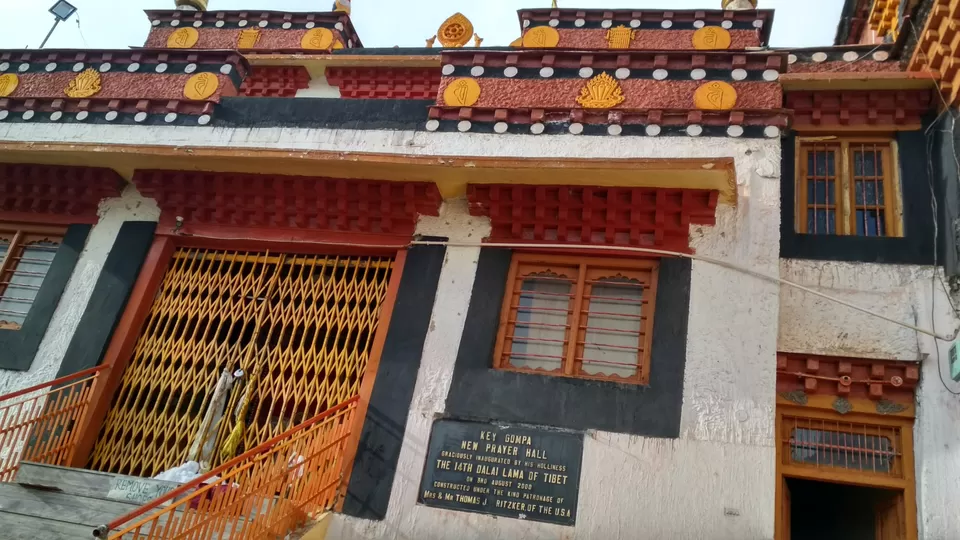 At last my trip end in Delhi, it's time to roll back to home. At 4 am I reached Delhi, almost every thing was closed outside railway station.
So I began my morning with a cup of tea. My train was at evening, from Delhi to Kolkata. So I spare my day by trying some street food and some mouth watering dishes near JAMA masjid.
Although I had a 4 hours of sleep in Starbucks in Rajiv chowk or C.P. after food and visit few monument I approached towards new Delhi railway station.
This is how I spend my few hours in Delhi. But it was a memorable journey to Spiti. Thanks for the other hitchhiker from kerela, they make my journey more memorable. I was blessed to meet with them.
Travel isn't always pretty. It isn't always comfortable. Sometimes it hurts, it even breaks your heart. But that's okay. The journey changes you, it should change you. It leaves marks on your memory, on your consciousness, on your heart, and on your body. You take something with you. Hopefully, you leave something good behind.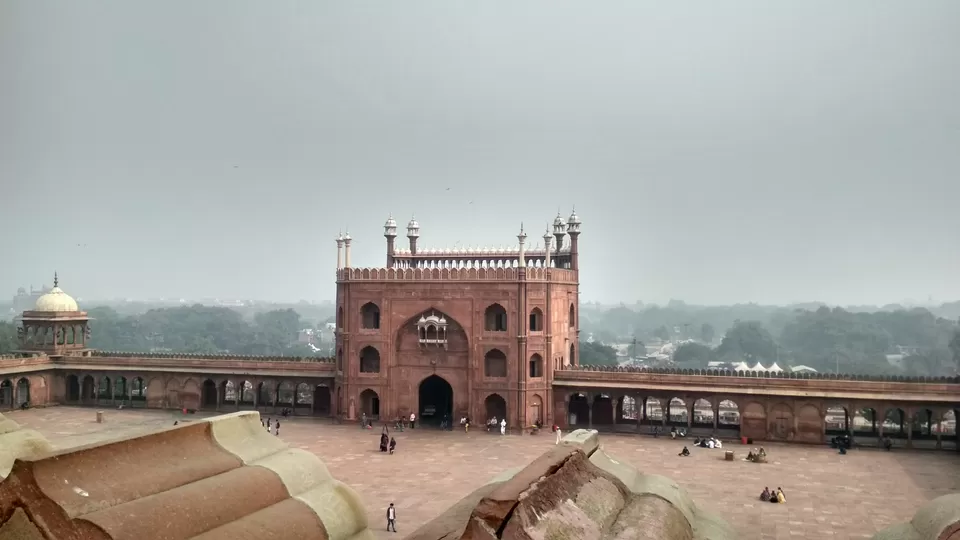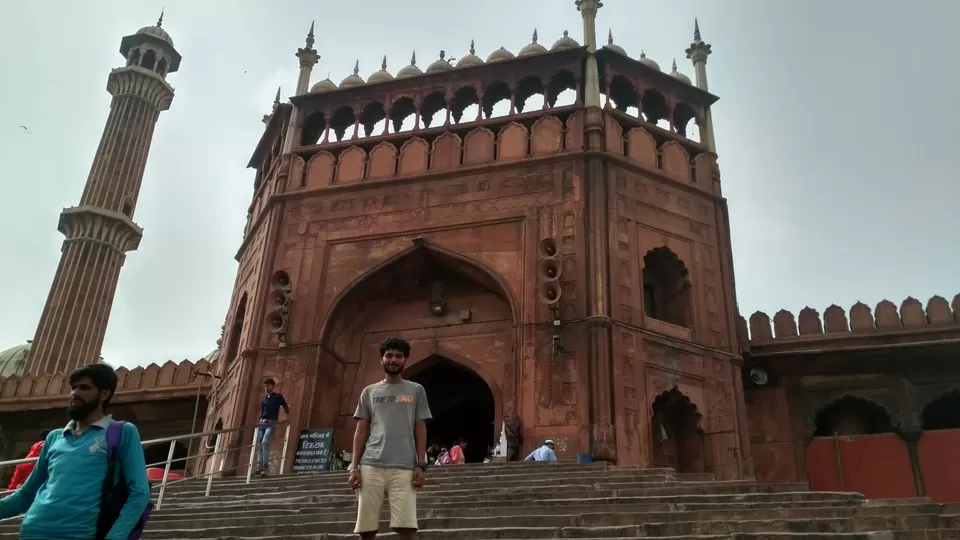 Now the time come to go briefly about expenses , what to do and what not to do.
So my whole trip budget was Rs 10,00. Which includes everything like train fare, food, bus and stay. I travel in 3ac coaches, train journey experience was Rs. 4500. Which was from Kolkata to Delhi and Delhi to Kolkata.
The actual trip I did it in Rs. 5500.
Things to be remember
1. Make sure you carry heavy winter wear and make your health fit, in winter journey in himalaya is very difficult. Cold will make you give up, also you need to be prepared mental to visit Himalaya in winter.
2. If you are traveling to Spiti valley, then don't think you will get luxary amenities, you need to compromise on everything.
3. If you are planning to cover whole spiti circuit, it's not possible in winter because or road blockage in kumzum pass
4. Chandratal lake will be not accessible in winter.
5. Do your important work related with internet connection before Reckong peo, after Reckong peo there will be no mobile network.

Things to do:
1. Try noodles and thukpa in Reckong peo, it's a famous Tibetan food. But one thing more you will have only 3 options, veg, mutton and egg (which is rear you will get) there is no chicken options
2.Eat momo in Tabo and take a walk towards tabo monastery
3. Always respect monk.
4. Make your self full cover, any exposing body part may land you suffer from frost bite.
5. Try street food of Shimla in mall road like chola kulcha, soya chap, Maggie, many more delicious street food you will get there.
6. Withdrawal your money before Reckong peo.
7. Hike in mountain valley.
8. Do camping wherever you want to do in spiti. It's totally free.
9. If you have guts to face extreme cold, then take a dip in spiti river
10. Attend prayer at monastery
Things not to do:
1. If you are a smoker, then check the place and board before you light up your stick. There are many places you will pass through were smoking is prohibited. Otherwise be ready to pay fine.
2. Any kind or adiction and meat are not allowed inside monastery, be specific.
3. Always seek for permission if you want to take pictures with monks
4. Make sure be punctual on time if you are traveling by bus, otherwise your late can end up to extend one more day. There only one bus operate from Reckong peo to Kaza and Kaza to Reckong peo.
5. If you are planning to do hitchhike, do it during day. Don't do it on night specially in mountain, it's very unsafe.