Nested on the side of the Parvati valley, Malana is a small remote village that'll make you feel like you've stepped into the 1980s. As you enter the village, colourful houses will begin to tower you. You'll find vibrant clothes drying on the ledges and blocks of wooden logs heaped over each other. Children and adults are all dressed up in woollen sweaters in all shades of the rainbow palette.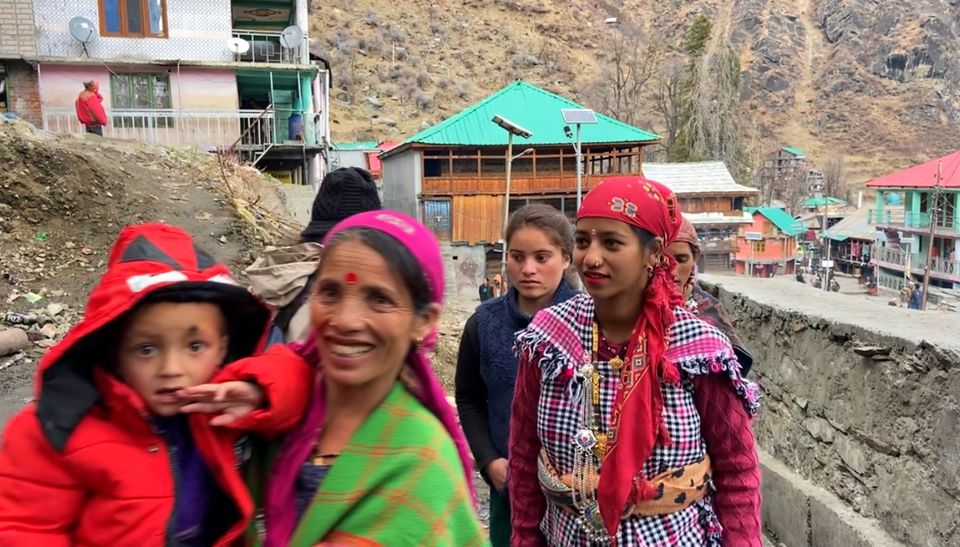 Secluded from the rest of the world, Malana follows a super conservative culture. Outsiders are not allowed to touch the temples, the villagers, their houses or anything that belongs to them. According to what I had heard, this is because the villagers think that they are the decedents of Alexander, the Great. Another theory says that they are decedents of Akbar's army. Though when I visited here, I asked some of the adults around about their rules. All they had to say was "because of Gods". They believe that they are closer to God that disallows them to engage with the outsiders.
The village is centred around the main mandir of Jamlu devta. There you will find children playing badminton, lagauri and laughing. The women of Malana were carrying their children to the on-going Fagli festival which is celebrated in February by performing a ceremonial dance.
How to reach Malana?
Reach the nearest town, Kasol, by any mode of transport. From there you can book the local cabs that'll take you to the starting point of this village.
Trekking to Malana?
Reach the entrance gate from where you can begin trekking to the village. It will take you about a total of 1 to 1.5 hours which involves going downhill, crossing a bridge and then again climbing up a mountain to reach the next one. Overlooking the Deotibba and Chandrakhani peaks, you will soon enter the isolated village with its own set of rules.
Things To Do:
1. Talk to the local villagers. Get to know an altogether new culture.
2. The trek to the village is a scenic route. You can take lots of photographs on your way.
3. Simply watch the happy kid's play around and get in touch with your own childhood.
4. Enjoy stunning views of the Malana valley from the village.
Super Important Tips:
1. Do not touch or step on stones that look like they are prayed to. I stepped on one of such stones, and the little kids asked me to say sorry to the "devta". The kids were really friendly though and kept on saying "choona mat".
2. If you unintentionally touch anything then you will be charged a fine (approx. around INR 5000).
3. Carry some snacks to eat and lots of water to drink. You will find very minimal eating options here. There are no shops on the trekking route.
4. PLEASE DO NOT LITTER AND SAY NO TO PLASTIC! This beautiful village is already drowning in waste, all thanks to the tourists, so please make sure you are a responsible traveler.
Can you stay at the Malana village?
You cannot stay in the village. Though, you can stay at campsites a little further than the main village.
Suggested Stay:
Waterfall View Café and Camping
Cost for 2: INR 1000 per night (subjective to change as per the above property).
Go to Malana if you are looking to witness a new culture, as this village is much more than the plants (also misused as drugs) that grow in their soil.
If you have visited Malana before, tell your stories in the comments below. I would love to know more about this village. 🤩